Mary Ellen McGonagle and I taped our "Chartwise Women" show earlier today and I set up a theme on Healthcare. It was a great show! I'll be retweeting the link once it is posted tomorrow. But, Diamonds subscribers get a look at some of the best stocks we presented in today's Report!
Update on my trades: I added PFE yesterday but am already considering selling it. I added UNG this morning despite it not closing above the confirmation line of the double-bottom. UNG still looks good to me. I am keeping BHLB, but it also isn't trading as it should right now, so it may make an early exit from my account as well.
Today's "Diamonds in the Rough" are: AZN, EXAS, NTRA, PDCO, and RGEN.
---
---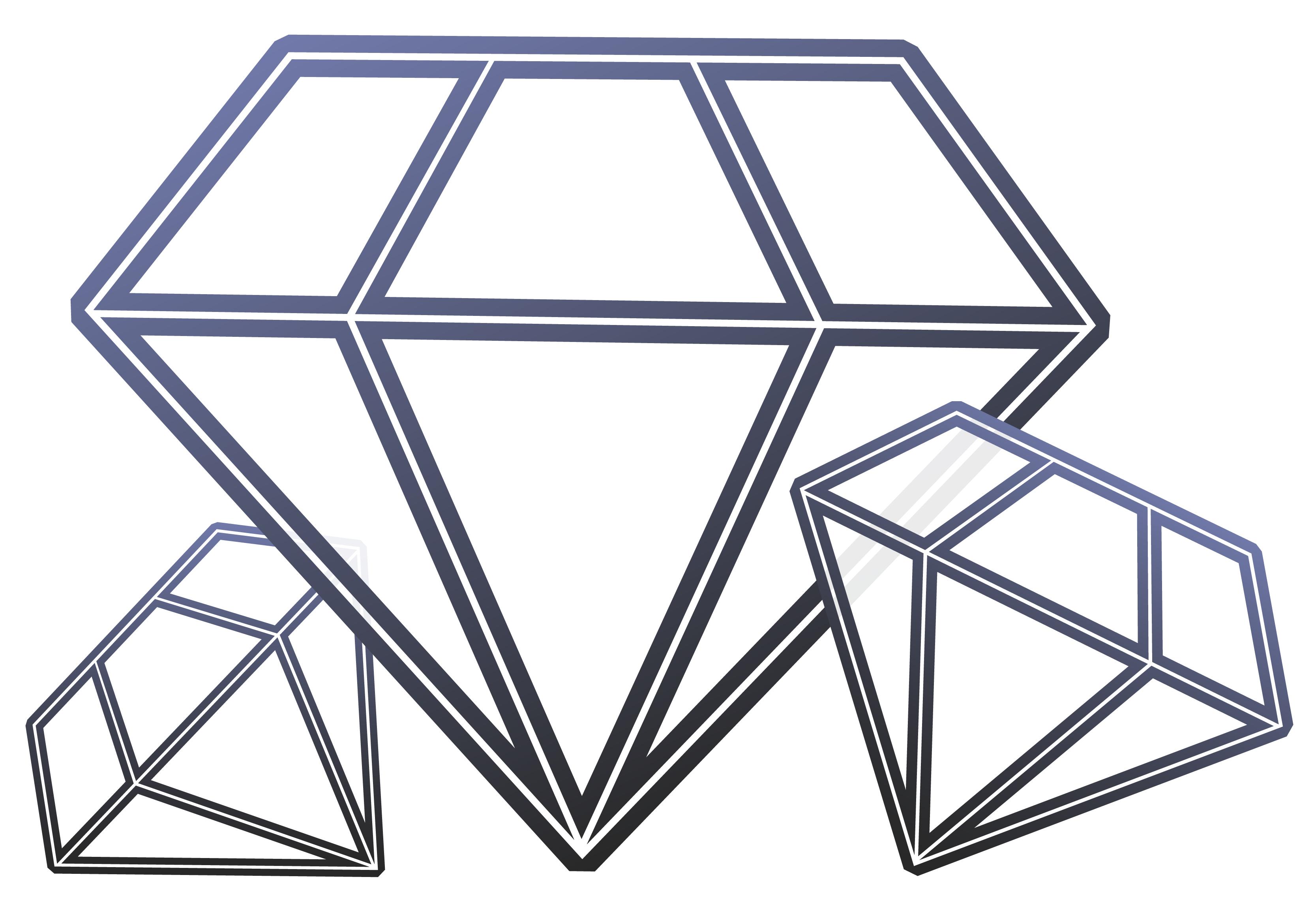 Diamond Mine Information:
Here is 1/8/2020 Diamond Mine recording link. Access Passcode: a7KA6TS=
Register in advance for the next "DecisionPoint Diamond Mine" trading room!
Here is the registration link for FRIDAY, 1/15/2021. Registration & Entry Password: yellow
Please do not share these links! They are for Diamonds subscribers ONLY!
Save the registration confirmation email with login instructions in case Zoom doesn't notify you in time.
---
---

It's Free!
***Click here to register for this recurring free DecisionPoint Trading Room on Mondays at Noon ET!***
Did you miss the 1/11/2021 free trading room? Here is a link to the recording. Access Code: ?H++t+d5
For best results, copy and paste the access code to avoid typos.
---
---
Welcome to DecisionPoint Daily Diamonds, wherein I highlight five "diamonds in the rough." These are selected from the results of my DecisionPoint scans, which search for stocks that could benefit from the trend and condition of the market. Remember, these are not recommendations to buy or sell, but are the most interesting of the stocks that surfaced in my scans. My objective is to save you the work of the initial, tedious culling process, but you need to apply your own analysis to see if these stocks pique your interest as well. There are no guaranteed winners here!
---
---
ARK Genomic Revolution Multi-Sector ETF(ARKG)
EARNINGS: N/A
ARKG is an actively managed fund that targets companies involved in the genomics industry.
ARKG is up +0.36% in after hours trading. Mary Ellen brought this to the table today during our show. However, I had to giggle a little because it came up in one of my Diamond scans yesterday! So I'm a day late and probably more than a dollar short given the 1.21% gain today, but this one still looks good. It had a similar look at the end of December before its correction, but it regained its footing quickly on a big rally last Thursday. I see a bull flag in the thumbnail. After the big gain, it needed a pause and that is what is occurring now. Given the still very positive RSI and the rising PMO. The PMO is flattening due to this current price pause. I will admit that I don't like the negative OBV divergence, but volume patterns have been very volatile overall.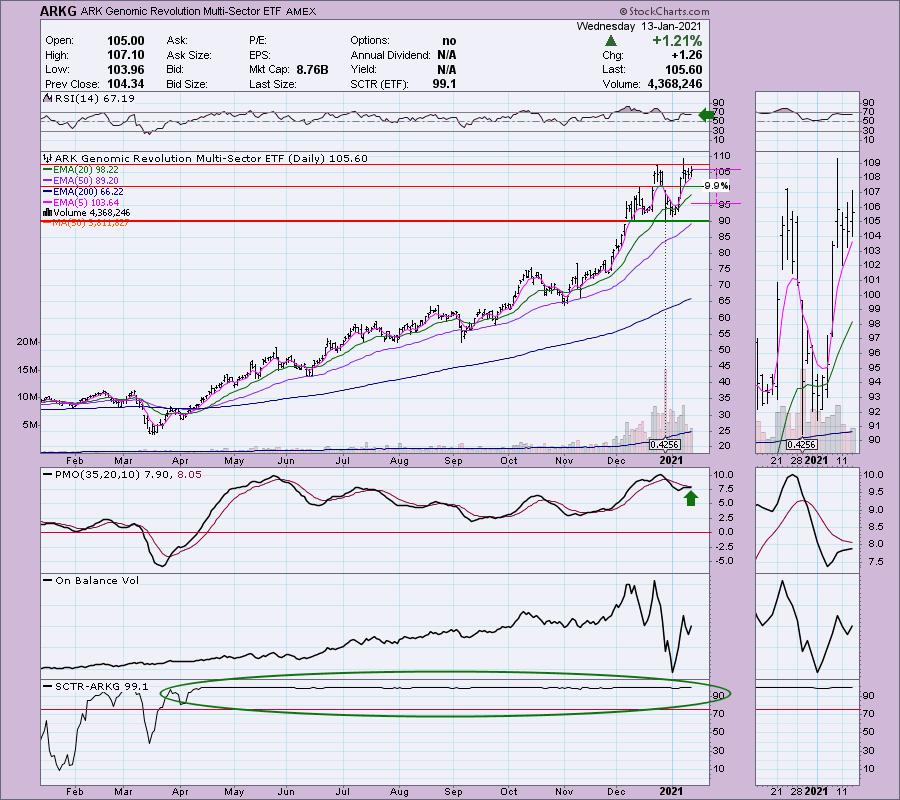 The RSI on the weekly chart is definitely overbought, but it has been in and out of overbought territory for months without even seeing its rising trend weakened. It has found a new steep rising bottoms trendline. These are tough to maintain, but the PMO is so positive, I would expect to see it continue to make new all-time highs.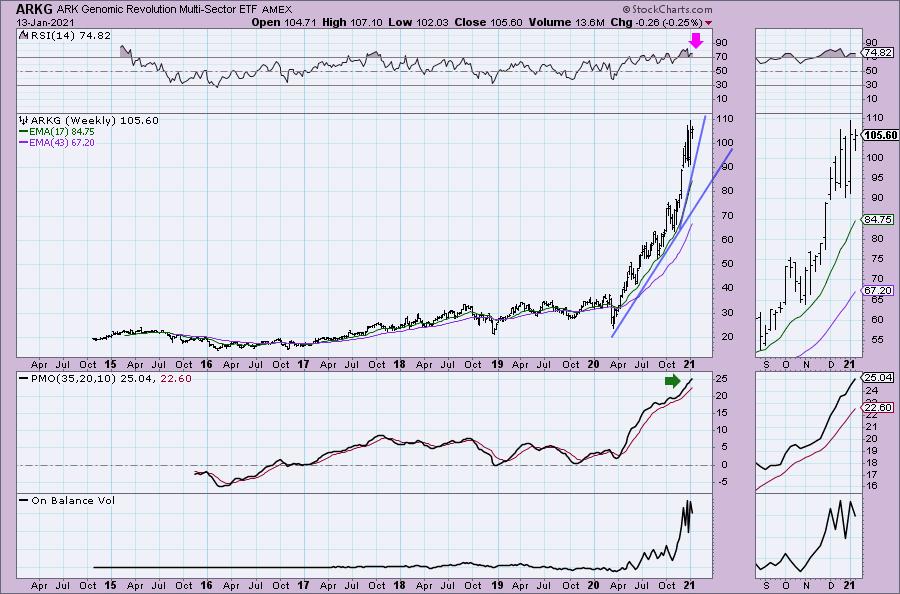 ---
EXACT Sciences Corp. (EXAS)
EARNINGS: 2/9/2021 (BMO)
EXACT Sciences Corp. is a molecular diagnostics company, which focuses on the early detection and prevention of colorectal cancer. It developed Cologuard, a screening test for the early detection of colorectal cancer and pre-cancer. The company was founded on February 10, 1995 and is headquartered in Madison, WI.
EXAS is down -0.94% in after hours trading. This would take price to support at the December top so I suspect this will still be a possible trade, if it dips too far below that support level tomorrow, you may want to hold off. I included it today because it just triggered a PMO BUY signal and after breaking out strongly, it has pulled back to the breakout point. The RSI is positive and the SCTR is in the "hot zone" above 75. I set a 10% stop which is between the 20/50-EMAs.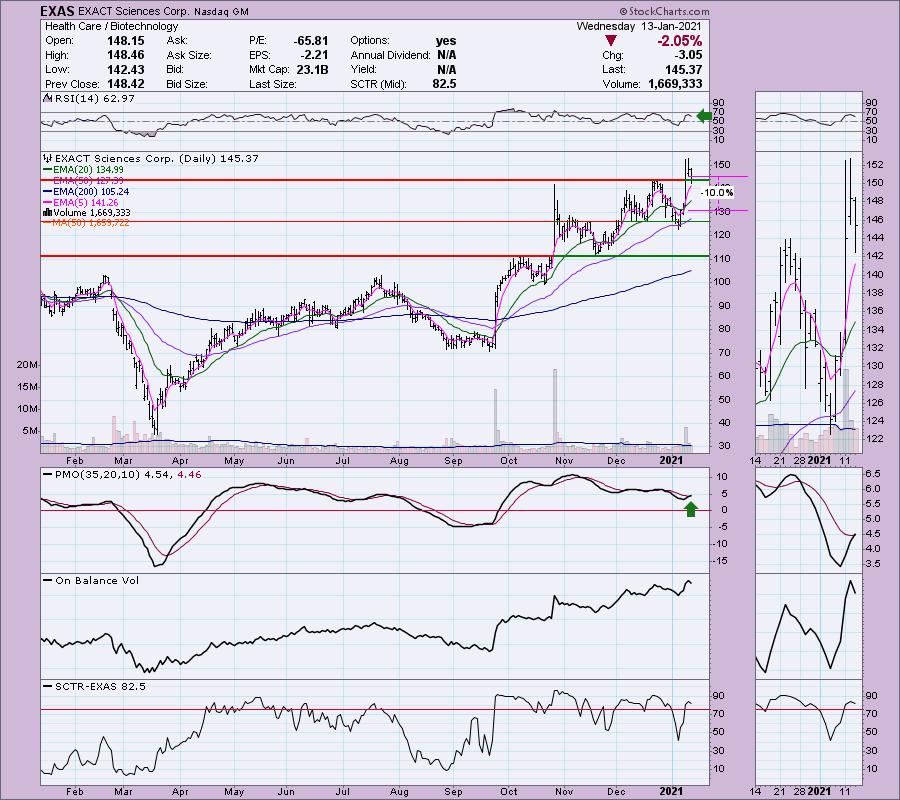 The weekly PMO formed a bottom above the signal line and is rising again. It is not overbought. The RSI is on the cusp of being overbought. Price is breaking out strongly this week. The reverse head and shoulders executed awhile back. The minimum upside target around $185 based on that pattern.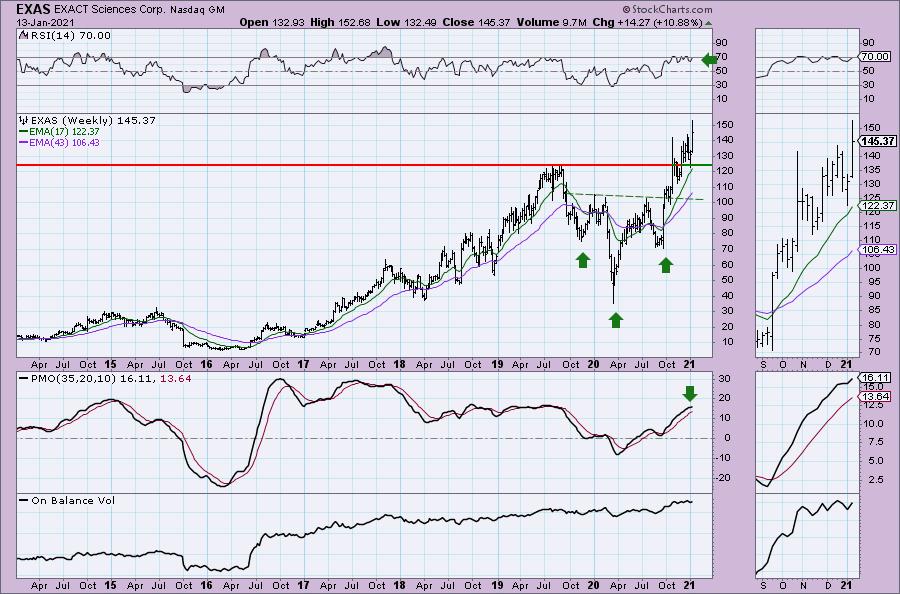 ---
Natera, Inc. (NTRA)
EARNINGS: 2/24/2021 (AMC)
Natera, Inc. is a diagnostics company, which engages in the discovery, development, and commercialization of genetic testing services. It provides Panorama non-invasive prenatal test (NIPT), Vistara, horizon carrier screening (HCS), spectrum pre-implantation genetic screening and spectrum pre-implantation genetic diagnosis, Anora products of conception (POC) and non-invasive paternity testing (PAT). The firm also offers Constellation, a cloud-based software product that allows laboratory customers to gain access to the algorithms and bioinformatics in order to validate and launch tests based on the technology. The company was founded by Matthew Rabinowitz and Jonathan Sheena in November 2003 and is headquartered in San Carlos, CA.
NTRA is down -0.25% in after hours trading. I covered NTRA in the February 27th Diamonds Report (up 204.1% since...I didn't set a stop level on it as I believe I was more interested in populating watch lists during the run up to the bear market. If I had set a stop level, it definitely would've been hit on the bear market decline so I'll take some credit for that gain, but not complete credit.).
I like the breakout today. It closed just above the late December top which is the area I'd like to see it hold. The RSI is positive and not overbought and the PMO is about to trigger a crossover BUY signal. We have a positive OBV divergence that led into this rally. The OBV is making new highs with price, so price is following volume. The SCTR is strong.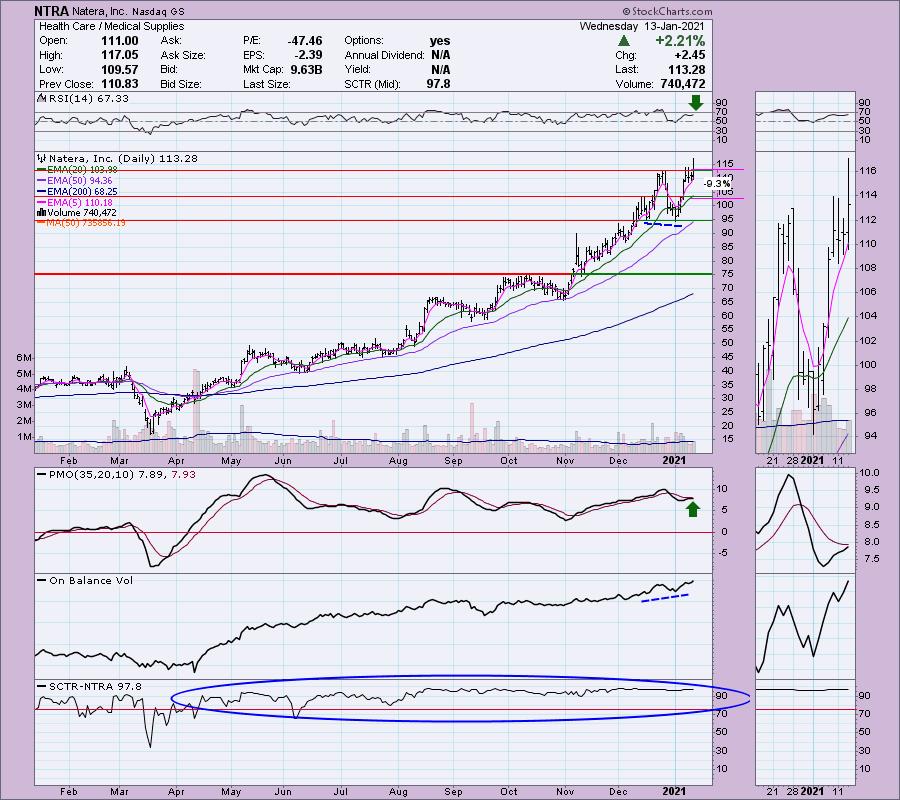 The PMO is overbought, but it is rising nicely still. The RSI is overbought, but you'll note it has managed to stay that way since the summer without seeing any damage to the steep rising trend.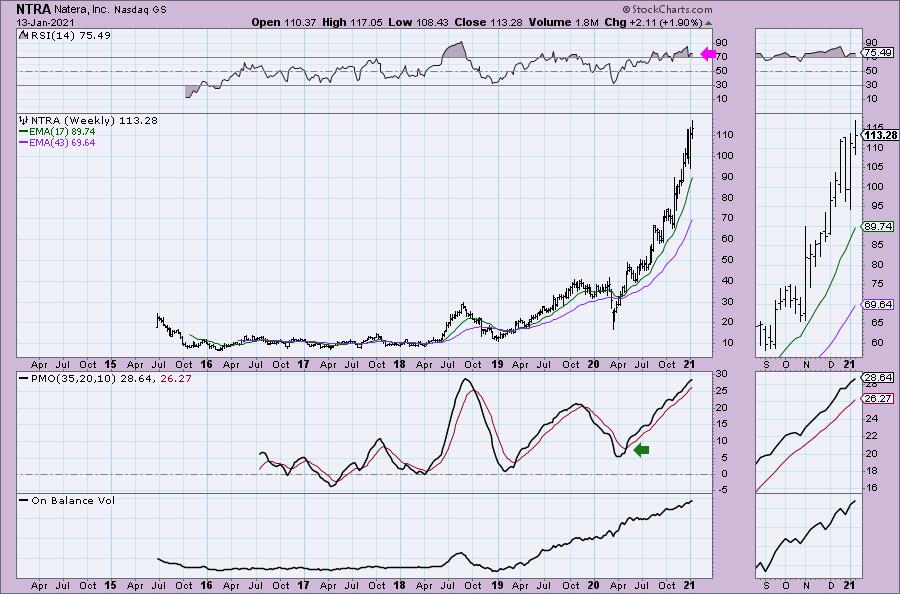 ---
Don't forget, on Thursdays I look at reader-requested symbols, so shoot me an email at erin@decisionpoint.com. I read every email I receive and try to answer them all!
---
Patterson Dental Co. (PDCO)
EARNINGS: 2/25/2021 (BMO)
Patterson Cos., Inc. engages in dental and animal health supplies. It operates through the following segments: Dental, Animal Health, and Corporate. The Dental segment provides a virtually complete range of consumable dental products, equipment and software, turnkey digital solutions an value-added services to dentists and dental laboratories. The Animal Health segment distributes animal health products, services and technologies to both the production-animal and companion-pet markets. The Corporate segment comprises general and administrative expenses, including home office support costs in areas such as information technology, finance, legal, human resources and facilities. The company was founded by John Patterson and Myron Fayette Patterson in 1877 and is headquartered in St. Paul, MN.
PDCO is unchanged in after hours trading. I really like the OBV positive divergence that led to the current rally. The PMO is going in for a crossover BUY signal and the RSI is rising, positive and not at all overbought. The SCTR is on the rise and could find itself back in the "hot zone" soon.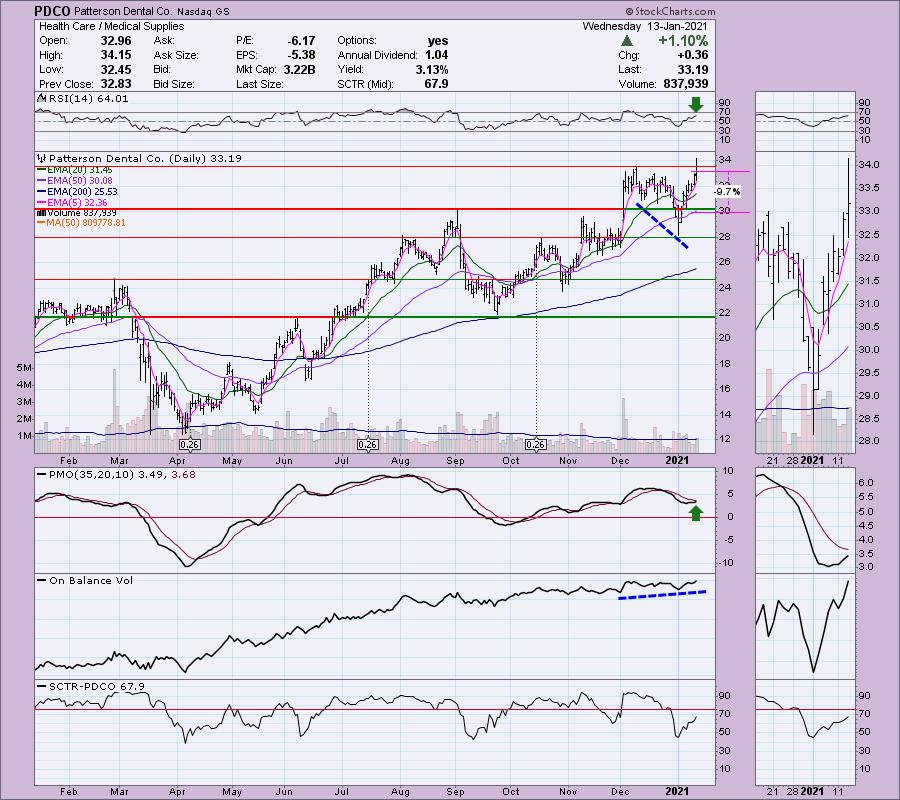 The weekly chart is very favorable with the exception of an overbought PMO. However, I will forgive that given the new bottom above the signal line. Price is holding above major support at $30. $35 is the next area of overhead resistance, but again, given the nice chart, I believe it will move past that with upside potential at a 27%+ gain.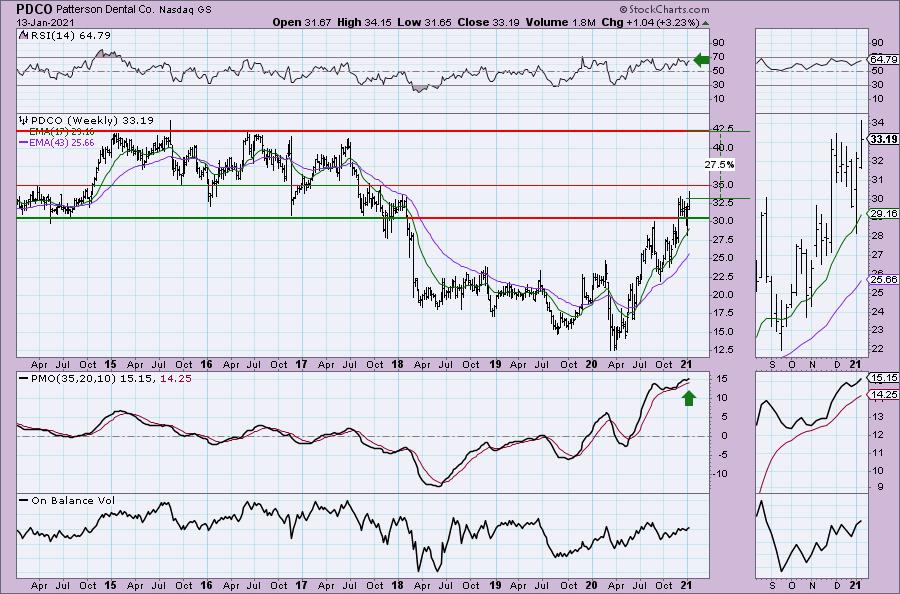 ---


Repligen Corp. (RGEN)
EARNINGS: 2/18/2021 (BMO)
Repligen Corp. provides advanced bioprocessing technologies and solutions used in the process of manufacturing biologic drugs. The firm serves through the following product lines: Chromatography; Filtration; and OEM Products (Proteins). The Chromatography product line includes a number of products used in the downstream purification and quality control of biological drugs. The Filtration products offer a number of advantages to manufacturers of biologic drugs at volumes that span from pilot studies to clinical and commercial-scale production. The OEM products are represented by Protein A affinity ligands, which are a critical component of Protein A chromatography resins used in downstream purification, and cell culture growth factor products. The company was founded by Alexander G. Rich and Paul R. Schimmel in May 1981 and is headquartered in Waltham, MA.
RGEN is unchanged in after hours trading. Full disclosure, I do own RGEN. I picked it up when I presented it as a Diamond on July 23rd 2020. So yes, I am enjoying the 52%+ gain since. I think it is time for another look as it has just come out of a nice cup shaped rounded bottom. It hasn't broken above overhead resistance yet, but the PMO BUY signal and positive RSI suggest it will. The OBV has been in a steady uptrend since. The SCTR has spent the majority of the year in the "hot zone" above 75.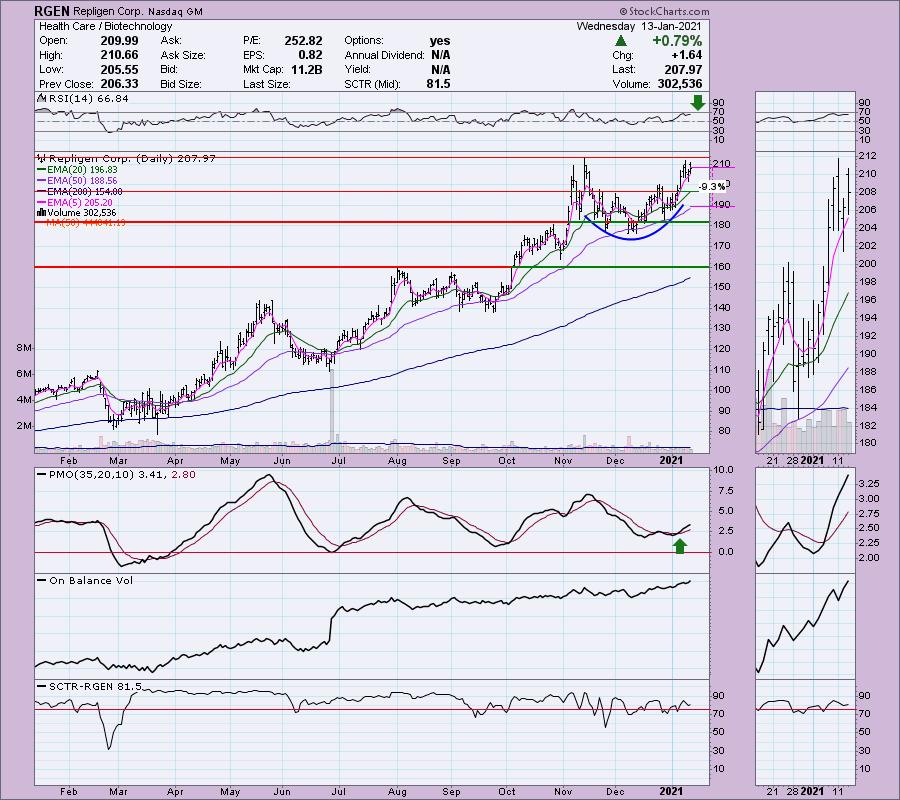 The PMO has bottomed above its signal line and the RSI is positive and not yet overbought. It has been in a strong rising trend channel all year.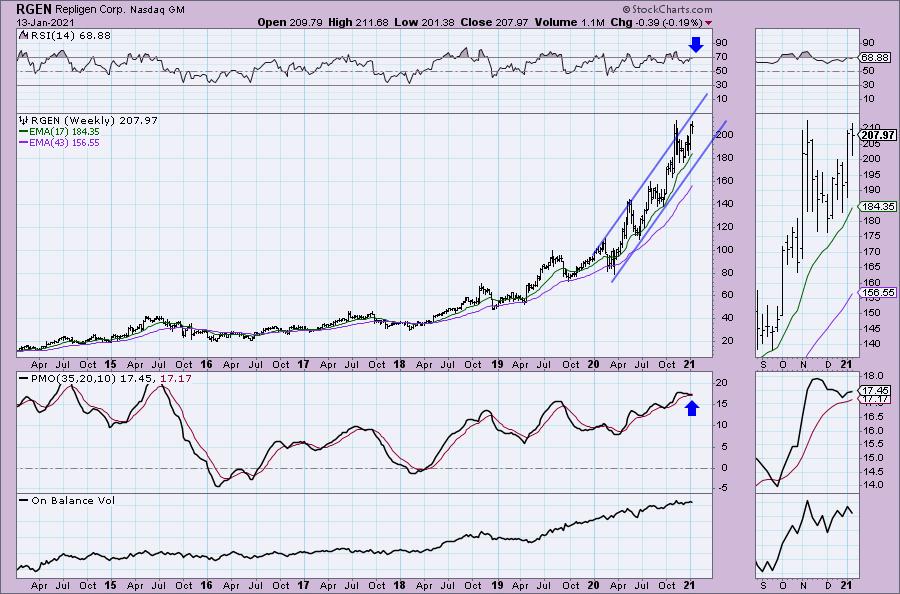 ---
Full Disclosure: I'm about 55% invested and 45% is in 'cash', meaning in money markets and readily available to trade with. I own RGEN and I added UNG today.
---
Current Market Outlook:
Market Environment: It is important to consider the odds for success by assessing the market tides. The following chart uses different methodologies for objectively showing the depth and trend of participation for intermediate- and long-term time frames.
The Silver Cross Index (SCI) shows the percentage of SPX stocks on IT Trend Model BUY signals (20-EMA > 50-EMA)
The Golden Cross Index (GCI) shows the percentage of SPX stocks on LT Trend Model BUY signals (50-EMA > 200-EMA)
The Bullish Percent Index (BPI) shows the percentage of SPX stocks on Point & Figure BUY signals.
Don't forget that as a "Diamonds" member, you have access to our GCI/SCI curated ChartList on DecisionPoint.com. You'll find it under "Members Only" links on the left side on the Blogs and Links Page.
Here is the current chart: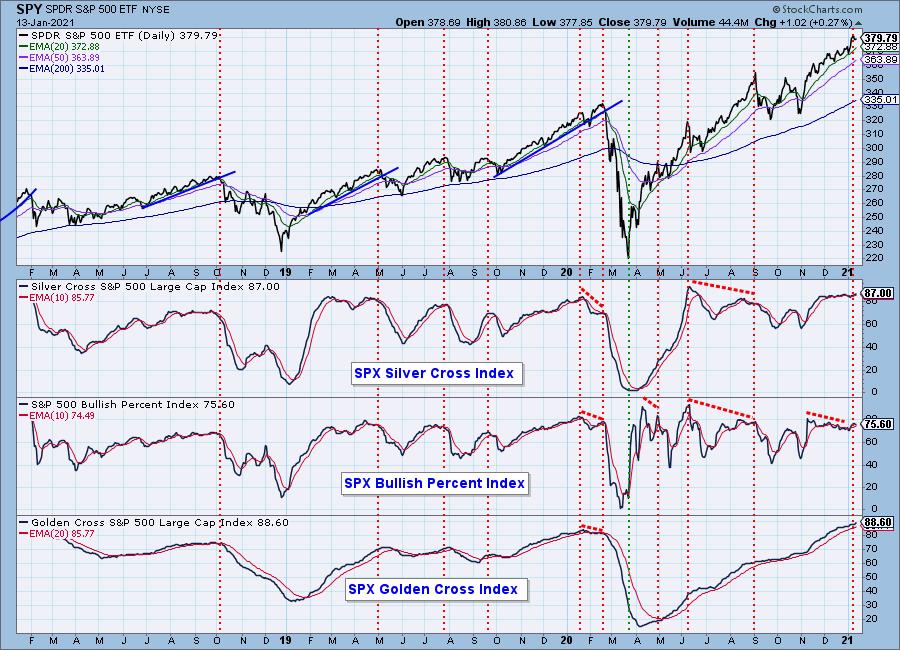 Diamond Index:
Diamond Scan Results: 22
Diamond Dog Scan Results: 5
Diamond Bull/Bear Ratio: 4.40
I'm in the process of trying to plot the Diamond Index, but with time at a premium, it is on the back burner.
Technical Analysis is a windsock, not a crystal ball.
Happy Charting!
- Erin
erin@decisionpoint.com
---
Watch the latest episode of DecisionPoint with Carl & Erin Swenlin on Mondays 7:00p EST or on the DecisionPoint playlist on the StockCharts TV YouTube channel here!
---
---
NOTE: The stocks reported herein are from mechanical trading model scans that are based upon moving average relationships, momentum and volume. DecisionPoint analysis is then applied to get five selections from the scans. The selections given should prompt readers to do a chart review using their own analysis process. This letter is not a call for a specific action to buy, sell or short any of the stocks provided. There are NO sure things or guaranteed returns on the daily selection of "diamonds in the rough."
---
Helpful DecisionPoint Links:
DecisionPoint Shared ChartList and DecisionPoint Chart Gallery
Price Momentum Oscillator (PMO)
Swenlin Trading Oscillators (STO-B and STO-V)
For more links, go to DecisionPoint.com!