Diamonds in the rough had a solid week. Yesterday's reader requests and one of my picks didn't have a great day, but overall there are only a few that I don't like going forward. Healthcare still has areas of outperformance or pockets of strength that we will want to exploit, especially if the overall market continues to decline.
The biggest loser was reader request, FUBO, but I'm going to skip that one. Weight Watchers (WW), yesterday's pick of mine was the next biggest loser so we will look at that one. I'm not beating myself up over WW, I knew we would see a decline today after yesterday's 6%+ gain. The biggest winner was NTRA with a +6.07% gain! It still looks good going forward but is on the overbought side so I might wait for a pullback before entering it now.
Below is the recording link for today's Diamond Mine. We had quite a few join us this morning so it went long at 1.5 hours. Don't forget, underneath the recording link is the registration information for next Friday's Diamond Mine. I recommend registering now and saving the confirmation email so that you can easily join.
---
---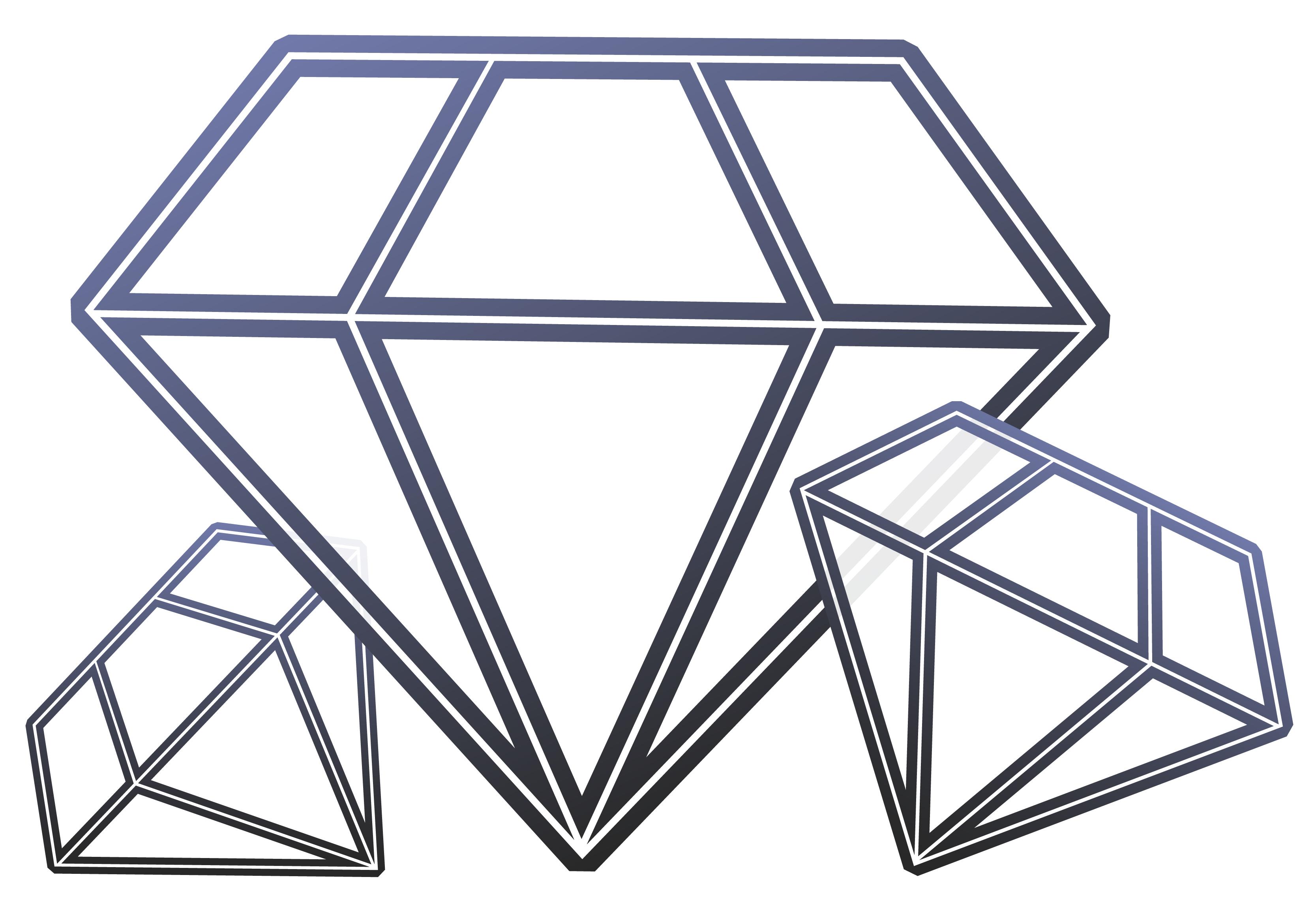 Diamond Mine Information:
Here is today's (1/15/2021) recording link. Access Passcode: mp+.Uj4q
===============================================================================
Register in advance for the next "DecisionPoint Diamond Mine" trading room on FRIDAY (1/15/2021) 12:00p ET:
Here is theRegistration Link & Entry Password: poppy
Please do not share these links! They are for Diamonds subscribers ONLY!
Save the registration confirmation email with login instructions in case Zoom doesn't notify you in time.
---
---
A few items about the spreadsheet: I decided it only fair to denote "reader requests" as I shouldn't get to take credit if they turn out great! I've put on the spreadsheet whether the RSI is positive (green) or negative (red). The PMO column tells you if it is rising (green) or falling (red). Finally I've added my own "Sparkle Factor" that gives you my assessment going forward, bullish (green), bearish (red) or neutral (gray). The Sparkle Factor is basically my thoughts on whether I expect it to rise or fall. A neutral means it could really go either way so it could be added to a watch list. If you're in a stock I consider "neutral" going forward, the ball is in your court.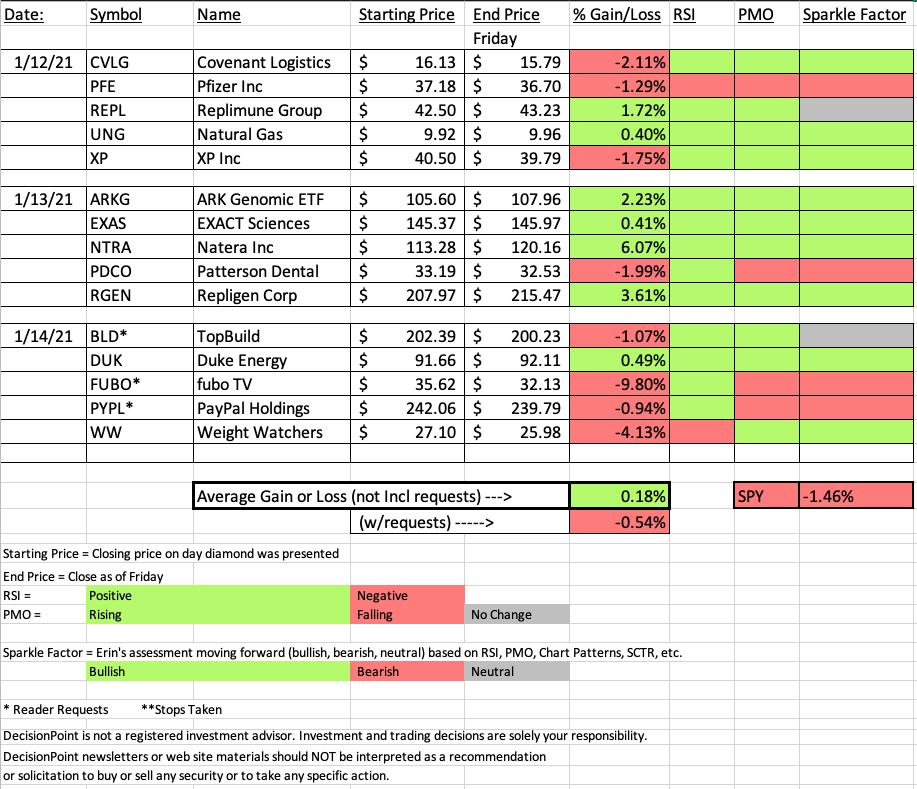 ---

It's FREE!
***Click here to register for this recurring free DecisionPoint Trading Room!***
Did you miss the 1/4/2021 DP Trading Room! Here's a link to the recording with Passcode: &z=1pfp2
For best results, copy and paste the password to avoid typos.
---
Darling:
Natera, Inc. (NTRA)
EARNINGS: 2/24/2021 (AMC)
Natera, Inc. is a diagnostics company, which engages in the discovery, development, and commercialization of genetic testing services. It provides Panorama non-invasive prenatal test (NIPT), Vistara, horizon carrier screening (HCS), spectrum pre-implantation genetic screening and spectrum pre-implantation genetic diagnosis, Anora products of conception (POC) and non-invasive paternity testing (PAT). The firm also offers Constellation, a cloud-based software product that allows laboratory customers to gain access to the algorithms and bioinformatics in order to validate and launch tests based on the technology. The company was founded by Matthew Rabinowitz and Jonathan Sheena in November 2003 and is headquartered in San Carlos, CA.
Below is my commentary from Wednesday:
"NTRA is down -0.25% in after hours trading. I covered NTRA in the February 27th Diamonds Report (up 204.1% since...I didn't set a stop level on it as I believe I was more interested in populating watch lists during the run up to the bear market. If I had set a stop level, it definitely would've been hit on the bear market decline so I'll take some credit for that gain, but not complete credit.).
I like the breakout today. It closed just above the late December top which is the area I'd like to see it hold. The RSI is positive and not overbought and the PMO is about to trigger a crossover BUY signal. We have a positive OBV divergence that led into this rally. The OBV is making new highs with price, so price is following volume. The SCTR is strong."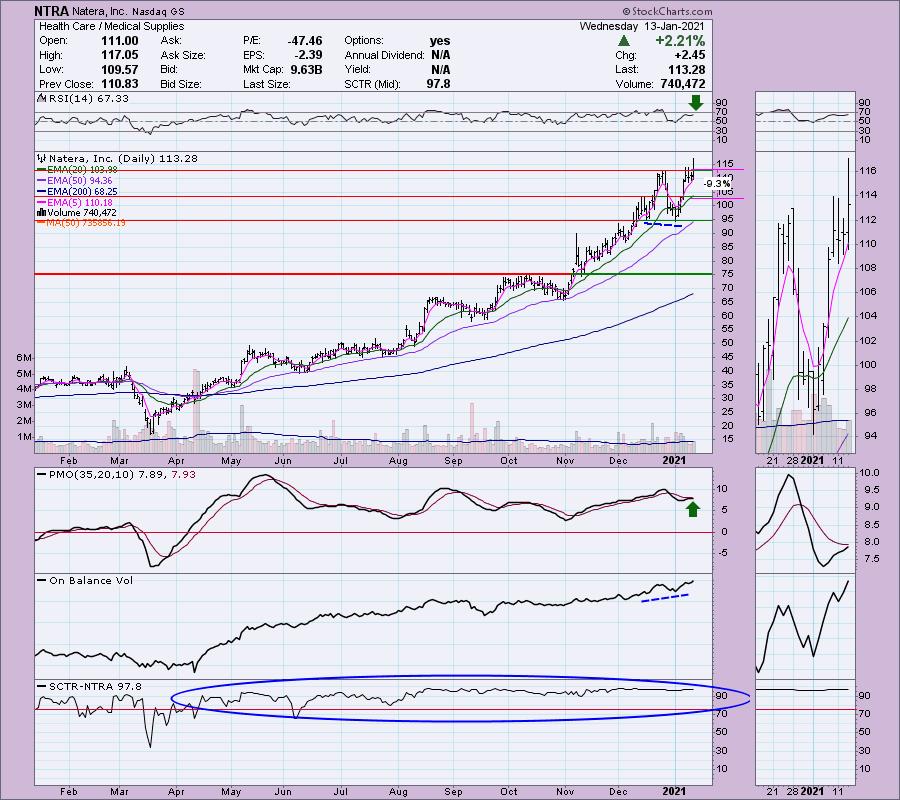 Here is today's chart:
NTRA is just getting better. It's only flaw now is a very overbought RSI. The PMO BUY signal is intact and not particularly overbought. I believe there is more upside to come, the issue will be timing an entry from here. I would look for a pullback or pause to clear those overbought conditions, but not damage the PMO. The stop can be tightened up closer to the December top.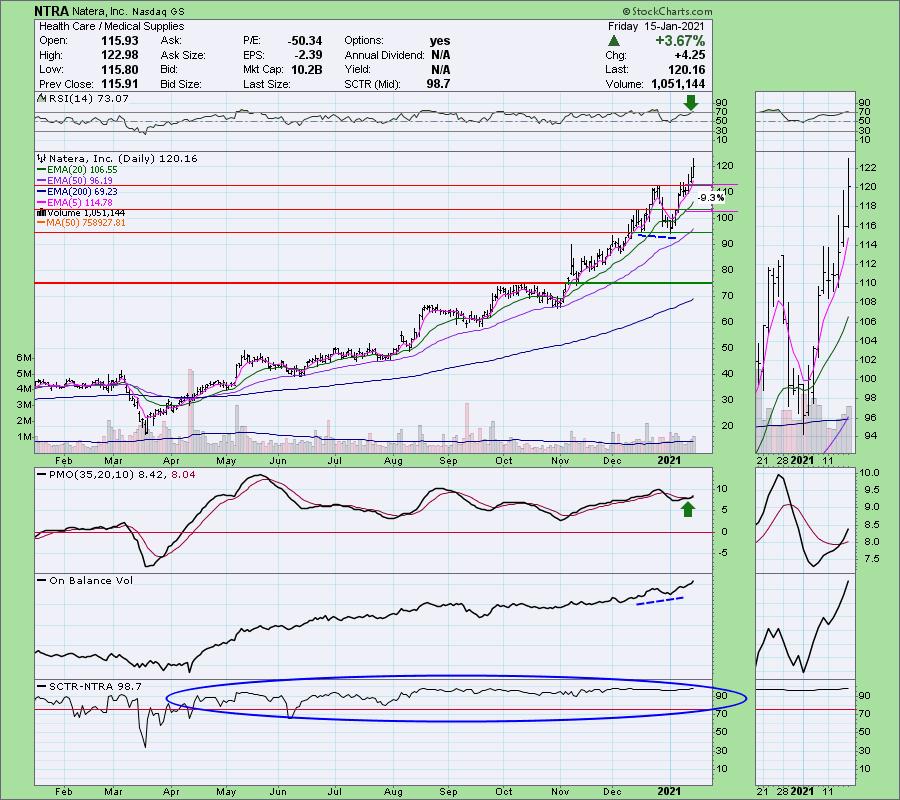 ---
---
Don't forget, on Thursdays I look at reader-requested symbols, so shoot me an email at erin@decisionpoint.com. I read every email I receive and try to answer them all!
---
---
Dud:
Weight Watchers Intl Inc. (WW)
EARNINGS: 2/23/2021 (AMC)
WW International, Inc. engages in the provision of weight management services. It operates through the following geographical segments: North America, United Kingdom, Continental Europe and Other. The North America segment consists of United States and Canada Company-owned operations. The United Kingdom segment includes United Kingdom Company-owned operations. The Continental Europe segment comprises of Germany, Switzerland, France, Spain, Belgium, Netherlands, and Sweden Company-owned operations. The others segment offers Australia, New Zealand Company-owned operations, as well as revenues and costs from franchises in the United States. The company was founded by Jean Nidetch in 1963 and is headquartered in New York, NY.
Below is my commentary from yesterday:
"WW is a shared pick and is up 1.44% in after hours trading even after a 6.9% gain today. This chart looks great with a newly positive RSI and rising PMO that is going in for a crossover BUY signal. There is a double-bottom pattern that executed with today's big gain. The SCTR is turning up. The OBV isn't that favorable given the amount of distribution that occurred in December. Today's surge was on high volume, but not as high as we would like."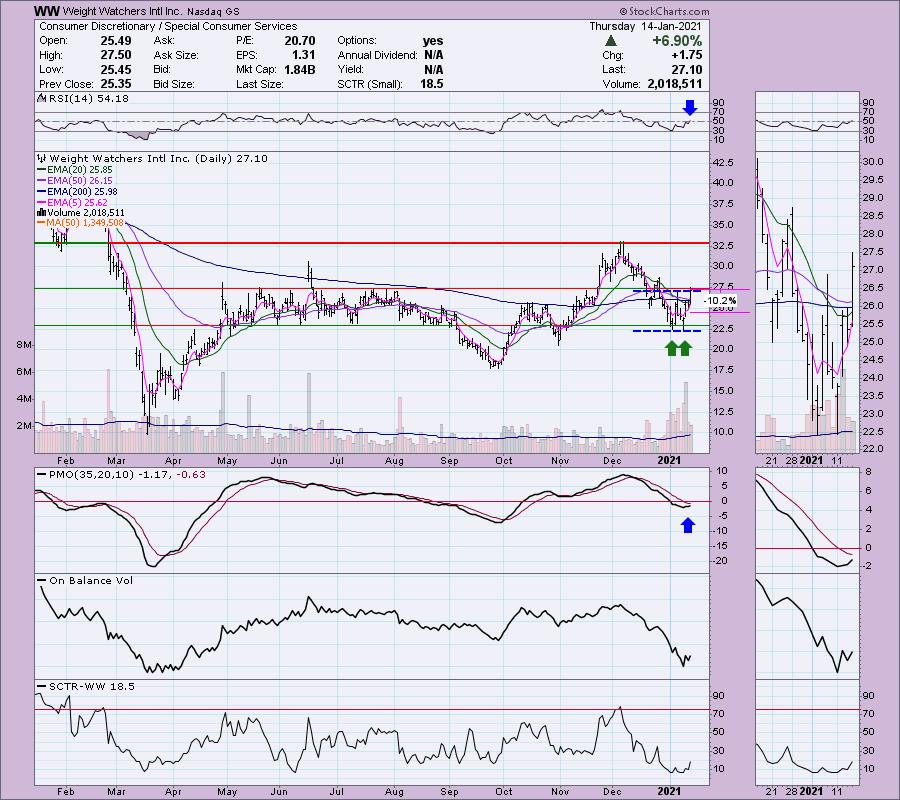 Below is today's chart:
I still like WW. It had a 6%+ gain yesterday so today was the pullback. The unfortunate thing about this pullback is that it brings price back into the double-bottom formation. The RSI did move negative, but the PMO still looks healthy enough. I was stalking this one today but never was inspired enough to pick it up. I still believe it will execute this double-bottom and rise, so if I did have it I would likely hold it. If it doesn't execute the double-bottom before losing the very short-term rising trend (visible in thumbnail off second bottom), it would likely be time to leave. The PMO does suggest the breakout scenario before the breakdown scenario.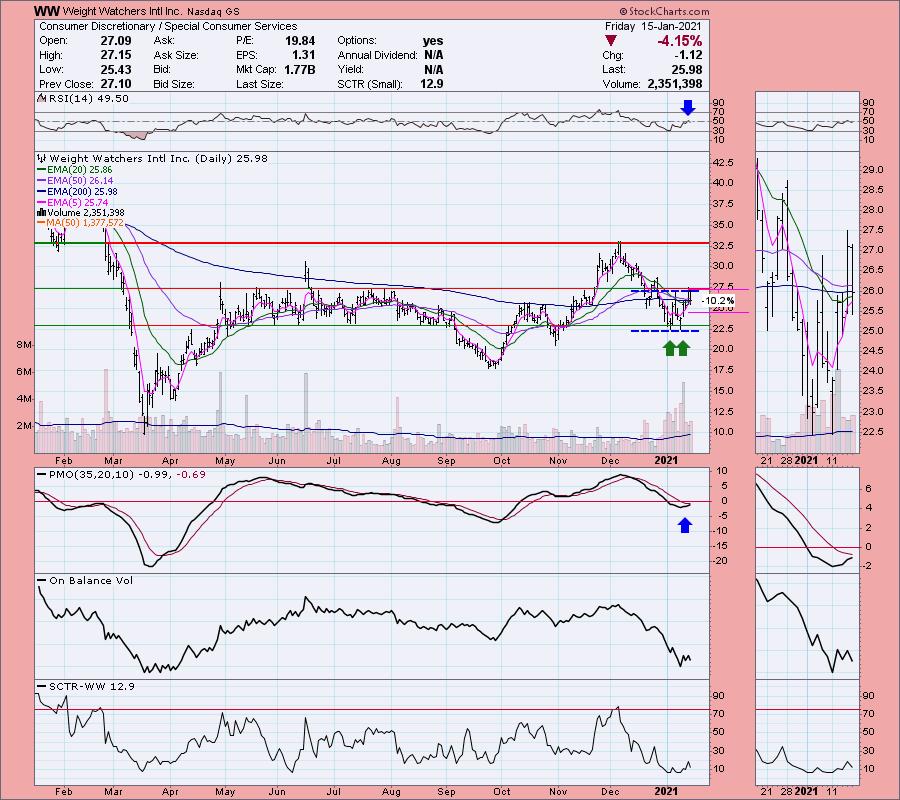 ---
THIS WEEK's Sector Performance: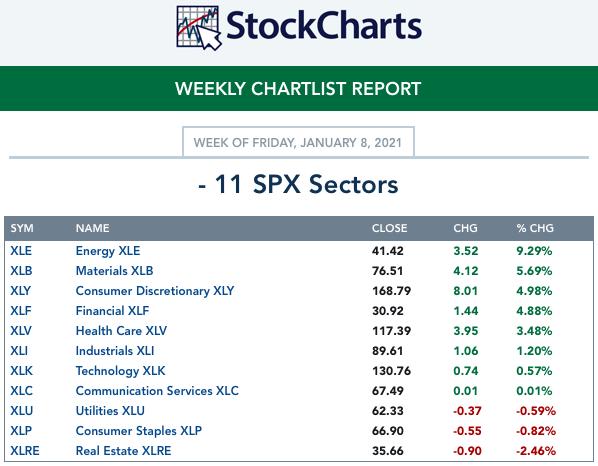 Click Here to view Carl's annotated Sector ChartList!
CONCLUSION:
Energy was the clear outperformed this week and I suspect it will continue to be a good area to pull from. I presented IEO today in "Your Daily Five" which I will link to in the DecisionPoint Newsletter later tonight. When I pick a "sector to watch", I go over all of the DP Sector charts and review indicators and price action to determine which has the best set-up going into the week. Overall, the sector chart with the most promise is
Sector to Watch: I'm a proponent of the Healthcare sector right now. It is a bit overbought, but this week's pause has brought the RSI out of overbought territory as well as %Stocks > 20/50-EMAs. While the other readings are overbought, they will support more rally.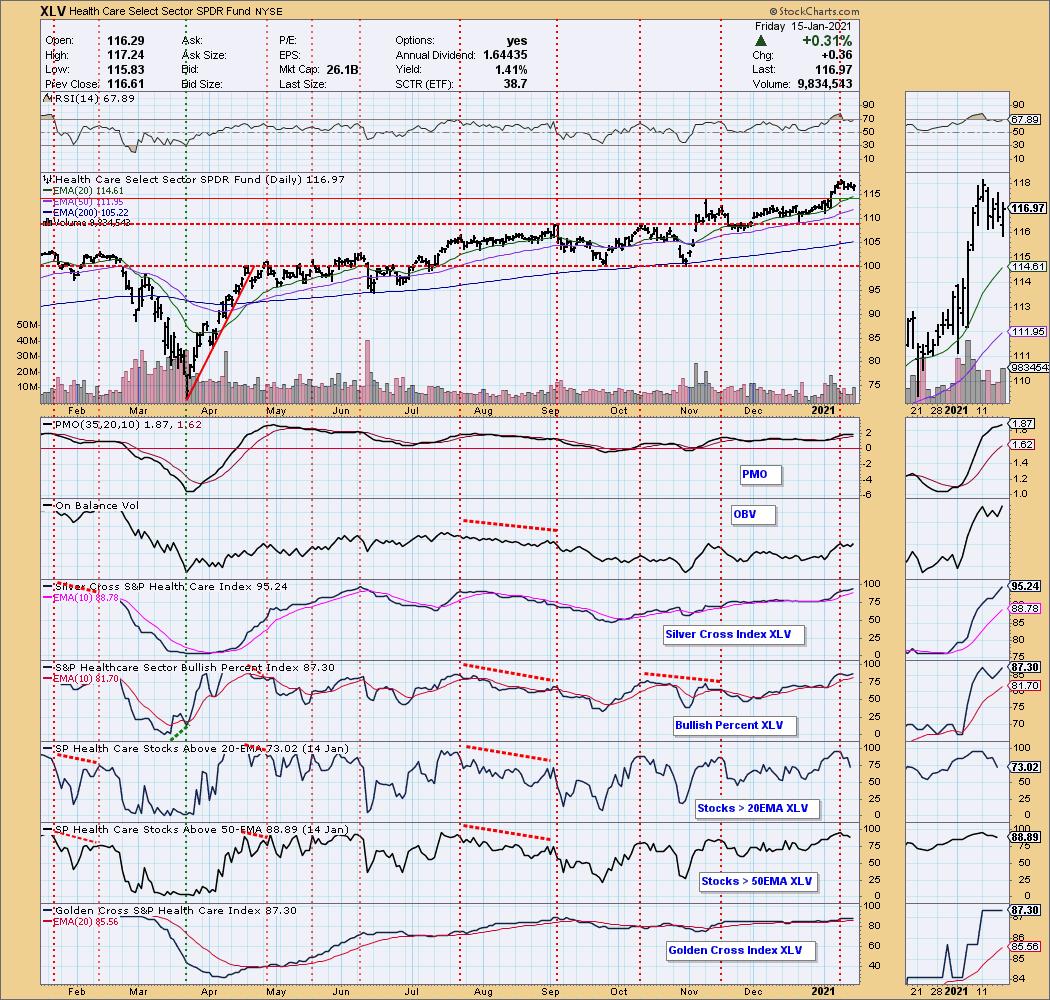 Industry Group to Watch: Biotechnology ($DJUSBT)
I like the breakout this week on Biotechs. The RSI is overbought, but the PMO is rising strongly and isn't overbought and the SCTR is rising out of oversold territory. Certainly price is following all that volume.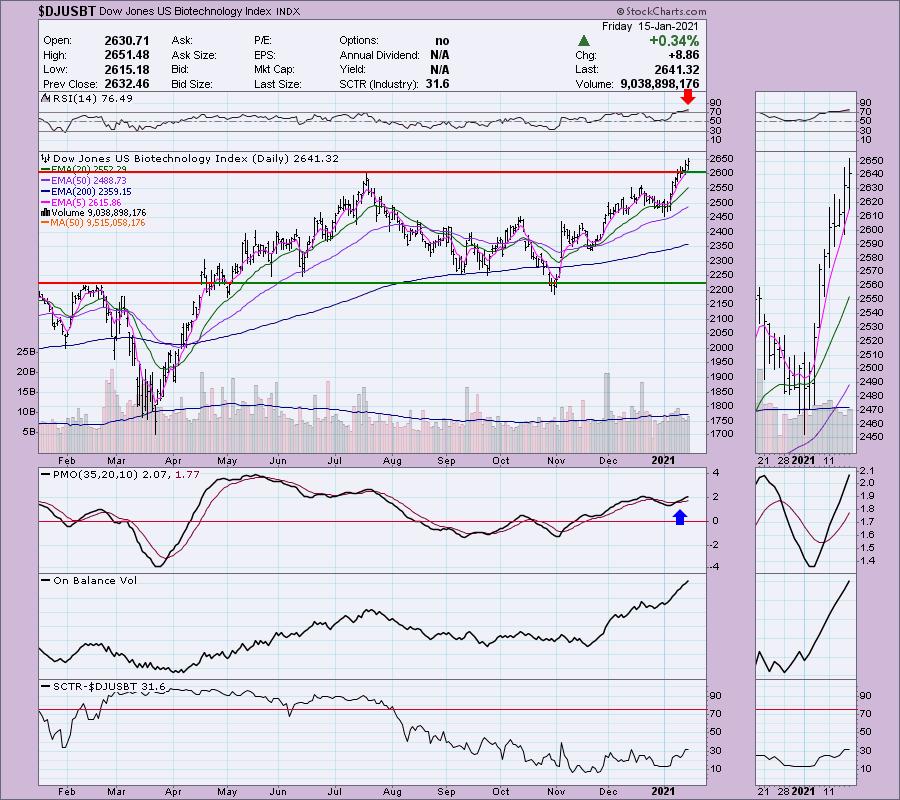 Go to our Sector ChartList on DecisionPoint.com to get an in depth view of all the sectors.
Have a great weekend!
Happy Charting!
- Erin
erin@decisionpoint.com
---
Full Disclosure: I'm about 50% invested right now and 50% is in 'cash', meaning in money markets and readily available to trade with. I will expanding my portfolio next week during what I believe will be a pause or small pullback to relieve overbought conditions within most areas of the market.
Technical Analysis is a windsock, not a crystal ball.
---
Watch the latest episode of DecisionPoint with Carl & Erin Swenlin on Mondays 7:00p EST or on the DecisionPoint playlist on the StockCharts TV YouTube channel here!
---
---
NOTE: The stocks reported herein are from mechanical trading model scans that are based upon moving average relationships, momentum and volume. DecisionPoint analysis is then applied to get five selections from the scans. The selections given should prompt readers to do a chart review using their own analysis process. This letter is not a call for a specific action to buy, sell or short any of the stocks provided. There are NO sure things or guaranteed returns on the daily selection of "diamonds in the rough."
---
Helpful DecisionPoint Links:
DecisionPoint Shared ChartList and DecisionPoint Chart Gallery
Price Momentum Oscillator (PMO)
Swenlin Trading Oscillators (STO-B and STO-V)
For more links, go to DecisionPoint.com!