The minutes of the FOMC and Chairman Powell's remarks set Utilities in a tail spin. Since we went "all in" on Utilities this week, the result was not great for this week's "Diamonds in the Rough". We were right that the market was ready to pull back this week and typically Utilities are a great place to hide out. Unfortunately, Utilities tend to underperform when interest rates rise.
The biggest loser this week triggered its stop after the close today. PARR completely fell apart and the 9.4% stop was hit. The loss taken was -9.87%.
The biggest winner was down only -1.92% this week and it still looks good going forward. This pullback could offer an entry opportunity, but it is a Utility so we may want to "wait and see".
The only other stock with a "green" Sparkle Factor is Supernus Pharma (SUPN). It's a Healthcare stock and at the end of today's Diamond Mine we agreed that Healthcare was likely the place to be next week. This week's 3.31% pullback offers a good entry next week.
Next week there will be a "bonus" Diamond Mine on Wednesday. To sign up for Wednesday, click here or use the link below. There is also a link for Friday's Diamond Mine.
---
** UPCOMING VACATION - June 28th to July 9th **
It's that time of year again! Last year it was a road trip to Alabama and back, this year it is a road trip to Utah and back! We plan on dropping in Las Vegas, Zion, Spanish Fork, Bryce Canyon, back to the Grand Canyon, Bull Head City and finally back home. I'll include my travel diary and pictures just like last year for Diamonds readers!
I plan on writing, but trading rooms will be postponed until I return home. Blog articles may be delayed depending on WIFI service and/or our travel for the day. You'll miss two Diamond Mines (I'll make them up in the coming weeks).
---
---
---

Diamond Mine Information:
RECORDING LINK:
Topic: DecisionPoint Diamond Mine (06/18/2021) LIVE Trading Room
Start Time : Jun 18, 2021 08:59 AM
6/18 Diamond Mine Recording Link.
Access Passcode: June-18th
REGISTRATION FOR WEDNESDAY Diamond Mine:
When: Jun 23, 2021 09:00 AM Pacific Time (US and Canada)
Topic: BONUS DecisionPoint Diamond Mine Wednesday (6/23)
Register in advance for Wednesday's Diamond Mine webinar HERE.
REGISTRATION FOR FRIDAY Diamond Mine:
When: Jun 25, 2021 09:00 AM Pacific Time (US and Canada)
Topic: DecisionPoint Diamond Mine (6/25) LIVE Trading Room
Register in advance for FRIDAY's webinar HERE
Save the registration confirmation email with login instructions in case Zoom doesn't notify you in time.
---
A few items about the spreadsheet: I decided it only fair to denote "reader requests" as I shouldn't get to take credit if they turn out great! I've put on the spreadsheet whether the RSI is positive (green) or negative (red). The PMO column tells you if it is rising (green) or falling (red). Finally I've added my own "Sparkle Factor" that gives you my assessment going forward, bullish (green), bearish (red) or neutral (gray). The Sparkle Factor is basically my thoughts on whether I expect it to rise or fall. A neutral means it could really go either way so it could be added to a watch list. If you're in a stock I consider "neutral" going forward, the ball is in your court.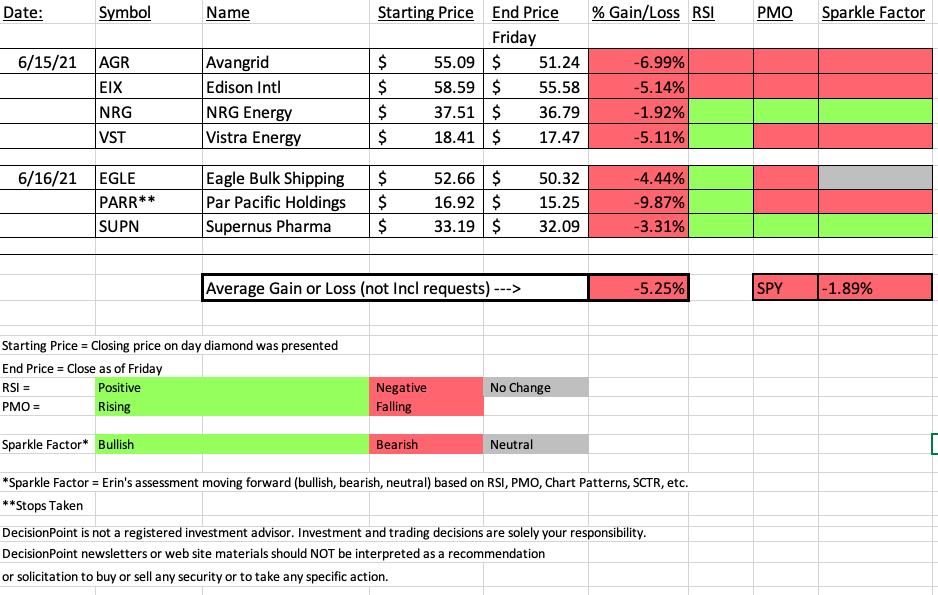 ---
Free DP Trading Room RECORDING LINK:
Topic: DecisionPoint Trading Room
Start Time : Jun 14, 2021 09:00 AM
Free DP Trading Room Recording LINK.
Access Passcode: June/14th
For best results, copy and paste the access code to avoid typos.
---
Darling:
NRG Energy Inc. (NRG)
EARNINGS: 8/5/2021 (BMO)
NRG Energy, Inc. engages in the production, sale, and distribution of energy and energy services. It operates through the following segments: Generation, Retail, and Corporate. The Generation segment includes all power plant activities, domestic and international, as well as renewables. The Retail segment includes mass customers and business solutions, and other distributed and reliability products. The Corporate segment includes residential solar and electric vehicle services. The company was founded in 1989 and is headquartered in Princeton, NJ.
Below is the commentary and chart from Tuesday (6/15):
"NRG is down -0.67% in after hours trading which means a good entry is likely tomorrow. I would've liked to have presented this one earlier, but at this point it is really looking good for a continuation of the already powerful rally. The RSI is positive and is avoiding overbought territory. The PMO is on a BUY signal and has just moved into positive territory. The SCTR is jumping higher. It is a clear out-performer in every way. There is a LT Trend Model "Golden Cross" BUY signal that just triggered when the 50-EMA crossed above the 200-EMA and there is an IT Trend Model "Silver Cross" BUY signal that is setting up as the 20-EMA strides toward the 50-EMA for a positive crossover or "Silver Cross". The stop is reasonable and is lined up with the March low."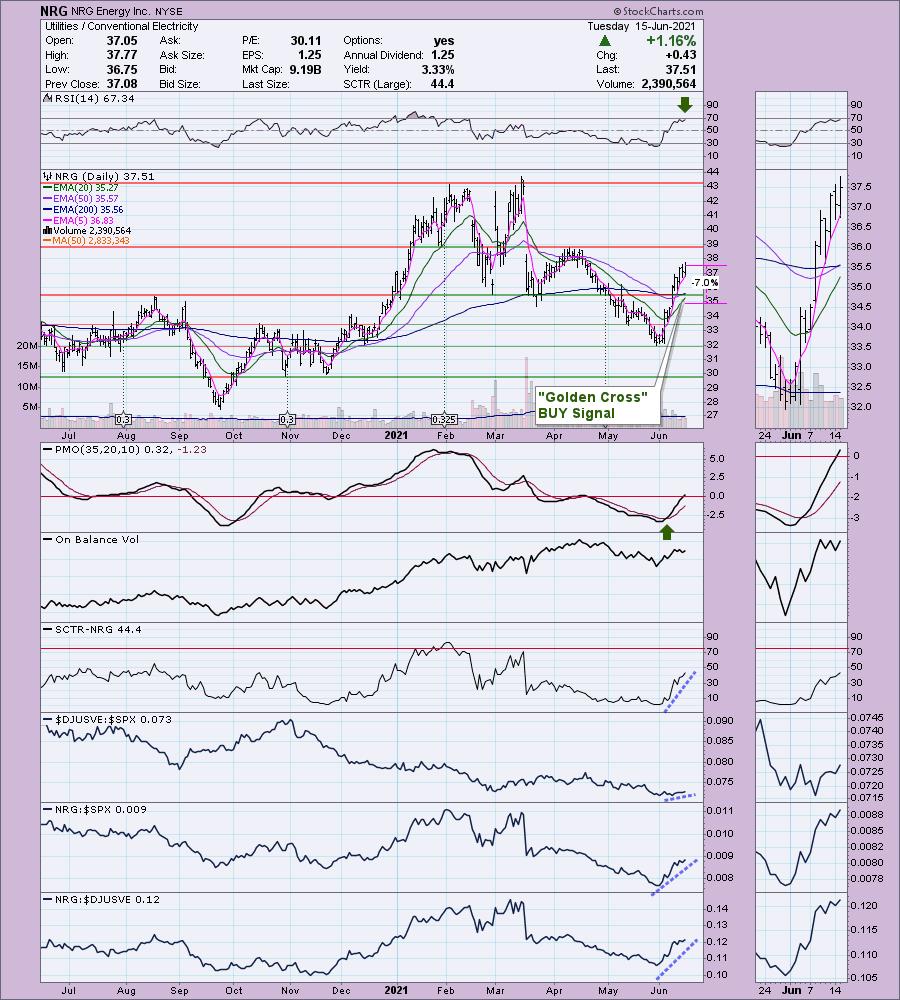 Here is today's chart:
Today's big pullback caused this "Diamond in the Rough" to finish the week negatively. However, the chart still looks pretty good on this pullback. Today NRG triggered an IT Trend Model "Silver Cross" BUY signal. The RSI was getting overbought and now it is not. There's a good chance we will see it pull back further given it closed near the low of the day. Watch the 5-min closely for any entries, but first see if this one can hold support at those EMAs.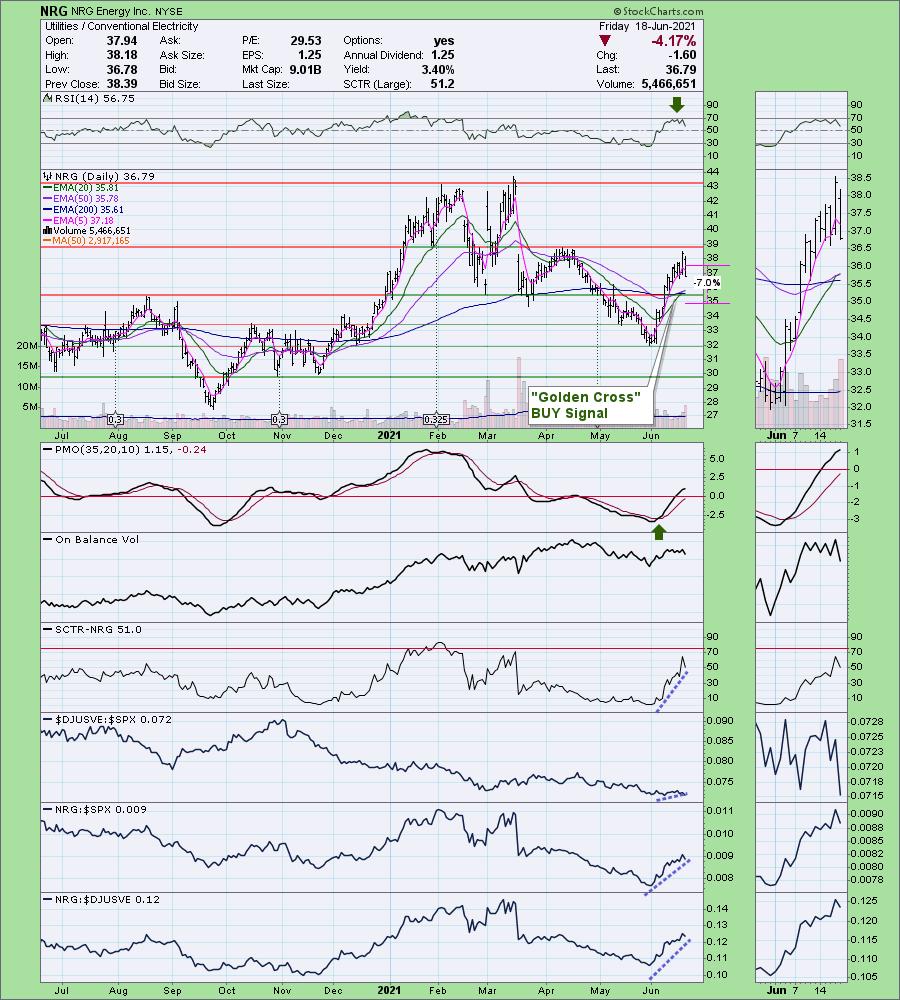 ---
---
Don't forget, on Thursdays I look at reader-requested symbols, so shoot me an email at erin@decisionpoint.com. I read every email I receive and try to answer them all!
---
---
Darling #2:
Supernus Pharmaceuticals, Inc. (SUPN)
EARNINGS: 8/4/2021 (AMC)
Supernus Pharmaceuticals, Inc. engages in the development and commercialization of products for the treatment of central nervous system diseases. It offers Trokendi XR, Oxtellar XR, APOKYN, XADAGO, and MYOBLOC products. The company was founded by Jack A. Khattar on March 30, 2005 and is headquartered in Rockville, MD.
Below is the chart and commentary from Wednesday (6/16):
"SUPN is up +1.24% in after hours trading even after today's spectacular breakout. The RSI is on the overbought side, but we've seen this before and it can last. The PMO is on a new BUY signal and is rising. The OBV broke out with price. The SCTR just entered the "hot zone" above 75. Although the industry group hasn't been doing that great since last week, in the longer term, the group is doing very well. SUPN is a winner within this group and it has performed exceptionally well against the SPX. You can easily set a thin stop on this one."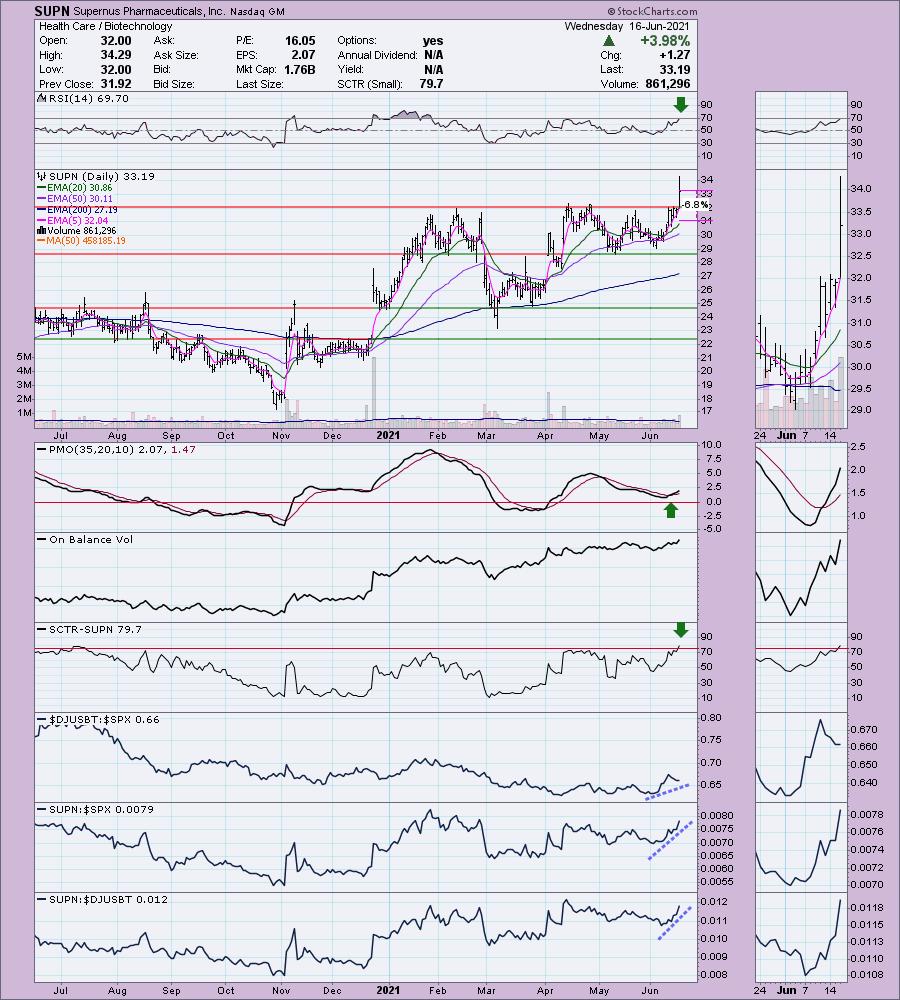 Below is today's chart:
I decided to cover this "runner up" Darling. It's a Biotech and since Healthcare appears to be the sector to watch next week, this one deserves a position on your watchlist. Interestingly the stop nearly triggered intraday, but price finished above near-term support. This could be a good reversal point.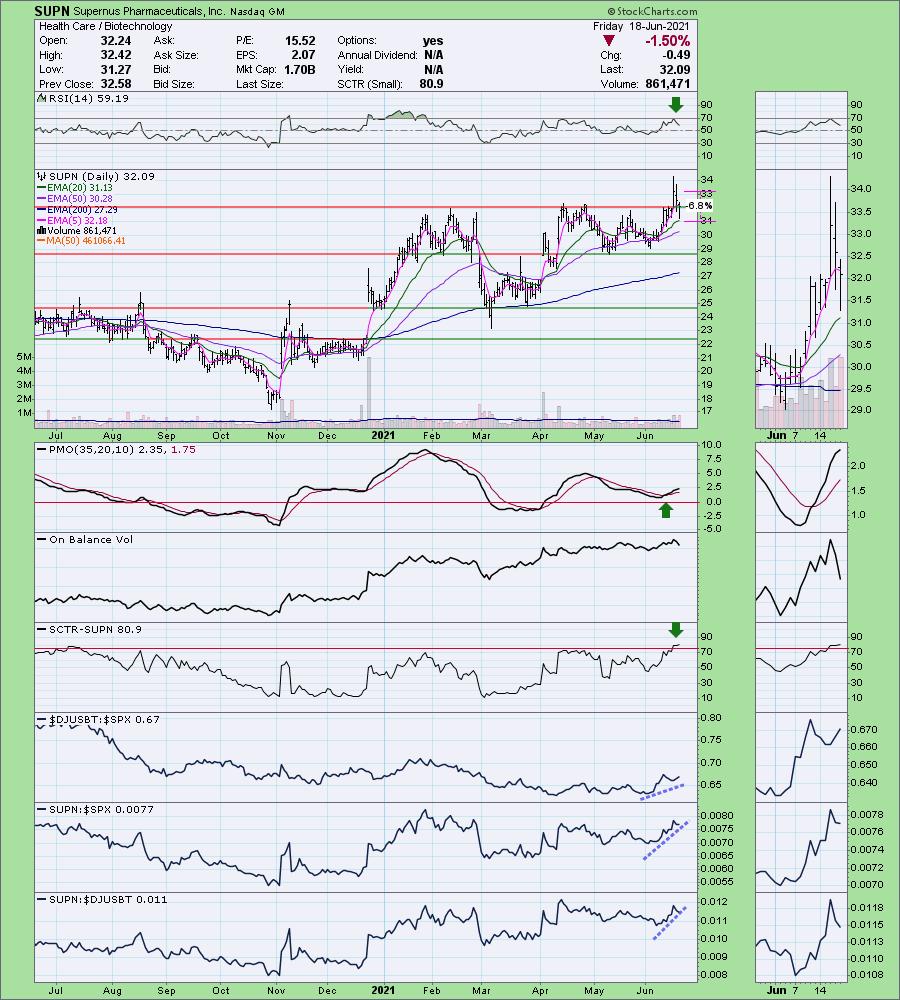 ---
Dud:
Par Pacific Holdings Inc. (PARR)
EARNINGS: 8/9/2021 (AMC)
Par Pacific Holdings, Inc. engages in the operation of energy and infrastructure businesses. It operates through the following segments: Refining, Retail, Logistics, and Other. The Refining segment produces ultra-low sulfur diesel, gasoline, jet fuel, marine fuel, low sulfur fuel oil, and other associated refined products. The Retail segment sells gasoline, diesel, and retail merchandise. The Logistics segment involves in terminals, pipelines, a single-point mooring, and trucking operations to distribute refined products throughout the islands of Oahu, Maui, Hawaii, Molokai, and Kauai. The company was founded on December 21, 1984 and is headquartered in Houston, TX.
Below is commentary and chart from Wednesday (6/16):
"PARR is unchanged in after hours trading. With crude oil prices on the rise, the Energy sector is chugging higher. This industry group has been performing very well relative to the SPX. PARR has a positive RSI and just broke out from a trading zone or somewhat messy double/triple-bottom pattern. The minimum upside target of the pattern(s) would take price to the March high. The PMO just moved back into positive territory on a BUY signal. The SCTR is just about to enter the "hot zone" above 75 (meaning it is in the upper quartile of all small-cap stocks in the intermediate and long terms). It continues to outperform. The stop is rather deep and lines up just below those April tops."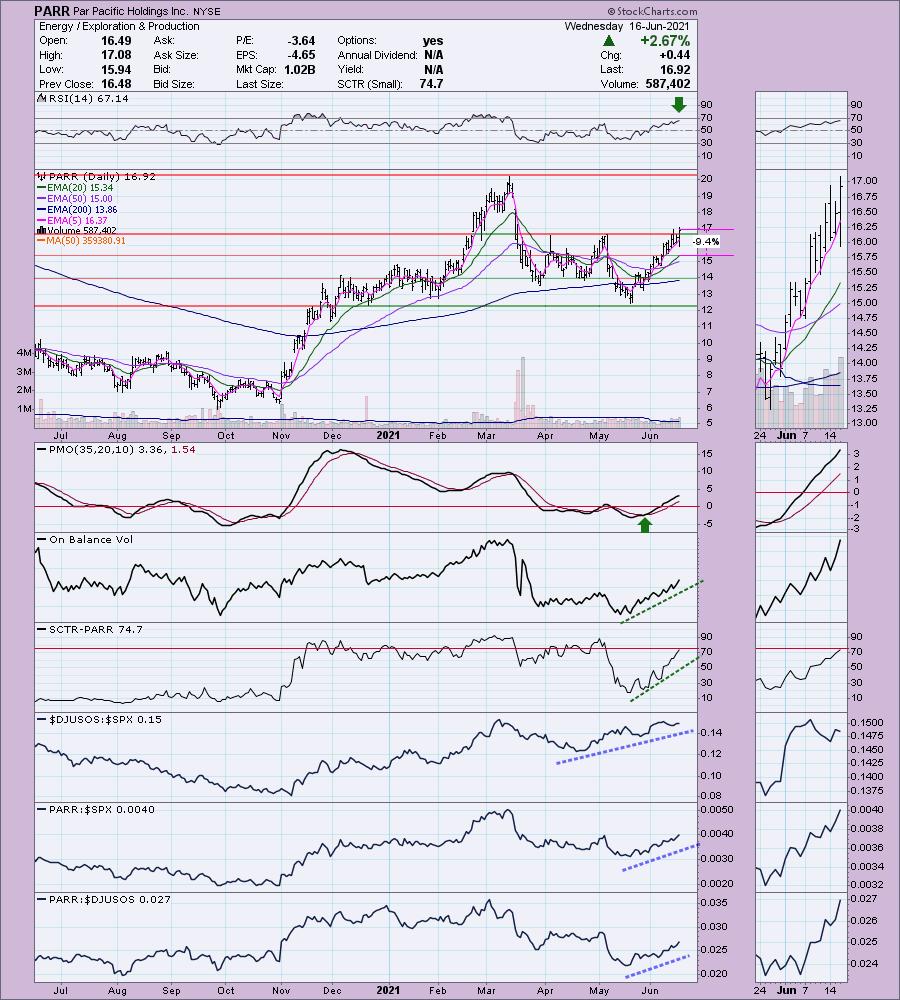 Below is today's chart:
It appears that the stop actually triggered around -9.4% yesterday. I mistakenly showed old charts this morning in the Diamond Mine (I'm so sorry!), so we didn't see this big drop. The RSI is still positive, but the PMO has turned over and support was lost intraday at the 50-EMA. I don't like this one going forward.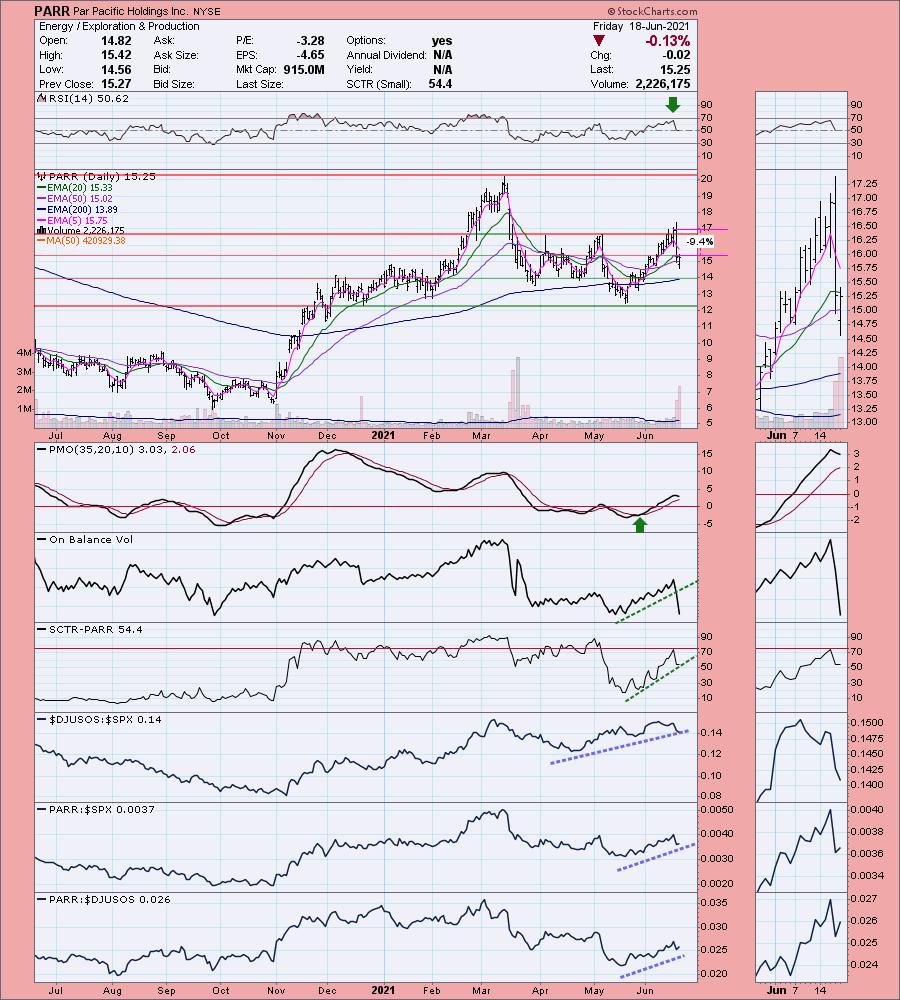 ---
THIS WEEK's Sector Performance: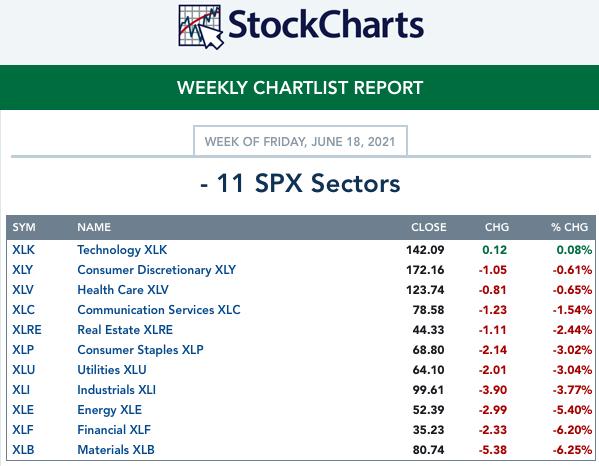 DecisionPoint Sector Scoreboard (Mechanical Trend Model Signals):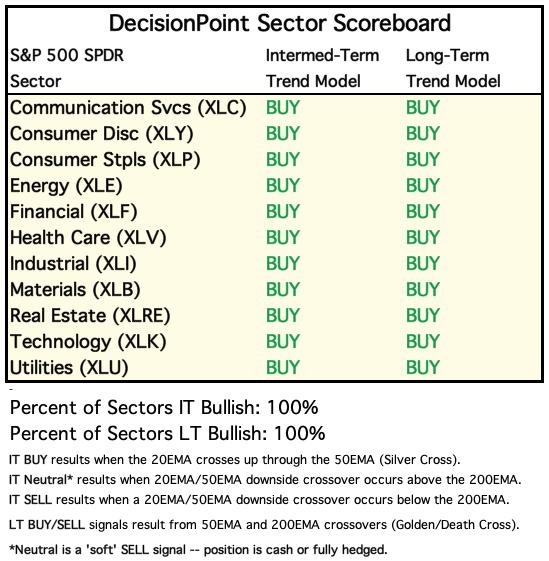 Click Here to view Carl's annotated Sector ChartList!
CONCLUSION:
The RRG explains why I had a difficult time deciding between XLV and XLK as the sector to watch next week. Remember when Energy and Real Estate were ruling the RRG? They weakened very quickly this week. XLY looks interesting on the RRG, but when we reviewed the Sector CandleGlance, the PMO was not showing enough improvement. XLC could turn out to be a "sleeper", but with the market in a pullback that will likely lead to a correction, I'm not ready to jump in on XLC or XLK. XLK is very extended.
Short-term RRG: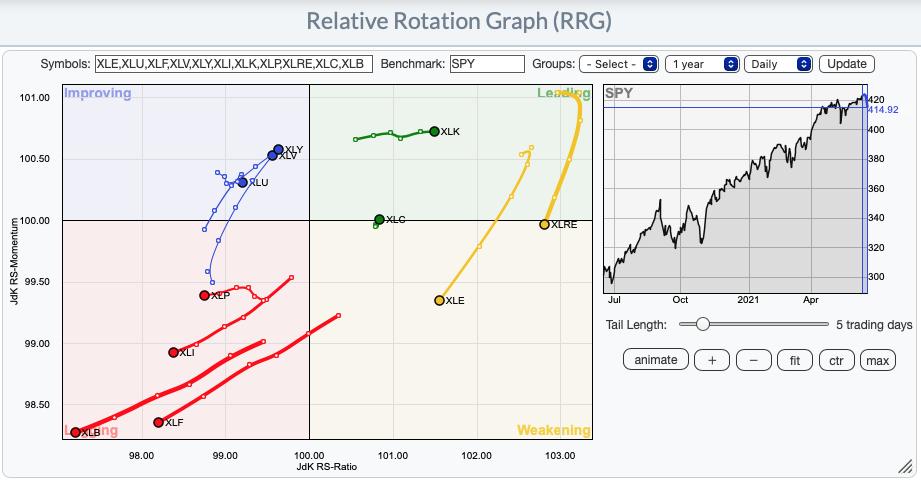 Sector to Watch: Healthcare (XLV)
Admittedly, Healthcare looks a bit sickly based on the PMO and declining participation in the near-term. The bright spots are the rising OBV bottoms, a positive SCI crossover the signal line, a positive GCI crossover the signal line and finally, and in my opinion, most importantly, it is outperforming the SPX. Now, if the SPX turns lower, it could continue to outperform even if it is declining. When I look at all of the sector charts, nothing really thrills me.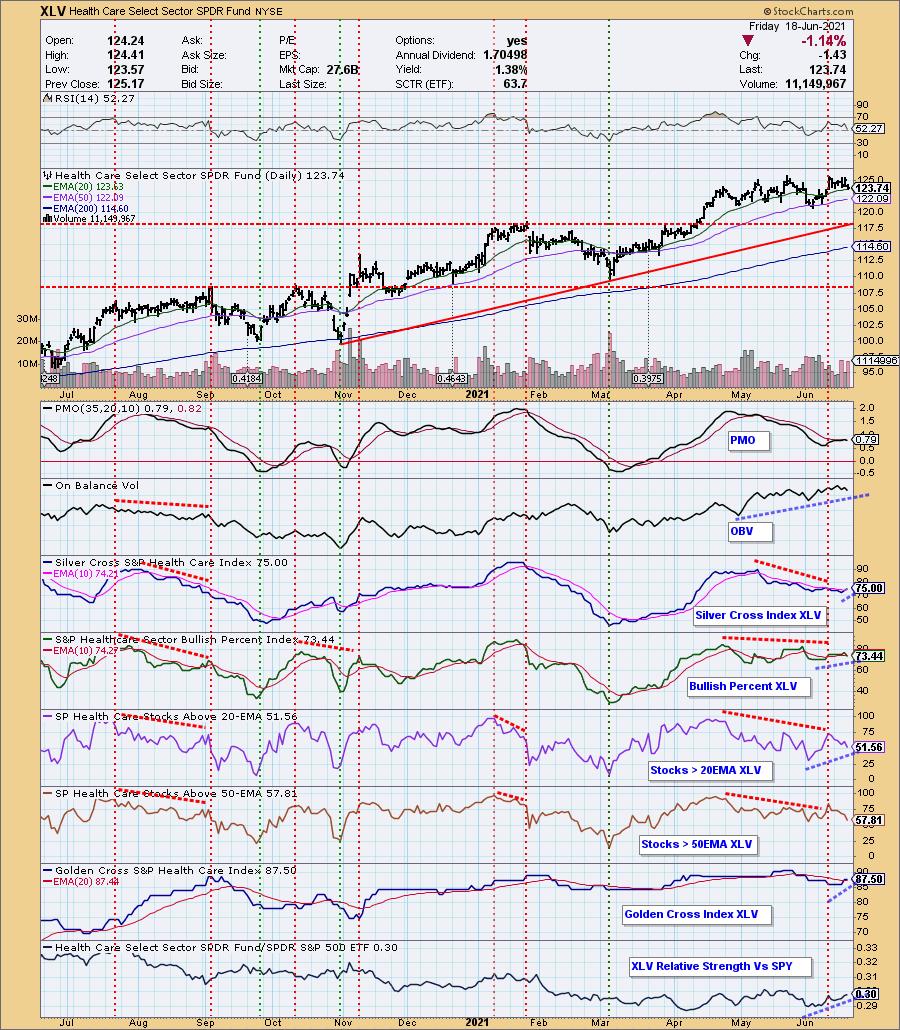 Industry Group to Watch: Medical Equipment ($DJUSAM)
Medical Equipment was an easy pick. The chart is set up very nicely. The RSI is positive and not overbought. We have a bullish double-bottom that is executing right now. The minimum upside target would put price past the all-time high. The PMO is on an oversold BUY signal and has moved above the zero line. The OBV is a bit tricky. There was a positive OBV divergence on the two bottoms, but right now there is negative divergence with rising price tops and declining OBV tops. Overall the bullishness far outweighs that negative divergence. The SCTR is soaring and it is clearly outperforming the market.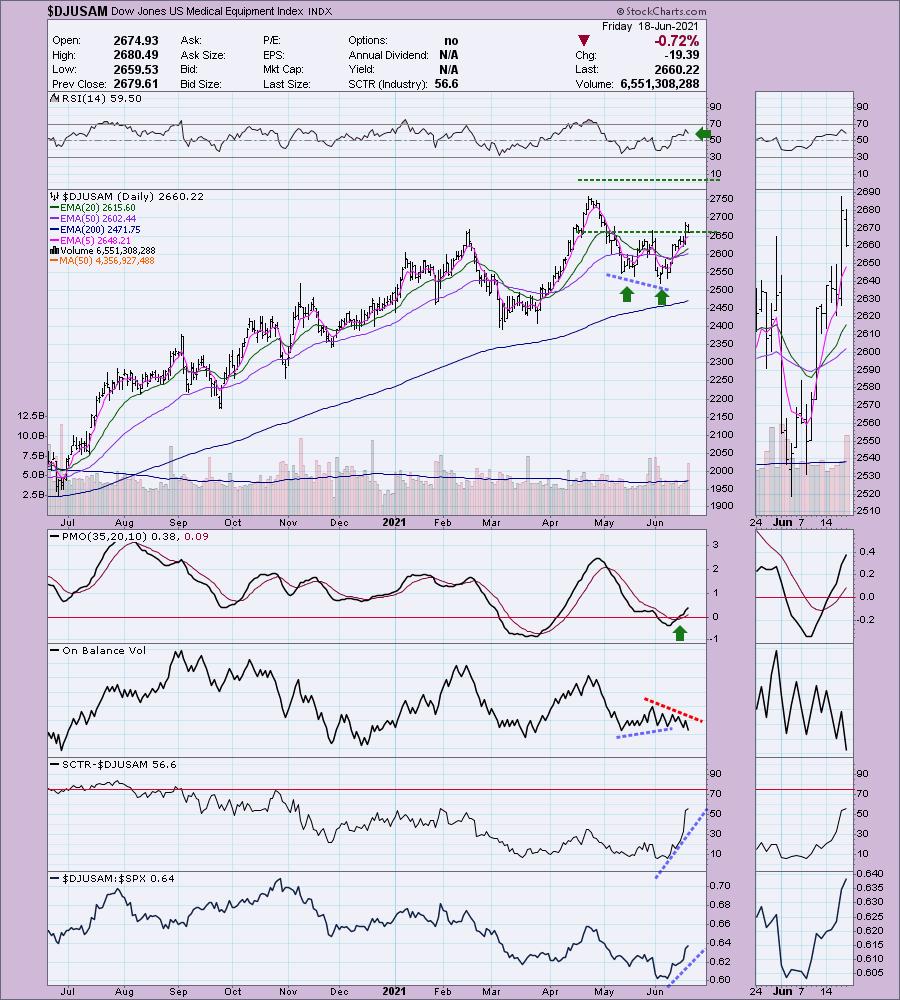 Go to our Sector ChartList on DecisionPoint.com to get an in depth view of all the sectors.
Technical Analysis is a windsock, not a crystal ball.
Have a great weekend & Happy Charting!
- Erin
erin@decisionpoint.com
---
Full Disclosure: I'm about 50% invested right now and 50% is in 'cash', meaning in money markets and readily available to trade with. I'm planning to book some profits this week and reduce my exposure to 30%.
---
Watch the latest episode of DecisionPoint with Carl & Erin Swenlin on Mondays 7:00p EST or on the DecisionPoint playlist on the StockCharts TV YouTube channel here!
---
---
NOTE: The stocks reported herein are from mechanical trading model scans that are based upon moving average relationships, momentum and volume. DecisionPoint analysis is then applied to get five selections from the scans. The selections given should prompt readers to do a chart review using their own analysis process. This letter is not a call for a specific action to buy, sell or short any of the stocks provided. There are NO sure things or guaranteed returns on the daily selection of "diamonds in the rough."
---
Helpful DecisionPoint Links:
DecisionPoint Shared ChartList and DecisionPoint Chart Gallery
Price Momentum Oscillator (PMO)
Swenlin Trading Oscillators (STO-B and STO-V)