Much better week for Diamonds, it proves the point that you want to invest with the overall market trend. Last week it was down, this week it was clearly up.
This week's "Darling" is the low-priced Venus Concept Inc (VERO). This one had a great set up yesterday and followed through strongly, but we'll look at that later.
This week's "Dud" Red Robin Gourmet. This isn't at all surprising. It was up 4.59% when I picked it yesterday. I did say it would likely pullback and mess up this week's spreadsheet, but the set up deserved your attention, especially because it was due for this pullback.
In today's Diamond Mine I had difficulty picking what industry group to watch this week. It was either Apparel Retailers or Travel & Tourism. Honestly, I've picked one and then picked the other, back and forth about three times for this Recap! However, I decided to go with a confirmed breakout and positive relative performance against the SPX. It also had the most stock possibilities. The runner-up, Travel & Tourism didn't have too many bullish looking stocks. In fact, most that had closed higher still closed near their lows for the day. Not too promising.
It's vacation time!! Next week's Diamonds Report schedule will be five stocks on Wednesday, five stocks on Thursday and the Recap on Friday. I owe you ten Diamonds per week and a Diamond Mine trading room every week. Since I will miss the next two Diamond Mines, I held one last Wednesday and will hold one on Wednesday, July 14th to make up the other one. If you have any questions or concerns, let me know.
Below I have posted the links to both the July 14th and July 16th Diamond Mines. Might as well sign up now!
---
** UPCOMING VACATION - June 28th to July 9th **
It's that time of year again! Last year it was a road trip to Alabama and back, this year it is a road trip to Utah and back! We plan on dropping in Las Vegas, Zion, Spanish Fork, Bryce Canyon, back to the Grand Canyon, Bull Head City and finally back home. I'll include my travel diary and pictures just like last year for Diamonds readers!
I plan on writing, but trading rooms will be postponed until I return home. Blog articles may be delayed depending on WIFI service and/or our travel for the day. You'll miss two Diamond Mines (I'll make them up in the coming weeks).
NEXT WEEK'S SCHEDULE: Five stocks on Wednesday, five stocks on Thursday and a Recap on Friday.
---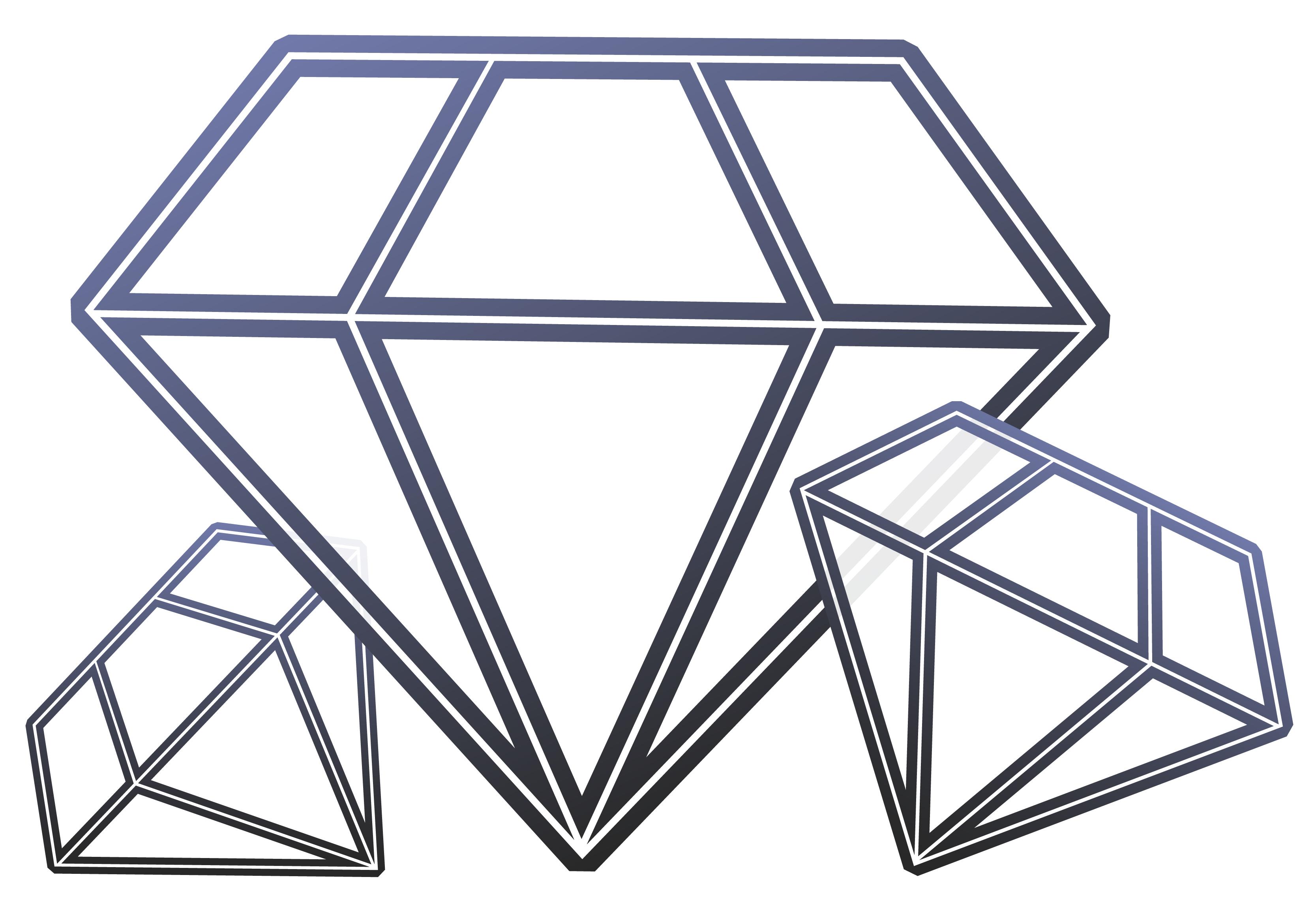 Diamond Mine Information:
RECORDING LINK Today (Friday 6/25):
Topic: DecisionPoint Diamond Mine (6/25) LIVE Trading Room
Start Time : Jun 25, 2021 09:00 AM
6/25 Diamond Mine Recording Link.
Access Passcode: June-25th
RECORDING LINK Wednesday Make-Up (6/23):
Topic: BONUS DecisionPoint Diamond Mine Wednesday (6/23)
Start Time : Jun 23, 2021 09:01 AM
6/23 Diamond Mine Recording Link.
Access Passcode: June-23rd
=============================================================
REGISTRATION FOR Wednesday (7/14) Make-Up Diamond Mine:
When: Jul 14, 2021 09:00 AM Pacific Time (US and Canada)
Topic: Make-up DecisionPoint Diamond Mine (7/14/2021) LIVE Trading Room
Register in advance for the Make-up Diamond Mine webinar HERE.
REGISTRATION FOR Friday (7/16) Diamond Mine:
When: Jul 16, 2021 09:00 AM Pacific Time (US and Canada)
Topic: DecisionPoint Diamond Mine (7/16/2021) LIVE Trading Room
Register in advance for the Friday (7/16) webinar HERE.
Save the registration confirmation email with login instructions in case Zoom doesn't notify you in time.
---
Free DP Trading Room RECORDING LINK from 6/21:
Topic: DecisionPoint Trading Room
Start Time : Jun 21, 2021 08:49 AM
Free DP Trading Room (6/21) Recording Link.
Access Passcode: June-21st
For best results, copy and paste the access code to avoid typos.
---
---
A few items about the spreadsheet: I decided it only fair to denote "reader requests" as I shouldn't get to take credit if they turn out great! I've put on the spreadsheet whether the RSI is positive (green) or negative (red). The PMO column tells you if it is rising (green) or falling (red). Finally I've added my own "Sparkle Factor" that gives you my assessment going forward, bullish (green), bearish (red) or neutral (gray). The Sparkle Factor is basically my thoughts on whether I expect it to rise or fall. A neutral means it could really go either way so it could be added to a watch list. If you're in a stock I consider "neutral" going forward, the ball is in your court.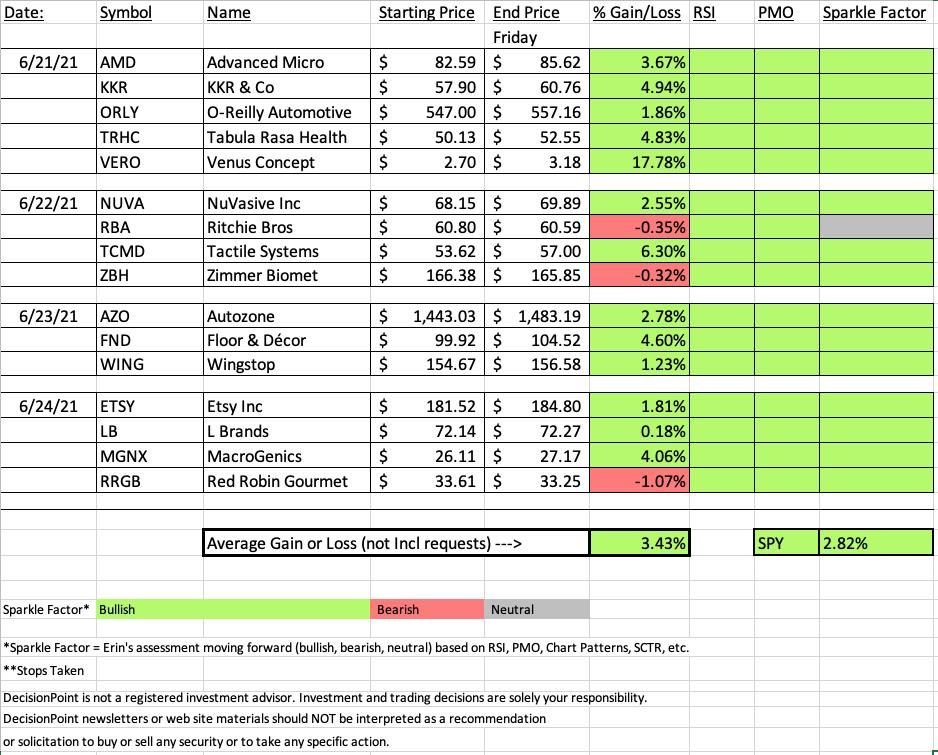 ---
Darling:
Venus Concept Inc. (VERO)
EARNINGS: 8/12/2021 (AMC)
Venus Concept, Inc. develops, commercializes and delivers minimally invasive and non-invasive medical aesthetic and hair restoration technologies and related practice enhancement services. Its product portfolio consists of aesthetic device platforms which includes venus versa, venus legacy, venus velocity, venus fiore, venus viva, venus freeze plus, and venus bliss. The company was founded on November 22, 2002 and is headquartered in Toronto, Canada.
Below is the chart and commentary from Monday (6/21):
"VERO is up +1.48% in after hours trading. The subscriber who presented this was definitely onto something. The RSI is very overbought and today's decline didn't really help to bring it down. The PMO is rising strongly and isn't quite overbought. I like the breakout above the 200-EMA, but I do note that price did fall back below resistance at the close. I like the relative performance. The stop is set below the 200-EMA near the prior June top. Be sure to position size carefully, it is a low-priced stock."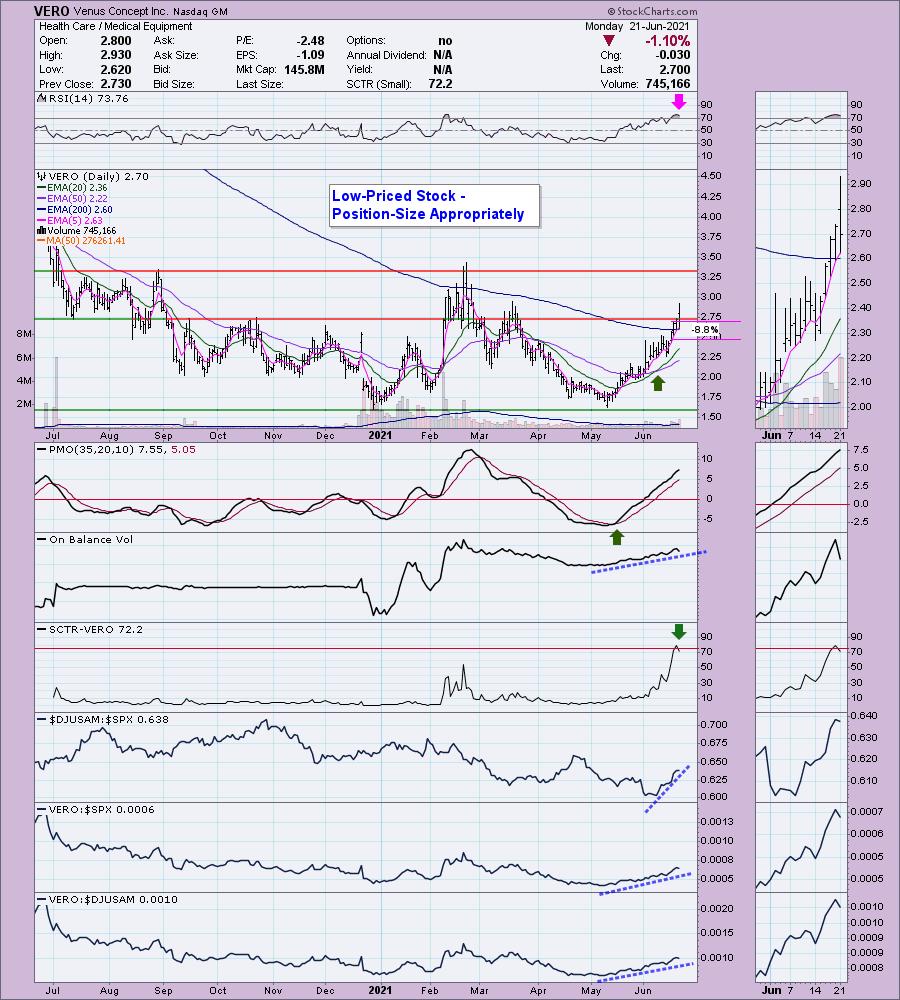 Here is today's chart:
The only issue for VERO right now is the very overbought RSI and overbought PMO. I think VERO will overcome resistance at the February top, but it may pullback at that point. If you do enter right now, keep a close eye on the RSI. When it starts to tip over, it may not be wise to hold it.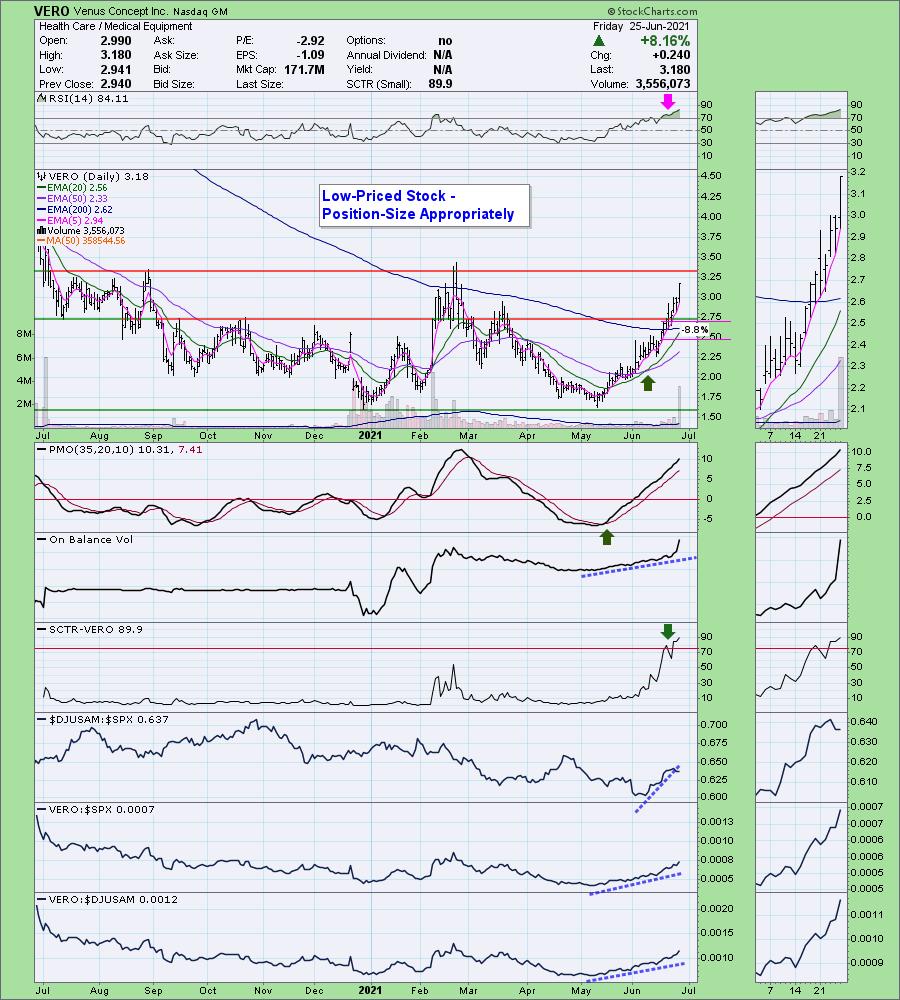 ---
---
Don't forget, on Thursdays I look at reader-requested symbols, so shoot me an email at erin@decisionpoint.com. I read every email I receive and try to answer them all!
---
---


Dud:
Ritchie Bros Auctioneers (RBA)
EARNINGS: 8/5/2021 (AMC)
Ritchie Bros. Auctioneers, Inc. is an industrial auctioneer, which engages in the sale of equipment to on-site and online bidders. It operates through the following segments: Auctions and Marketplaces, Ritchie Bros. Financial Services and Mascus. The Auctions and Marketplaces segment consists of live on site auctions, online auctions and marketplaces, and brokerage service. The Ritchie Bros. Financial Services segment refers to the financial brokerage service. The Mascus segment includes online listing service. The company was founded by David Edward Ritchie in 1958 and is headquartered in Burnaby, Canada.
Below is the chart and commentary from Tuesday (6/22):
"RBA is unchanged in after hours trading. While I'm not a fan of Industrials right now, this chart and industry group are showing outperformance against the SPX. Additionally, RBA is outperforming its industry group. The RSI just entered positive territory and the PMO has a new crossover BUY signal. I spotted a very small double-bottom pattern that executed with today's breakout. The minimum upside target isn't much to write home about (approx. $62.75), but remember it is a "minimum" upside target. The OBV is rising and price has broken above both the 20/50-EMAs. Additionally, the 5-EMA is about to have a positive crossover the 20-EMA which would give us a ST Trend Model BUY signal. The stop is set at the first bottom in the pattern."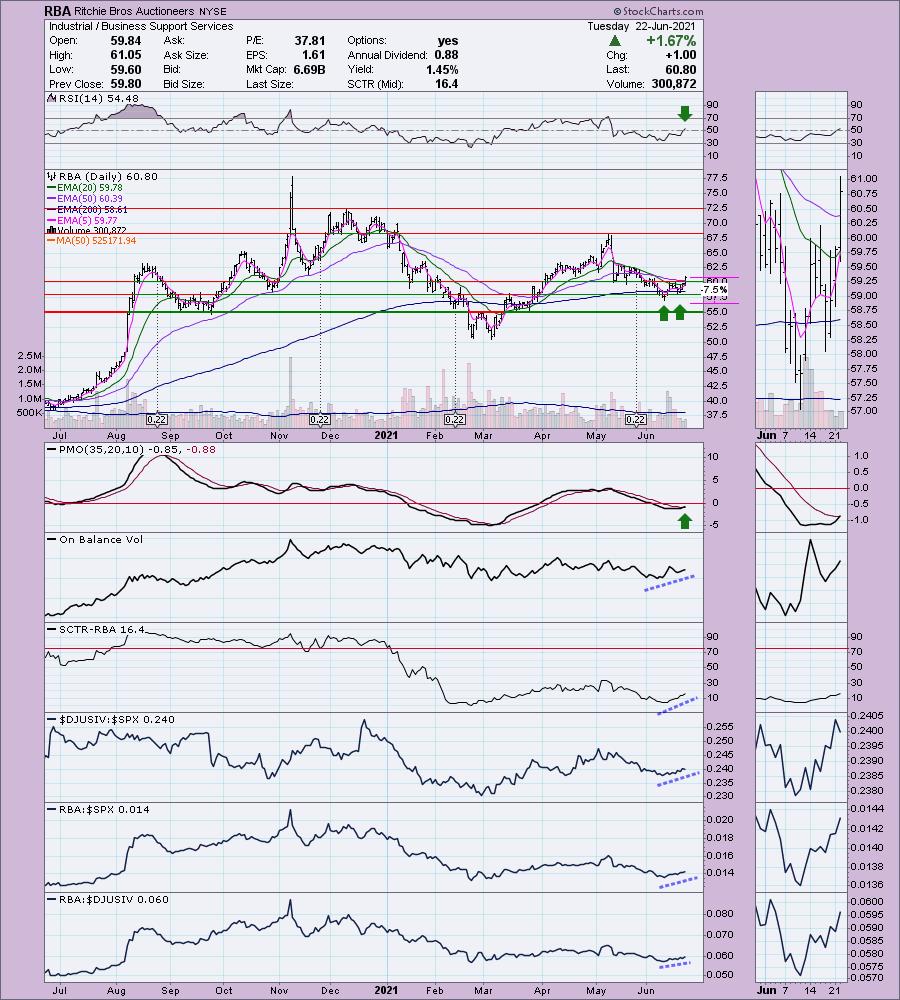 Below is today's chart:
This is the only "Diamond in the Rough" that I marked down the Sparkle Factor. However, I only changed it to Neutral. Price is pulling back to the confirmation line of the small double-bottom formation. As long as it holds this level I'm fine with RBA; however, if it doesn't hold that confirmation line, I would bail on this one.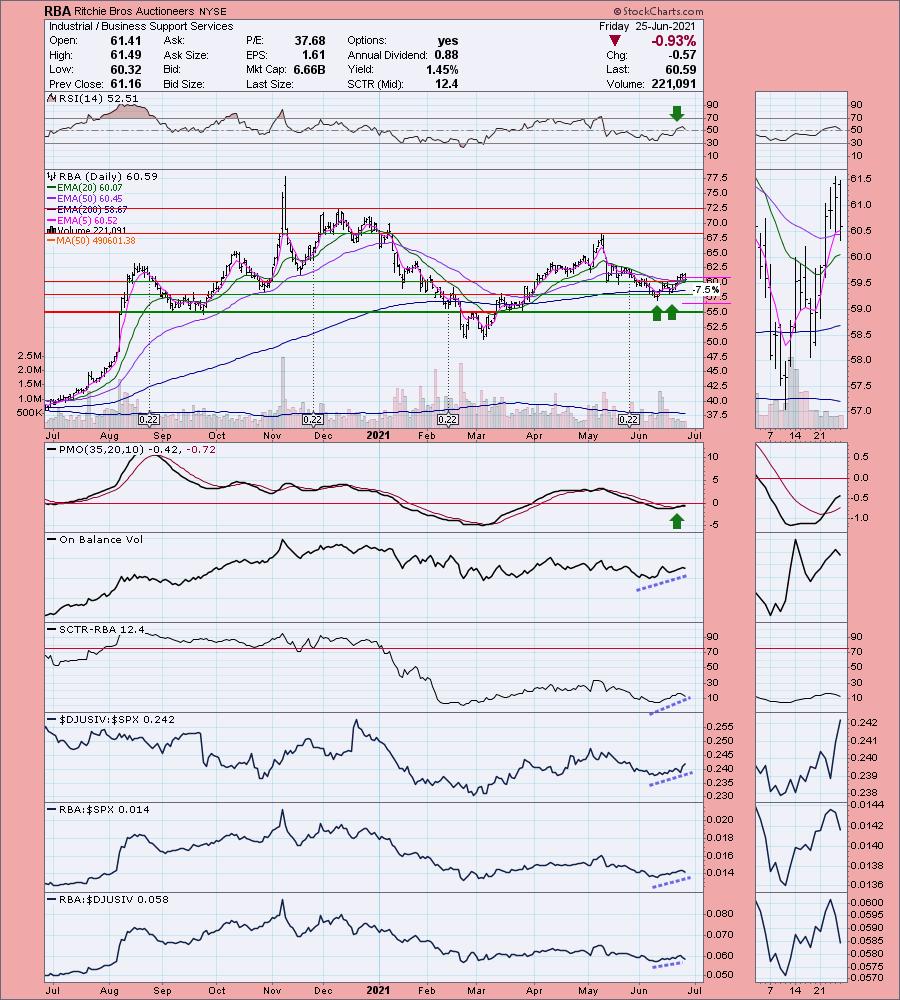 ---
THIS WEEK's Sector Performance: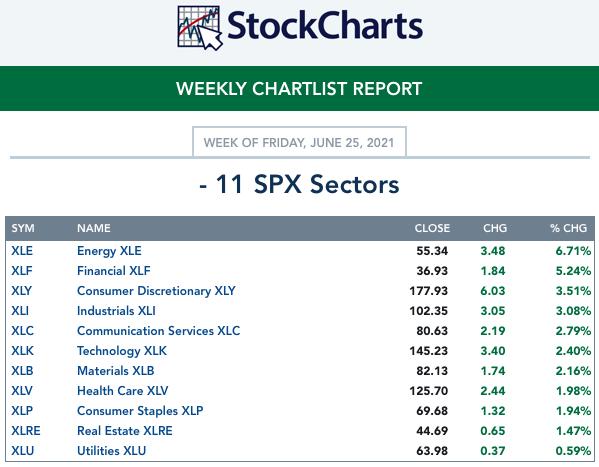 DecisionPoint Sector Scoreboard (Mechanical Trend Model Signals):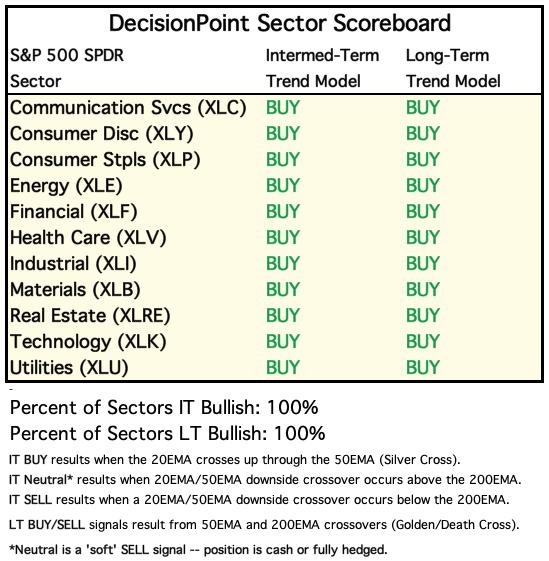 Click Here to view Carl's annotated Sector ChartList!
CONCLUSION:
I decided that I liked Consumer Discretionary (XLY) the best. It is in the "Leading" category. While it is turning down. It still headed deeper into the Leading category. I noted in today's Diamond Mine to keep an eye on Industrials (XLI). They've been beat down and with the Infrastructure bill at the forefront again, there will likely be some bargains there.
Short-term RRG: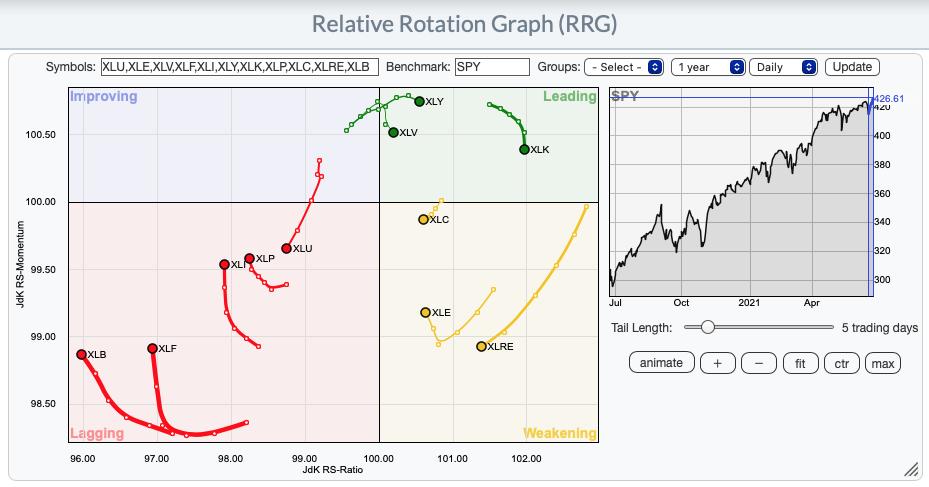 Sector to Watch: Consumer Discretionary (XLY)
I like the breakout this week from overhead resistance at the prior June tops. The RSI is positive and not yet overbought. The PMO is just getting started with an oversold crossover BUY signal. Indicators "under the hood" are improving. Even the SCI which has been in a sustained declining trend is appearing to bottom. Participation is picking up and is not overbought.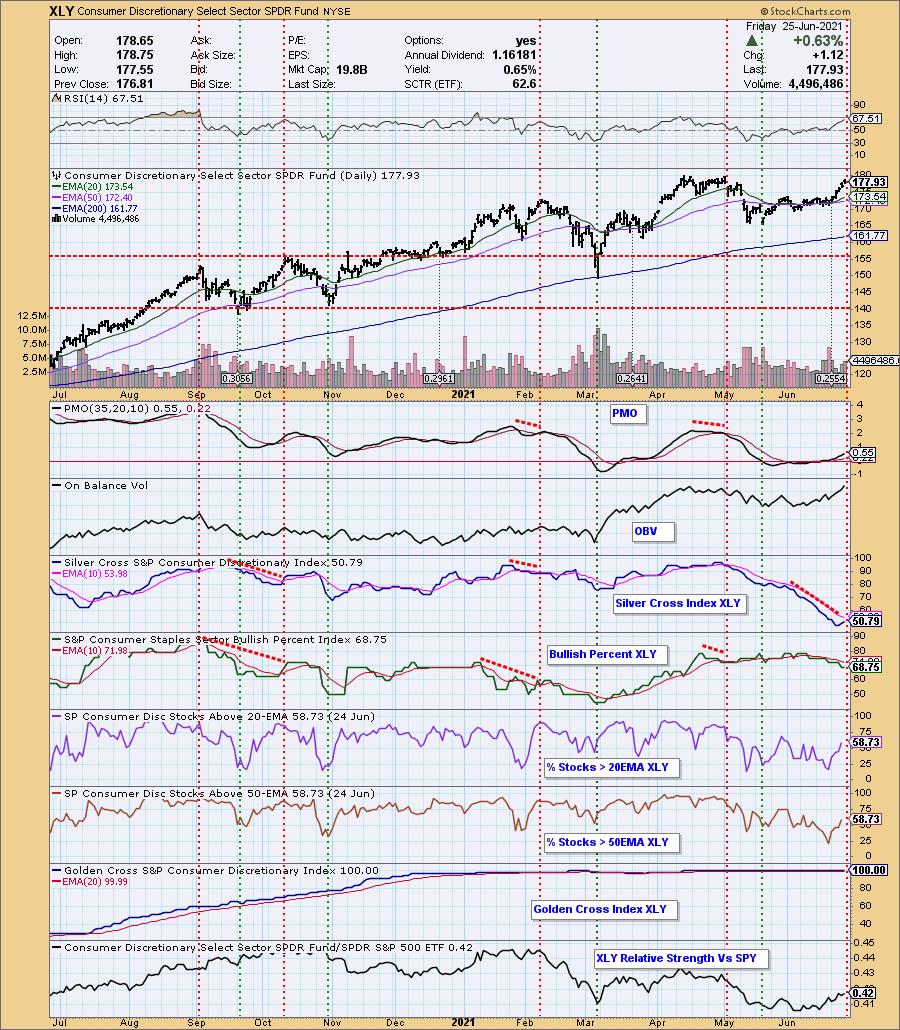 Industry Group to Watch: Apparel Retailers ($DJUSRA)
There was a strong breakout this week on this industry group. Yesterday the 5-EMA crossed above the 20-EMA for a ST Trend Model BUY signal. The new oversold PMO crossover BUY signal is also promising. Outperformance is certainly not an issue here. A few stocks in this group to consider: LB (one of this week's Diamonds), JWN (recently appeared in my scan results), GPS, FL, GCO, DBI, LE, and KSS. There are plenty of others, so flip through them and see what you think.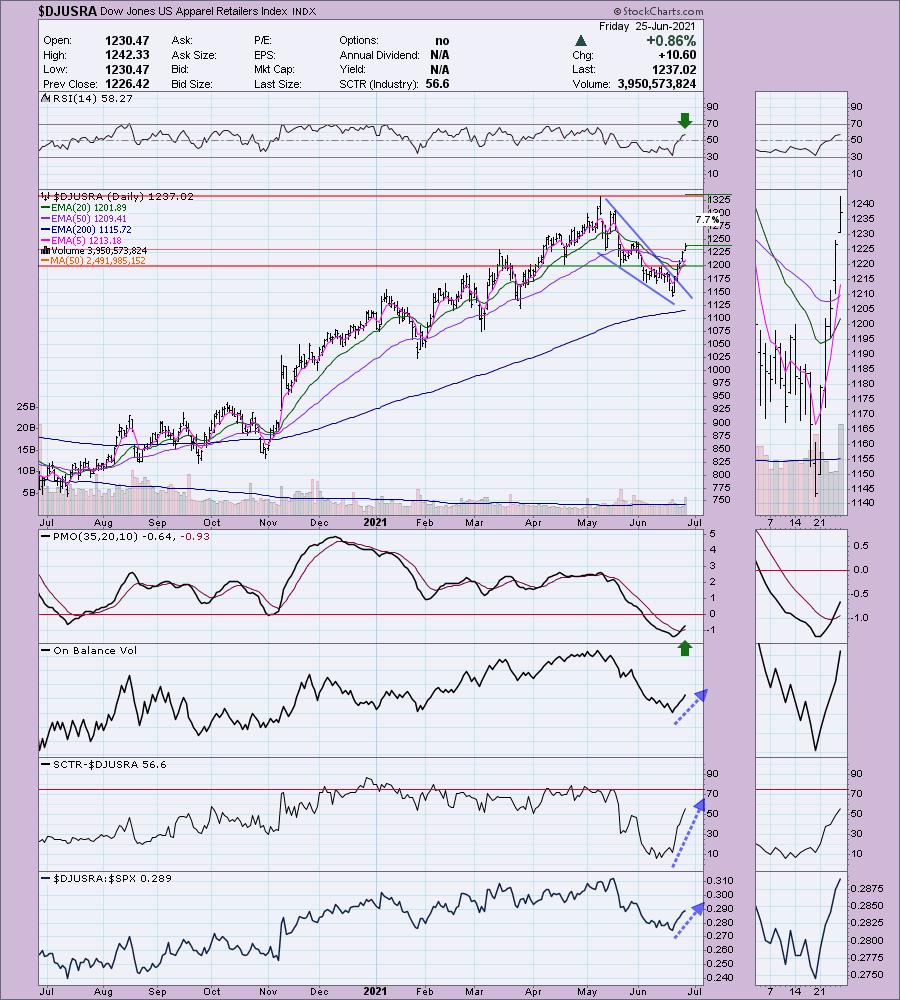 Go to our Sector ChartList on DecisionPoint.com to get an in depth view of all the sectors.
Technical Analysis is a windsock, not a crystal ball.
Have a great weekend & Happy Charting! Next Diamonds Report is Wednesday 6/30.
- Erin
erin@decisionpoint.com
---
Full Disclosure: I'm about 50% invested right now and 50% is in 'cash', meaning in money markets and readily available to trade with. I'm planning to book some profits this week and reduce my exposure to 30%.
---
Watch the latest episode of DecisionPoint with Carl & Erin Swenlin on Mondays 7:00p EST or on the DecisionPoint playlist on the StockCharts TV YouTube channel here!
---
---
NOTE: The stocks reported herein are from mechanical trading model scans that are based upon moving average relationships, momentum and volume. DecisionPoint analysis is then applied to get five selections from the scans. The selections given should prompt readers to do a chart review using their own analysis process. This letter is not a call for a specific action to buy, sell or short any of the stocks provided. There are NO sure things or guaranteed returns on the daily selection of "diamonds in the rough."
---
Helpful DecisionPoint Links:
DecisionPoint Shared ChartList and DecisionPoint Chart Gallery
Price Momentum Oscillator (PMO)
Swenlin Trading Oscillators (STO-B and STO-V)