It is Reader Request day and I want to present one of the stocks I currently own in the Consumer Staples sector. It has been a long-term trade I took back at the end of 2018. I shouldn't have taken the hit I did on it in March, but it has bounced back with a vengeance and is staying quite comfortably in the green for me. You now have the benefit of a later entry than I had. Reader requests have become quite thin as I suspect many of you are waiting for volatility to calm. The Diamond Dog scan went ballistic today. Since the beginning of March it has only produced results between 0 and 7 daily. Today it came back with 86 results! On a day where the SPX closed up over 2%, I find this very disconcerting. Stay vigilant.
For those nimble enough and 'plugged in' to market charts during the day, I'm finding there are profits available. Mary Ellen McGonagle and I hosted our first LIVE Trading Room this morning and it was very well received. Best part is how much fun it is to conduct! We are going to hold two per week, likely Tue/Thur 8a PST. I will send out links the night before for registration. It will be a free service for awhile as we build the audience, gauge interest and streamline our presentation. Hope you join us! I will send out the recordings when they are available.
---
Intuitive Surgical Inc (ISRG) - Earnings: 4/16/2020 (AMC)
This was a reader request and one that I looked at in our live trading room this morning. I believe there are better candidates in this space as far as relative strength with the SCTR rank falling. An example with better relative strength would be OraSure (OSUR) which I'll cover below. However, that is a very different trade situation. The chart has some issues as far has a failure to break from the declining trend and close above the 20-EMA for two days in a row. On the flip side, you can set a reasonable stop around 430, the PMO is on a BUY signal coming out of oversold territory and the OBV is confirming the rally.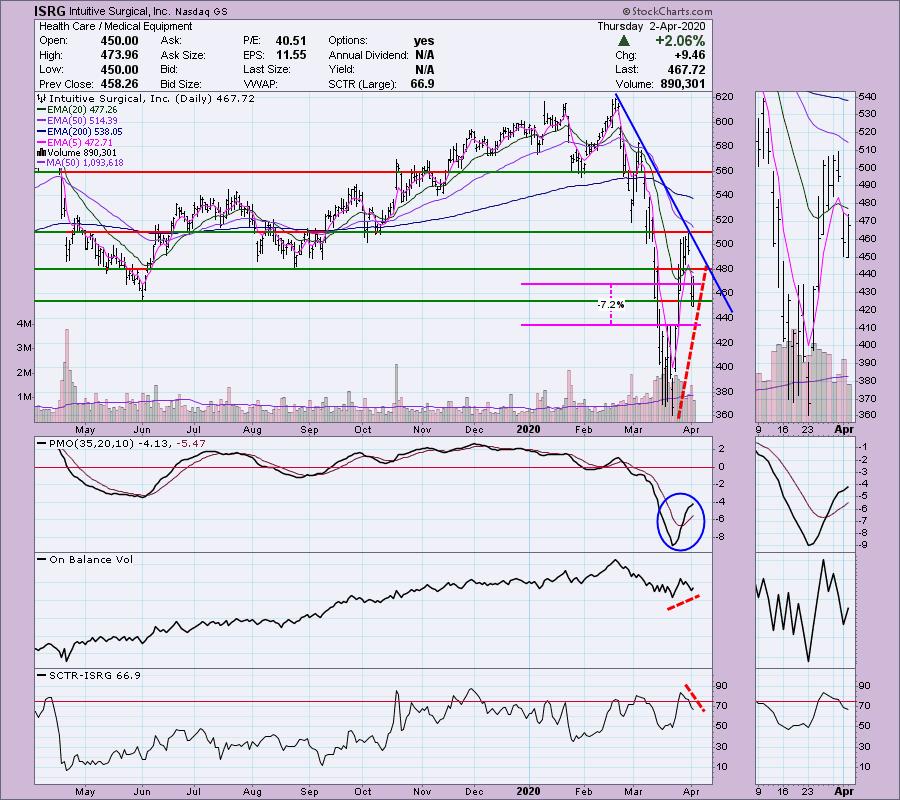 This chart was very intriguing. Price bounced off very strong support and is now above support at the 2018 low. Granted the weekly PMO isn't great and the negative crossover of the 17/43-day EMAs makes this a short-term play.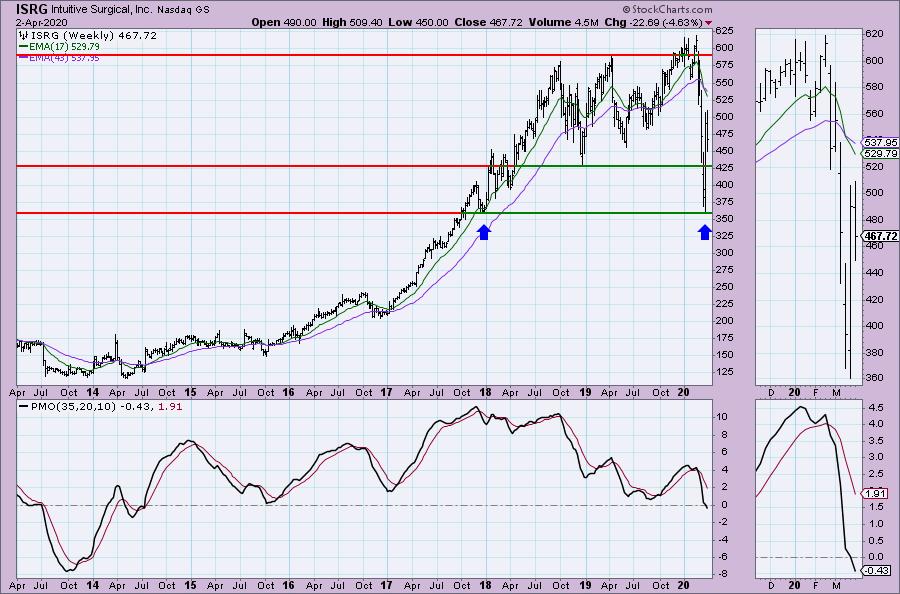 ---
---
Welcome to DecisionPoint Daily Diamonds, wherein I highlight five "diamonds in the rough." These are selected from the results of my DecisionPoint scans, which search for stocks that could benefit from the trend and condition of the market. Remember, these are not recommendations to buy or sell, but are the most interesting of the stocks that surfaced in my scans. My objective is to save you the work of the initial, tedious culling process, but you need to apply your own analysis to see if these stocks pique your interest as well. There are no guaranteed winners here!
---
---
Kimberly Clark Corp (KMB) - Earnings: 4/29/2020 (AMC)
I like the opportunity for entry on KMB. It has closed above the 20-EMA above support at the November low. The PMO has just triggered a new BUY signal. If I were to set a stop, I'd be looking around $122. The OBV and SCTR are both confirming. It isn't a true reverse head and shoulders pattern here, but the trading action is bullish.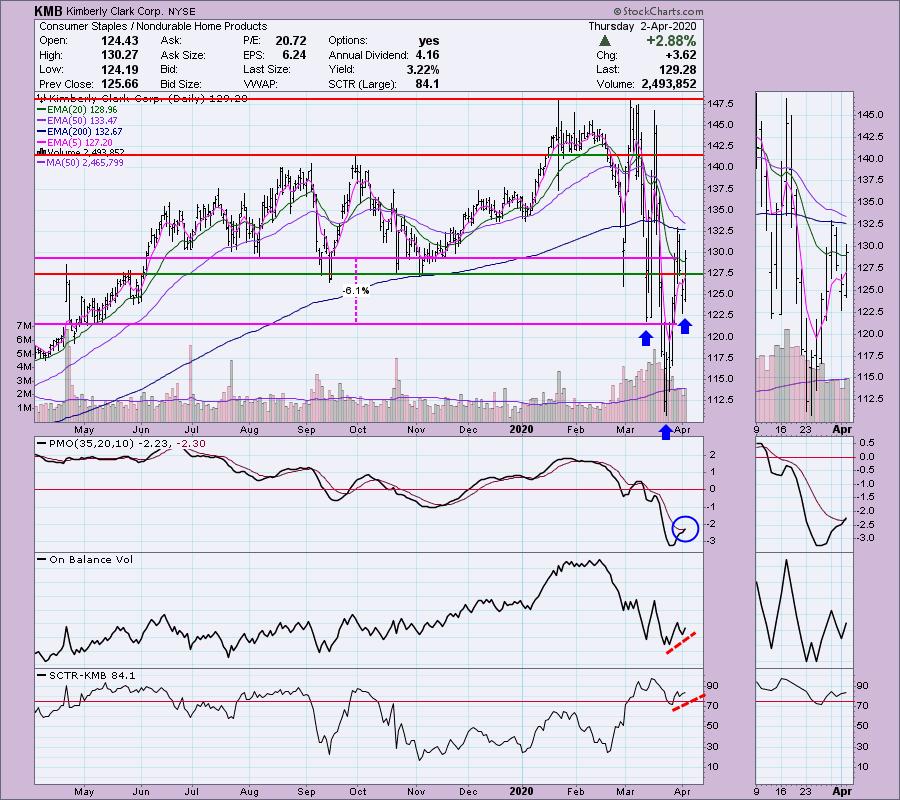 Long-term support at $123 is holding this week. The PMO isn't looking good which is why I was looking at a stop around $122. I will likely get out if it reaches that level to preserve my profit and avoid further decline. Remember you should be looking at ALL of your positions as short-term trades right now. If you don't normally trade in this timeframe, then wait it out a bit longer.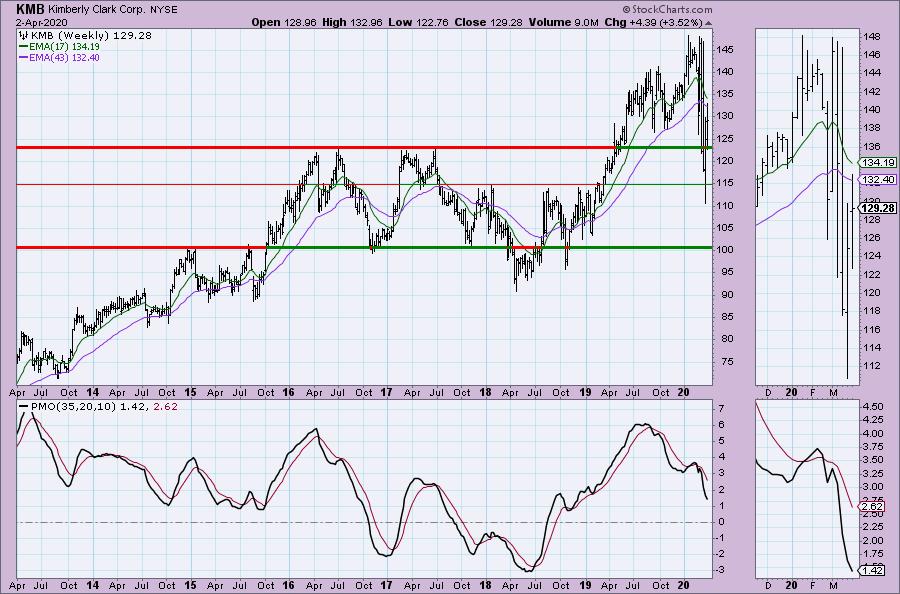 ---
Don't forget, on Thursdays I look at reader-requested symbols, so shoot me an email at erin@decisionpoint.com. I read every email I receive and try to answer them all!
---
OraSure Technologies Inc (OSUR) - Earnings: 5/6/2020 (AMC)
Notice the much higher SCTR score for OSUR in comparison to ISRG. The PMO is definitely overbought and we are looking at a near vertical move right now. Today's pullback may've helped us out here. A stop can be set at important support, but realize with a low priced stock like this, you'll want to position size appropriately. We saw a 9.5% decline today, so a 10.8% stop may not be helpful, but if I were to trade it (which I'm not), I would still want a stop in that area.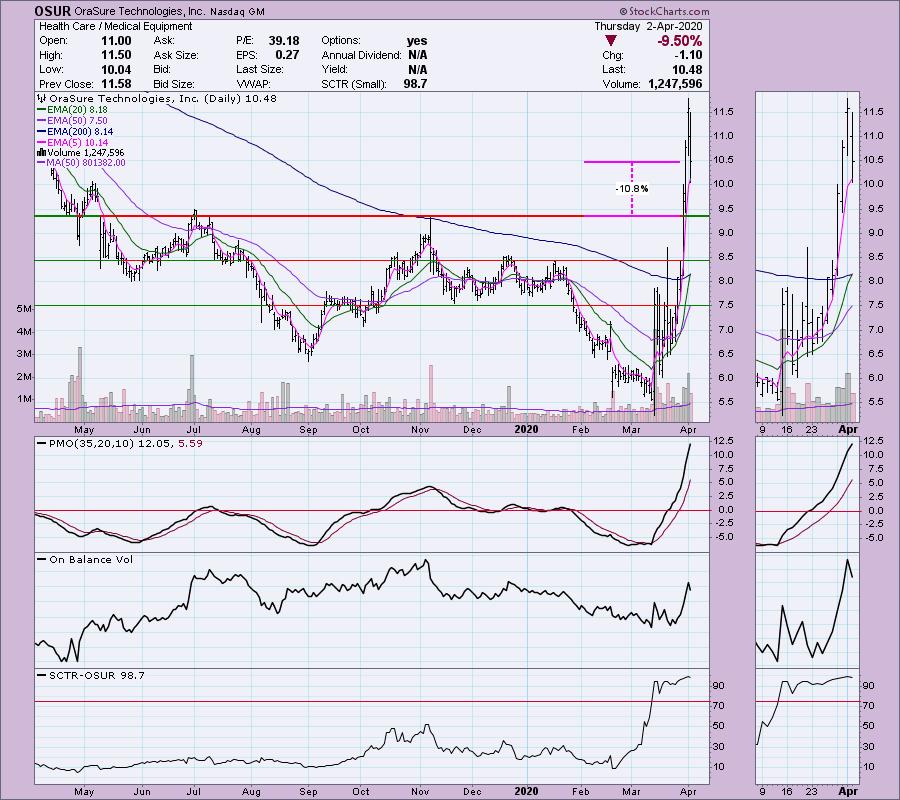 Overhead resistance at $11 is visible on the weekly chart with the next level around $13. The weekly PMO looks great but not a surprise with a near 29% rise this week. This might be a bit more enticing at $9.25.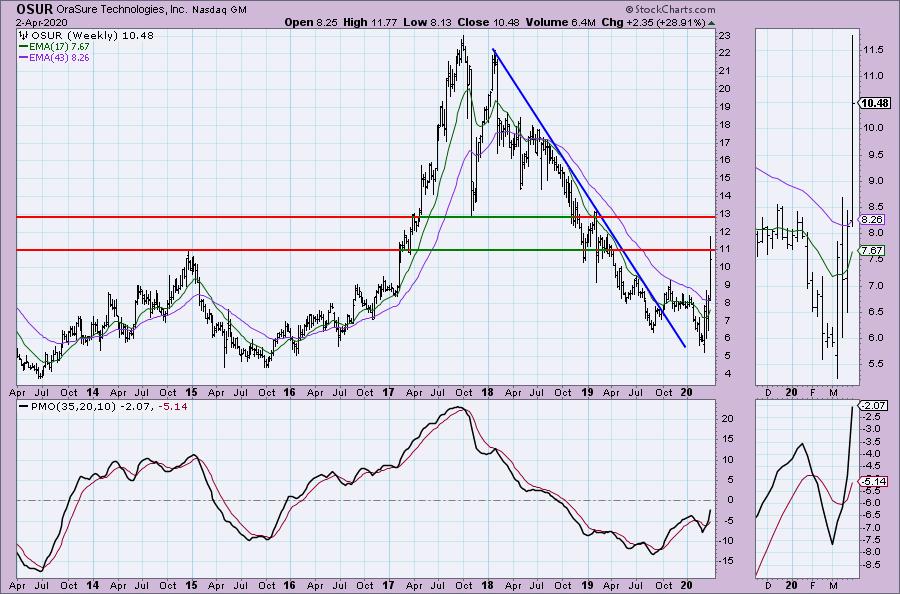 ---
Peloton Interactive Inc (PTON) - Earnings: 5/6/2020 (AMC)
This one has been an interesting story. Many including my reader see this as a possible virus play as gyms close and those gym rats need something to help them exercise while in lockdown. I do see this as an advantage, but with 30% unemployment likely on the horizon, I believe their market might not have enough demand. In any case, the chart is interesting. Price successfully tested support at the December low. While it dipped below the 50-EMA it still closed above it. There isn't much data yet, so there is no weekly chart, but the daily PMO looks very nice with that BUY signal and with it nearing positive territory. Notice it is still trading below its IPO price. Overhead resistance could be tough at IPO price $29. It might be a level to take some profit.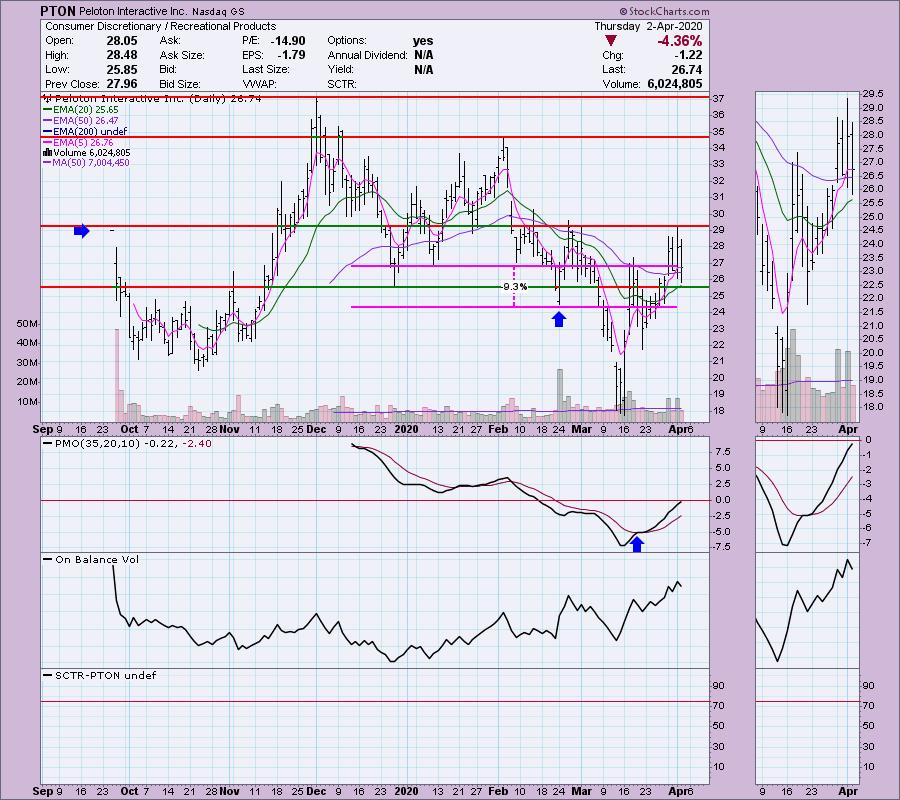 ---
Reader Requested SHORT: Zoom Video Communications Inc (ZM) - Earnings: 6/4/2020 (AMC)
I give my reader great credit as he asked about this short yesterday. If you jumped in, great job. This was actually listed as a Diamond a week ago (3/26) at $141.15 with a 7.7% stop at about $130. Not a good pick but I did warn of the parabolic. I do see a possibility of more downside here, but support is now very close. When parabolic breaks happen, we look for price to go down to the previous basing pattern. There isn't a lot of data here. I would say the top of the pattern would be around $105 with a low to $60 which is incredibly wide. If you decide to short this, I would set a stop level above $130, possibly around $135 on a short. The PMO certainly suggests more downside and the very high volume on today's drop could be a selling initiation as this darling got far too overbought. There isn't enough data for a weekly chart. In all honestly, depending on what the PMO looks like, I would relook at this one with a bullish eye should price successfully test $105.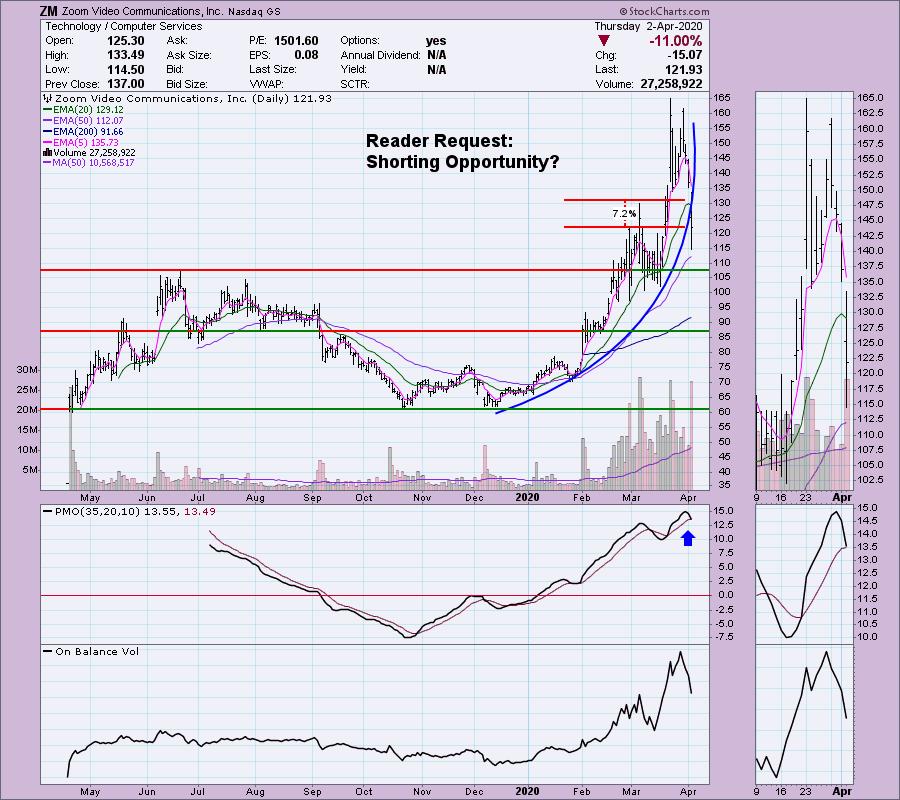 ---
Current Market Outlook:
Market Environment: It is important to consider the odds for success. The Silver Cross Index measures the percentage of stocks on IT Trend Model BUY signals (20-EMA > 50-EMA), while the Golden Cross Index measures the percentage of stocks on LT Trend Model BUY signals (50-EMA > 200-EMA). Don't forget that as a "Diamonds" member, you have access to our GCI/SCI curated ChartList on DecisionPoint.com. You'll find it under "Members Only" links on the left side on the Blogs and Links Page. Here are the current percentages on the Silver and Golden Cross Indexes: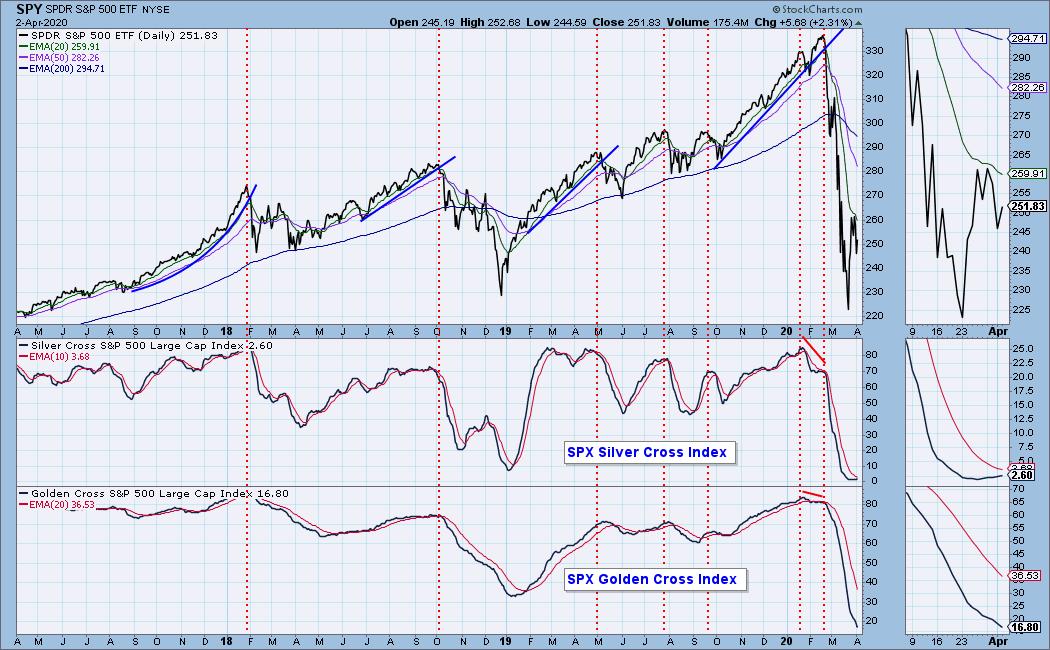 Diamond Index:
Diamond Scan Results: 6
Diamond Dog Scan Results: 7
Diamond Bull/Bear Ratio: 0.86
For a more comprehensive review of current market conditions as well as analysis of Dollar, Gold, Oil and Bonds, subscribe to the DecisionPoint Alert! For a LIMITED TIME you can get a coupon code that will give you a discount for bundling your Diamonds subscription with the DecisionPoint Alert! Contact support@decisionpoint.com for more details.
---
Full Disclosure: I own KMB but am not looking to get in any of the diamonds I presented today. I'm currently 70% in cash.
---

Erin Swenlin will be presenting at the The MoneyShow Las Vegas on a date (TBD) in August 2020! You'll have an opportunity to meet Erin and discuss the latest DecisionPoint news and Diamond Scans. Claim your FREE pass here! You can watch online with this pass too!! There will be online events held in May and when I have more information I'll let you know.
---
Watch the latest episode of DecisionPoint with Carl & Erin Swenlin LIVE on Mondays 5:00p EST or on the StockCharts TV YouTube channel here!
---
Technical Analysis is a windsock, not a crystal ball.
Happy Charting!
- Erin
erinh@stockcharts.com
---
---
NOTE: The stocks reported herein are from mechanical trading model scans that are based upon moving average relationships, momentum and volume. DecisionPoint analysis is then applied to get five selections from the scans. The selections given should prompt readers to do a chart review using their own analysis process. This letter is not a call for a specific action to buy, sell or short any of the stocks provided. There are NO sure things or guaranteed returns on the daily selection of "diamonds in the rough."
---
Helpful DecisionPoint Links:
DecisionPoint Shared ChartList and DecisionPoint Chart Gallery
Price Momentum Oscillator (PMO)
Swenlin Trading Oscillators (STO-B and STO-V)
For more links, go to DecisionPoint.com!
---