Today the DP Diamond PMO Scan produced 29 results. Many times I prefer using a different scan for my "diamonds in the rough", but today the selections from that scan showed excellent chart setups. Interestingly, the most bullish charts were Biotechs, of which I've included four. The fifth diamond in the rough is from the strong Software industry group. I recommended that Software stock in the 4/16 Diamonds Report and since then it is up over 25%. The chart looks good for another entry, you'll have to let me know what you think. I didn't include any Gold Miners, but I still like that industry group right now so you may want to fish there. I covered Newmont Mining (NEM) in yesterday's Diamond Report.
Below is the chart of the Nasdaq Biotech ETF (IBB). You can see the strong breakout from a concentrated trading range. The PMO is setting up for a BUY signal and the RSI isn't overbought. Notice also that volume is coming in strongly and has pushed the OBV up past its prior tops. That's exactly what you want to see on a breakout.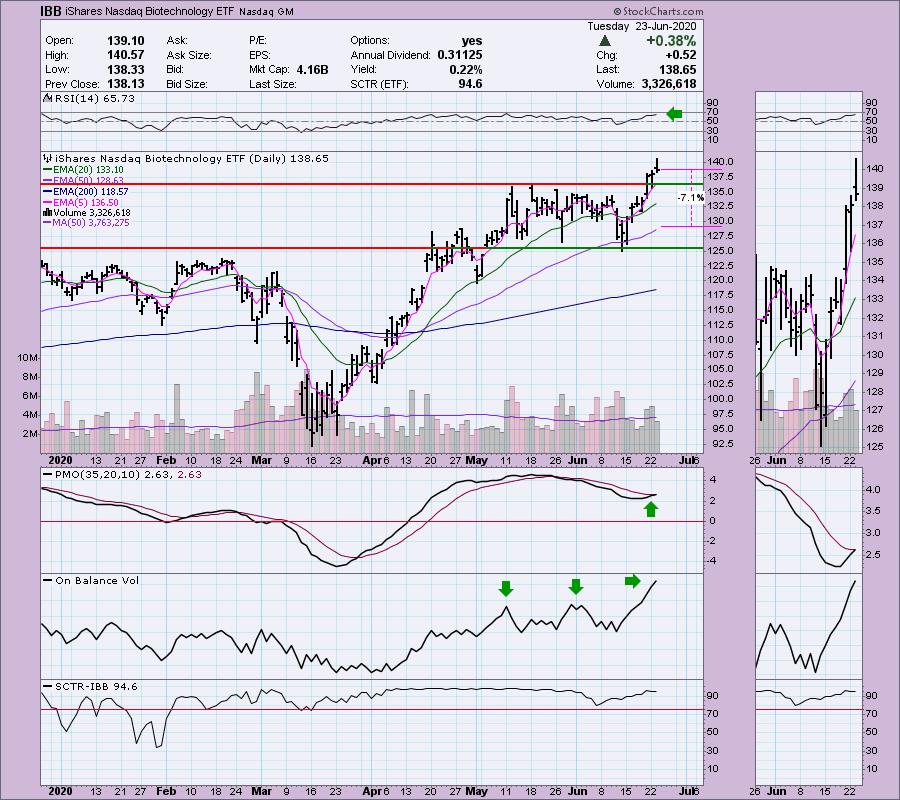 ---
** Announcements **
I will be traveling July 1 - July 15. I will be writing on the road, but broadcasting will be suspended during that time. It's going to be an adventurous road trip for me and my husband. We will be taking a train from Los Angeles to New Orleans, visiting family, checking out retirement areas and then renting a car and making our way back to California with various stops along the way. I'll be sure to post a picture or two and I'm sure I'll have funny stories to share along the way. It'll be interesting to see the various stages of the reopening of America.
A heads up to Bundle subscribers, the LIVE Trading Room will be going on hiatus as Mary Ellen will also be out of pocket in the upcoming month. We hope to reopen in late-July. Please direct questions to erin@decisionpoint.com.
---
---
Welcome to DecisionPoint Daily Diamonds, wherein I highlight five "diamonds in the rough." These are selected from the results of my DecisionPoint scans, which search for stocks that could benefit from the trend and condition of the market. Remember, these are not recommendations to buy or sell, but are the most interesting of the stocks that surfaced in my scans. My objective is to save you the work of the initial, tedious culling process, but you need to apply your own analysis to see if these stocks pique your interest as well. There are no guaranteed winners here!
---
---
Dropbox Inc (DBX) - Earnings: 8/6/2020 (AMC)
Dropbox, Inc. is a collaboration platform that's transforming the way people and teams work together. It offers following products: Dropbox Basic, Plus, Professional and Business. The Dropbox Basic is the simple, powerful home for photos, videos, docs, and other files. Its users also get access to new product Dropbox Paper, a collaborative workspace that helps teams create and share early ideas, and work with any type of content, in one centralized place. The Dropbox Plus provides unrivalled sync along with 1 TB of space, powerful sharing features, and increased control. The Dropbox Professional allows independent workers to store, share, and track their work from one place. The Dropbox Business is designed for small to enterprise level businesses, which users get full visibility and control over how critical work files are accessed and shared while letting team members continue to use the products.
Last I checked, DBX was down .59% in after hours trading so time your entry carefully. I like to use a 5- or 15-min bar chart with PMO and RSI for entries. Software pulled back but is coming on strong once again. I had this one in the 4/17 Diamonds Report so it's had a great run. Now we had a pull back followed by a new breakout. Granted it didn't close above resistance, but it's trying. The PMO is about to give us a crossover BUY signal and the RSI is positive above net neutral (50). The OBV is confirming this breakout as we saw it breakout along with price. The SCTR is strong above 90.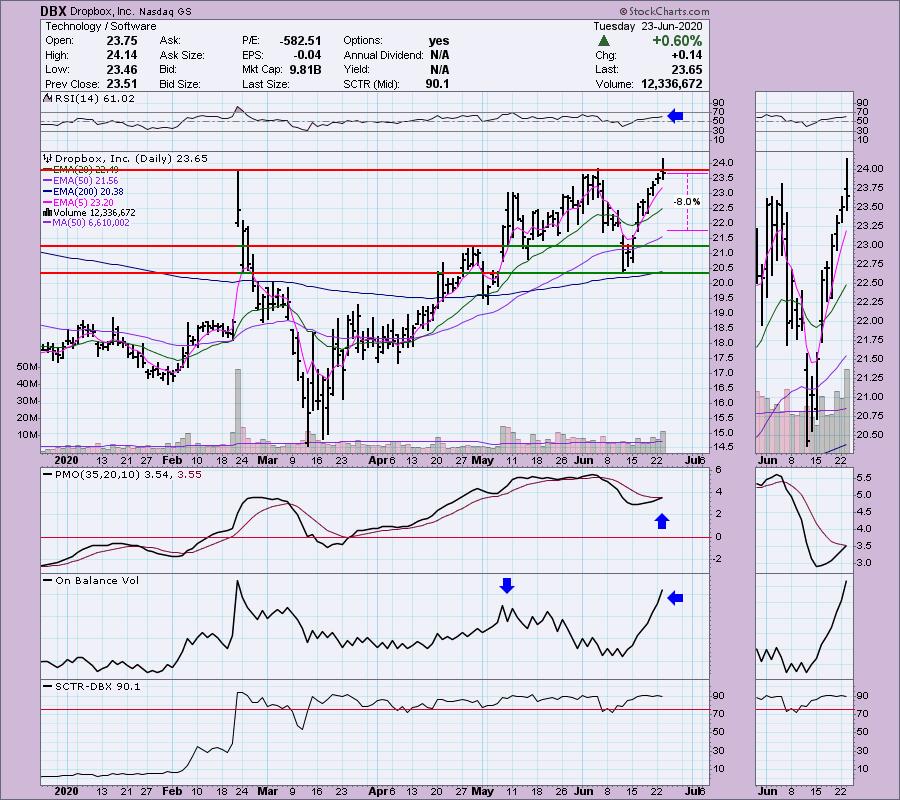 Upside potential varies here. I would probably make an early target for a relook, but if this one can breakout and reach the all-time high it would be a great investment. The weekly PMO is obviously quite strong.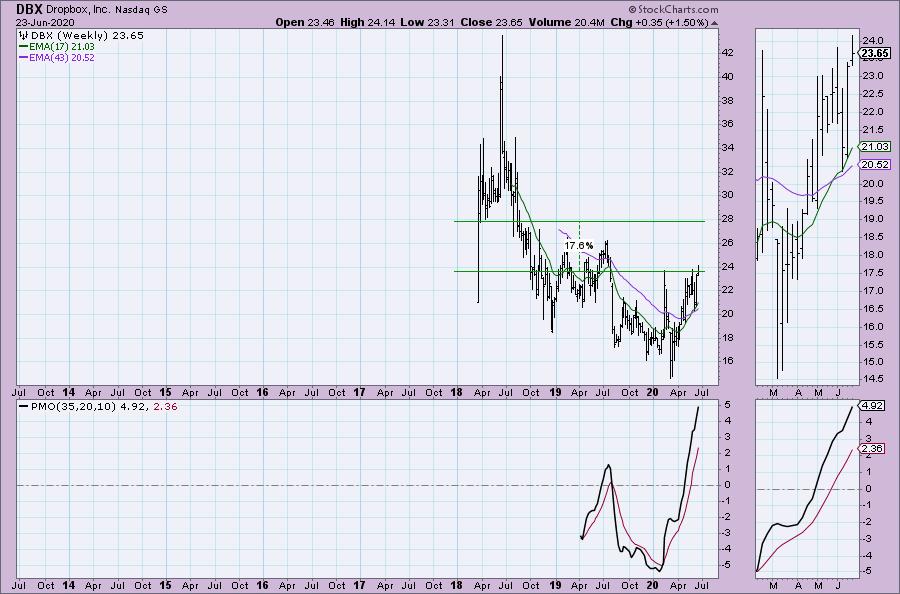 ---
Exelixis Inc (EXEL) - Earnings: 7/29/2020 (AMC)
Exelixis, Inc. is a biopharmaceutical company, which engages in the development, commercialization, and discovery of new medicines for the treatment of cancer. It offers products under the brands of Cometriq, Cabometyx, and Cotellic. The company was founded by Corey S. Goodman and Stelios B. Papadopoulos on November 15, 1994 and is headquartered in Alameda, CA.
The recent breakout from a bullish falling wedge came alongside a positive divergence on the OBV. I don't think the rally is over. The PMO did flatten a bit, but a pullback to the recent breakout above the May bottoms caused this. The RSI is still above net neutral and it does have a strong SCTR which suggests internal and relative strength.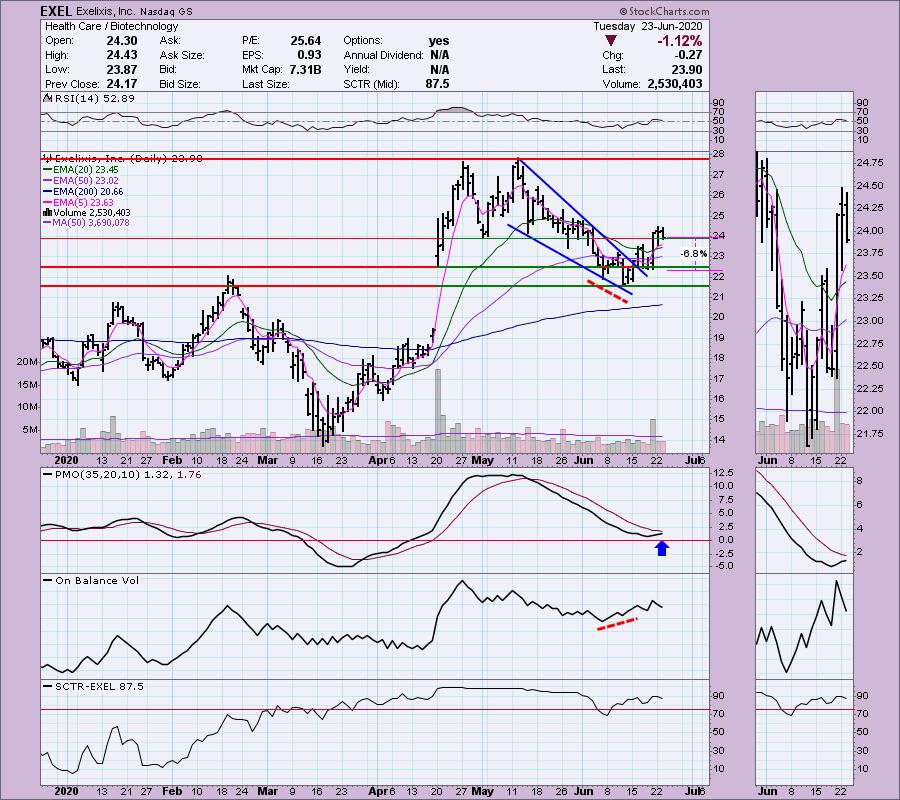 The weekly PMO is rising nicely and upside potential is great although I would do a reevaluation when it hits $28.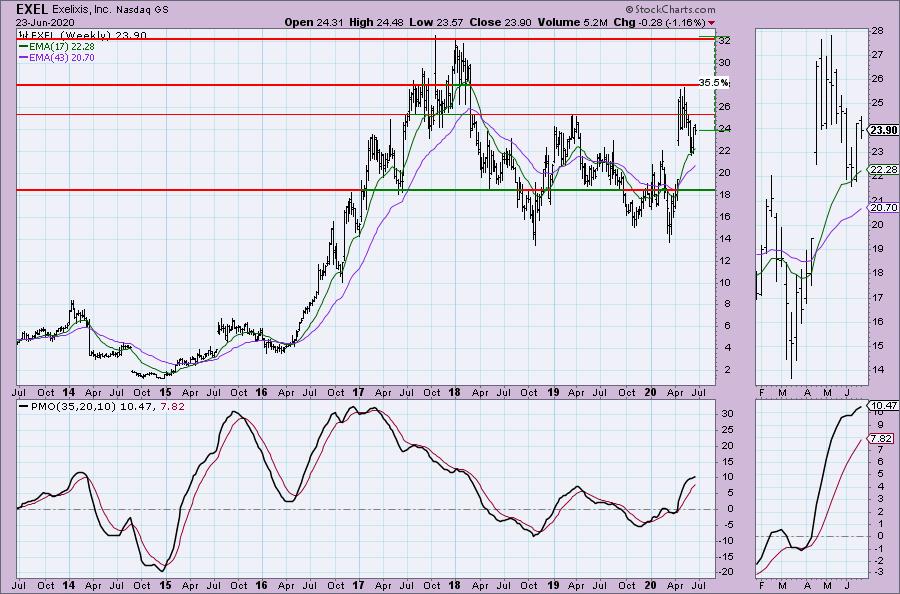 ---
Don't forget, on Thursdays I look at reader-requested symbols, so shoot me an email at erin@decisionpoint.com. I read every email I receive and try to answer them all!
---
Halozyme Therapeutics Inc (HALO) Earnings: 8/4/2020 (AMC)
Halozyme Therapeutics, Inc. is a biopharmaceutical company, which engages in research, development & commercialization of human enzymes and drug candidates. It focuses on novel oncology therapies that target the tumor microenvironment. Its products include PEGPH20, HTI-1511, PEG-ADA2, and HYLENEX recombinant.
Here is another stock with a nice breakout and subsequent pullback. This one is a bit better because it did close above that resistance level even on the pullback. The PMO is about to give us a crossover BUY signal. The RSI is somewhat overbought. The OBV did get back above its top from June but unfortunately it didn't get past the other tops. I'll forgive that given the high SCTR rank and other positive signs on the chart.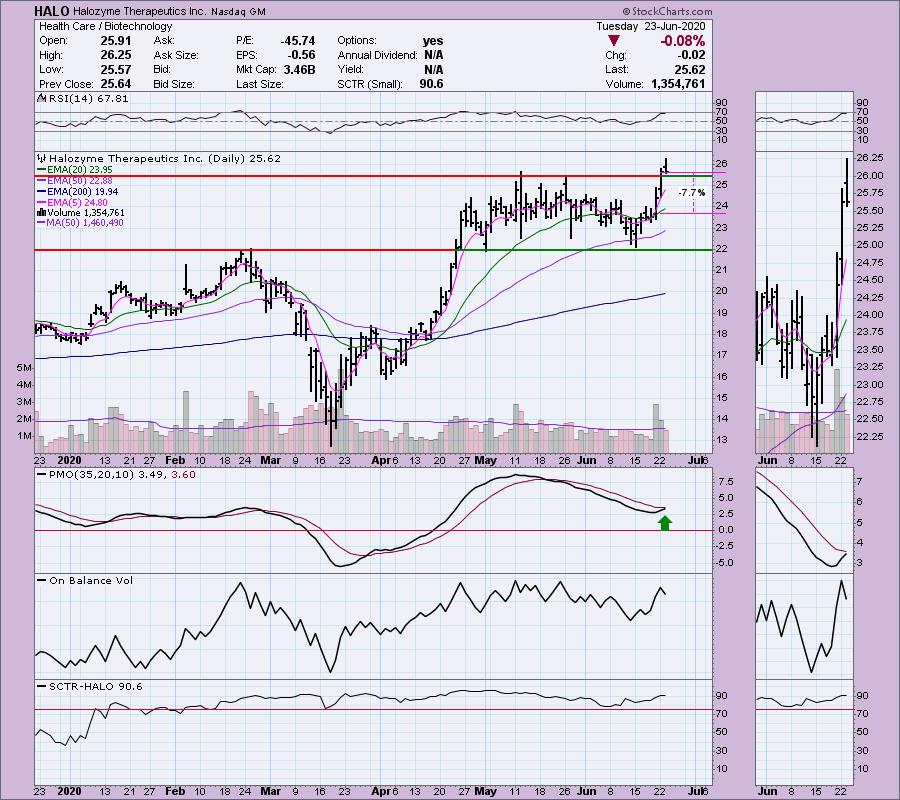 This was an important breakout this week as it took price above its 2015 high. The PMO is not overbought and it is rising. I would look for more upside.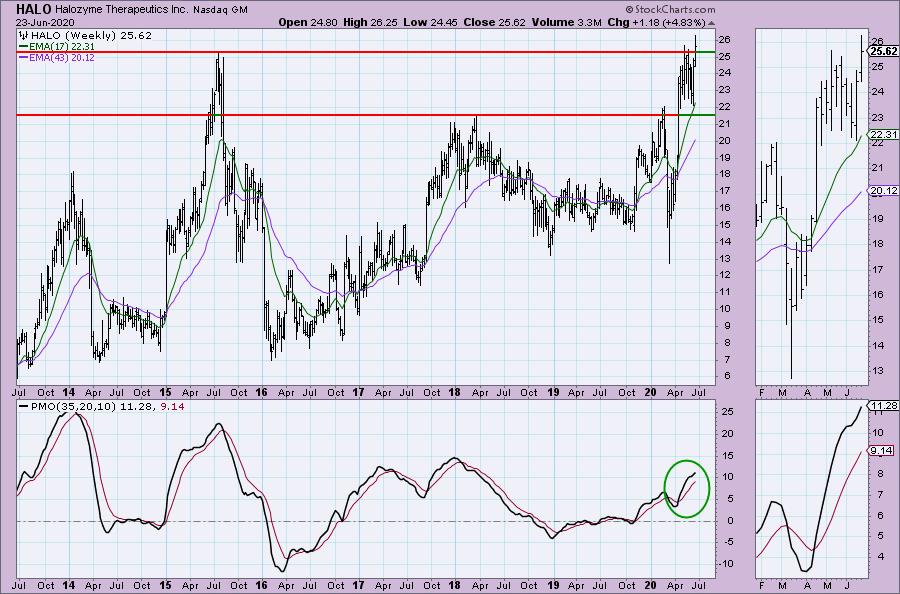 ---
Neurocrine Biosciences Inc (NBIX) -Earnings: 8/3/2020 (AMC)
Neurocrine Biosciences, Inc. operates as a product based bio-pharmaceutical company. It discovers, develops and intends to commercialize drugs for the treatment of neurological and endocrine related diseases and disorders. The company product includes INGREZZA. Neurocrine Biosciences was founded by Kevin C. Gorman and Wylie W. Vale on January 1992 and is headquartered in San Diego, CA.
Here is another Biotech I like. Not only did it breakout from the declining tops trendline, that trendline formed the top of a descending triangle. That's a bearish formation, so seeing a bullish breakout from a bearish pattern is especially bullish in my estimation. The PMO is nearing a BUY signal and the RSI is situated nicely in positive territory but not overbought. The OBV did breakout along with price to confirm the move. The SCTR is in the "hot zone" above 75. I put a stop in that would mean a break below the 20-EMA.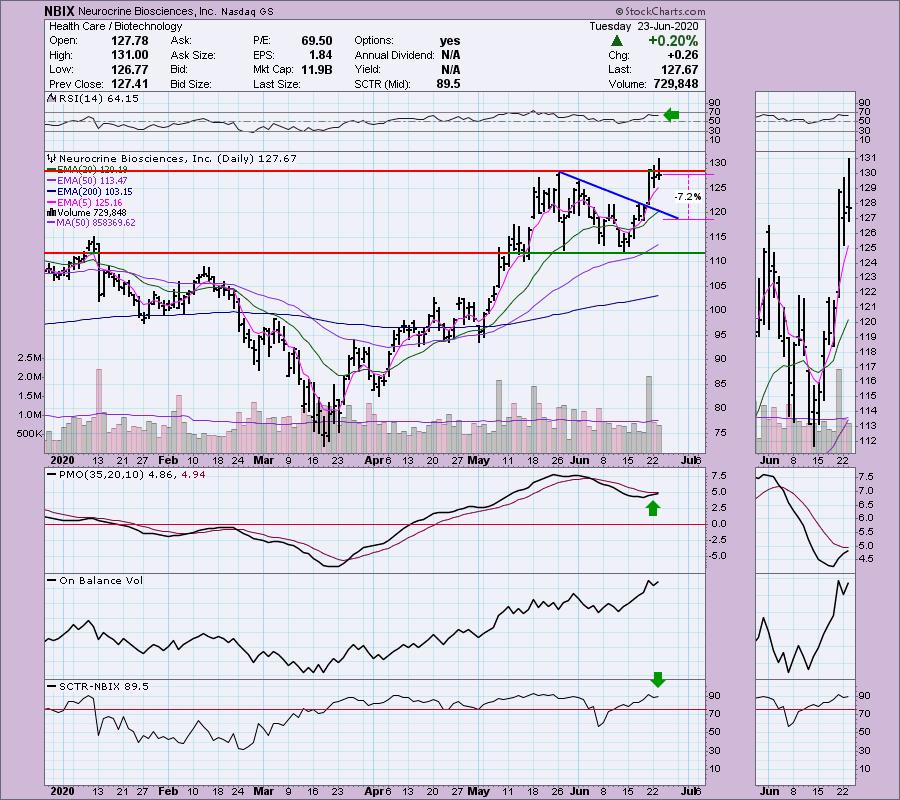 The weekly chart looks very positive with a breakout this week above the 2018 top and a strongly rising PMO that isn't overbought.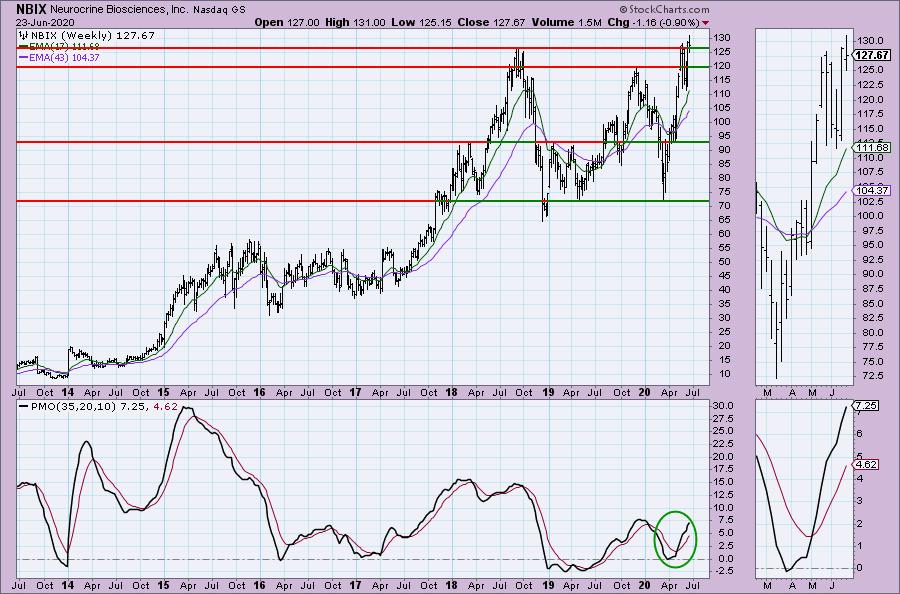 ---
Spero Therapeutics Inc (SPRO) - Earnings: 8/6/2020 (BMO)
Spero Therapeutics, Inc. is a clinical-stage biopharmaceutical company which focuses on identifying, developing, and commercializing novel treatments for multi-drug resistant, or MDR, bacterial infections. Its pipeline product candidates include SPR994, SPR741, and SPR206. The company was founded by Ankit A. Mahadevia and Laurence Rahme in April 2013 and is headquartered in Cambridge, MA.
This Biotech looks much like the others with a breakout from a consolidation zone. The PMO is triggering a BUY signal and the RSI is right in the middle of positive territory above 50 but below 70. The OBV rising bottoms are confirming the rising trend in price. The SCTR is healthy above 91.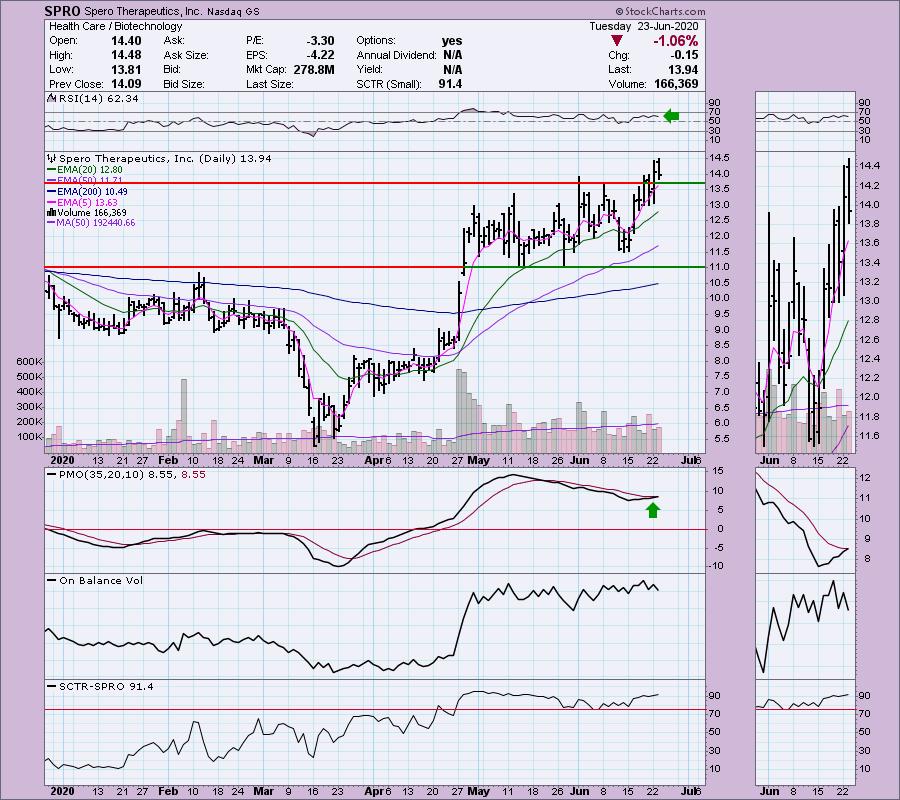 Very strong weekly PMO that is overbought. Given the lack of price data, it is hard to be sure whether the PMO is actually overbought. In any case, the PMO is rising. Upside potential could be excellent if it can challenge 2018 price highs.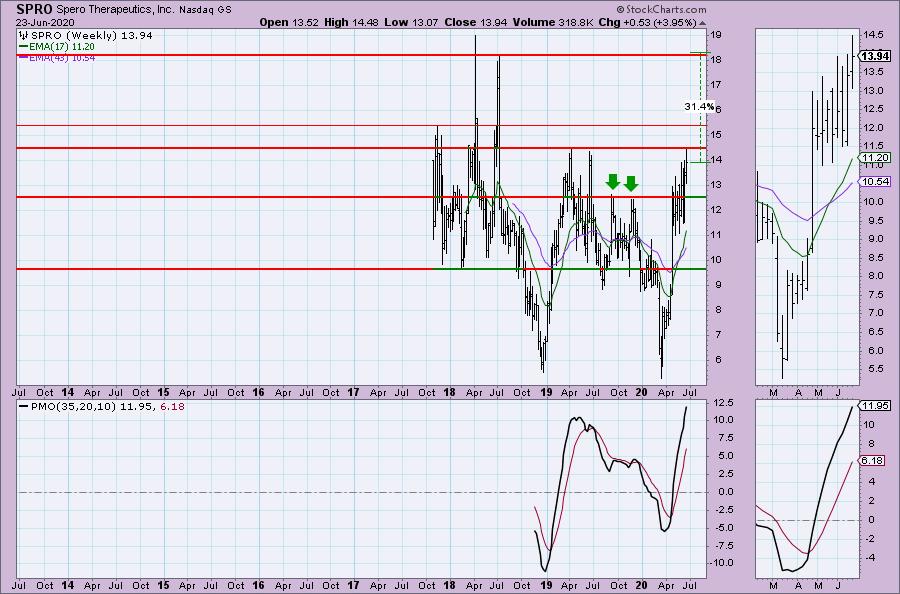 ---
Current Market Outlook:
Market Environment: It is important to consider the odds for success. The Silver Cross Index measures the percentage of stocks on IT Trend Model BUY signals (20-EMA > 50-EMA), while the Golden Cross Index measures the percentage of stocks on LT Trend Model BUY signals (50-EMA > 200-EMA). Don't forget that as a "Diamonds" member, you have access to our GCI/SCI curated ChartList on DecisionPoint.com. You'll find it under "Members Only" links on the left side on the Blogs and Links Page. Here are the current percentages on the Silver and Golden Cross Indexes: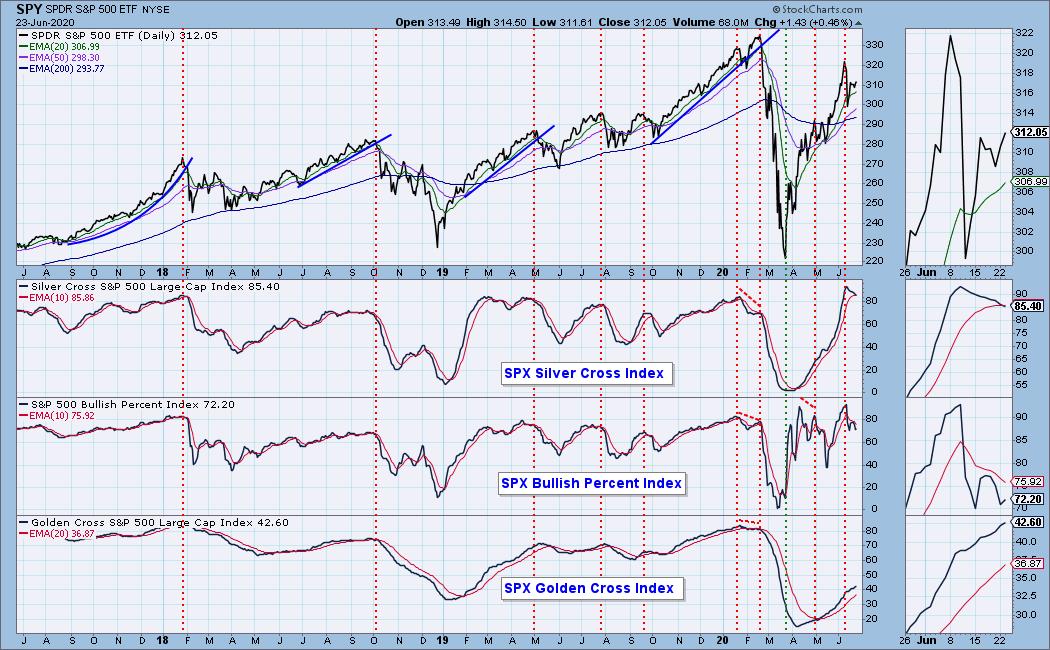 Diamond Index:
Diamond Scan Results: 18
Diamond Dog Scan Results: 29
Diamond Bull/Bear Ratio: 0.62
For a more comprehensive review of current market conditions as well as analysis of Dollar, Gold, Oil and Bonds, subscribe to the DecisionPoint Alert! For a LIMITED TIME you can get a coupon code that will give you a discount for bundling your Diamonds subscription with the DecisionPoint Alert! Contact support@decisionpoint.com for more details.
---
Full Disclosure: I have been trading with tight stops so I have been pleasantly surprised by the upturn in the market. I'm probably going to move the hard stops to trailing stops to take advantage of any more upside while protecting myself from a swift market downturn. I am currently about 45% in cash.
---

Erin Swenlin will be presenting at the The MoneyShow Las Vegas August 16 - 20 at Bally's/Paris Resort! You'll have an opportunity to meet Erin and discuss the latest DecisionPoint news and Diamond Scans. Claim your FREE pass here! You can watch online with this pass too!! There will be online events held in May and when I have more information I'll let you know.
---
Watch the latest episode of DecisionPoint with Carl & Erin Swenlin on Thursdays 8:00a EST or on the DecisionPoint playlist on the StockCharts TV YouTube channel here!
---
Technical Analysis is a windsock, not a crystal ball.
Happy Charting!
- Erin
erin@decisionpoint.com
---
---
NOTE: The stocks reported herein are from mechanical trading model scans that are based upon moving average relationships, momentum and volume. DecisionPoint analysis is then applied to get five selections from the scans. The selections given should prompt readers to do a chart review using their own analysis process. This letter is not a call for a specific action to buy, sell or short any of the stocks provided. There are NO sure things or guaranteed returns on the daily selection of "diamonds in the rough."
---
Helpful DecisionPoint Links:
DecisionPoint Shared ChartList and DecisionPoint Chart Gallery
Price Momentum Oscillator (PMO)
Swenlin Trading Oscillators (STO-B and STO-V)
For more links, go to DecisionPoint.com!f