A little bit lighter on the amount of reader requests so I opted to include a new Diamond of mine as well as bring back a previous Diamond that is ready for another entry if you didn't grab it the first time. My two picks today happen to be from the Health Care sector which continues to show leadership in Pharmaceuticals and Medical Supplies/Equipment. I want to do some research on companies that make needles and syringes that might be needed when/if we get a coronavirus vaccine. Millions of people will need inoculation so those supplies will be in demand. Would love your thoughts for next week's Reader Request day. I am also noticing that the Financial sector seems to be waking up and will investigate that further in next week's Diamonds. I didn't seen any Financial sector stocks of interest in my scans today. Additionally the Real Estate sector is breaking out. One of the Reader Requests is an ETF that tracks to that sector.
---
** Announcements **
I will be traveling July 1 - July 15. I will be writing on the road, but broadcasting will be suspended during that time. It's going to be an adventurous road trip for me and my husband. We will be taking a train from Los Angeles to New Orleans, visiting family, checking out retirement areas and then renting a car and making our way back to California with various stops along the way. I'll be sure to post a picture or two and I'm sure I'll have funny stories to share along the way. It'll be interesting to see the various stages of the reopening of America.
A heads up to Bundle subscribers, the LIVE Trading Room will be going on hiatus as Mary Ellen will also be out of pocket in the upcoming month. We hope to reopen in late-July. If you recently upgraded to get the Trading Room, I do hope you'll continue the subscription while we are on hiatus. Please direct questions to erin@decisionpoint.com.
---
---
Welcome to DecisionPoint Daily Diamonds, wherein I highlight five "diamonds in the rough." These are selected from the results of my DecisionPoint scans, which search for stocks that could benefit from the trend and condition of the market. Remember, these are not recommendations to buy or sell, but are the most interesting of the stocks that surfaced in my scans. My objective is to save you the work of the initial, tedious culling process, but you need to apply your own analysis to see if these stocks pique your interest as well. There are no guaranteed winners here!
---
---
Bausch Health Cos Inc (BHC) - Earnings: 8/4/2020 (BMO)
Bausch Health Cos., Inc. engages in the development, manufacture, and market of a range of branded, generic and branded generic pharmaceuticals, medical devices and over-the-counter products. It operates through the following segments: The Bausch + Lomb/International, Salix, Ortho Dermatologics and Diversified Products. The Bausch + Lomb/International segment consists of the sale of pharmaceutical products, over-the-counter products, and medical devices products. The Branded Rx segment comprises of pharmaceutical products related to the Salix product portfolio; dermatological product portfolio; branded pharmaceutical products, branded generic pharmaceutical products; over-the-counter products; medical device products; Bausch + Lomb products sold in Canada; and the oncology, dentistry, and health products for women. The Salix Segment consists of sales in the U.S. of GI Products, The Ortho Dermatologics segment consists of sales in the U.S. of Ortho Dermatologics (dermatological) products and global sales of Solta medical aesthetic devices. The Diversified Products segment consists of sales in the U.S. of pharmaceutical products in the areas of neurology and certain other therapeutic classes, in the U.S. of generic products, in the U.S. of dentistry products.
This is a Diamond from 5/18. I ended up opening a position in it on 5/20 on the dip. It's been a great performer for me and when I did my portfolio review today, I realized with this new breakout and continued positive indicators, that this could be another entry opportunity. Or, in my case, an opportunity to add to my current position. The RSI remains in the territory we want to see it in, between 50 and 70. The PMO is continuing to rise and isn't overbought. I noted that a new IT Trend Model BUY signal is on tap as we should soon see a "silver cross" of the 20/50-EMAs. While I don't follow candlesticks, I do see what looks like a 'shooting star' on the OHLC bar. I'm okay with that as trading took place almost exclusively above resistance at the April top. The next thing to watch for is whether that gap from March will be closed. Price is now in the middle of the gap. Given the positive indicators, I am looking for closure. The SCTR could be much better, but on this short-term investment I'll just note that I have to watch this one closely.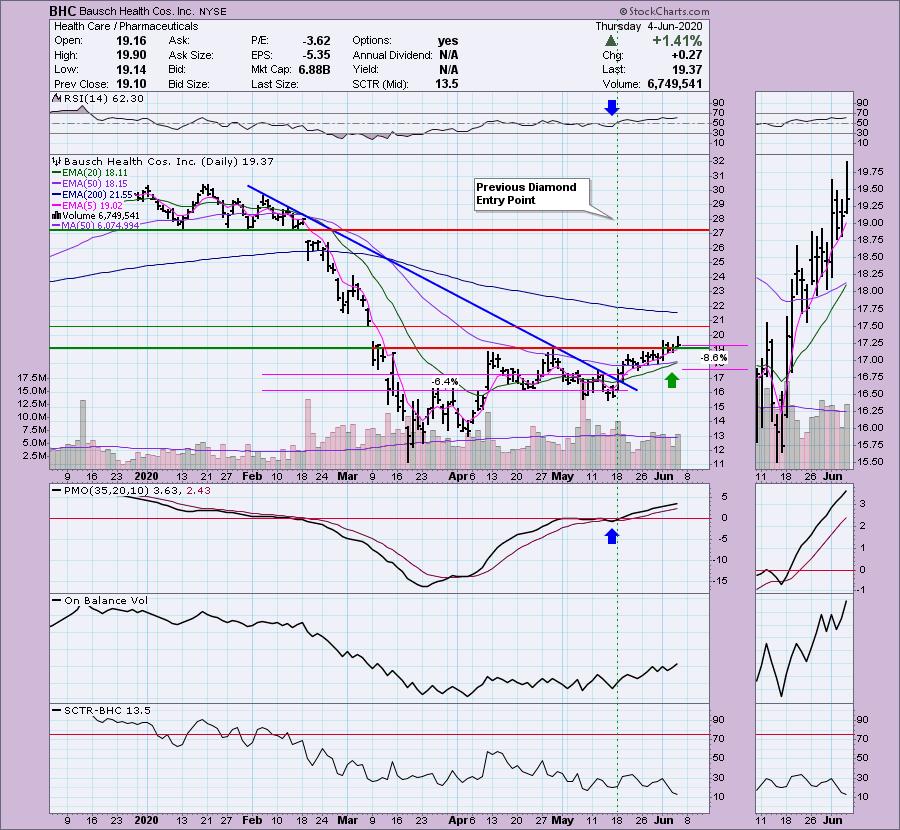 The weekly chart is another reason why I will forgive the SCTR on the daily chart. The PMO has turned up and is going in for a crossover BUY signal. If price can get back to the top of the basing pattern that's been forming since 2016, that would be a 50%+ gain. While I'm not saying it will get there, the potential is there.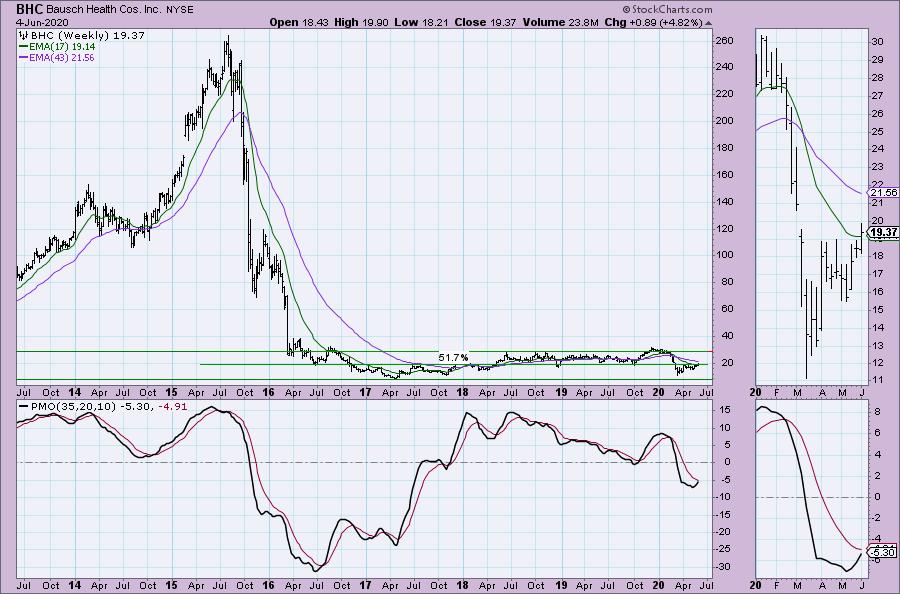 ---
Olivia - Carrier Global Corp (CARR) - Earnings: 8/10/2020 (BMO)
Carrier Global Corp. is a provider of HVAC, security and building automation technologies. The company is headquartered in Palm Beach Gardens, FL.
I nearly didn't look at this one, but decided to anyway as a teachable moment. Getting involved in new offerings is tricky at best. This one has been around for two months and while we have some important data, there is a lot we don't have. So what do you do? I typically will avoid diving into stocks that don't have a PMO or essential moving averages calculated yet. Knowing what those two indicators are doing is so important to my analysis process. We have to go with what we do have. First, the stock has taken off in parabolic fashion from the April low. Notice the rising bottoms trendlines get steeper and steeper. It is very difficult to maintain a near vertical upside move, but so far this stock is defying gravity. The OBV looks good and is confirming the price rise and the SCTR is top notch. The RSI is somewhat overbought. I would say that if I owned it, I would hold it. I would set a trailing stop. Parabolic stocks are fun to ride, but when they collapse...they REALLY collapse so have that trailing stop in. I'm not one to enter stocks that are already trading with a parabolic, it's like skating on very thin ice.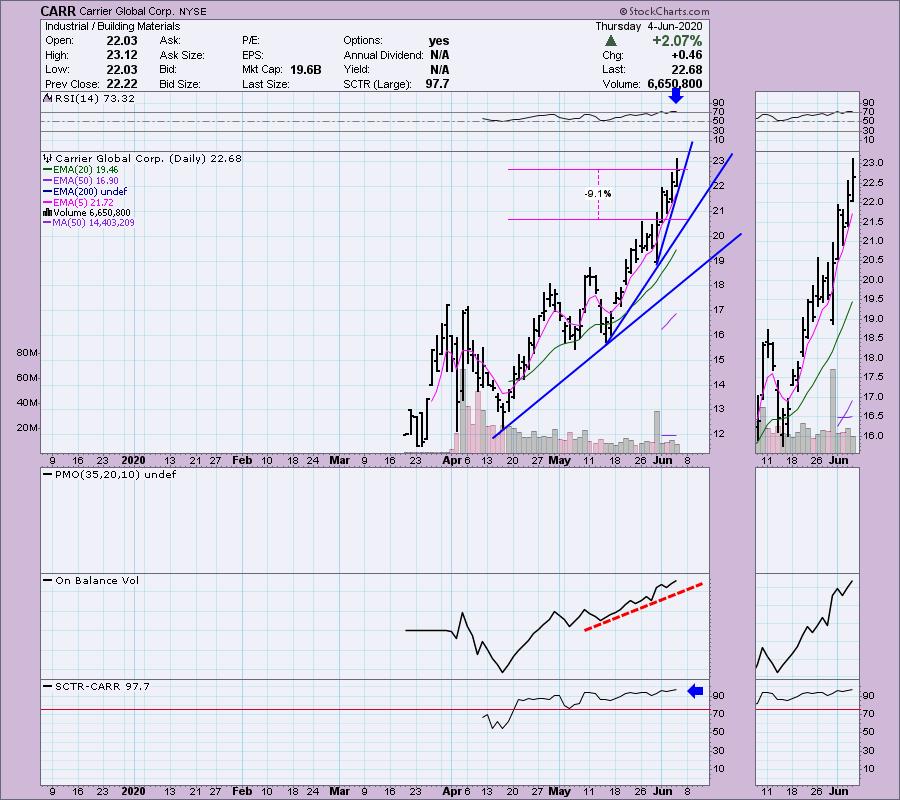 ---
Don't forget, on Thursdays I look at reader-requested symbols, so shoot me an email at erin@decisionpoint.com. I read every email I receive and try to answer them all!
---
Olivia - Fluor Corp (FLR) - Earnings: 6/9/2020
Fluor Corp. is a holding company, which engages in providing engineering, procurement, construction, fabrication and modularization, operations, maintenance and asset integrity, as well as project management services, on a global basis. It operates through the following four segments: Energy & Chemicals, Mining, Industrial, Infrastructure & Power, Diversified Services and Government. The Energy & Chemicals segment focuses on opportunities in the upstream, midstream, downstream, chemical, petrochemical, offshore and onshore oil and gas production, liquefied natural gas and pipeline markets. The Mining, Industrial, Infrastructure & Power segment provides design, engineering, procurement, construction and project management services to the mining and metals, transportation, life sciences, advanced manufacturing and power sectors. The Diversified segment provides a wide array of asset services, asset integrity services, equipment solutions and staffing services. The Government segment provides engineering, construction, logistics, base and facilities operations and maintenance, contingency response and environmental and nuclear services to the U.S. government and governments abroad.
Carla, I saw this one on your list and had to include it. Unfortunately it already broke to the upside in a big way today and could use a pullback. I like this one for entry after a pullback or on a limit order set around $12.75 - $13. I recommend watching those 15 minute and 5 minute bar charts during the trading day to find the best entry. The RSI is somewhat overbought, but not surprising on this big rally. The OBV is confirming the rise and the WCTR is waking up. An IT Trend Model BUY signal happened mid-May on a "silver cross", 20-EMA crosses above the 50-EMA.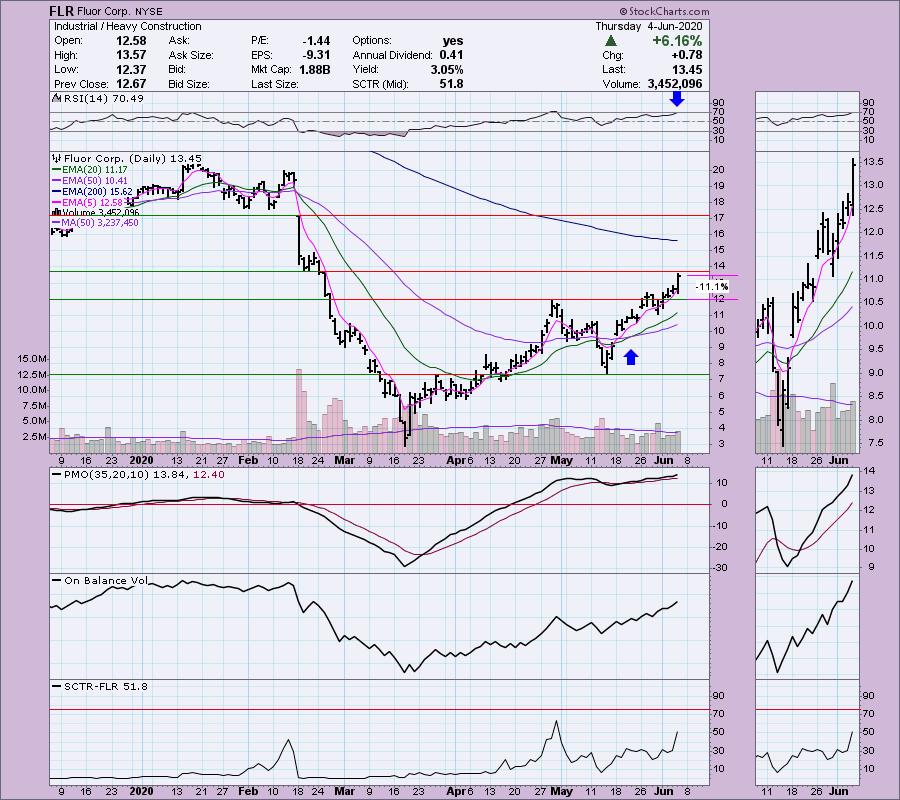 The weekly chart looks great with the late April crossover BUY signal. The upside target can be set higher than 17%, I just wanted you to see that even if it can't overcome the $15 resistance level, it would still be a 17%+ gain.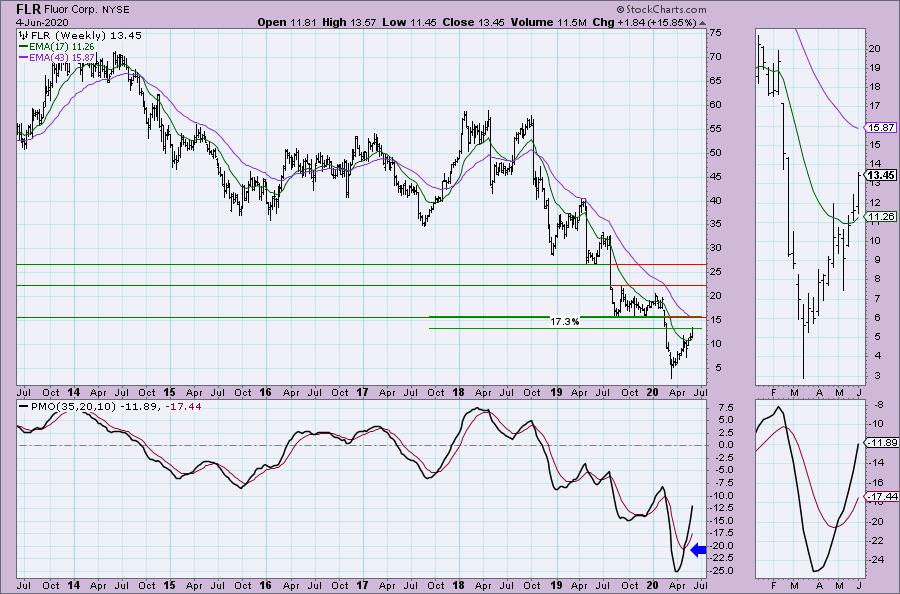 ---
Inogen Inc (INGN) - Earnings: 8/4/2020 (AMC)
Inogen, Inc . engages in the development, manufacture, and marketing of portable oxygen concentrators used to deliver supplemental long-term oxygen therapy to patients suffering from chronic respiratory conditions. Its products consists of Inogen One G4 system, Inogen One G3 system, Inogen One G2 system, and Inogen at Home.
This came up on simple PMO Crossover scan of the SP500, SP400 and SP600. This would be a bottom fishing opportunity. The chart isn't really ripe just yet, but I think it could be worth a shot. There is a bullish ascending triangle and that PMO BUY signal. I'd be jumping right in except for the RSI and SCTR. The OBV is basically confirming for now. This could be an interesting small-cap play.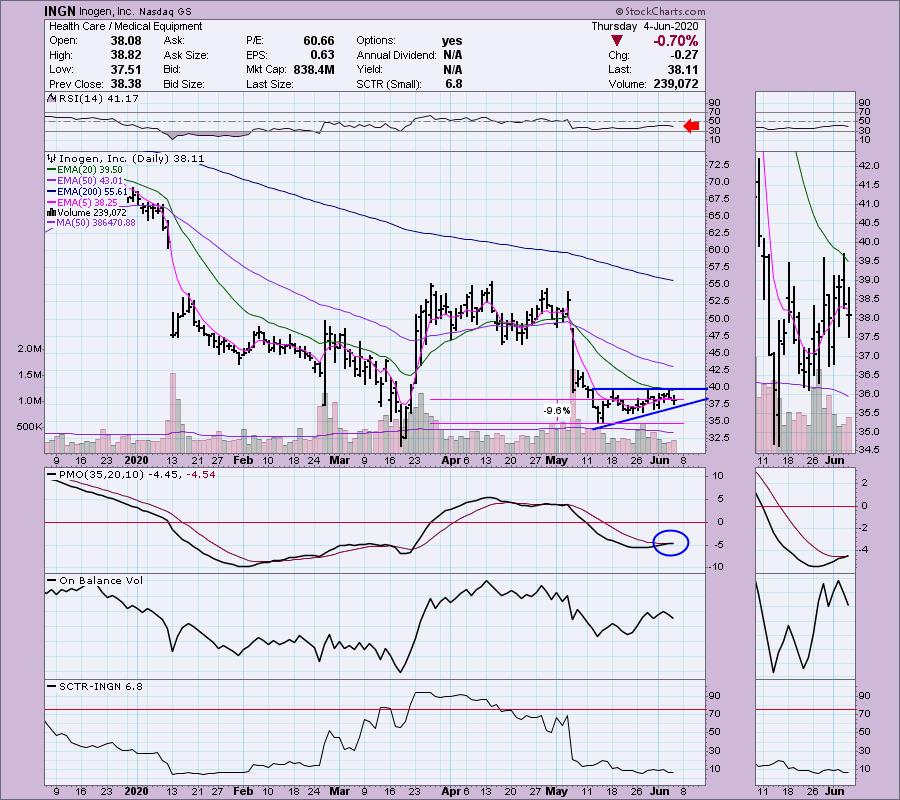 The weekly chart does show us that this investment would surely be short-term in nature. The weekly PMO is on a SELL signal and while it has decelerated a tiny bit, it is ultimately pointed in the wrong direction. If price can break above the $40 overhead resistance, there's a possible gain of over 45% on the table should price challenge its 2020 tops which is entirely plausible.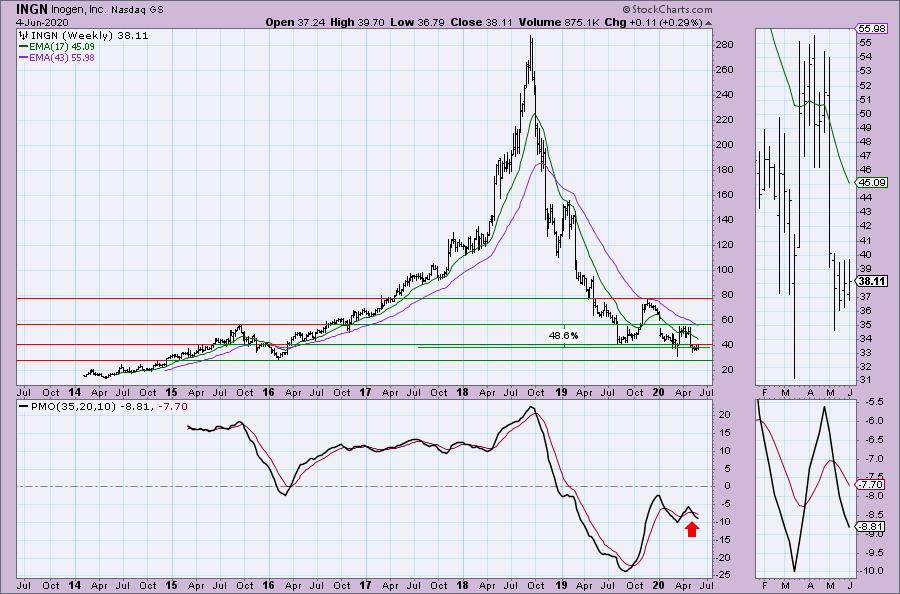 ---
Carla - Vanguard Real Estate ETF (VNQ) - Earnings: 6/3/2020 (AMC)
VNQ tracks a market-cap-weighted index of companies involved in the ownership and operation of real estate in the United States.
Great spot, Carla! Real Estate has certainly be outperforming. I've shied away from it for fundamental reasons--possible defaults, unemployment, etc. Intuitively I wouldn't expect this area to thrive at all with unemployment at record levels and tenants that can't pay their rent or owner unable to pay mortgages. However, I have recently been reminded that the stock market isn't the economy and can run counter to it like we are seeing right now. I need to get back in touch with my technical purist side that tells me most everything is 'baked' into the chart. After an initial breakaway gap in the middle of May, saw a continuation gap and yesterday we probably saw another continuation gap. I like that after this breakout, price did pull back toward the breakout point at $80. I would want that level to hold, otherwise I would wait to see if support holds at the 20/50-EMAs and then enter. The PMO is strong, the OBV is looks great and is confirming this breakout by reaching above the OBV top from late April. It tells us that price is following volume and that is good. We have a recent "silver cross" BUY signal. If you enter now, I would set a stop around $75 or possibly higher to coincide with the 20-EMA.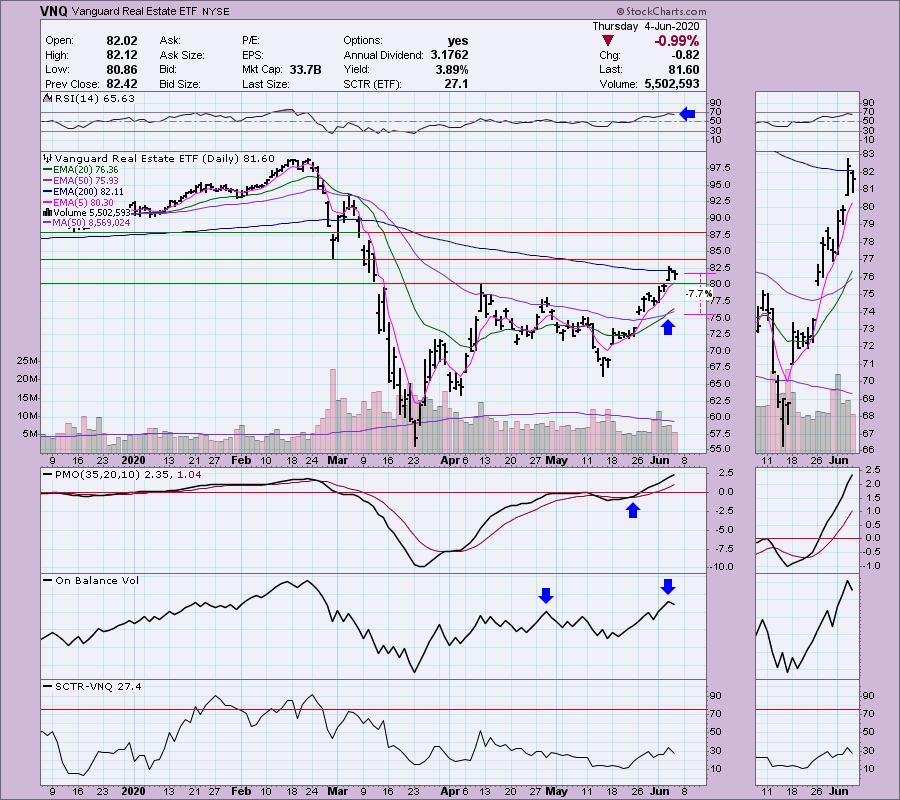 There's a brand new PMO BUY signal on tap for tomorrow when this chart goes "final" after the close. Upside potential is nice at 15% or more.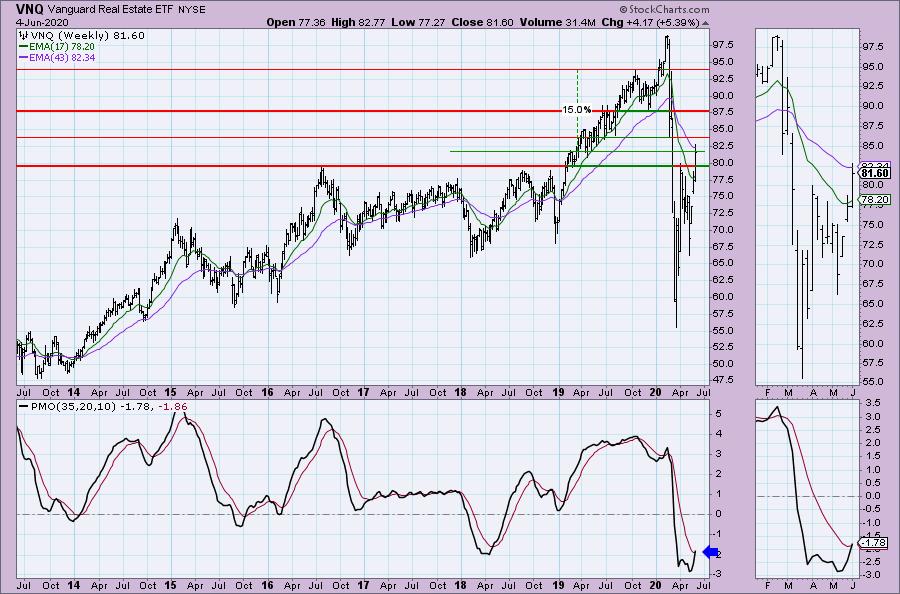 ---
Current Market Outlook:
Market Environment: It is important to consider the odds for success. The Silver Cross Index measures the percentage of stocks on IT Trend Model BUY signals (20-EMA > 50-EMA), while the Golden Cross Index measures the percentage of stocks on LT Trend Model BUY signals (50-EMA > 200-EMA). Don't forget that as a "Diamonds" member, you have access to our GCI/SCI curated ChartList on DecisionPoint.com. You'll find it under "Members Only" links on the left side on the Blogs and Links Page. Here are the current percentages on the Silver and Golden Cross Indexes:
Diamond Index:
Diamond Scan Results: 0
Diamond Dog Scan Results: 3
Diamond Bull/Bear Ratio: 0.00
For a more comprehensive review of current market conditions as well as analysis of Dollar, Gold, Oil and Bonds, subscribe to the DecisionPoint Alert! For a LIMITED TIME you can get a coupon code that will give you a discount for bundling your Diamonds subscription with the DecisionPoint Alert! Contact support@decisionpoint.com for more details.
---
Full Disclosure: I've added a few positions and am considering adding to my BHC position. I am currently 45% in cash.
---

Erin Swenlin will be presenting at the The MoneyShow Las Vegas August 16 - 20 at Bally's/Paris Resort! You'll have an opportunity to meet Erin and discuss the latest DecisionPoint news and Diamond Scans. Claim your FREE pass here! You can watch online with this pass too!! There will be online events held in May and when I have more information I'll let you know.
---
Watch the latest episode of DecisionPoint with Carl & Erin Swenlin on Thursdays 8:00a EST or on the DecisionPoint playlist on the StockCharts TV YouTube channel here!
---
Technical Analysis is a windsock, not a crystal ball.
Happy Charting!
- Erin
erin@decisionpoint.com
---
---
NOTE: The stocks reported herein are from mechanical trading model scans that are based upon moving average relationships, momentum and volume. DecisionPoint analysis is then applied to get five selections from the scans. The selections given should prompt readers to do a chart review using their own analysis process. This letter is not a call for a specific action to buy, sell or short any of the stocks provided. There are NO sure things or guaranteed returns on the daily selection of "diamonds in the rough."
---
Helpful DecisionPoint Links:
DecisionPoint Shared ChartList and DecisionPoint Chart Gallery
Price Momentum Oscillator (PMO)
Swenlin Trading Oscillators (STO-B and STO-V)
For more links, go to DecisionPoint.com!