Well today I am in Ft Walton Beach FL. The Diamond PMO Scan continues to produce plenty of results to sift through. Of the 53 that were returned from the scan, I found five that look very interesting. They happen to come from the Healthcare and Technology sectors.
---
** Announcements **
I am traveling July 1 - July 15. I will be writing on the road, but broadcasting will be suspended during that time. It's going to be an adventurous road trip for me and my husband. We will be taking a train from Los Angeles to New Orleans, visiting family, checking out retirement areas and then renting a car and making our way back to California with various stops along the way. I'll be sure to post a picture or two and I'm sure I'll have funny stories to share along the way. It'll be interesting to see the various stages of the reopening of America.
A heads up to Bundle subscribers, the LIVE Trading Room will be going on hiatus as Mary Ellen will also be out of pocket in the upcoming month. We hope to reopen in late-July. Please direct questions to erin@decisionpoint.com.
---
---
Welcome to DecisionPoint Daily Diamonds, wherein I highlight five "diamonds in the rough." These are selected from the results of my DecisionPoint scans, which search for stocks that could benefit from the trend and condition of the market. Remember, these are not recommendations to buy or sell, but are the most interesting of the stocks that surfaced in my scans. My objective is to save you the work of the initial, tedious culling process, but you need to apply your own analysis to see if these stocks pique your interest as well. There are no guaranteed winners here!
---
---
Bio-Rad Laboratories Inc (BIO) - Earnings: 7/30/2020 (AMC)
Bio-Rad Laboratories, Inc. engages in the development and production of specialty chemicals used in biochemical, pharmaceutical, and other life science research applications. It operates through the Life Sciences and Clinical Diagnostics segments. The Life Science segment develops, manufactures, and markets reagents, apparatus, and laboratory instruments. The Clinical Diagnostics segment designs, manufactures, sells, and supports test systems, informatics systems, and test kits.
I like the bullish ascending triangle resolution. The upside target is at the June high. The RSI is rising and now above 50. The SCTR is strong and the PMO is about to trigger a crossover BUY signal. I probably wouldn't use that deep stop, I would honestly not want it if it breached the 50-EMA.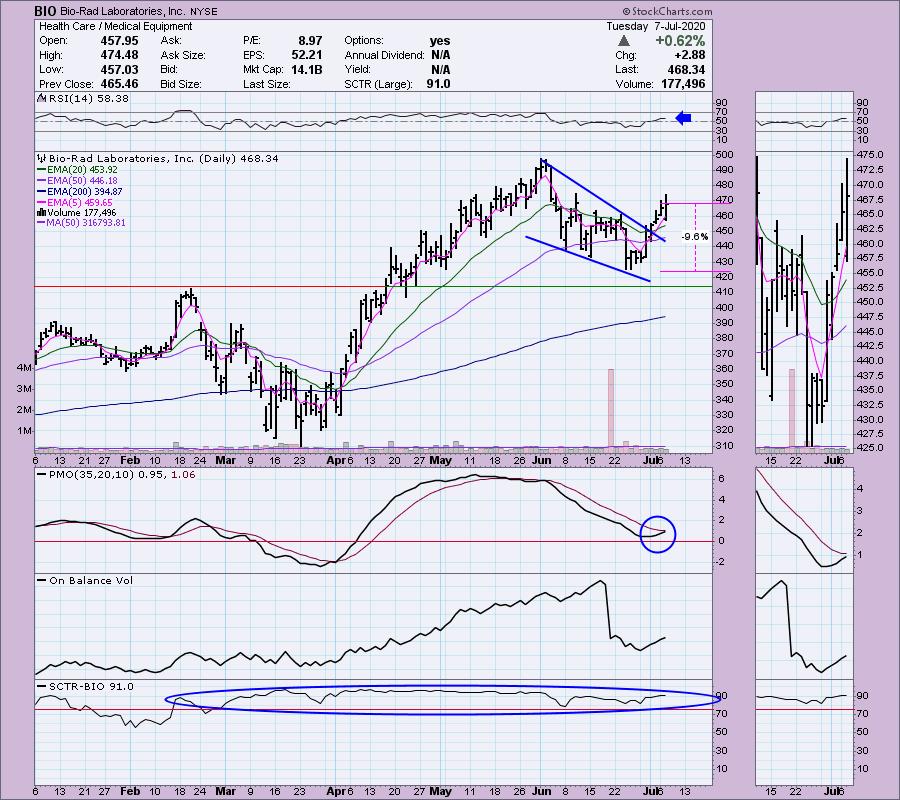 The weekly PMO has just turned back up. A PMO bottom above the signal line is usually especially bullish.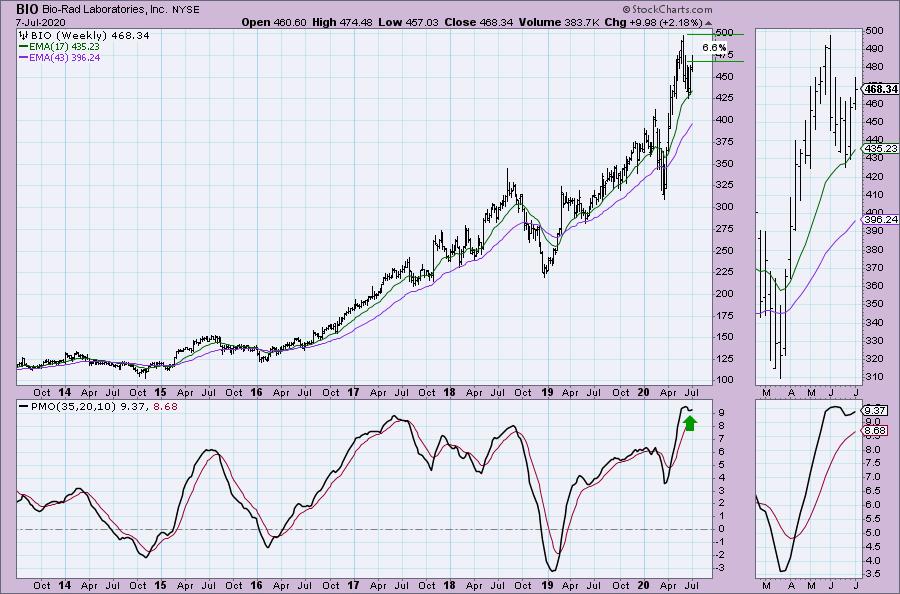 ---
BioLife Solutions Inc (BLFS) - Earnings: 8/6/2020 (AMC)
BioLife Solutions, Inc. engages in the development, manufacture and marketing of biopreservation tools for cells and tissues. Its product offerings include proprietary hypothermic storage and cryopreservation freeze media products for cells, tissues, and organs, generic blood stem cell freezing and cell thawing media products and custom product formulation and custom packaging services.
I very much like this chart. We had a crazy rally on BLFS, but it has now pulled right back to support. The PMO is still rising and there is a positive divergence with the OBV. I wouldn't want this one if it dropped past the 20-EMA, but you could certainly set is lower if you wish.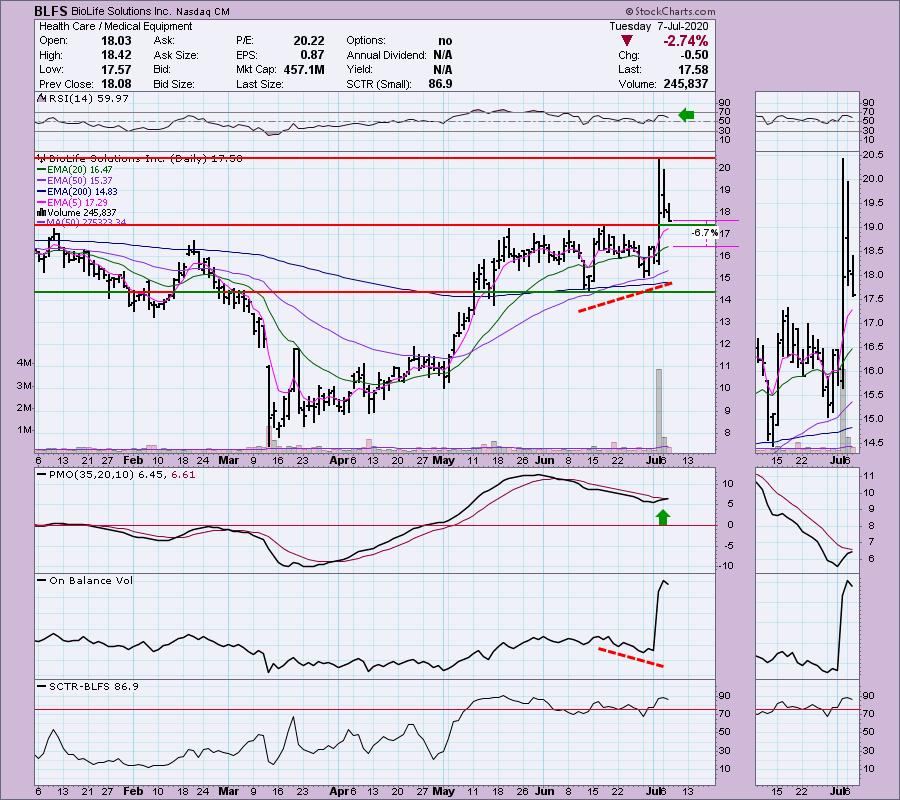 I love the upside potential on this one and that PMO suggests that level is possible.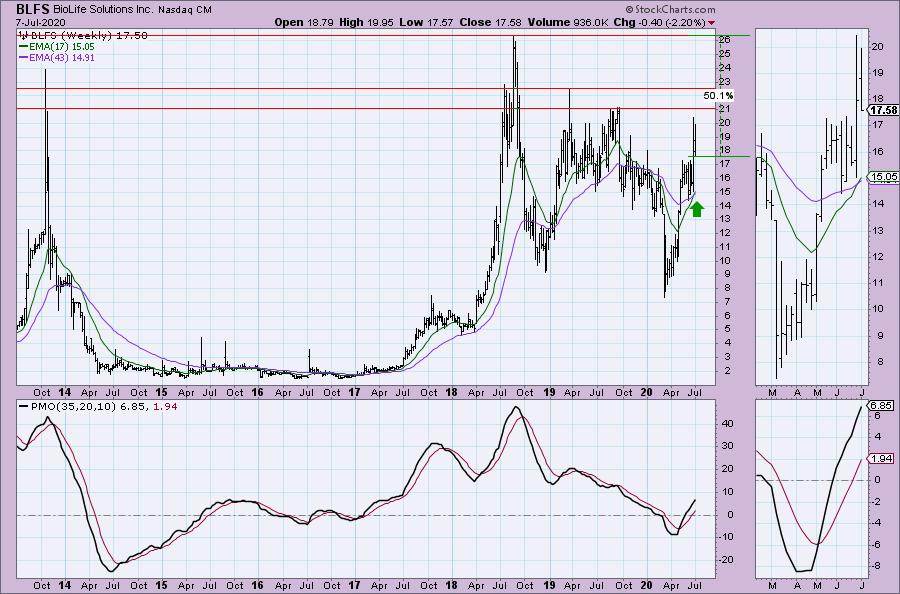 ---
Don't forget, on Thursdays I look at reader-requested symbols, so shoot me an email at erin@decisionpoint.com. I read every email I receive and try to answer them all!
---
CytoSorbents Corp (CTSO) Earnings: 8/4/2020 (AMC)
CytoSorbents Corp. engages in the critical care immunotherapy, investigation, and commercialization of blood purification technology. Its product portfolio include CytoSorb, ContrastSorb XL, HemoDefend, VetResQ, and DrugSorb.
CTSO has a bullish ascending wedge in play. It hasn't broken out of it yet, but given the RSI moving positive with the PMO nearing a BUY signal...it should. The SCTR is very strong.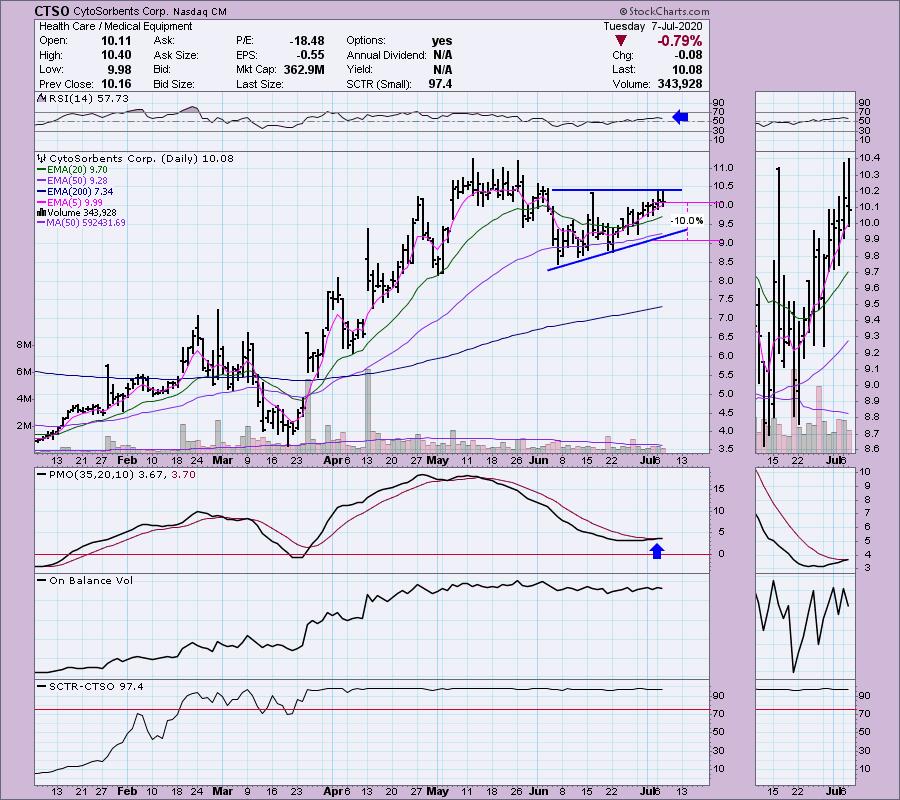 Here's another one with excellent upside potential. The PMO isn't quite as positive as BLFS, but it is still rising.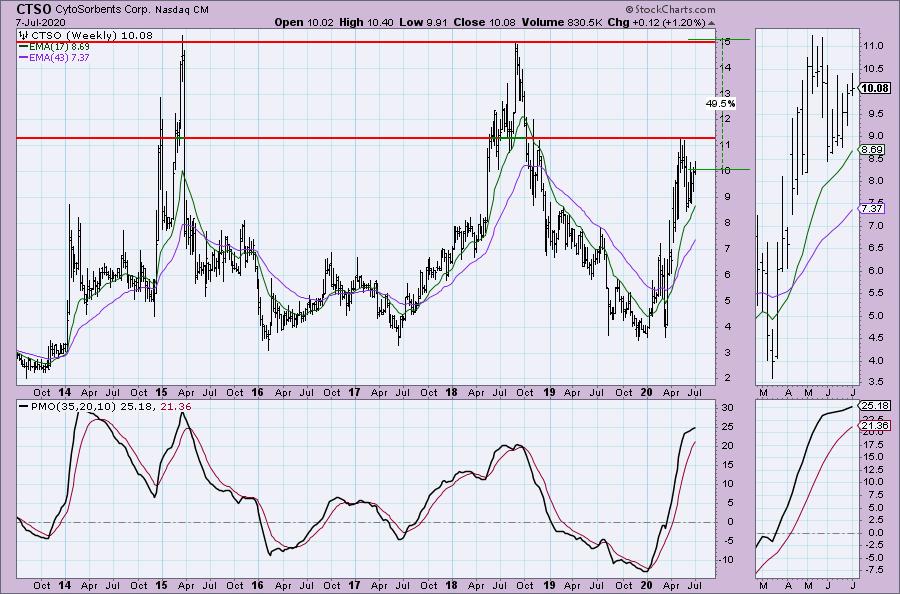 ---
Globant SA (GLOB) - Earnings: 8/13/2020 (AMC)
Globant SA operates as a digitally native company, which engages in the provision of information technology services. It offers application development and maintenance, testing, and infrastructure management.
The bullish ascending triangle executed and now it has pulled back to the breakout point. As you know I prefer to get into stocks that breakout and then pullback. The OBV isn't ideal as it hasn't broken out with price, but the volume that has come in is impressive.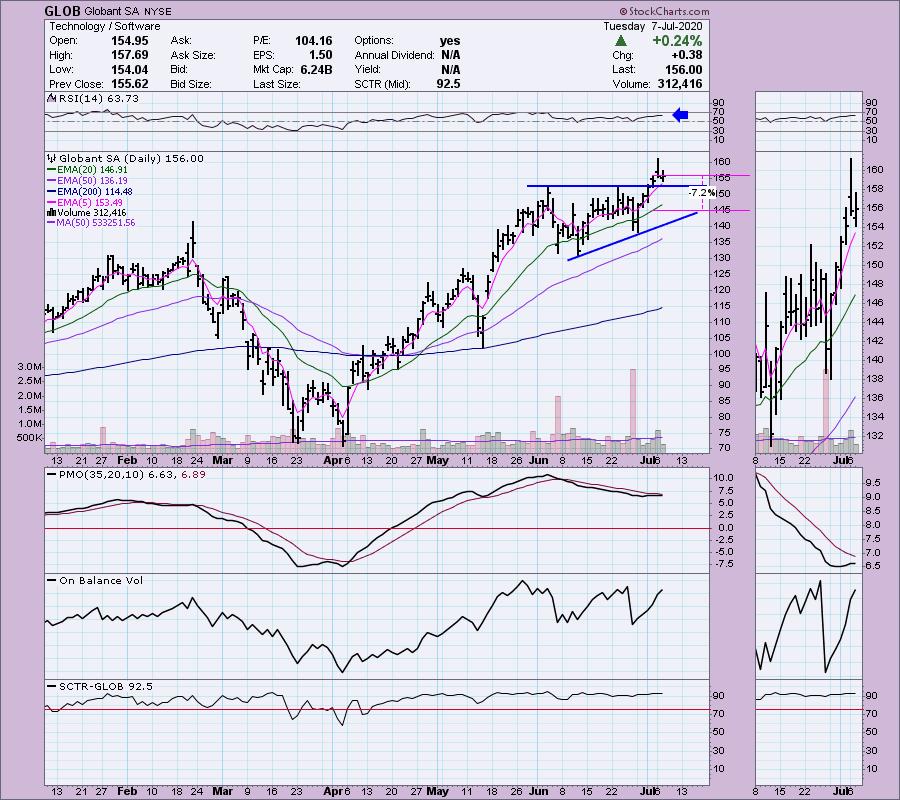 Nice looking PMO that rising strongly.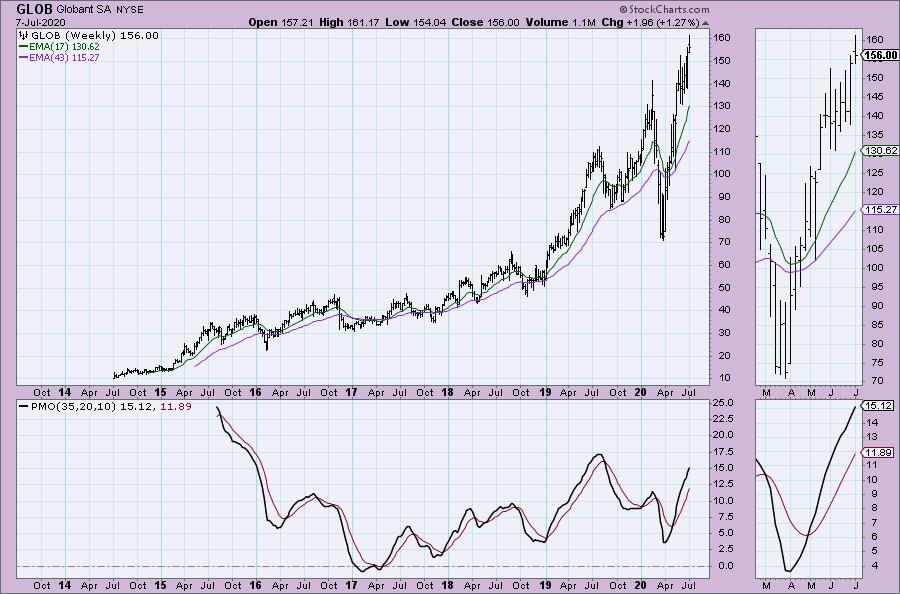 ---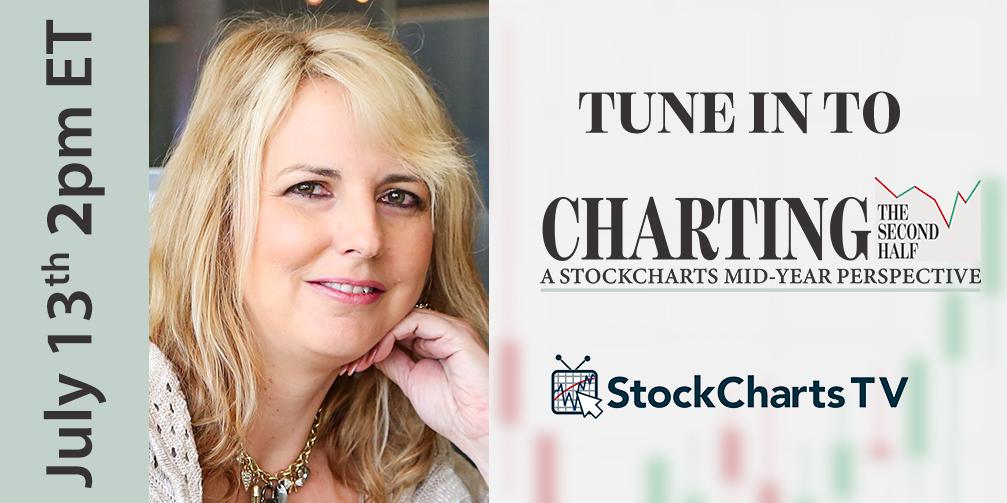 ---
Tyler Technologies (TYL) -Earnings: 7/29/2020 (AMC)
Tyler Technologies, Inc. engages in the provision of integrated technology and management solutions and services for public sector with a focus on local governments. It operates through the Enterprise Software, and Appraisal and Tax segments. The Enterprise Software segment provides municipal and county governments and schools with software systems to meet their information technology and automation needs for mission-critical back-office functions such as financial management, courts, and justice processes. The Appraisal and Tax segment provides systems and software that automate the appraisal and assessment of real and personal property, as well as property appraisal outsourcing services for local governments and taxing authorities.
I picked this one mainly because I am a fan of cup and handle patterns. This one may need to pull back a bit further and that would give you a nice entry around $340. PMO is rising and RSI is above net neutral. The SCTR has spent the past eight months above 75.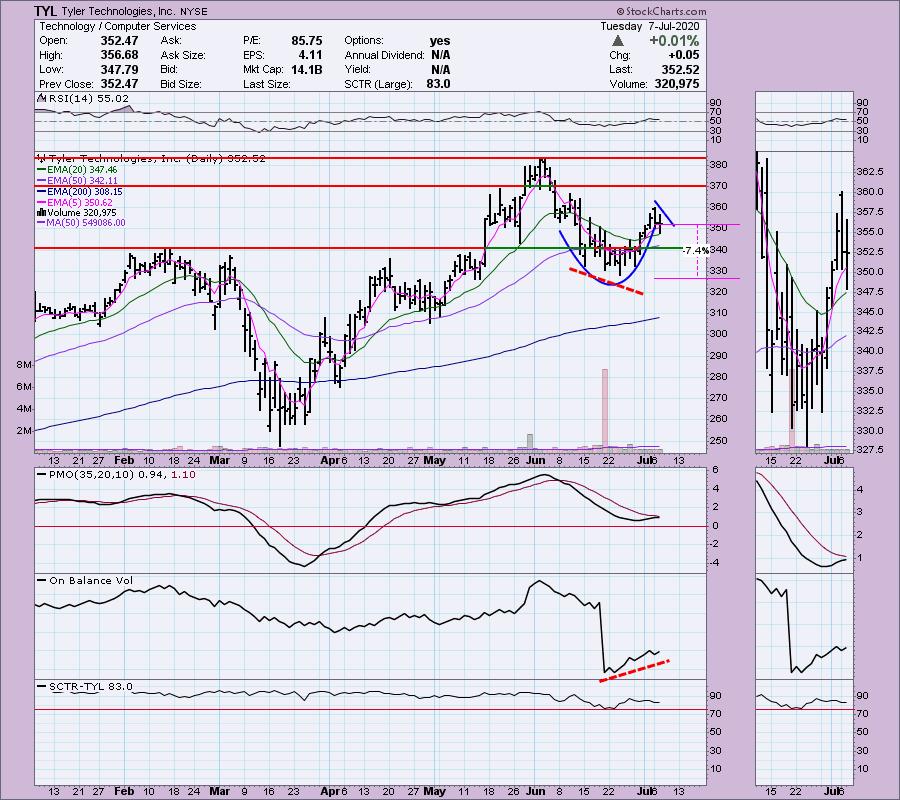 Having pulled back, it has opened up an 8.8% move to reach previous all-time highs.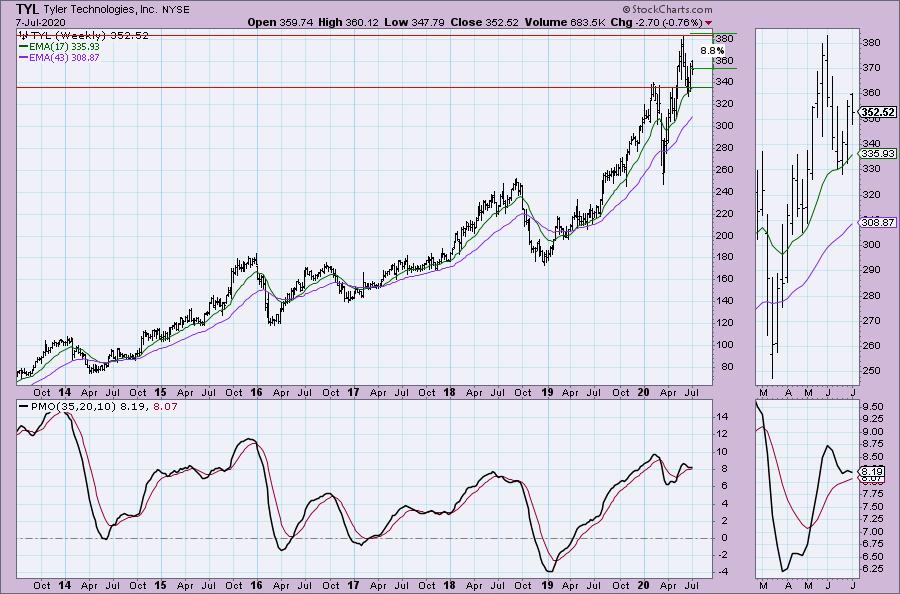 ---
Current Market Outlook:
Market Environment: It is important to consider the odds for success. The Silver Cross Index measures the percentage of stocks on IT Trend Model BUY signals (20-EMA > 50-EMA), while the Golden Cross Index measures the percentage of stocks on LT Trend Model BUY signals (50-EMA > 200-EMA). Don't forget that as a "Diamonds" member, you have access to our GCI/SCI curated ChartList on DecisionPoint.com. You'll find it under "Members Only" links on the left side on the Blogs and Links Page. Here are the current percentages on the Silver and Golden Cross Indexes: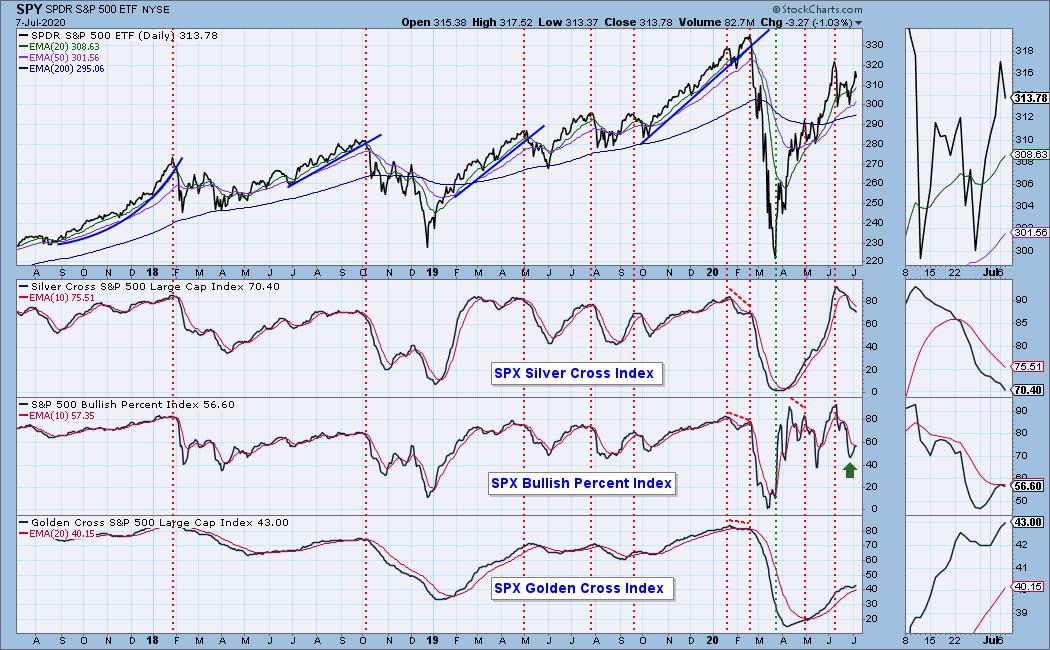 Diamond Index:
Diamond Scan Results: 53
Diamond Dog Scan Results: 1
Diamond Bull/Bear Ratio: 53.00
For a more comprehensive review of current market conditions as well as analysis of Dollar, Gold, Oil and Bonds, subscribe to the DecisionPoint Alert! For a LIMITED TIME you can get a coupon code that will give you a discount for bundling your Diamonds subscription with the DecisionPoint Alert! Contact support@decisionpoint.com for more details.
---
Full Disclosure: I'm about 50% invested right now.
---
Erin's Travel Log:
Not much to report today as we spent most of the day with family. Today for lunch we had take-out from a place called "It Don't Matter". The reason apparently it got its name was when the wife would ask "Where you want to eat?" and the husband would reply "It don't matter." Gotta love Alabama! The fried chicken is the best I've had. Juicy under that breading but not greasy. The fried okra and butter beans were an excellent complement to the chicken. Oh! I forgot to tell you about dinner last night...we had pulled pork sandwiches with coleslaw IN the bun topping the meat. Never had it that way but loved it! Apparently that is the southern way to eat a pulled pork sandwich. I trust my Aunt Cam to know :-)
Quiet trip down to Ft Walton Beach, FL. It's beautiful but too crowded for us. I think Lake Martin or Lake Jordan, AL will be our retirement area. I've had many subscribers recommend their own states and towns, and while I would love to see them too, being around family is so important and that makes AL our home when the time comes. Speaking of family, below is a picture of a plaque that was given to my Grandpa Edgar. He served in the Marines and I'm beyond impressed and proud of all of his accomplishments. May you rest in peace <3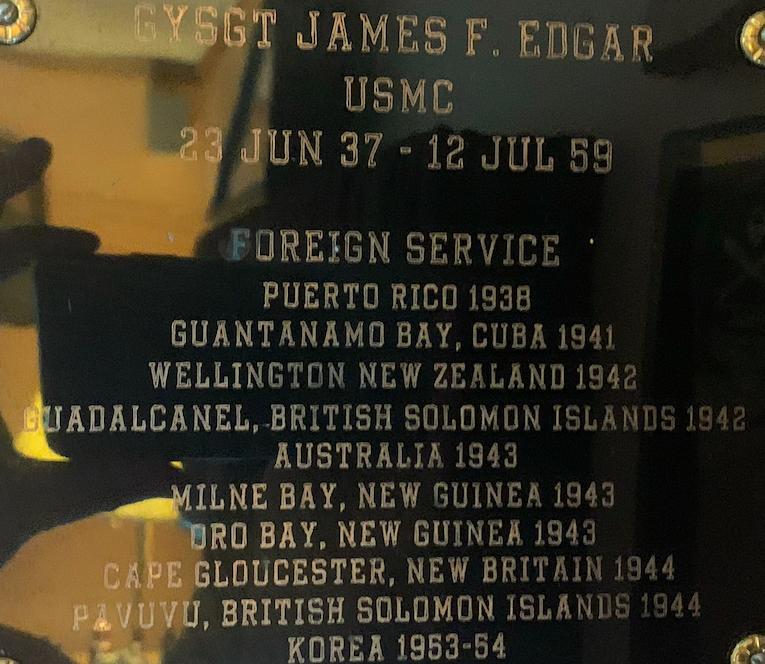 We still have seafood dinner for tonight to come. I can't wait to get me some fried oysters and hush puppies! Talk to y'all on Thursday! Below is a pic from our trip to FL. I was doing a lot of knitting and missed the welcome to Florida sign!
---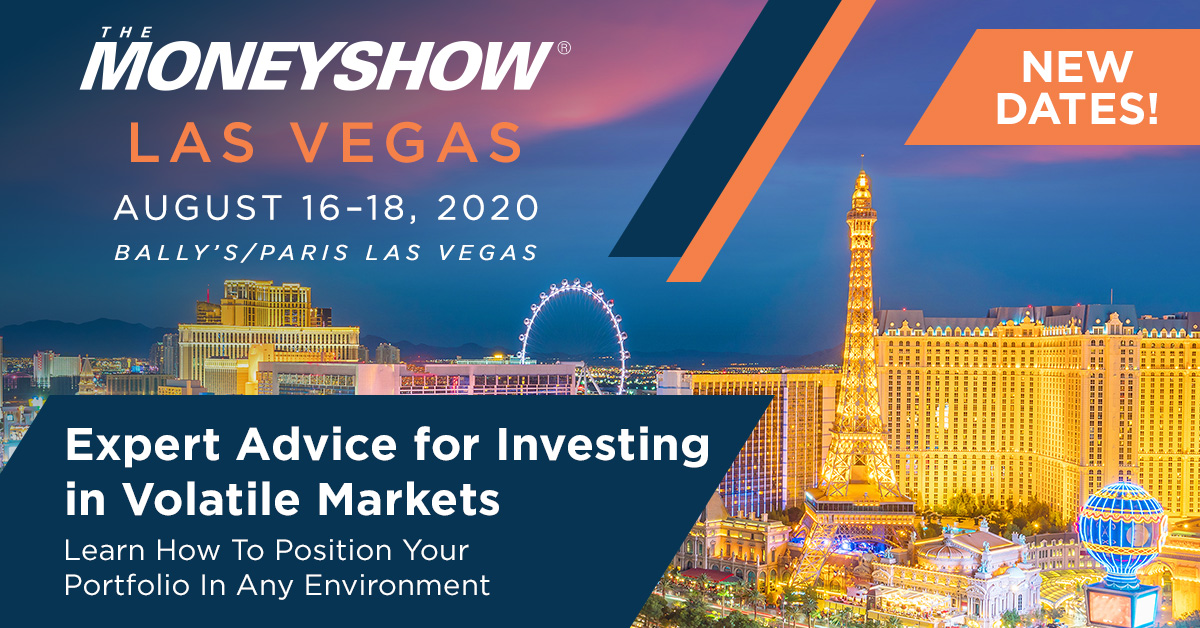 Erin Swenlin will be presenting at the The MoneyShow Las Vegas August 16 - 20 at Bally's/Paris Resort! You'll have an opportunity to meet Erin and discuss the latest DecisionPoint news and Diamond Scans. Claim your FREE pass here! You can watch online with this pass too!! There will be online events held in May and when I have more information I'll let you know.
---
Watch the latest episode of DecisionPoint with Carl & Erin Swenlin on Thursdays 8:00a EST or on the DecisionPoint playlist on the StockCharts TV YouTube channel here!
---
Technical Analysis is a windsock, not a crystal ball.
Happy Charting!
- Erin
erin@decisionpoint.com
---
---
NOTE: The stocks reported herein are from mechanical trading model scans that are based upon moving average relationships, momentum and volume. DecisionPoint analysis is then applied to get five selections from the scans. The selections given should prompt readers to do a chart review using their own analysis process. This letter is not a call for a specific action to buy, sell or short any of the stocks provided. There are NO sure things or guaranteed returns on the daily selection of "diamonds in the rough."
---
Helpful DecisionPoint Links:
DecisionPoint Shared ChartList and DecisionPoint Chart Gallery
Price Momentum Oscillator (PMO)
Swenlin Trading Oscillators (STO-B and STO-V)
For more links, go to DecisionPoint.com!f