I am writing to you today from my uncle's Alabama lake house. I'll put a few pictures at the bottom when I write my travel diary at the end of today's post.
I was amazed at the Diamond PMO Scan results once again. Today I had 50 to sift through. I noticed many of the results were Growth Index ETFs. I opted not to cover them, but I invite you to check out a few as they do look interesting: MGK, IUSG, IWF, SCHG, VOOG and VUG.
---
** Announcements **
I am traveling July 1 - July 15. I will be writing on the road, but broadcasting will be suspended during that time. It's going to be an adventurous road trip for me and my husband. We will be taking a train from Los Angeles to New Orleans, visiting family, checking out retirement areas and then renting a car and making our way back to California with various stops along the way. I'll be sure to post a picture or two and I'm sure I'll have funny stories to share along the way. It'll be interesting to see the various stages of the reopening of America.
A heads up to Bundle subscribers, the LIVE Trading Room will be going on hiatus as Mary Ellen will also be out of pocket in the upcoming month. We hope to reopen in late-July. Please direct questions to erin@decisionpoint.com.
---
---
Welcome to DecisionPoint Daily Diamonds, wherein I highlight five "diamonds in the rough." These are selected from the results of my DecisionPoint scans, which search for stocks that could benefit from the trend and condition of the market. Remember, these are not recommendations to buy or sell, but are the most interesting of the stocks that surfaced in my scans. My objective is to save you the work of the initial, tedious culling process, but you need to apply your own analysis to see if these stocks pique your interest as well. There are no guaranteed winners here!
---
---
Nasdaq Cybersecurity ETF (CIBR) - Earnings: N/A
CIBR tracks a liquidity-weighted index that targets companies engaged in the cybersecurity industry.
Today CIBR broke out from a bullish ascending triangle. The minimum upside target based on the pattern would be around $38. The RSI is planted firmly above net neutral and is not overbought. The PMO is turning up while above the zero line. I note on the OBV that current readings are above previous tops on the breakout. This means price IS following volume. Of course, a long-term healthy SCTR is always good to see.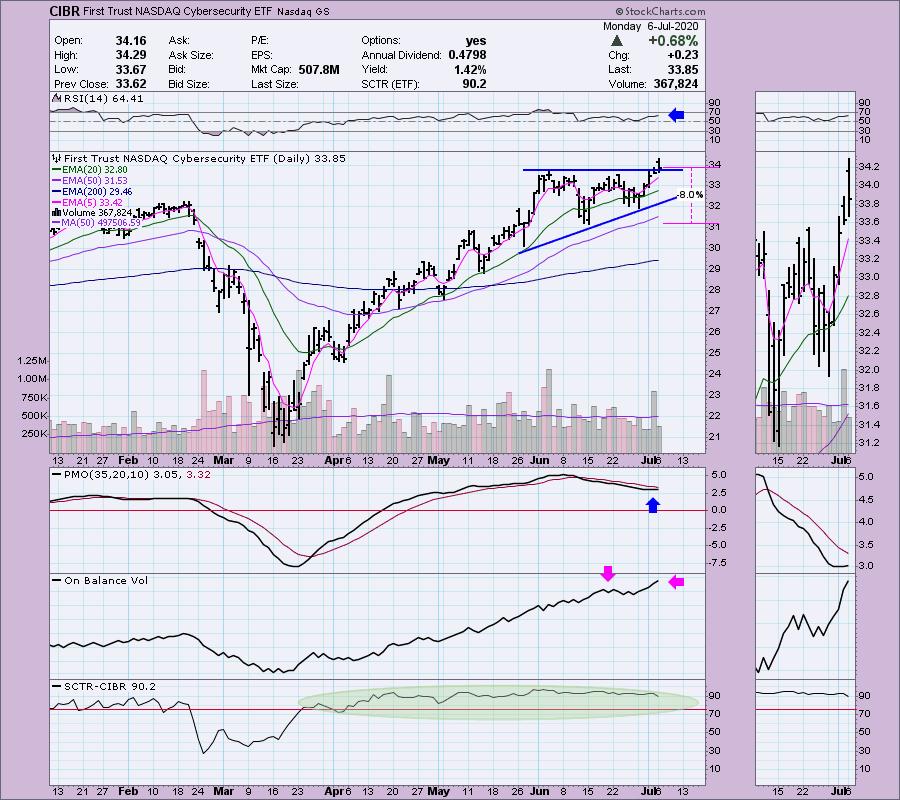 The weekly PMO hints that we should see higher prices.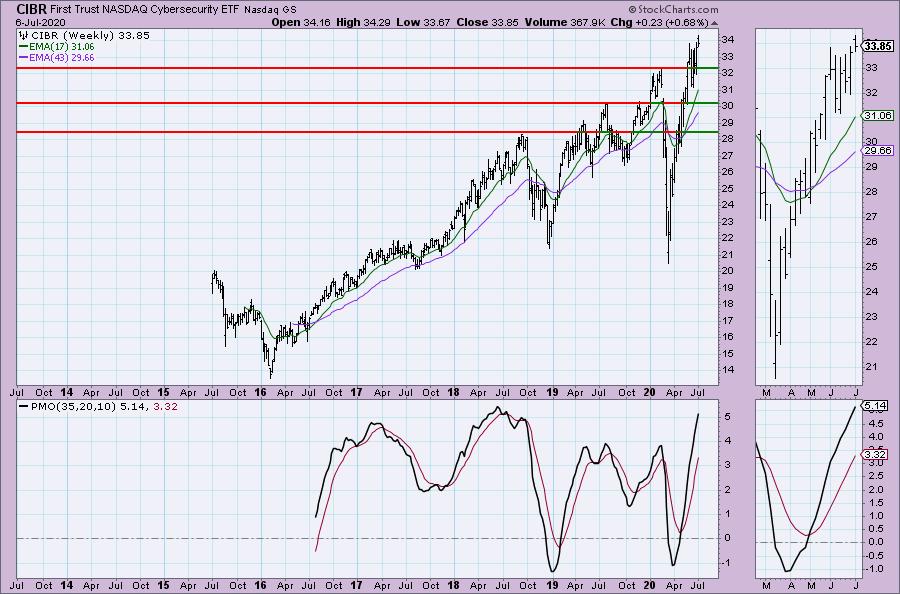 ---
Enphase Energy Inc (ENPH) - Earnings: 8/5/2020 (AMC)
Enphase Energy, Inc. engages in the design, development, manufacture, and sale of microinverter systems for the solar photovoltaic industry. Its products include IQ 7 Microinverter Series, IQ Battery, IQ Envoy, IQ Microinverter Accessories, IQ Envoy Accessories, and Enlighten & Apps.
Here is another bullish chart pattern--descending wedge. Price broke out and has continued higher. I'm not thrilled with having to set a stop that is so deep, but given the RSI above 50, the PMO rising and ready for a crossover buy signal, and the OBV is confirming the rally. The SCTR tells us this company is in the top 7% of mid-cap stocks.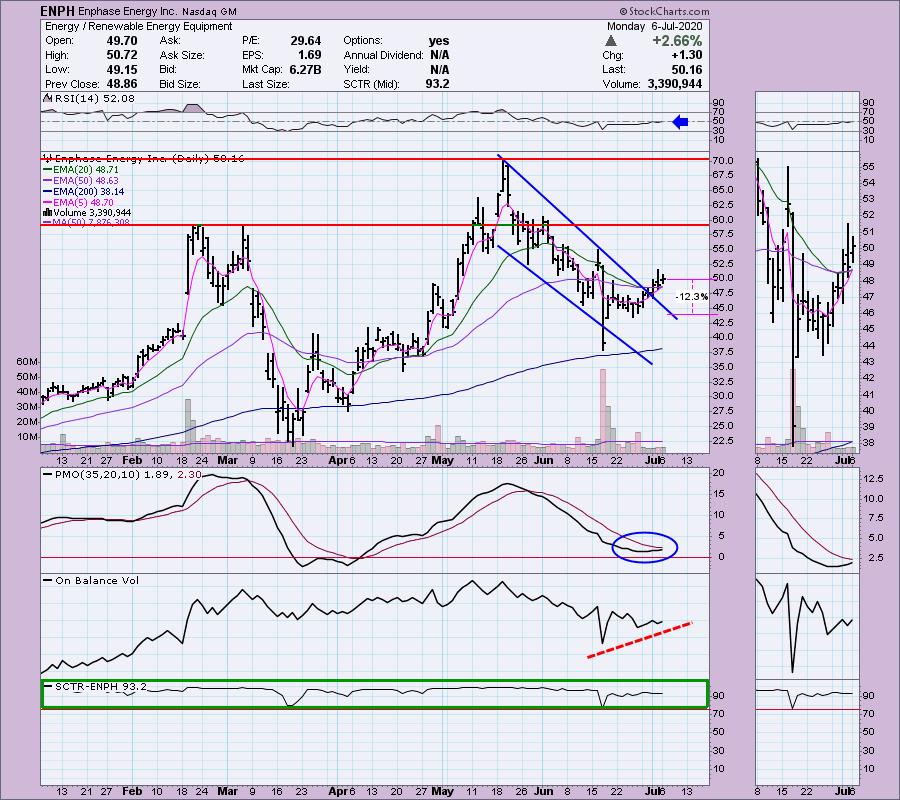 Upside potential has me salivating, but the weekly PMO does need to improve more.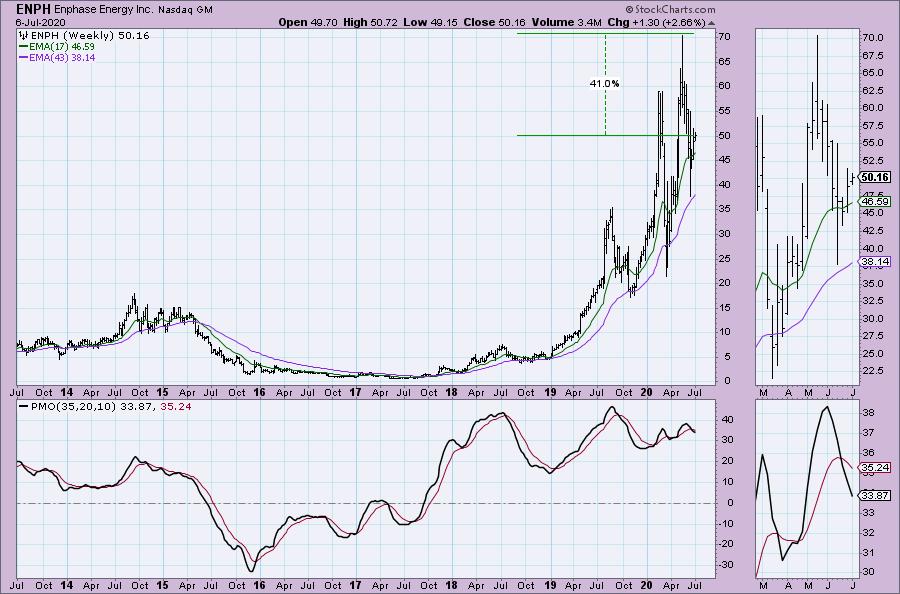 ---
Don't forget, on Thursdays I look at reader-requested symbols, so shoot me an email at erin@decisionpoint.com. I read every email I receive and try to answer them all!
---
Fastenal Co (FAST) Earnings: 7/14/2020
Fastenal Co. engages in the provision of fasteners, tools, and supplies which can help in the manufacture of products, build structures, protect personnel, and maintain facilities and equipment. It products include cutting tools & metalworking, fasteners, material handling, storage & packaging power, transmission & motors, tools & equipment, electricals, abrasives, hydraulics & pneumatics, plumbing, lifting & rigging, raw materials, fleet & automotive, welding, office products & furniture, janitorial and lighting.
Here is another breakout from a bullish ascending triangle. The RSI is above net neutral, the PMO is ready to trigger a crossover BUY signal. The OBV tells us that price is following volume. The SCTR is very healthy. I also like that I don't have to set a stop greater than 10%.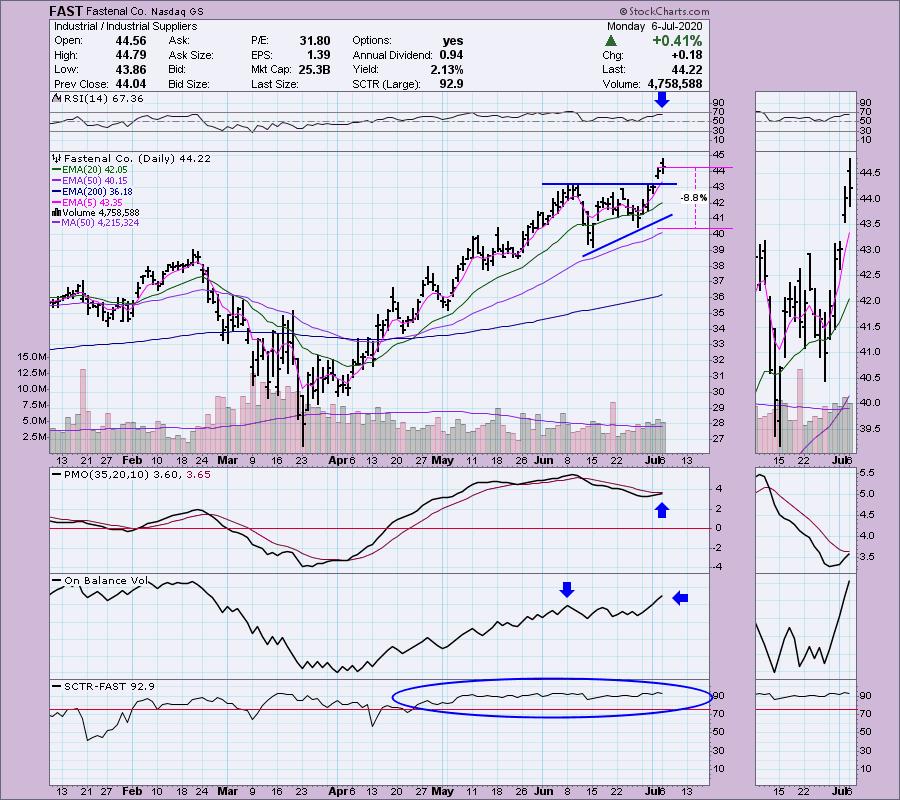 The weekly PMO is quite positive, but it is on the overbought side. It doesn't appear interested decelerating so we could see price run higher.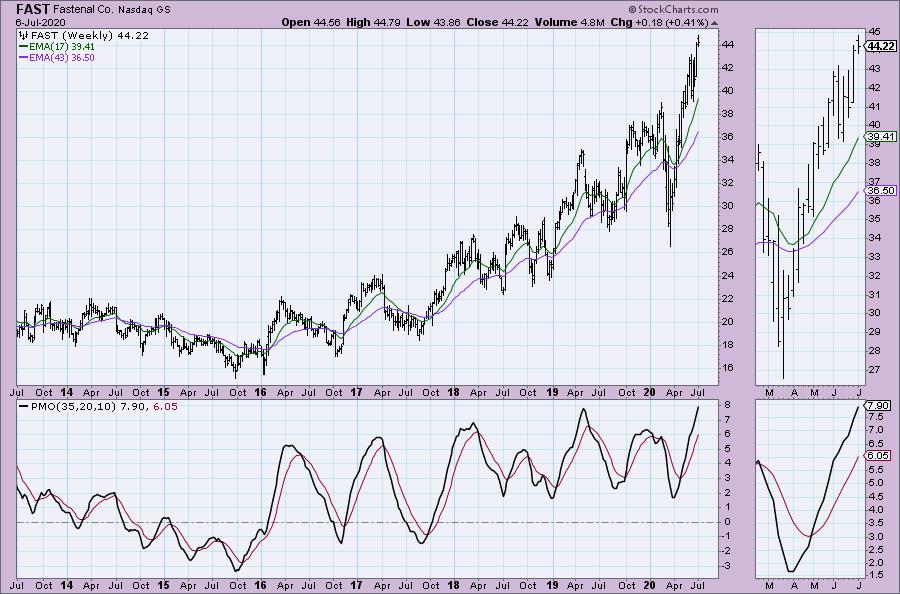 ---
Hamilton Lane Inc (HLNE) - Earnings: 8/4/2020 (BMO)
Hamilton Lane, Inc. is a holding company, which engages in the provision of private markets investment solutions. The firm works with clients to conceive, structure, build out, manage, and monitor portfolios of private markets funds and direct investments. It also offers the following solutions: customized separate accounts; specialized funds; advisory services; distribution management; and reporting, monitoring, data, and analytics.
We have another bullish chart pattern. The double-bottom has executed and broke above overhead resistance at the April/May highs. OBV and the SCTR are confirming the rally. The RSI is above net neutral (50). I also like that I can set a reasonable stop.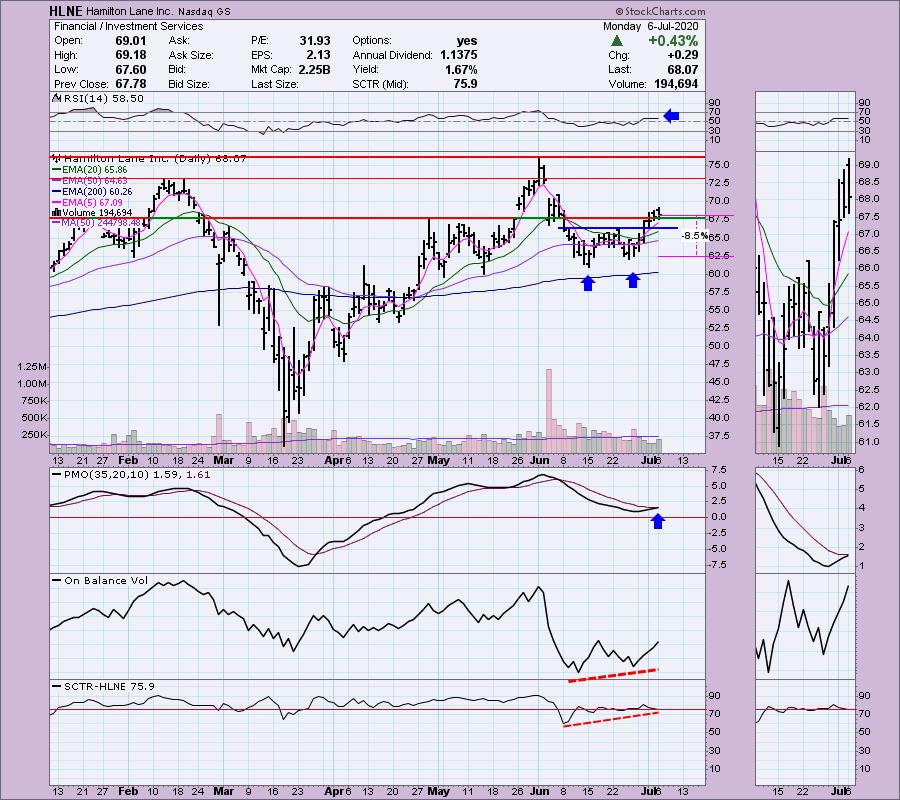 Upside potential to the all-time high is about 12%. The weekly PMO has bottomed above the signal line which is especially bullish.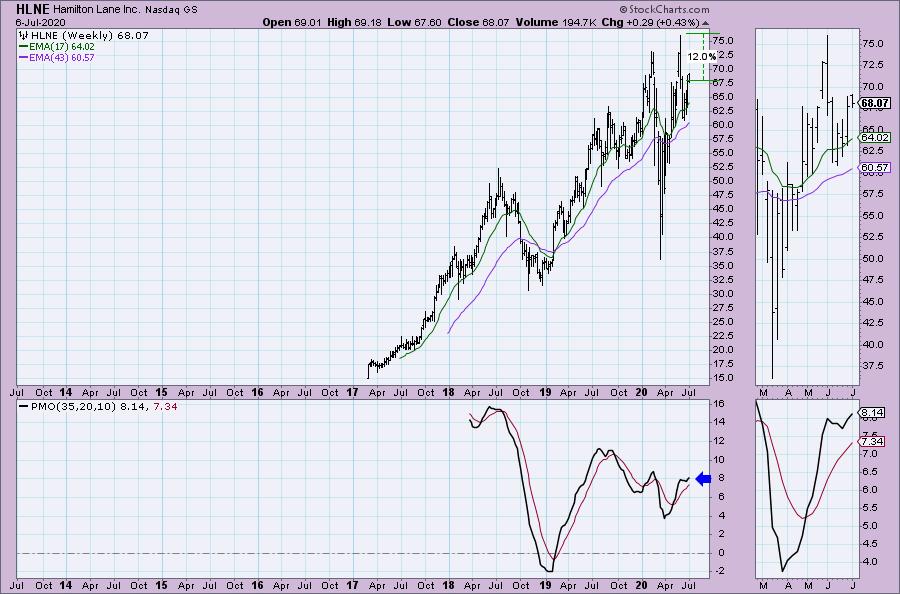 ---
Qualys Inc (QLYS) -Earnings: 8/5/2020 (AMC)
Qualys, Inc. engages in the provision of cloud security and compliance solutions. Its products enable organizations to identify security risks to information technology infrastructures; help protect information technology systems and applications from cyber attacks; and achieve compliance with internal policies and external regulations. The firm also offers solutions through a software-as-a-service model, primarily with renewable annual subscriptions.
QLYS has two trading ranges going on. Right now we see a rounded bottom with price breaking above the late-June top. You could set a stop at the bottom of the current trading range. I'm looking for a breakout into the second trading range. One thing to watch is whether we get a head and shoulders formation which is bearish. We have what could be a left shoulder and head, if price tops and heads back down, that would form the right shoulder. At this point, the RSI is above net neutral, the PMO is back above the zero line and working toward a crossover BUY signal. The OBV is a little weird with the spike and I'd prefer to see rising bottoms in line with price. The SCTR is in the "hot zone" above 75.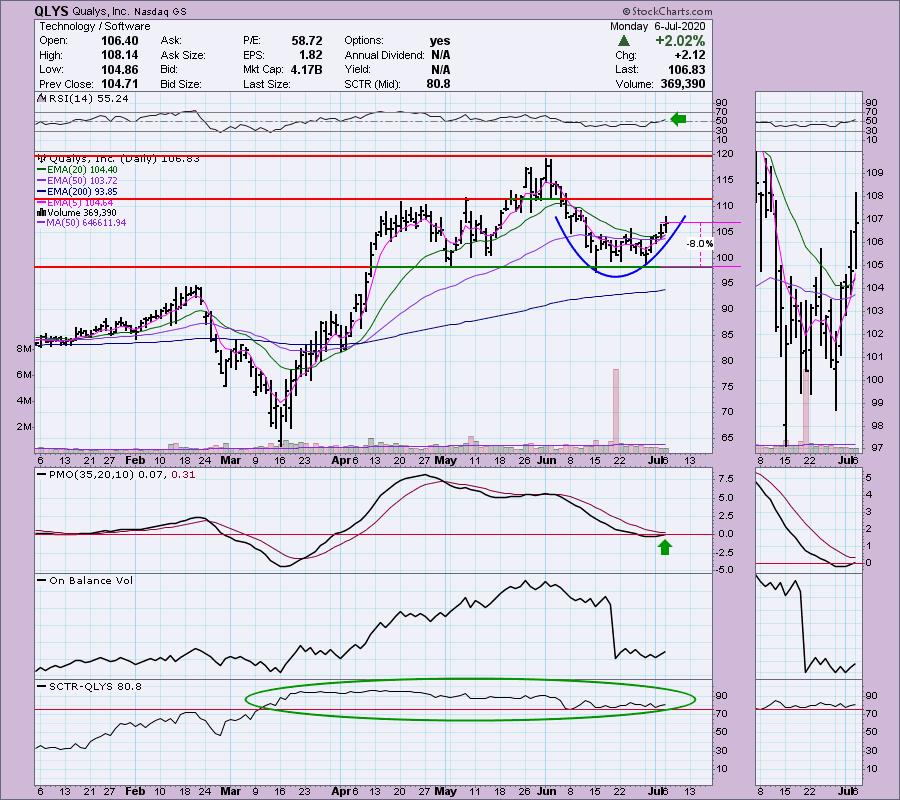 If price can reach the previous all-time high, that would be a 12%+ gain. The weekly PMO has decelerated and looks ready to turn back up.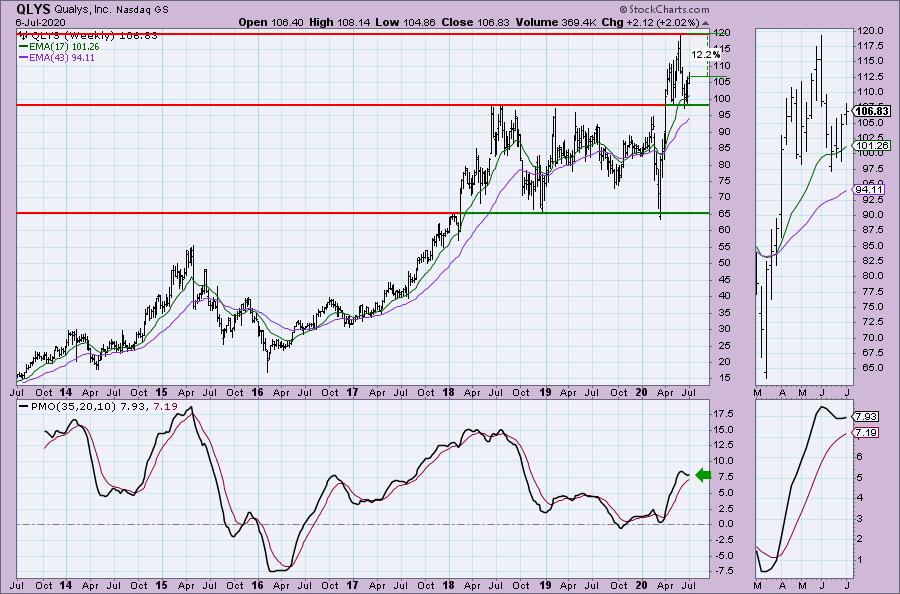 ---
Current Market Outlook:
Market Environment: It is important to consider the odds for success. The Silver Cross Index measures the percentage of stocks on IT Trend Model BUY signals (20-EMA > 50-EMA), while the Golden Cross Index measures the percentage of stocks on LT Trend Model BUY signals (50-EMA > 200-EMA). Don't forget that as a "Diamonds" member, you have access to our GCI/SCI curated ChartList on DecisionPoint.com. You'll find it under "Members Only" links on the left side on the Blogs and Links Page. Here are the current percentages on the Silver and Golden Cross Indexes: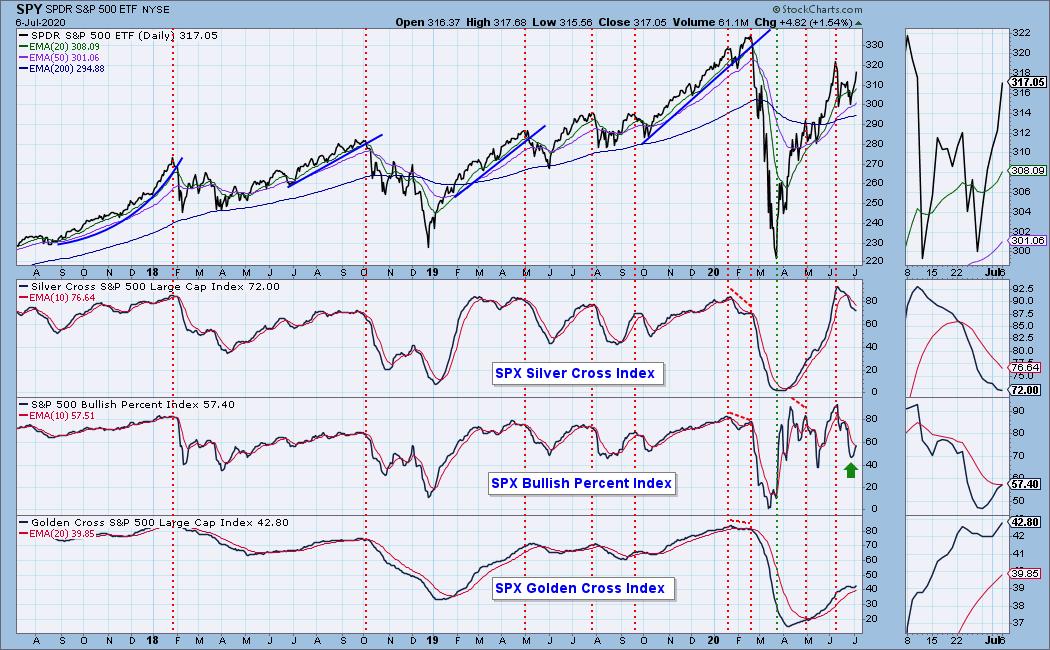 Diamond Index:
Diamond Scan Results: 50
Diamond Dog Scan Results: 3
Diamond Bull/Bear Ratio: 16.67
For a more comprehensive review of current market conditions as well as analysis of Dollar, Gold, Oil and Bonds, subscribe to the DecisionPoint Alert! For a LIMITED TIME you can get a coupon code that will give you a discount for bundling your Diamonds subscription with the DecisionPoint Alert! Contact support@decisionpoint.com for more details.
---
Full Disclosure: I'm about 50% invested right now.
---
Erin's Travel Log:
The train ride across country was beautiful. We barely made the train on time (I thought I'd pass out from running with my bag to get to the platform on time. Gotta love LA traffic (and the insistence of my daughter and I that we stop for food on the way out there...drive-thru line was too long...ugh). The sleeper compartment is very tiny. If you're a bit more that average build, it would be a challenge. You can pull out the bench seat and turn it into a bed just a bit wider than a twin bed, but my husband had to climb into the upper bunk that pulled down. Reminded him of his days in the Navy before he retired. He had to strap himself in to protect him if he fell!
The staff were incredibly nice! We could eat in our compartment if we wanted to. If you moved around the train you had to wear a mask, but once you sat down (more than 6 feet apart), you could take your mask off. One of the big detractors was the time schedule. Apparently passenger trains are lower priority than freight trains so we had to stop quite a bit or slow down in order to allow them through. Consequently after two nights, we ended up in New Orleans 2 1/2 hours late. It was too late to pick up the rental car, so we went to the hotel and picked it up in the morning.
We hit the road for the 4 hour ride up to my Uncle Sonny's house in Lapine, AL (outside of Montgomery) for a 4th of July feast with family. After we ate, we shot some guns from his deck at targets on the acreage he owns. I haven't shot a gun since I was in the AF, so it was very exhilarating. We drove an hour away to my Uncle Allen's lake house. Pictures are below. His neighbors put on a fireworks show in their backyards that rival the ones I've seen in the cities in CA. We finished the night dipping our feet in the warm water off his dock. My husband was in AL for 5 hours and he was sold on this as our retirement spot. He says he needs to look no further! I have to say I'm totally on board. The lake house is gorgeous and having your own boathouse and dock for fishing would be great. He paid less for this magnificent lake house than we did on our small home in Southern California. It is a stunning difference.
The humidity isn't bad and the temp has been comfortable. What surprised me most was no bugs here at the lake house.
Tomorrow we head out to Ft Walton Beach, FL. It originally was to see if we might want to retire there on the Gulf, but nothing will keep my husband from AL! I'll write more tomorrow!
Crossing the Rio Grande: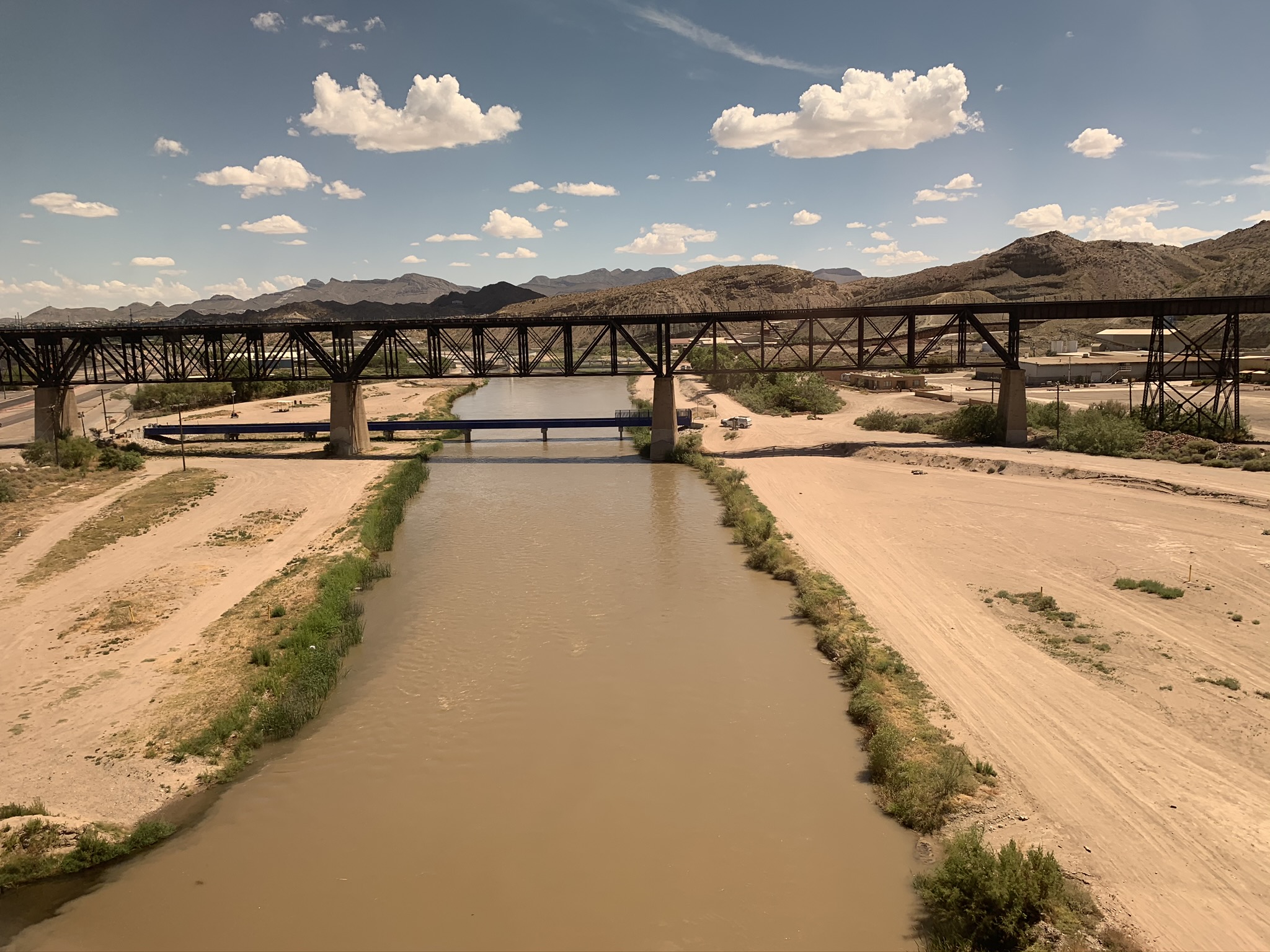 Texas from the train: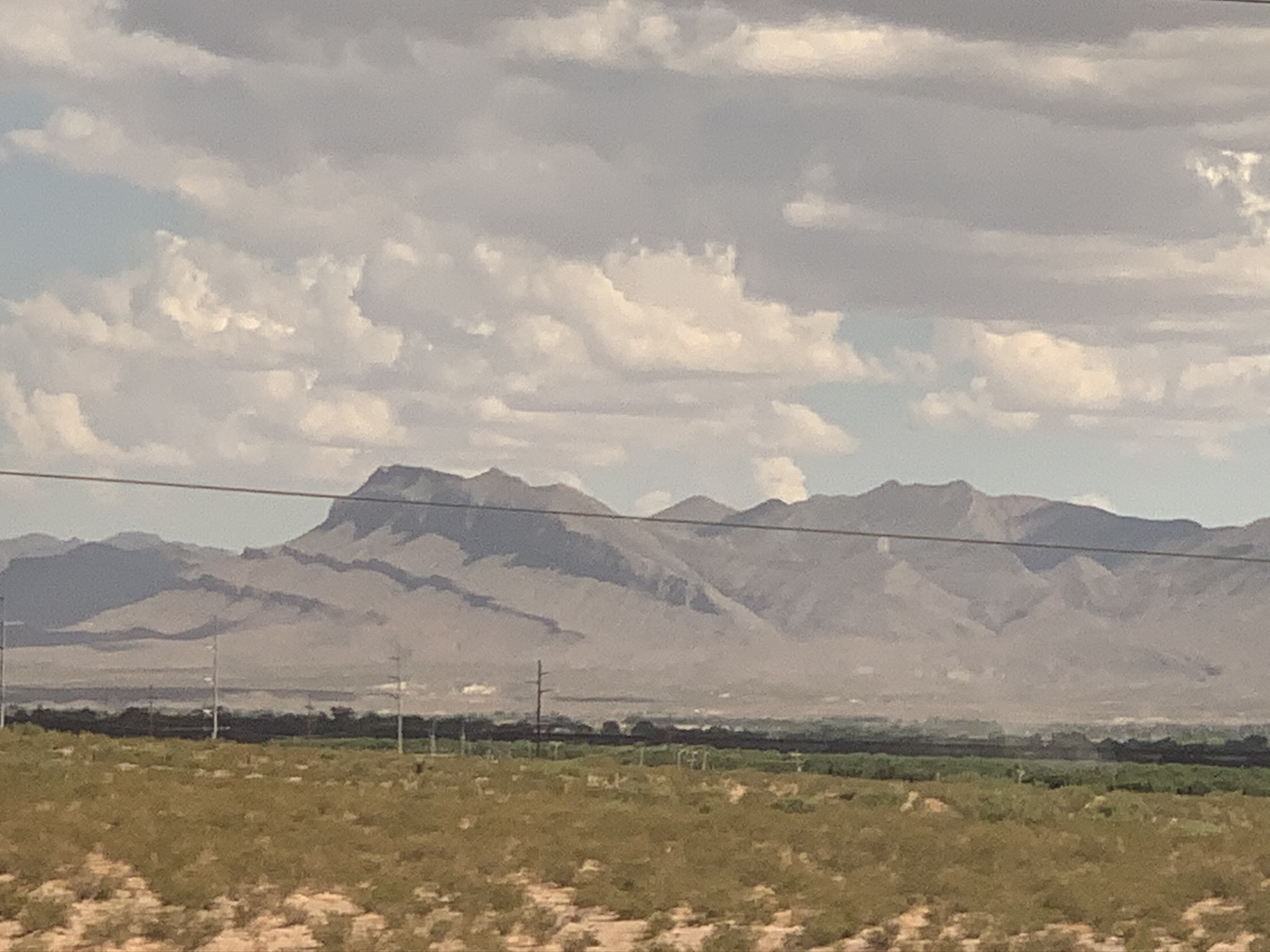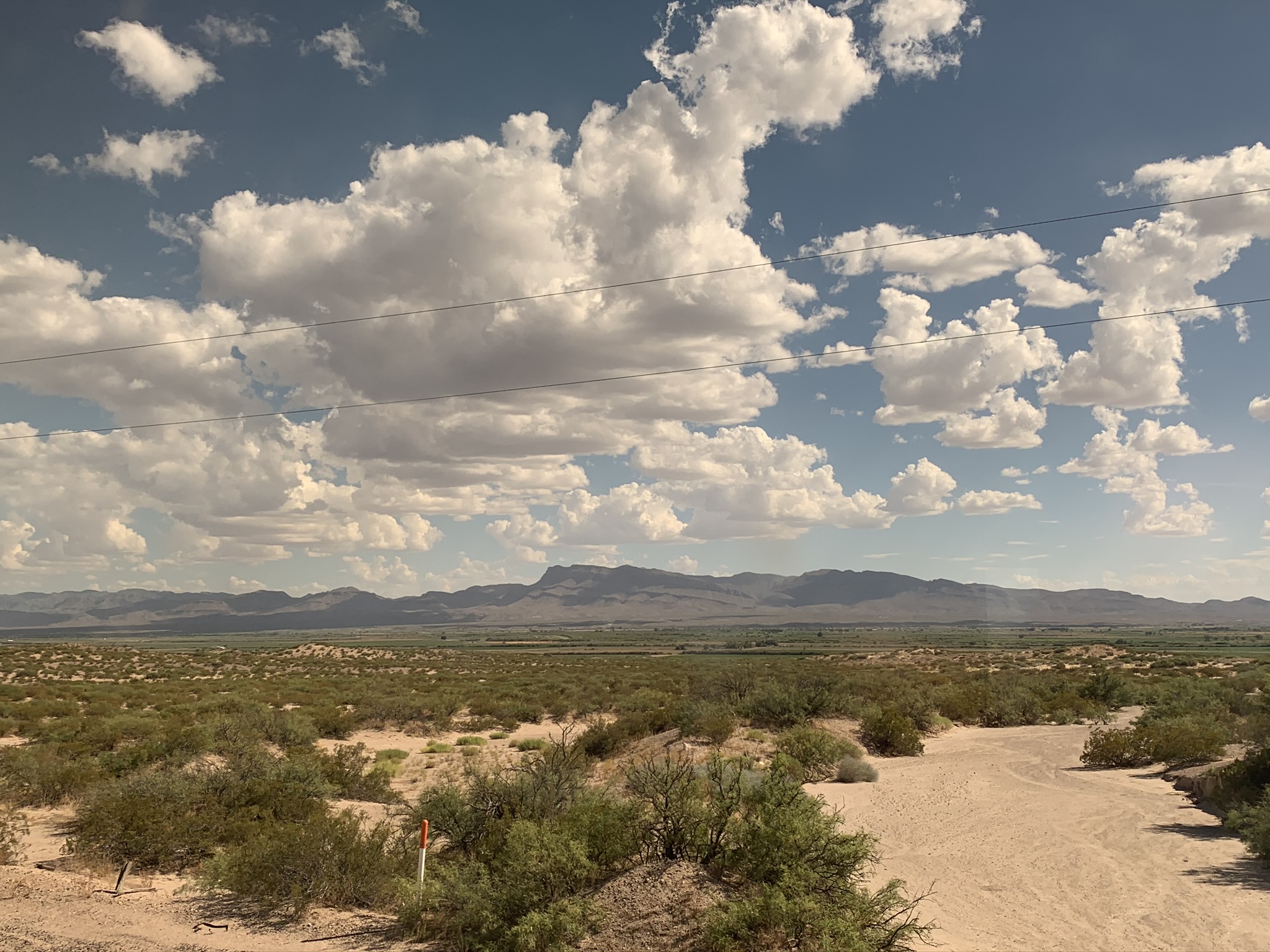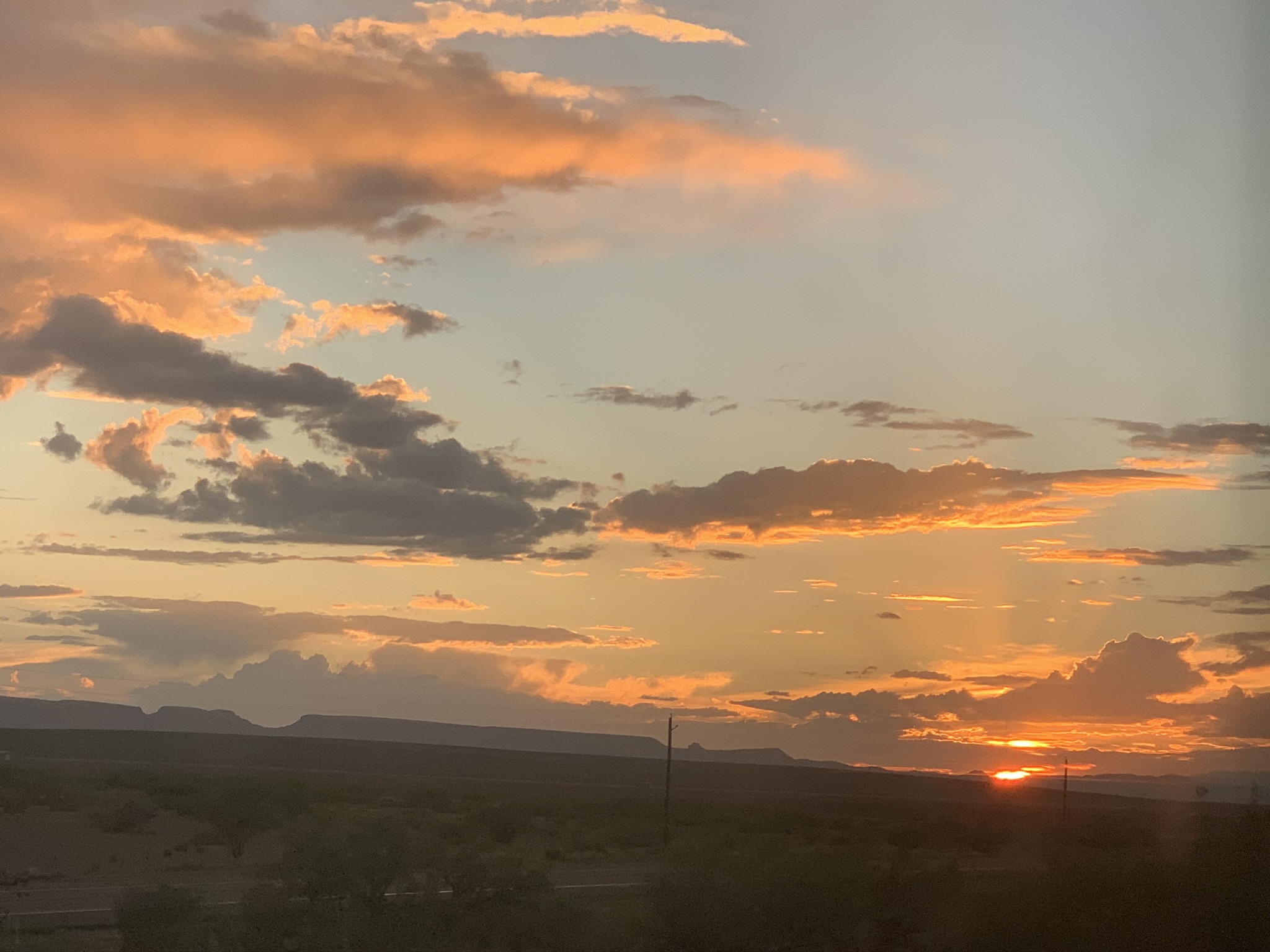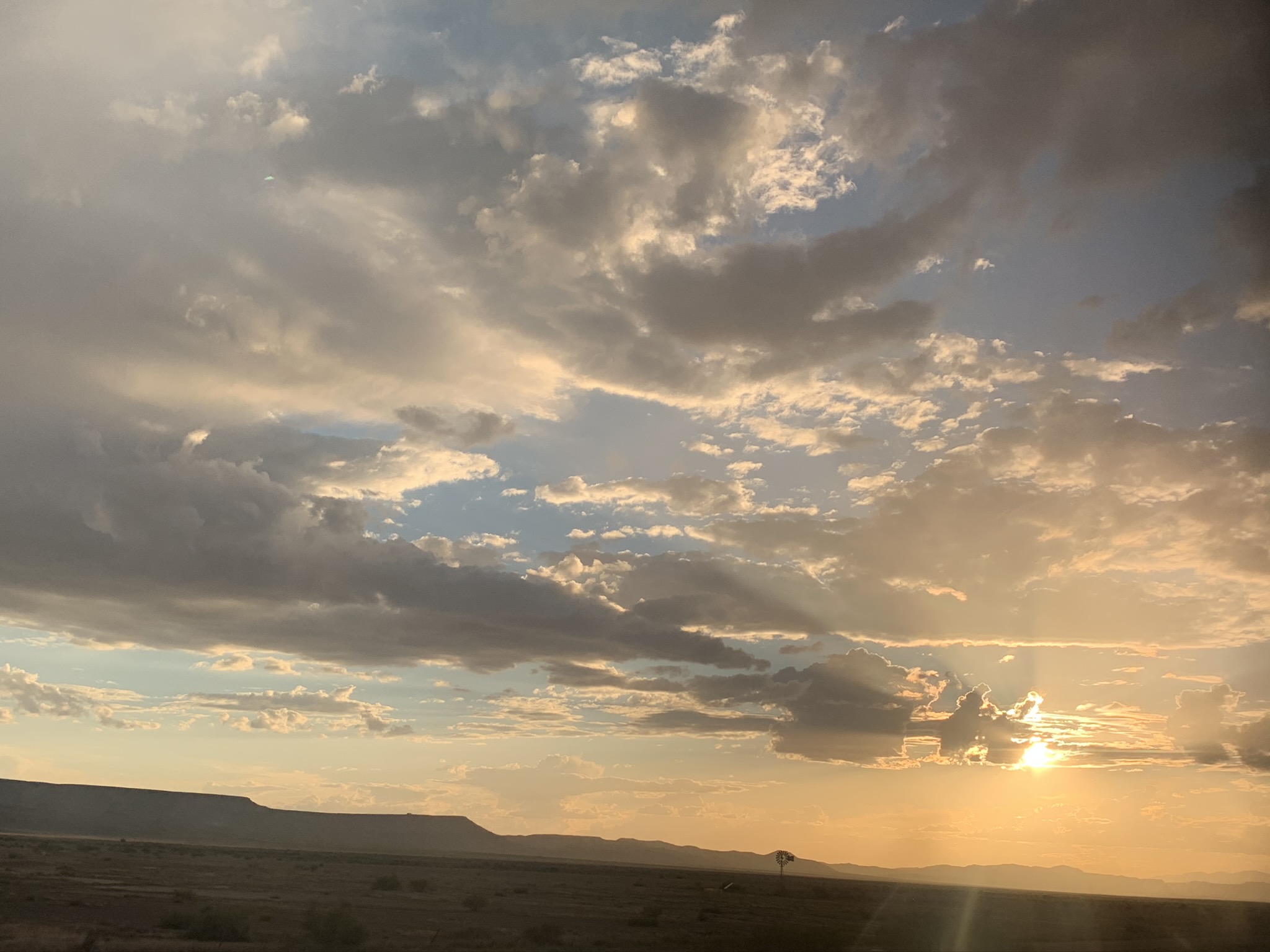 Alabama at last!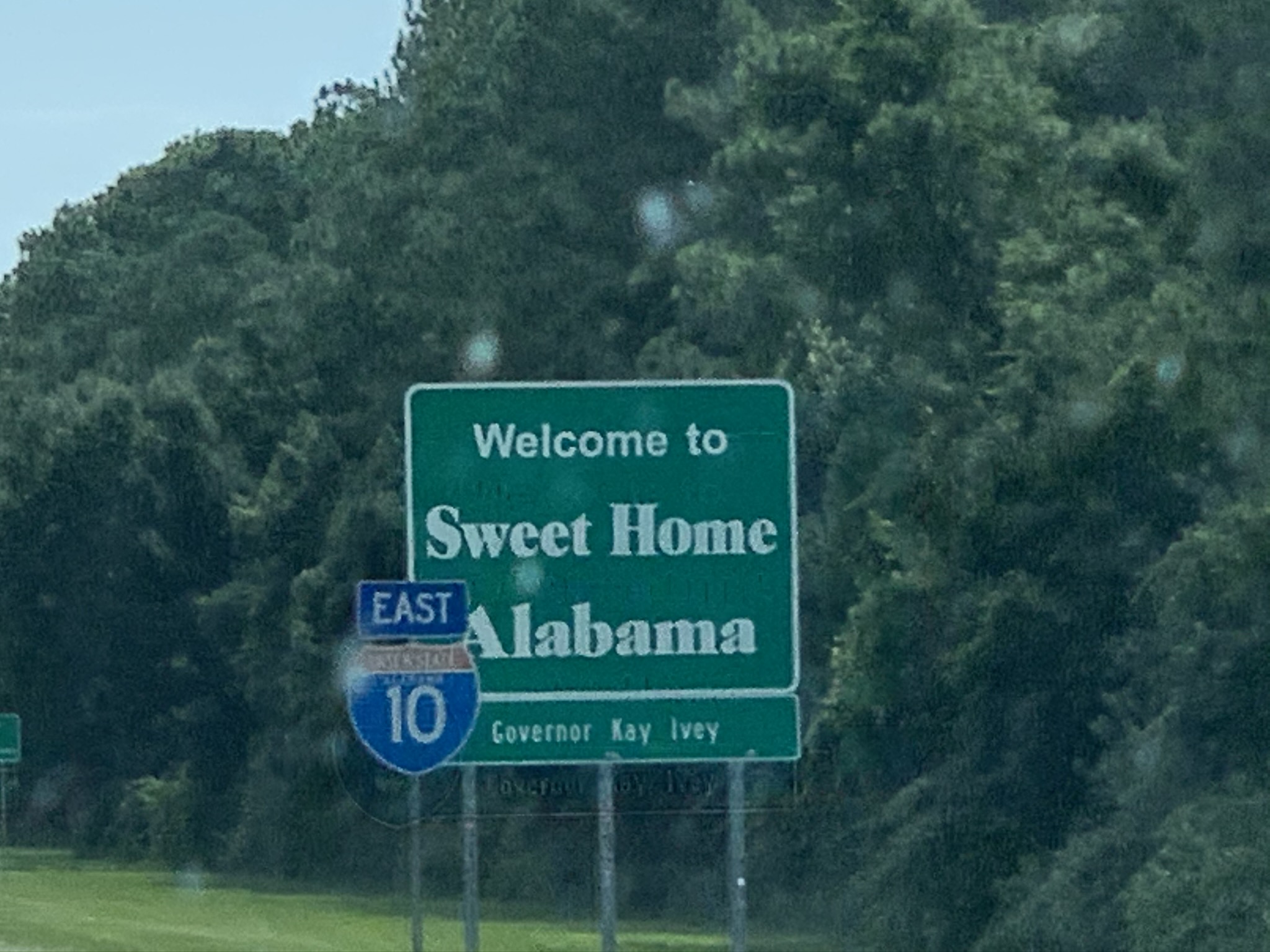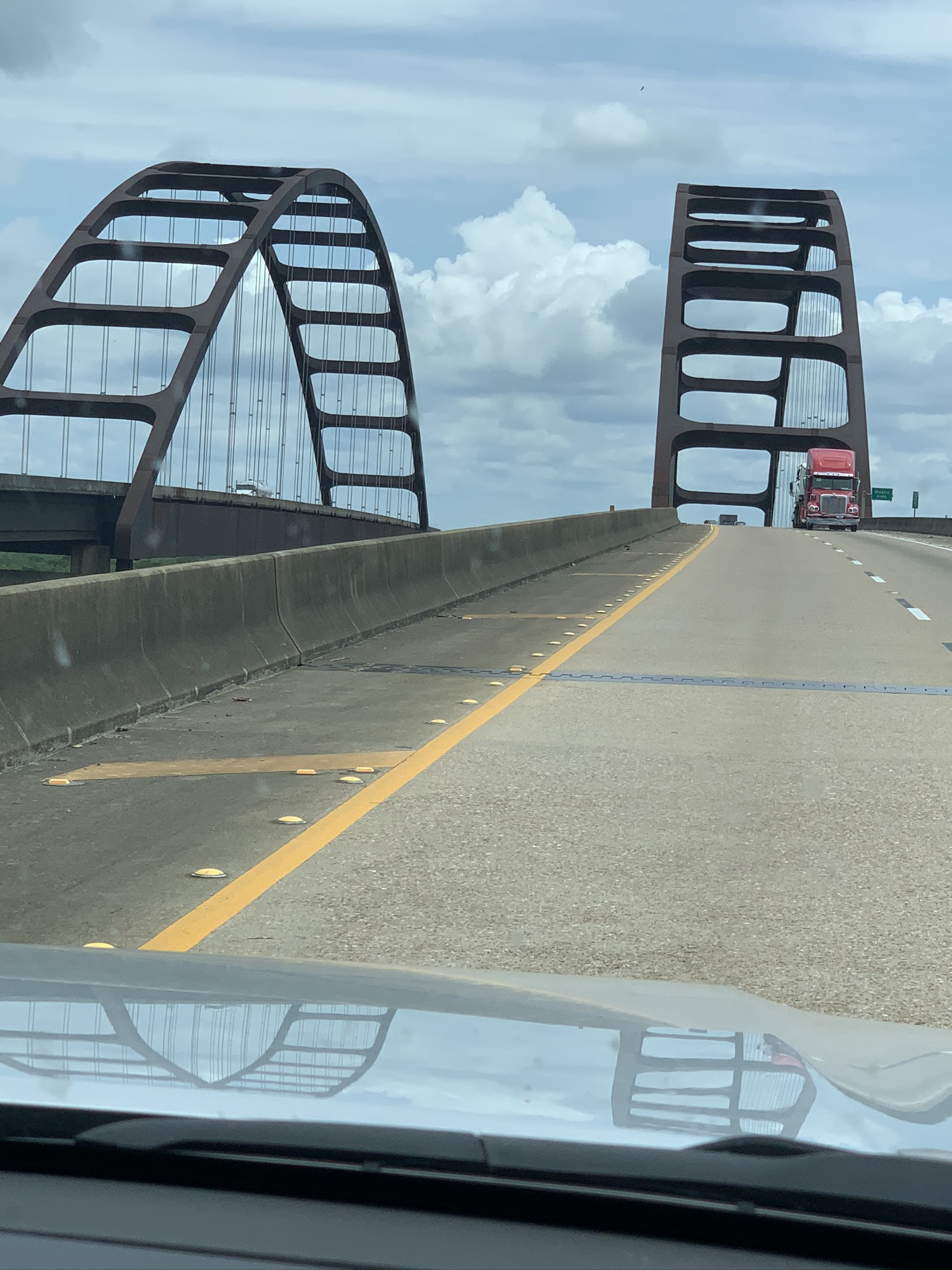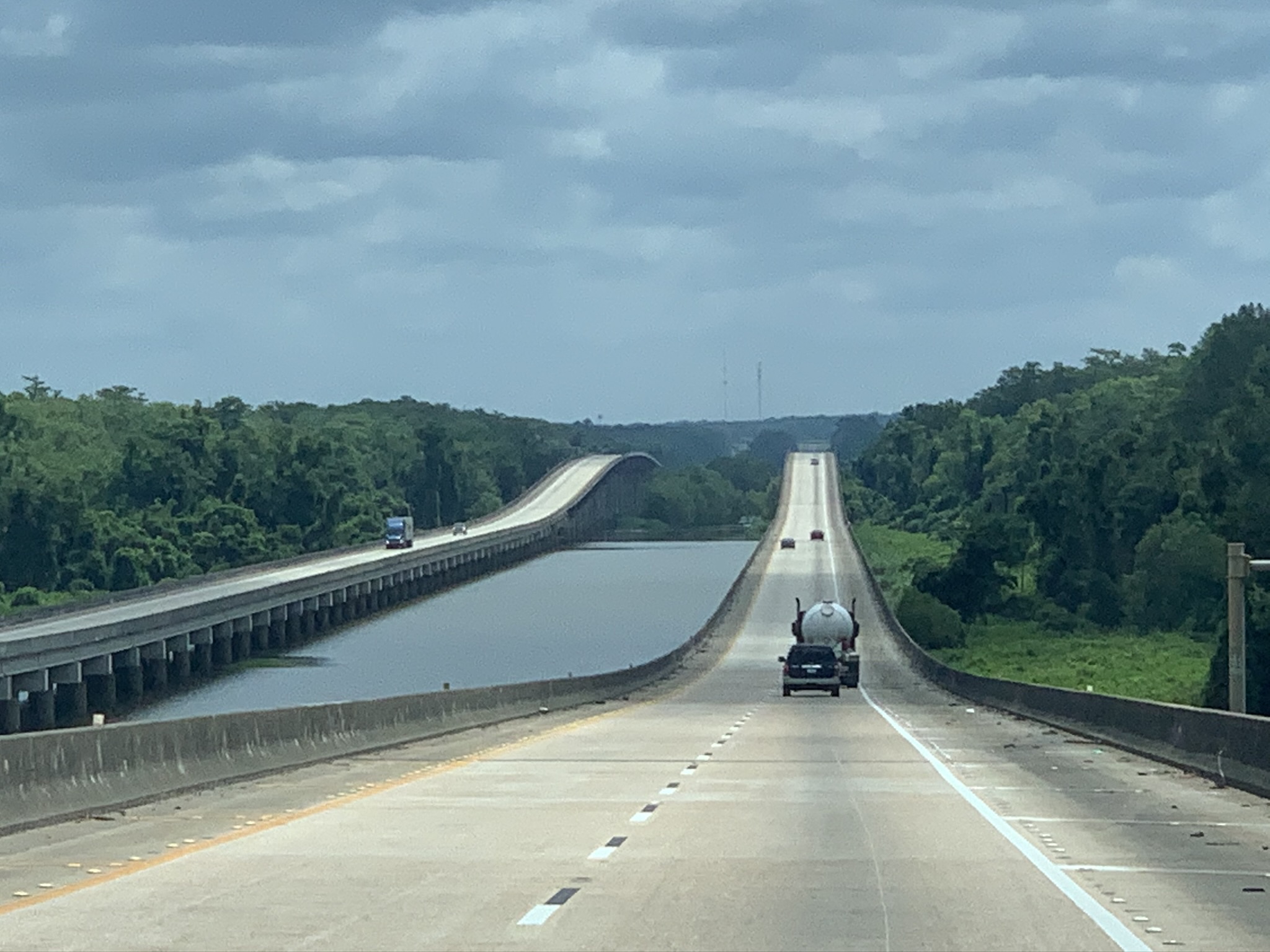 Because I love food: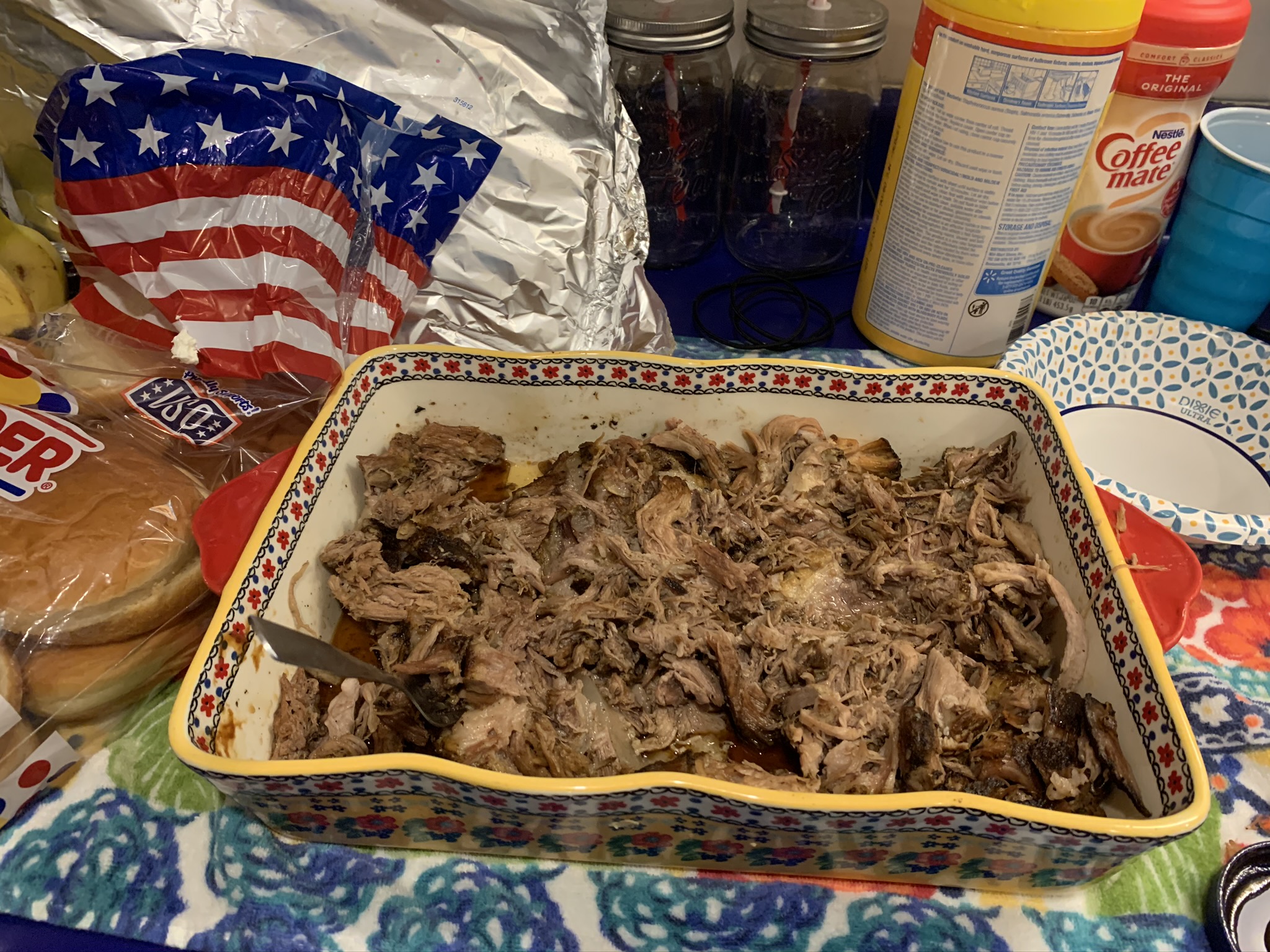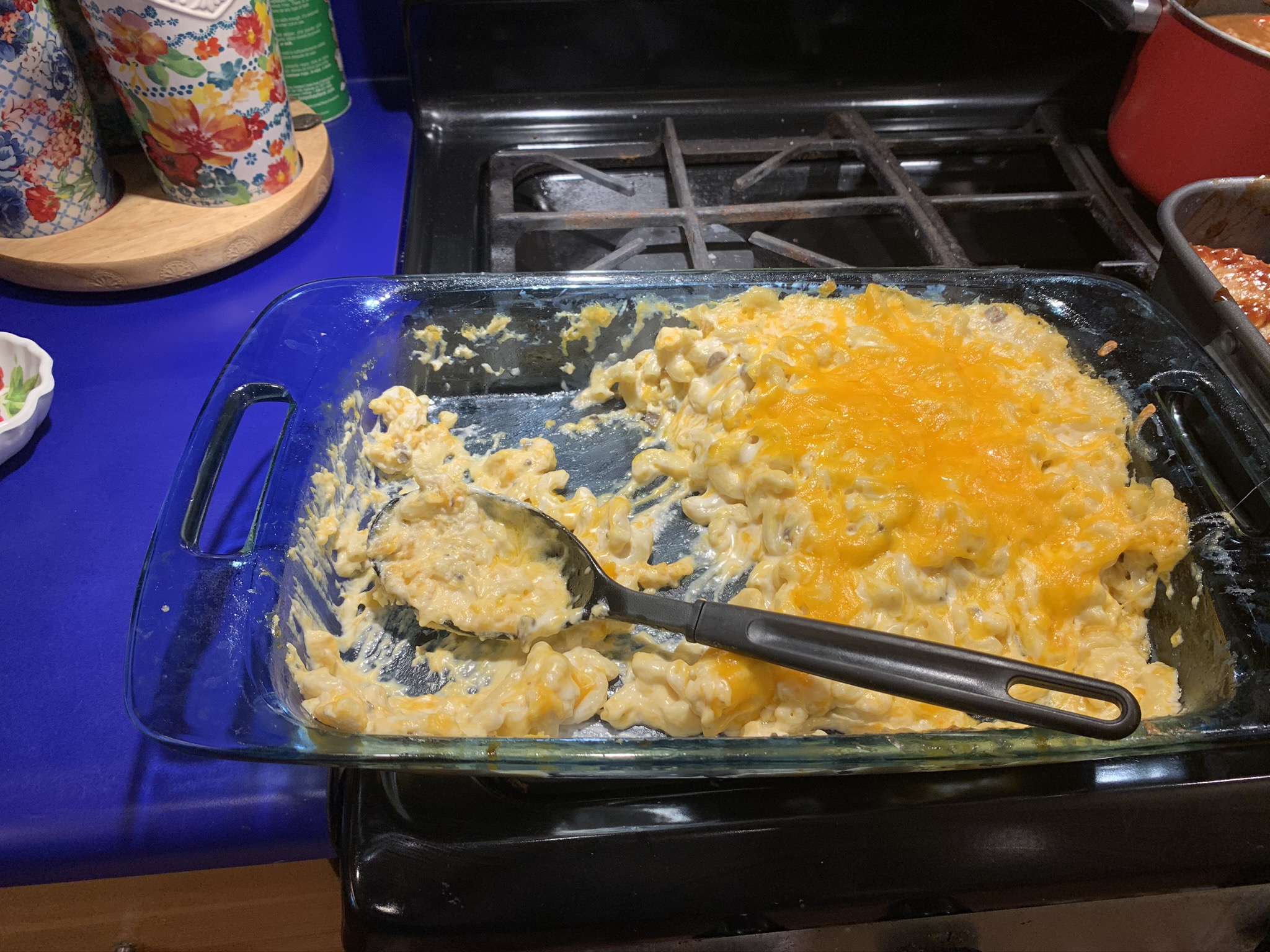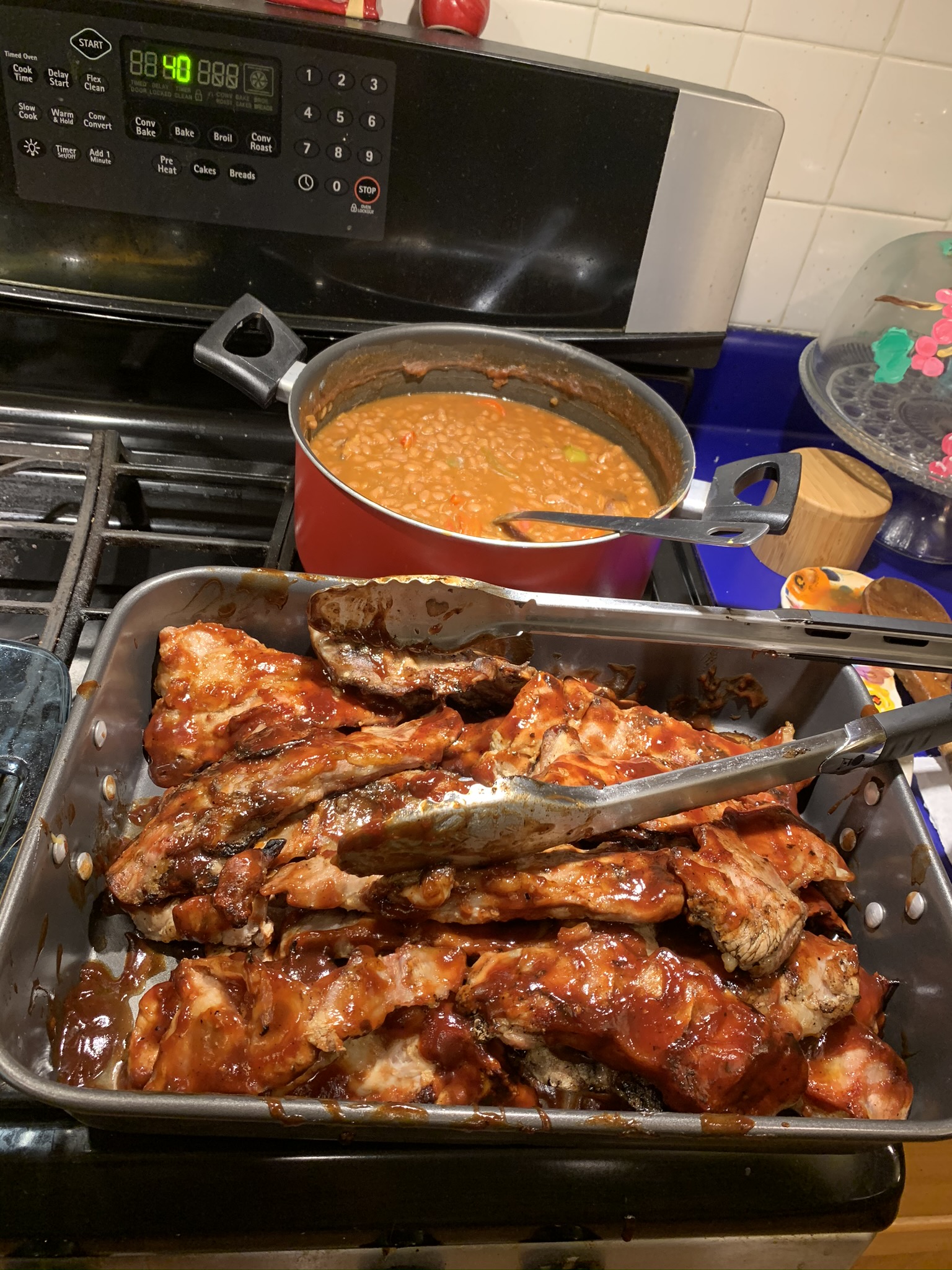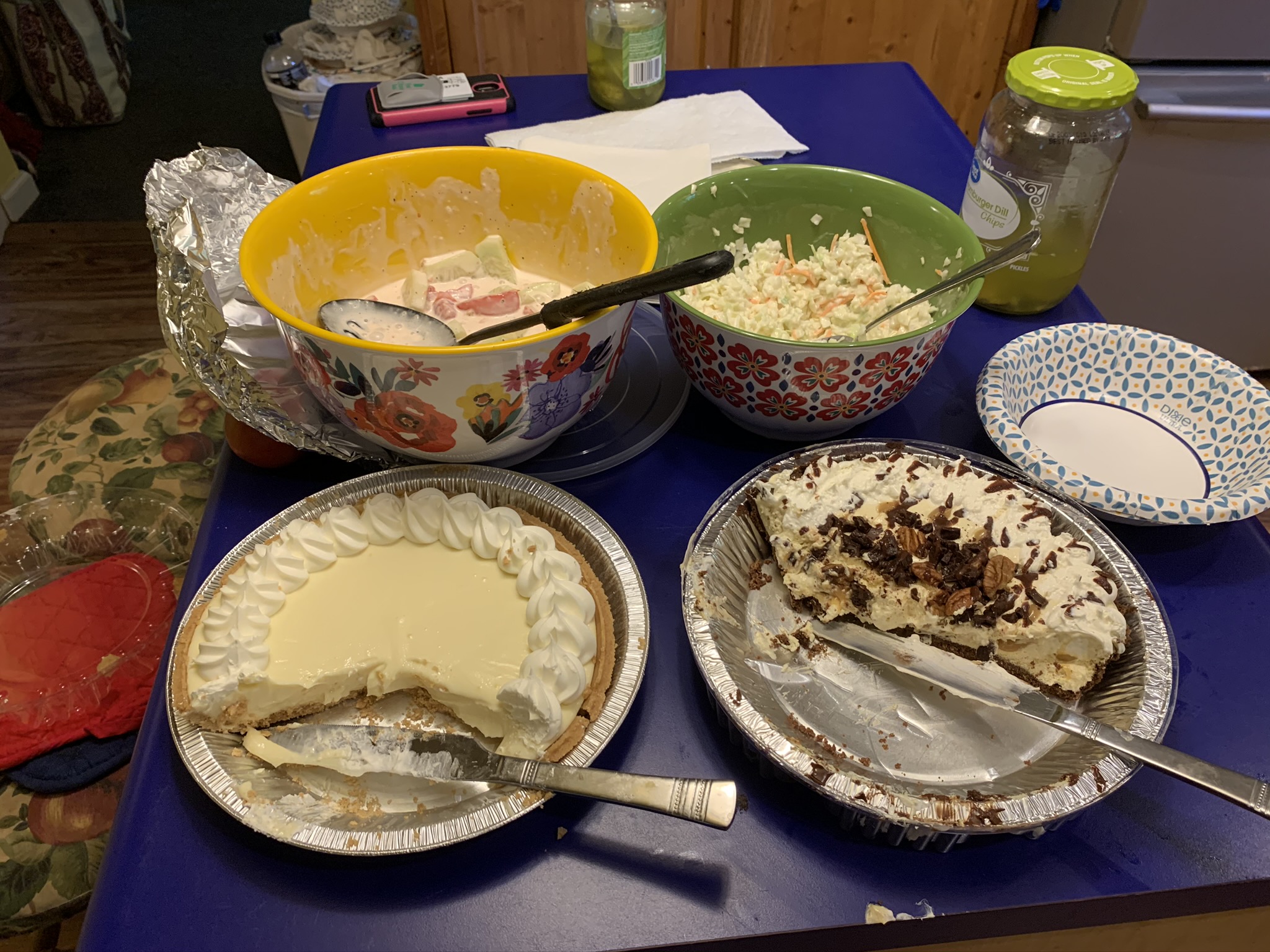 The dawgs...Princess Diana and Ruby: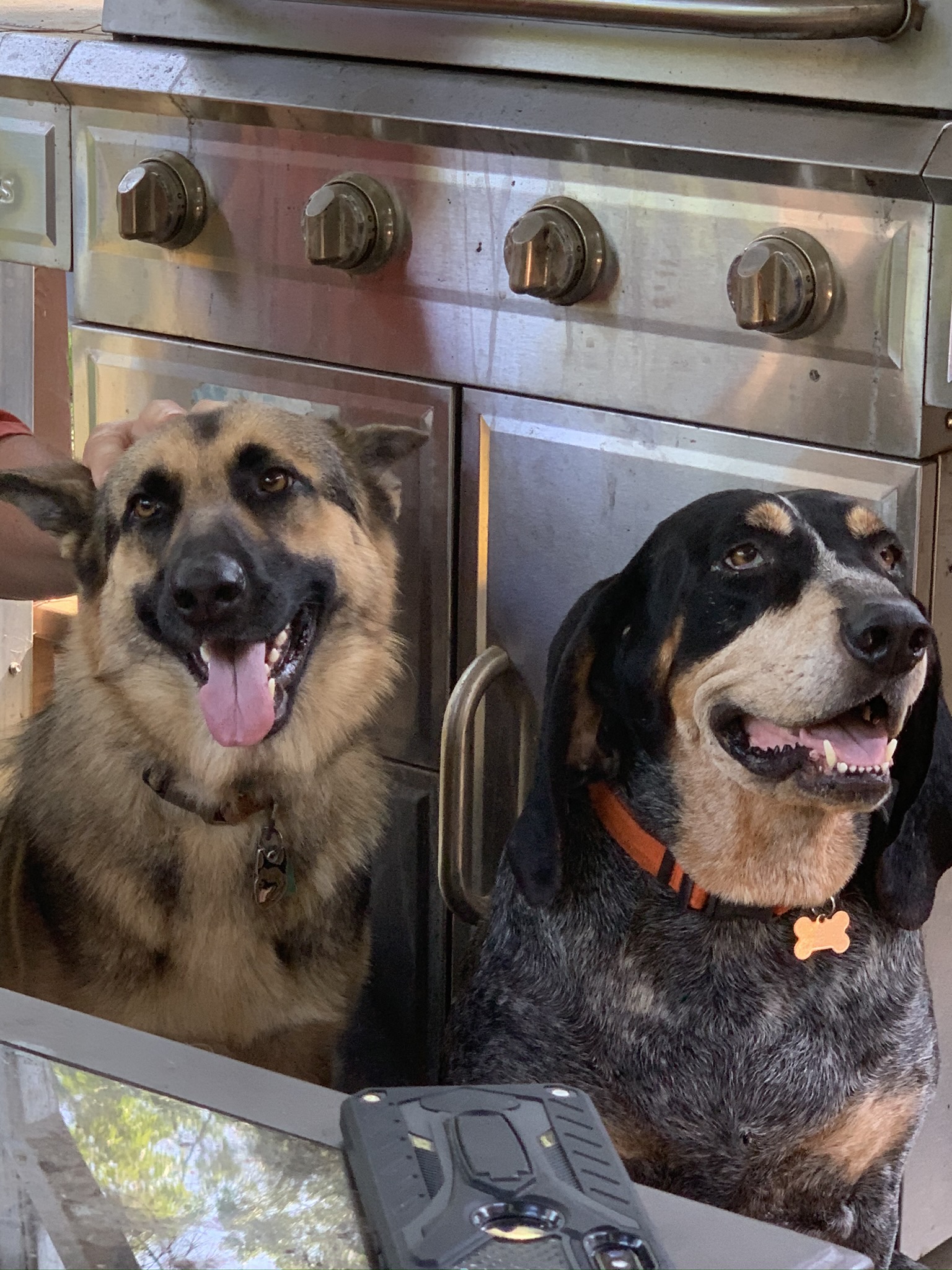 Lake Jordan, AL

---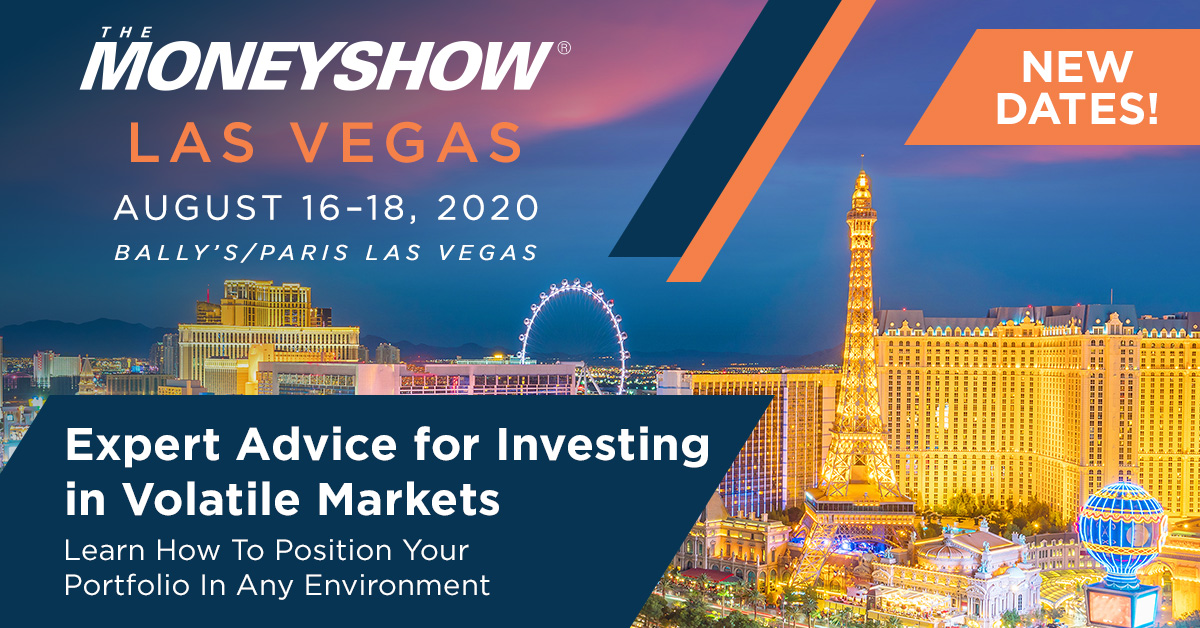 Erin Swenlin will be presenting at the The MoneyShow Las Vegas August 16 - 20 at Bally's/Paris Resort! You'll have an opportunity to meet Erin and discuss the latest DecisionPoint news and Diamond Scans. Claim your FREE pass here! You can watch online with this pass too!! There will be online events held in May and when I have more information I'll let you know.
---
Watch the latest episode of DecisionPoint with Carl & Erin Swenlin on Thursdays 8:00a EST or on the DecisionPoint playlist on the StockCharts TV YouTube channel here!
---
Technical Analysis is a windsock, not a crystal ball.
Happy Charting!
- Erin
erin@decisionpoint.com
---
---
NOTE: The stocks reported herein are from mechanical trading model scans that are based upon moving average relationships, momentum and volume. DecisionPoint analysis is then applied to get five selections from the scans. The selections given should prompt readers to do a chart review using their own analysis process. This letter is not a call for a specific action to buy, sell or short any of the stocks provided. There are NO sure things or guaranteed returns on the daily selection of "diamonds in the rough."
---
Helpful DecisionPoint Links:
DecisionPoint Shared ChartList and DecisionPoint Chart Gallery
Price Momentum Oscillator (PMO)
Swenlin Trading Oscillators (STO-B and STO-V)
For more links, go to DecisionPoint.com!f