Today is Reader Request Day! However, it is only fair I give you a Diamond of my own too! While not all of the requests were Diamond material, it is clear Brandon, Ralph, Olivia and Netty are figuring it out as they came in with some requests that are showing promise. In all cases, these requests (and the ones I didn't choose) are excellent teaching material. My primary goal with Diamonds is to help you "mine" and to recognize the characteristics that make a "diamond in the rough" sparkle later.
---
---
FRIDAY (8/28) at Noon EST for this week's "DecisionPoint Diamond Mine" trading room!
"The DecisionPoint Diamond Mine" will be an opportunity for us to talk live, review current and past Diamonds for possible entries/exits/stops/targets and take your questions and symbol requests in this intimate trading room.
Register in advance for the "DecisionPoint Diamond Mine" Friday (8/28) 12:00p EST:
https://zoom.us/webinar/register/WN_O61IKESvSVGFrBIMTHDh4A
Password: Leo
This trading room is for Diamond subscribers only. Please do not share this link.
---
---

Click here to register in advance for the recurring free DecisionPoint Trading Room! Did you miss the 8/24 trading room? Here is a link to the recording.
---
---
Welcome to DecisionPoint Daily Diamonds, wherein I highlight five "diamonds in the rough." These are selected from the results of my DecisionPoint scans, which search for stocks that could benefit from the trend and condition of the market. Remember, these are not recommendations to buy or sell, but are the most interesting of the stocks that surfaced in my scans. My objective is to save you the work of the initial, tedious culling process, but you need to apply your own analysis to see if these stocks pique your interest as well. There are no guaranteed winners here!
---
---
Cleveland-Cliffs Inc (CLF) - Earnings: 10/28/2020 (BMO)
Cleveland-Cliffs, Inc. is an iron ore mining company. It supplies iron ore pellets to the North American steel industry from mines and pellet plants located in Michigan and Minnesota. It operates through the following segments: Mining & Pelletizing and Metallics. The Mining & Pelletizing segment owns operational iron ore mines plus and indefinitely idled mine. The Metallics segment constructs an HBI production plant in Toledo, Ohio. The company was founded in 1847 and is headquartered in Cleveland, OH.
Down 0.16% in after hours trading, CLF was a Diamond back on July 16th. It was a reader request and apparently this reader alluded that it could be his nemesis and achilles heel all wrapped into one. We all have a favorite few stocks that we watch closely and find ourselves getting into and out of frequently. For me it is a few of the Miners and Nat Gas. The set up did look pretty good back on July 16th after the big move to the upside that brought the RSI, PMO and OBV up with price. Unfortunately there is no sure thing and it promptly collapsed after consolidating. There is a lot going on right now with this chart and I like it. The bullish 'cup and handle' pattern (and possibly double-bottom) is encouraging. The RSI is positive. The PMO did top with today's decline but it was a 'tick' lower and price held onto support at the 20-EMA and July top. If we get a rebound off this support area, I would look for a healthy move to upside. However, if it drops down below the 50-EMA, I wouldn't want it. Unfortunately, the OBV is in a negative divergence with price, so adding it to a watch list might be the most prudent.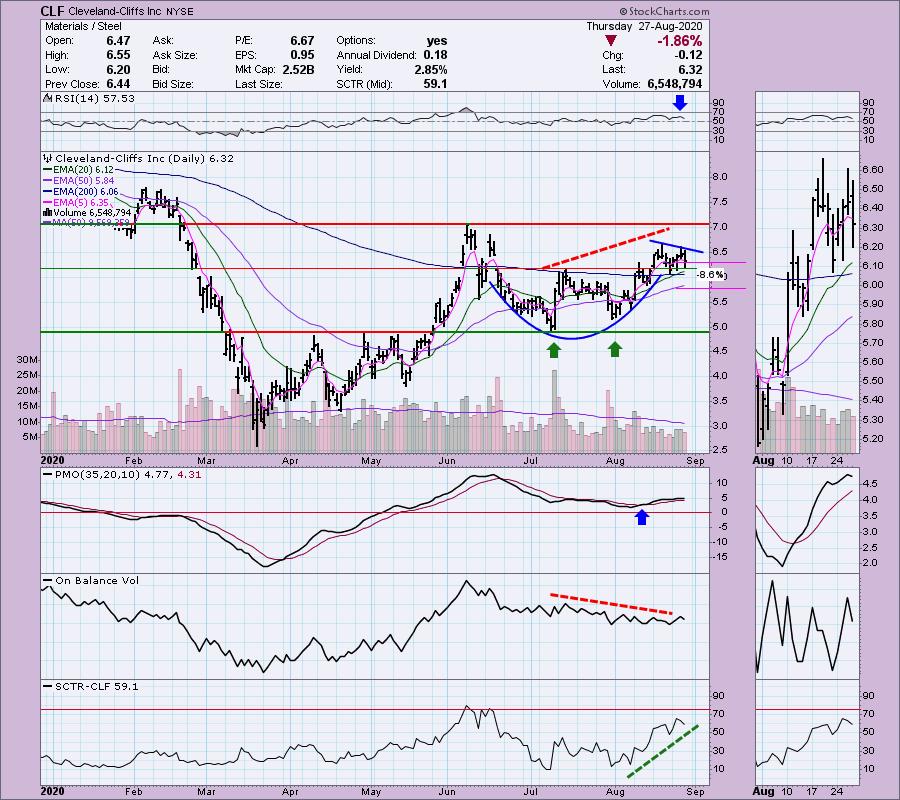 The weekly PMO looks great as it has just traveled into positive territory. You should definitely be aware that resistance at the $7.00 area could be a problem, but that would still be about a 11% gain. After that, $9.00 is very strong resistance--notice all of the "touches" on that support/resistance line.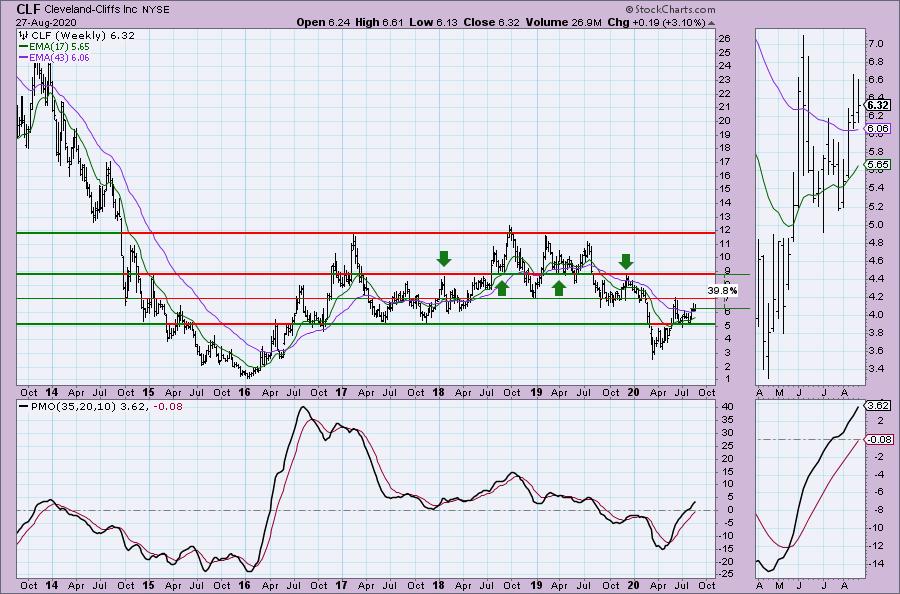 ---
Enghouse Systems Ltd (ENGH.TO) - Earnings: N/A
Enghouse Systems Ltd. engages in the development of enterprise software solutions. It operates through the Interactive Management Group and Asset Management Group segments. The Interactive Management Group segment offers customer interaction software and service that are designed to provide customer service, increase efficiency, and manage customer communications. The Asset Management Group segments provides portfolio of products to telecommunication service providers, fleet managements and public safety software solutions for various industries. The company was founded on November 23, 1984 and is headquartered in Markham, Canada.
I haven't done any Canadian stocks in the Diamonds reports and a new reader made the request so as a welcome to the Diamonds Report, Netty, this one is for you. ENGH.TO has been in a trading range since July. At this point, the indicators are fairly negative, but this could be an interesting trading range play. Today's candle is a "hammer" and that usually comes before an upside move. If we see a bounce off the 50-EMA instead of the bottom of the range, that would be a bullish signal. If it doesn't reverse here, watch it and see if it can hold support at the August low. If it does, then you can try to ride it to the top of the range which would be about an 11% gain from bottom to top. I am not thrilled with entering here given the negative RSI and falling PMO. There is also a slight reverse divergence between OBV tops rising (extra volume coming in) and flat tops (price could not breakout despite higher and higher positive volume).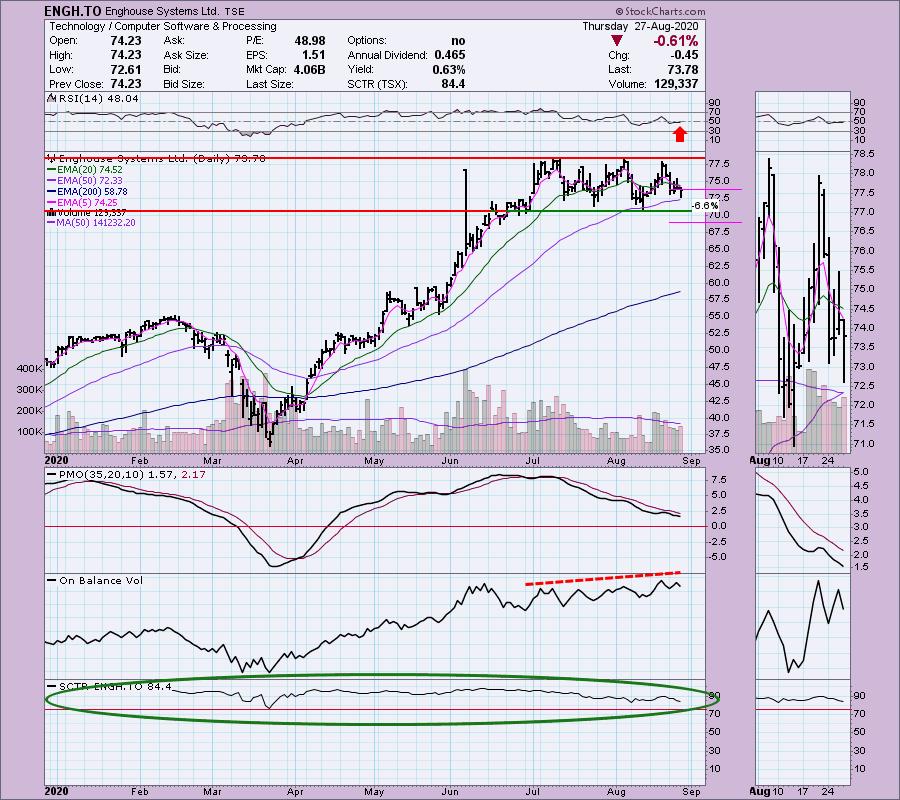 The weekly chart shows a giant bull flag, but I do not like the topping PMO. You could play the trading range and if you do get an upside breakout, the expectation of this flag pattern would be a long rally to upside. Intermediate-term traders should probably avoid this.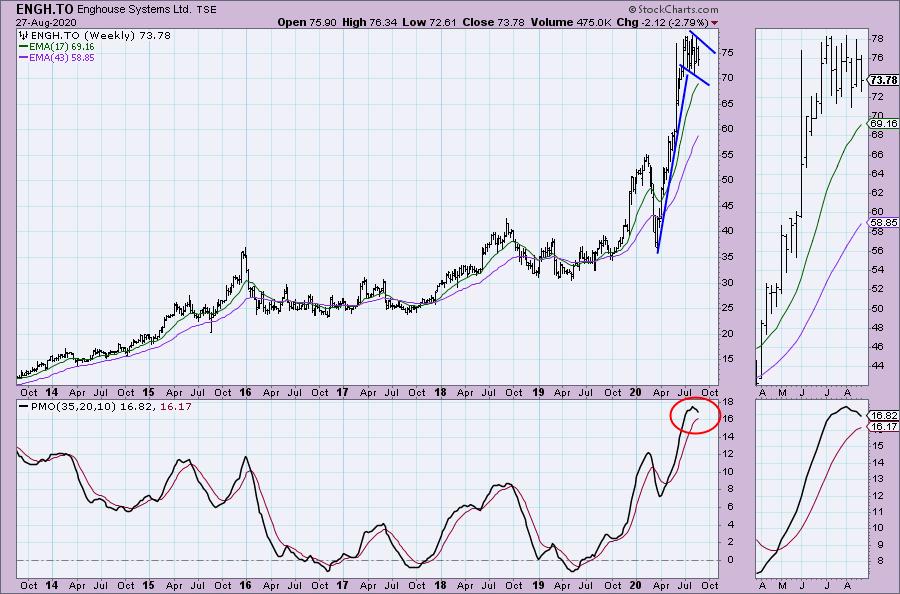 ---
Don't forget, on Thursdays I look at reader-requested symbols, so shoot me an email at erin@decisionpoint.com. I read every email I receive and try to answer them all!
---
Fastly Inc (FSLY) - Earnings: 11/5/2020 (AMC)
Fastly, Inc. provides real-time content delivery network services. It offers edge cloud platform, edge software development kit (SDK), content delivery and image optimization, video and streaming, cloud security, load balancing, and managed CDN. The company was founded by Artur Bergman, Simon Wistow, and Gil Penchina in March 2011 and is headquartered in San Francisco, CA.
This is my pick for today (I can't let you guys do all the work!). It looks like a double-bottom, but those are reversal patterns and should come at the end of a decline. I like the current rally and given the rising indicators, it should continue higher. The SCTR is 99.7 which puts it way ahead of the other stocks in the mid-cap universe.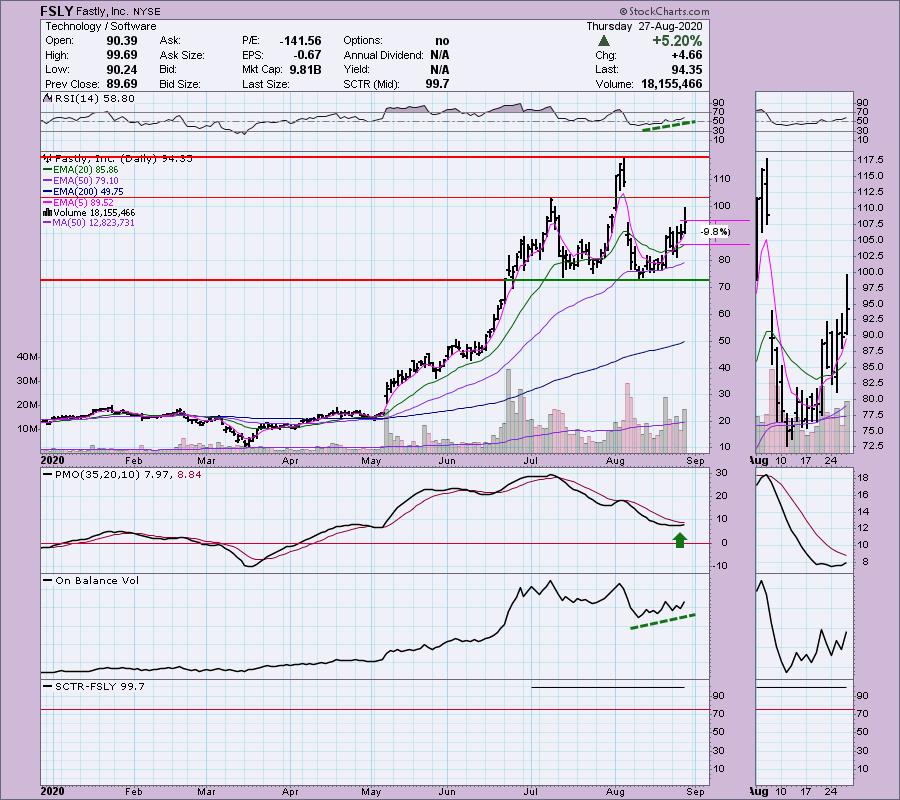 The PMO is rising bullishly although there is absolutely no data to tell us if it is overbought. I like that flag formation and if price could just test its all-time high from last month, this would be a 25% gain.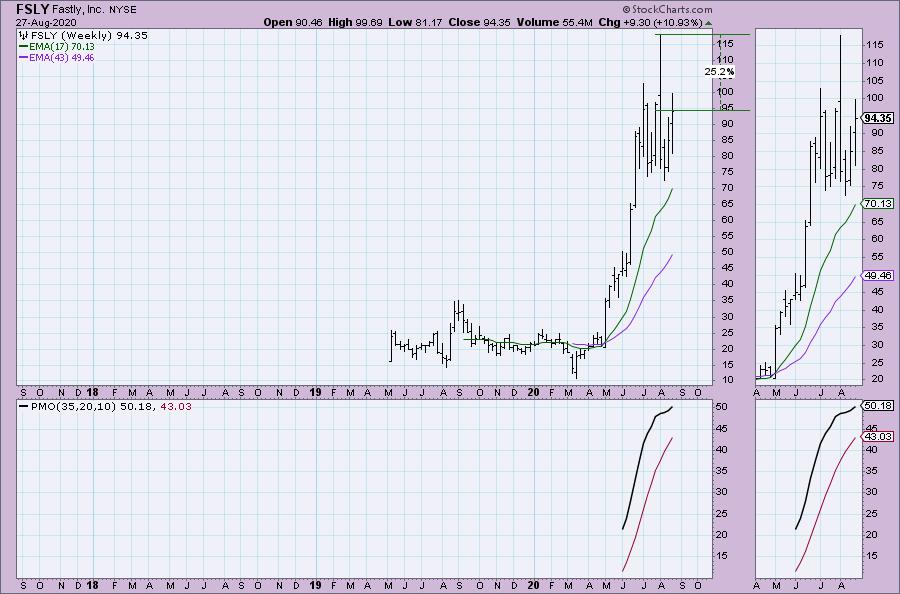 ---
Fortinet Inc (FTNT) - Earnings: 10/29/2020 (AMC)
Fortinet, Inc. provides cybersecurity solutions to variety of business, such as enterprises, communication service providers and small businesses. It operates through the following segments: Network Security; Infrastructure Security; Cloud Security; and Endpoint Protection, Internet of Things and Operational Technology. The Network Security segment include majority of product sales from it FortiGate network security appliances. The Infrastructure Security segment provide platform which is an architectural approach that protects the entire digital attack surface, including network core, endpoints, applications, data centers and private and public cloud. Together with it network of Fabric-Ready Partners, the Fortinet Security Fabric platform enables disparate security devices to work together as an integrated, automated and collaborative solution. The Cloud Security segment provides help to the customers connect securely to and across their cloud environments by offering security through it virtual firewall and other software products in public and private cloud environments. The Endpoint Protection, Internet of Things and Operational Technology segment include the proliferation of Internet of Things ("IoT") and an Operational Technology ("OT") device has generated new opportunities for it to grow it business. IoT and OT have created an environment where data move freely between devices across locations, network environments, remote offices, mobile workers and public cloud environments, making the data difficult to consistently track and secure. The company was founded by Ken Xie and Michael Xie in October 2000 and is headquartered in Sunnyvale, CA.
Up 0.63% in after hours trading, FTNT is in a declining trend channel. It had a failed breakout in July. I don't like seeing price going up and not even hitting the top of this trend channel before falling back down as that is a sign of weakness. The short-term rising trend is still intact and we just got a PMO BUY signal. The SCTR dropped, but it is still respectable at 64.3. The OBV is confirming this rise. I want to see that rising trend hold and price to punch out of this declining trend. The signals are bit mixed so I'd watch list one rather than enter given the longer-term declining trend hasn't been broken.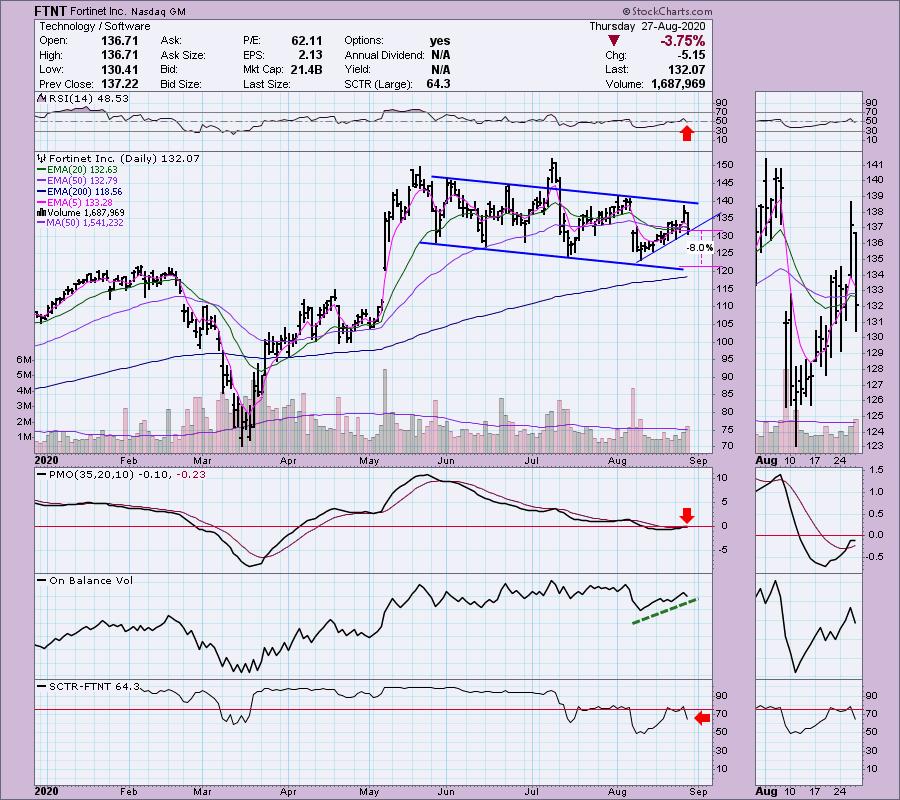 Not a good weekly PMO given the new SELL signal. I do like the flag, so there is potential here.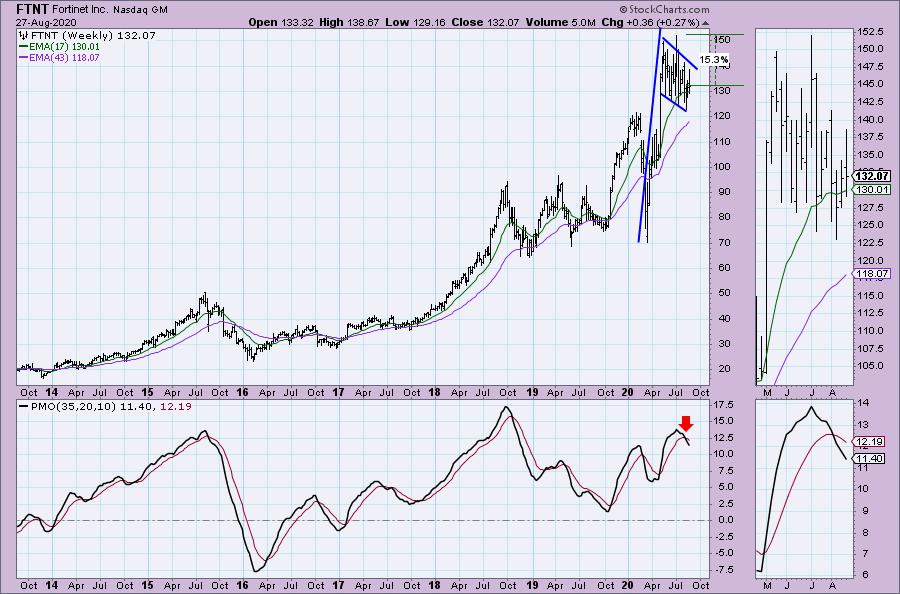 ---
GrowGeneration Corp (GRWG) - Earnings: 11/11/2020 (BMO)
GrowGeneration Corp. engages in the retail of hydroponic and organic specialty gardening products. It offers lighting fixtures, nutrients, seeds and growing media systems, trays, fans, filters, humidifiers and dehumidifiers, timers, instruments, water pumps, irrigation supplies, and hand tools. The company was founded by Darren Lampert and Michael Salaman on March 6, 2014 and is headquartered in Denver, CO.
Up 0.80% in after hours trading, GRGW could be considered part of the cannabis industry, but definitely NOT exclusively so. The crazy spike last week would probably have me avoiding this simply due to high volatility. The indicators are mixed here. The PMO is not positive as it is turning back down. Yet the RSI is positive. I can't make much of the OBV except to say volume definitely came in on the breakout and a lot of that volume wasn't erased on this big pullback. The SCTR is very high in the small-cap universe.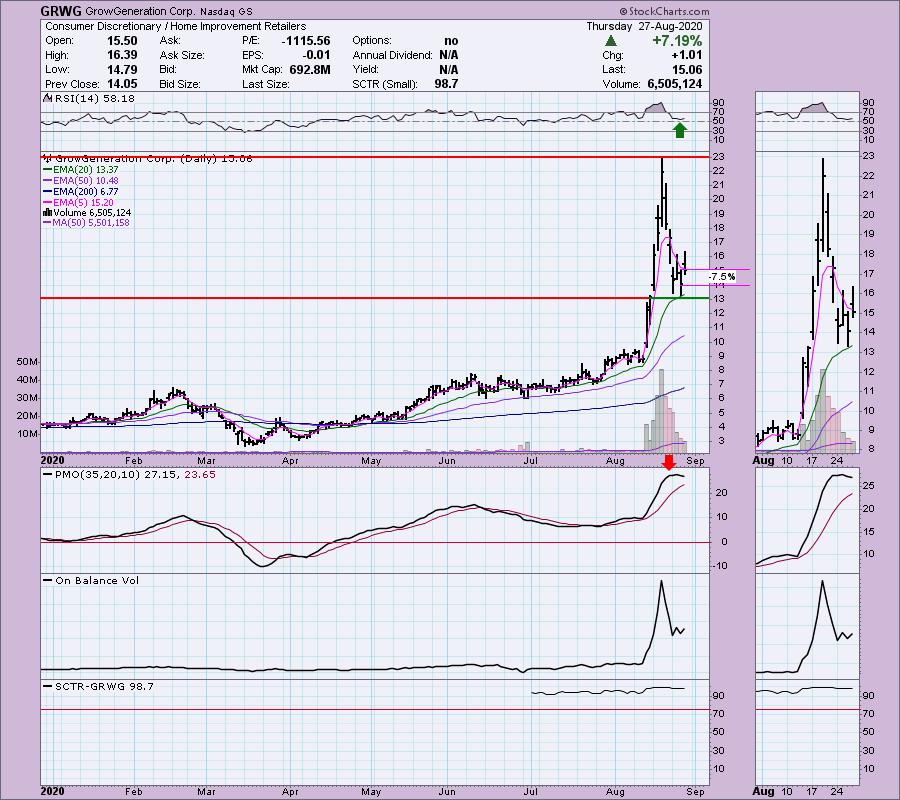 Notice the horribly painful breakdown of the parabolic move at the beginning of 2018. Price crashed right down to the basing pattern. I would be very concerned that could happen this time around too. That means a drop of around 75%. Of course it is hard to pass up given the 51% potential upside gain. Watch your position size if you decide to give this one a try.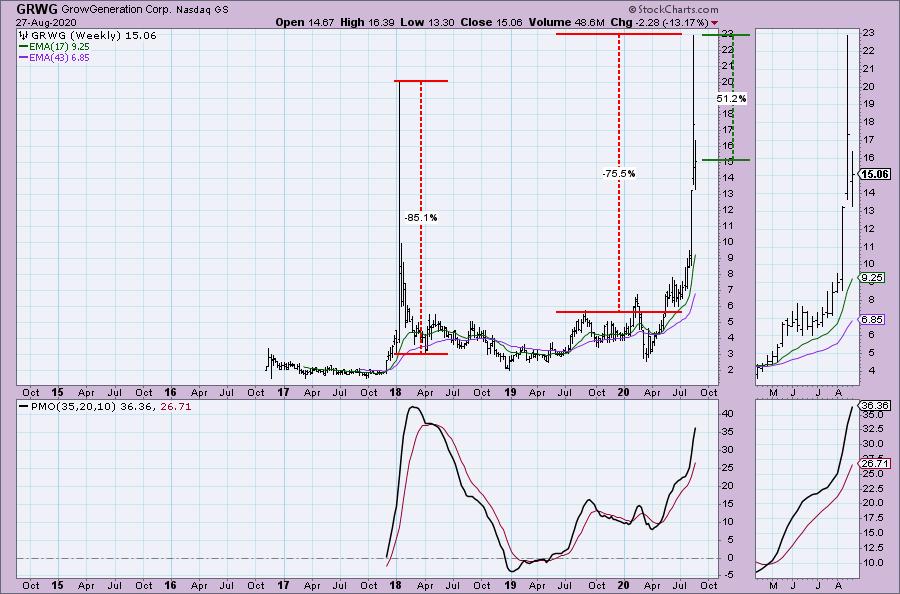 ---
Current Market Outlook:
Market Environment: It is important to consider the odds for success by assessing the market tides. The following chart uses different methodologies for objectively showing the depth and trend of participation for intermediate- and long-term time frames.
The Silver Cross Index (SCI) shows the percentage of SPX stocks on IT Trend Model BUY signals (20-EMA > 50-EMA)
The Golden Cross Index (GCI) shows the percentage of SPX stocks on LT Trend Model BUY signals (50-EMA > 200-EMA)
The Bullish Percent Index (BPI) shows the percentage of SPX stocks on Point & Figure BUY signals.
Don't forget that as a "Diamonds" member, you have access to our GCI/SCI curated ChartList on DecisionPoint.com. You'll find it under "Members Only" links on the left side on the Blogs and Links Page.
Here is the current chart: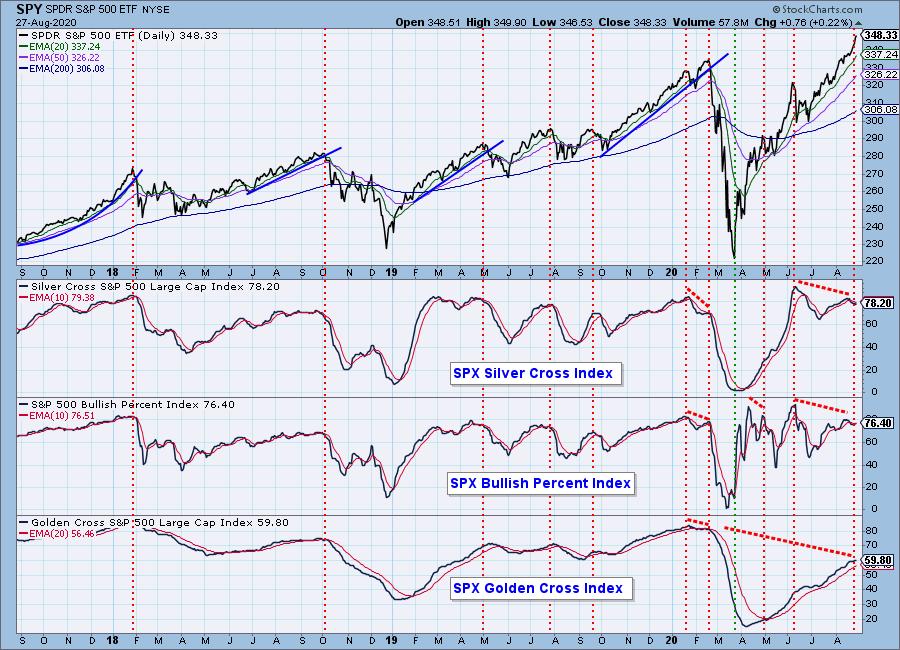 Diamond Index:
Diamond Scan Results: 14
Diamond Dog Scan Results: 10
Diamond Bull/Bear Ratio: 1.40
Full Disclosure: I'm about 70% invested right now and 30% is in 'cash', meaning in money markets and readily available to trade with. I actually was stopped out of NFLX this morning due to my trailing stop getting triggered after yesterday's huge spike. I still like NFLX, I'm now just waiting out this hiccup. I had something similar happen to me with BHC. When it spiked higher (I believe on earnings) and then fell intraday, I was stopped out because it was a trailing stop, but I made a killer profit and its back inside a boring trading range again. I will admit that when a stop triggers, I always have a negative twinge...Pardon this analogy, but it is like having to step away from the Blackjack table when I am winning (because the table is "hot"!) or even when I'm losing (because I just KNOW I can win it back!). However, I have learned over time to quell that, especially when I see the profit booked or watch a stock continue lower. In Vegas? Well, I'm still learning self-control and discipline!
Technical Analysis is a windsock, not a crystal ball.
Happy Charting!
- Erin
erin@decisionpoint.com
---
Watch the latest episode of DecisionPoint with Carl & Erin Swenlin on Mondays 7:00p EST or on the DecisionPoint playlist on the StockCharts TV YouTube channel here!
---
---
NOTE: The stocks reported herein are from mechanical trading model scans that are based upon moving average relationships, momentum and volume. DecisionPoint analysis is then applied to get five selections from the scans. The selections given should prompt readers to do a chart review using their own analysis process. This letter is not a call for a specific action to buy, sell or short any of the stocks provided. There are NO sure things or guaranteed returns on the daily selection of "diamonds in the rough."
---
Helpful DecisionPoint Links:
DecisionPoint Shared ChartList and DecisionPoint Chart Gallery
Price Momentum Oscillator (PMO)
Swenlin Trading Oscillators (STO-B and STO-V)
For more links, go to DecisionPoint.com!