It was good week with lots of green. Clearly there were a few stocks that really outperformed this week, but overall a 2.76% gain isn't so bad. I realized that the thumbnail for last Friday's Recap was the full spreadsheet and unfortunately that revealed "diamonds in the rough" to subscribers who were not Diamond members. Moving forward, I am going to put my weekly average/gain or loss first.

Picking the stocks to review: I will look at NTES since it was in last place this week. First place goes to MRVL which spiked on earnings today and made it my big 'winner' this week. I won't be looking at it for that reason, but it still looks great! Instead I'm going to look at second place winner, ServiceNow (NOW). I'm considering a position in Disney (DIS) next week so I thought I'd go over that chart with a 5-min bar chart to show you what I look for on entry.
---
A few items about the spreadsheet: I decided it only fair to denote "reader requests" as I shouldn't get to take credit if they turn out great! I've put on the spreadsheet whether the RSI is positive (green) or negative (red). The PMO column tells you if it is rising (green) or falling (red). Finally I've added my own "Sparkle Factor" that gives you my assessment going forward, bullish (green), bearish (red) or neutral (gray). The Sparkle Factor is basically my thoughts on whether I expect it to rise or fall. A neutral means it could really go either way so it could be added to a watch list. If you're in a stock I consider "neutral" going forward, the ball is in your court.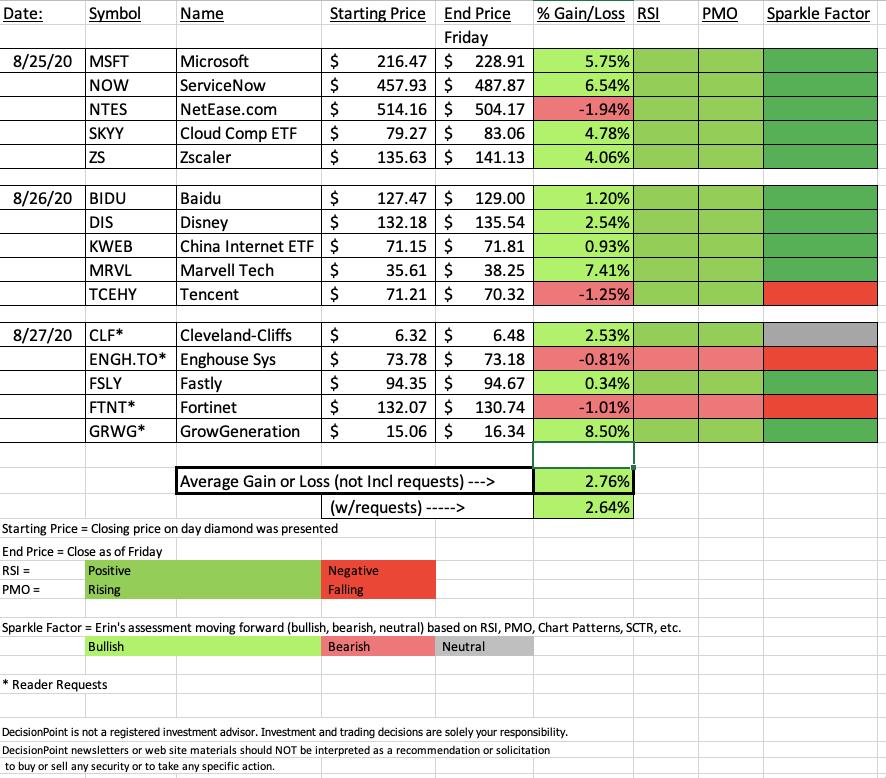 ---
---
Diamond Mine Information:
Recording from 8/28 is at this link. The password to view the recording is: $LeoDog24
Register in advance for the "DecisionPoint Diamond Mine" Friday (9/4) 12:00p EST:
Here is this week's registration link. Password: dpdmine
Please do not share these links! They are for Diamonds subscribers ONLY!
---
---

Register for the Free Trading Room at this link or click above.
---
ServiceNow Inc (NOW) - Earnings: 10/28/2020 (AMC)
ServiceNow, Inc. engages in the provision of enterprise cloud computing solutions. It offers customer and facilities service management, orchestration core, service mapping, cloud and portfolio management, edge encryption, performance analytics, service portal designer, visual task boards and configuration management database. The firm offers its solutions for the industries under the categories of Healthcare, Education, Government and Financial services.
Really nice breakout on ServiceNow. It was already attempting to breakout when I listed it as a Diamond, but it really took off. I like that RSI is still positive and the PMO is accelerating higher but is not overbought. Still not thrilled about the declining tops on the OBV and given today's candle has that giant wick on top, it may be ready for a pullback (and a better entry if you decide to get in).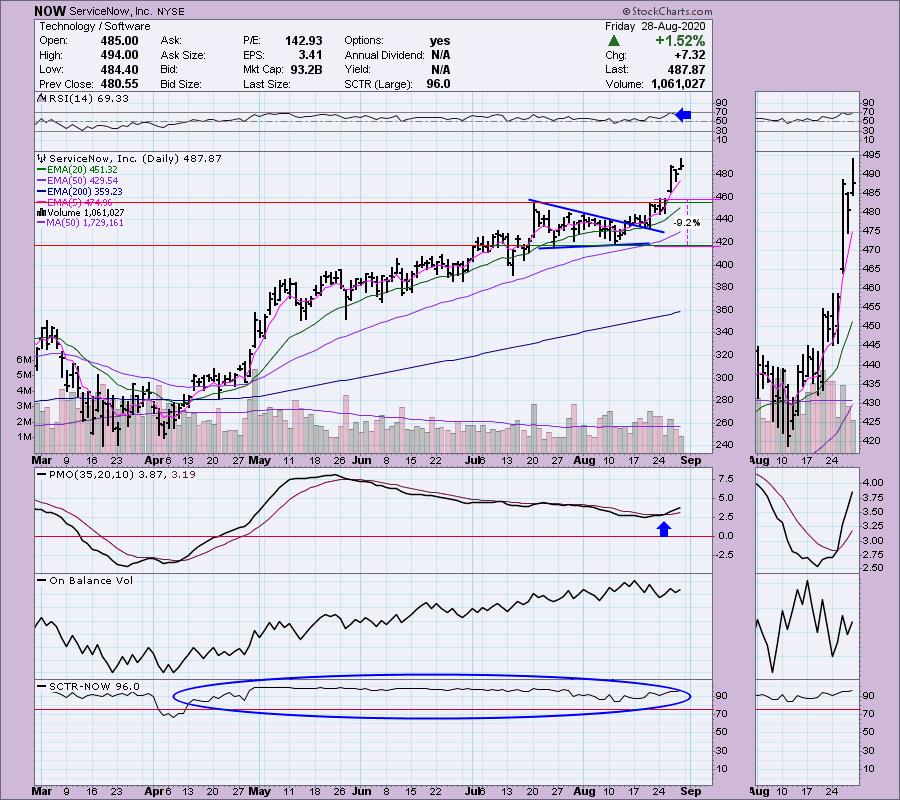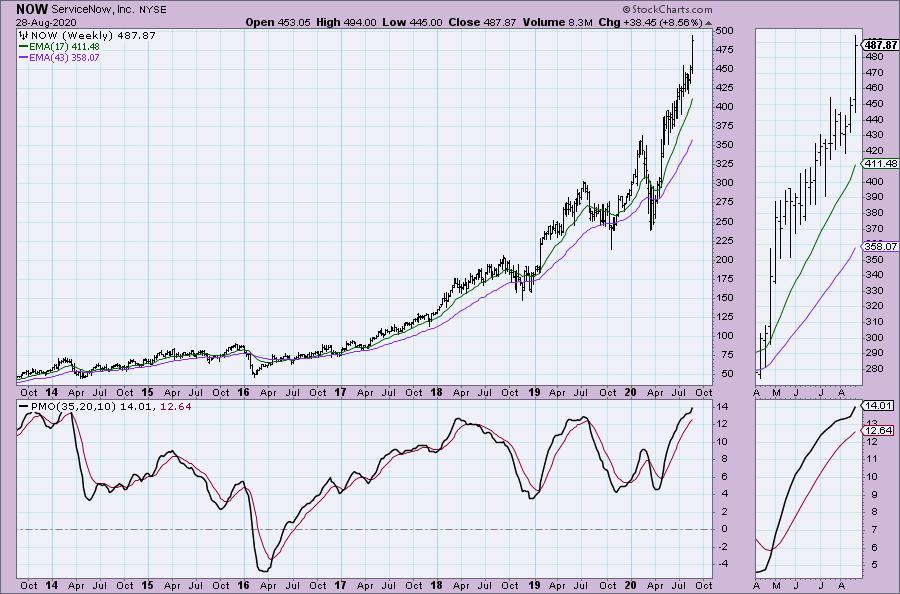 ---
Don't forget, on Thursdays I look at reader-requested symbols, so shoot me an email at erin@decisionpoint.com. I read every email I receive and try to answer them all!
---
NetEase.com Inc (NTES) - Earnings: 11/12/2020 (BMO)
NetEase, Inc. is an internet technology company, which premium online services centered around content, community, communication and commerce. It develops and operates some of the most popular PC-client and mobile games in China. The firm also operates some of the most popular international online games in China by partnering with Blizzard Entertainment, Mojang AB (a Microsoft subsidiary) and other global game developers. NetEase also offers other innovative services, including the intelligent learning services of its majority-controlled subsidiary, Youdao, its music streaming platform, NetEase Cloud Music, and its private label e-commerce platform, Yanxuan. The company operates through following business segments: Online game services, Youdao, and Innovative businesses and others. The Online game services segment has produced some of China's most renowned and longest running online PC-client games, including Fantasy Westward Journey Online and New Westward Journey Online II, as well as other highly successful games, such as Tianxia III, New Ghost and Justice. The Youdao segment is an online education service provider in China. Through Youdao, the Company's majority-controlled subsidiary, NetEase is dedicated to developing and using technologies to provide learning content, applications and solutions to users of all ages. The Innovative businesses and others segment offers other innovative services, including live video streaming, music streaming and its private label e-commerce platform, Yanxuan.
It just figures that my "Diamond of the Week" on Monday would turn out to be my biggest loser, but a less than 2% decline isn't horrible. I think this has set up a nice entry point as price broke out and then pulled back to the breakout point. The PMO and RSI are still positive and the SCTR at 91 is excellent. I am bullish going forward on NTES. In today's Diamond Mine I showed the 5-minute chart and discussed what I look for when I'm ready to enter a position. I don't follow the 5-min chart until I'm ready to pick an entry. I am not questioning whether I will buy--I'm planning on buying. That's why I am there. The indicators I use on the daily chart are also on the 5-min chart. I use them just as I would on a daily chart. Follow momentum (PMO) and RSI using crossovers/overbought/oversold etc. to help you time it right.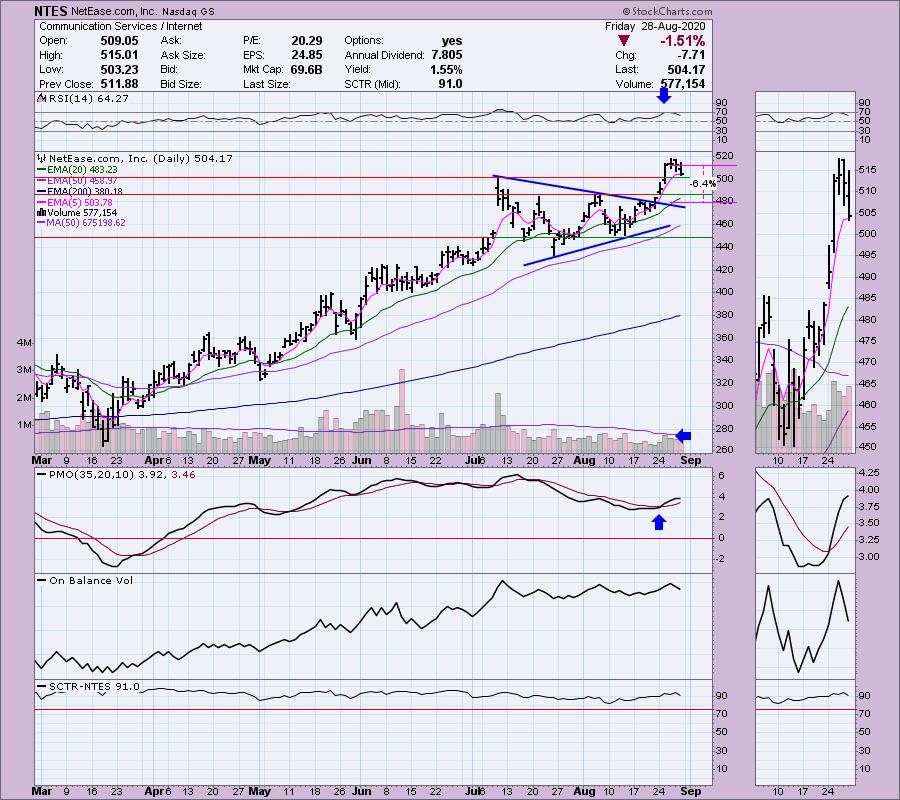 I was asked how to get an upside target on stocks that are making new all-time highs in today's Diamond Mine and I've had some time to quantify that. Ballpark, I'm always looking to have a gain that is at least 1.5 times my stop level. Example: 8% hard stop, upside target would be 12% gain on entry price. That gives me an attention flag. If I am fortunate enough to reach 15% profit level, I will then consider a trailing stop. It will bring the stop up with me. These are especially useful on a spike to the upside or during a parabolic collapse. On NTES, the stop level was at 6.5%, so my upside target for a relook would a 10% move to the upside from the entry.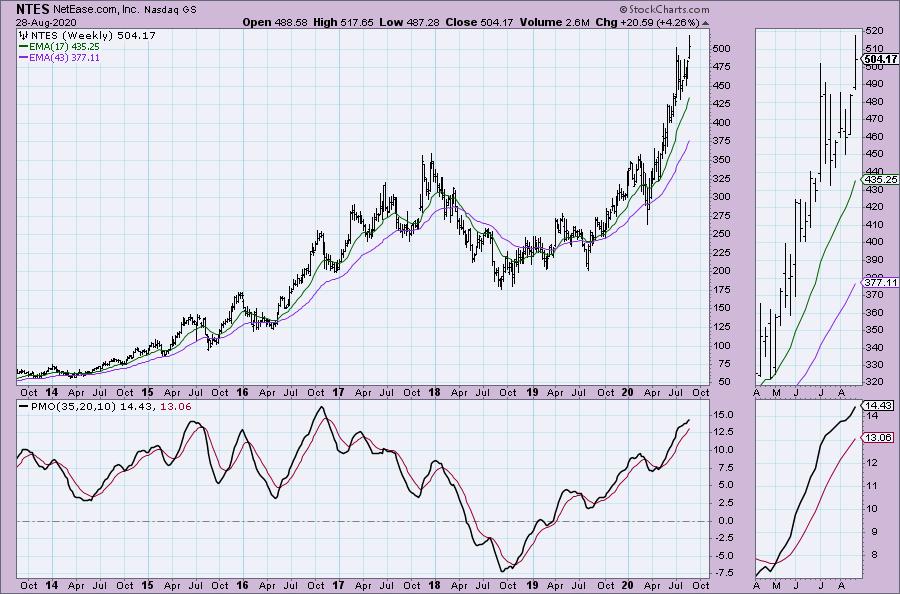 ---
Walt Disney Co (DIS) - Earnings: 11/5/2020 (AMC)
The Walt Disney Co. is a diversified international family entertainment and media enterprise. It operates through the following segments: Media Networks, Parks, Experiences and Products, Studio Entertainment and Direct-to-Consumer and International (DTCI). The Media Networks segment includes cable and broadcast television networks, television production and distribution operations, domestic television stations, radio networks and stations. The Parks, Experiences and Products segment owns and operates the Walt Disney World Resort in Florida; the Disneyland Resort in California; Aulani, a Disney Resort & Spa in Hawaii; the Disney Vacation Club; the Disney Cruise Line; and Adventures by Disney. The Studio Entertainment segment produces and acquires live-action and animated motion pictures, direct-to-video content, musical recordings and live stage plays. This segment distributes films primarily under the Walt Disney Pictures, Pixar, Marvel, Lucasfilm and Touchstone banners. The DTCI segment licenses the company's trade names, characters and visual and literary properties to various manufacturers, game developers, publishers and retailers throughout the world. It also develops and publishes games, primarily for mobile platforms, and books, magazines and comic books. This segment also distributes branded merchandise directly through retail, online and wholesale businesses.
I really like yesterday's breakout after I selected DIS. The PMO has turned up above its signal line and the RSI is still positive. The SCTR is now just about in the "hot zone" above 75. If I had to complain, it would be the overbought RSI, but it isn't wildly overbought.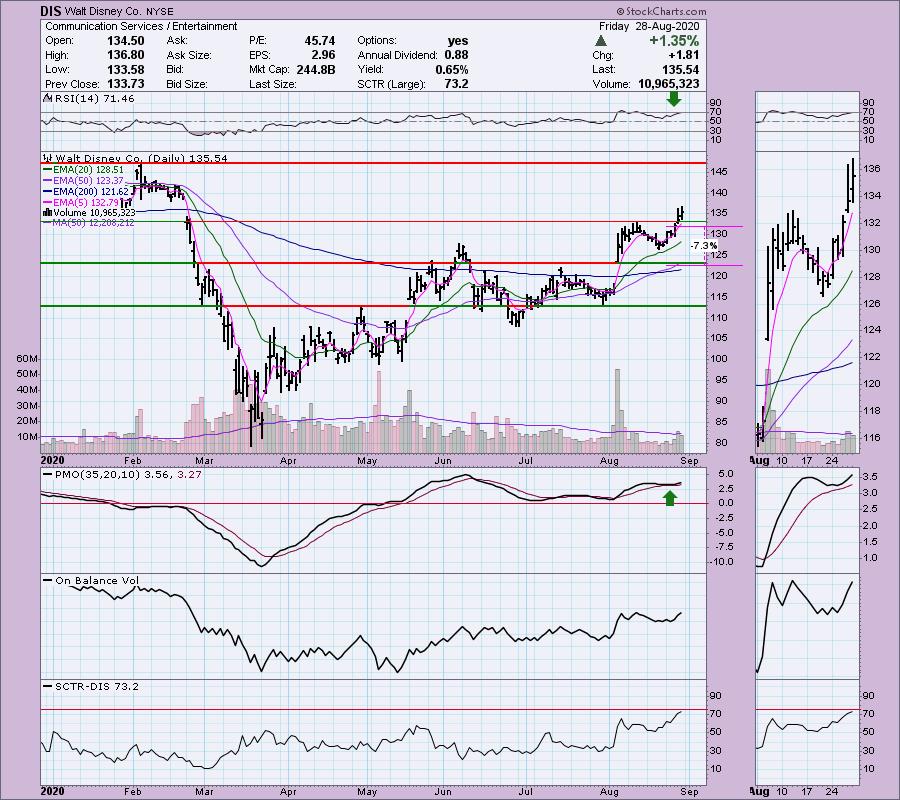 Okay! Here is an example of what I was talking about as far as using a 5-min bar chart to help you time entries. Clearly the best signal was given around 10:40a ET when we had the RSI go positive, the PMO gave a BUY signal and a double-bottom pattern was executed. If you are like me and live on the west coast and likely weren't awake then, the second entry point came around 3p ET when we saw the RSI go positive again and the PMO gave a crossover BUY signal. That second entry isn't optimum, but at least you didn't get in at the actual high for the day.
As far as entry on Monday, I'll follow the treasure map as trading proceeds. We could be looking at a double-top, so there could be a nice entry closer to today's low. I can't really say what price entry is best. For me the best entry isn't related to the actual price, it is based on the indicators. Like I said, if I'm looking at this chart, it means I'm looking to enter, not to question my intention to buy.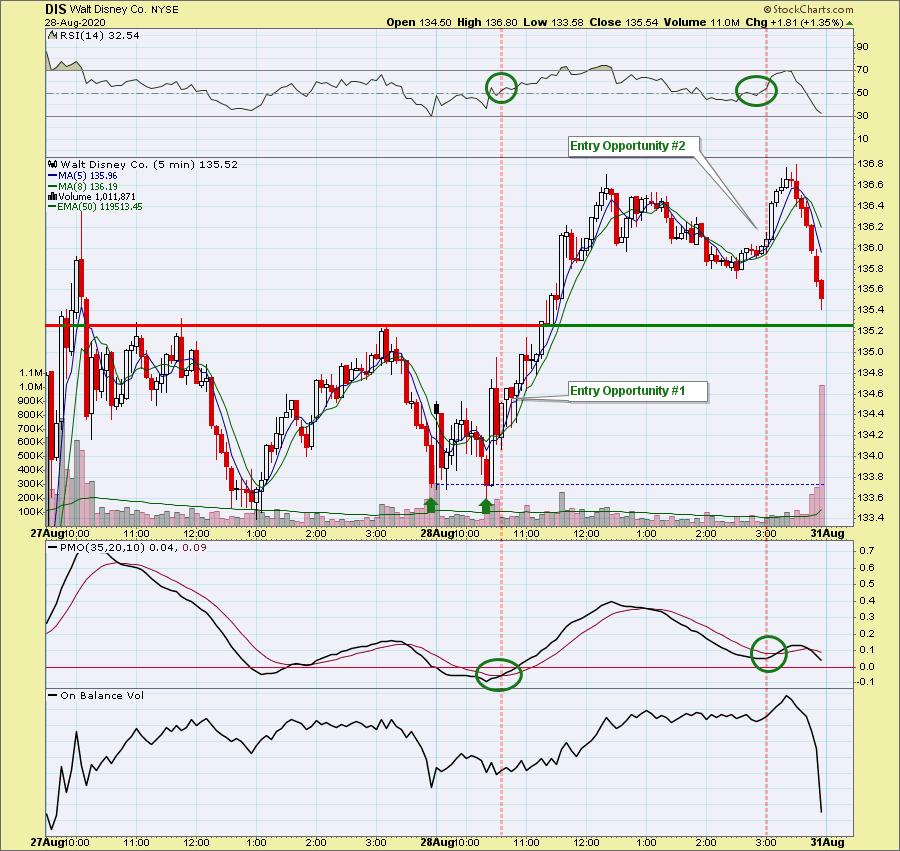 ---
CONCLUSION:
Sector to Watch: Financials (XLC)
Industry Groups to Watch: Consumer Finance and Financial Administration
My interest was piqued when I reviewed the sector charts. Financials are showing some improvement and new upside momentum. Although I have to say the Industrials are looking interesting for next week as well.
Happy Charting!
- Erin
erin@decisionpoint.com
---
Full Disclosure: I do not own any of the stocks reviewed today. On the spreadsheet, I do own MSFT and SKYY. I'm about 75% invested right now and 25% is in 'cash', meaning in money markets and readily available to trade with.
Technical Analysis is a windsock, not a crystal ball.
---
Watch the latest episode of DecisionPoint with Carl & Erin Swenlin on Mondays 7:00p EST or on the DecisionPoint playlist on the StockCharts TV YouTube channel here!
---
---
NOTE: The stocks reported herein are from mechanical trading model scans that are based upon moving average relationships, momentum and volume. DecisionPoint analysis is then applied to get five selections from the scans. The selections given should prompt readers to do a chart review using their own analysis process. This letter is not a call for a specific action to buy, sell or short any of the stocks provided. There are NO sure things or guaranteed returns on the daily selection of "diamonds in the rough."
---
Helpful DecisionPoint Links:
DecisionPoint Shared ChartList and DecisionPoint Chart Gallery
Price Momentum Oscillator (PMO)
Swenlin Trading Oscillators (STO-B and STO-V)
For more links, go to DecisionPoint.com!