I wasn't surprised to see the red on this week's spreadsheet. I was checking out the Diamonds from last week as I added them to the spreadsheet and of my 11 picks this week, 6 of them hit their stop levels. I wasn't happy that the average loss was much higher the SPY. I always want to shoot for outperformance of the SPY.
Picking the stocks to review: This week, I picked TWOU (the biggest loser) to review what went wrong and instead of my best pick, REG (I just covered it yesterday and none of the analysis has changed), I am going to look at LOCO which I think is bullish going forward despite a loss as a Diamond. I also want to look at IDYA. It had a horrible Diamond week, but I think it is already starting to look interesting again.
---
---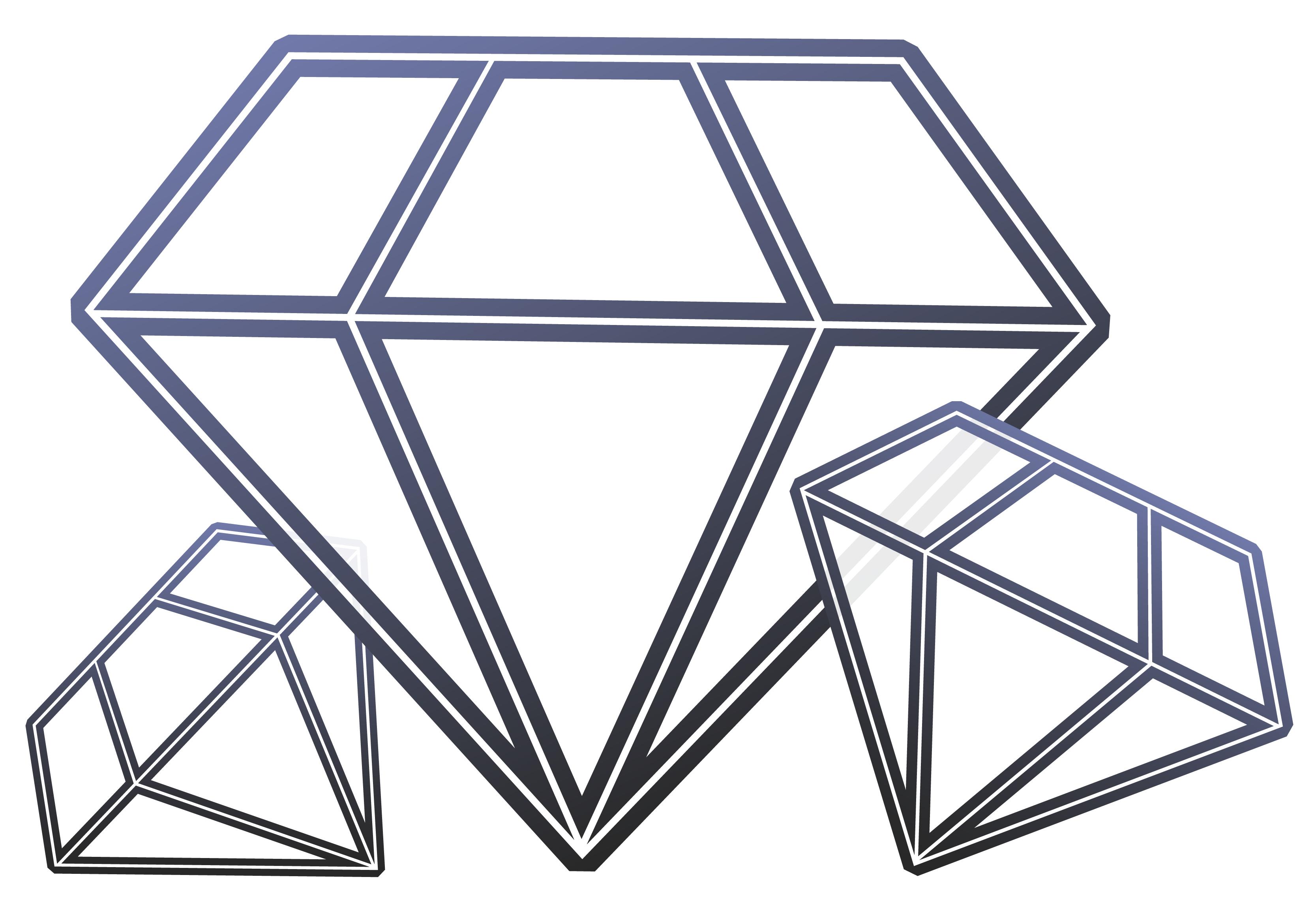 Diamond Mine Information:
Recording from today (9/4/2020) is at this link. The password to view the recording is: 4DDe4g8+
Register in advance for the "DecisionPoint Diamond Mine" Friday (9/11) 12:00p EST:
Here is this week's registration link. Password: wisdom
Please do not share these links! They are for Diamonds subscribers ONLY!
---
---
A few items about the spreadsheet: I decided it only fair to denote "reader requests" as I shouldn't get to take credit if they turn out great! I've put on the spreadsheet whether the RSI is positive (green) or negative (red). The PMO column tells you if it is rising (green) or falling (red). Finally I've added my own "Sparkle Factor" that gives you my assessment going forward, bullish (green), bearish (red) or neutral (gray). The Sparkle Factor is basically my thoughts on whether I expect it to rise or fall. A neutral means it could really go either way so it could be added to a watch list. If you're in a stock I consider "neutral" going forward, the ball is in your court.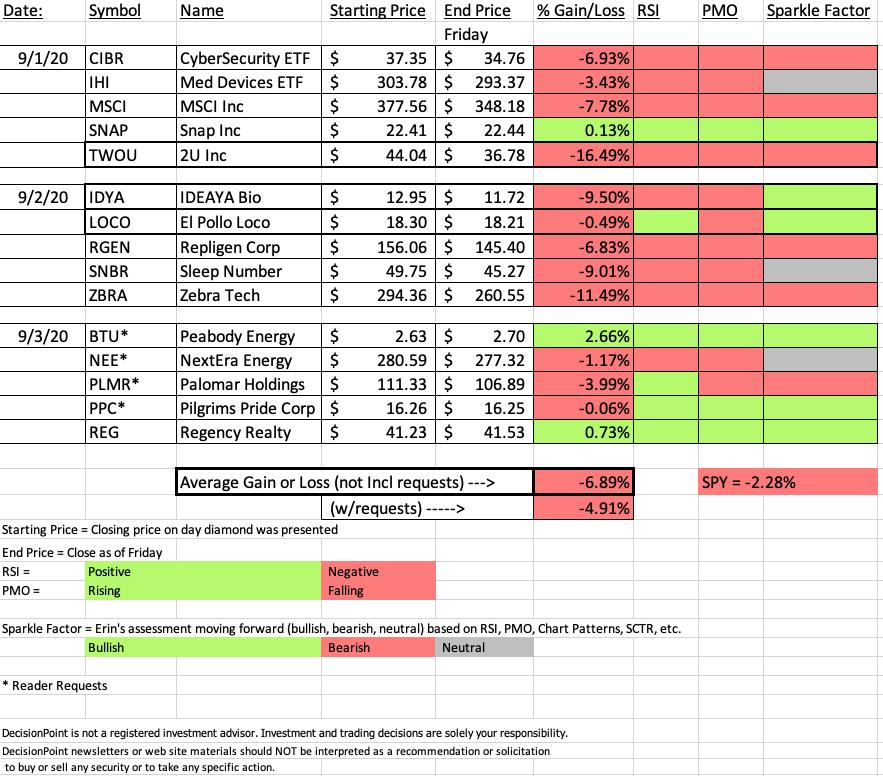 ---

Register for the Free Trading Room at this link or click above. Our next session is on 9/14/2020!
---
2U Inc (TWOU)
Earnings: 10/29/2020 (AMC)
2U, Inc. engages in the provision of education technology for nonprofit colleges and universities. It operates through the following segments: Graduate Program and Alternative Credential. The Graduate Program segment provides technology and services to nonprofit colleges and universities to enable the online delivery of degree programs. The Alternative Credential segment provides premium online short courses and technical, skills-based boot camps through relationships with nonprofit colleges and universities. The company was founded by Christopher J. Paucek on April 2, 2008 and is headquartered in Lanham, MD.
TWOU turned out to be a big stinker and spent only a brief moment in my portfolio. It is actually up 1.66% in after hours trading. I suppose this could end up being a bottom fishing opportunity as price did hold support at the 200-EMA. Unfortunately, the RSI turned on us quickly and the PMO quickly whipsawed back into a SELL signal. The SCTR dropped to territory we hadn't seen in months. If you wanted to keep this on a watchlist until Technology and Software find real support and present great prices.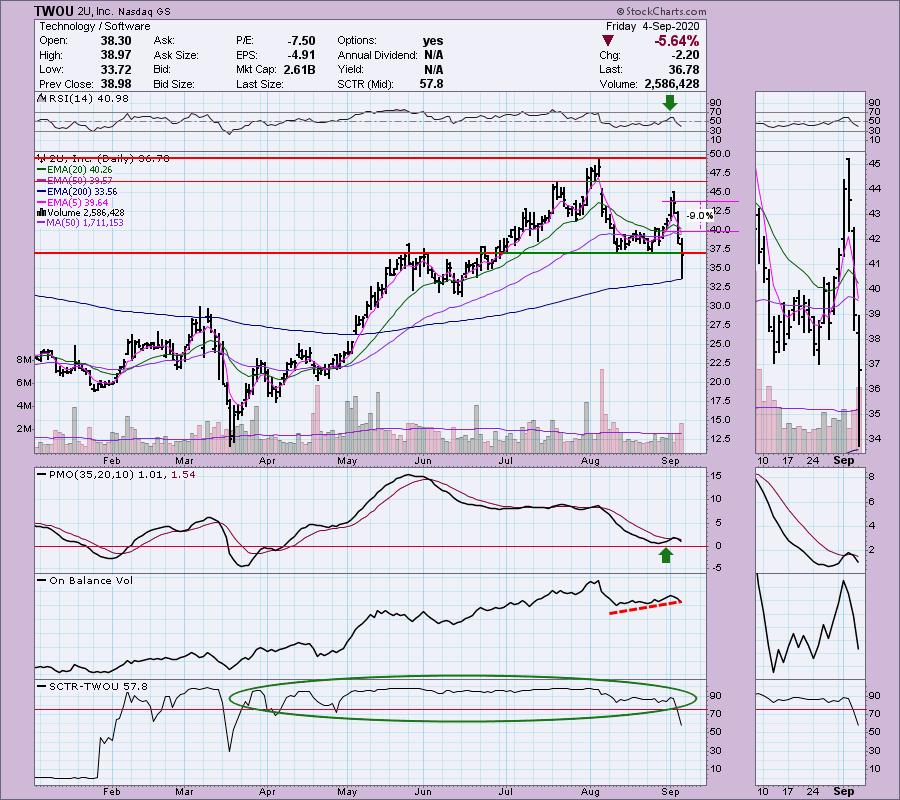 The PMO had just turned up while above its signal line. But, this week's disaster decline has moved TWOU's PMO downward. Now the configuration is quite negative in the short and intermediate terms.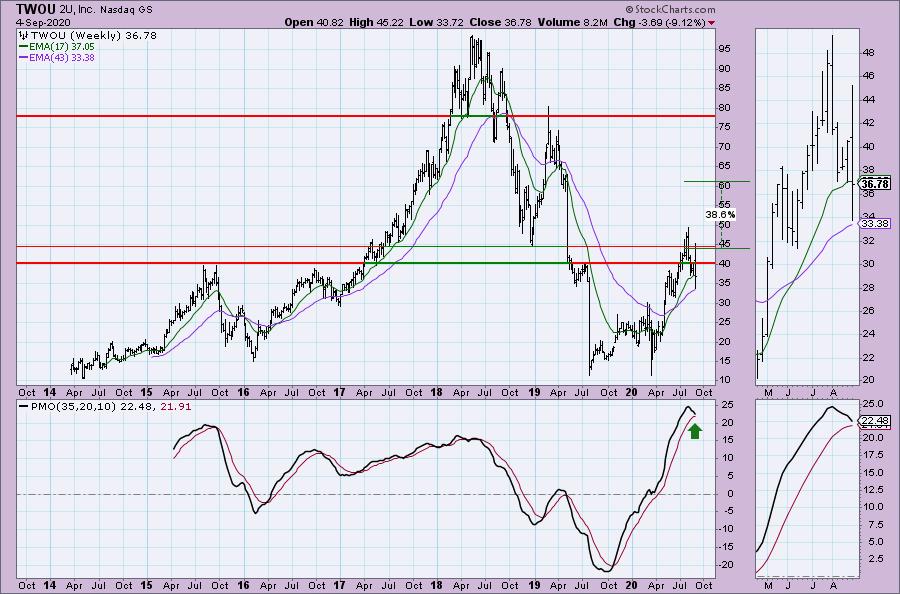 ---
Don't forget, on Thursdays I look at reader-requested symbols, so shoot me an email at erin@decisionpoint.com. I read every email I receive and try to answer them all!
---
IDEAYA Biosciences Inc (IDYA)
EARNINGS: 11/12/2020 (BMO)
IDEAYA Biosciences, Inc. engages in the research and development of oncology-focused precision medicine. The firm focuses on targeted therapeutics for patients selected using molecular diagnostics. Its product candidate, IDE196, is a protein kinase C inhibitor for genetically-defined cancers having GNAQ or GNA11 gene mutations. The company was founded by Yujiro S. Hata and Jeffrey Hager in June 2015 and is headquartered in South San Francisco, CA.
One of the reasons I picked this one to review was that despite a negative RSI and newly declining PMO, I still think this one could be considered bullish going forward. The OBV has been rising and despite yesterday's deep decline, it righted the ship after bouncing off support at $11.00. This is a somewhat speculative or very short-term investment. It does carry more risk given the lower price point and high volatility. This is for those who can stomach a day that whipsaws 5% up and down. Yes, the PMO is falling, but not quickly and not with great acceleration. $11 would be my line in the sand or possible entry point. You do NOT want this one if it goes below $11.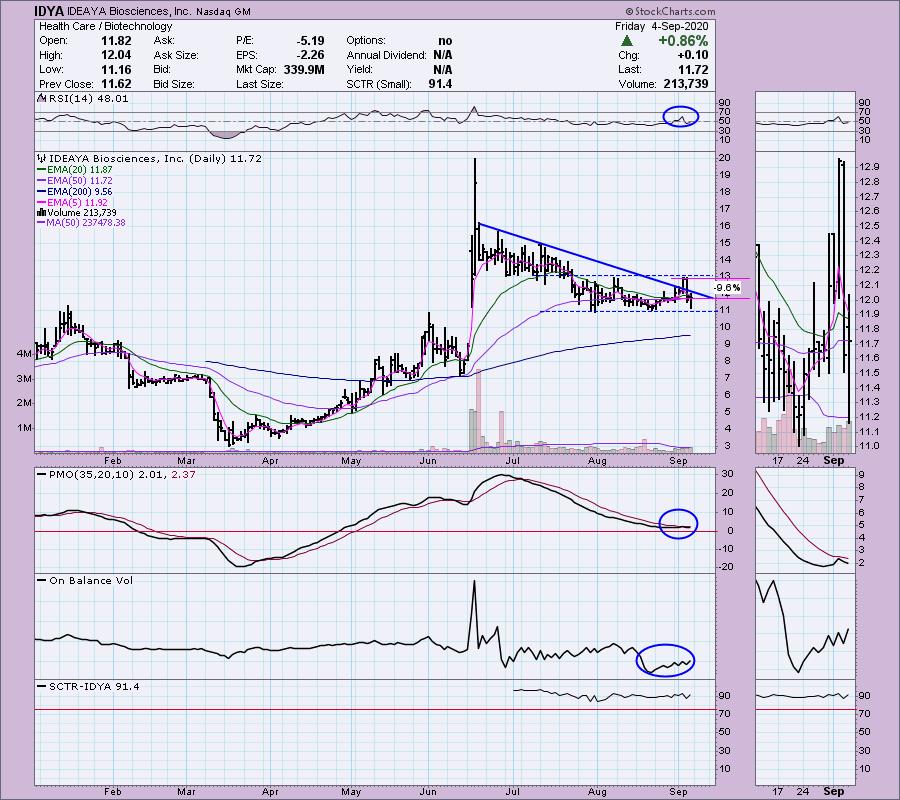 Another weekly PMO that was rising at the time the Diamond was picked but came in on the last trading day of the week moving lower. I can't really determine if the PMO is overbought as there isn't enough information. This week does have the appearance of a slight breakout from a bull flag. You can see how important the $11 support area is.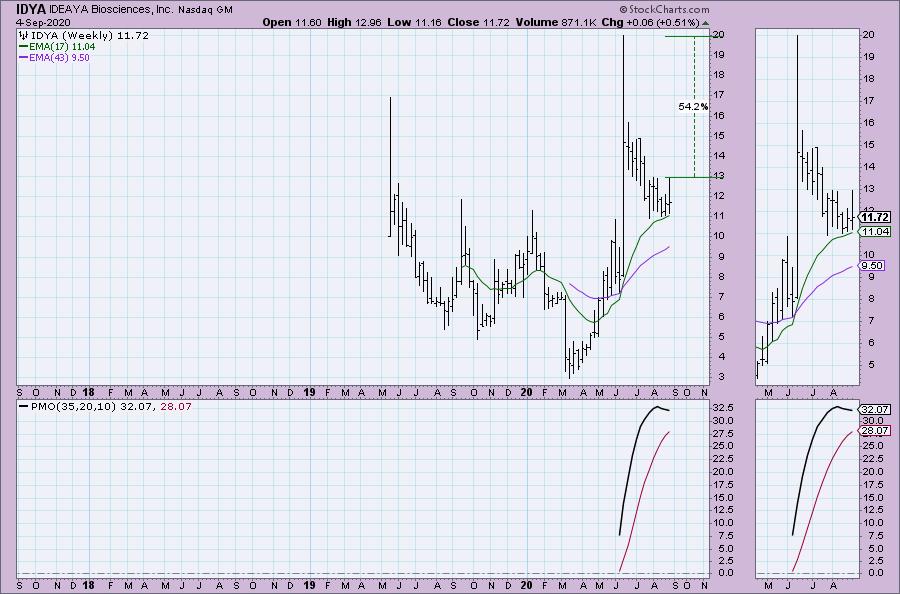 ---
El Pollo Loco Holdings Inc (LOCO)
EARNINGS: 10/29/2020 (AMC)
El Pollo Loco Holdings, Inc. engages in the ownership and management of restaurant chains. It specializes in fire-grilling citrus-marinated chicken and operates in the limited service restaurant (LSR) segment. The restaurant industry is divided into two segments: Full Service and Limited Service. The Full service segment is comprised of the casual dining, mid-scale, and fine dining sub-segments. The Limited service segment is comprised of the QSR and fast casual sub-segments. It develops, franchises, licenses and operates quick-service restaurants under the name El Pollo Loco. The company was founded in 1975 and is headquartered in Costa Mesa, CA.
While this one since becoming a Diamond was down (-0.49%), I still like this chart. The RSI is positive and the OBV looks healthy. The PMO did technically top, but as with IDYA, it didn't do so with acceleration. Support is holding and we didn't get anywhere near the stop. The SCTR remains in the "hot zone".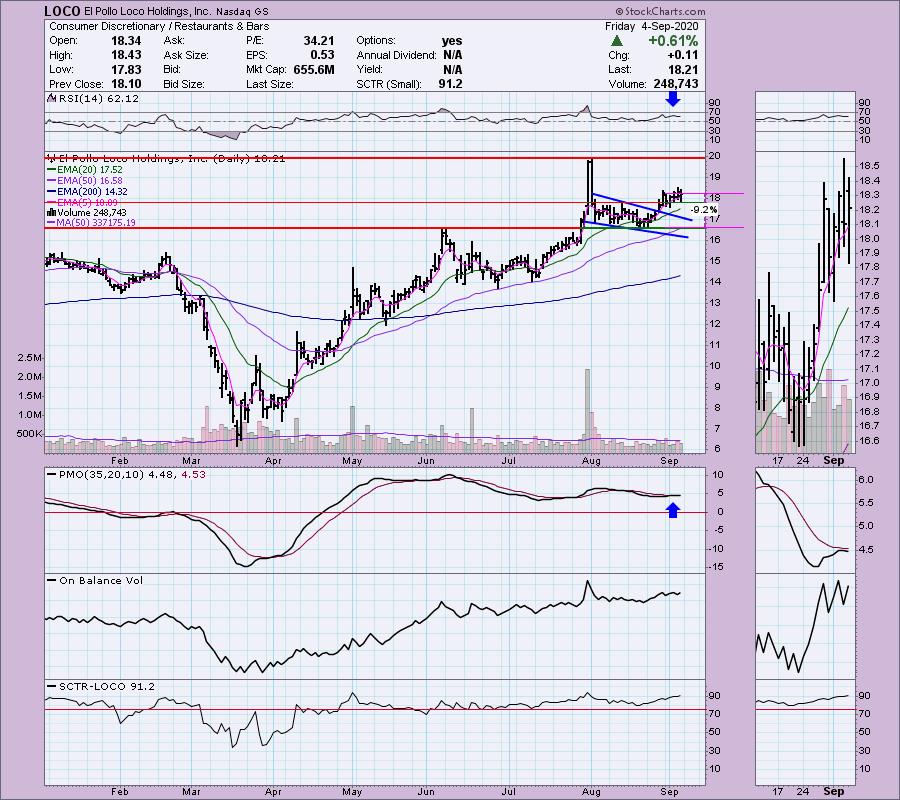 We're trading at 2020 highs right now, but if we can get the breakout above $20, there's plenty of upside potential. The PMO is overbought, but certainly is rising nicely.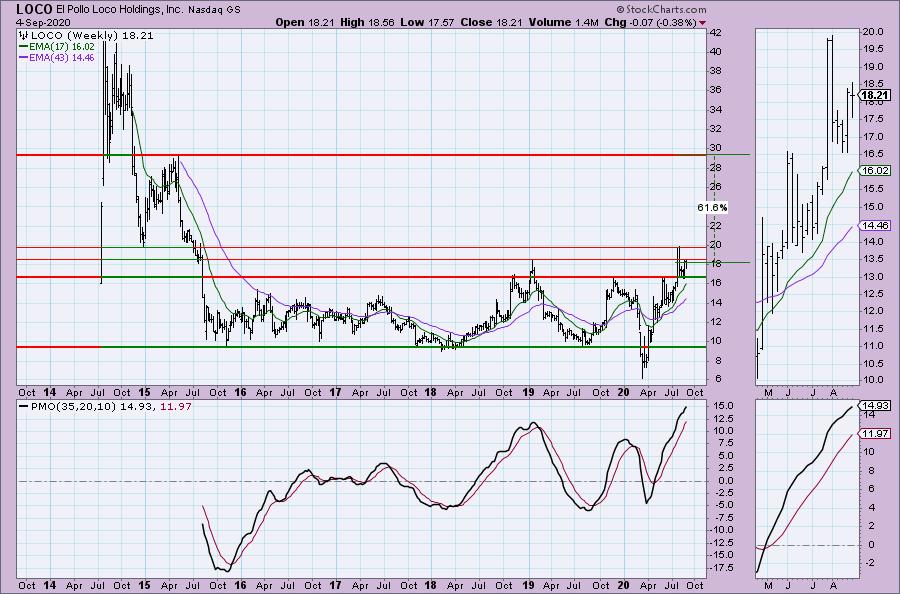 Since this one does look fairly bullish going into next week, here is a sample 5-minute bar chart with a few notes on how I consider entering this or any other position.
Using the PMO and RSI, I've marked in green possible BUY point and in red possible SELL points from past trading. What I would be looking for on Tuesday would the PMO decelerating and bottoming. Compare that with the RSI and that will give you a decent BUY point. You even use 5- and 8-period MA crossovers to get a jump on an entry or exit, but I find I'm more comfortable using the PMO and RSI as my primary indicators with the OBV and MA crossovers as secondary indicators which can confirm or inform. In orange you can see a negative OBV divergence and in blue you can see the two times there was a positive OBV divergence.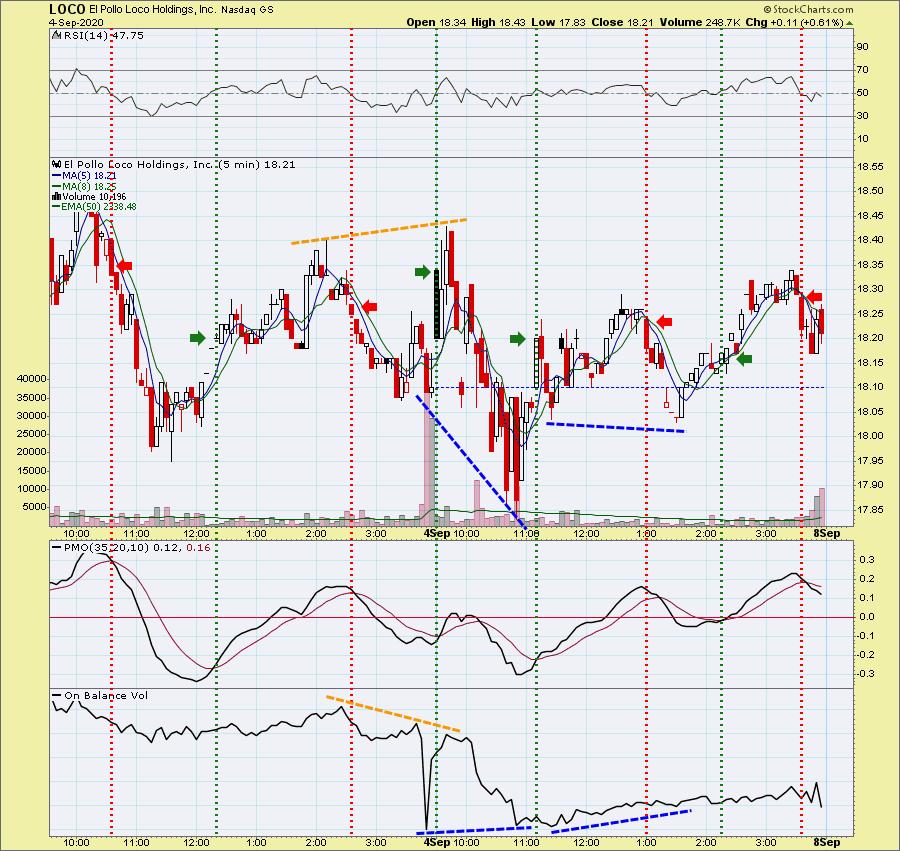 ---
CONCLUSION:
Sector to Watch: Materials (XLB) and Financials (XLC) (and Energy (XLE))
Industry Groups to Watch: Insurance and possibly Banks
I think I came in a week early on calling improvement for the Financial sector. I'm not sure it is ripe yet, but I'm keeping an eye on the Energy sector for bargains. Materials (XLB) is starting to show great improvement on its indicators. We could see rotation into more defensive sectors, but the bargain hunters may start stalking the Energy stocks. Go to our Sector ChartList on DecisionPoint.com to get an in depth view of all the sectors.
Have a Great Holiday Weekend! Happy Charting!
- Erin
erin@decisionpoint.com
---
Full Disclosure: I do not own any of the stocks reviewed today. On the spreadsheet, I do own MSFT and SKYY. I'm about 75% invested right now and 25% is in 'cash', meaning in money markets and readily available to trade with.
Technical Analysis is a windsock, not a crystal ball.
---
Watch the latest episode of DecisionPoint with Carl & Erin Swenlin on Mondays 7:00p EST or on the DecisionPoint playlist on the StockCharts TV YouTube channel here!
---
---
NOTE: The stocks reported herein are from mechanical trading model scans that are based upon moving average relationships, momentum and volume. DecisionPoint analysis is then applied to get five selections from the scans. The selections given should prompt readers to do a chart review using their own analysis process. This letter is not a call for a specific action to buy, sell or short any of the stocks provided. There are NO sure things or guaranteed returns on the daily selection of "diamonds in the rough."
---
Helpful DecisionPoint Links:
DecisionPoint Shared ChartList and DecisionPoint Chart Gallery
Price Momentum Oscillator (PMO)
Swenlin Trading Oscillators (STO-B and STO-V)
For more links, go to DecisionPoint.com!