It wasn't easy to pick out today's "diamonds in the rough" given the huge decline in the market. However, it could be offering us good entries on a few of these stocks. You'll note that a few of the stocks I picked today finished higher on the day. I'm not saying those will be "teflon" in a bear market or correction, but it does show us there is some strength out there. The ones that declined today, definitely offer better entries. For example, CarParts.com (PRTS) was up over 7.8% yesterday and pulled back 7.38% today. It's a strong stock in a good industry group.
Today I presented yesterday's Diamonds (minus CDLX) and RGEN (prior Diamond) for "The Pitch". Below is a link to the promo. It will air tomorrow at 10:00a ET on StockChartsTV and I will tweet (@_decisionpoint) out the link as soon as I have it and plan on publishing it in both the DP Alert and DP Diamonds reports. As you probably know all of those Diamonds pulled way back today, but again I believe it offers better entries if the chart hasn't deteriorated too much.
One more thing! It's earnings season and many of the "diamonds in the rough" I have been presenting will be reporting in the next few weeks. I prefer not to hold my short-term trades into earnings to protect against price shocks. Similarly I don't generally buy a stock that will be reporting earnings soon for the same reason.
Today's "Diamonds in the Rough" are: EUM, MRTX, OTRK, PRTS, and TDOC.
---
---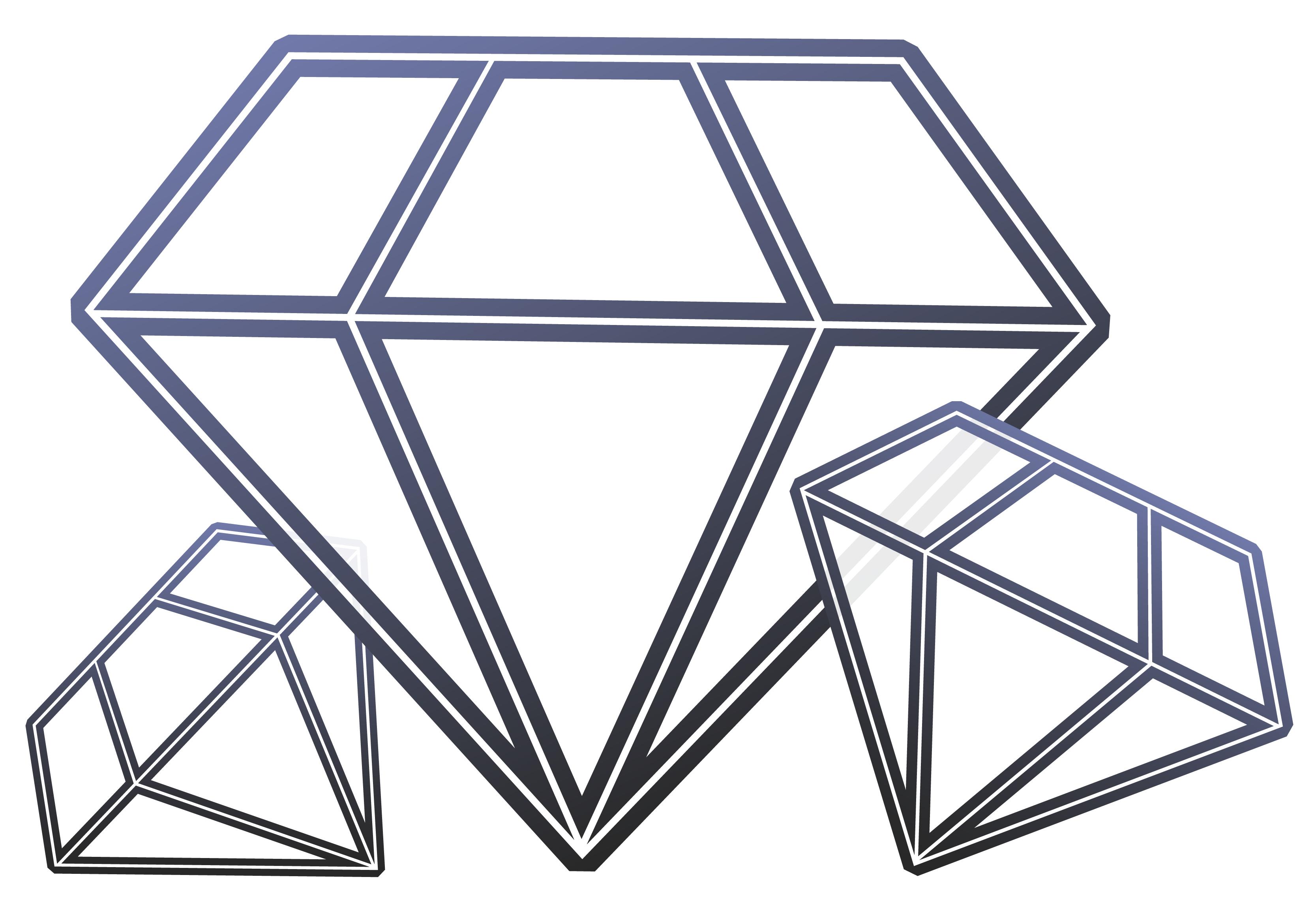 Diamond Mine Information:
Recording from Today's (10/23/2020) is at this link. Access Passcode: 3F36ts=$
Register in advance for the next "DecisionPoint Diamond Mine" trading room on Friday 12:00p ET:
Here is the registration link for Friday, 10/30/2020. Password: diamond
Please do not share these links! They are for Diamonds subscribers ONLY!
---
---

It's Free!
***Click here to register for this recurring free DecisionPoint Trading Room on Mondays at Noon ET!***
Did you miss the 10/27 trading room? Here is a link to the recording (access code: X+2gJfpd). For best results, copy and paste the access code to avoid typos.
** Please note there will NOT be a free Trading Room on November 2nd! **
---
---
Welcome to DecisionPoint Daily Diamonds, wherein I highlight five "diamonds in the rough." These are selected from the results of my DecisionPoint scans, which search for stocks that could benefit from the trend and condition of the market. Remember, these are not recommendations to buy or sell, but are the most interesting of the stocks that surfaced in my scans. My objective is to save you the work of the initial, tedious culling process, but you need to apply your own analysis to see if these stocks pique your interest as well. There are no guaranteed winners here!
---
---
ProShares Short MSCI Emerging Markets (EUM)
EARNINGS: N/A
EUM provides inverse exposure to an index representing 85% of the market cap in emerging markets countries.
Here is our first Internet diamond in the rough. The RSI is positive and the PMO is rising. The OBV does have a negative divergence in the short term which could be a problem. Overhead resistance is still holding, but with the PMO and the RSI not overbought as well as a strong SCTR, I expect a breakout. The stop at the current price is 8% away, so you could wait for the breakout and then lengthen the stop.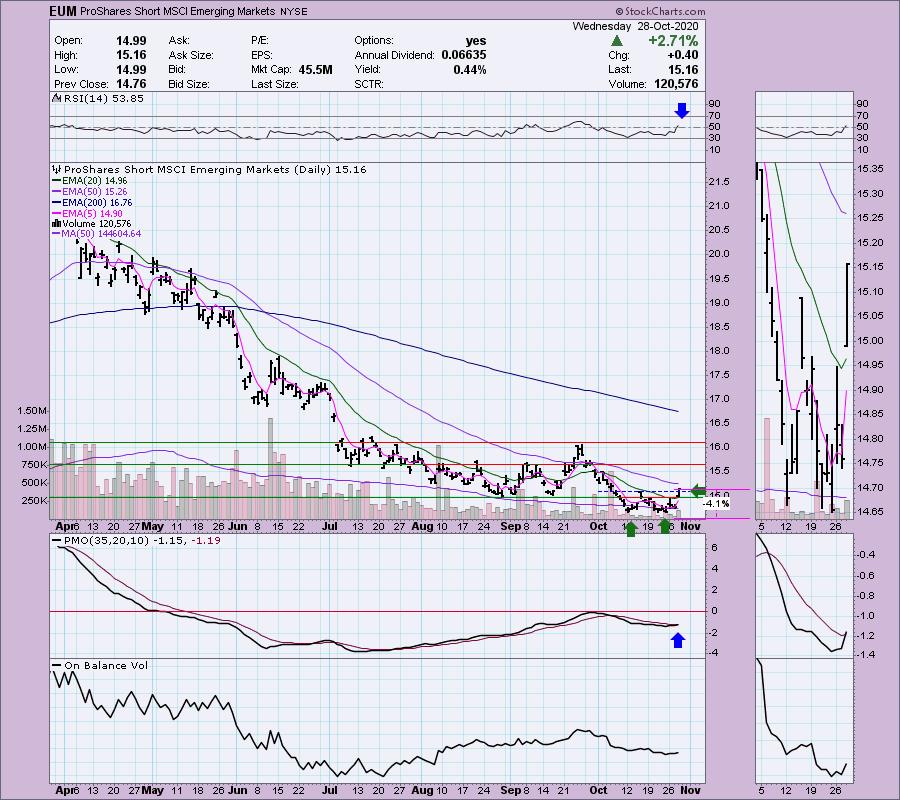 The weekly PMO is trying very hard to turn back up. The RSI on the weekly chart is also positive, but we can see how important this overhead resistance is.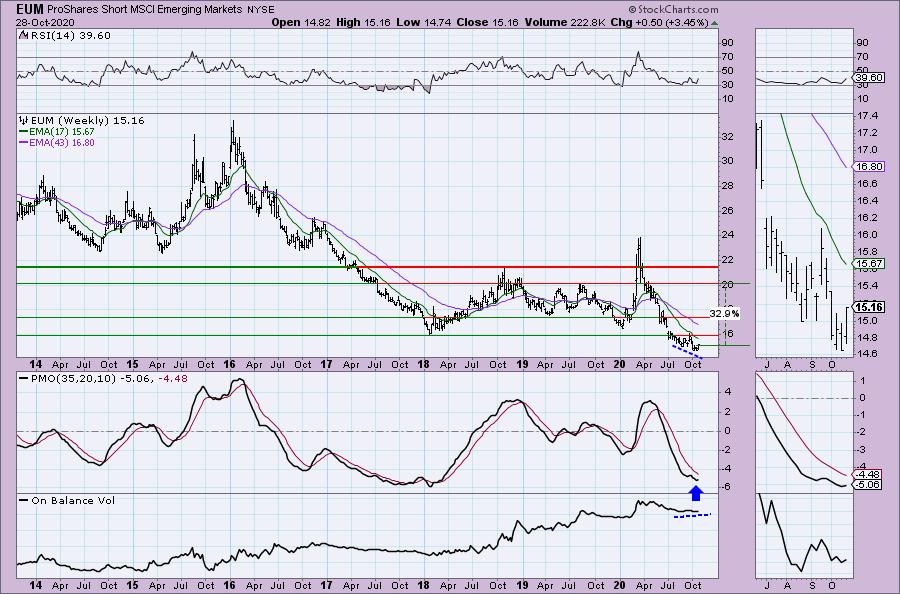 ---
Mirati Therapeutics, Inc. (MRTX)
EARNINGS: 11/4/2020 (AMC)
Mirati Therapeutics, Inc. is a clinical-stage oncology company. The firm engages in developing a pipeline of oncology products to treat genetic, immunological and epigenetic drivers of cancer in subsets of cancer patients. Its clinical pipeline consists of glesatinib, sitravatinib and mocetinostat. The company was founded on December 13, 1995 and is headquartered in San Diego, CA.
Here is Internet diamond in the rough #2. We have a nice breakout from the short-term declining trend. The PMO didn't quite bottom above its signal line, but I still find it very positive as the bottom did occur above the zero line. Volume is steady, but you can see in the thumbnail that we had rising bottoms on the OBV while price bottoms were declining last week. The RSI is positive and not overbought. I set the stop below support at last week's bottom and about halfway down toward the September low.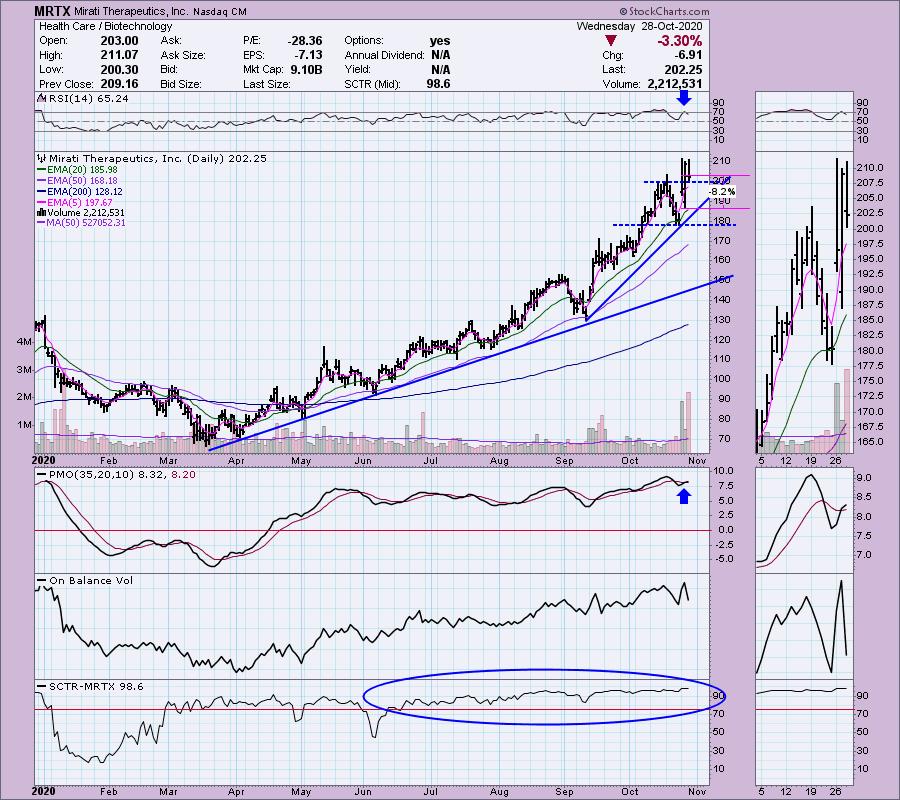 There is a huge bull flag on the chart and we have a positive RSI. The PMO is not good as it did just give us a crossover SELL signal. Consider this a short-term investment until the weekly PMO improves.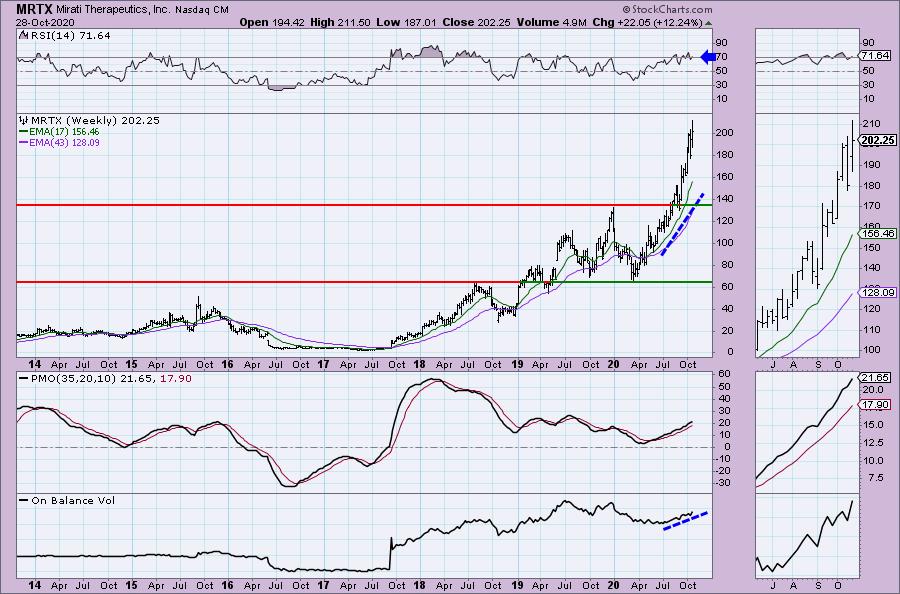 ---
Don't forget, on Thursdays I look at reader-requested symbols, so shoot me an email at erin@decisionpoint.com. I read every email I receive and try to answer them all!
---
Ontrak, Inc. (OTRK)
EARNINGS: 11/5/2020 (AMC)
Ontrak, Inc. provides data analytics based specialized behavioral health management and integrated treatment services to health plans. It offers services through its platform OnTrak solution which is designed to improve member health and at the same time, lower costs to the insurer for underserved populations where behavioral health conditions cause or exacerbate co-existing medical conditions. The company was founded by Terren S. Peizer in February 2003 and is headquartered in Santa Monica, CA.
I covered this one way back in the April 17th Diamonds Report. I didn't specify back then which selections were reader requests and which were mine, but in any case, at the time it was named Catsys Inc (CATS) and was at $24.50. It's up a whopping 174% since then. As I've said a few times, back in April, any pick we made is more than likely up by a lot today given that was when we were coming out of the bear market low. I will admit up front that this could be a bearish descending triangle. Price needs to breakout and close above that declining tops trendline. However, we could be looking at a double-bottom off the big September decline. Given we have a positive RSI that isn't overbought and a newly rising PMO, I'm leaning toward the double-bottom.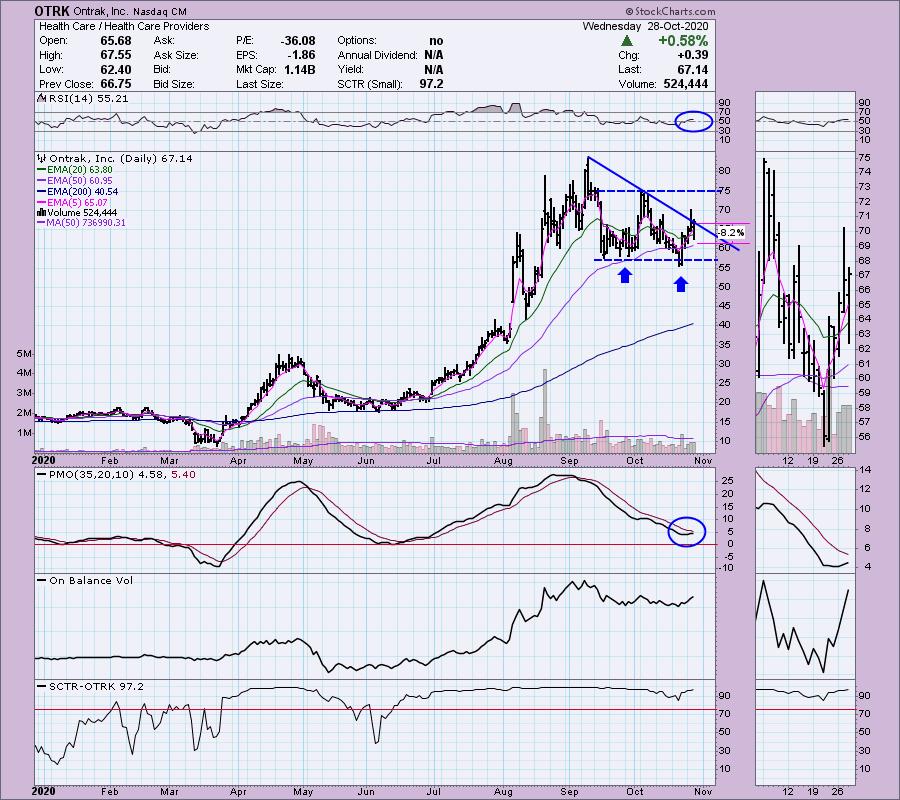 The RSI moved out of overbought territory. The PMO is overbought but you can see the deceleration as price just bounced off the 17-week EMA.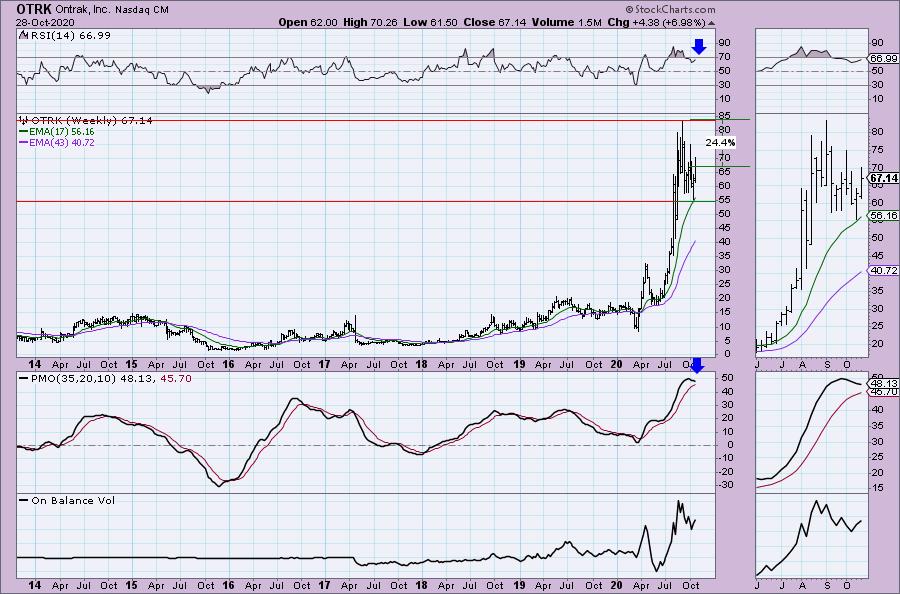 ---
CarParts.com (PRTS)
EARNINGS: 11/9/2020 (BMO)
CarParts.com, Inc. engages in the provision of automotive aftermarket parts. The firm's flagship websites include www.autopartswarehouse.com, www.carparts.com, www.jcwhitney.com, www.automd.com and www.usautoparts.net. Its products include Collision Parts, Engine Parts, Performance Parts and Accessories. The company was founded by Sol Khazani and Mehran Nia in 1995 and is headquartered in Carson, CA.
Up 2.75% in after hours trading, PRTS had a terrible day, but this is a great entry now that price has tested the bottom of the rising trend channel. The RSI is positive and PMO is rising. The stop is rather deep, but I believe necessary. The double-bottom suggests we will break well-above the August high.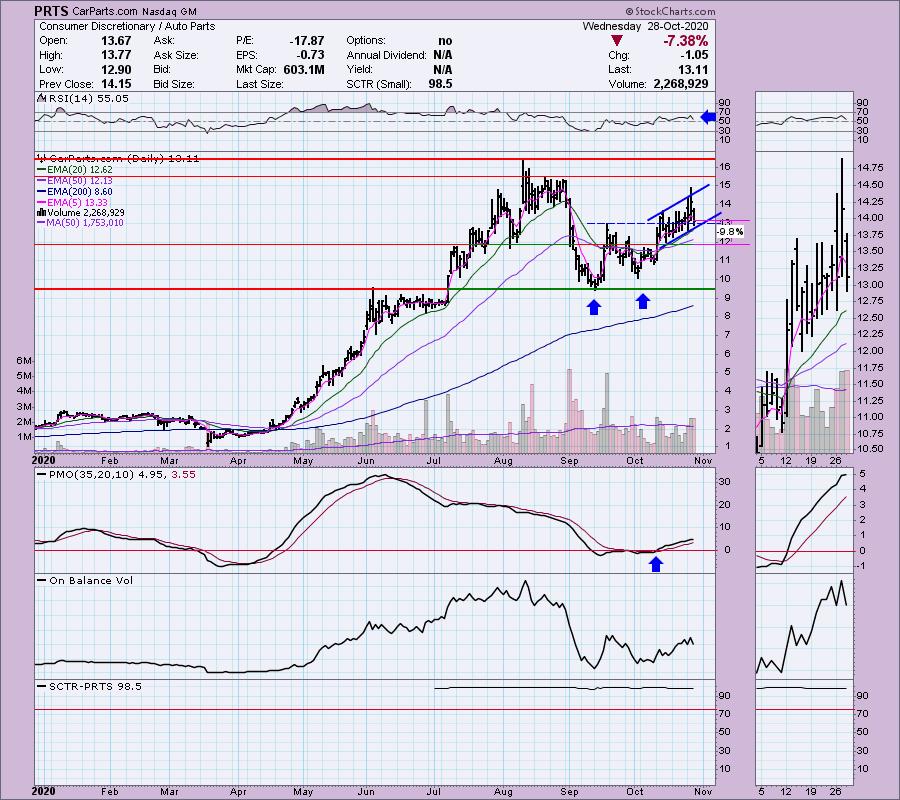 The weekly RSI is positive. Unfortunately the PMO is on a SELL signal in overbought territory. Now you can see why I insist on a stop.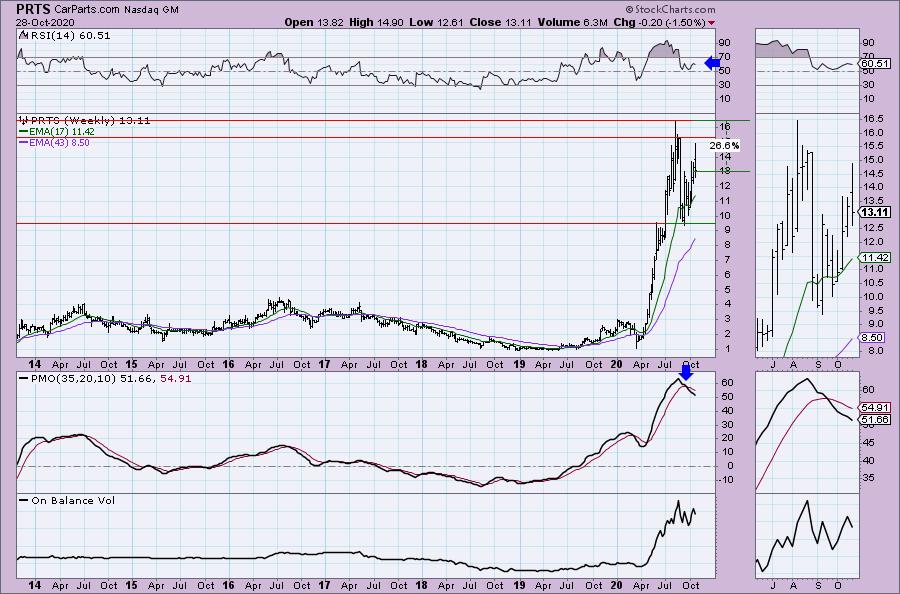 ---
Hologic, Inc. (HOLX)
EARNINGS: 11/4/2020 (AMC)
Hologic, Inc. engages in the development, manufacture, and supply of diagnostics products, medical imaging systems, and surgical products dedicated to serve the healthcare needs of women. It operates through the following business segments: Breast Health, Diagnostics, Medical Aesthetics, GYN Surgical, and Skeletal Health. The Breast Health segment includes a broad portfolio of breast imaging and related products and accessories, including digital mammography systems, computer-aided detection, for mammography and minimally invasive breast biopsy devices, breast biopsy site markers, and breast biopsy guidance systems. The Diagnostics segment comprises Aptima family of Assays, target capture/nucleic acid extraction techonolgy, transcription-mediated amplification technology, hybridization protection assay and dual kinetic assat technologies, instrumentation, and Invader Chemistry Platform. The Medical Aesthetics segment offers SculpSure; PicoSure, MedLite, and RevLite; and MonaLisa Touch. The GYN Surgical segment encompasses the NovaSure Endometrial Ablation System and the MyoSure Hysteroscopic Tissue Removal System. The Skeletal Health segment covers the discovery and horizon X-ray bone densitometry system, an ultrasound-based osteoporosis assessment product, and Fluoroscan mini C-arm imaging products. The company was founded by S. David Ellenbogen and Jay A. Stein in 1986 and is headquartered in Marlborough, MA.
You may note that this stock isn't in alphabetical order with the other four. The reason is that this was going to be Teledoc (TDOC). However, I realized they had reported earnings after the bell and were down almost 5% in after hours trading. I decided to go to my alternate, Hologic (HOLX) which is down -1.16% in after hours trading. I still like and own TDOC, but decided against it at the last minute. I didn't annotate the cup and handle on this chart, but I suspect you can see it. This rally would be the execution of the pattern. This week it was up 4%+ and today it pulled back to the breakout area. I like that I don't have to set a deep stop and if it is down in after hours trading, I could make that stop even thinner on a good entry.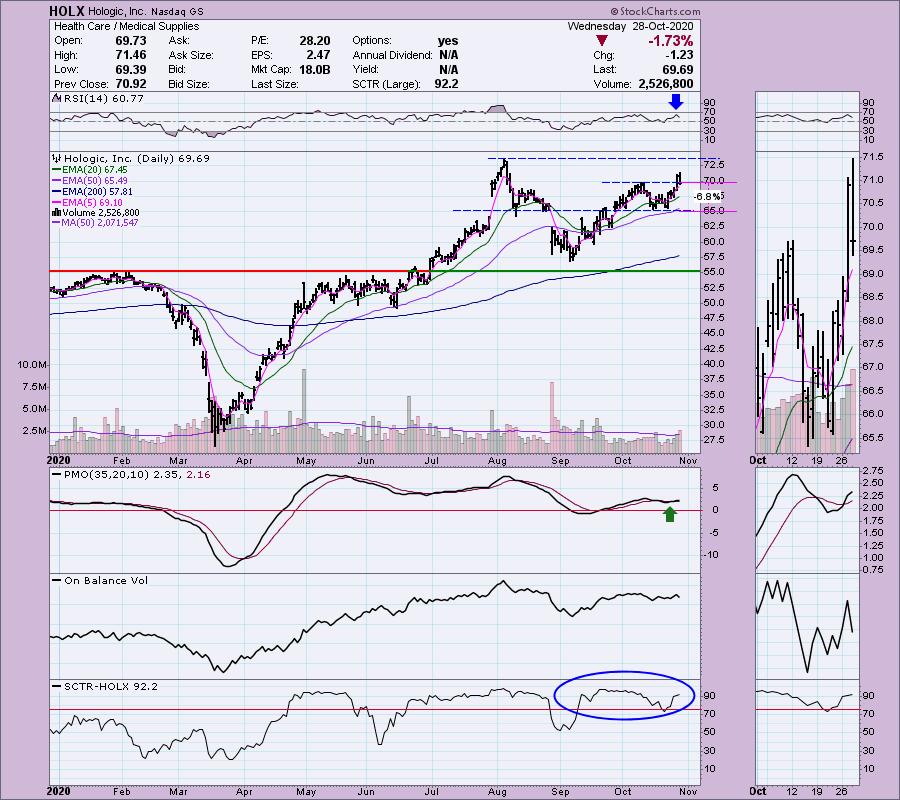 The weekly PMO has bottomed above the signal line but it does appear to be flattening rather that rising. The RSI is positive.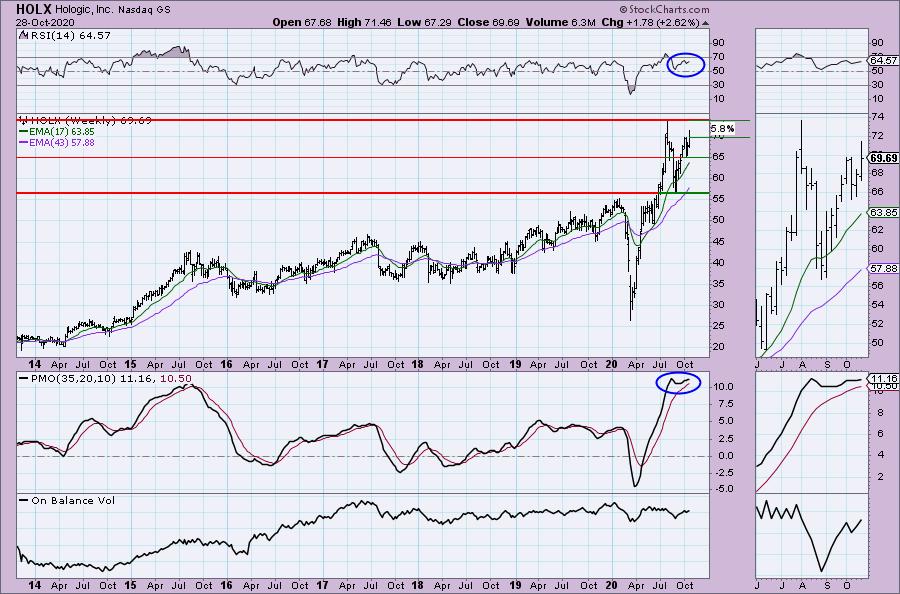 Full Disclosure: I'm about 35% invested and 65% is in 'cash', meaning in money markets and readily available to trade with.
---
Current Market Outlook:
Market Environment: It is important to consider the odds for success by assessing the market tides. The following chart uses different methodologies for objectively showing the depth and trend of participation for intermediate- and long-term time frames.
The Silver Cross Index (SCI) shows the percentage of SPX stocks on IT Trend Model BUY signals (20-EMA > 50-EMA)
The Golden Cross Index (GCI) shows the percentage of SPX stocks on LT Trend Model BUY signals (50-EMA > 200-EMA)
The Bullish Percent Index (BPI) shows the percentage of SPX stocks on Point & Figure BUY signals.
Don't forget that as a "Diamonds" member, you have access to our GCI/SCI curated ChartList on DecisionPoint.com. You'll find it under "Members Only" links on the left side on the Blogs and Links Page.
Here is the current chart: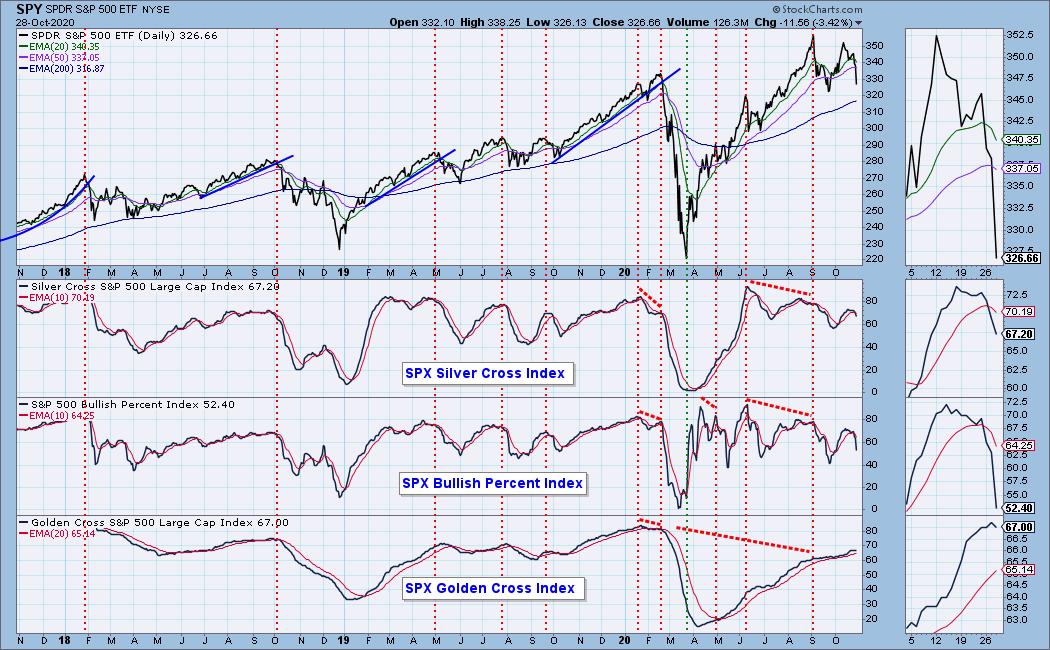 Diamond Index:
Diamond Scan Results: 1
Diamond Dog Scan Results: 76
Diamond Bull/Bear Ratio: 0.01
Technical Analysis is a windsock, not a crystal ball.
Happy Charting!
- Erin
erin@decisionpoint.com
---
Watch the latest episode of DecisionPoint with Carl & Erin Swenlin on Mondays 7:00p EST or on the DecisionPoint playlist on the StockCharts TV YouTube channel here!
---
---
NOTE: The stocks reported herein are from mechanical trading model scans that are based upon moving average relationships, momentum and volume. DecisionPoint analysis is then applied to get five selections from the scans. The selections given should prompt readers to do a chart review using their own analysis process. This letter is not a call for a specific action to buy, sell or short any of the stocks provided. There are NO sure things or guaranteed returns on the daily selection of "diamonds in the rough."
---
Helpful DecisionPoint Links:
DecisionPoint Shared ChartList and DecisionPoint Chart Gallery
Price Momentum Oscillator (PMO)
Swenlin Trading Oscillators (STO-B and STO-V)
For more links, go to DecisionPoint.com!