Mary Ellen McGonagle and I discussed the resurgence of the Semiconductors on our Chartwise Women Q3 Award Show (I'll be sending the link out shortly)! One of our readers requested an old standby and I have included a beat down Semiconductor that could catch wind in its sails if this industry continues to rally. Reader requests were extraordinarily high-quality today. Narrowing it down to four was very difficult. Thank you to Joe, Brian, Jerry, Joe, Brandon and Olivia for sending in your picks! Looking forward to tomorrow's Diamond Mine. We have some interesting movers this week and I'll be running the momentum sleepers scan to scope out opportunities going into next week.
Today's "Diamonds in the Rough": ACMR, AMD, AWK, GLUU, and ROKU.
The requests that I will NOT be covering today but deserve a look are: MIK, SO, AAPL, OSTK and CNC.
---
---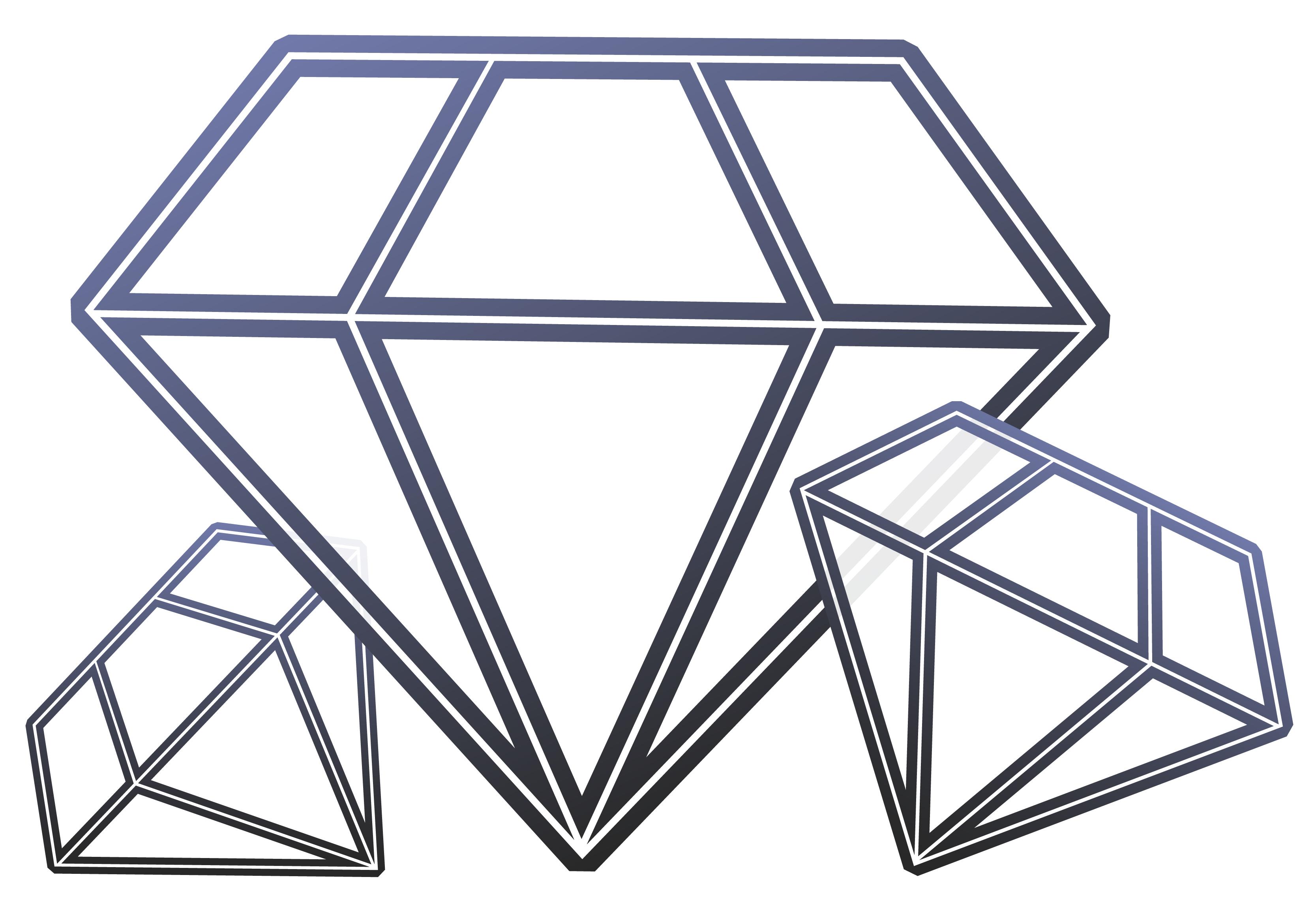 Diamond Mine Information:
Recording from 9/25/2020 is at this link. Access Passcode: w+*x#H00
Register in advance for the next "DecisionPoint Diamond Mine" trading room on Friday (10/2/2020) 12:00p ET:
Here is this week's registration link. Password: bull-bear
Please do not share these links! They are for Diamonds subscribers ONLY! For best results, copy and paste the passwords.
---
---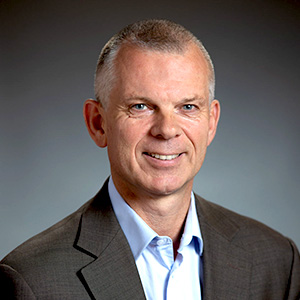 Don't miss the October 5th free DP Trading Room! I will have guest Julius de Kempenaer from RRG Research. He will show us how he uses RRG to trade!
***Click here to register for this recurring free DecisionPoint Trading Room!***
Did you miss the 9/28 trading room? Here is a link to the recording (password: FT&&l3#K). For best results, copy and paste the password to avoid typos.
---
---
Welcome to DecisionPoint Daily Diamonds, wherein I highlight five "diamonds in the rough." These are selected from the results of my DecisionPoint scans, which search for stocks that could benefit from the trend and condition of the market. Remember, these are not recommendations to buy or sell, but are the most interesting of the stocks that surfaced in my scans. My objective is to save you the work of the initial, tedious culling process, but you need to apply your own analysis to see if these stocks pique your interest as well. There are no guaranteed winners here!
---
---


ACM Research, Inc. (ACMR)
EARNINGS: 11/4/2020 (AMC)
ACM Research, Inc. engages in the development, manufacture, and sale of single-wafer wet cleaning equipment. The firm supplies process solutions that semi conductor manufacturers can use in numerous manufacturing steps to remove particles, contaminants and other random defects, and thereby improve product yield. The company tools can be used in fabricating foundry, logic and memory chips, including dynamic random-access memory, or DRAM, and 3D NAND-flash memory chips. The company was founded by David H. Wang and Hui Wang in January 1998 and is headquartered in Fremont, CA.
Currently up +0.33% in after hours trading, ACMR is my semiconductor pick. This one came up on "Carl's Scan" which finds beat down stocks that are finally seeing a rise in momentum with an IT Trend Model Neutral or Sell signal. Today's breakout move closed the gap from earlier in September, but it didn't close above it. Given the improving indicators, I am looking for it to do so. Price closed comfortably above the 20-EMA, the PMO is about to trigger a BUY signal and the RSI very close to moving above 50 into positive territory. The SCTR is top-notch and the OBV is confirming this rally.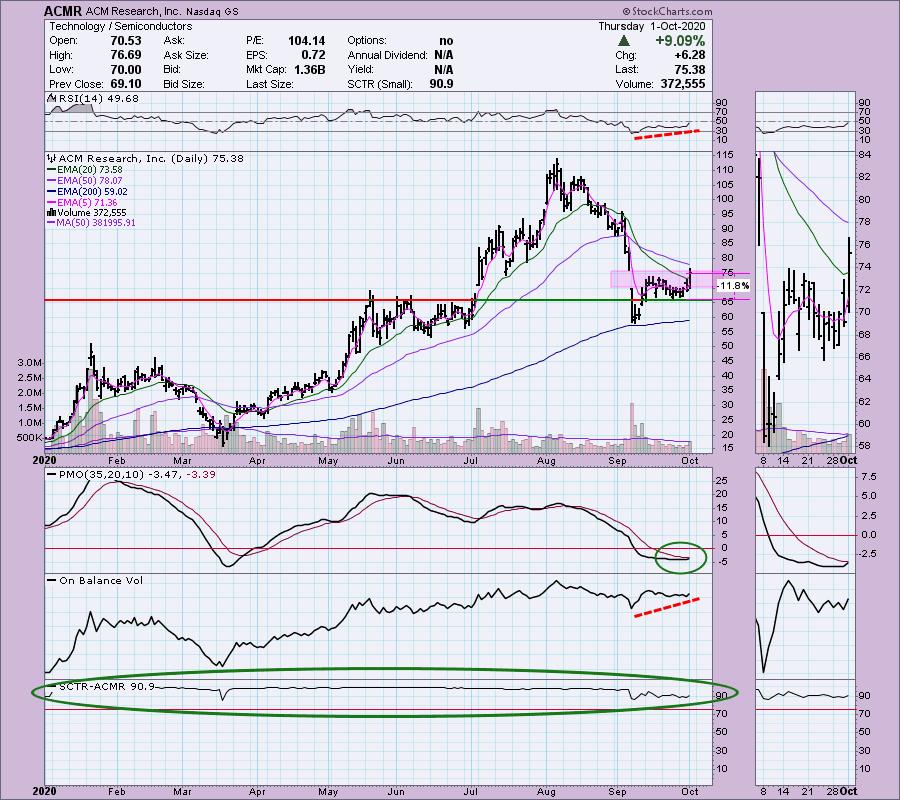 As noted above, it's a beat down stock, so a negative weekly chart is par for the course. However, this one used that correction to clear very overbought conditions on the RSI. The OBV is confirming the current rising trend. I'd love to see it hit is July high, but I'd be happy with a move above $90.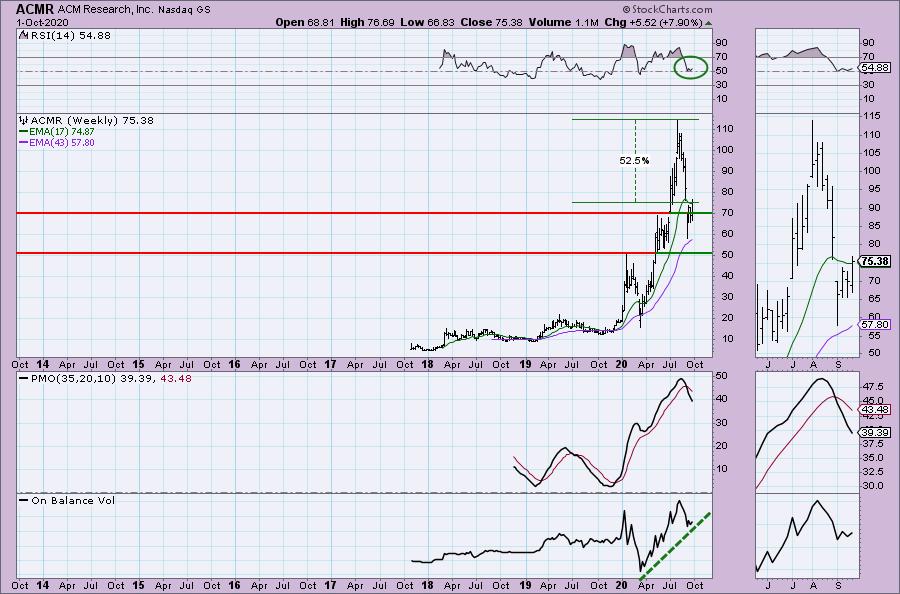 ---
Advanced Micro Devices, Inc. (AMD)
EARNINGS: 10/27/2020 (AMC)
Advanced Micro Devices, Inc. engages in the provision of semiconductor businesses. It operates through the following segments: Computing & Graphics, and Enterprise, Embedded and Semi-Custom. The Computing and Graphics segment includes desktop and notebook processors and chipsets, discrete and integrated graphics processing units, data center and professional GPUs and development services. The Enterprise, Embedded and Semi-Custom segment includes server and embedded processors, semi-custom System-on-Chip products, development services and technology for game consoles. The company was founded by W. J. Sanders III on May 1, 1969 and is headquartered in Santa Clara, CA.
Current AMD is down -0.02% in after hours trading. I covered AMD in the April 14th Diamond Report. It didn't really get moving after that until July, but that move has been stellar. This one has been a long-term hold in my account previously. Certainly wish it were now. I sold it when the market crashed and never got back in. I will be looking at semiconductors tomorrow given the small breakout on the NDX. The chart is quite favorable with a positive RSI that is rising and not overbought. We have a nice cup shaped basing pattern. My only concern would be a possible "handle" to go with that cup, but it would offer a better entry as the stop level is very deep. Look at the volume coming in on this rally. The PMO is just now turning back up. Despite the rather flat trading range back in the spring, the SCTR has remained very strong.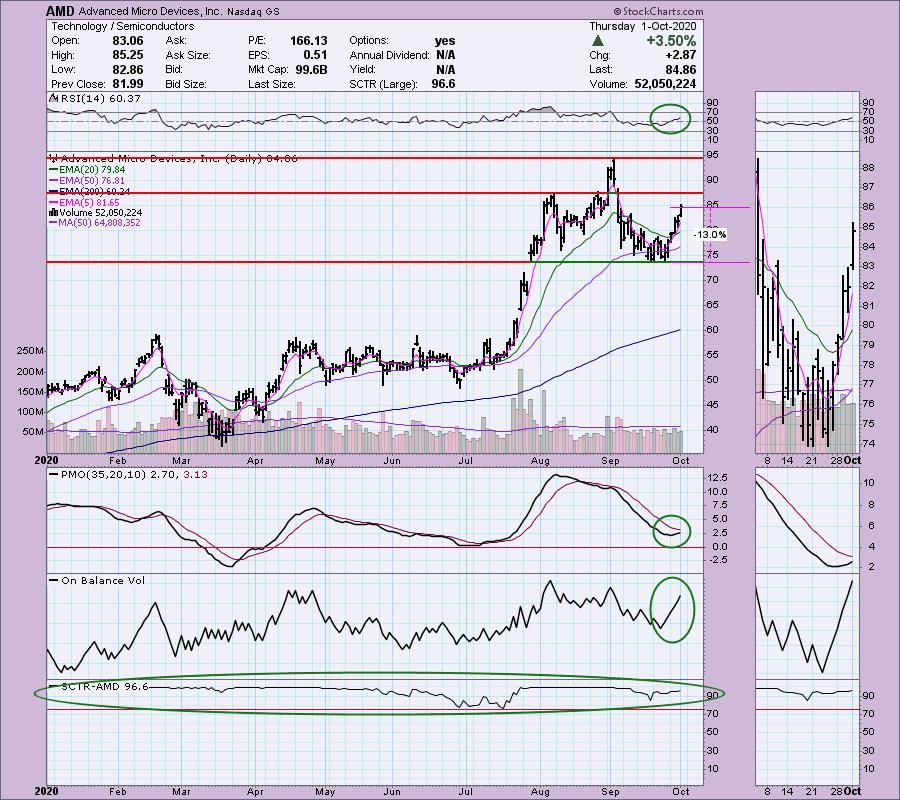 The PMO has bottomed above its signal line and I find that especially bullish. We have a large bull flag emerging. The RSI is positive and the OBV is trending higher.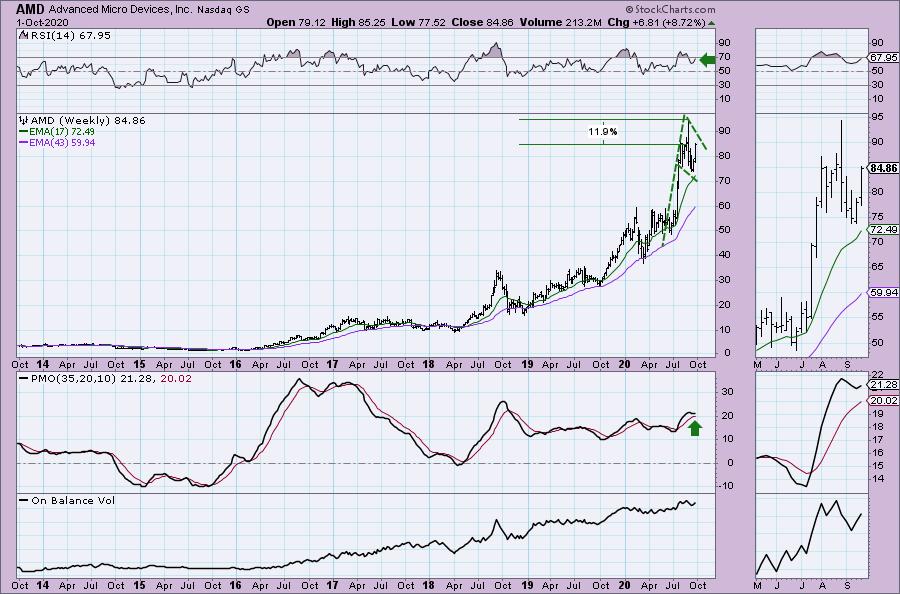 ---
Don't forget, on Thursdays I look at reader-requested symbols, so shoot me an email at erin@decisionpoint.com. I read every email I receive and try to answer them all!
---


American Water Works Co. Inc. (AWK)
EARNINGS: 11/4/2020 (AMC)
American Water Works Co., Inc. engages in the provision of complementary water and wastewater services. It operates through the following segments: Regulated Businesses; Market-Based Businesses; and Other. The Regulated Businesses segment provides water and wastewater services to customers. The Market-Based Businesses segment is responsible for Military Services Group, Contract Operations Group, Homeowner Services Group, and Keystone Operations. The Other segment includes corporate costs that are not allocated to the Company's operating segments, eliminations of inter-segment transactions, fair value adjustments and associated income and deductions related to the acquisitions that have not been allocated to the operating segments for evaluation of performance and allocation of resource purposes. The company was founded in 1886 and is headquartered in Camden, NJ.
AWK is up near 1% in after hours trading. I covered AWK in the May 26th Diamond Report. It's holding a nice profit, but just like AMD it needed to really ripen for the 3rd quarter. Really nice chart, Joe. Today price broke out above overhead resistance that has held since August. It is arriving to more difficult overhead resistance at the August top, but given the very positive indicators, I would say it will surface above it. All indicators are rising and the PMO had a BUY signal in oversold territory just above zero.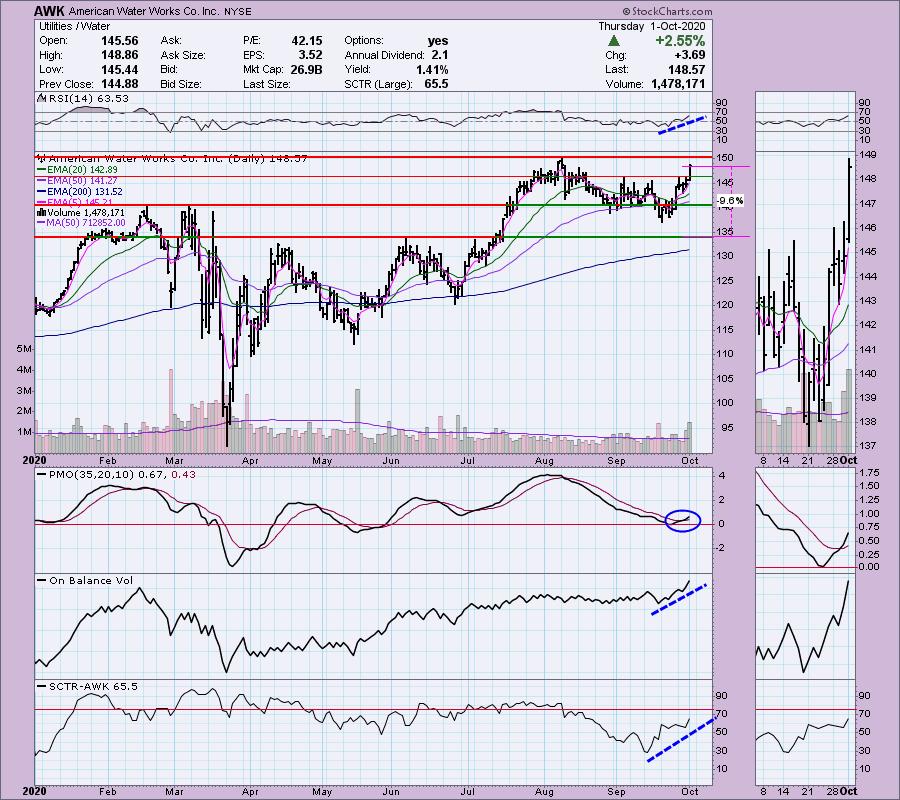 The weekly chart looks just as interesting. The weekly PMO has bottomed above its signal line which I think is especially bullish in the intermediate term. The RSI is positive and not overbought.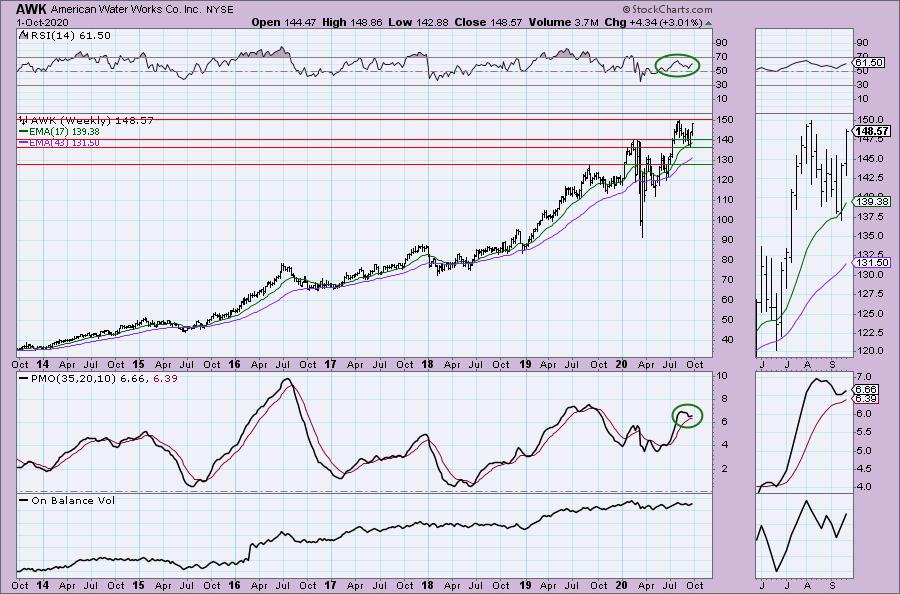 ---
Glu Mobile Inc. (GLUU)
EARNINGS: 11/5/2020 (AMC)
Glu Mobile, Inc. engages in developing, publishing, and marketing a portfolio of games designed for users of smartphones and tablet devices who download and make purchases within its games through direct-to-consumer digital storefronts such as Apple App Store and Google Play Store. It operates through the following geographical segments: United States of America; Americas excluding United States of America; Europe, the Middle East, and Africa; and Asia Pacific. The company was founded by Paul Zuzelo in May 2001 and is headquartered in San Francisco, CA.
GLUU is currently down -1.03% in after hours trading, so if you like the chart, you should be able to get a better entry than today's close. Price broke out from a bullish falling wedge pattern. The breakout isn't decisive and I'm not happy with it being down in after hours trading, but it is a bullish chart. The RSI just hit positive territory and the PMO is on an oversold BUY signal. The OBV is confirming this recent rally. Price is getting held up by the 50-EMA. I'd like to see that challenged before I'd enter, but that's me.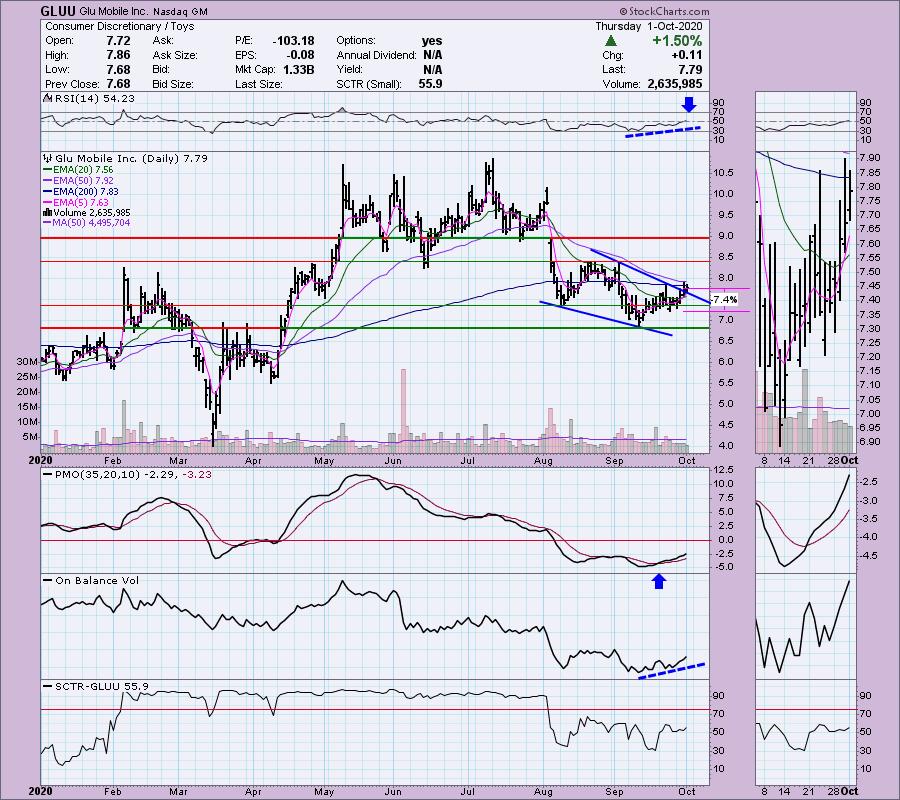 The weekly chart is improving. We have a beautiful intermediate-term OBV positive divergence that is compelling and the RSI is about to reach positive territory. Beware of that negative PMO though. Support a $7 really must hold.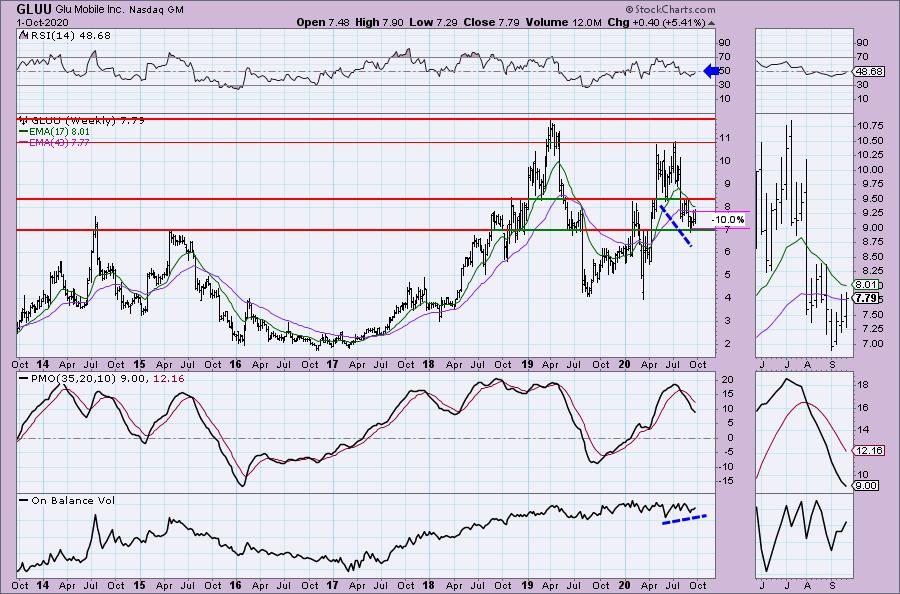 ---
Roku, Inc. (ROKU)
EARNINGS: 11/4/2020 (AMC)
Roku, Inc. engages in the provision of a streaming platform for television. It operates through the following business segments: Player and Platform. The Player segment consists of net sales of streaming media players and accessories through retailers and distributors, as well as directly to customers through the company's website. Its Roku platform allows users to personalize their content selection with cable television replacement offerings and other streaming services that suit their budget and needs. Its product categories include advertising, Roku TVs and Streaming Players. The company was founded by Anthony J. Wood in October 2002 and is headquartered in Los Gatos, CA.
Up +0.78% in after hours trading, ROKU was covered reader request in the June 18th Diamond Report, and I picked it in the July 14th Diamond Report. When Mark gave it to me as a request it had just closed at $127.79, so he logged a 56% gain and when I presented it as my own in July it was at $150.36 which is a not too shabby 33% gain. Fortunately Diamond readers won because they were exposed to it both times! It's in a strong rising trend that is not parabolic which is good for risk reduction. The PMO is accelerating higher and price closed near its high for the day. Not surprisingly, in the Chartwise Women Awards Show today, ROKU was nominated as Best Technology Stock for the 3rd quarter. It has plenty of upside potential. You could set a deep stop, I honestly don't think it will be hit for some time.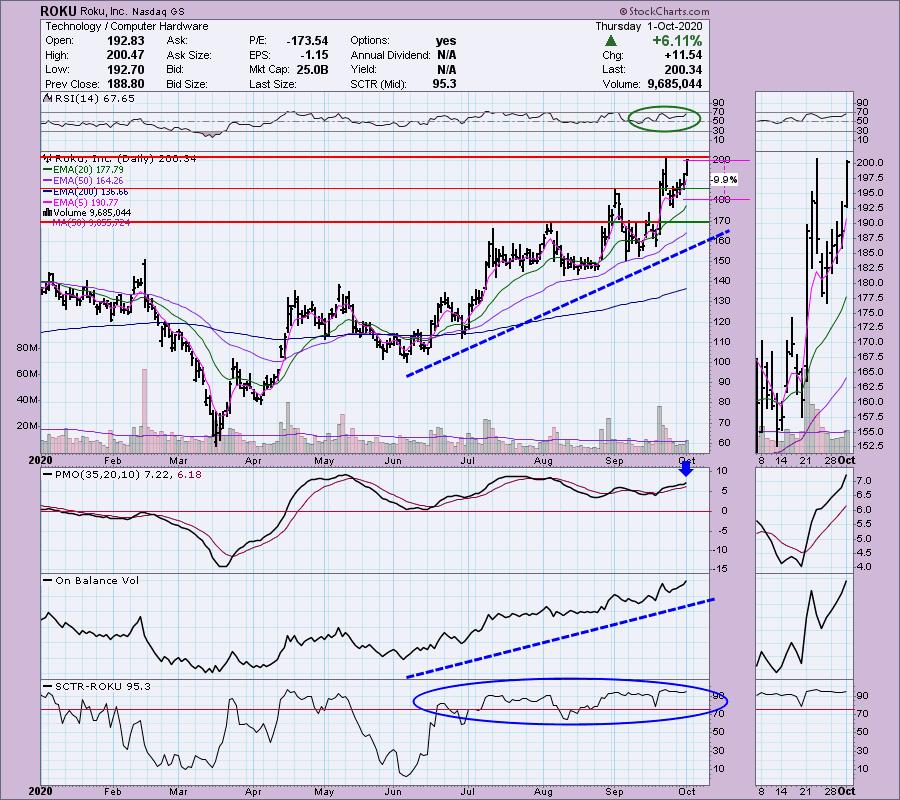 Lots of intermediate-term confirmation of the trend and momentum. Excellent that the PMO is not overbought too!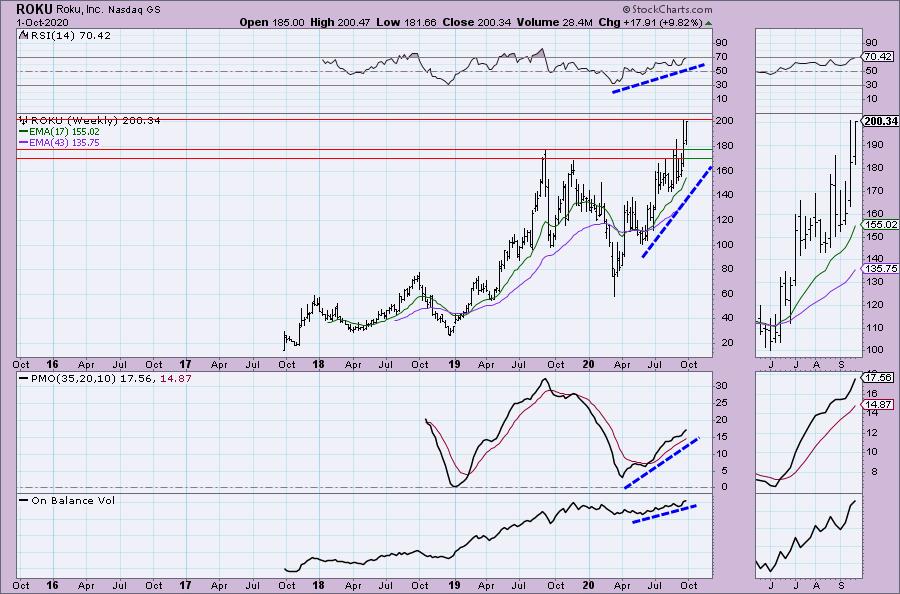 Full Disclosure: I decided to add both RUN and SPWR to my portfolio today. Once I have a good gain, I'll set a trailing stop as both of these stocks are in parabolic runs and who knows when they will correct, but parabolics always do eventually. I'm about 40% invested and 60% is in 'cash', meaning in money markets and readily available to trade with. If the market can overcome overhead resistance, I'll be adding more equities to my holdings, likely semiconductors or AWK. I want to see a pullback on ROKU if possible.
---
Current Market Outlook:
Market Environment: It is important to consider the odds for success by assessing the market tides. The following chart uses different methodologies for objectively showing the depth and trend of participation for intermediate- and long-term time frames.
The Silver Cross Index (SCI) shows the percentage of SPX stocks on IT Trend Model BUY signals (20-EMA > 50-EMA)
The Golden Cross Index (GCI) shows the percentage of SPX stocks on LT Trend Model BUY signals (50-EMA > 200-EMA)
The Bullish Percent Index (BPI) shows the percentage of SPX stocks on Point & Figure BUY signals.
Don't forget that as a "Diamonds" member, you have access to our GCI/SCI curated ChartList on DecisionPoint.com. You'll find it under "Members Only" links on the left side on the Blogs and Links Page.
Here is the current chart: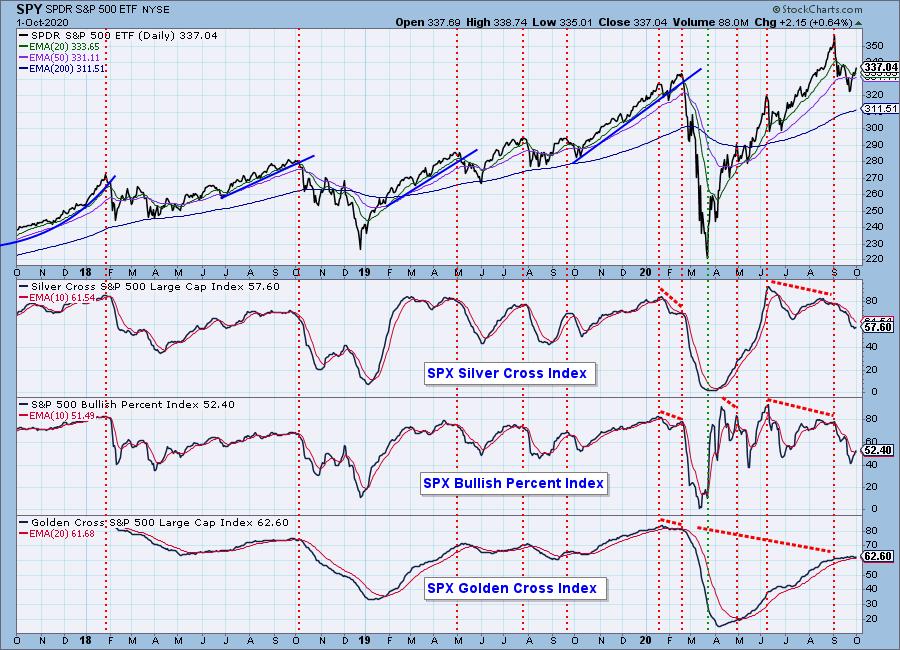 Diamond Index:
Diamond Scan Results: 90
Diamond Dog Scan Results: 7
Diamond Bull/Bear Ratio: 12.86
Technical Analysis is a windsock, not a crystal ball.
Happy Charting!
- Erin
erin@decisionpoint.com
---
Watch the latest episode of DecisionPoint with Carl & Erin Swenlin on Mondays 7:00p EST or on the DecisionPoint playlist on the StockCharts TV YouTube channel here!
---
---
NOTE: The stocks reported herein are from mechanical trading model scans that are based upon moving average relationships, momentum and volume. DecisionPoint analysis is then applied to get five selections from the scans. The selections given should prompt readers to do a chart review using their own analysis process. This letter is not a call for a specific action to buy, sell or short any of the stocks provided. There are NO sure things or guaranteed returns on the daily selection of "diamonds in the rough."
---
Helpful DecisionPoint Links:
DecisionPoint Shared ChartList and DecisionPoint Chart Gallery
Price Momentum Oscillator (PMO)
Swenlin Trading Oscillators (STO-B and STO-V)
For more links, go to DecisionPoint.com!