It isn't surprising to see very positive results this week given favorable seasonality and holiday trading. Considering we were working with only one and two days of market action, I think the "diamonds in the rough" shined up nicely with the arrival of Santa. I am bullish on all of the stocks going forward except for one, BEP, and I'm only "neutral" on it, not bearish. Neutral positions mean I could see the stock going either way in the future based on the indicators and price action.
The biggest winner was IDN at +4.14% and the biggest loser was PG at -0.66%. We'll look at both. I decided to make "today's" charts green for the "darling" and red for the "dud" so it isn't confusing having two plum charts for each.
Overall the market is softening in preparation for what I believe will be a difficult January so consider putting in hard stops at the very least for protection. I'm not looking for a new bear market, just a somewhat painful correction. Read the DP Alert for more information when it goes out in a few hours.
The new Diamond Mine registration link is available below. Remember to save your confirmation email from Zoom. If for some reason you can't find it, try re-registering using the links in the latest Diamond Report and you may be able to enter that way.
We're back on the regular schedule next week with Diamond Reports on Tuesday, Wednesday and Thursday (4 reader requests and one of mine) followed by the Diamond Mine trading room and Recap on Friday.
---
---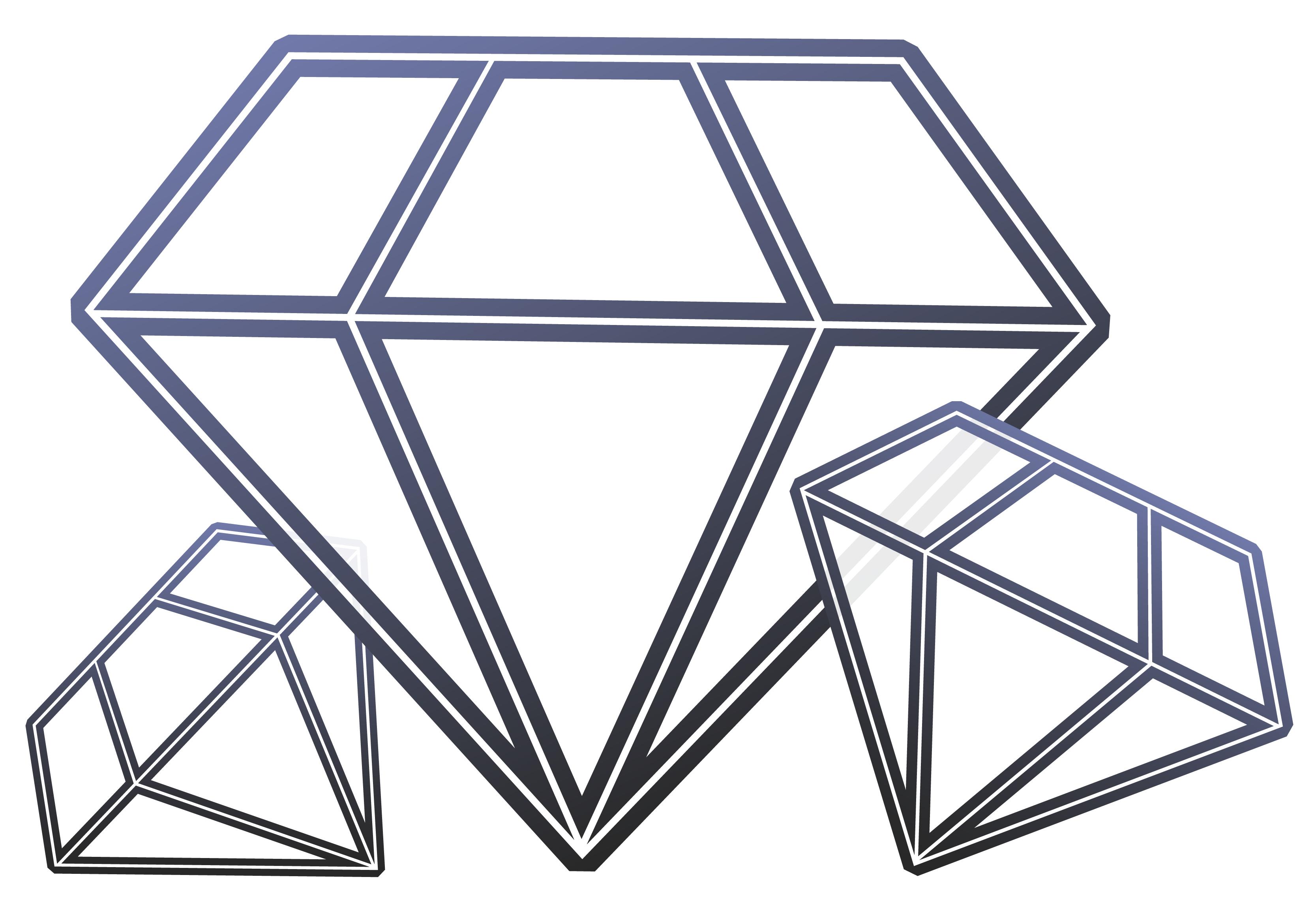 Diamond Mine Information:
Here is today's (12/30/2020) recording link. Access Passcode: b2(K+8jF
===============================================================================
Register in advance for the next "DecisionPoint Diamond Mine" trading room on FRIDAY (1/8/2021) 12:00p ET:
Here is theRegistration Link & Entry Password: winter
Please do not share these links! They are for Diamonds subscribers ONLY!
Save the registration confirmation email with login instructions in case Zoom doesn't notify you in time.
---
---
A few items about the spreadsheet: I decided it only fair to denote "reader requests" as I shouldn't get to take credit if they turn out great! I've put on the spreadsheet whether the RSI is positive (green) or negative (red). The PMO column tells you if it is rising (green) or falling (red). Finally I've added my own "Sparkle Factor" that gives you my assessment going forward, bullish (green), bearish (red) or neutral (gray). The Sparkle Factor is basically my thoughts on whether I expect it to rise or fall. A neutral means it could really go either way so it could be added to a watch list. If you're in a stock I consider "neutral" going forward, the ball is in your court.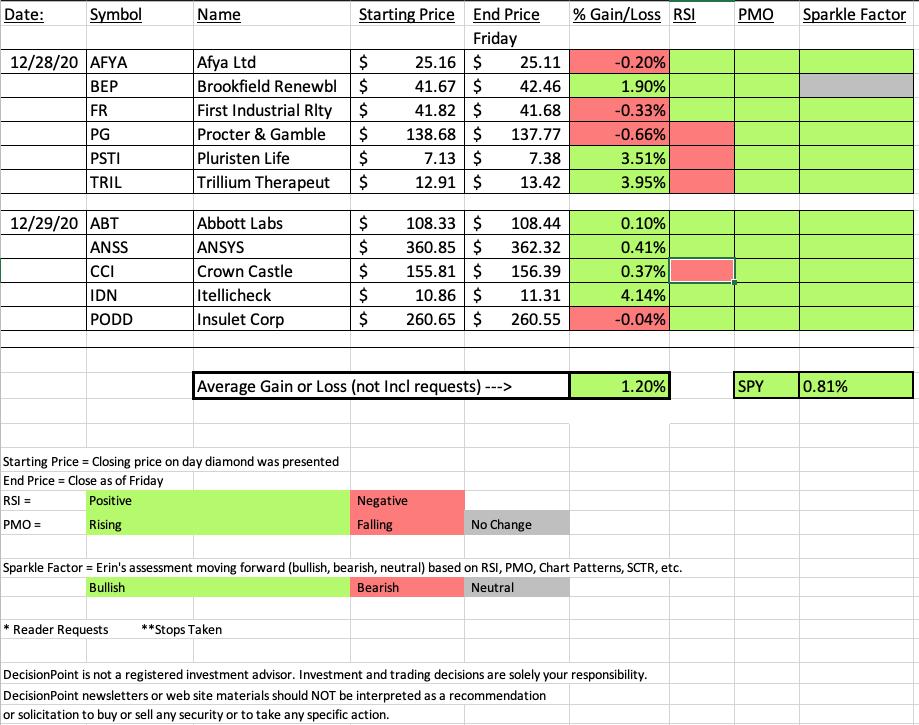 ---

It's FREE!
***Click here to register for this recurring free DecisionPoint Trading Room!***
Did you miss the 12/28 DP Trading Room! Here's a link to the recording with Passcode: #=5dJp=G
For best results, copy and paste the password to avoid typos.
---
Darling:
Intellicheck, Inc. (IDN)
EARNINGS: 3/10/2021 (AMC)
Intellicheck, Inc. engages in the development, integration, and marketing of threat and identity authentication solutions. It offers professional services, retail, age, defense, guest, and port ID. The company was founded in 1994 and is headquartered in Melville, NY.
Below is the commentary and chart from yesterday (12/29):
"We may have just missed this one as it is up +8.29% in after hours trading, but given the positive chart, it could move higher. The PMO is nearing a crossover BUY signal. The RSI is positive and not overbought on this pullback after a breakout. The SCTR just reached into the "hot zone" above 75. I set the stop at the early November tops."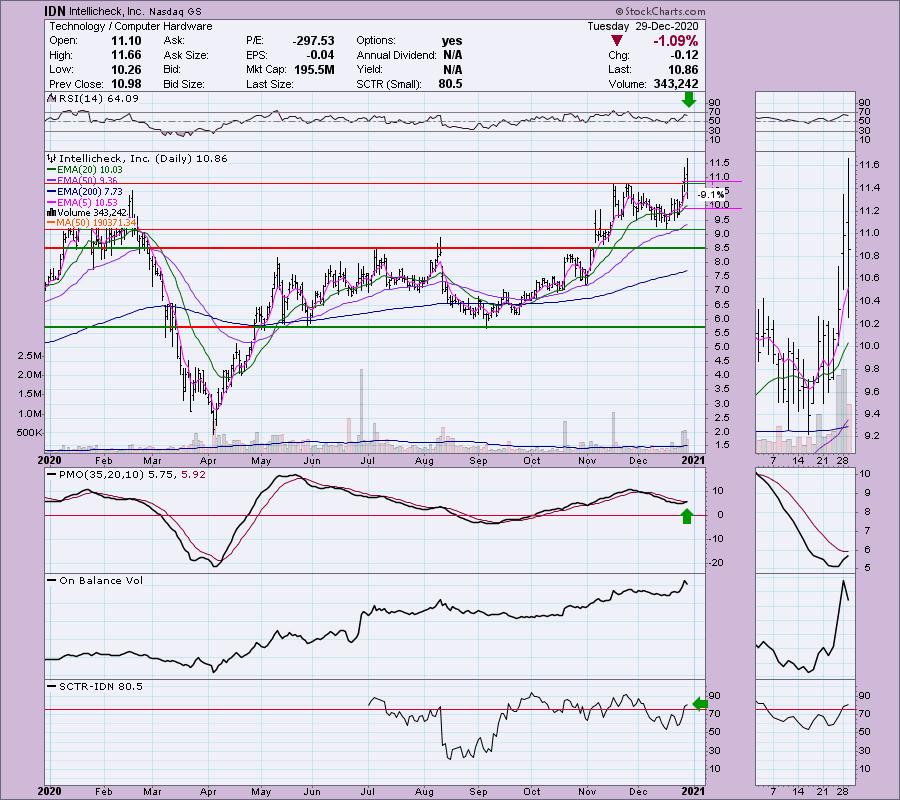 Here is today's chart:
I must say that I still love this chart. It is beginning to get overbought and if history is our guide, when the RSI gets overbought, it doesn't stay that way for long and is followed by a pullback. It was a great gain, but be alert when it hits overbought territory...maybe consider a hard stop if you haven't set one already. I didn't expect it to get this overbought so soon, but it was a 4%+ move today so it isn't surprising.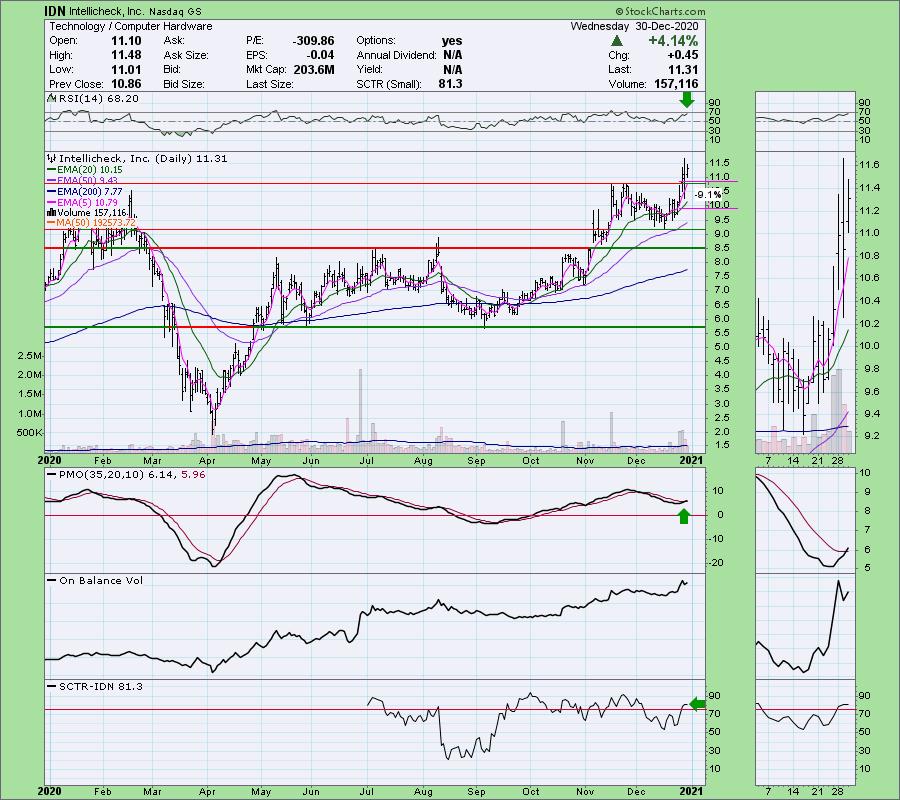 ---
---
Don't forget, on Thursdays I look at reader-requested symbols, so shoot me an email at erin@decisionpoint.com. I read every email I receive and try to answer them all!
---
---
Dud:
Procter & Gamble Co. (PG)
EARNINGS: 1/20/2021 (BMO)
Procter & Gamble Co. engages in the provision of branded consumer packaged goods. It operates through the following segments: Beauty; Grooming; Health Care; Fabric & Home Care; and Baby, Feminine & Family Care. The Beauty segment offers hair, skin, and personal care. The Grooming segment comprises of shave care like female and male blades and razors, pre and post shave products, and appliances. The Health Care segment includes oral care products like toothbrushes, toothpaste, and personal health care such as gastrointestinal, rapid diagnostics, respiratory, and vitamins, minerals, and supplements. The Fabric and Home Care segment consist of fabric enhancers, laundry additives and detergents, and air, dish, and surface care. The Baby, Feminine and Family Care segment sells baby wipes, diapers, and pants, adult incontinence, feminine care, paper towels, tissues, and toilet paper. The company was founded by William Procter and James Gamble in 1837 and is headquartered in Cincinnati, OH.
Commentary and Chart from 12/28:
"PG is currently up +0.22% in after hours trading. I covered PG back in the April 23rd Diamond Report (up 16.1% since). It's a Consumer Staple and therefore isn't always going to be the most 'sexy' investment, but with the market softening up in preparation for January, this may be an area to 'mine'. Unlike the last time it rallied in mid-December, we have an actual PMO BUY signal along with an RSI that just reached positive territory. Last time the PMO hadn't had the crossover. The 5-EMA is about to cross above the 20-EMA which would give us a Short-Term Trend Model BUY signal. Looking in the thumbnail, I believe you can make a case for a short-term reverse head and shoulders (bullish). Price closed above the 20/50-EMAs. I love that the stop level is very tight and obvious."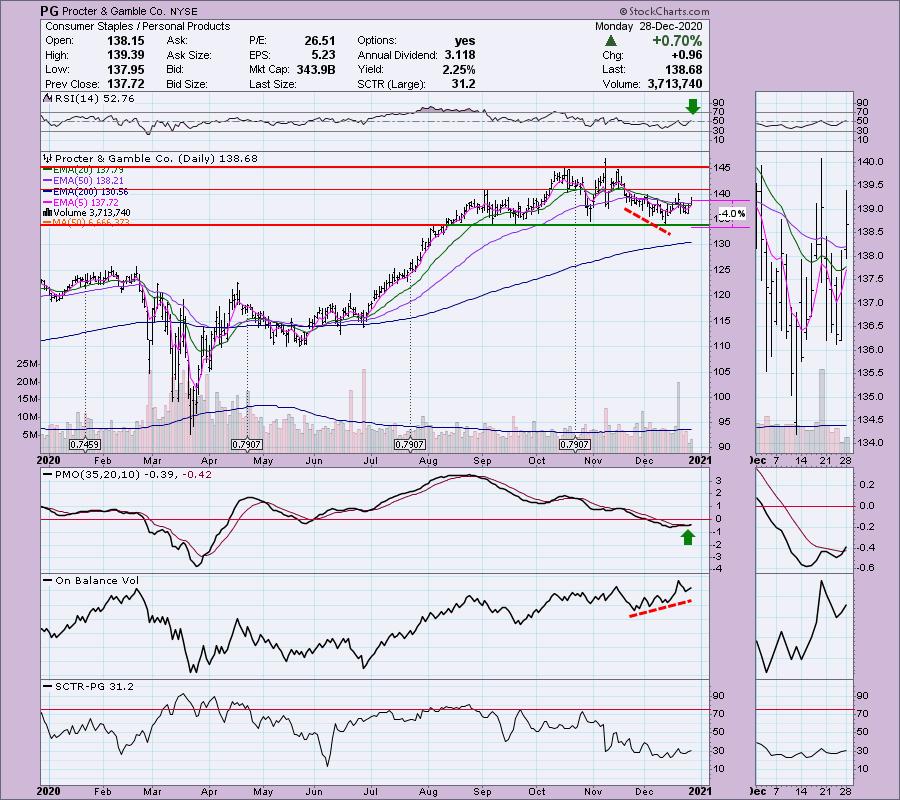 Below is today's chart:
The RSI is still negative and the PMO is beginning to decelerate. I wouldn't trash this one so quickly though. It is in a defensive area of the market that may prove helpful in January. We had a considerable positive OBV divergence that hasn't played out yet. We have what could be a reverse head and shoulders. The issue right now is its inability to hold above the 50-EMA which is what made it bullish when I picked it on Monday. I still am bullish overall on PG and will probably keep it on my watch list going into next month.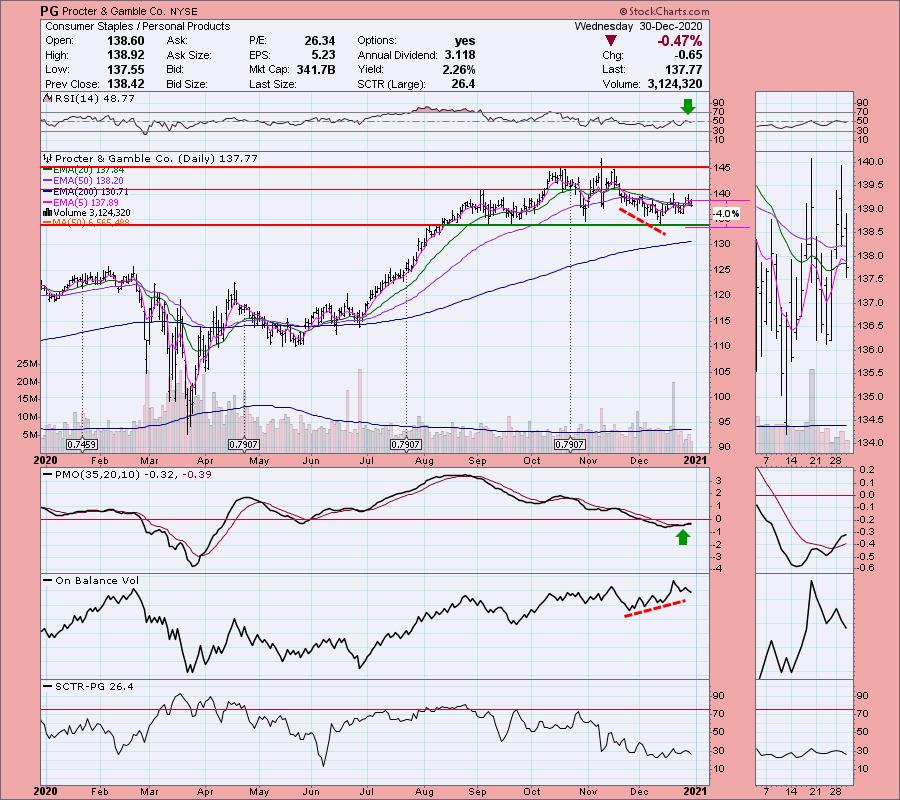 ---
THIS WEEK's Sector Performance: Since we still have trading tomorrow, here is what the sectors have done so far this week.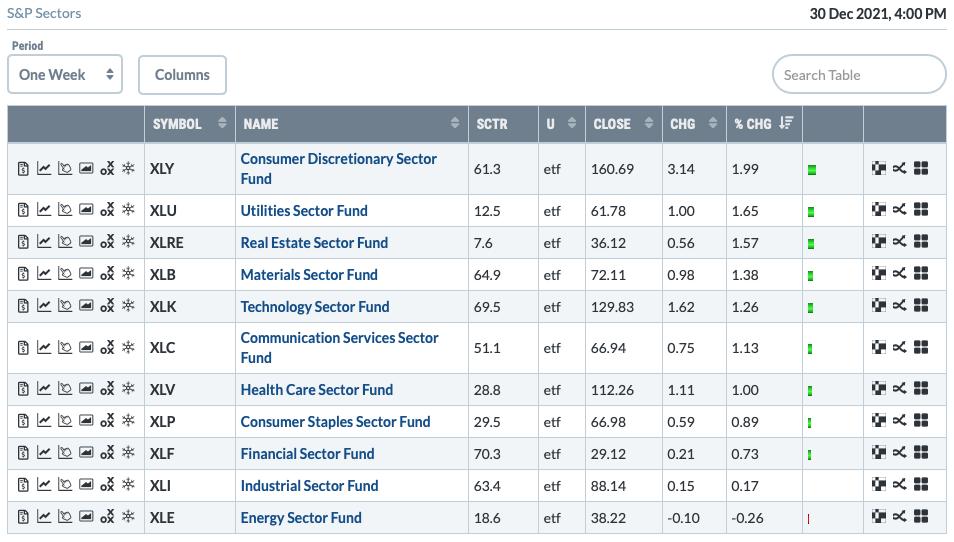 Click Here to view Carl's annotated Sector ChartList!
CONCLUSION:
It may surprise you if you were in the Diamond Mine today that my sector selection going into next week is Utilities (XLU). I had discussed the possibility of Real Estate (XLRE) and Financials (XLF), but looking at those sector charts, I didn't care for them. XLRE is moving sideways with no breakout and XLF is actually very overbought. XLU is oversold and the PMO is beginning to turn up in oversold territory. The indicators under the hood are very oversold and in the very short term, they are beginning to rise. This is also a well-known defensive sector and if January proves to be difficult on a correction, this sector could see more interest.
Sector to Watch: Utilities (XLU)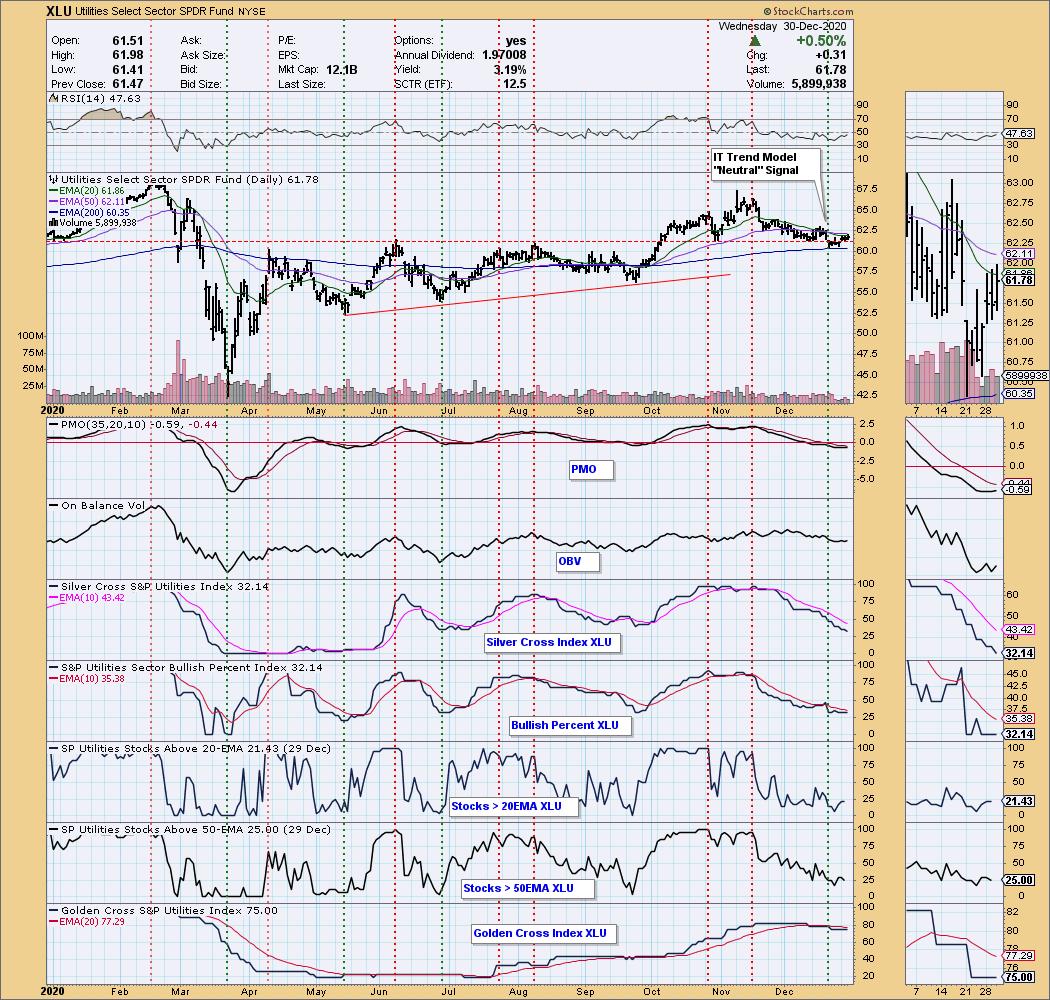 Industry Group to Watch: Water Industry Group ($DJUSWU)
It has the highest SCTR in the Utilities Sector and the chart is really improving in comparison to the others. The RSI has just reached positive territory and the PMO is bottoming in oversold territory. We now have a bullish falling wedge and lots of accumulation this week.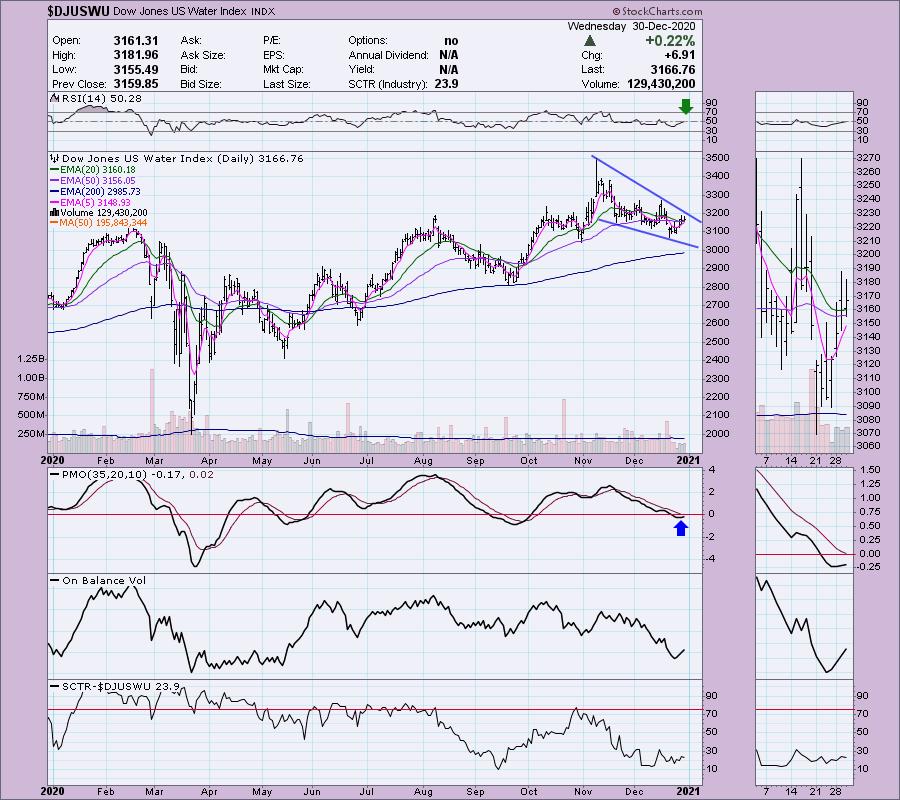 Go to our Sector ChartList on DecisionPoint.com to get an in depth view of all the sectors.
Have a great New Year! Happy Charting!
- Erin
erin@decisionpoint.com
---
Full Disclosure: I'm about 50% invested right now and 50% is in 'cash', meaning in money markets and readily available to trade with. I'm not going to add to my portfolio until January.
Technical Analysis is a windsock, not a crystal ball.
---
Watch the latest episode of DecisionPoint with Carl & Erin Swenlin on Mondays 7:00p EST or on the DecisionPoint playlist on the StockCharts TV YouTube channel here!
---
---
NOTE: The stocks reported herein are from mechanical trading model scans that are based upon moving average relationships, momentum and volume. DecisionPoint analysis is then applied to get five selections from the scans. The selections given should prompt readers to do a chart review using their own analysis process. This letter is not a call for a specific action to buy, sell or short any of the stocks provided. There are NO sure things or guaranteed returns on the daily selection of "diamonds in the rough."
---
Helpful DecisionPoint Links:
DecisionPoint Shared ChartList and DecisionPoint Chart Gallery
Price Momentum Oscillator (PMO)
Swenlin Trading Oscillators (STO-B and STO-V)
For more links, go to DecisionPoint.com!