Utilities (XLU) is continuing to look great. In fact Utilities ETFs (Vanguard, Fidelity, etc) landed in the scans, including XLU. I brought up last Thursday that this sector as well as Consumer Staples (XLP) were starting to see positive momentum and upcoming PMO BUY signals. They continue to perform well which is why you'll find a few of these "diamonds in the rough" in those sectors.
I also included an Industrial stock as well as an Infrastructure ETF. I couldn't resist the Health Care stock I've included. That sector isn't the best performer, but it is considered defensive to some degree.
Today's "Diamonds in the Rough" are: PAVE, PNR, SPB, SRE and STE.
---
** Everyone needs a vacation and I am no exception. I've planned a mini vacation to local wine country mid-week 3/23 through 3/25. The DecisionPoint Alert will be published, but I'll be taking the week off for Diamonds with the exception of the 3/26 Diamond Mine. I need to fit wine tasting in somehow! To compensate you for that week, I am adding a week to the end of all Diamond and Bundle subscribers' terms when I return, because who knows, I may end up writing a report or two. **
---
---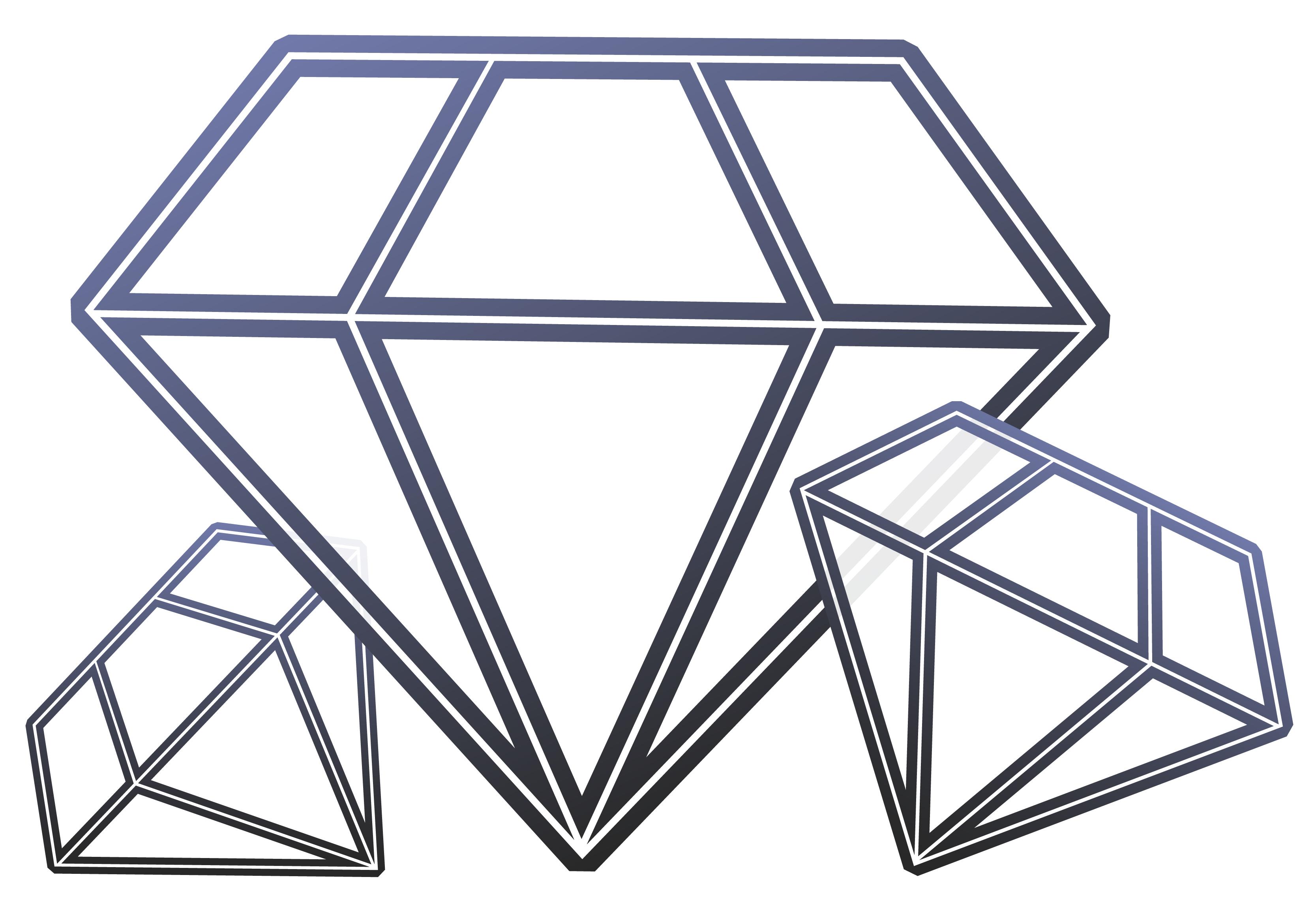 Diamond Mine Registration Information:
When: Mar 19, 2021 09:00 AM Pacific Time (US and Canada)
Topic: DecisionPoint Diamond Mine (03/19/2021) LIVE Trading Room
Register in advance for this webinar at this REGISTRATION LINK.
After registering, you will receive a confirmation email containing information about joining the webinar, including the password.
=======================================================================
Recording Link:
Topic: DecisionPoint Diamond Mine (3/5/2021) LIVE Trading Room
Start Time : Mar 5, 2021 08:55 AM
Meeting RECORDING LINK.
Access Passcode: 2*cm7yhJ
---
---

***Click here to register for this recurring free DecisionPoint Trading Room on Mondays at Noon ET!***
+++++++++++++++++++++++++++++++++++++++++++++++++++++++++++++++++++++++++++++++
Free DP Trading Room RECORDING LINK:
Topic: DecisionPoint Trading Room
Start Time : Mar 8, 2021 09:00 AM PT
Free Trading Room RECORDING LINK.
Access Passcode: G@W.$M5B
For best results, copy and paste the access code to avoid typos.
---
---
Welcome to DecisionPoint Daily Diamonds, wherein I highlight five "diamonds in the rough." These are selected from the results of my DecisionPoint scans, which search for stocks that could benefit from the trend and condition of the market. Remember, these are not recommendations to buy or sell, but are the most interesting of the stocks that surfaced in my scans. My objective is to save you the work of the initial, tedious culling process, but you need to apply your own analysis to see if these stocks pique your interest as well. There are no guaranteed winners here!
---
---
Global X U.S. Infrastructure Development ETF (PAVE)
EARNINGS: N/A
PAVE tracks a market-cap-weighted index of US-listed companies that derive the majority of their revenue from or have a stated business purpose related to infrastructure development.
I like to include the Top Ten holdings for ETFs. The information is courtesy of Yahoo Finance.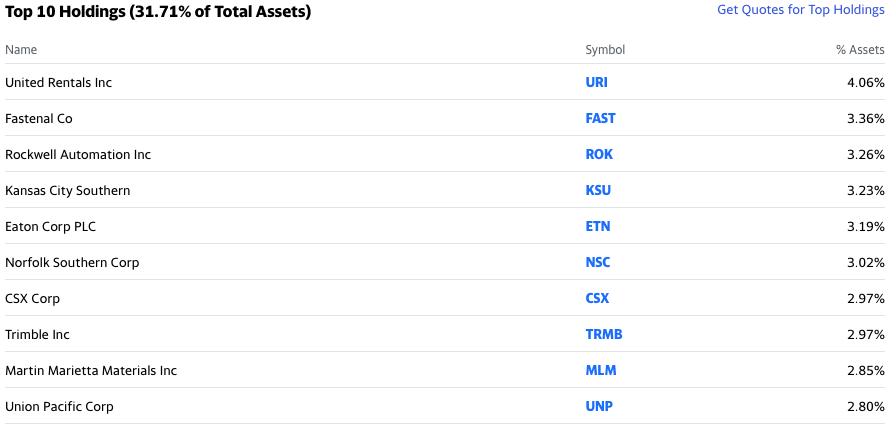 PAVE is up +0.70% in after hours trading. I wish I had seen this one after the PMO crossover. I'm looking at creating a new scan that will pick up on stocks/ETFs like this one. In any case, it looks like a good entry ahead. The PMO bottomed again above its signal line which is always very bullish. The RSI is positive and not overbought. This has been a consistent performer and as I've mentioned previously once the COVID relief package is done, an infrastructure bill will be on the agenda. The stop level is reasonable and set below the 50-EMA at the recent low.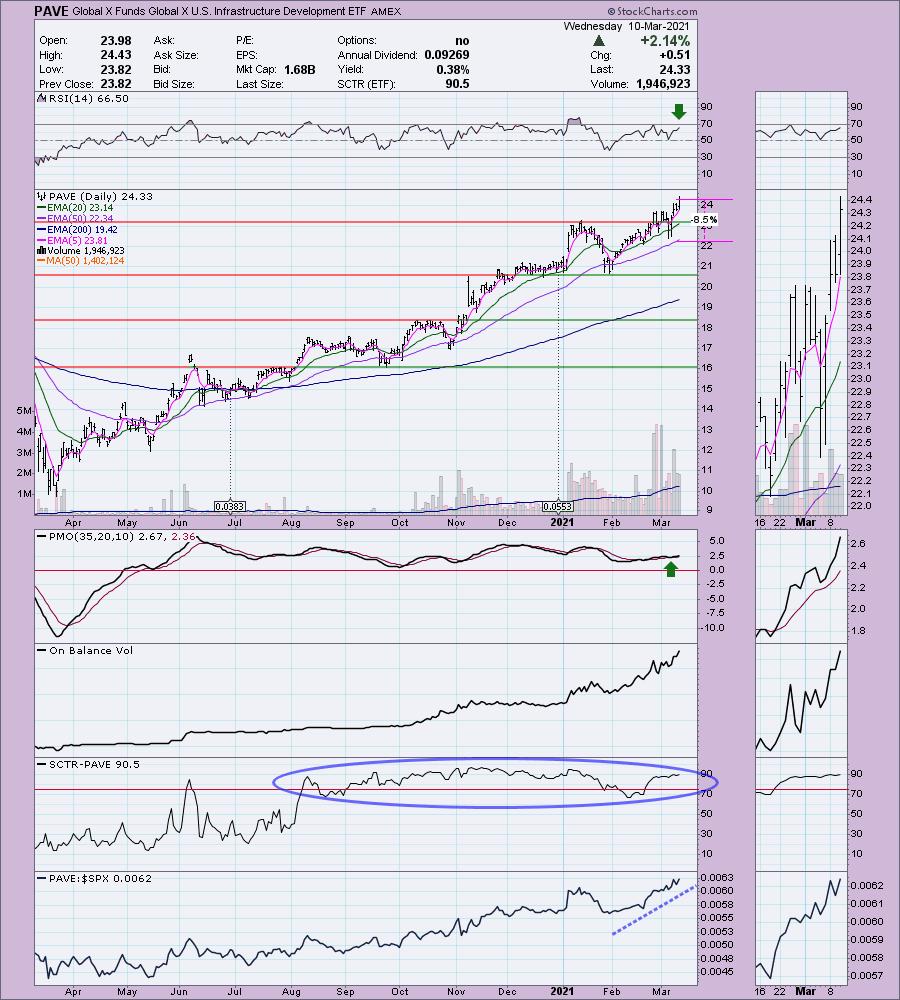 The weekly PMO has also bottomed above its signal line. The RSI is overbought, but it can remain so for many weeks on a weekly chart. Volume is certainly coming in!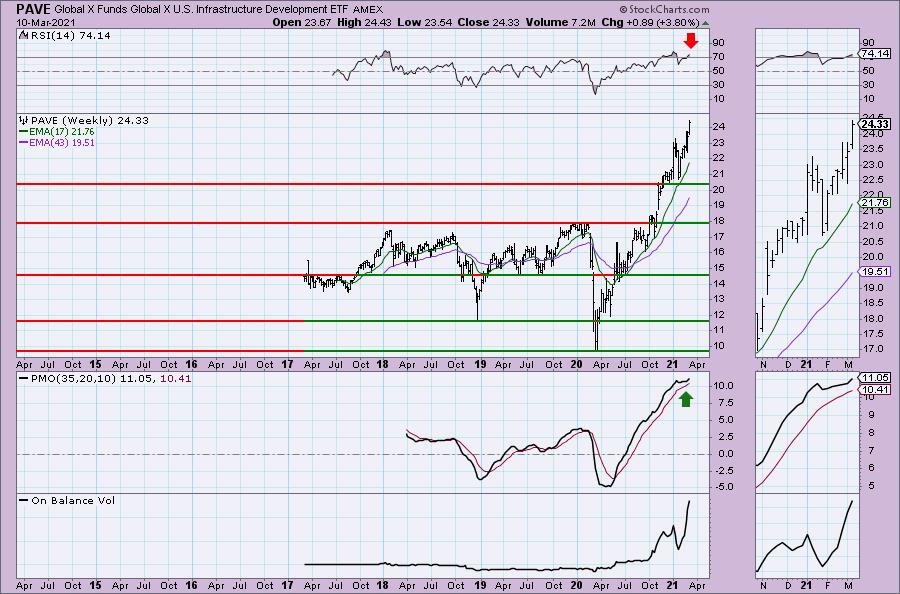 ---
Pentair, Inc. (PNR)
EARNINGS: 4/29/2021 (BMO)
Pentair Plc engages in the provision of water solutions for residential, commercial, industrial, infrastructure, and agriculture applications. Its portfolio of solutions enables people, businesses, and industries to access clean, safe water, reduce water consumption, and recover and reuse it. The firm operates through the following business segments: Consumer Solutions and Industrial & Flow Technologies. The Consumer Solutions segment designs, manufactures and sells energy-efficient residential and commercial pool equipment and accessories, and commercial and residential water treatment products and systems. The Industrial & Flow Technologies segment manufactures and sells a variety of fluid treatment and pump products and systems, including pressure vessels, gas recovery solutions, membrane bioreactors, wastewater reuse systems and advanced membrane filtration, separation systems, water disposal pumps, water supply pumps, fluid transfer pumps, turbine pumps, solid handling pumps, and agricultural spray nozzles, while serving the global residential, commercial and industrial markets. The company was founded by Murray J. Harpole, Vern Stone, Vincent Follmer, Leroy Nelson, and Gary Ostrand on August 31, 1966 and is headquartered in London, the United Kingdom.
PNR is up +0.05% in after hours trading. The chart is very healthy with recent breakouts holding above new support. The RSI is positive and not overbought. The PMO is on a BUY signal and is also not overbought. It has been outperforming along with its industry group. The SCTR is on the rise and should hit the "hot zone" above 75 soon. The stop is a little deep, but is lined up with 50-EMA support and the recent March low.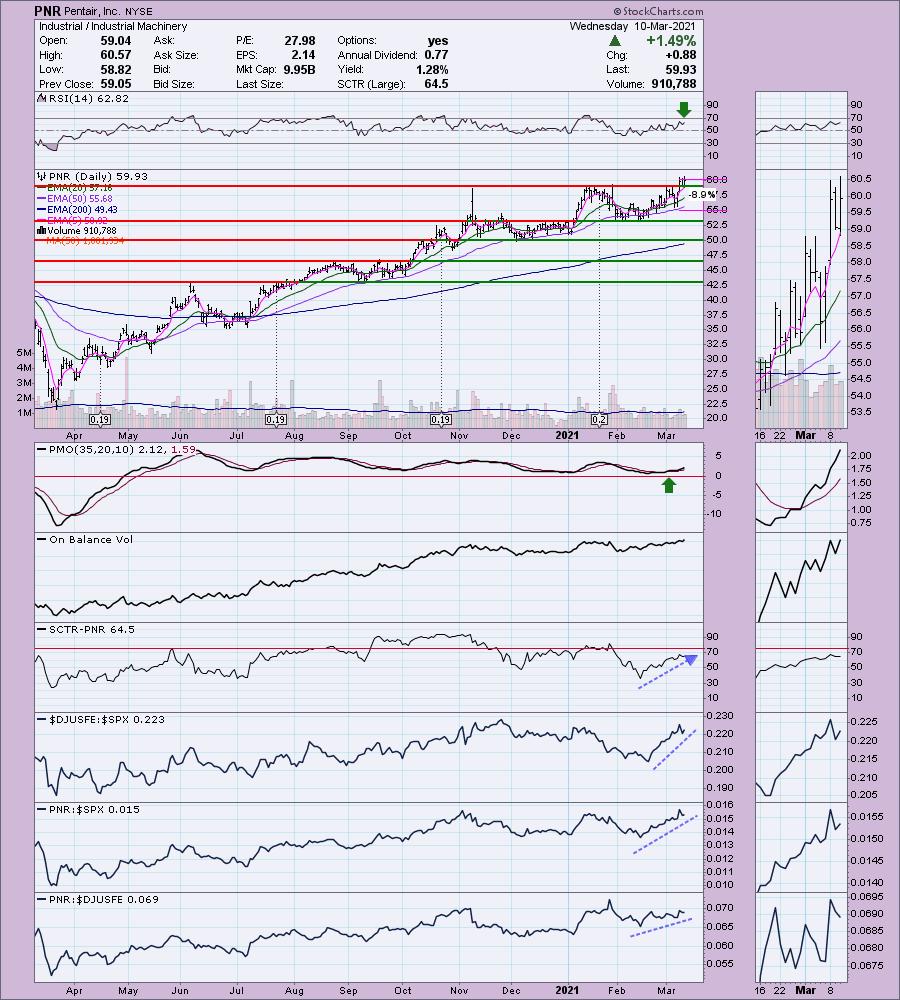 The weekly PMO has just turned up and the weekly RSI is positive and not overbought.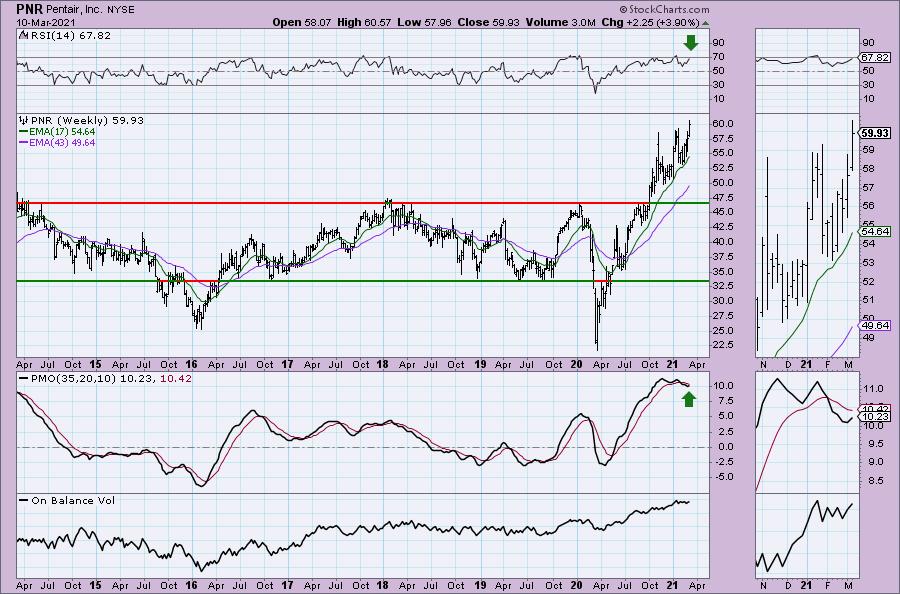 ---
Spectrum Brands Inc. (SPB)
EARNINGS: 4/29/2021 (BMO)
Spectrum Brands Holdings, Inc. is a consumer products and home essentials company. It engages in the manufacture and supply of residential locksets, residential builders hardware, plumbing, shaving and grooming products, personal care products, small household appliances, specialty pet supplies, lawn, garden and home pest control products, and personal insect repellents. The firm operates through the following segments: Hardware and Home Improvement (HHI); Home and Personal Care (HPC); Global Pet Care (GPC); and Home and Garden (H&G). The HHI segment consists of hardware, security and plumbing business. The GPC segment focuses on the pet care business. The H&G segment involves the home and garden and insect control business. The HPC segment includes the small kitchen and personal care appliances business. The company was founded in 1906 and is headquartered in Middleton, WI.
SPB is unchanged in after hours trading. I love the recent breakout from the bullish ascending triangle. The RSI is positive and the PMO is nearing a crossover BUY signal. The SCTR is nearing the hot zone. The group has been underperforming, but SPB is having no problem outperforming the benchmark SPX. The stop could be set very deep at support around $75, but I prefer a stop that is smaller than 11%.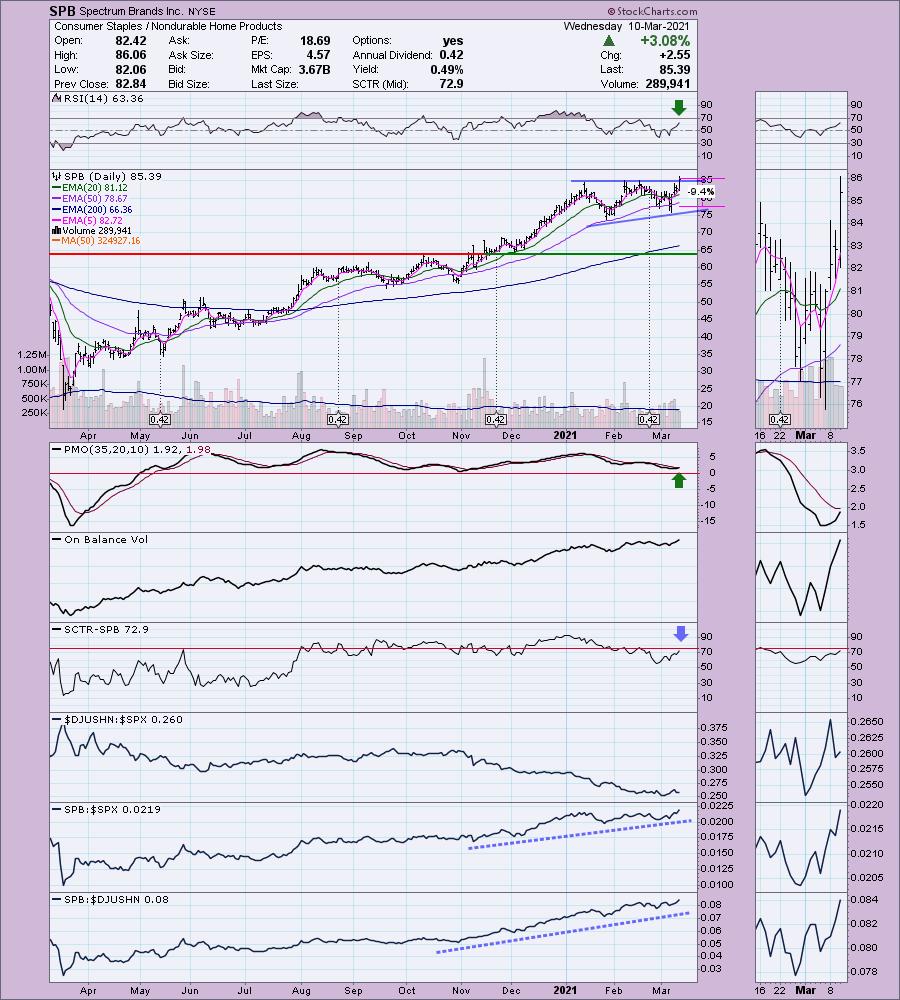 The weekly PMO is very overbought, but we have a nice bottom above the signal line. The RSI is positive and not yet overbought. I chose a more conservative upside target at the 2018 top, but that would still give us a 35%+ gain.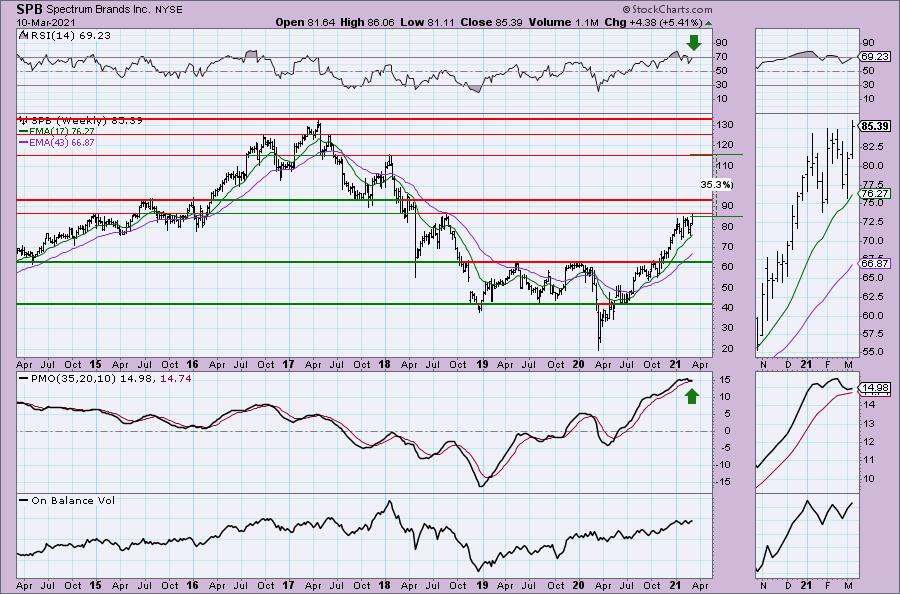 ---
Don't forget, on Thursdays I look at reader-requested symbols, so shoot me an email at erin@decisionpoint.com. I read every email I receive and try to answer them all!
---
Sempra Energy (SRE)
EARNINGS: 5/4/2021 (BMO)
Sempra Energy is an energy-service holding company, which engages in the development and operation of energy infrastructure, and provision of electric and gas services. It operates through the following segments: San Diego Gas and Electric Company (SDG&E), Southern California Gas Company (SoCalGas), Sempra Texas Utilities, Sempra Mexico, and Sempra LNG. The SDG&E segment offers electric and natural gas services. The SoCalGas segment owns and operates a natural gas distribution, transmission, and storage systems. The Sempra Texas Utilities segment comprises the equity method investments in Oncor Holdings and Sharyland Holdings. The Sempra Mexico segment includes the operating companies of IENova. The Sempra LNG segment develops natural gas storage and related pipeline facilities. The company was founded on October 11, 1996 and is headquartered in San Diego, CA.
SRE is unchanged in after hours trading. I've marked a bullish double-bottom, but it is more of a trading range. I am looking for this rally to continue and see a test of at least $135. The RSI just hit positive territory and the PMO just triggered a PMO BUY signal. Performance is solid and of course it is in an industry group that is breaking out. It just triggered a ST Trend Model BUY signal with the positive 5/20-EMA crossover. The stop level could be set lower. I've set it at the second January low. We have to be careful as the 50-EMA is still below the 200-EMA.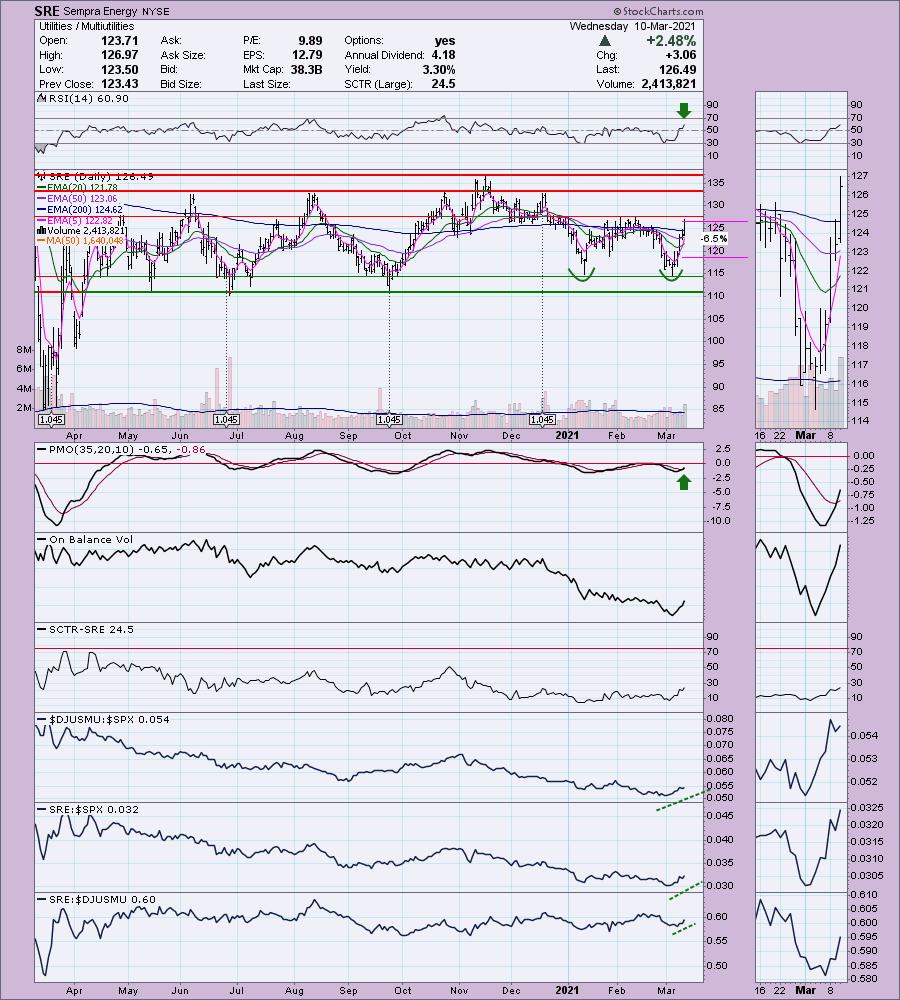 The weekly PMO has turned up and the weekly RSI has just reached positive territory. It's a healthy upside target should it reach its 2020 bull market top.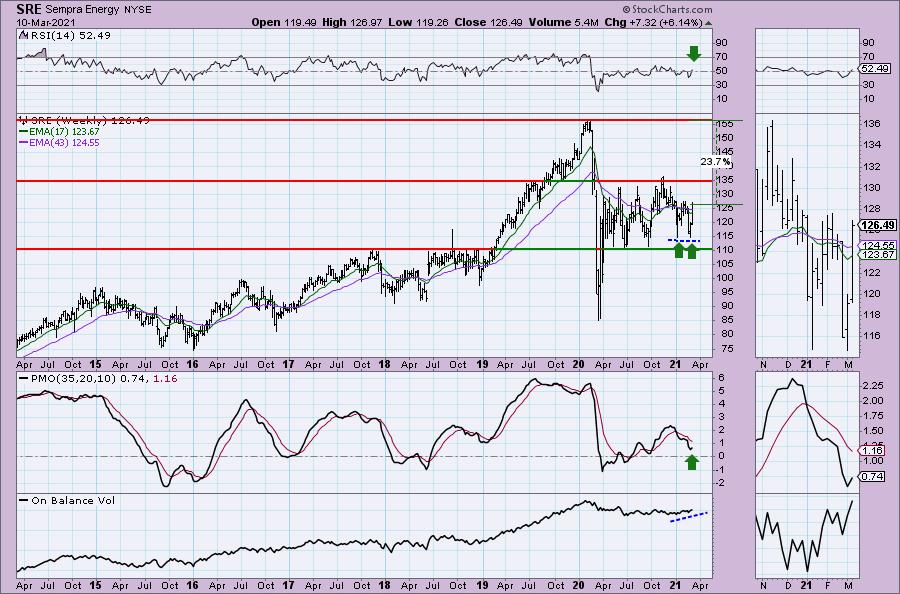 ---


Steris plc (STE)
EARNINGS: 5/6/2021 (AMC)
STERIS plc provides infection prevention and other procedural products and services worldwide. It operates in four segments: Healthcare Products, Healthcare Specialty Services, Life Sciences, and Applied Sterilization Technologies. The Healthcare Products segment offers cleaning chemistries and sterility assurance products; accessories for gastrointestinal (GI) procedures, washers, sterilizers, and other pieces of capital equipment for the operation of a sterile processing department; and equipment used directly in the operating room, including surgical tables, lights, equipment management services, and connectivity solutions. It also provides capital equipment installation, maintenance, upgradation, repair, and troubleshooting services. This segment offers its products and services to acute care hospitals, ambulatory surgery centers, and GI clinics. The Healthcare Specialty Services segment provides solutions and managed services, such as instrument and endoscope repair and maintenance solutions; custom process improvement consulting services; and outsourced instrument sterile processing services to acute care hospitals and other healthcare settings. The Life Sciences segment offers formulated cleaning chemistries, barrier products, sterility assurance products, steam and vaporized hydrogen peroxide sterilizers, and washer disinfectors. The Applied Sterilization Technologies segment provides contract sterilization services through a network of approximately 50 contract sterilization and laboratory facilities.The company was founded on December 22, 2016 and is headquartered in Dublin, Ireland.
STE is unchanged in after hours trading. I hesitated to include this one as the industry group has been performing terribly, but STE is bucking that trend by outperforming the SPX which of course means that it would be outperforming its industry group. I like the breakout from the bullish falling wedge. The RSI just hit positive territory and the PMO went on a crossover BUY signal in oversold territory.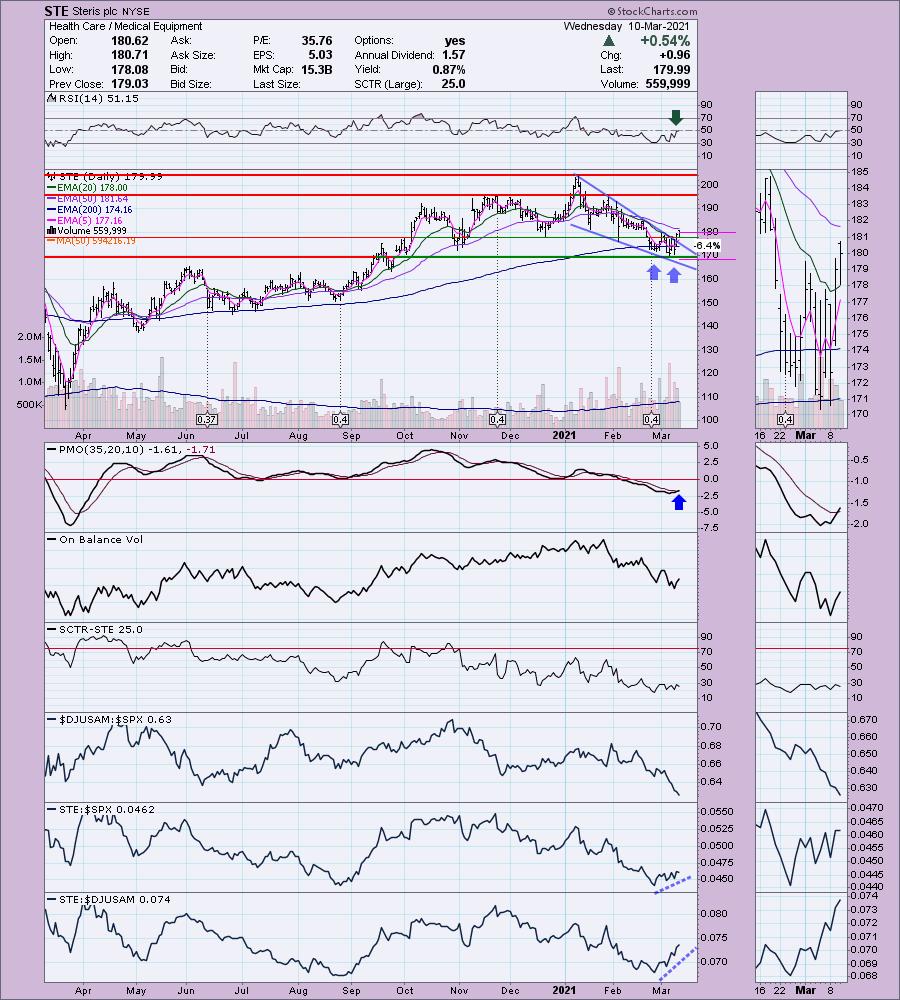 STE is holding above longer-term support. The RSI is moving into positive territory. The PMO is ugly, but appears it is decelerating slightly. Might be better in the short term v. intermediate term.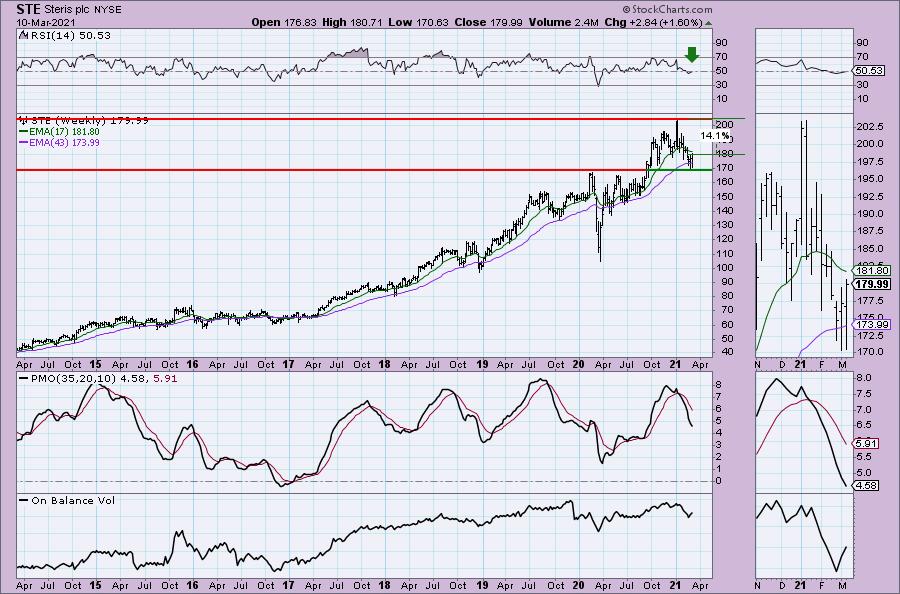 ---
Full Disclosure: I'm about 70% invested and 30% is in 'cash', meaning in money markets and readily available to trade with. I took the money and ran on my solar positions in TAN and SPWR. I'm not done with them, I'm ready to ride them back up when the PMO comes back to life. I added BLBD at a reasonable price even on the big decline (thank you 5-minute candlestick chart). I also added EXC, yesterday's diamond in the rough. Still in UNG (stop set around $9.60).
---
Current Market Outlook:
Market Environment: It is important to consider the odds for success by assessing the market tides. The following chart uses different methodologies for objectively showing the depth and trend of participation for intermediate- and long-term time frames.
The Silver Cross Index (SCI) shows the percentage of SPX stocks on IT Trend Model BUY signals (20-EMA > 50-EMA)
The Golden Cross Index (GCI) shows the percentage of SPX stocks on LT Trend Model BUY signals (50-EMA > 200-EMA)
The Bullish Percent Index (BPI) shows the percentage of SPX stocks on Point & Figure BUY signals.
Don't forget that as a "Diamonds" member, you have access to our GCI/SCI curated ChartList on DecisionPoint.com. You'll find it under "Members Only" links on the left side on the Blogs and Links Page.
Here is the current chart: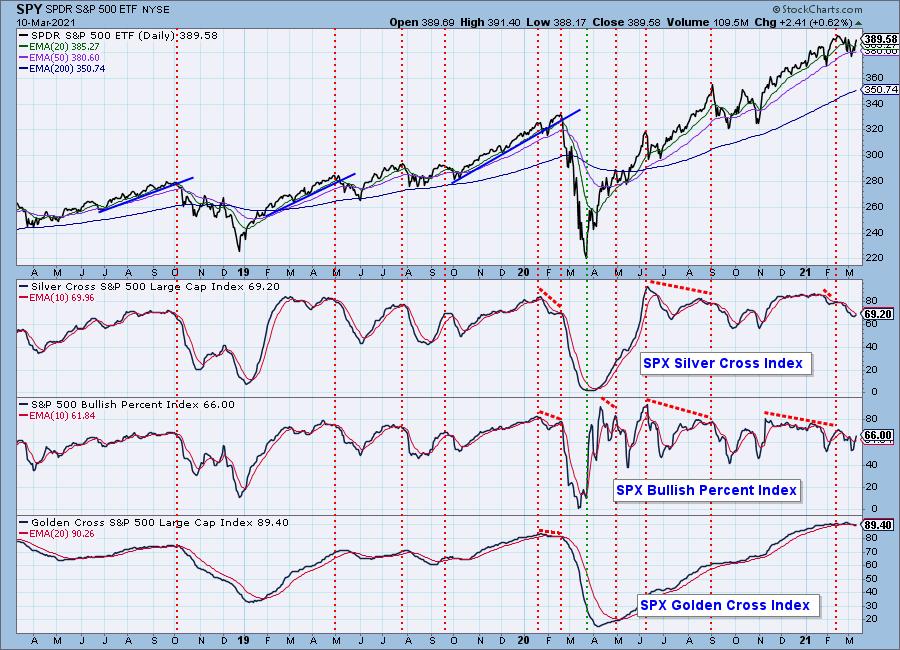 Diamond Index:
The Diamond Index chart looks at the number of scan results from my bullish Diamond PMO Scan and the number of scan results from the inverse Diamond Dog Scan. The Diamond Ratio divides the bullish results by the bearish results.
I only have data going back to October 2019 so I won't make any sweeping conclusions about the Diamond Index chart. I have marked cardinal tops with red dotted vertical lines and cardinal price bottoms with green dotted vertical lines. I believe that when the Diamond Dog results spike, it usually comes at a price bottom, or marks a strong continuation of the rising trend.
Unfortunately, the Diamond PMO Scan result numbers aren't providing much insight. The Diamond Ratio has promise, but again I don't see a clear correlation to the market tops/bottoms right now. I need to study and manipulate the data some more. Keep you posted!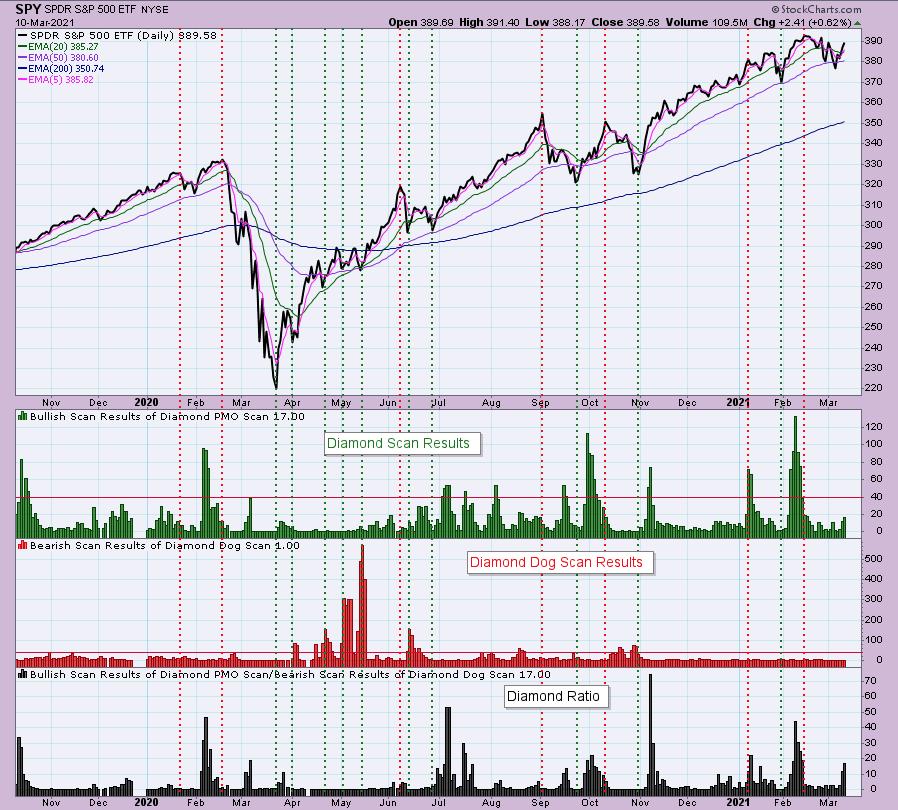 Technical Analysis is a windsock, not a crystal ball.
Happy Charting!
- Erin
erin@decisionpoint.com
---
Watch the latest episode of DecisionPoint with Carl & Erin Swenlin on Mondays 7:00p EST or on the DecisionPoint playlist on the StockCharts TV YouTube channel here!
---
---
NOTE: The stocks reported herein are from mechanical trading model scans that are based upon moving average relationships, momentum and volume. DecisionPoint analysis is then applied to get five selections from the scans. The selections given should prompt readers to do a chart review using their own analysis process. This letter is not a call for a specific action to buy, sell or short any of the stocks provided. There are NO sure things or guaranteed returns on the daily selection of "diamonds in the rough."
---
Helpful DecisionPoint Links:
DecisionPoint Shared ChartList and DecisionPoint Chart Gallery
Price Momentum Oscillator (PMO)
Swenlin Trading Oscillators (STO-B and STO-V)
For more links, go to DecisionPoint.com!