I'd like to extend a warm welcome to our new Diamond subscribers! It was great seeing some of you in today's Diamond Mine trading room. We also had a lively chat room today. For those who can't make it live, the recording link is below **.
I went "all in" on Airlines Tuesday as I was starting to see strength building in that industry group. They faded this week. However, I believe most of them still look pretty good and now they are at a lower price point. I did open a small position in ALK, but I won't put up with any bad behavior next week.
Most of the positions that you open right now should be considered very short-term in nature given the rocky broad markets. I'm seeing new strength in Technology, but we need to be careful. The Semis and Software are reversing to the upside, but if the broad market stumbles, this sector could turn on a dime.
The big winner this week is 360 Finance Inc (QFIN). This one had a lot of chatter in the Diamond Mine. I decided to pick this one up. I know, I know, I have been showing such discipline in selling into any strength, but knowing I can be vigilant next week and set tight stops, I increased my exposure to 75%.
The big loser was American Airlines (AAL) which in all honestly looks the best of the five airline trades I had for Tuesday. I probably should've bought AAL instead of ALK, but ALK is historically one of the strongest performers in that industry group.
I presented a short this week, TIMB. On the spreadsheet I have denoted this. When I show a "green" RSI/PMO on the spreadsheet for a short, that means that they are configured negatively which is of course good for a short position.
Register now for next week's Diamond Mine trading room HERE.
** IMPORTANT NEW ZOOM SECURITY **
I have set up Zoom recordings to require our approval before you can view them. I will be watching my email so you shouldn't experience a delay more than an hour over the weekend. I recommend downloading it now to ensure I will approve you quickly. I know this is an inconvenience for all of us. Hopefully I won't need to do this in the future, but currently we do.
---

Diamond Mine Information:
RECORDING LINK:
Topic: DecisionPoint Diamond Mine (5/21/2021) LIVE Trading Room
Meeting Recording Link HERE.**
Access Passcode: May-21-21
**APPROVAL is required to view the recordings. DecisionPoint will get an email from Zoom with your request to view and we will approve you as soon as possible. You may want to go ahead and request approval now to avoid a delay. We apologize for this security limitation. Hopefully we can turn this off soon.
REGISTRATION:
Topic: DecisionPoint Diamond Mine (5/28/2021) LIVE Trading Room
Register in advance for this webinar HERE.
Save the registration confirmation email with login instructions in case Zoom doesn't notify you in time.
---
---
---
A few items about the spreadsheet: I decided it only fair to denote "reader requests" as I shouldn't get to take credit if they turn out great! I've put on the spreadsheet whether the RSI is positive (green) or negative (red). The PMO column tells you if it is rising (green) or falling (red). Finally I've added my own "Sparkle Factor" that gives you my assessment going forward, bullish (green), bearish (red) or neutral (gray). The Sparkle Factor is basically my thoughts on whether I expect it to rise or fall. A neutral means it could really go either way so it could be added to a watch list. If you're in a stock I consider "neutral" going forward, the ball is in your court.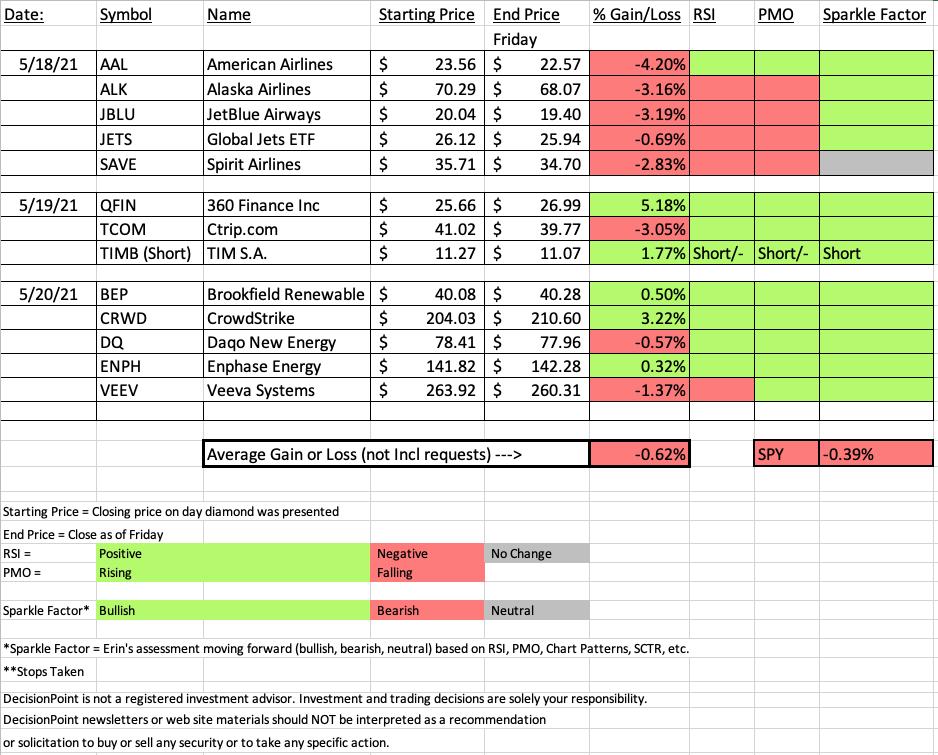 ---
Free DecisionPoint Trading Room on Mondays, Noon ET
*Click here to register for this recurring free DecisionPoint Trading Room on Mondays at Noon ET!*
=======================================
BELOW is a link to Monday's recording:
Topic: DecisionPoint Trading Room
Start Time : May 17, 2021 08:55 AM
Meeting Recording Link HERE.
Access Passcode: May-17th
For best results, copy and paste the access code to avoid typos.
---
Darling:
360 Finance Inc. (QFIN)
EARNINGS: 5/27/2021 (AMC)
360 DigiTech, Inc. is a holding company, which engages in the provision of digital consumer finance platform. It provides tailored online consumer finance products to prime, underserved borrowers funded primarily by its funding partners. The company proprietary technology platform supports full transaction lifecycle from credit application through settlement. 360 Finance was founded on July 25, 2016 and is headquartered in Shanghai, China.
Below is the commentary and chart from Wednesday (5/19):
"QFIN is down -0.08% in after hours trading. This one is pretty volatile right now, but it looks ready to at least test overhead resistance at the April top. It's performing very well. The industry group overall has been outperforming the SPX and now this one is beginning to outperform not only its industry group, but the SPX as well. The RSI just moved into positive territory and the PMO has turned up in oversold territory. I have the stop set below the 20/50-EMAs. Notice that the 20-EMA is about to cross above the 50-EMA. That would be an IT Trend Model "Silver Cross" BUY signal."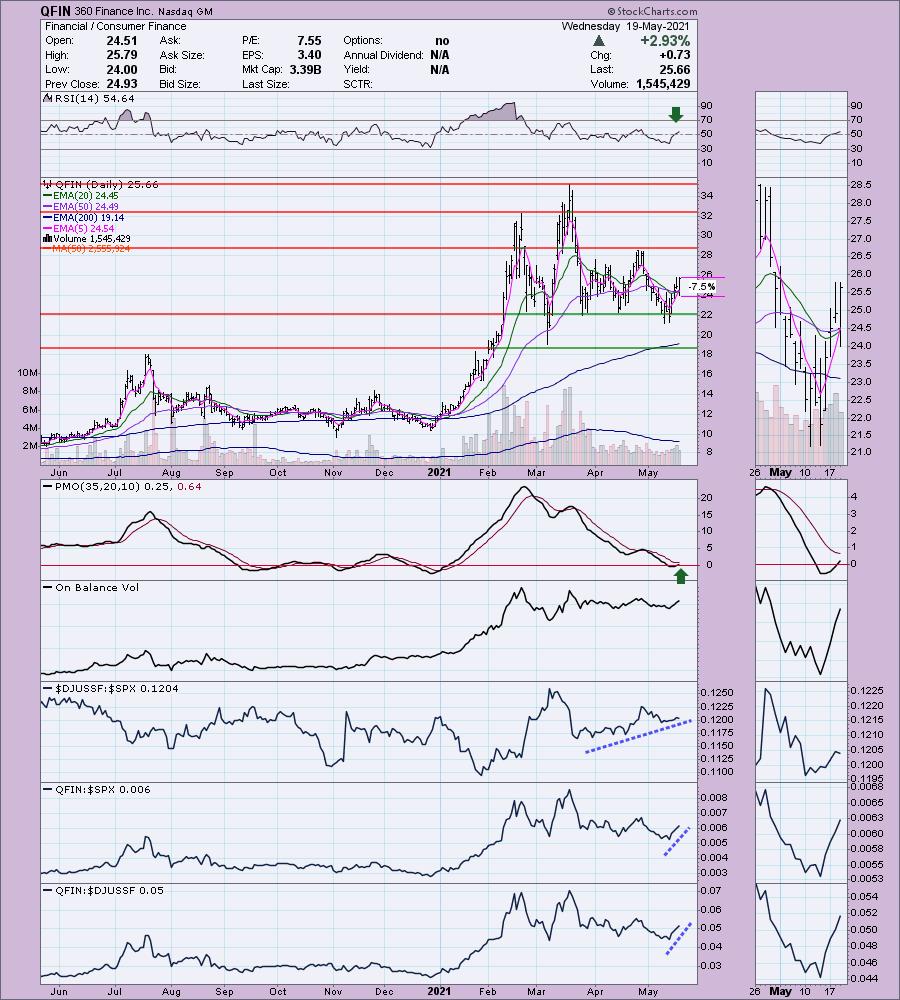 Here is today's chart:
As noted in the intro, I did purchase a position in QFIN earlier today. The chart looks great and upside potential is fantastic. Through the chatter in today's Diamond Mine, apparently the fundamentals on this one look good going into earnings next week as well. We'll see. Like I said, I have time to watch next week. This one is a strongly outperforming both its group and the SPX. The RSI is positive and not overbought. The oversold clean PMO crossover (no twitch) BUY signal looks good, but we did have a similar set up right before the late April top. Be careful.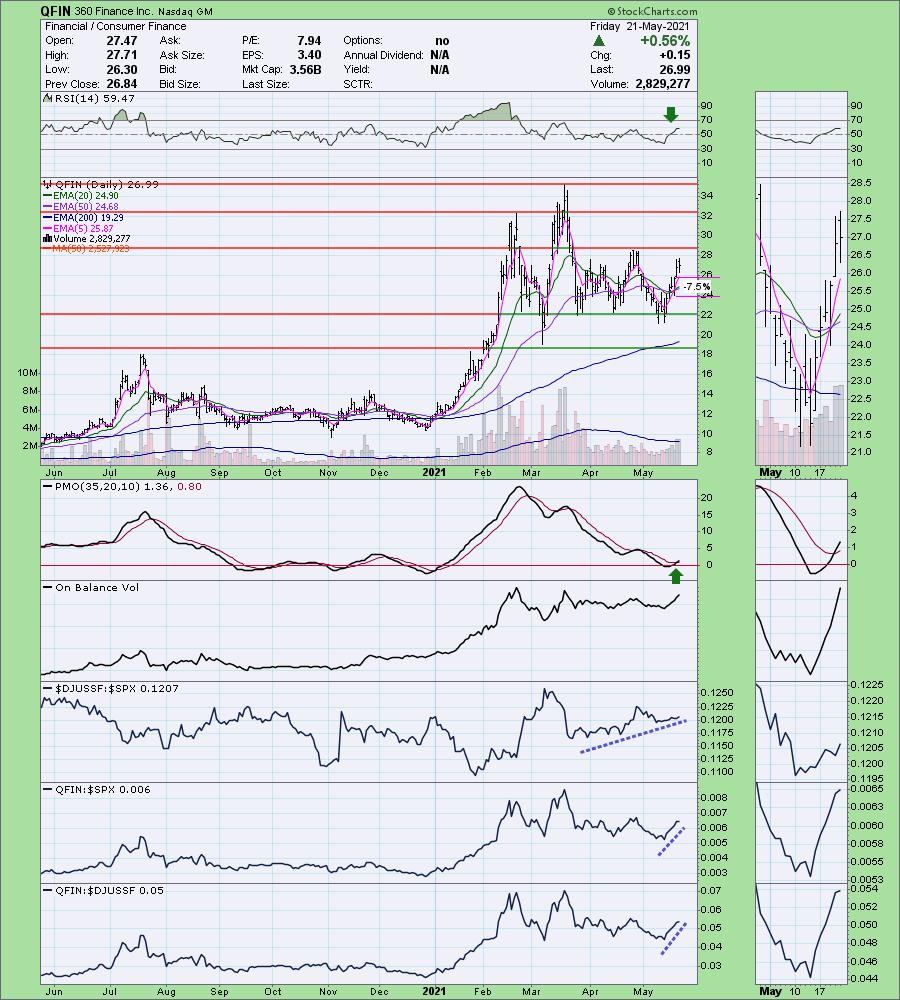 ---
---
Don't forget, on Thursdays I look at reader-requested symbols, so shoot me an email at erin@decisionpoint.com. I read every email I receive and try to answer them all!
---
---
Dud:
American Airlines Group Inc. (AAL)
EARNINGS: 7/22/2021 (BMO)
American Airlines Group, Inc. is a holding company, which engages in the operation of a network carrier through its principal wholly-owned mainline operating subsidiary, American. The firm offers air transportation for passengers and cargo. It operates through the following geographical segments: Department of Transportation Domestic; Department of Transportation Latin America; Department of Transportation Atlantic; and Department of Transportation Pacific. The company was founded on December 9, 2013 and is headquartered in Fort Worth, TX.
Below is the chart and commentary from Tuesday (5/18):
"AAL is down -0.25% in after hours trading. I've never covered AAL before which surprised me. This one didn't come up in the scan results but clearly outperforms its group so I had to include it. We have a double-bottom pattern. Yesterday the pattern resolved as expected to the upside. Today there was excellent follow-through. The PMO is on a new crossover BUY signal and the RSI is positive and not overbought. The SCTR has been healthy most of 2021. Notice the outperformance of Airlines as a whole. The stop is set around the 50-EMA."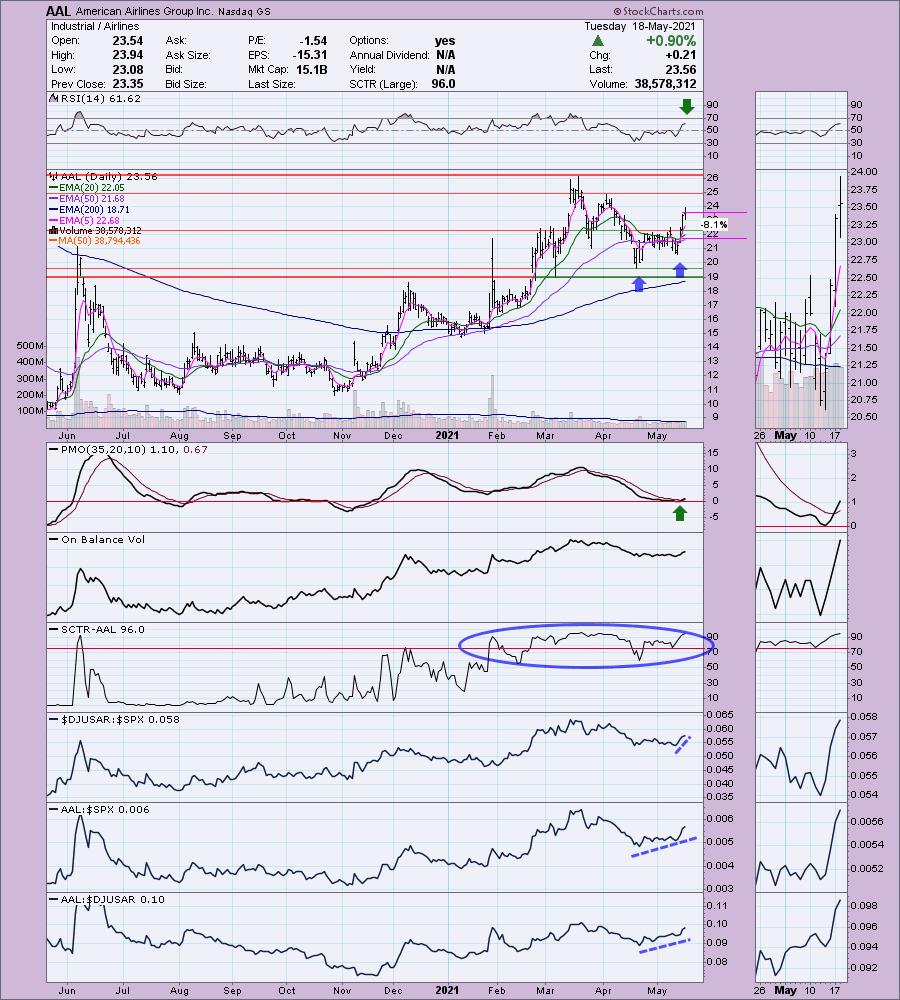 Below is today's chart:
Given it is the biggest loser this week, this chart still has plenty of upside potential. The RSI is still positive and technically the PMO is still rising. This recent breakout looks a lot like a bull flag. This week's pullback didn't break support either. Outperformance is continuing.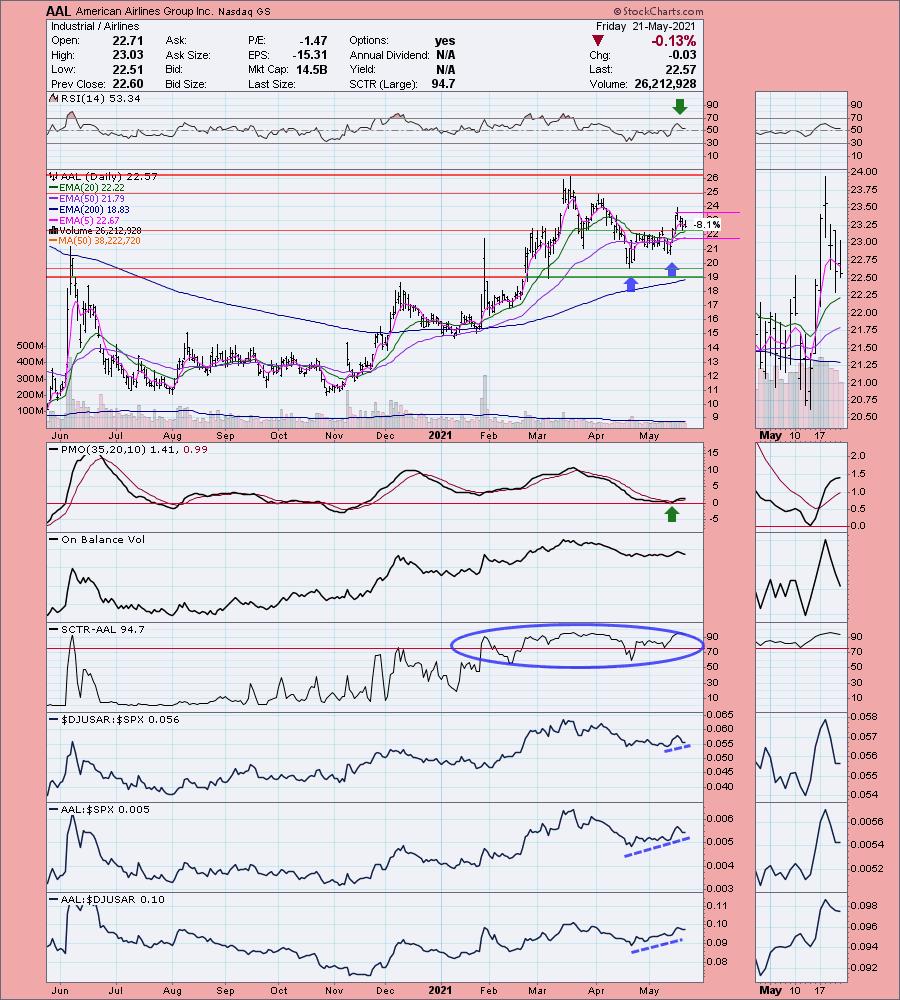 ---
THIS WEEK's Sector Performance: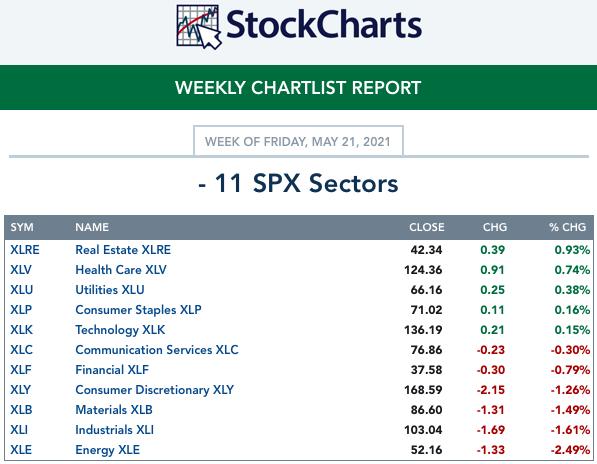 DecisionPoint Sector Scoreboard (Mechanical Trend Model Signals):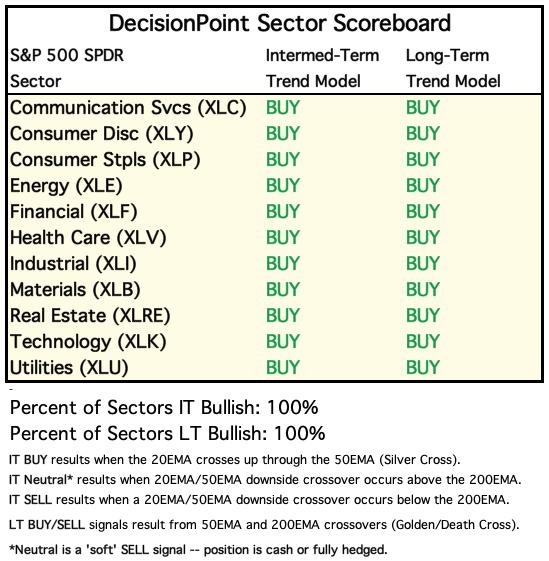 Click Here to view Carl's annotated Sector ChartList!
CONCLUSION:
Looking at the sector RRG, It shouldn't surprise you that my sector to watch next week is Technology (XLK). Look at the turn it is making into improving. Runner ups would be XLRE moving from weakening back into Leading and XLU/XLC which are nearing the Leading quadrant.
Short-term RRG: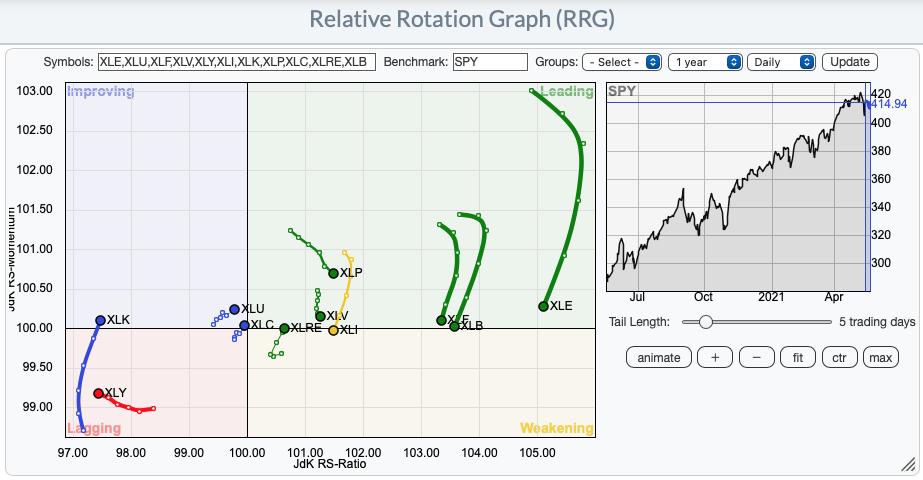 Sector to Watch: Technology (XLK)
This sector looks a bit more tenuous than it did in the Diamond Mine, but I'm still going with it as the sector to watch next week. I like the double-bottom that has an upside target right at the April top. The RSI was positive this morning, but it appears ready to reenter positive territory soon. There was great improvement in participation and it is not overbought. The PMO SCI are both turning up. The OBV is confirming the breakout. The main negative would be the declining GCI. Consider any future investment in this area as short-term because when the market turns, so will Technology.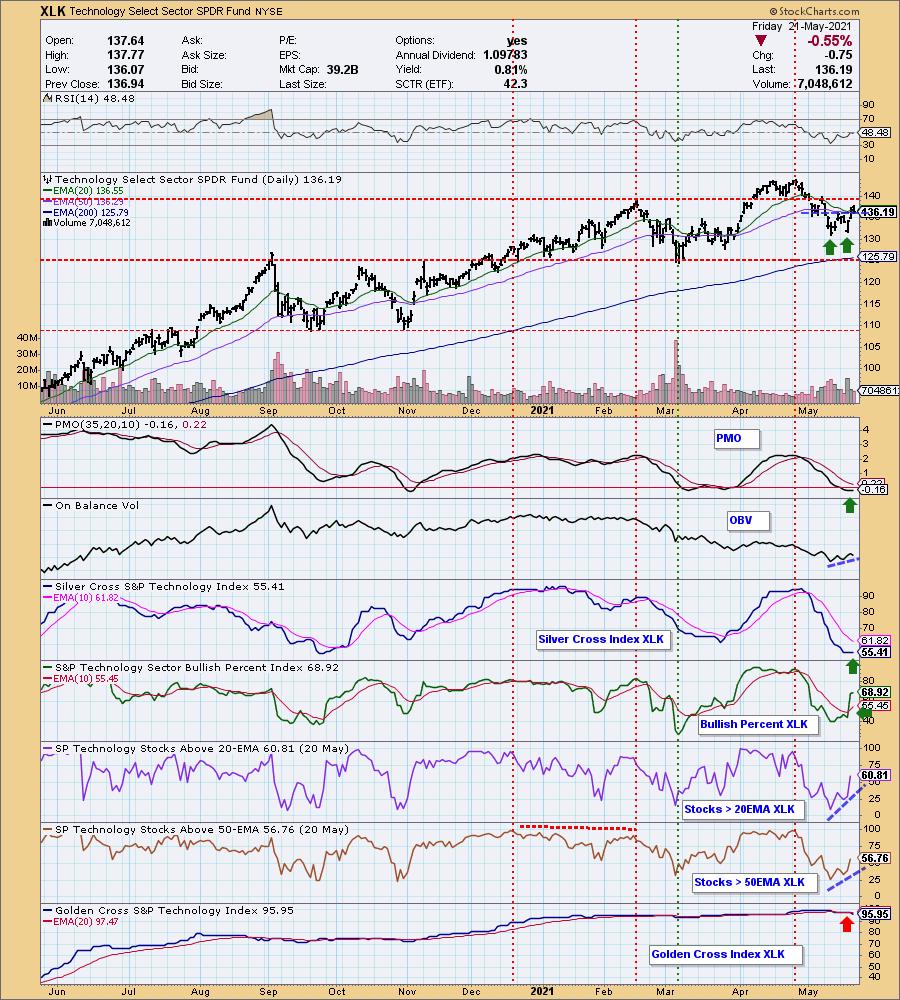 Industry Group to Watch: Semiconductors ($DJUSSC)
Both Software and Semiconductors looked good this morning. After the close, I believe the Semiconductors chart is more compelling. The RSI just moved positive (it's still negative on Software), the PMO is rising and nearing a crossover BUY signal. Notice it is outperforming the SPX greatly and the SCTR has shot up. The thing that bothers me is that price closed below the 50-EMA.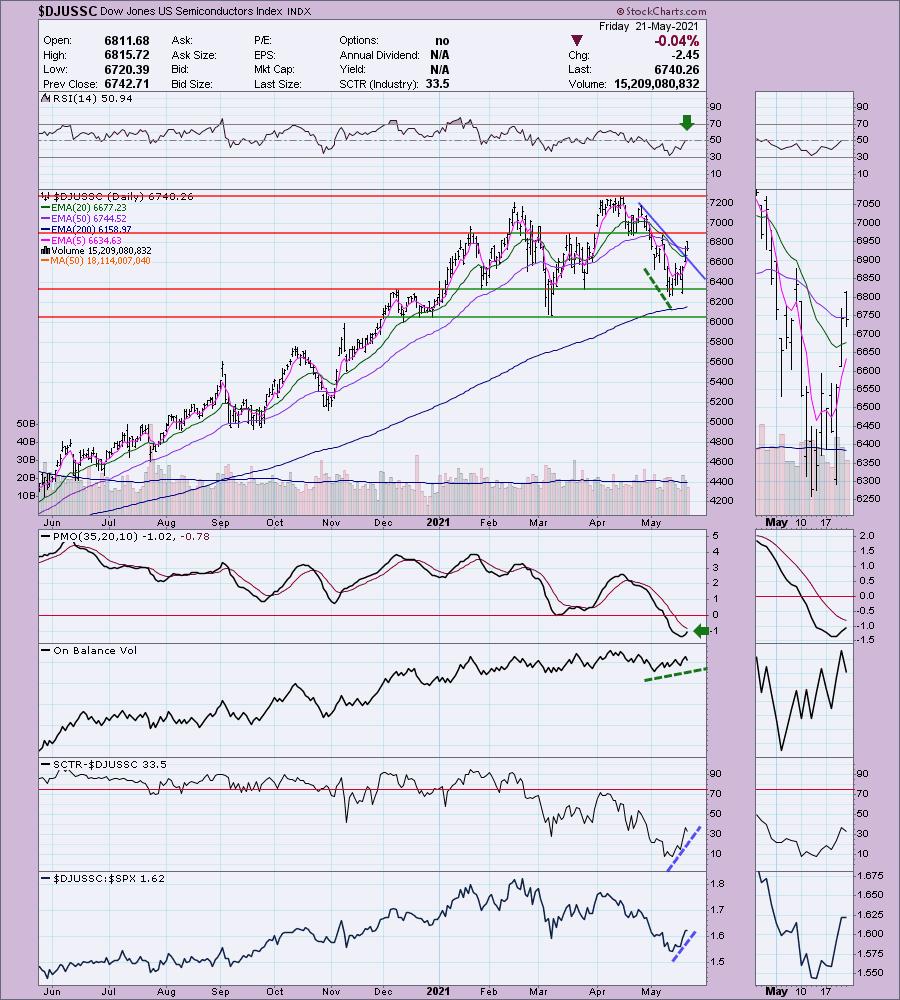 Go to our Sector ChartList on DecisionPoint.com to get an in depth view of all the sectors.
Technical Analysis is a windsock, not a crystal ball.
Have a great weekend & Happy Charting!
- Erin
erin@decisionpoint.com
---
Full Disclosure: I'm about 75% invested right now and 25% is in 'cash', meaning in money markets and readily available to trade with. Diamonds purchased this week: ALK and QFIN.
---
Watch the latest episode of DecisionPoint with Carl & Erin Swenlin on Mondays 7:00p EST or on the DecisionPoint playlist on the StockCharts TV YouTube channel here!
---
---
NOTE: The stocks reported herein are from mechanical trading model scans that are based upon moving average relationships, momentum and volume. DecisionPoint analysis is then applied to get five selections from the scans. The selections given should prompt readers to do a chart review using their own analysis process. This letter is not a call for a specific action to buy, sell or short any of the stocks provided. There are NO sure things or guaranteed returns on the daily selection of "diamonds in the rough."
---
Helpful DecisionPoint Links:
DecisionPoint Shared ChartList and DecisionPoint Chart Gallery
Price Momentum Oscillator (PMO)
Swenlin Trading Oscillators (STO-B and STO-V)