This morning with the market down, the gains on our shorts were significant. We saw some big rebounds on "Diamonds in the Rough" which was good and bad. Certainly shaved gains on shorts, but also managed to bring a few negative positions back to green.
Picking a sector to watch this week was difficult. Looking at the CandleGlance below, you wouldn't think so. Momentum is poor on all but the Energy sector. However, the under the hood indicators are cluing us in. The sectors I narrowed it down to: XLP, XLV, XLK and XLU. The improvement on XLK is likely due to Apple (AAPL) and Visa (V) which had stellar days. I don't trust XLK yet. Ultimately I decided to go with Utilities (XLU).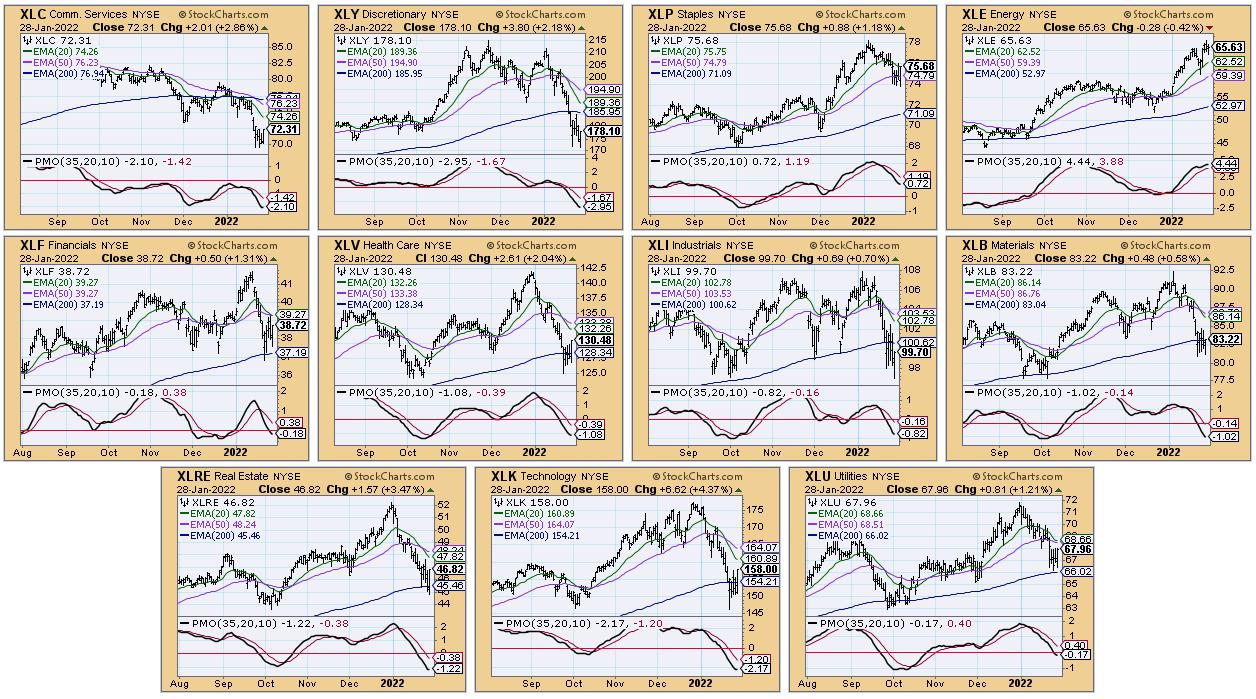 This week's "Darling" was our first short this week, Hexcel (HXL) which was down -4.43% since Tuesday. Today it was actually down an additional 12%, but it managed to finish the day higher by almost 2%.
This week's "Dud" is SDOW, the 3x ultrashort Dow30 ETF. I'm not going to cover this one. With today's strong afternoon rally, this ETF was hit hard. After a quick review of the charts, I've of the opinion that we will see a bear market rally next week. If we see strong follow-through on buying next week, we will reevaluate our bear market stance. So... I'm going to look at Genesco (GCO) as this week's "Dud". It was down -3.18% since it was picked on Tuesday.
Below you'll find the latest Diamond Mine recording link as well as the registration link for next week.
** IMPORTANT SCHEDULE CHANGES NEXT WEEK **
I will be traveling on Friday morning so we won't be able to hold the Diamond Mine. I've decided we will go on holiday schedule for DP Diamonds next week.
Monday - Wednesday: 10 stock picks
Thursday: Diamond Mine trading room at noon ET and Diamonds Recap.
Friday: OFF
Have a great weekend! The next Diamonds report will be on MONDAY of next week.
---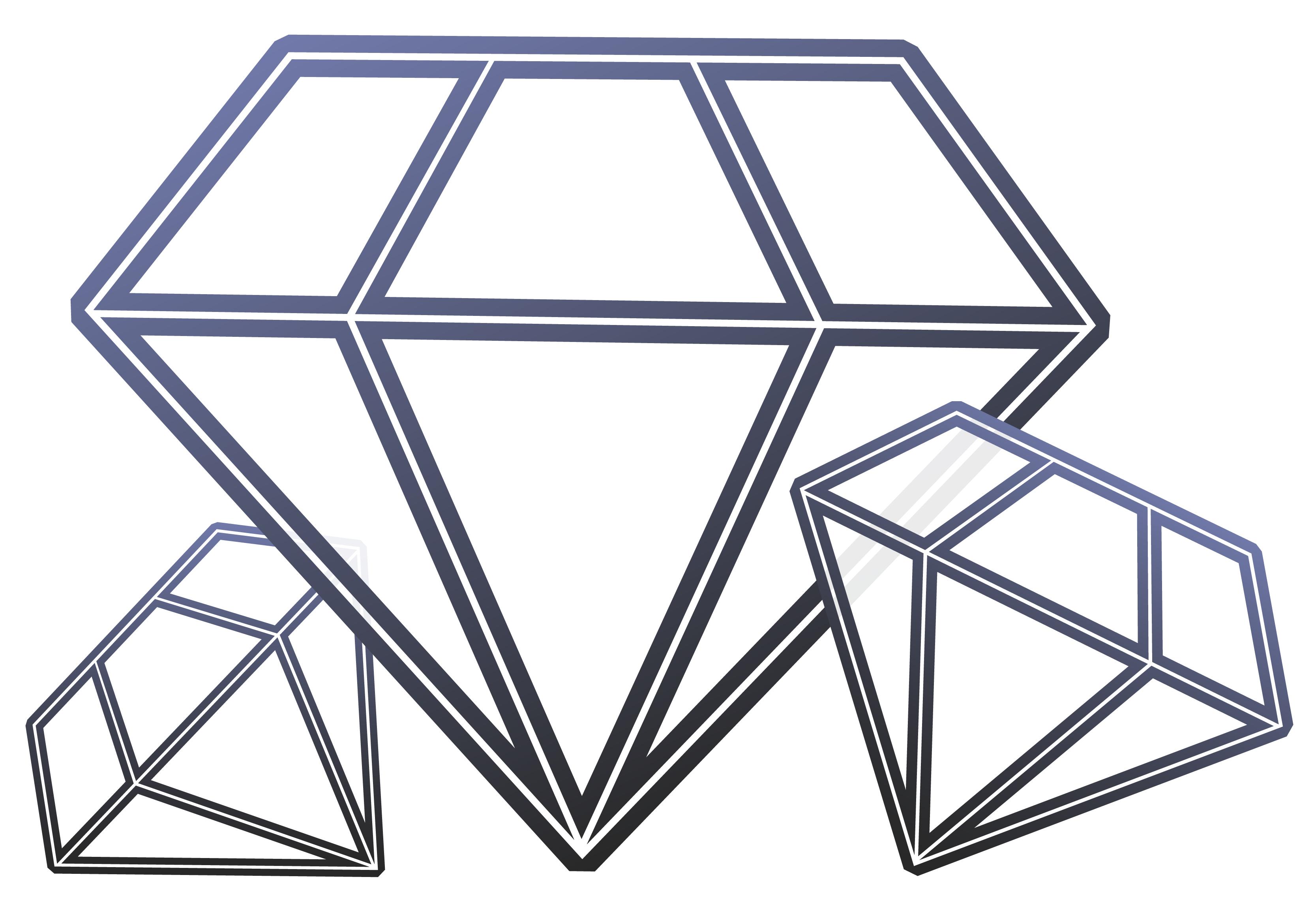 RECORDING LINK (1/28/2022):
Topic: DecisionPoint Diamond Mine (1/28/2022) LIVE Trading Room
Start Time: Jan 28, 2022 09:00 AM
Meeting Recording Link.
Access Passcode: January#28
REGISTRATION FOR THURSDAY 2/3 Diamond Mine:
When: Feb 3, 2022 09:00 AM Pacific Time (US and Canada)
Topic: DecisionPoint Diamond Mine (THURSDAY 2/3) LIVE Trading Room
Register in advance for this webinar HERE.
Save the registration confirmation email with login instructions in case Zoom doesn't notify you in time.
---

Free DP Trading Room (1/24) RECORDING LINK:
Topic: DecisionPoint Trading Room
Start Time: Jan 24, 2022 08:59 AM
Meeting Recording Link.
Access Passcode: January@24
For best results, copy and paste the access code to avoid typos.
---
A few items about the spreadsheet: I've put on the spreadsheet whether the RSI is positive (green) or negative (red). The PMO column tells you if it is rising (green) or falling (red). Finally I've added my own "Sparkle Factor" that gives you my assessment going forward, bullish (green), bearish (red) or neutral (gray). The Sparkle Factor is basically my thoughts on whether I expect it to rise or fall. A neutral means it could really go either way so it could be added to a watch list. If you're in a stock I consider "neutral" going forward, the ball is in your court.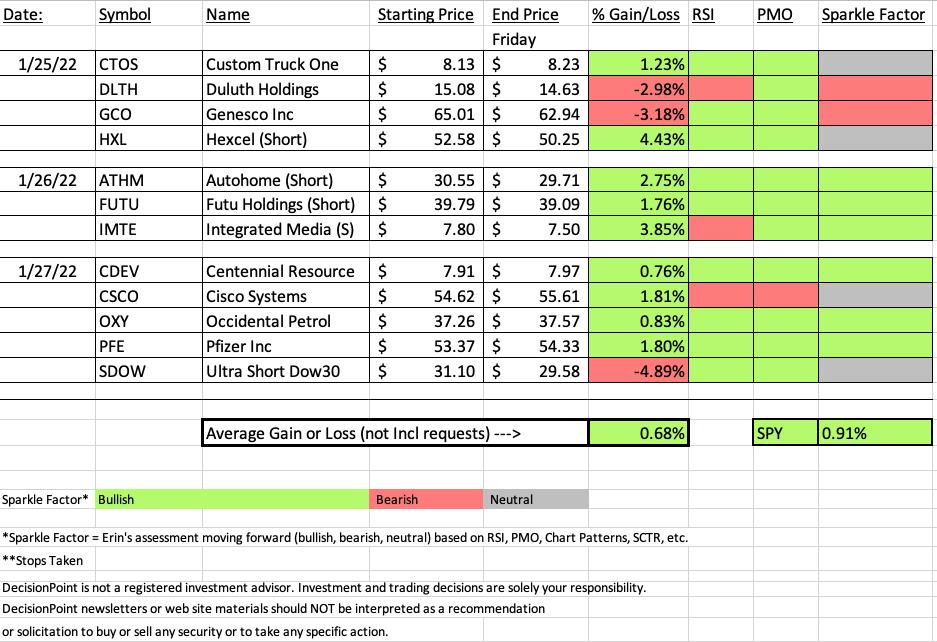 ---
Darling:
Hexcel Corp. (HXL)


EARNINGS: Reported on 1/26/2022 (AMC)
Hexcel Corp. engages in the development, manufacture, and marketing of lightweight structural materials. It includes carbon fibers, specialty reinforcements, prepregs and other fiber-reinforced matrix materials, honeycomb, adhesives, radio frequency / electromagnetic interference (RF/EMI) and microwave absorbing materials, engineered honeycomb and composite structures. The firm operates through the following segments: Composite Materials and Engineered Products. The Composite Materials segment consists of carbon fiber, specialty reinforcements, resins, prepregs and other fiber-reinforced matrix materials, and honeycomb core product lines and pultruded profiles. The Engineered Products segment consists of lightweight high strength composite structures, engineered core and honeycomb products with added functionality, and additive manufacturing. The company was founded by Roger C. Steele and Roscoe T. Hughes in 1946 and is headquartered in Stamford, CT.
Predefined Scans Triggered: Hollow Red Candles and P&F High Pole.
Below are the commentary and chart from Tuesday 1/25:
"HXL is unchanged in after hours trading. Here is my short. They report tomorrow so that could definitely work in our favor. The EMAs look particularly bearish as they are configured with the fastest EMA on the bottom and slowest on top. There is support at $49, but more than likely it will test support at the December low given the negative RSI and nearing PMO crossover SELL signal. Stochastics are negative and falling. The group has been doing well but HXL is underperforming. The stop is on the "upside". If price gets above the 50-day EMA or as in the case of this stop, above the 200-day EMA, you should cover. "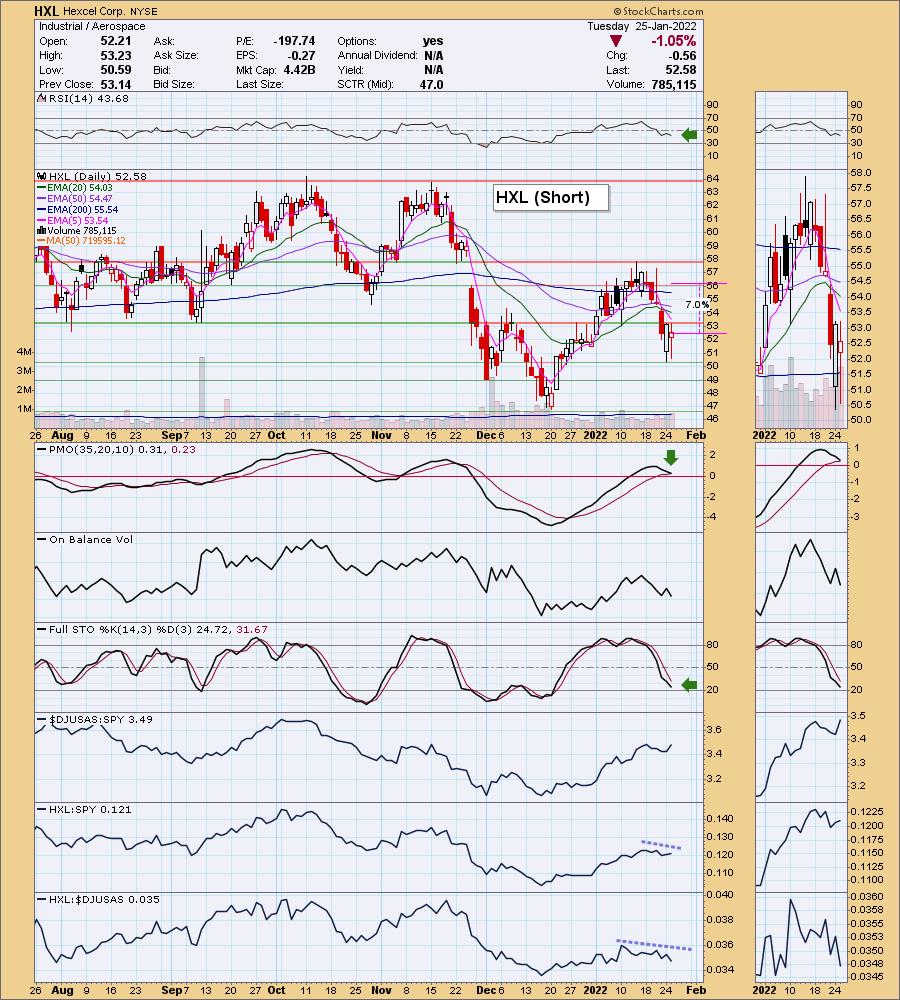 Here is today's chart:
While it was this week's "Darling", I have given it a "Neutral" Sparkle Factor. The reason I have was today's giant reversal. There is a bullish "hammer" candlestick that suggests we will see some follow-through on today's late day rally. I still think it looks bearish, but if you haven't shorted it, you may want to wait to see if there is follow-through on this rally. Indicators are still very bearish which is good on a short, although the RSI is beginning to rise.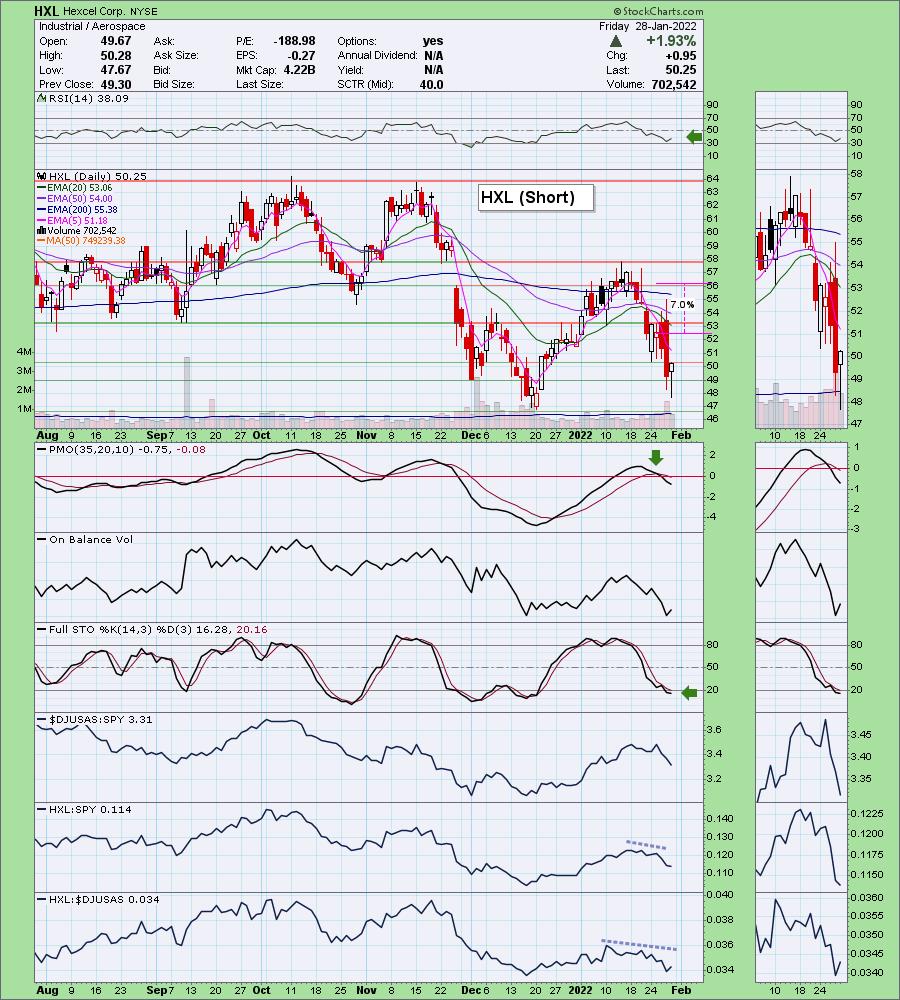 ---
---
Don't forget, on Thursdays I look at reader-requested symbols, so shoot me an email at erin@decisionpoint.com. I read every email I receive and try to answer them all!
---
---


Dud:
Genesco, Inc. (GCO)


EARNINGS: 3/10/2022 (BMO)
Genesco, Inc. engages in the retail and sale of footwear, apparel, and accessories. It operates through the following segments: Journeys Group, Schuh Group, Johnston & Murphy Group, and Licensed Brands. The Journeys Group segment contains the Journeys, Journeys Kidz, Shi by Journeys and Little Burgundy retail stores, catalog and e-commerce operations. The Schuh Group segment includes the Schuh retail footwear chain and e-commerce operations. The Johnston & Murphy Group segment covers Johnston & Murphy retail operations, e-commerce and catalog operations, and wholesale distribution. The Licensed Brands segment consists of Dockers Footwear, sourced and marketed under a license from Levi Strauss & Company, SureGrip Footwear, occupational footwear primarily sold directly to consumers and other footwear brands. The company was founded in 1924 and is headquartered in Nashville, TN.
Predefined Scans Triggered: Bullish MACD Crossovers, Moved Above Ichimoku Cloud, P&F Double Top Breakout and Ichimoku Cloud Turned Red.
Below are the chart and commentary from Tuesday (1/25):
"GCO is unchanged in after hours trading. This one has also been in a wide trading range. We have a messy triple-bottom on this one. The rally out of the second bottom should've reached the $67 level so it isn't your standard triple-bottom. I've annotated the confirmation line in green dashed line at about $67.50. The minimum upside target of the pattern would take price to about $78. We have a positive RSI and a new PMO crossover BUY signal. Volume is coming in. Stochastics are rising in positive territory. GCO is also a leader within the group based on relative strength and it is performing well against the SPY. The stop could be tighter set under the 20-day EMA, but I opted to set it at the late November lows."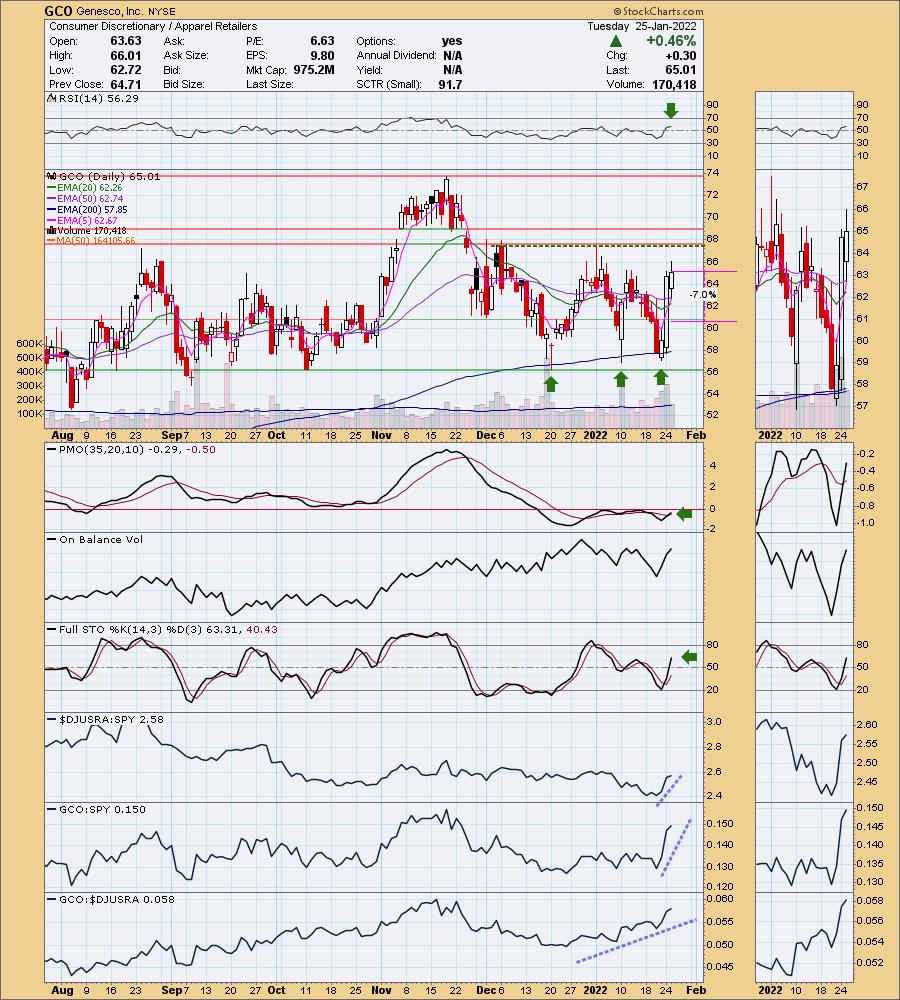 Below is today's chart:
I decided to follow my scan result theme of Apparel Retailers and picked this and Duluth (DLTH). Both were losers. Neither looks all that appetizing right now on Wednesday's pullback. The PMO and RSI are still somewhat bullish, but Stochastics tell us to stay away right now.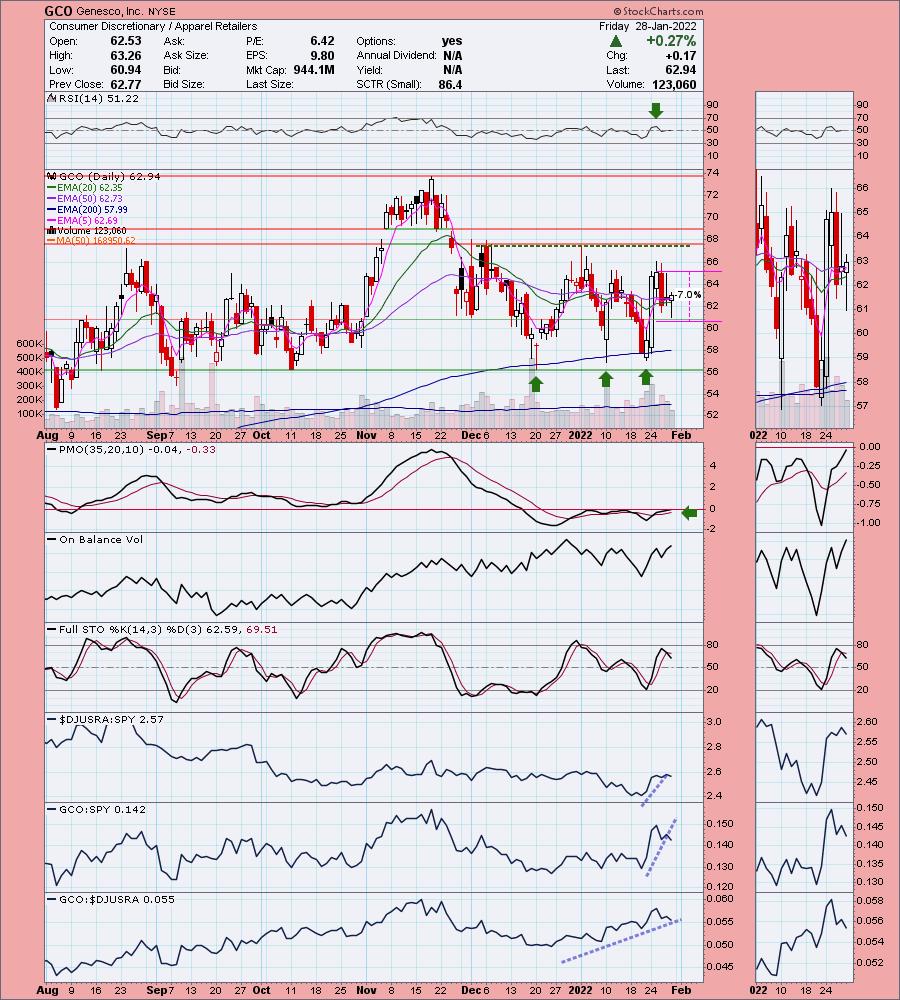 ---
THIS WEEK's Sector Performance: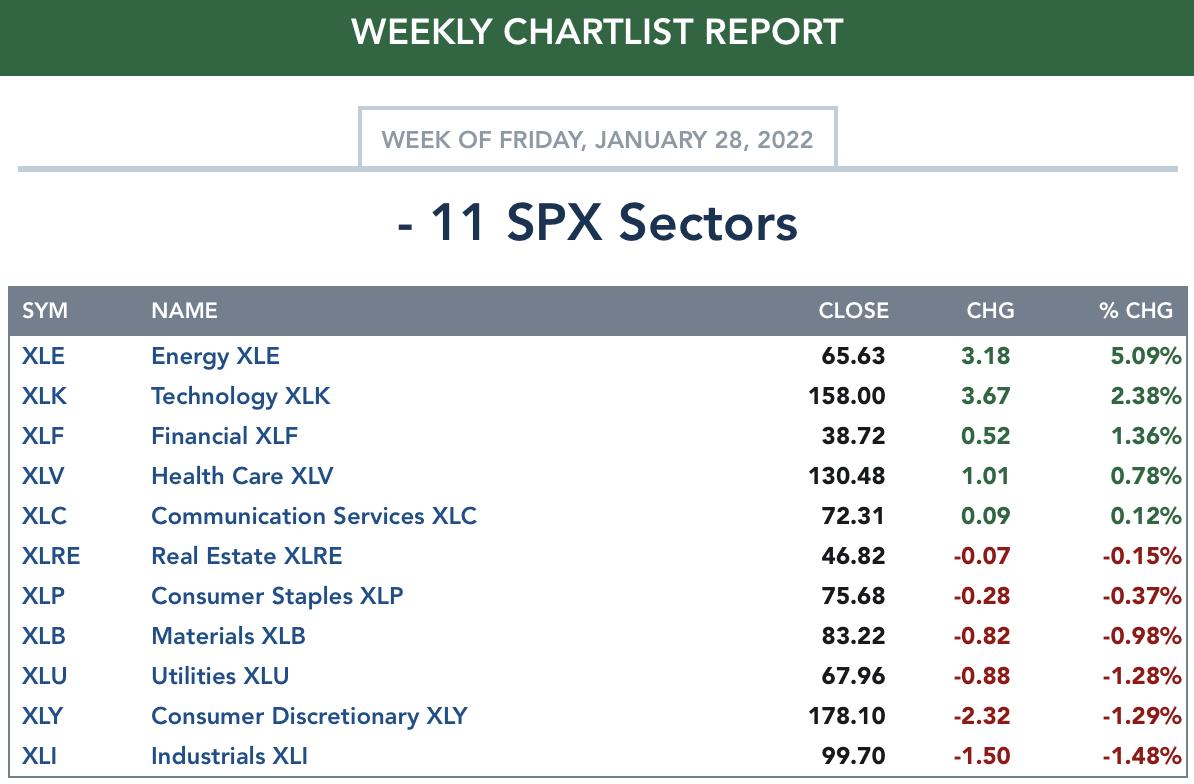 DecisionPoint Sector Scoreboard (Mechanical Trend Model Signals): We lost four IT Trend Model "Silver Cross" BUY signals, XLI, XLRE, XLB and XLF this week.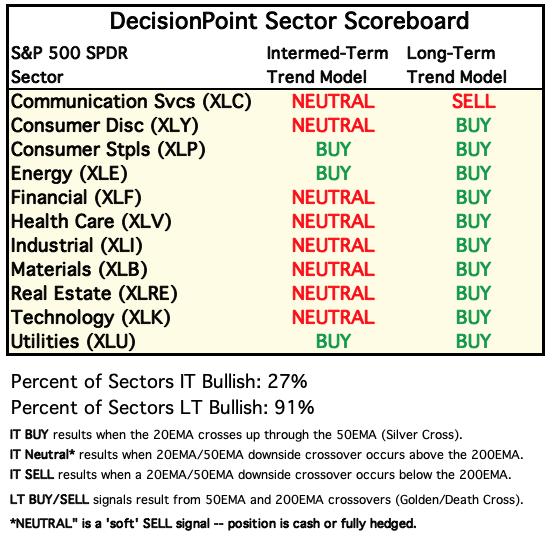 Click Hereto view Carl's annotated Sector ChartList!
Short-term (Daily) RRG: On the daily RRG, four sectors look especially bearish: XLY, XLB, XLI and XLF because they are traveling with a bearish southwest heading. XLI isn't too terrible given it is still holding in Leading, but its deterioration is concerning. Up and comers are XLK, XLRE and XLV. All three have bullish northeast headings and are in Improving. XLE still shows leadership, but relative strength is diminishing somewhat given the southward heading. XLU and XLP are looking fairly good as they sit in Leading. However, they are hooking around toward Weakening. XLC which amazingly entered Leading, is headed south and could end up in Lagging given its southwest heading. XLY is the clear loser here.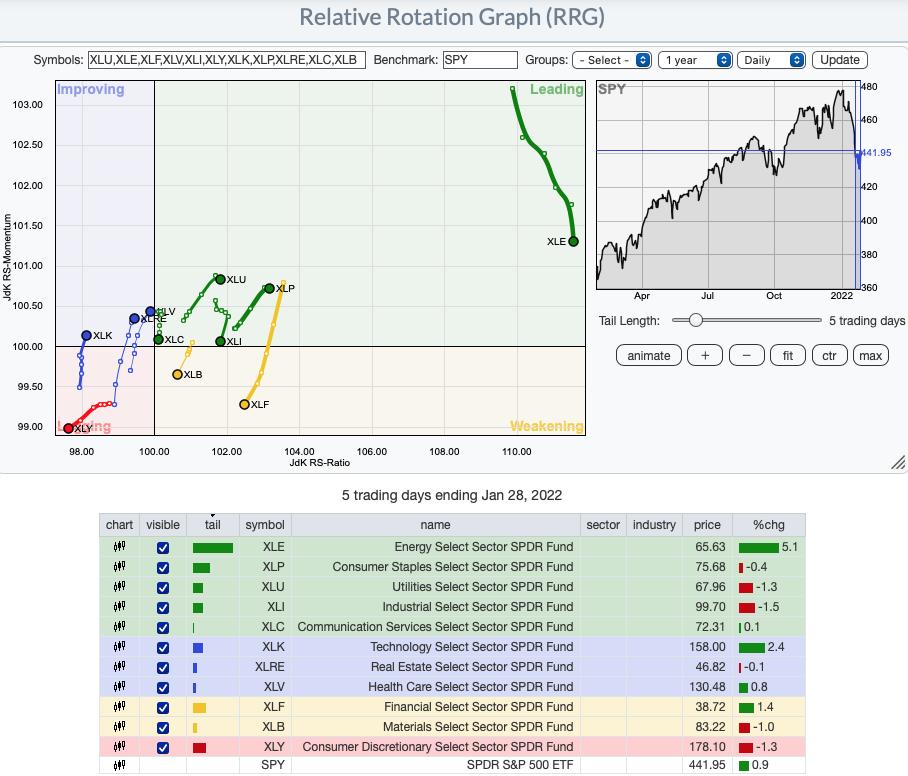 Intermediate-Term (Weekly) RRG: The longer-term RRG shows only two sectors with a bearish southwest heading, XLY and XLK. We know from the daily RRG that XLY is in trouble in the short term, this confirms the short-term weakness and suggests further weakness ahead. Strong performers are the defensive XLU, XLRE and XLP. XLE is in a class by itself on the longer-term RRG, but XLP is gaining. XLC is still in Lagging but is making a run at reaching Improving given its northward heading. XLB is a bit of a problem. While it is in Leading, it is traveling bearishly southward. The remaining sectors are in Improving and have a bullish northeast heading: XLF, XLV and XLI.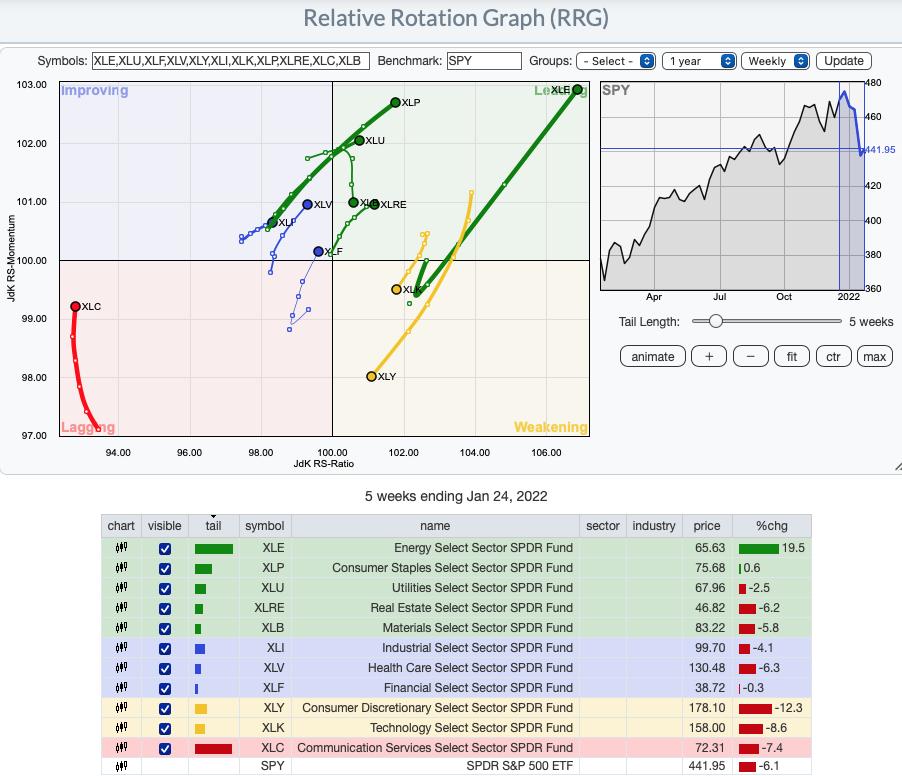 RRG® charts show you the relative strength and momentum for a group of stocks. Stocks with strong relative strength and momentum appear in the green Leading quadrant. As relative momentum fades, they typically move into the yellow Weakening quadrant. If relative strength then fades, they move into the red Lagging quadrant. Finally, when momentum starts to pick up again, they shift into the blue Improving quadrant.
CLICK HERE for an animated version of the RRG charts.
Sector to Watch: Utilities (XLU)
We could see a short-term bounce on Technology (XLK) given the improvement today, but longer term, I'm not a fan. What really impressed me on the Utilities (XLU) sector was the MAJOR improvement in participation "under the hood". While %Stocks > 20/50-day EMAs is less than the SCI, the SCI is at a bullish 82% and with participation improving, that should begin rising in earnest. The GCI is very bullish at 93%. Price is consolidating on top of the 200-day EMA. We don't have a "dark cross" of the 20/50-day EMAs. It will trigger should price not be able to move above the 50-day EMA. The PMO is beginning to decelerate and should turn up soon. The RSI is rising, but still negative. Stochastics are oversold and have turned back up.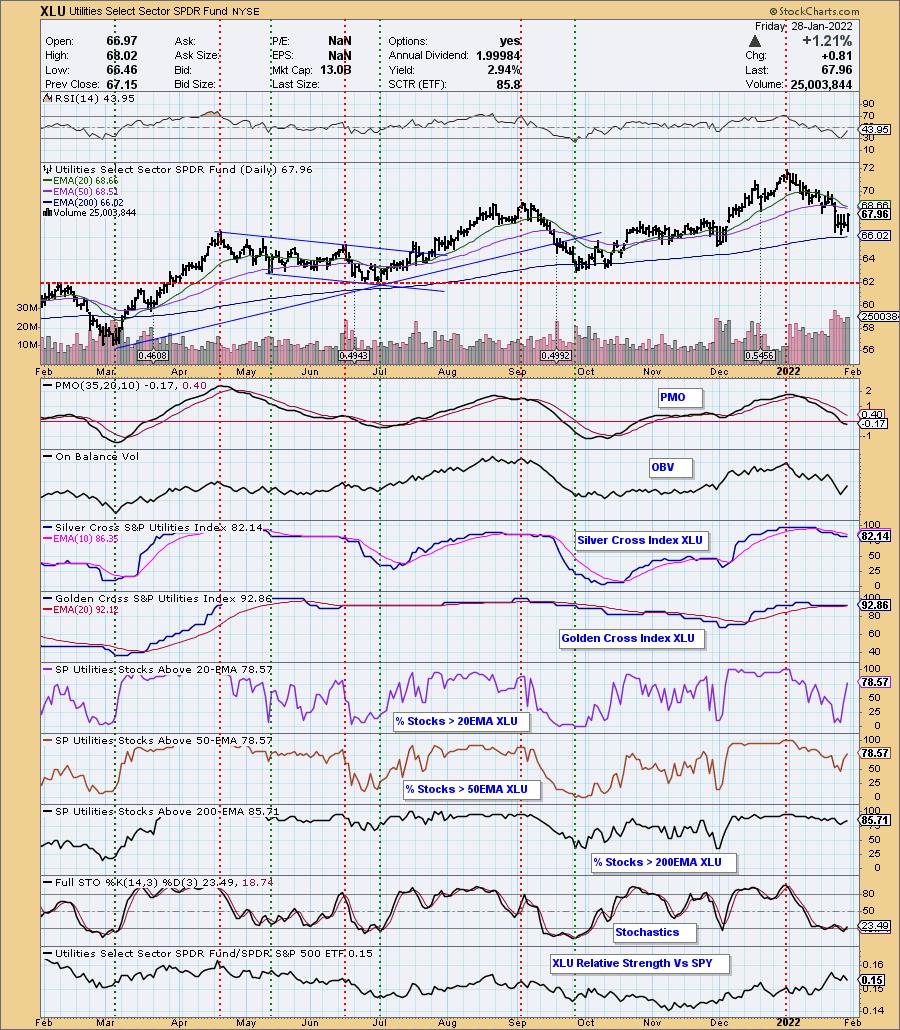 Industry Group to Watch: Gas Distribution ($DJUSGU)
If I had to pick an industry group within Utilities, I would pick this one or Multi-Utilities. The RSI is positive and rising, the PMO has turned back up. Price bounced off support at the November highs and 200-day EMA. Volume is pouring in and Stochastics are rising and positive. A few stocks in this industry group to review would be OGS, NJR and SWX.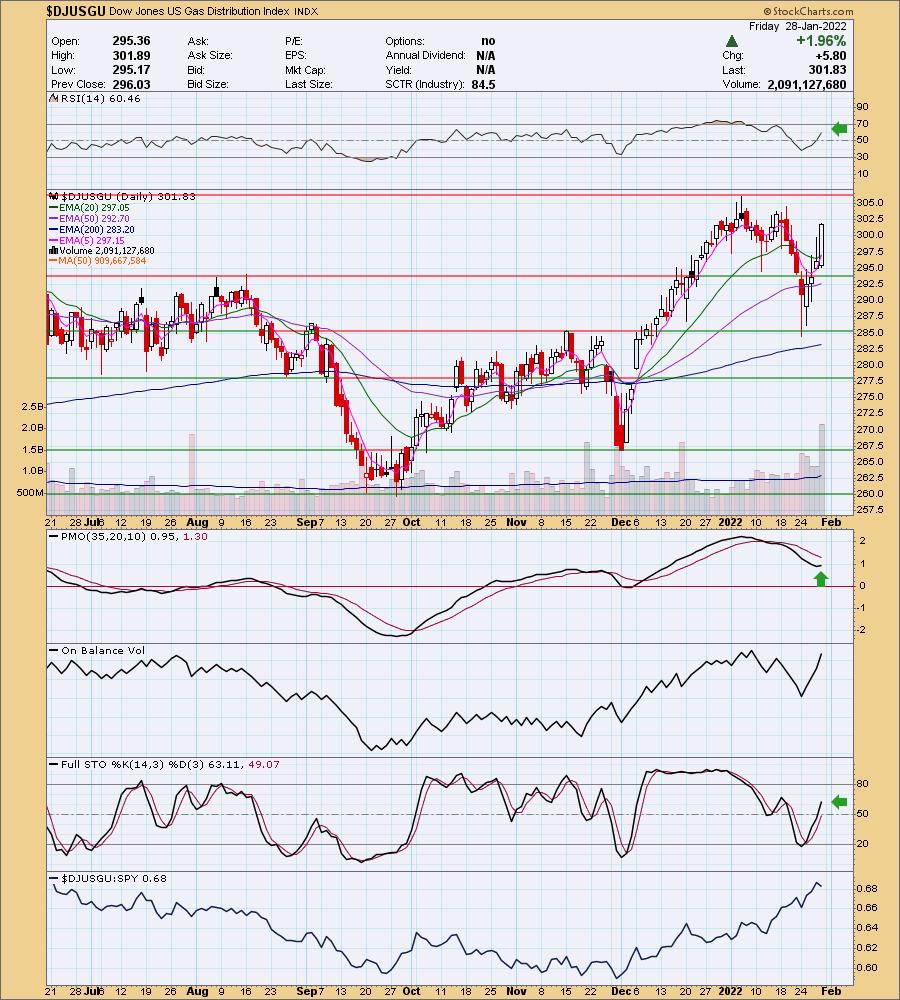 Go to our Sector ChartList on DecisionPoint.com to get an in depth view of all the sectors.
Have a great weekend! The next Diamonds Report is MONDAY 1/31.
- Erin
erin@decisionpoint.com
---
Full Disclosure: I'm about 8% exposed to the market.
---
Watch the latest episode of DecisionPoint with Carl & Erin Swenlin on Mondays 7:00p EST or on the DecisionPoint playlist on the StockCharts TV YouTube channel here!
---
Technical Analysis is a windsock, not a crystal ball. --Carl Swenlin
---
NOTE: The stocks reported herein are from mechanical trading model scans that are based upon moving average relationships, momentum and volume. DecisionPoint analysis is then applied to get five selections from the scans. The selections given should prompt readers to do a chart review using their own analysis process. This letter is not a call for a specific action to buy, sell or short any of the stocks provided. There are NO sure things or guaranteed returns on the daily selection of "diamonds in the rough."
---
Helpful DecisionPoint Links:
DecisionPoint Shared ChartList and DecisionPoint Chart Gallery
Price Momentum Oscillator (PMO)
Swenlin Trading Oscillators (STO-B and STO-V)
(c) Copyright 2021 DecisionPoint.com