This week "Diamonds in the Rough" were up while the SPY was down. It was ETF Day that shined as all three were up +5.00%, 6.80% and 2.77% since Wednesday. The overall average was +0.78% for all of the "Diamonds in the Rough".
One stop was hit on Wednesday on CONSOL Energy (CEIX). The stock was down -9.1% on the week but we took an 8.2% stop. CEIX is obviously this week's "Dud".
Goldilocks this week was a stock picked from reader requests, Prevention Bio (PRVB). This is so "Biotech" as it gained +11.47% in one day. Biotechs tend to be very volatile. Second place went to Natural Gas (UNG) which was up +6.8% on the week.
I completely changed my mind on this week's Sector to Watch and Industry Group to Watch from this morning's Diamond Mine trading room. Once I got the datasets that were missing from StockCharts last night, the winners were clear and obvious. In the morning I did mention these symbols that you might want to look at from interesting groups Healthcare Providers (CI, HUM, HIMS and CVS) and Defense (LMT and LDOS). I'll let you scroll down to see which sector and group I picked.
I apologize for the delay this week, but I couldn't publish without the participation readings.
Have a great weekend!
Good Luck & Good Trading,
Erin
---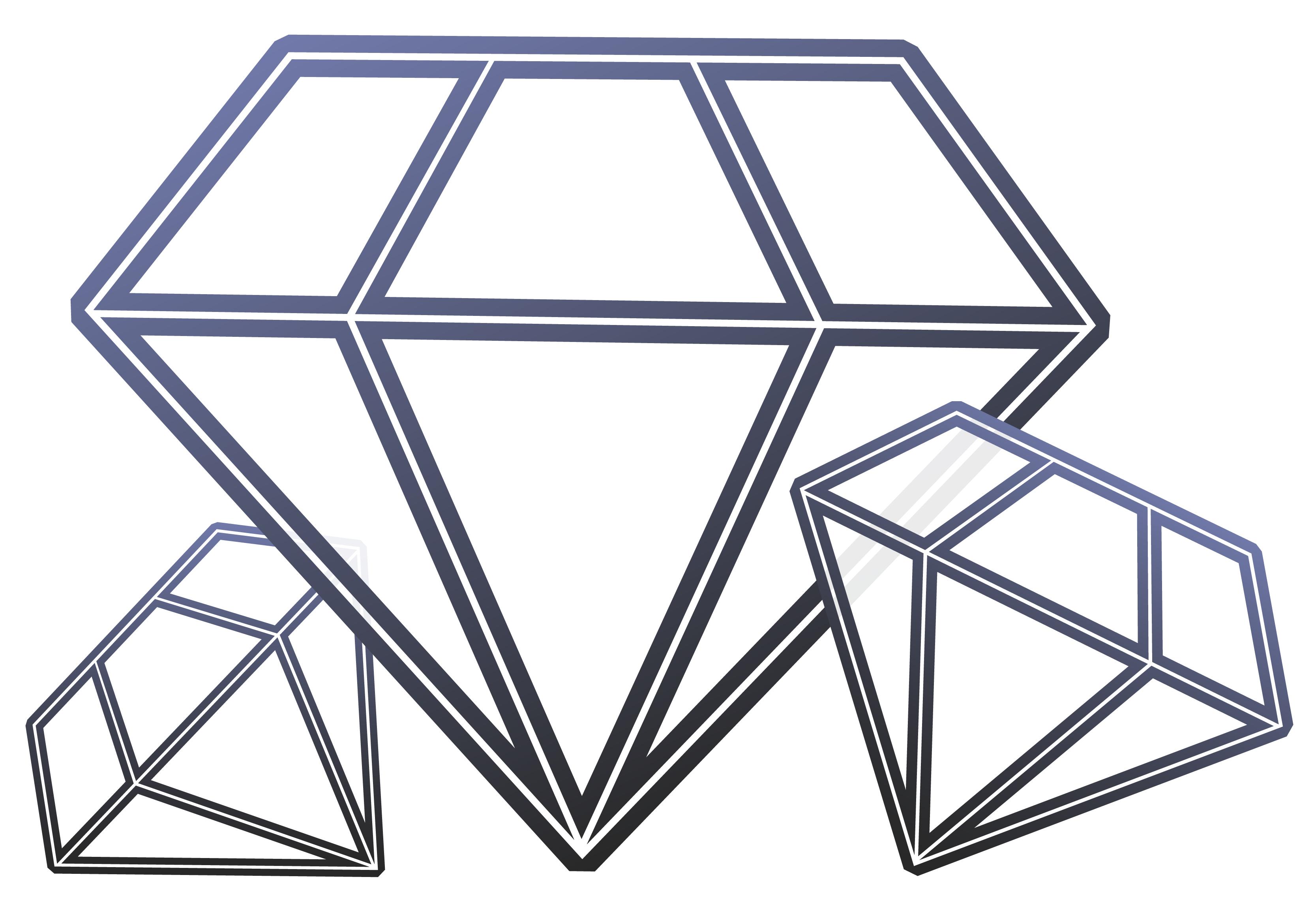 RECORDING LINK (2/10/2023):
Topic: DecisionPoint Diamond Mine (2/10/2023) LIVE Trading Room
Passcode: Feb@10th
REGISTRATION for 2/17/2023:
When: Feb 17, 2023 09:00 AM Pacific Time (US and Canada)
Topic: DecisionPoint Diamond Mine 2/17/2023 LIVE Trading Room
Register in advance for this webinar HERE
After registering, you will receive a confirmation email containing information about joining the webinar.
---

Our latest DecisionPoint Trading Room recording (2/6/2023):
---
A few items about the spreadsheet: I've put on the spreadsheet whether the RSI is positive (green) or negative (red). The PMO column tells you if it is rising (green) or falling (red). Finally I've added my own "Sparkle Factor" that gives you my assessment going forward, bullish (green), bearish (red) or neutral (gray). The Sparkle Factor is basically my thoughts on whether I expect it to rise or fall. A neutral means it could really go either way so it could be added to a watch list. If you're in a stock I consider "neutral" going forward, the ball is in your court.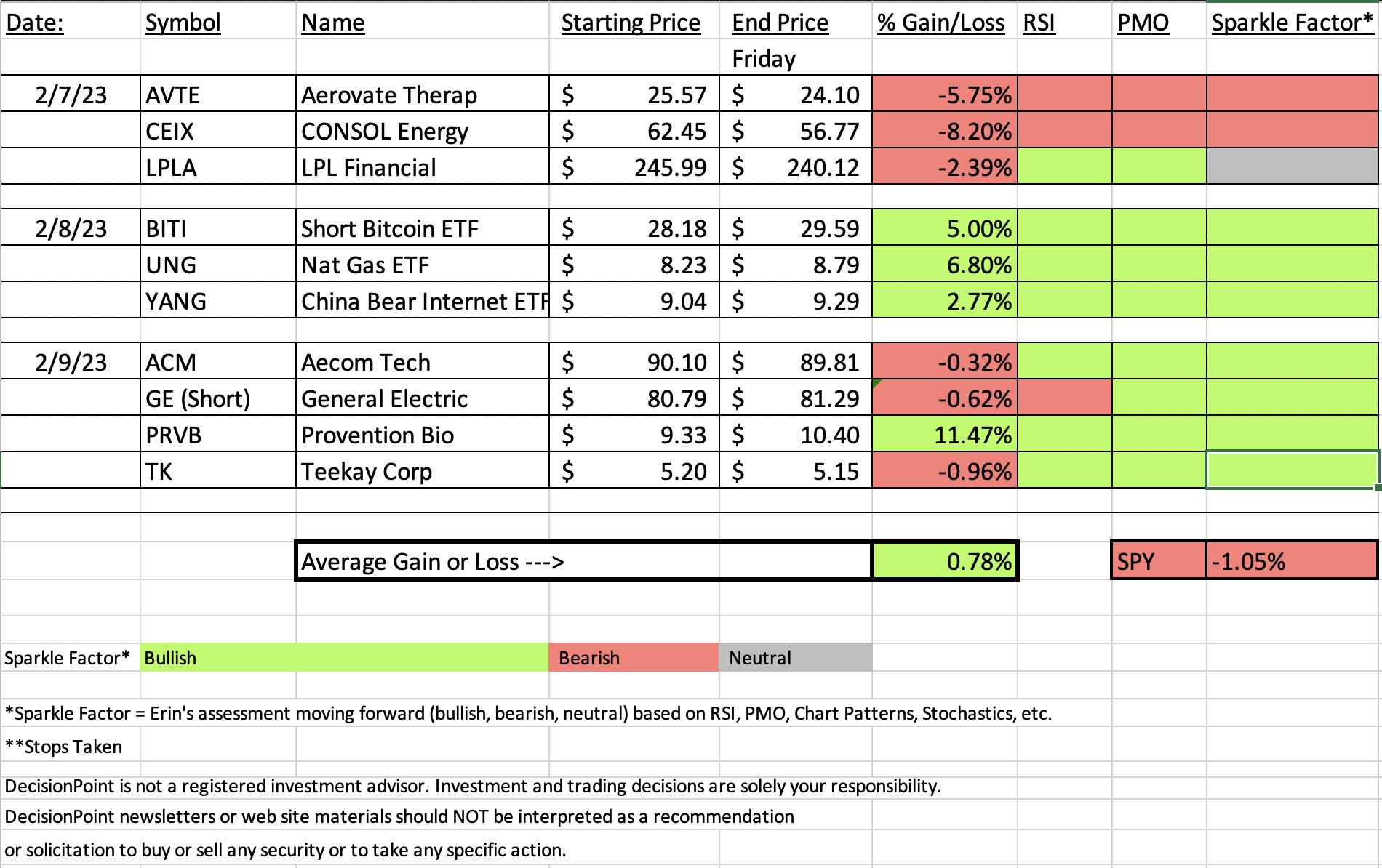 ---
Darling:
Provention Bio, Inc. (PRVB)
EARNINGS: 02/23/2023 (BMO)
Provention Bio, Inc. is a clinical-stage biopharmaceutical company, which engages in the development and commercialization of novel therapeutics and solutions. Its products include PRV-031 for the interception of type 1 diabetes (T1D), PRV-015 for the treatment of gluten-free diet non-responding celiac disease, PRV-6527 for Crohn's disease, PRV-3279 for the treatment of lupus, and PRV-101 for the prevention of acute coxsackie virus B (CVB), and the prevention of type 1 diabetes (T1D) onset. The company was founded by Francisco Leon and Ashleigh Palmer on October 4, 2016 and is headquartered in Red Bank, NJ.
Predefined Scans Triggered: Shooting Star.
Here are the commentary and chart from Thursday (2/9):
"PRVB is up +3.43% in after hours trading. Generally, shooting star candlesticks are bearish. It's similar to a filled black candlestick in that it implies bears had a hand in bringing price well below the intraday high. I don't see this as a problem and based on after hours trading, it shouldn't be. This chart is just getting ripe; it's still early though. The RSI is positive, but has been hugging net neutral (50) this week and last. The PMO is ready to trigger a crossover BUY signal. Stochastics have just risen above 80. Relative strength is improving for this group. Relative strength is positive. The stop is set below the 50-day EMA around 6% or $8.77."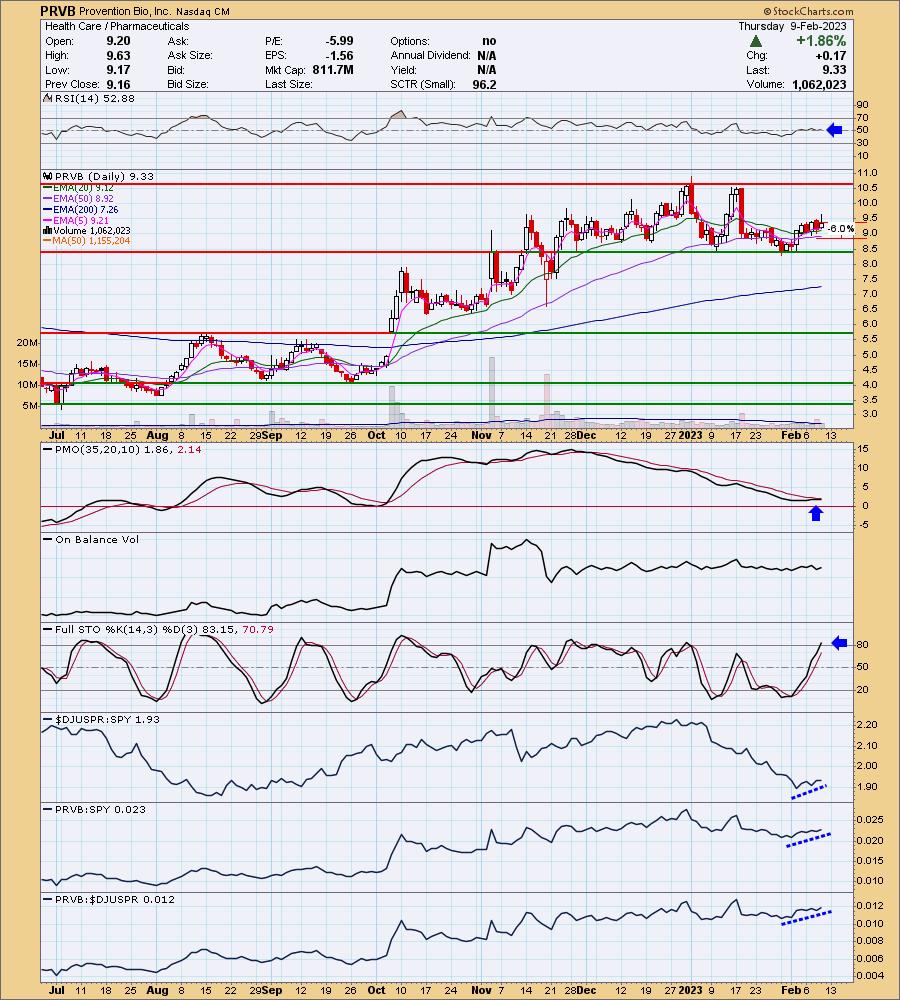 Here is today's chart:
I would be lying if I said that I expected this. You'd know anyway based on my write-up above. The chart was barely ripe, but it jumped heavily. I didn't look online to see why, I just know it is earnings related. The chart looks great, but begs for a bit of a pullback given it just hit overhead resistance and today's move was so strong. I do like it going forward, I would just want to see a pullback before I would enter.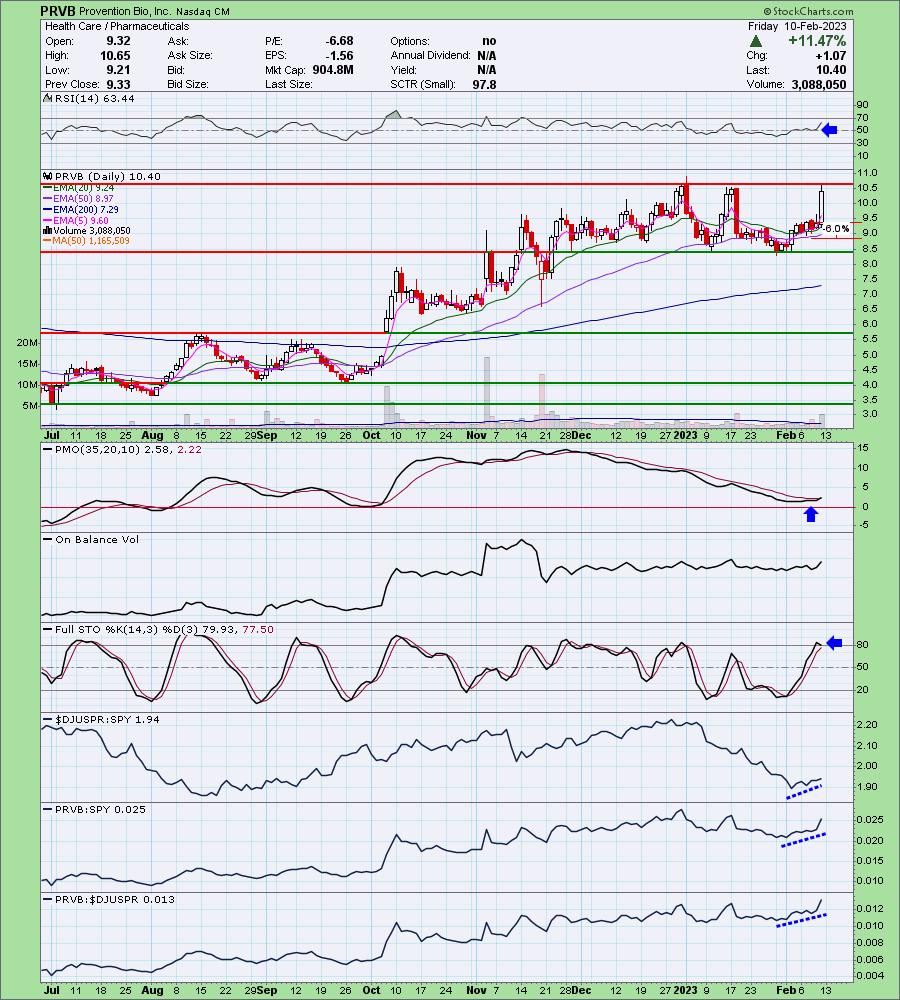 ---
---
Don't forget, on Thursdays I look at reader-requested symbols, so shoot me an email at erin@decisionpoint.com. I read every email I receive and try to answer them all!
---
---


Dud:


CONSOL Energy Inc. (CEIX)
EARNINGS: 02/07/2023 (BMO) (Today)
CONSOL Energy Inc. engages in the production of bituminous coal. It focuses on the extraction and preparation of coal in the Appalachian basin. The firm operates through the following segments: PAMC and CONSOL Marine Terminal. The PAMC segment includes mining, preparation and marketing of thermal coal. The CONSOL Marine Terminal segment provides coal export terminal services. The company was founded in 1864 and is headquartered in Canonsburg, PA.
Predefined Scans Triggered: Elder Bar Turned Green, P&F Spread Triple Top Breakout and P&F Double Top Breakout.
Below are the commentary and chart from Tuesday (2/7):
"CEIX is up +0.64% in after hours trading. It's strange bringing an Energy stock to the table as I'm definitely bearish on Energy. As far as Coal, relative strength has been holding up so I opted to include it. The RSI is positive and not overbought. The PMO just triggered a crossover BUY signal. There is a positive OBV divergence with price lows. Stochastics just moved above 50 and relative strength for CEIX is improving against the group and consequently the SPY. The stop is set below the 200-day EMA at 8.2% around $57.32. The stop is deeper than usual due to today's 7%+ move."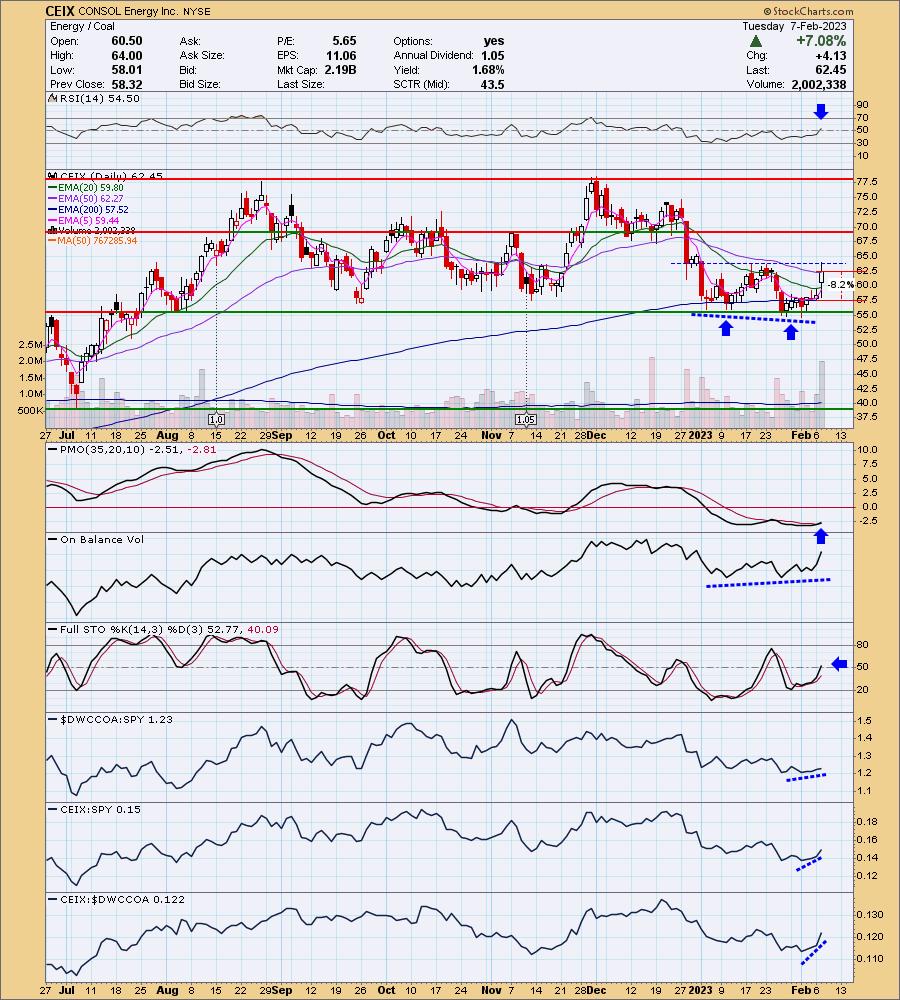 Here is today's chart:
It's not all over for CEIX as it is holding support. The major failure must be related to earnings, but I felt we were somewhat immune given that day they announced in the morning. Something must have been uncovered that investors were spooked by. Honestly, with the Energy sector perking up and price sitting on support, this is watch list material. Upside potential is pretty good coming off this strong support level and the PMO is flat not angling steeply downward.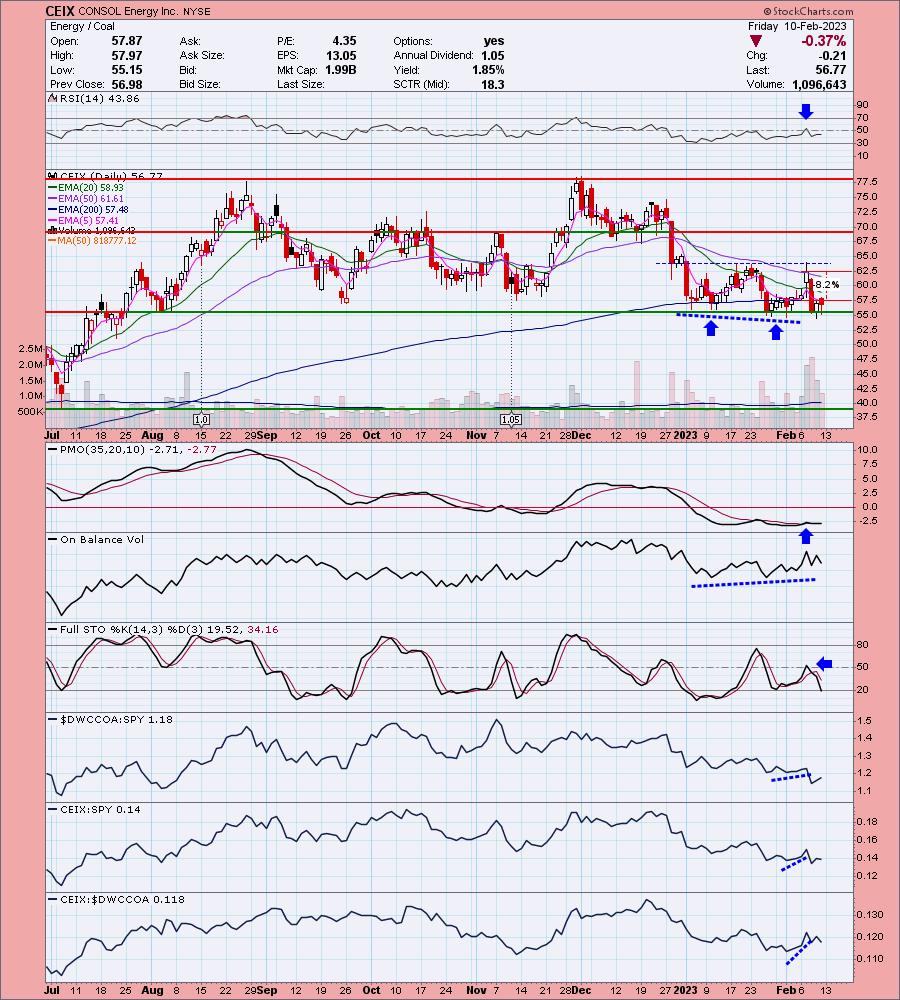 ---
THIS WEEK's Sector Performance: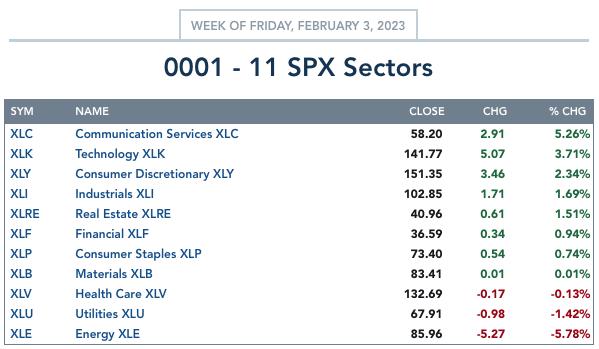 DecisionPoint Sector Scoreboard (Mechanical Trend Model Signals):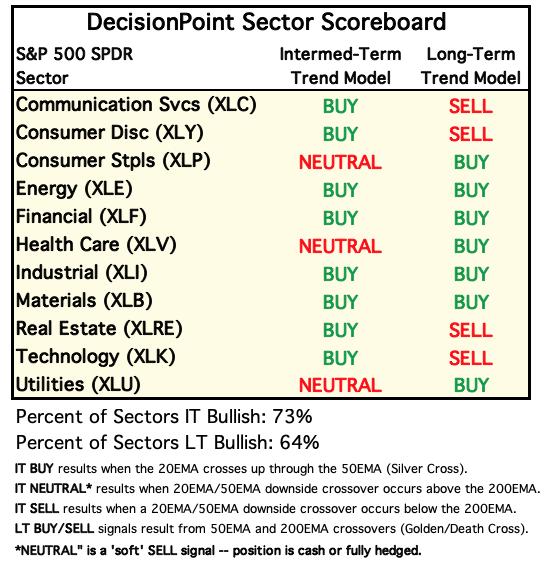 Click Here to view Carl's annotated Sector ChartList!
---
Sector to Watch: Energy (XLE)
There was no doubt after the close which would be our "Sector to Watch". I was leaning toward Healthcare during the market day on its rally, but found when our datasets arrived that participation didn't improve. XLE looks like a sector on the rise. My heartburn is that like Crude Oil, it has been rangebound. The indicators tell me a rally at least to overhead resistance will happen. The RSI is positive and the PMO has turned up. Best of all, the Silver Cross Index has turned up. Notice the rapid expansion of stocks above their 20/50-day EMAs. This is the winner.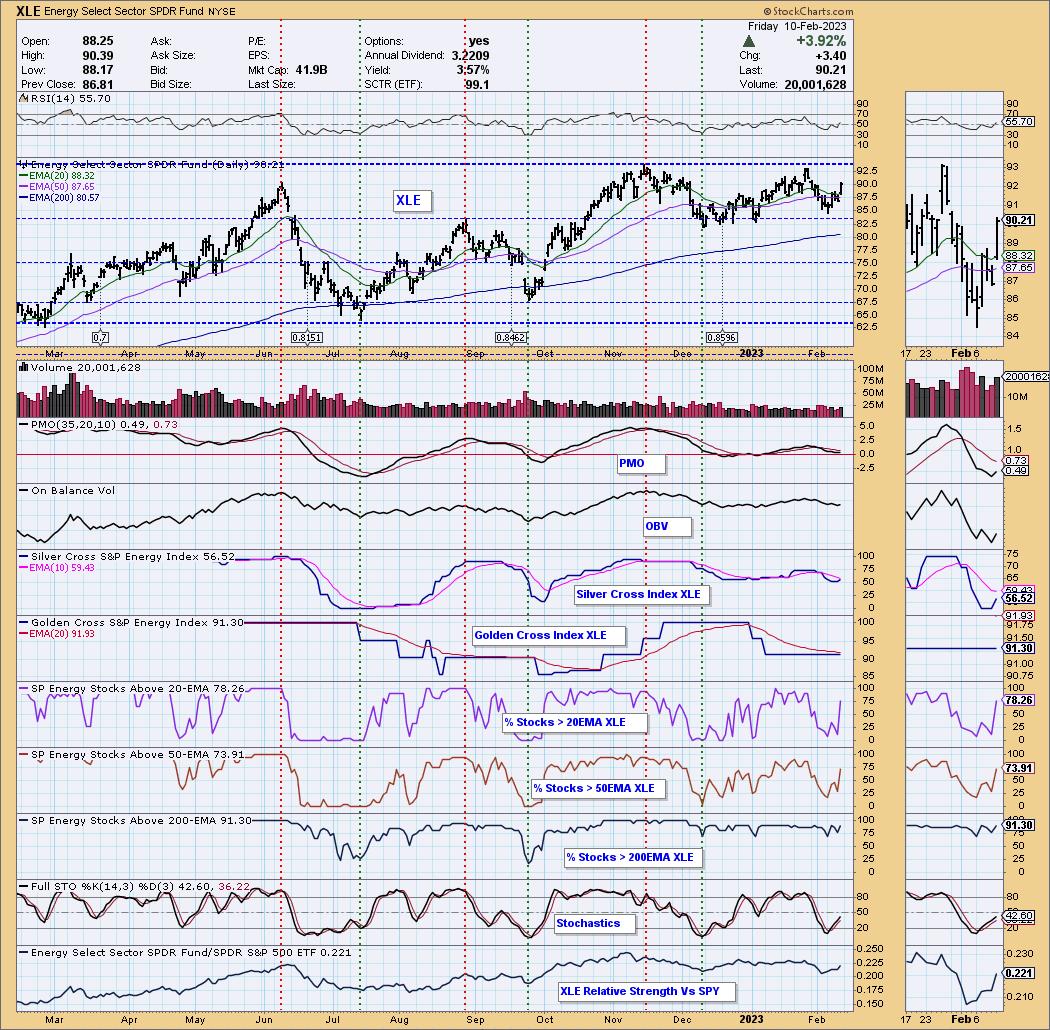 Industry Group to Watch: Exploration and Production ($DJUSOS)
After a thorough review of the industry groups within in Energy, I found this group showed new momentum and the best upside potential. The RSI just moved positive and the PMO has just turned up. Stochastics are rising strongly. This isn't a tradable entity. You could consider GUSH which is the 2x bull of this industry group. Symbols I found interesting were EOG and VLO.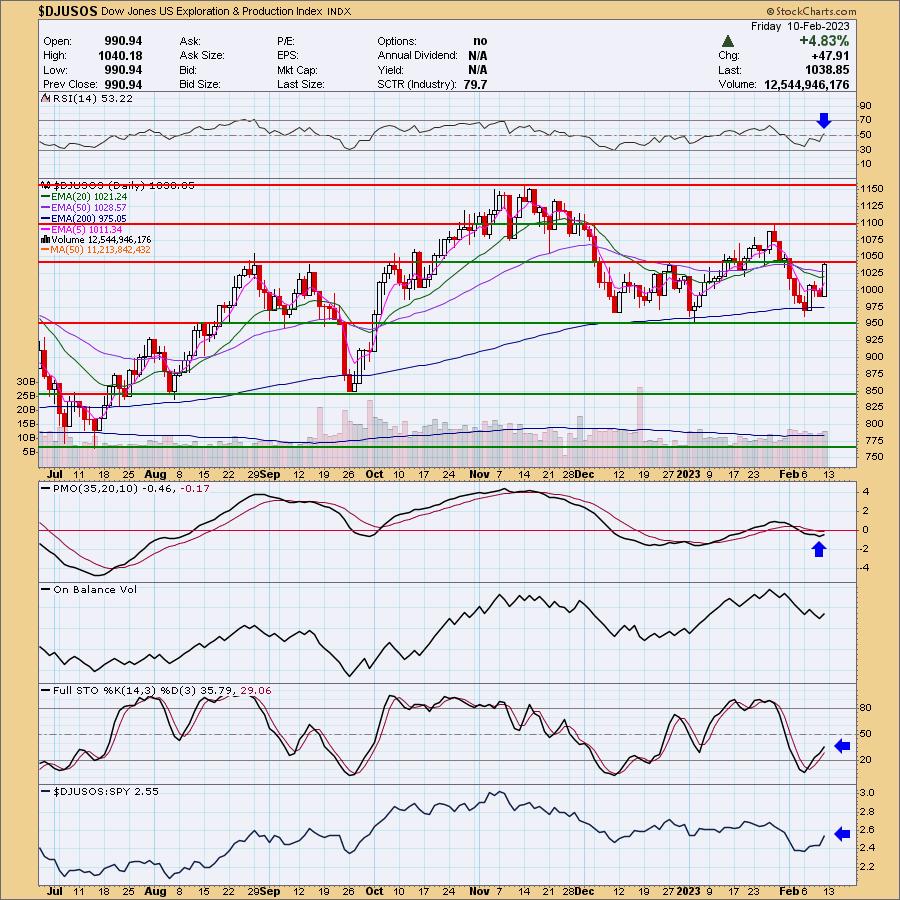 Go to our Sector ChartList on DecisionPoint.com to get an in-depth view of all the sectors. On StockCharts.com you can find the Industry Summary.
Good Luck & Good Trading!
- Erin
erin@decisionpoint.com
---
Full Disclosure: I'm 20% exposed.
---
Watch the latest episode of the DecisionPoint Trading Room with Carl & Erin Swenlin on Mondays 3:00p EST!
---
Technical Analysis is a windsock, not a crystal ball. --Carl Swenlin
---
NOTE: The stocks reported herein are from mechanical trading model scans that are based upon moving average relationships, momentum and volume. DecisionPoint analysis is then applied to get five selections from the scans. The selections given should prompt readers to do a chart review using their own analysis process. This letter is not a call for a specific action to buy, sell or short any of the stocks provided. There are NO sure things or guaranteed returns on the daily selection of "diamonds in the rough."
---
Helpful DecisionPoint Links:
DecisionPoint Shared ChartList and DecisionPoint Chart Gallery
Price Momentum Oscillator (PMO)
Swenlin Trading Oscillators (STO-B and STO-V)
(c) Copyright 2023 DecisionPoint.com