Since I was ill yesterday, I sent out an announcement that I'd be publishing today rather than yesterday. I also asked for reader requests. Well, my goodness!! I got a ton of them. Rather than pick only five, I decided I'd do 10 today! I won't include the weekly charts because that would be a little too much extra work for me on a Friday :-) Thank you everyone who submitted requests! Keep 'em coming for next week!
Interestingly, one of the requests was for the Commodities ETF (DBC). I had actually picked that one out myself to include so it was excellent that someone made the request because I like that chart! So let's get this Friday party started!
---
** Announcements **
I will be traveling July 1 - July 15. I will be writing on the road, but broadcasting will be suspended during that time. It's going to be an adventurous road trip for me and my husband. We will be taking a train from Los Angeles to New Orleans, visiting family, checking out retirement areas and then renting a car and making our way back to California with various stops along the way. I'll be sure to post a picture or two and I'm sure I'll have funny stories to share along the way. It'll be interesting to see the various stages of the reopening of America.
A heads up to Bundle subscribers, after tomorrow the LIVE Trading Room will be going on hiatus as Mary Ellen will also be out of pocket in the upcoming month. We hope to reopen in late-July. If you recently upgraded to get the Trading Room, I do hope you'll continue the subscription while we are on hiatus. Please direct questions to erin@decisionpoint.com.
---
---
Welcome to DecisionPoint Daily Diamonds, wherein I highlight five "diamonds in the rough." These are selected from the results of my DecisionPoint scans, which search for stocks that could benefit from the trend and condition of the market. Remember, these are not recommendations to buy or sell, but are the most interesting of the stocks that surfaced in my scans. My objective is to save you the work of the initial, tedious culling process, but you need to apply your own analysis to see if these stocks pique your interest as well. There are no guaranteed winners here!
---
---
George - AuidoCodes Ltd (AUDC) - Earnings: 7/21/2020 (BMO)
AudioCodes Ltd. engages in the development, manufacture, and marketing of products for transferring voice and data over the internet. Its products include products for Microsoft 365, session border controllers, multi-service business routers, internet protocol phones, digital and analog media gateways, management products and solutions, and voice applications.
Neutral to Bearish:
I figured I would give you my overall impression to begin with since these are your choices not mine. Don't feel bad if I take an other than bullish stance. While this has been a great performer, the stock is getting overbought based on the PMO. The RSI isn't above 70 yet (hence my neutral stance). You may not have noticed it, but there is a negative divergence with the OBV (best seen in the thumbnail). We have a bearish rising wedge forming. It is still on a nice rising trend and I can't argue with a 6.14% gain today (George gave me this one yesterday so well done!). I would watch the PMO closely. Maybe this one will consolidate to decompress the PMO.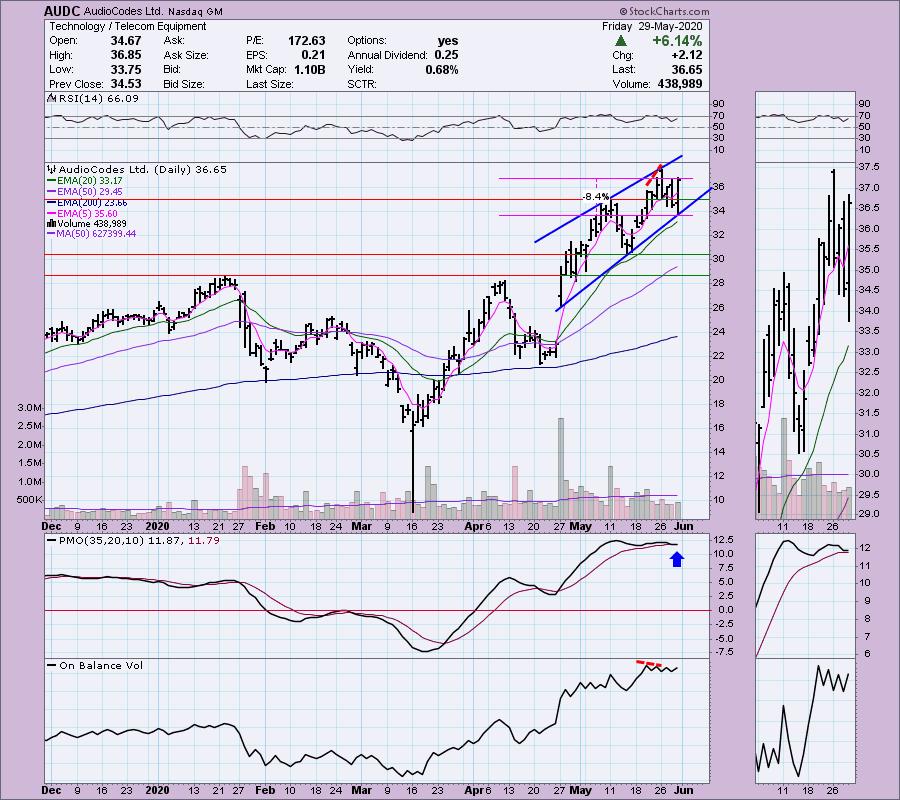 ---
Kheng - Boeing Co (BA) - Earnings: 7/22/2020 (BMO)
The Boeing Co. is an aerospace company, which engages in the manufacture of commercial jetliners and defense, space and security systems. It operates through the following segments: Commercial Airplanes; Defense, Space and Security; Global Services; and Boeing Capital. The Commercial Airplanes segment includes the development, production, and market of commercial jet aircraft and provides fleet support services, principally to the commercial airline industry worldwide. The Defense, Space and Security segment refers to the research, development, production and modification of manned and unmanned military aircraft and weapons systems for global strike, including fighter and combat rotorcraft aircraft and missile systems; global mobility, including tanker, rotorcraft and tilt-rotor aircraft; and airborne surveillance and reconnaissance, including command and control, battle management and airborne anti-submarine aircraft. The Global Services segment provides services to commercial and defense customers. The Boeing Capital segment seeks to ensure that Boeing customers have the financing they need to buy and take delivery of their Boeing product and manages overall financing exposure.
Bullish:
This is a bottom fishing opportunity and hence it comes with more risk. There was a nice breakout from a bullish descending wedge. Today's pullback is fine since it really hasn't broken the rising trend. The RSI is above net neutral and the PMO is about to reach above zero.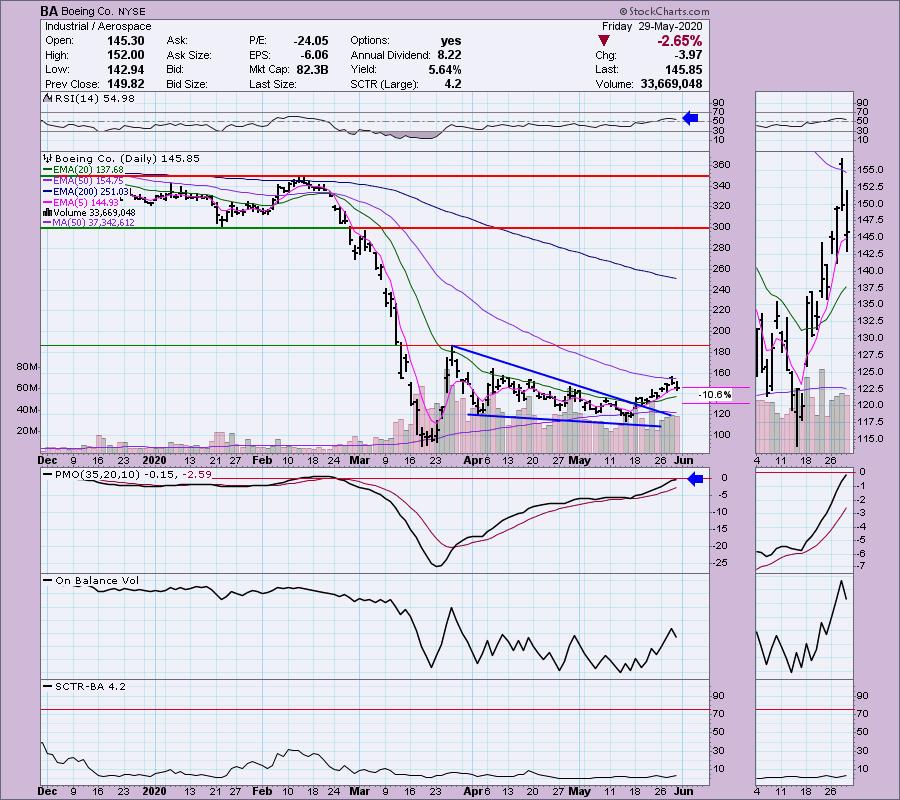 ---
Gary - Commodity Index Fund (DBC) - Earnings: N/A
DBC tracks an index of 14 commodities. It uses futures contracts to maintain exposure and selects them based on the shape of the futures curve to minimize contango.
Bullish:
DBC was the one I noticed today. It had an upside breakout from a bearish descending triangle which is especially bullish. It hasn't done a whole lot since the gap up, just consolidating the move. Today it broke out nicely and is at a 'decision point' sitting just below overhead resistance. You could set a reasonable stop here. I'd likely make it a tighter one than I have on the chart. More likely I would set it near the 20-EMA. I wouldn't want it if it can't hold that support. This is a beat down ETF so risk is higher for failure. I would look for that breakout. The PMO has reached positive territory and the RSI is floating above 50. OBV seems to be confirming the move.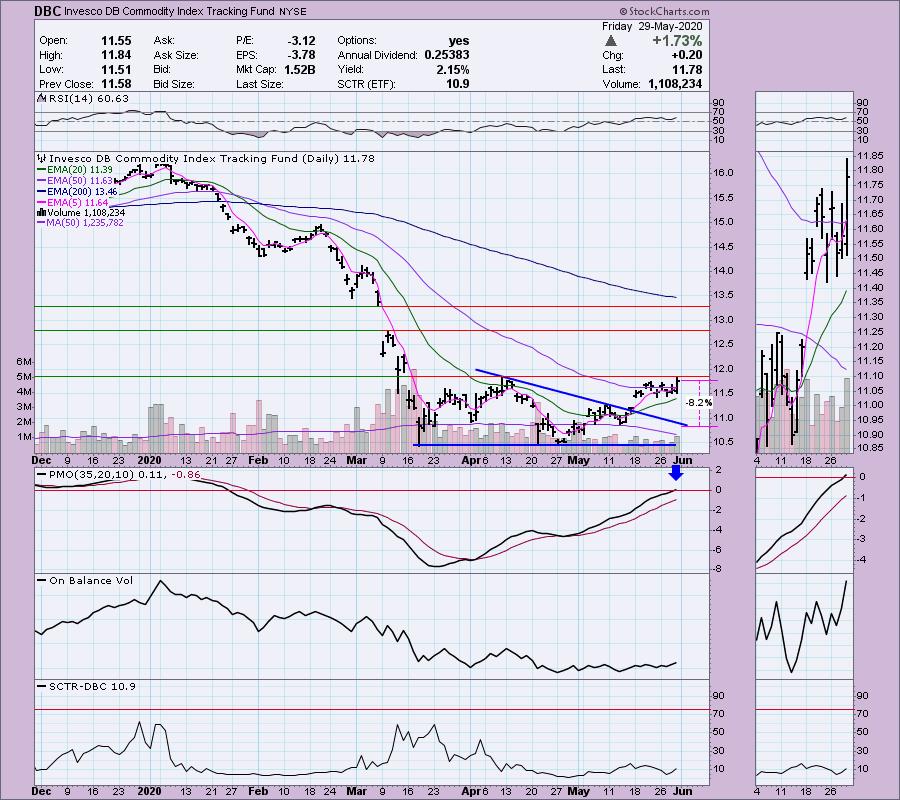 ---
Michael B. - Brazil ETF (EWZ) - Earnings: N/A
EWZ tracks a market-cap-weighted index of Brazilian firms covering the entire market-cap spectrum.
Bullish:
The gap up above the 50-EMA was impressive. It took price above overhead resistance and it does seem to be holding above it. The PMO is rising nicely and isn't overbought. The RSI is above net neutral and the OBV is confirming the move. The SCTR is stinky, but this is a bottom fishing opportunity. It may be time for this one to wake up. Just beware of a possible island reversal--don't want it to gap back down into the trading range.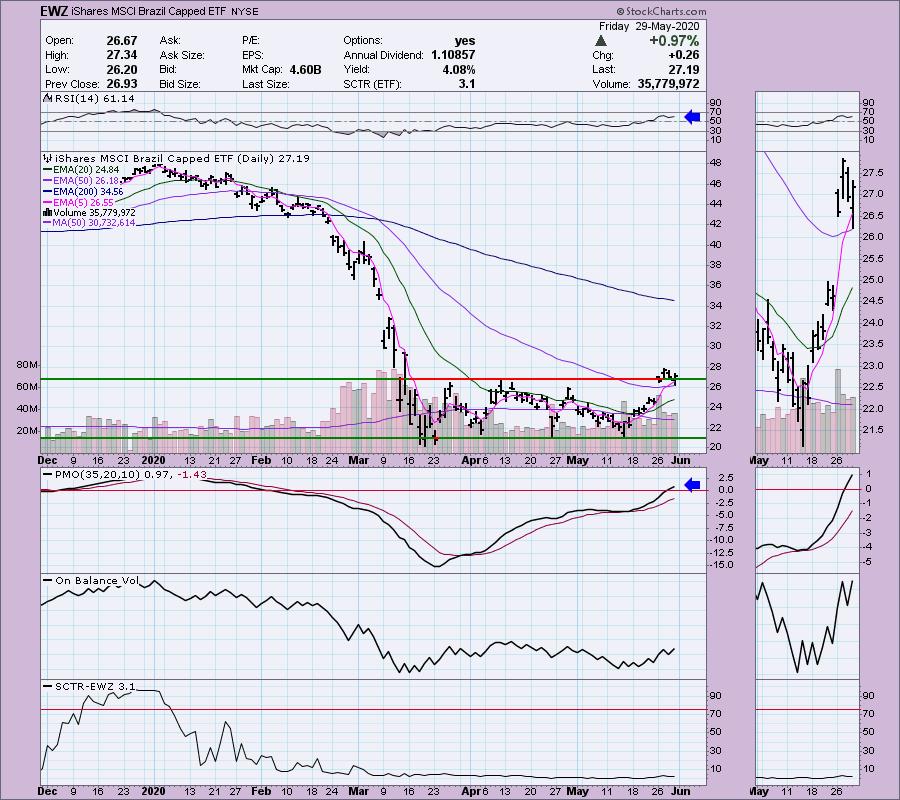 ---
Don't forget, on Thursdays I look at reader-requested symbols, so shoot me an email at erin@decisionpoint.com. I read every email I receive and try to answer them all!
---
Michael - Junior Gold Miners ETF (GDXJ) - Earnings: N/A
GDXJ tracks a market-cap-weighted index of global gold- and silver-mining firms, focusing on small-caps.
Neutral to Bullish:
I'm a fan of Gold Miners (GDX) and also like its sister, GDXJ. I don't think it is ripe for picking just yet. It needs to get back above the February top and the PMO is quite overbought right now and falling. Not the best set-up. I'm neutral because the SCTR is high and the RSI is rising above net neutral. The rising trend was broken, but support held at the January top. I think it may pullback a bit more and then it would be very interesting.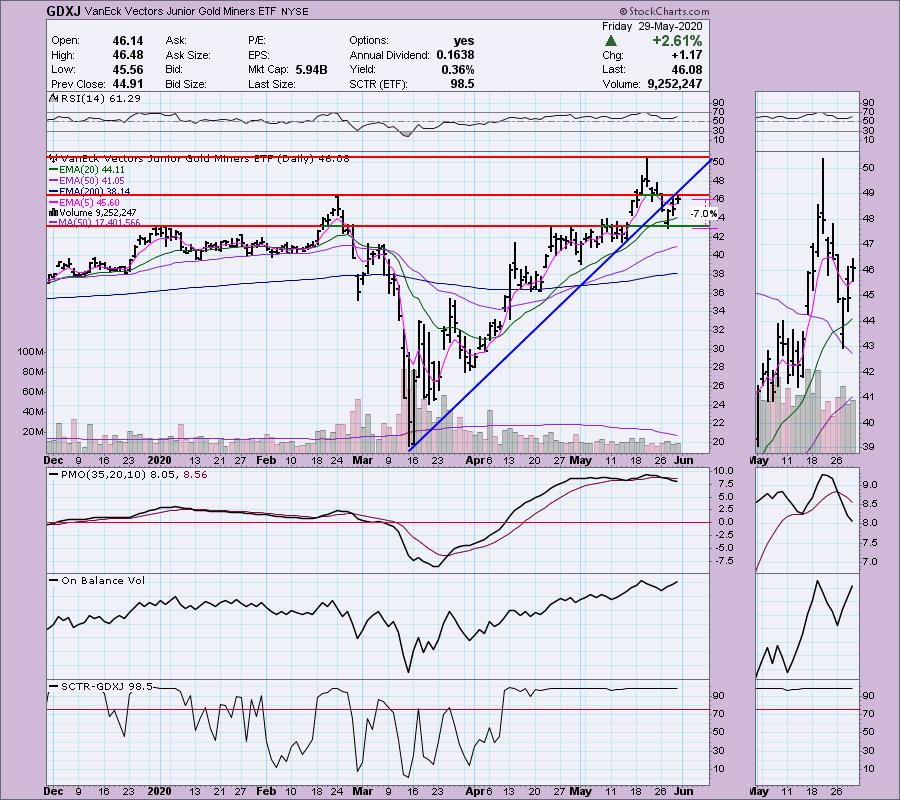 ---
Louis - Intercept Pharmaceuticals Inc (ICPT) - Earnings: 8/6/2020 (BMO)
Intercept Pharmaceuticals, Inc. is a biopharmaceutical company, which engages in the research, development, and commercialization of novel therapeutics in treating chronic liver diseases. Its product pipeline is OCALIVA which is used for the treatment of primary biliary cholangitis, nonalcoholic steatohepatitis, primary sclerosing cholangitis, and biliary atresia.
Bearish:
Louis requested this last week when the chart did look healthy. Unfortunately it took a swan dive afterwards and appears ready to move lower. There's a chance that this support level will hold, but I don't have a lot of confidence given the RSI below 50, a deeply diving OBV and failing SCTR. If this level can hold and the technicals perk up again, it could be a good one.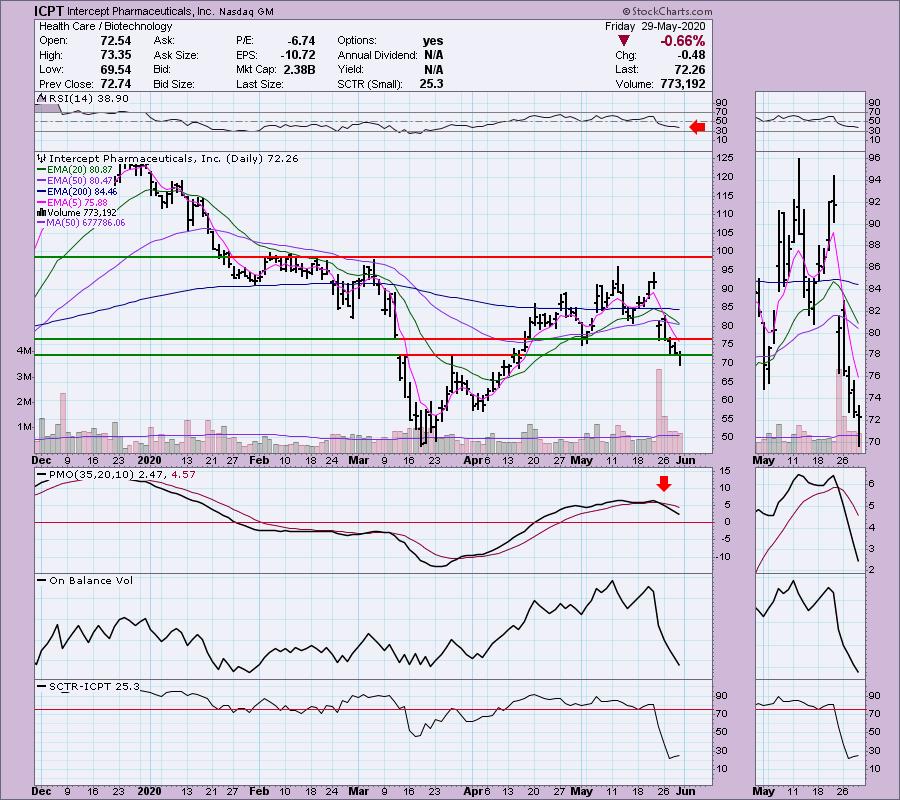 ---
Olivia - ITT Inc (ITT) - Earnings: 7/31/2020 (BMO)
ITT, Inc. engages in the manufacture and sale of engineered components and customized technology solutions in the field of energy, transportation, and industrial markets. It operates through the following segments: Motion Technologies, Industrial Process, and Connect and Control Technologies. The Motion Technologies segment manufactures brake components and specialized sealing solutions, shock absorbers and damping technologies primarily for the global automotive, truck and trailer, public bus and rail transportation. The Industrial Process segment includes engineered fluid process equipment in areas such as chemical, oil and gas, mining, and other industrial process markets as well as providing of plant optimization and efficiency solutions and aftermarket services and parts. The Connect and Control Technologies segment offers harsh-environment connector solutions and critical energy absorption and flow control components for the aerospace and defense, general industrial, medical, and oil and gas markets.
Bullish:
I like this one. It pulled back the last two days but stopped right on support at the April top. Seems a very good place for a reversal. The RSI is above 50, the PMO is rising and doesn't appear that overbought given the downside range went past -12. We just got an IT Trend Model BUY signal with the 20/50-EMA positive crossover. If support doesn't hold here, I wouldn't be that interested. I would use an 8% stop, but would watch what price does at the 20-EMA.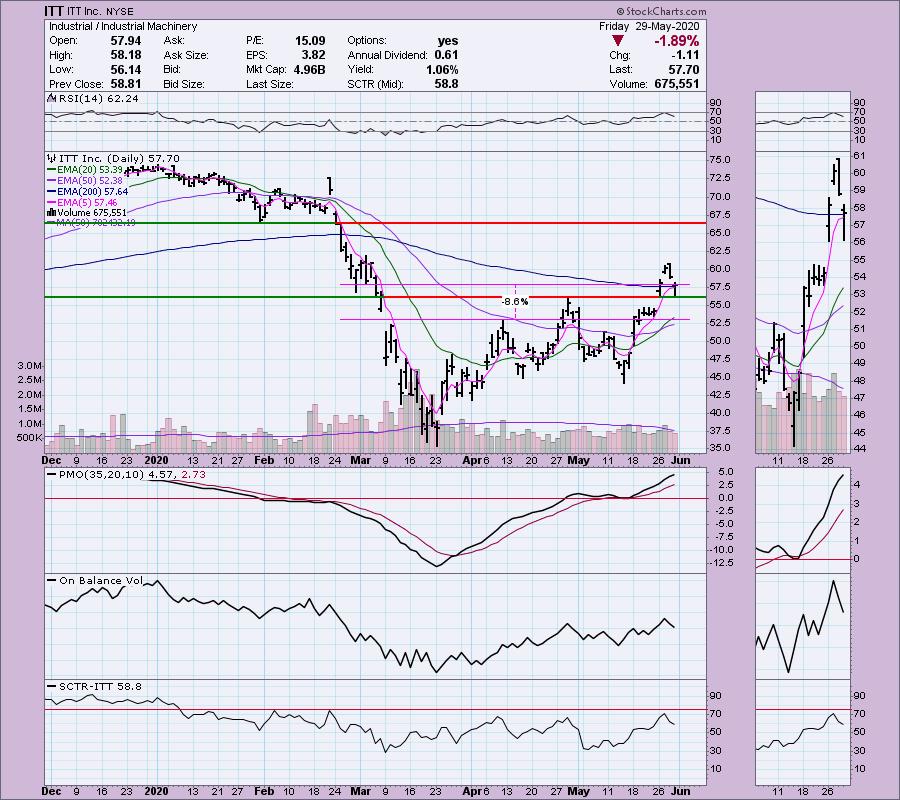 ---
Michael C. - Eli Lilly & Co (LLY) - Earnings: 7/30/2020 (BMO)
Eli Lilly & Co. engages in the discovery, development, manufacture and sale of pharmaceutical products. Its products include Forteo, Adrica, BAQSIMI, Basaglar and Glucagn.
Bullish:
I had this one as a short a few weeks ago, but it down looks ready to capture those gains back. Volume was extremely high, so interest in this stock is definitely there. The RSI just moved above 50 and the PMO is starting to turn back up. The SCTR is healthy. This one looks ready to push ahead after today's solid breakout above resistance at the April/May lows.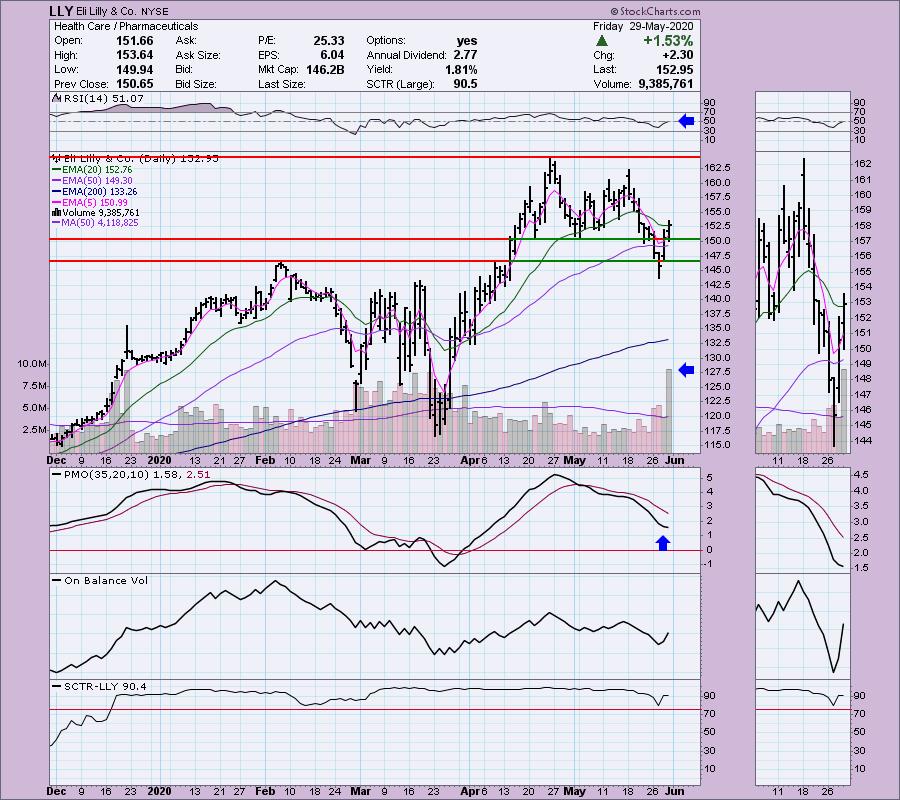 ---
Carla - Short Russell 2000 (RWM) - Earnings: N/A
RWM provides inverse exposure to a market-cap-weighted index of US small-cap companies.
Neutral to Bearish:
I had hoped when I drew the declining tops trendline that it would not line up into a declining trend channel but into a declining wedge (bullish). Unfortunately it is a declining trend channel. The RSI is trying to improve and the PMO is decelerating. If price were to close above the January top, I might consider it. Intuitively with the market acting a little toppy, this could be a bear fund worth looking at, but just looking at the price chart, it isn't something I'd want in on.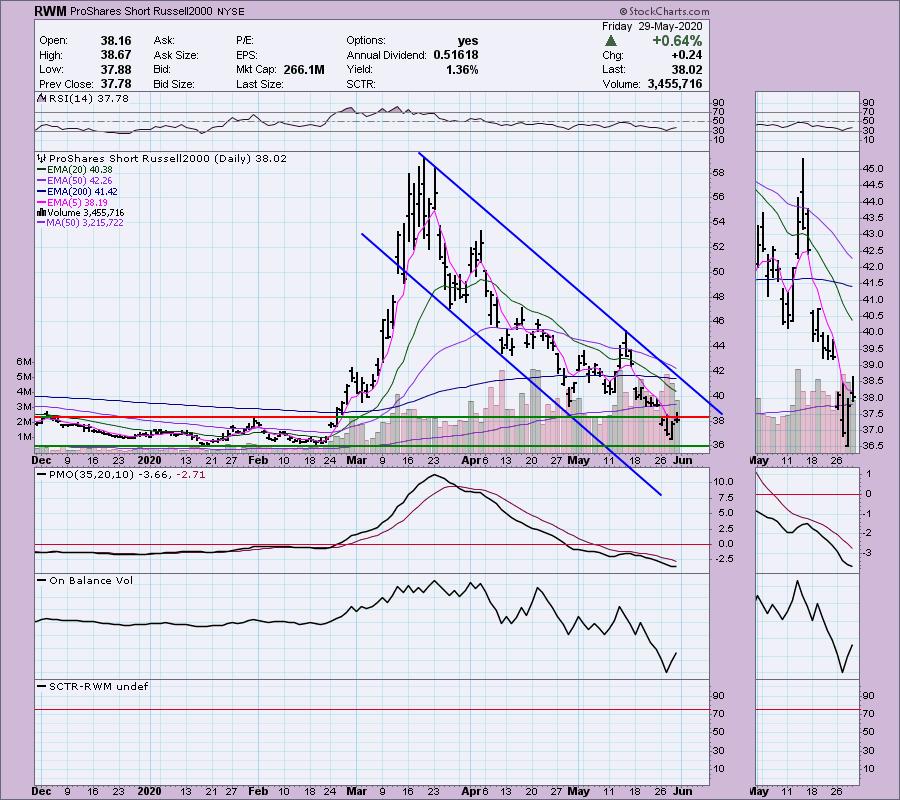 ---
Richard - Tencent Holdings Ltd (TCEHY) - Earnings: 8/12/2020 (BMO)
Tencent Holdings Ltd. is an investment company, which engages in the provision of value-added services and online advertising services. It operates through the following segments: Value-Added Services, Online Advertising, and Others. The Value-added Services segment involves online and mobile games, community value-added services, and applications across various Internet and mobile platforms. The Online Advertising segment represents display based and performance based advertisements. The Other segment consists of trademark licensing, software development services, software sales, and other services.
Neutral:
I like that TCEHY broke out above the February top today and managed to close above it. The RSI is just getting above 50 and the PMO is decelerating. Problem is price is in a declining trend channel where the last rally failed to test the declining tops line. The OBV is confirming the declining trend and the PMO is still falling.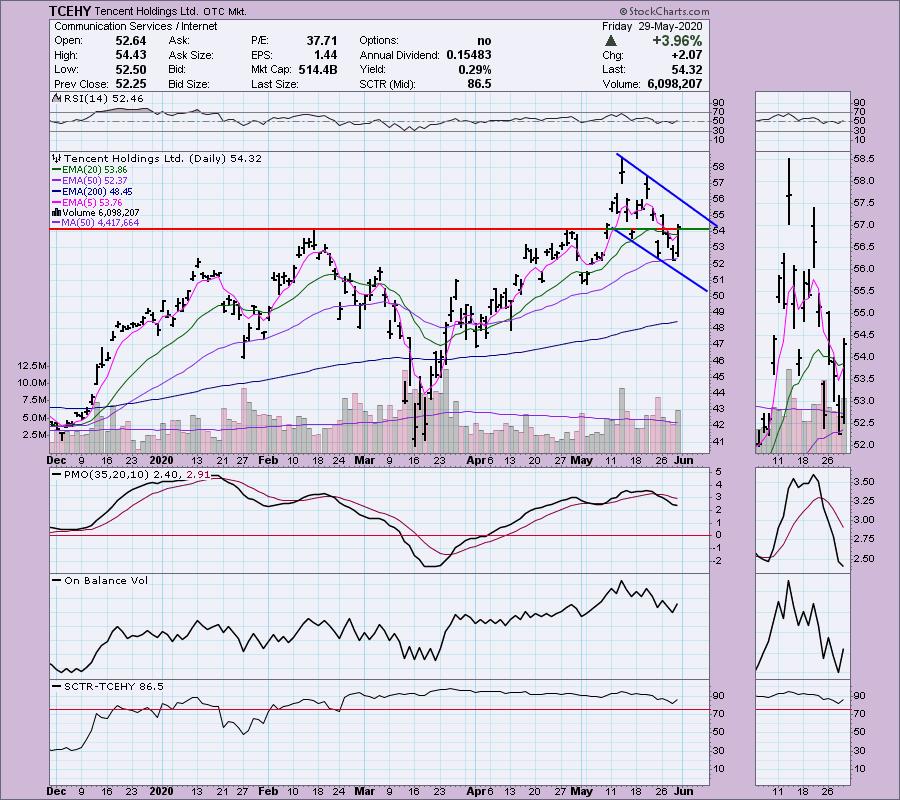 I hope you enjoyed today's "Bonanza"! Keep the requests coming and maybe yours will hit the report too!
---
Current Market Outlook:
Market Environment: It is important to consider the odds for success. The Silver Cross Index measures the percentage of stocks on IT Trend Model BUY signals (20-EMA > 50-EMA), while the Golden Cross Index measures the percentage of stocks on LT Trend Model BUY signals (50-EMA > 200-EMA). Don't forget that as a "Diamonds" member, you have access to our GCI/SCI curated ChartList on DecisionPoint.com. You'll find it under "Members Only" links on the left side on the Blogs and Links Page. Here are the current percentages on the Silver and Golden Cross Indexes: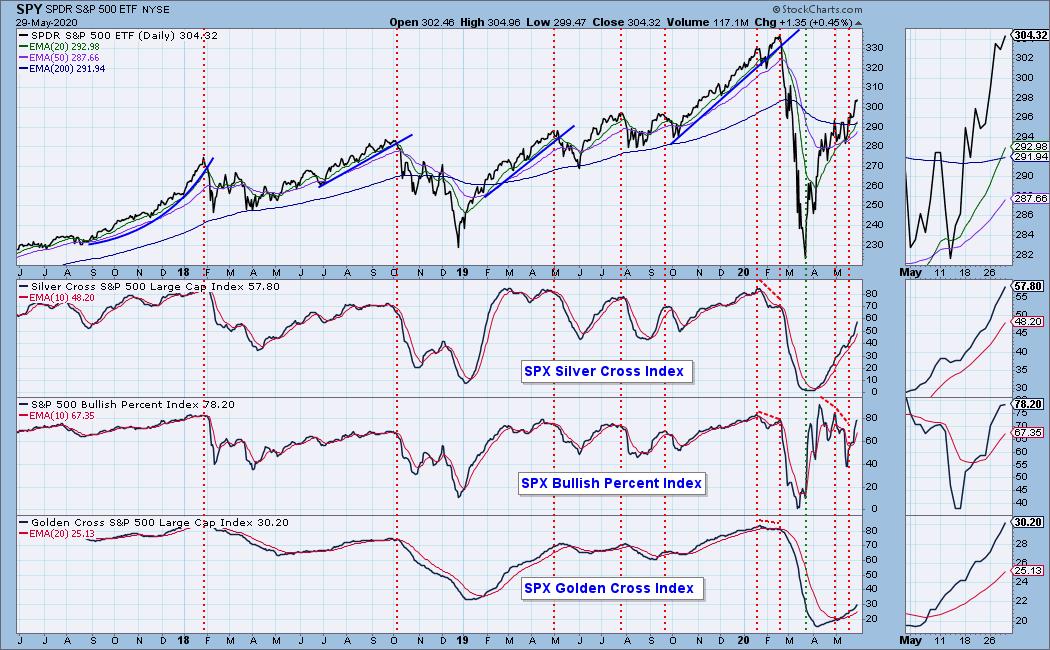 Diamond Index:
Diamond Scan Results: 8
Diamond Dog Scan Results: 12
Diamond Bull/Bear Ratio: 0.67
For a more comprehensive review of current market conditions as well as analysis of Dollar, Gold, Oil and Bonds, subscribe to the DecisionPoint Alert! For a LIMITED TIME you can get a coupon code that will give you a discount for bundling your Diamonds subscription with the DecisionPoint Alert! Contact support@decisionpoint.com for more details.
---
Full Disclosure: I do not currently own any of the above stocks. I am currently 55% in cash.
---

Erin Swenlin will be presenting at the The MoneyShow Las Vegas August 16 - 20 at Bally's/Paris Resort! You'll have an opportunity to meet Erin and discuss the latest DecisionPoint news and Diamond Scans. Claim your FREE pass here! You can watch online with this pass too!! There will be online events held in May and when I have more information I'll let you know.
---
Watch the latest episode of DecisionPoint with Carl & Erin Swenlin on Thursdays 8:00a EST or on the DecisionPoint playlist on the StockCharts TV YouTube channel here!
---
Technical Analysis is a windsock, not a crystal ball.
Happy Charting!
- Erin
erin@decisionpoint.com
---
---
NOTE: The stocks reported herein are from mechanical trading model scans that are based upon moving average relationships, momentum and volume. DecisionPoint analysis is then applied to get five selections from the scans. The selections given should prompt readers to do a chart review using their own analysis process. This letter is not a call for a specific action to buy, sell or short any of the stocks provided. There are NO sure things or guaranteed returns on the daily selection of "diamonds in the rough."
---
Helpful DecisionPoint Links:
DecisionPoint Shared ChartList and DecisionPoint Chart Gallery
Price Momentum Oscillator (PMO)
Swenlin Trading Oscillators (STO-B and STO-V)
For more links, go to DecisionPoint.com!