Gold and Gold Miners continue to pepper my momentum scans and bottom fishing scans. I did not include any as I covered them last week and thoroughly in the "Diamond Mine" Trading Room last Friday. Pick your favorites, but be sure to reread last week's Gold Miner pick.
StitchFix reported earnings yesterday after the market closed and apparently investors LOVED it! The stock was up 39% today! I wish I'd bought it when I presented it for the first time in the October 15th Diamond Report (up +53.7%). They don't all work out this way. Indeed, I also covered it on December 1st, it's up 24.5% since, but without today's big push higher it was losing.
Today's "Diamonds in the Rough" are: CHGG, CNC, LHCG, SILK and TBPH.
---
---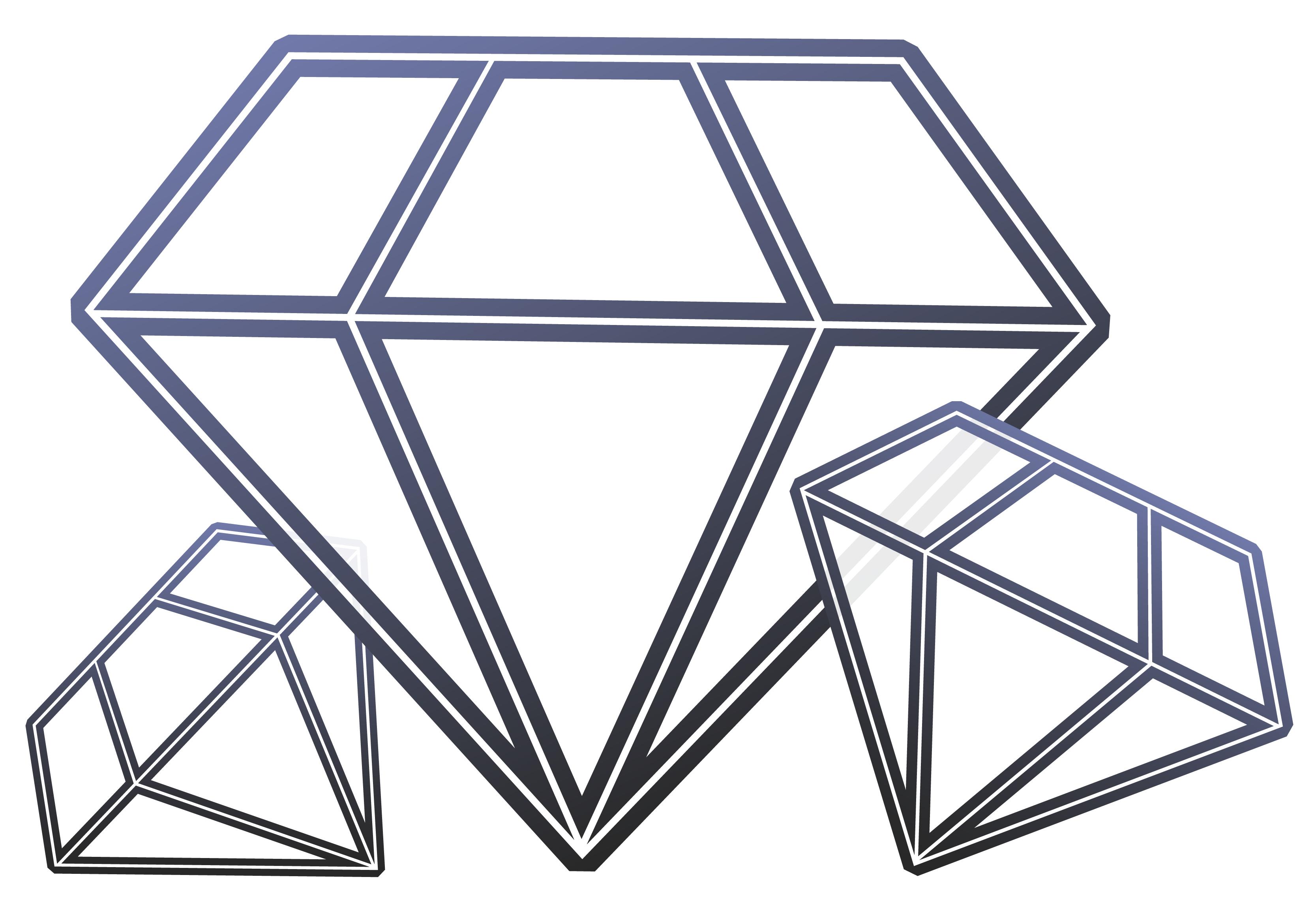 Diamond Mine Information:
Here is Friday's (12/4) recording link. Use Access Passcode: FrA8@Q9=
Register in advance for the next "DecisionPoint Diamond Mine" trading room on Friday (12/11/2020) 12:00p ET:
Here is the registration link for Friday, 12/11/2020. Password: holiday
Please do not share these links! They are for Diamonds subscribers ONLY!
---
---

It's Free!
***Click here to register for this recurring free DecisionPoint Trading Room on Mondays at Noon ET!***
Did you miss the 12/7 free trading room? Here is a link to the recording. Access Code: fNN=Q8h9
For best results, copy and paste the access code to avoid typos.
---
---
Welcome to DecisionPoint Daily Diamonds, wherein I highlight five "diamonds in the rough." These are selected from the results of my DecisionPoint scans, which search for stocks that could benefit from the trend and condition of the market. Remember, these are not recommendations to buy or sell, but are the most interesting of the stocks that surfaced in my scans. My objective is to save you the work of the initial, tedious culling process, but you need to apply your own analysis to see if these stocks pique your interest as well. There are no guaranteed winners here!
---
---
Chegg, Inc. (CHGG)
EARNINGS: 2/8/2021 (AMC)
Chegg, Inc. engages in the operations of learning platform for students. It intends to empower students to take control of their education and help the students study, college admissions exams, accomplish their goals, get grades, and test scores. The firm offers required and non-required scholastic materials including textbooks in any format; access to online homework help and textbook solutions; course organization and scheduling; college and university matching tools; and scholarship connections. Its services include Chegg study, writing, tutors, and math solver. The company was founded by Osman Rashid and Aayush Phumbhra on July 29, 2005 and is headquartered in Santa Clara, CA.
Up +0.24% in after hours trading, I covered CHGG twice before--April 27th (up +79.31%) and September 23rd (up +13.38%). It's lining up nice again with a reverse head and shoulders pattern. The RSI is positive and has been. The PMO is on a BUY signal. The PMO just recently hit positive territory and it is oversold. The OBV is confirming the current short-term rally. I set the stop around the left shoulder.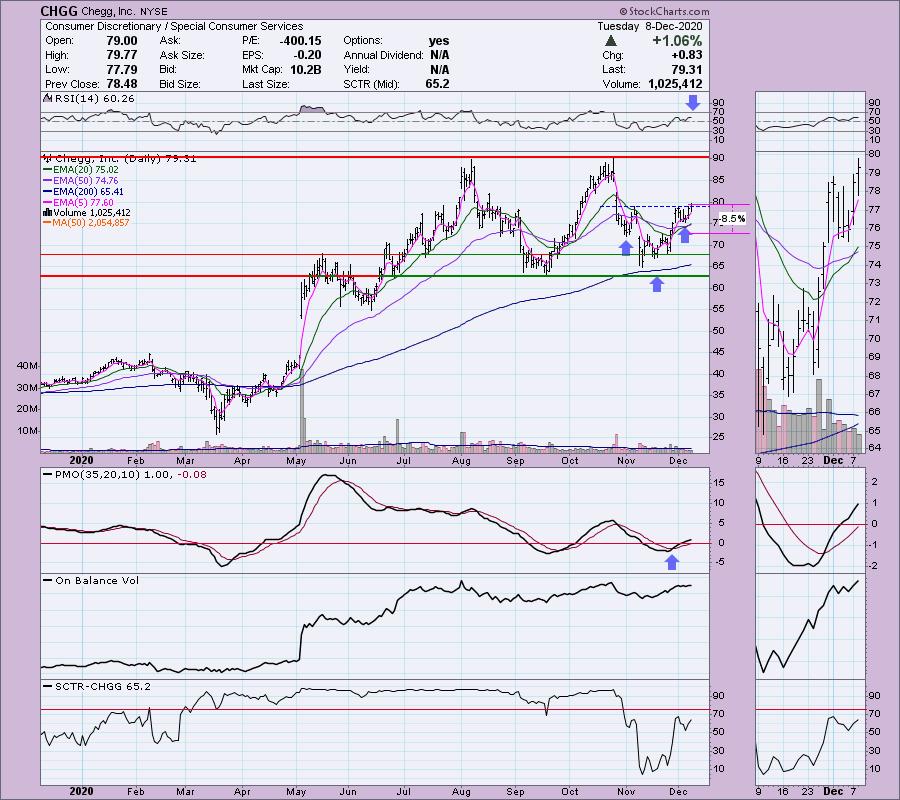 The positives are a healthy RSI that has remained above net neutral (50) for many months. The portion I circled shows you that despite two serious price corrections, it remained positive. The OBV is confirming the rising trend. The PMO is a problem, but may be decelerating right now.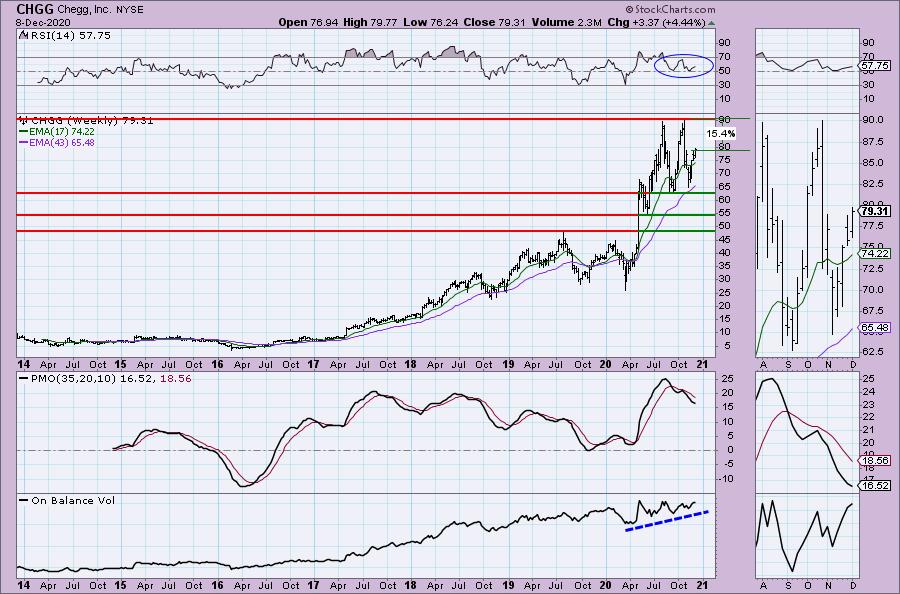 ---
Centene Corp. (CNC)
EARNINGS: 2/2/2021 (BMO)
Centene Corp. engages in the provision of programs and services to government sponsored healthcare programs. It operates through the following segments: Managed Care and Specialty Services. The Medicaid Managed Care segment provides health plan coverage to individuals through government subsidized programs through Medicaid. The Specialty Services segment offers healthcare services and products to state programs, correctional facilities, healthcare organizations, employer groups, and other commercial organizations. The company was founded in 1984 and is headquartered in St. Louis, MO.
I thought I had covered this one before, but apparently not. I really liked this chart as I believe we are getting in on this one early and it doesn't require a deep stop. The RSI has just turned positive and I love the way the PMO is currently bottoming right now. The 20-EMA managed to avoid a negative cross over the 50-EMA.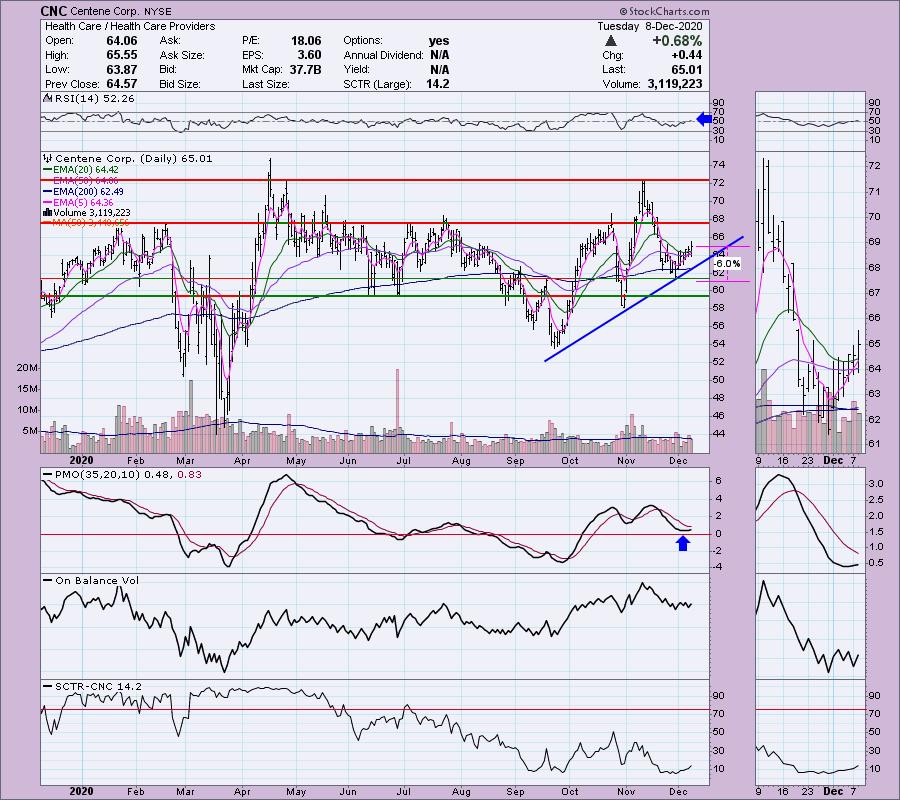 The weekly chart shows a PMO bottoming above the signal line which is very bullish. The RSI is just above net neutral (50) and the OBV is rising. Right now upside potential is 15.2%, but I am expecting it to move higher than that.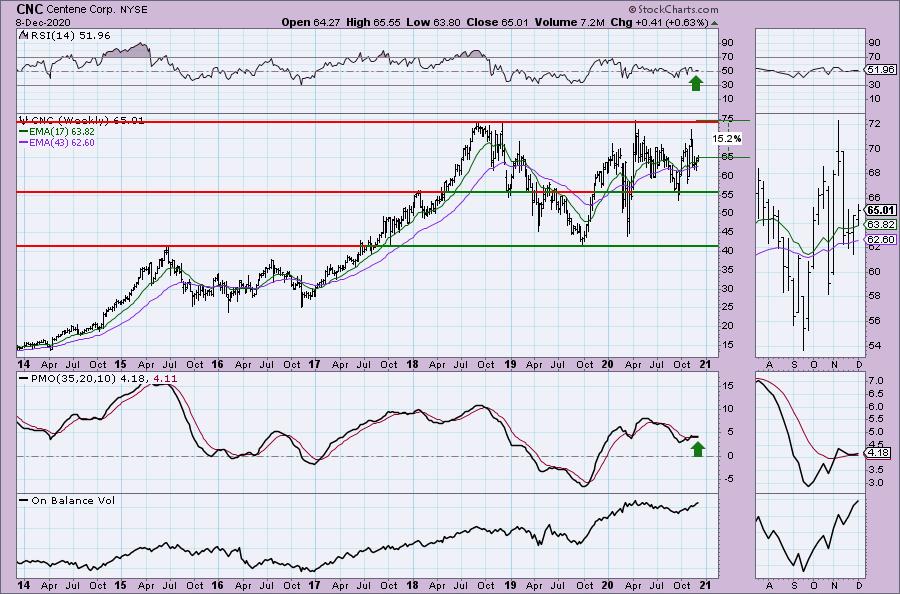 ---
Don't forget, on Thursdays I look at reader-requested symbols, so shoot me an email at erin@decisionpoint.com. I read every email I receive and try to answer them all!
---
LHC Group Inc. (LHCG)
EARNINGS: 2/24/2021 (AMC)
LHC Group, Inc. provides post-acute health care services to patients through its home nursing agencies, hospices and long-term acute care hospitals. The company operates through the following business segments: Home Health Services, Hospice Services, Home & Community-Based Services, Facility-Based Services and Healthcare Innovations. The Home Health segment offers a wide range of services, including skilled nursing, private duty nursing, physical, occupational and speech therapy, medically-oriented social services and hospice care. The Hospice Services segment offer a wide range of services, including pain and symptom management, emotional and spiritual support, inpatient and respite care, homemaker services, and counseling. The Home & Community-Based Services segment are performed by paraprofessional personnel, and include assistance to the elderly, chronically ill, and disabled patients with activities of daily living. The Facility Based Services segment includes long-term acute care hospitals treats patients with severe medical conditions who require a high-level of care and frequent monitoring by physicians and other clinical personnel by operating an institutional pharmacy, which focuses on providing a full array of services to long term acute care hospitals. The Healthcare Innovations segment reports on developmental activities outside its other business segments, which provides primary medical care for patients with chronic and acute illnesses who have difficulty traveling to a doctor's office. LHC Group was founded by Keith G. Myers in September 1994 and is headquartered in Lafayette, LA.
This is today's "bottom fish". First thing I noticed was the short-term double-bottom that has appeared over the last few weeks. Next we have a positive divergence with the OBV. The PMO is rising and is oversold. The RSI is negative, but it is rising steadily. I set the stop at the 200-EMA, but you don't have to ride it down that far if you don't want to.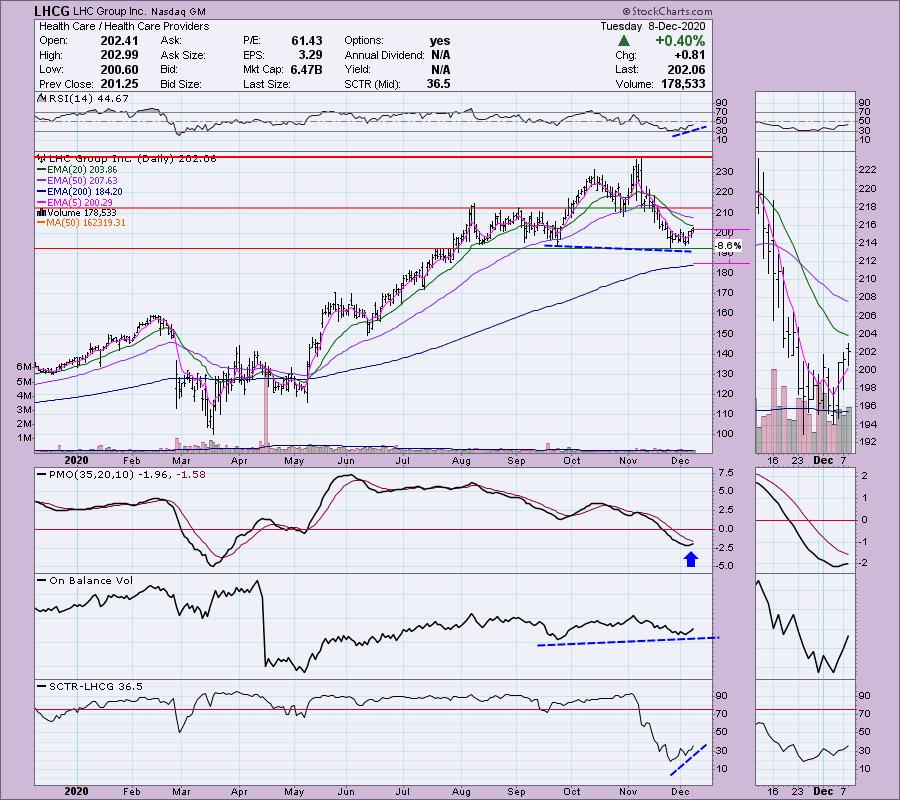 The PMO is very ugly on the weekly chart given the past month's decline. You can see the slight positive divergence between OBV bottoms and price bottoms in the thumbnail (sorry I can't annotate the thumbnail).
---


Silk Road Medical, Inc. (SILK)
EARNINGS: 2/25/2021 (AMC)
Silk Road Medical, Inc. develops and manufactures medical devices to treat neurovascular diseases. The firm's devices enable vascular access via a puncture adjacent to the collarbone instead of the traditional approach of accessing the vascular system through the groin. Its products include ENROUTE Transcarotid Neuroprotection & Stent System. The company was founded by Tony M. Chou and Michi Garrison on March 21, 2007 and is headquartered in Sunnyvale, CA.
SILK had an explosive move today that took out both the 20/50-EMAs overhead resistance. It also broke resistance at the October low. The RSI is now in positive territory. Volume is coming in and the SCTR is rising. It requires a somewhat deep stop, but if you time your entry right, it doesn't have to be that deep.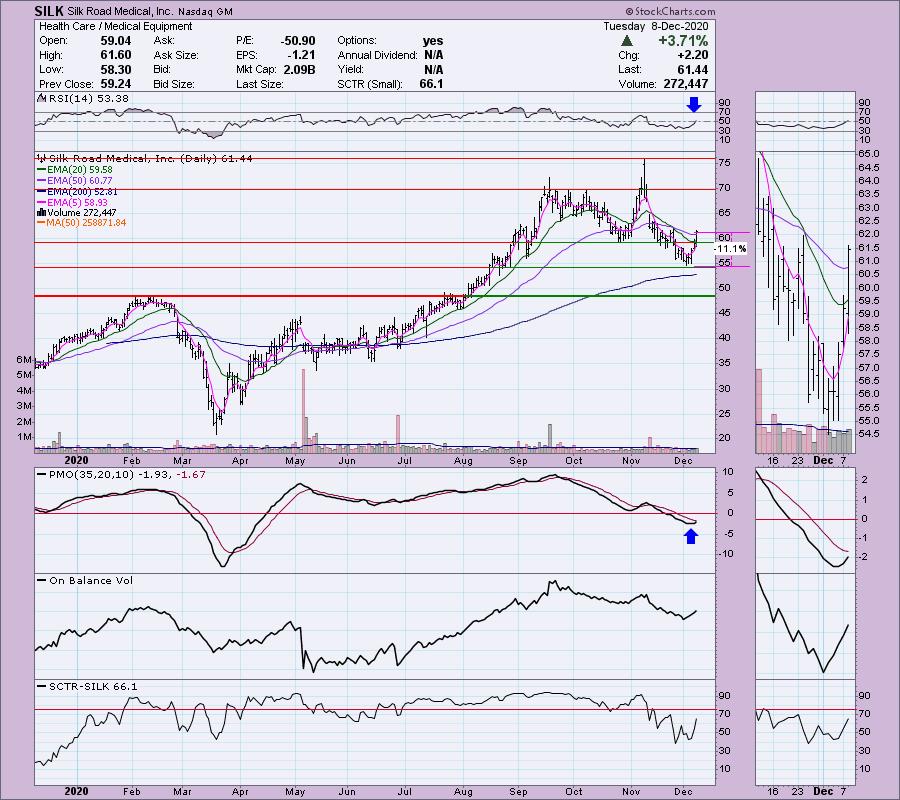 There isn't enough data here to make sweeping conclusions regarding an overbought and declining PMO. It is decelerating. The RSI is positive and upside potential is 24%.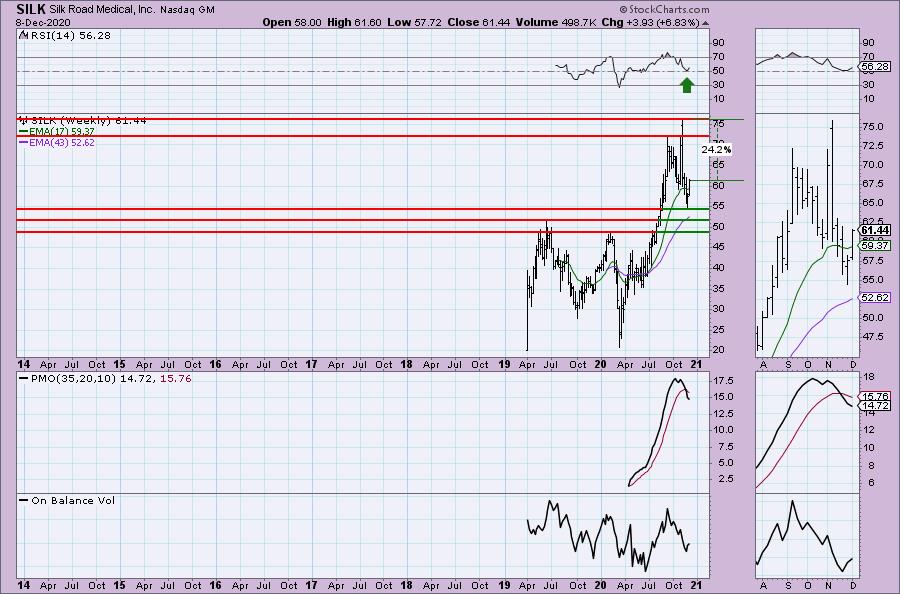 ---
Theravance Biopharma, Inc. (TBPH)
EARNINGS: 2/22/2021 (AMC)
Theravance Biopharma, Inc. operates as a biopharmaceutical company. It focuses on the discovery, research, development, and commercialization of organ-selective medicines. Its products include telavancin under the VIBATIV brand, revefenacin under the TD 4208 brand, and neprilysin. The company was founded in July 2013 and is headquartered in George Town, Cayman Islands.
I covered this one in the March 24th report (down -22.9%). It did eventually hit its target before moving into its own bear market. The last time was on September 23rd as a short position. I don't believe it hit my shorting target on the drop that followed, but you can see that in early October the PMO turned back up to signal a sell point.
Currently the PMO has just crossed above its signal line to give us a BUY signal. The RSI has just moved into positive territory above net neutral. There is a very large reverse head and shoulders brewing. Just before this rally got started, we can see a positive OBV divergence. Admittedly the SCTR is abysmal right now but the rest is bullish enough to make it a "diamond in the rough".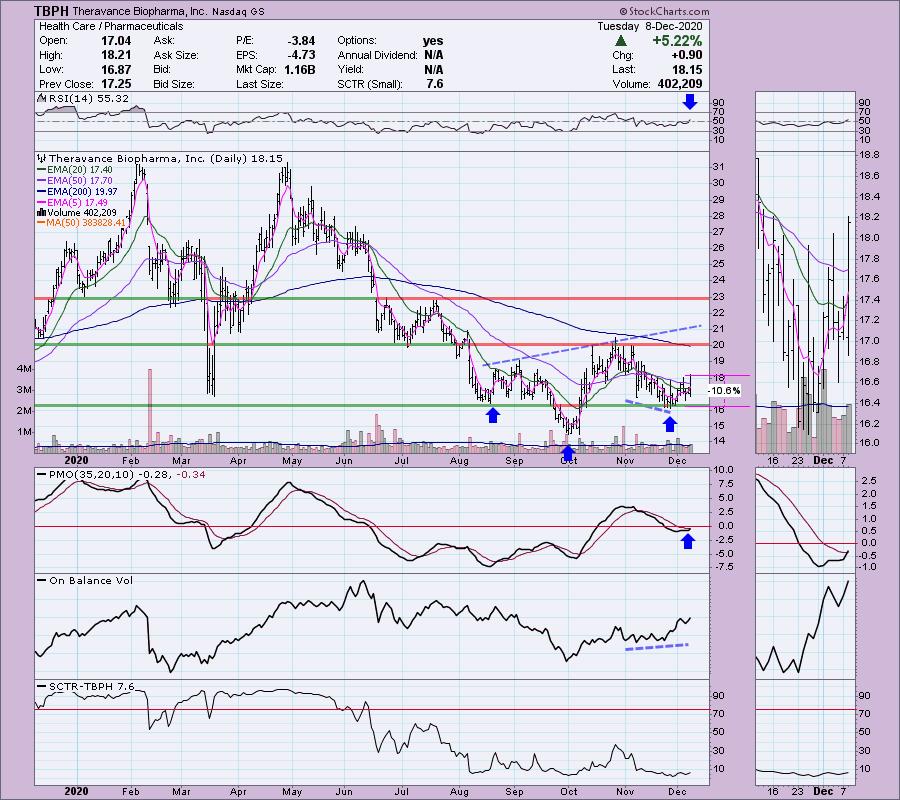 The weekly chart looks exciting to me. The RSI is nearing positive territory and the weekly PMO just triggered a BUY signal. Upside potential is eye-popping. The OBV doesn't look as good here as on the daily chart.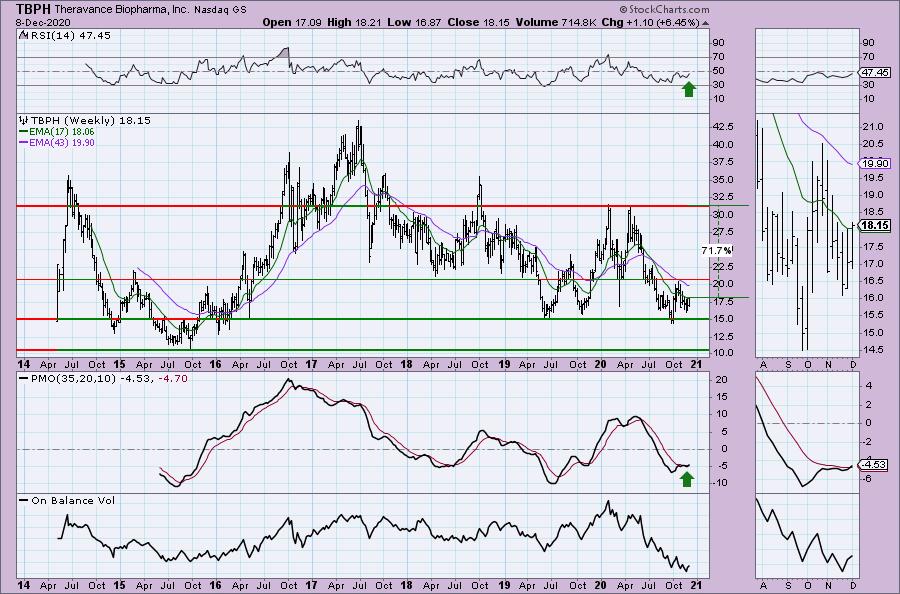 ---
Full Disclosure: I'm about 70% invested and 30% is in 'cash', meaning in money markets and readily available to trade with. I didn't pick up any stocks yesterday as I'd originally planned. I'll notify you if I do.
---
Current Market Outlook:
Market Environment: It is important to consider the odds for success by assessing the market tides. The following chart uses different methodologies for objectively showing the depth and trend of participation for intermediate- and long-term time frames.
The Silver Cross Index (SCI) shows the percentage of SPX stocks on IT Trend Model BUY signals (20-EMA > 50-EMA)
The Golden Cross Index (GCI) shows the percentage of SPX stocks on LT Trend Model BUY signals (50-EMA > 200-EMA)
The Bullish Percent Index (BPI) shows the percentage of SPX stocks on Point & Figure BUY signals.
Don't forget that as a "Diamonds" member, you have access to our GCI/SCI curated ChartList on DecisionPoint.com. You'll find it under "Members Only" links on the left side on the Blogs and Links Page.
Here is the current chart: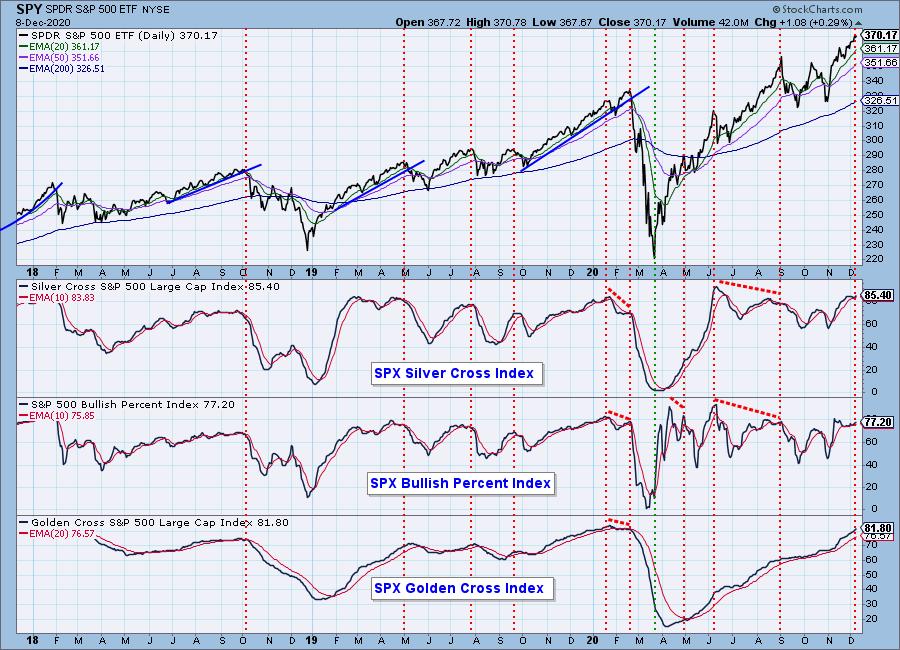 Diamond Index:
Diamond Scan Results: 4
Diamond Dog Scan Results: 10
Diamond Bull/Bear Ratio: 0.40
I'm in the process of trying to plot the Diamond Index, but with time at a premium, it is on the back burner.
Technical Analysis is a windsock, not a crystal ball.
Happy Charting!
- Erin
erin@decisionpoint.com
---
Watch the latest episode of DecisionPoint with Carl & Erin Swenlin on Mondays 7:00p EST or on the DecisionPoint playlist on the StockCharts TV YouTube channel here!
---
---
NOTE: The stocks reported herein are from mechanical trading model scans that are based upon moving average relationships, momentum and volume. DecisionPoint analysis is then applied to get five selections from the scans. The selections given should prompt readers to do a chart review using their own analysis process. This letter is not a call for a specific action to buy, sell or short any of the stocks provided. There are NO sure things or guaranteed returns on the daily selection of "diamonds in the rough."
---
Helpful DecisionPoint Links:
DecisionPoint Shared ChartList and DecisionPoint Chart Gallery
Price Momentum Oscillator (PMO)
Swenlin Trading Oscillators (STO-B and STO-V)
For more links, go to DecisionPoint.com!d