Today I found quite a few interesting "diamonds in the rough" in the results of my Momentum Sleepers Scan. I developed this scan years ago in order to find candidates for the "Momentum Sleepers" segment on MarketWatchers LIVE. It has been a successful scan. My only issue with it is that usually they appear on my scan on the day of their "awakening" and therefore, it requires some industry the next morning to properly time an entry. During the Diamond Mine and the Monday free trading rooms I go over how to use the 5-minute candlestick chart to help you time the entries. Additionally, by appearing on the Diamond Recap spreadsheet on the day of a 4%+ move, it is inevitable the stock will absorb the next day's likely pullback or pause.
I included my "Diamond of the Week" in today's selections. I revealed it yesterday to DP Show viewers so I'll include it. I have to say I was much happier with it yesterday. It could be classified as a "diamond" in the very rough.
One last thing... small-caps and mid-caps led today. I've noticed that the FAANG+ stocks have been in a holding pattern with the possible exception of Apple (AAPL). With today likely being an exhaustion climax and the leadership of the FAANG+ stocks non-existent, I suspect they will be leading to the downside soon. Keep watch on those leadership stocks, if they begin to show further weakness, it doesn't bode well for them or the market.
Remember that the Diamond Mine trading room links are always in the Diamonds Reports. You'll find links to register as well as links to the recordings. I keep the recordings in the cloud for two weeks, but you should be able to download them if you want to.
Today's "Diamonds in the Rough" are: BTAI, DEA, GNRC, IQ and PSA.
---
---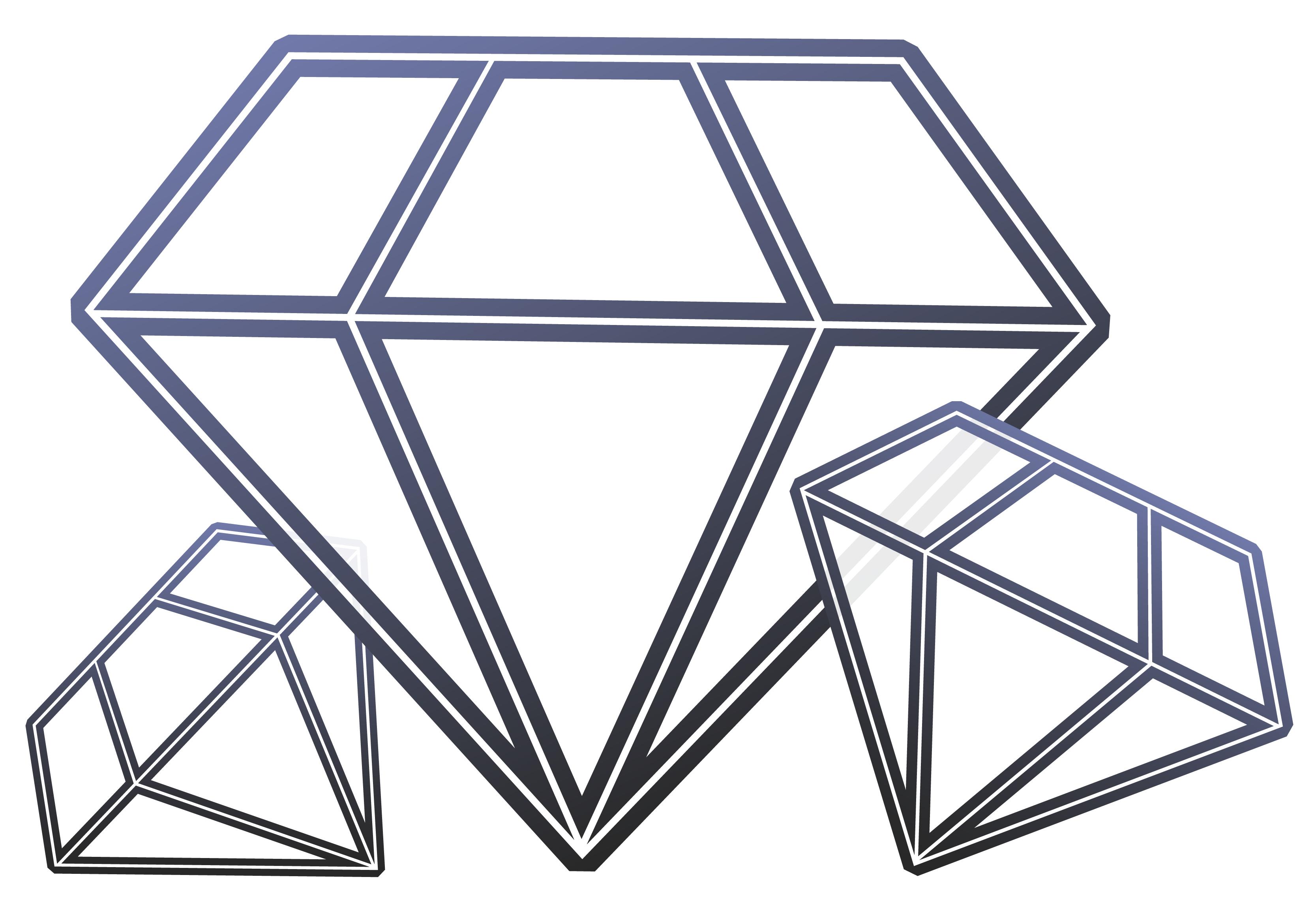 Diamond Mine Information:
Here is Friday's (12/11) recording link. Use Access Passcode: ?3mEYKLj
Register in advance for the next "DecisionPoint Diamond Mine" trading room on Friday (12/18/2020) 12:00p ET:
Here is the registration link for Friday, 12/18/2020. Password: evergreen
Please do not share these links! They are for Diamonds subscribers ONLY!
---
---

It's Free!
***Click here to register for this recurring free DecisionPoint Trading Room on Mondays at Noon ET!***
Did you miss the 12/7 free trading room? Here is a link to the recording. Access Code: fNN=Q8h9
For best results, copy and paste the access code to avoid typos.
---
---
Welcome to DecisionPoint Daily Diamonds, wherein I highlight five "diamonds in the rough." These are selected from the results of my DecisionPoint scans, which search for stocks that could benefit from the trend and condition of the market. Remember, these are not recommendations to buy or sell, but are the most interesting of the stocks that surfaced in my scans. My objective is to save you the work of the initial, tedious culling process, but you need to apply your own analysis to see if these stocks pique your interest as well. There are no guaranteed winners here!
---
---
BioXcel Therapeutics, Inc. (BTAI)
EARNINGS: 3/9/2021 (BMO)
BioXcel Therapeutics, Inc. is a clinical stage biopharmaceutical company, which focuses on drug development. The firm's two clinical development programs are BXCL501, a sublingual thin film formulation designed for acute treatment of agitation resulting from neurological and psychiatric disorders, and BXCL701, an immuno-oncology agent designed for treatment of a rare form of prostate cancer and for treatment of pancreatic cancer. The company was founded by Vimal D. Mehta on March 29, 2017 and is headquartered in New Haven, CT.
I covered this one in the April 28th Diamond Report (up 39.9% since). It is lined up nicely again. The PMO has turned up but hasn't actually given us the BUY signal, so we may be getting in early on this one. Indeed, the RSI is just now getting close to moving back into positive territory. We have a positive OBV divergence on the double-bottom pattern. The SCTR is terrible so it hasn't been the best performer in relation to other small-caps, but it should improve quickly if this breakout occurs. The upside target of the double-bottom pattern is right at the November top. I've set the stop just below the October low. If you wish to move it down to the 200-EMA, it's deeper than I like, but that is the next area of strong support.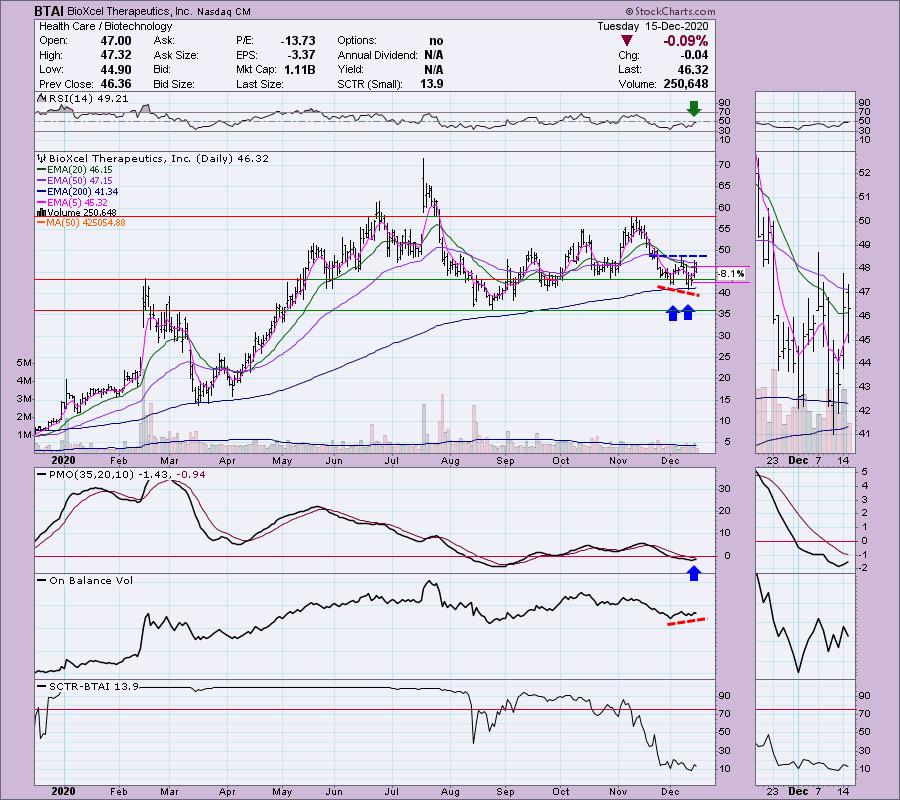 There is no denying the negative PMO, however I will point out that the RSI is staying in positive territory and price bounced right off the 43-week EMA.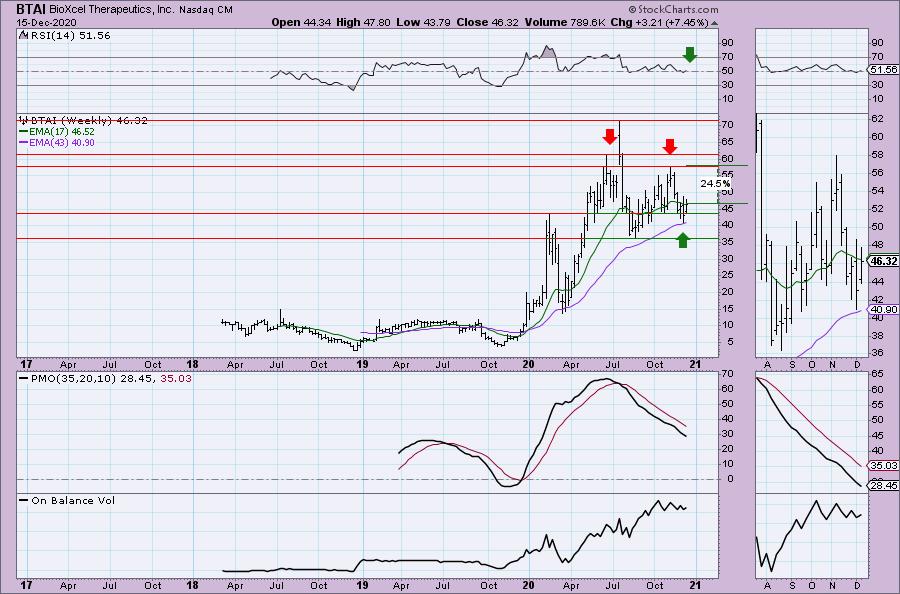 ---
Easterly Government Properties, Inc. (DEA)
EARNINGS: 2/23/2021 (BMO)
Easterly Government Properties, Inc. operates as a real estate investment trust, which engages in the acquisition, development, and management of commercial properties that are leased to U.S. Government agencies. The company was founded on October 10, 2014 and is headquartered in Washington, DC.
This is a great example of a "momentum sleeper" that woke up today. It is likely you'll see a pullback tomorrow for a better entry if you want this one. I see a reverse head and shoulders that executed with today's forceful rally. It helped the PMO avoid a crossover SELL signal by forming a very bullish bottom above the signal line. The RSI popped into positive territory but isn't overbought yet. I set the stop level just below the right shoulder.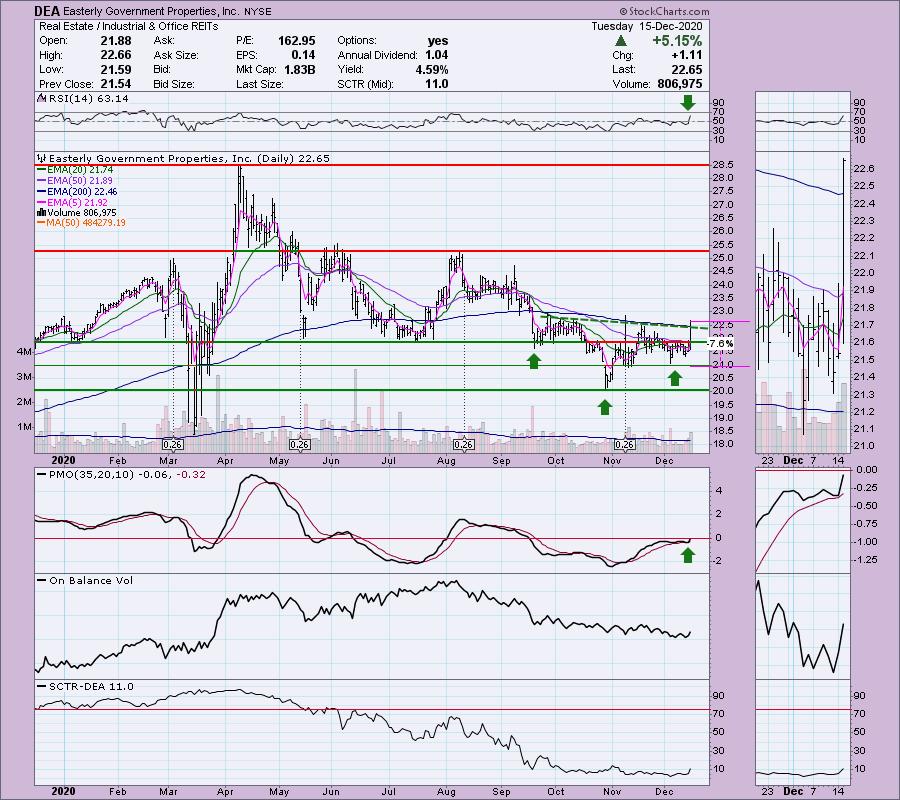 The weekly PMO is turning up and the weekly RSI just entered positive territory. Notice that the bounce off $20 took place above strong support at $19.25 (2017 top). It didn't need to test the support level, instead it formed a new support level. That is bullish.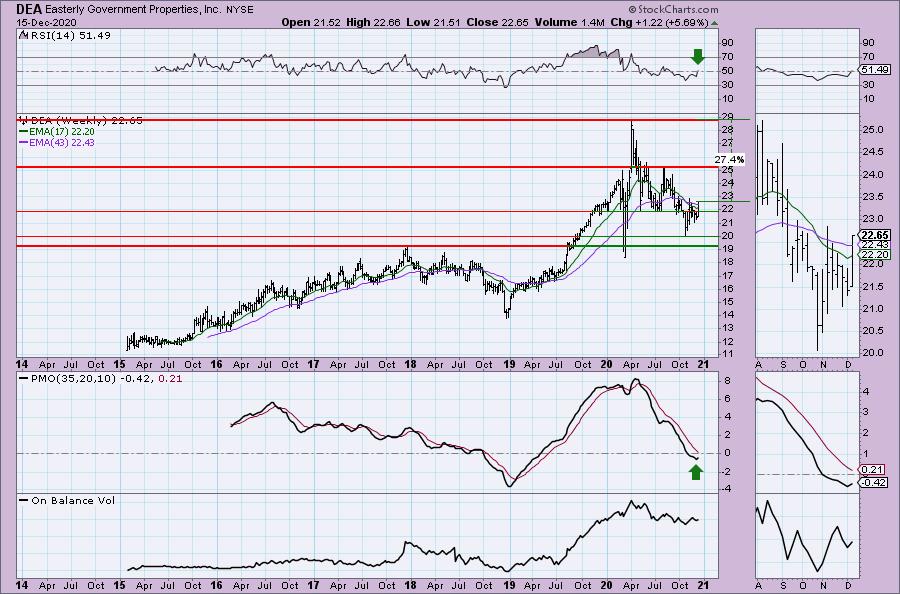 ---
Don't forget, on Thursdays I look at reader-requested symbols, so shoot me an email at erin@decisionpoint.com. I read every email I receive and try to answer them all!
---
Generac Holdings Inc. (GNRC)
EARNINGS: 2/11/2021 (BMO)
Generac Holdings, Inc. engages in the design and manufacture of power generation equipment and other power products. It operates through the following segments: Domestic and International. The Domestic segment includes the legacy Generac, and the impact of acquisitions that are based in the United States. The International segment comprises of ottomotors, tower light, pramac, motortech, and selmec businesses. The company was founded in 1959 and is headquartered in Waukesha, WI.
I covered GNRC as a reader request that I was bullish on in the August 6th Diamonds Report (up 29.7% since). It is set up for another entry. Today it broke out of a bullish falling wedge pattern. The PMO has turned up and is moving toward a crossover BUY signal. The RSI only recently moved to positive territory so it has headroom to move higher before becoming too overbought. The SCTR is in the "hot zone" above 75 (meaning it is in the upper quartile of the stocks in its "universe", in this case mid-caps). I set at my limit of 10%. To set it below the $200 support level would require a 12% decline before selling. If it moves that far below the 50-EMA, I wouldn't be interested anymore. However, if you time your entry, you could set a stop below the December low without having to accept a 10%+ risk level.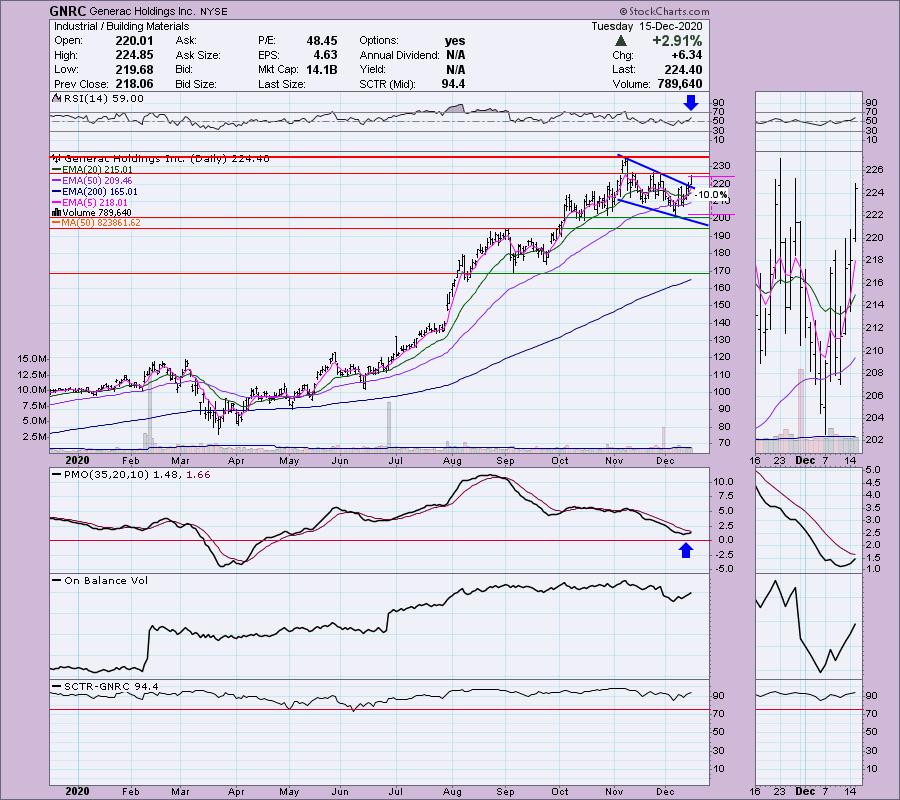 The weekly PMO just had a negative crossover in overbought territory. It is already beginning to decelerate that decline. The RSI has moved out of overbought territory and remains positive. We also have a flag formation. In the thumbnail you can see that this week it is in the process of executing a breakout from that flag.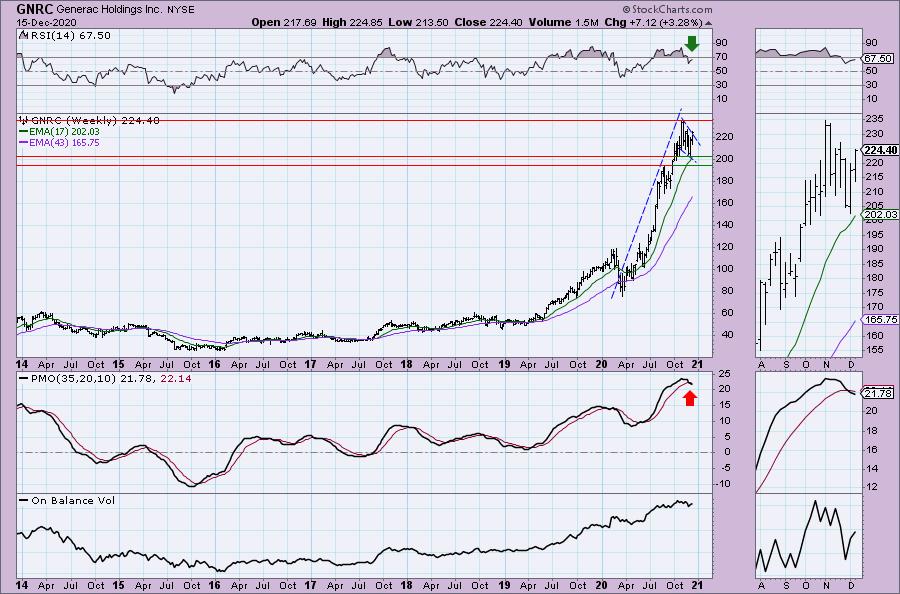 ---


iQIYI Inc. (IQ)
EARNINGS: 2/25/2021 (AMC)
iQIYI, Inc. engages in the provision of internet video streaming services. It operates a smart television streaming service and an entertainment-based social media platform, iQIYI Paopao. The firm also also distribute video content through third-party platforms. The company was founded by Yu Gong in November 2009 and is headquartered in Haidan District, China.
Wow. I was feeling pretty good about this Diamond of the Week and now I see that it is down -9.41% in after hours trading...hmmmm. If that carries over to tomorrow, the 7.4% stop will definitely be hit and I have to say I won't be so interested. The question is why did I like it to begin with? Many reasons. The RSI had been rising and was nearing positive territory. The PMO was (is) turning up. The OBV positive divergence is clear. Additionally we are looking at a near textbook double-bottom pattern forming after an extended decline. If IQ absorbs the after hours decline, those positive indicators will disappear and this will be turn out to be flawed zirconia.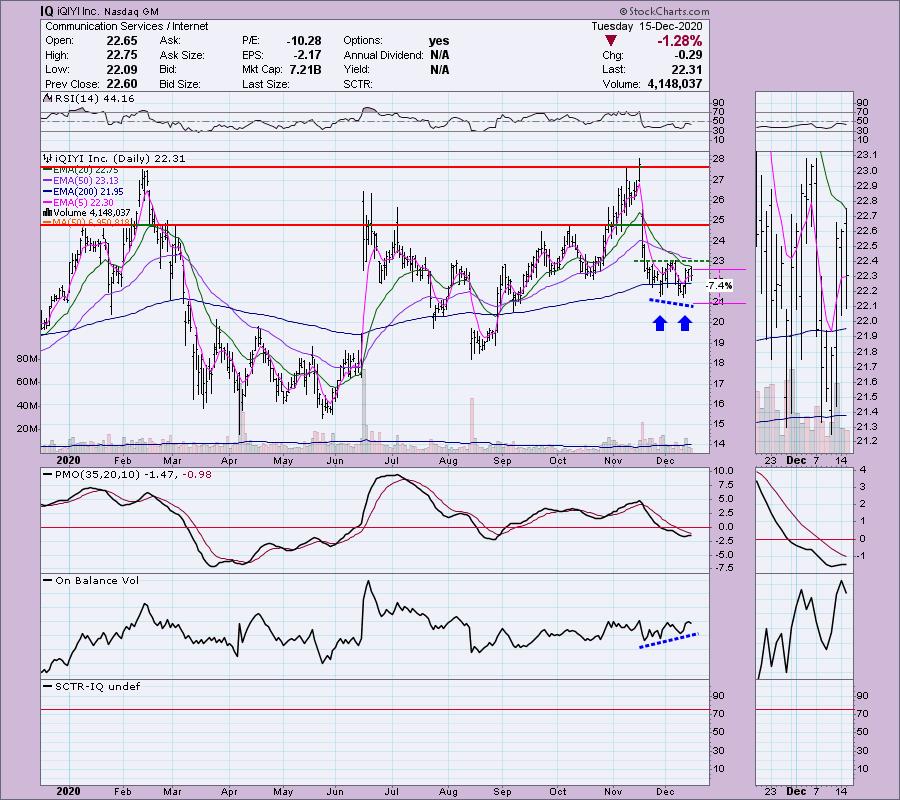 The weekly chart isn't that positive given the ugly PMO. Currently price is staying above the 43-week EMA and the RSI is neutral, practically sitting on net neutral (50). You have the information you need right now to make an informed decision tomorrow. I, however, am stuck adding it to my Recap spreadsheet. I'm thankful that you can get after hours trading information on StockCharts in the "Symbol Summary".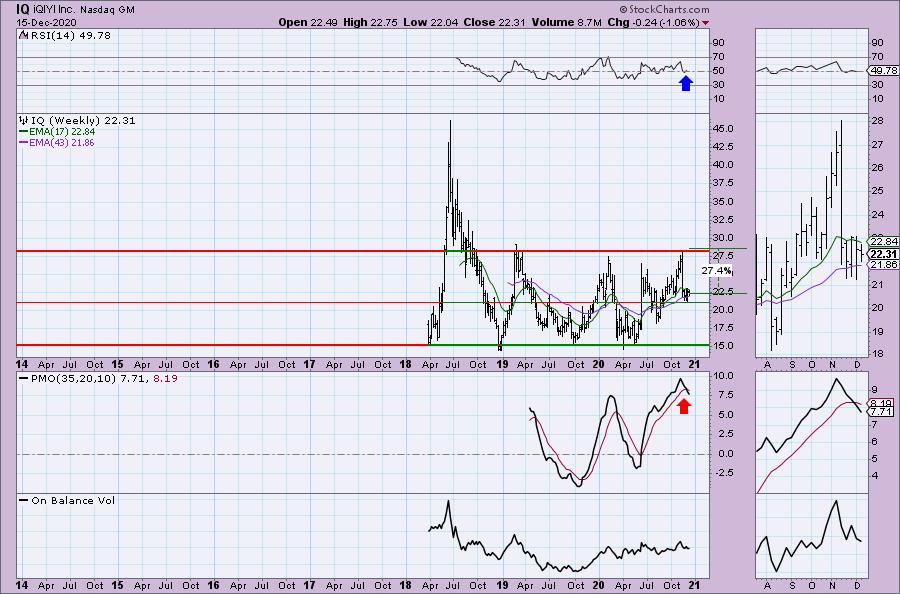 ---
Public Storage, Inc. (PSA)
EARNINGS: 2/23/2021 (AMC)
Public Storage operates as a real estate investment trust. The firm engages in acquiring, developing, owning and operating self-storage facilities. It operates through the following segments: Self-storage Operations, Ancillary Operations, Investment in PS Business Parks and Investment in Shurgard. The Self-storage Operations segment reflects the rental operations from all self-storage facilities. The Ancillary Operations segment deals with the sale of merchandise and reinsurance of policies against losses to goods stored by self-storage tenants, activities which are incidental to the primary self-storage rental activities. The Investment in PS Business Parks segment includes commercial properties, primarily multi-tenant flex, office, and industrial parks. The Investment in Shurgard segment owns self-storage facilities located in seven countries in Western Europe operated under the Shurgard brand name. The company was founded by Bradley Wayne Hughes, Sr. and Kenneth Q. Volk, Jr. in 1972 and is headquartered in Glendale, CA.
I very much like PSA. The RSI has just moved into positive territory and the PMO has turned up and is going in for a BUY signal. There is a positive OBV divergence with price. The bullish falling wedge pattern resolved yesterday to the upside. Today trading took it back down to the breakout point and then rebounded to finish the day higher than yesterday. You don't have to set a deep stop on this one either.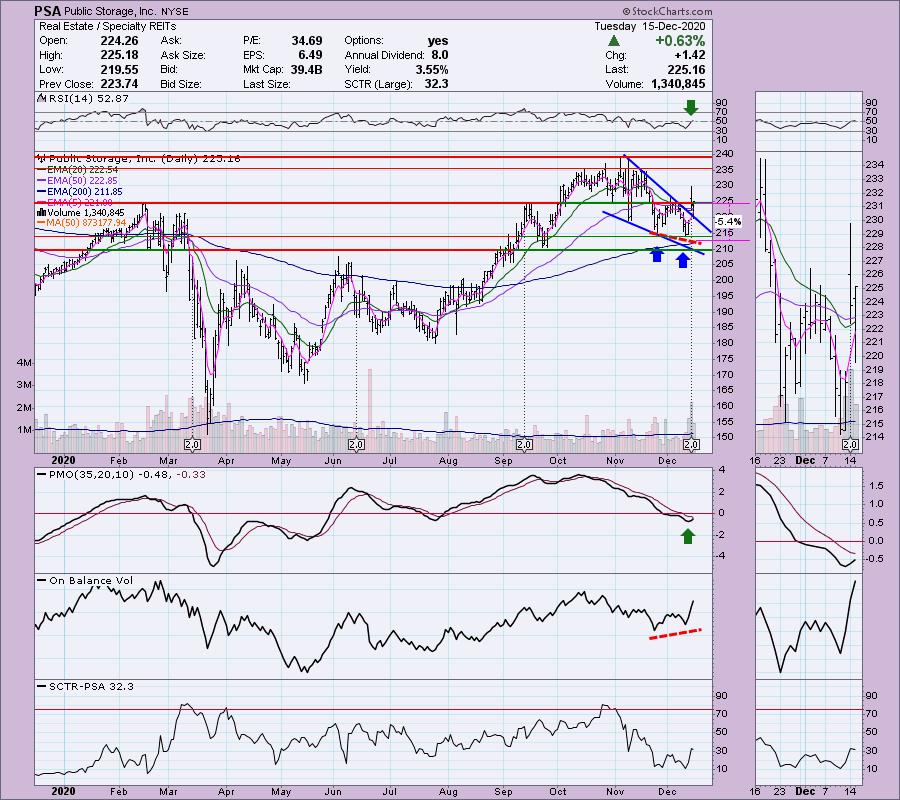 At first glance the weekly PMO doesn't look very good. However a peek into the thumbnail and you can see that it has stopped its decline this week. The RSI is positive. Additionally there is a flag formation that could be executing right now to the upside.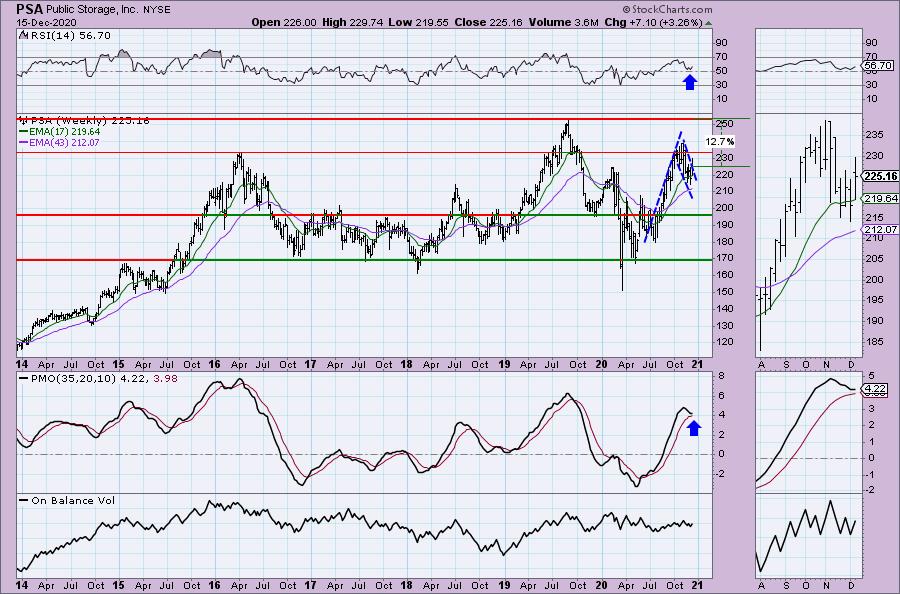 ---
Full Disclosure: I'm about 70% invested and 30% is in 'cash', meaning in money markets and readily available to trade with. I haven't sold any positions yet, but plan to this week.
---
Current Market Outlook:
Market Environment: It is important to consider the odds for success by assessing the market tides. The following chart uses different methodologies for objectively showing the depth and trend of participation for intermediate- and long-term time frames.
The Silver Cross Index (SCI) shows the percentage of SPX stocks on IT Trend Model BUY signals (20-EMA > 50-EMA)
The Golden Cross Index (GCI) shows the percentage of SPX stocks on LT Trend Model BUY signals (50-EMA > 200-EMA)
The Bullish Percent Index (BPI) shows the percentage of SPX stocks on Point & Figure BUY signals.
Don't forget that as a "Diamonds" member, you have access to our GCI/SCI curated ChartList on DecisionPoint.com. You'll find it under "Members Only" links on the left side on the Blogs and Links Page.
Here is the current chart: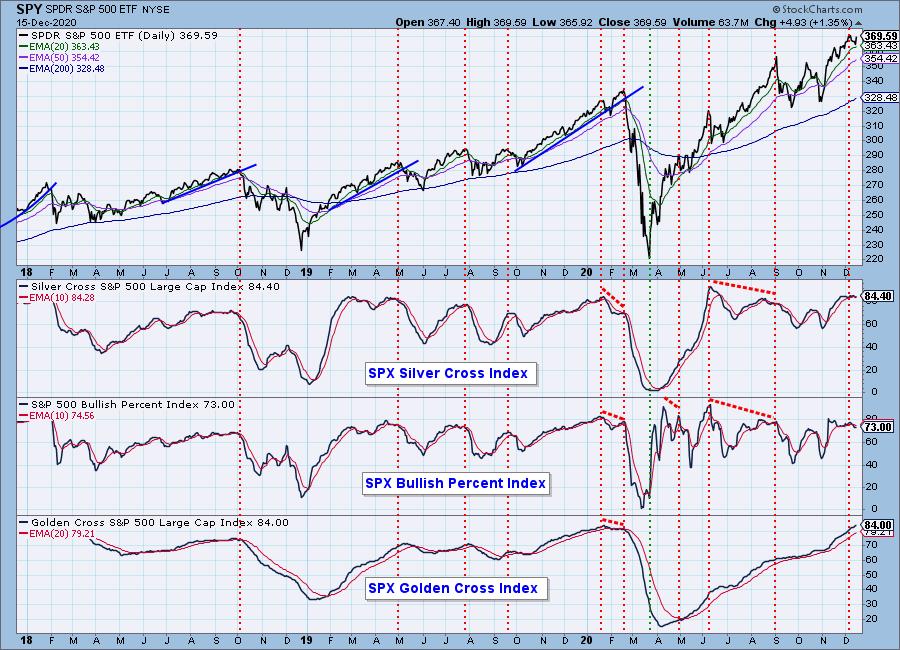 Diamond Index:
Diamond Scan Results: 2
Diamond Dog Scan Results: 1
Diamond Bull/Bear Ratio: 2.00
I'm in the process of trying to plot the Diamond Index, but with time at a premium, it is on the back burner.
Technical Analysis is a windsock, not a crystal ball.
Happy Charting!
- Erin
erin@decisionpoint.com
---
Watch the latest episode of DecisionPoint with Carl & Erin Swenlin on Mondays 7:00p EST or on the DecisionPoint playlist on the StockCharts TV YouTube channel here!
---
---
NOTE: The stocks reported herein are from mechanical trading model scans that are based upon moving average relationships, momentum and volume. DecisionPoint analysis is then applied to get five selections from the scans. The selections given should prompt readers to do a chart review using their own analysis process. This letter is not a call for a specific action to buy, sell or short any of the stocks provided. There are NO sure things or guaranteed returns on the daily selection of "diamonds in the rough."
---
Helpful DecisionPoint Links:
DecisionPoint Shared ChartList and DecisionPoint Chart Gallery
Price Momentum Oscillator (PMO)
Swenlin Trading Oscillators (STO-B and STO-V)
For more links, go to DecisionPoint.com!d