I have had at least two subscribers write and thank me for one of yesterday's picks which was up a staggering +13.47% today. I did caution readers that it can have amazing returns but tends to be very volatile as it is a "juiced" or "ultra" ETF. It's just another time where I wish I had taken my own advice, but I feel good that at least a few readers profited from it.
The ETF was "BOIL" which is a 2x ETF for Natural Gas. I am tempted to grab it to increase my exposure to that area of the market. We'll see how I feel in the Diamond Mine tomorrow!
Speaking of the Diamond Mine, it is tomorrow at 9:00a PT. The invitation/registration is below. Sign up now!
As far as today's reader request picks, it was actually pretty difficult as I liked most of what was sent to me. However, I had to pick four and I think you'll like them. My pick today is an ETF that I found while prepping for today's Chartwise Women show. Interestingly, I realized that one of the reader requests came from the same industry. It looks like an interesting area to watch next week.
Today's "Diamonds in the Rough" are: BJK, FTCH, PINS, TRMB and VRRM.
---
---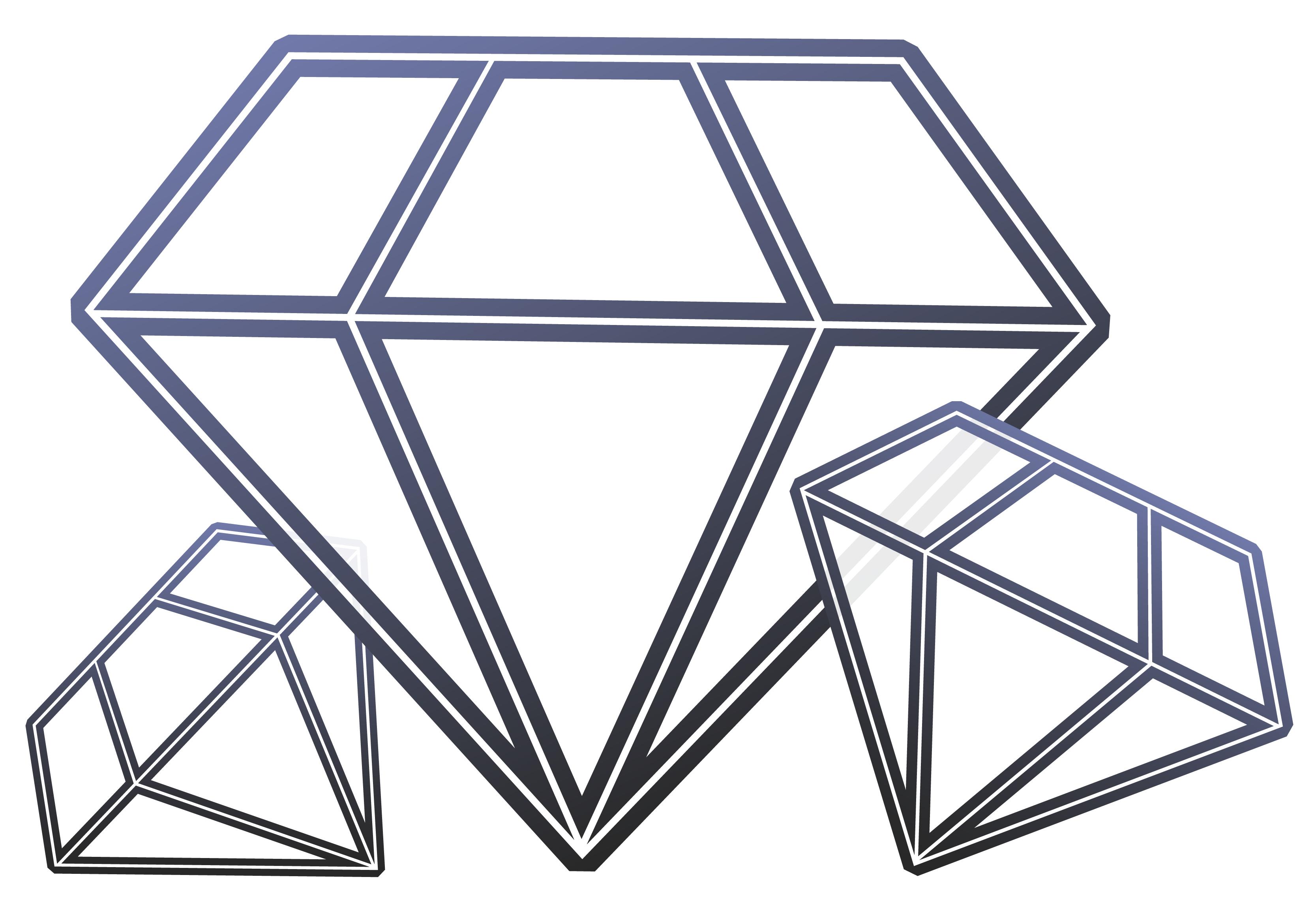 Diamond Mine Registration Information:
When: Feb 5, 2021 09:00 AM Pacific Time (US and Canada) Topic: DecisionPoint Diamond Mine (2/5/2021) LIVE Trading Room Register in advance for this webinar: https://zoom.us/webinar/register/WN_kIjSNGe5SPysBAEHFGs6YQ
After registering, you will receive a confirmation email containing information about joining the webinar. ===============================================================================
Here is the information for viewing the recording:
Date: Jan 29, 2021 08:58 AM Pacific Time (US and Canada) Meeting Recording: https://zoom.us/rec/share/WQMENRcBm-l5Ioawtb2sjGq6zVeE1Fwg6A82cCFwQCzHIuEkX6WO0iMgjtzEXBKK.ryahtNrhhc23Cgw5 Access Passcode: xqh%L59J
---
---

It's Free!
***Click here to register for this recurring free DecisionPoint Trading Room on Mondays at Noon ET!***
+++++++++++++++++++++++++++++++++++++++++++++++++++++++++++++++++++++++++++++++
Here is the information for Monday 2/1/2021 recording. Mark Young, CMT was my guest so you don't want to miss it!
Topic: DecisionPoint Trading Room Date: Feb 1, 2021 08:48 AM Pacific Time (US and Canada) Meeting Recording: https://zoom.us/rec/share/ltsyRoM608nM3zoHC-_kSHu8DeoIDEG-t4W-jta5hpqLvtqzyBnwYkKil22LA747.EBefqdi8r7kDru4o Access Passcode: Lb.9Q$9e
For best results, copy and paste the access code to avoid typos.
---
---
Welcome to DecisionPoint Daily Diamonds, wherein I highlight five "diamonds in the rough." These are selected from the results of my DecisionPoint scans, which search for stocks that could benefit from the trend and condition of the market. Remember, these are not recommendations to buy or sell, but are the most interesting of the stocks that surfaced in my scans. My objective is to save you the work of the initial, tedious culling process, but you need to apply your own analysis to see if these stocks pique your interest as well. There are no guaranteed winners here!
---
---
VanEck Vectors Gaming ETF (BJK)
EARNINGS: N/A
BJK tracks a market-cap-weighted index of global companies that generate at least 50% of revenues from gaming and related activities.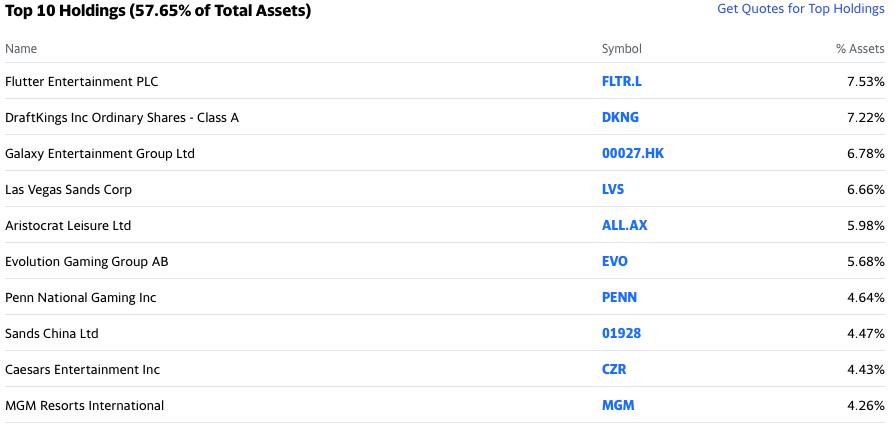 After seeing Mary Ellen use Yahoo Finance to check for ETF holdings, I decided it was an easy thing to add a screenshot from their website. Hope you like it!
BJK is currently unchanged in after hours trading. It's too bad we missed the initial push on this ETF, but such is the struggle of a momentum investor. The PMO was quite ugly before that pop. Today saw a continuation of the initial rally pop. It now broken overhead resistance. The RSI is positive and the PMO hasn't yet had a positive crossover. There is a beautiful positive divergence with the OBV. The SCTR is a respectable 83.5. I've set the stop level just below last month's low.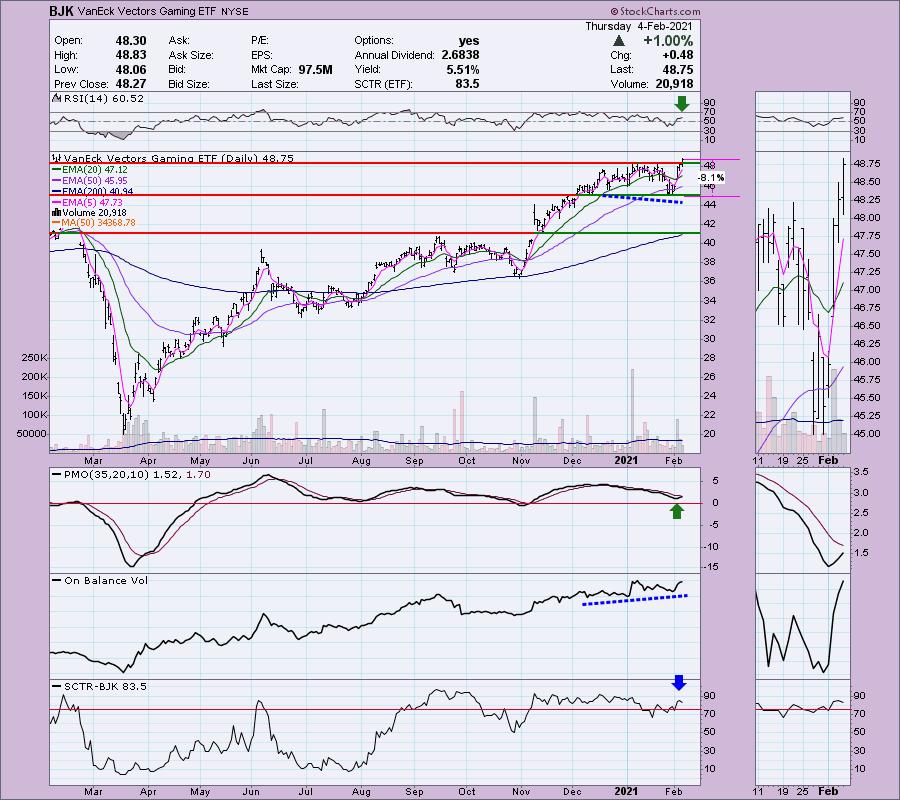 This breakout is very important given it now puts price above the 2018 high. Hard to believe given the pandemic's effect on the gambling industry (although Draft Kings was poised to do quite well). The PMO is very overbought, but it is bottoming above its signal line which is very bullish. The OBV is confirming the rally. I checked and it is currently trading at all-time highs.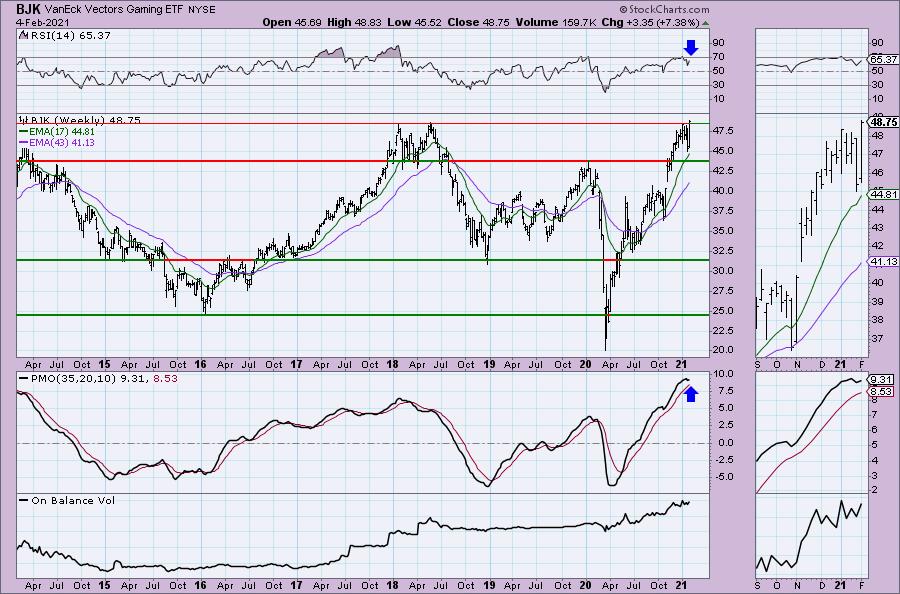 ---
Farfetch Ltd. (FTCH)
EARNINGS: 2/25/2021 (AMC)
Farfetch Ltd. engages in the provision of technology platform for the luxury fashion industry. It operates through the following segments: Digital Platform, Brand Platform, and In-Store. The Digital Platform segment activities include the Farfetch Marketplace, FPS, BrownsFashion.com, StadiumGoods.com, and Farfetch Store. The Brand Platform segment is comprised of design, production, brand development and wholesale distribution of brands. The In-Store segment covers the activities of group-operated stores including Browns, Stadium Goods and certain brands in the New Guards portfolio. Its products include womenswear, menswear, kidswear, vintage, fine watches, and fine jewelry. The company was founded by José Manuel Ferreira Neves in 2007 and is headquartered in London, the United Kingdom.
FTCH is down -0.19% in after hours trading. I covered FTCH in the October 29th 2020 Diamonds Report. The stop was never hit and it is currently up +129.7%! I won't take full credit, this was a reader request, but I did select it from those presented. The chart is shaping up nicely again. The PMO has turned up and is going in for a crossover BUY signal. The RSI is positive and rising. The OBV has a slight positive divergence that preceded this rally. Currently it is confirming the rally and the breakout with a breakout of its own. The SCTR is top-notch.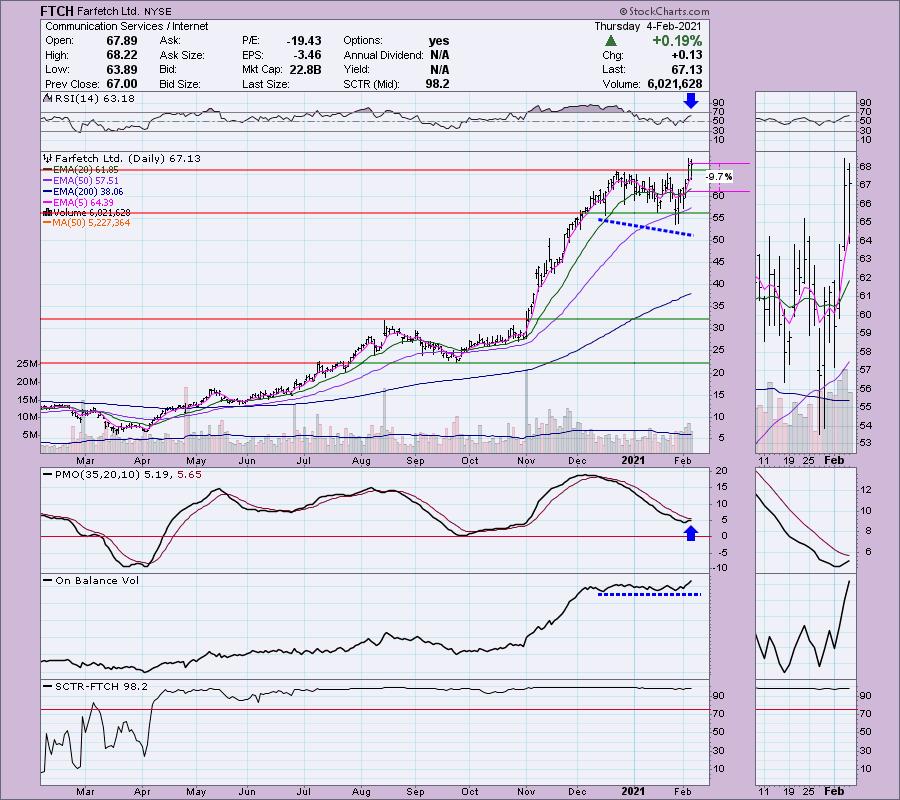 We see that a bull flag was forming out of the bear market low. After the correction to the 17-week EMA it broke out and has now formed another flag. This week's move has executed it. The problem would be the very overbought RSI and declining weekly PMO. This looks promising, but set a stop.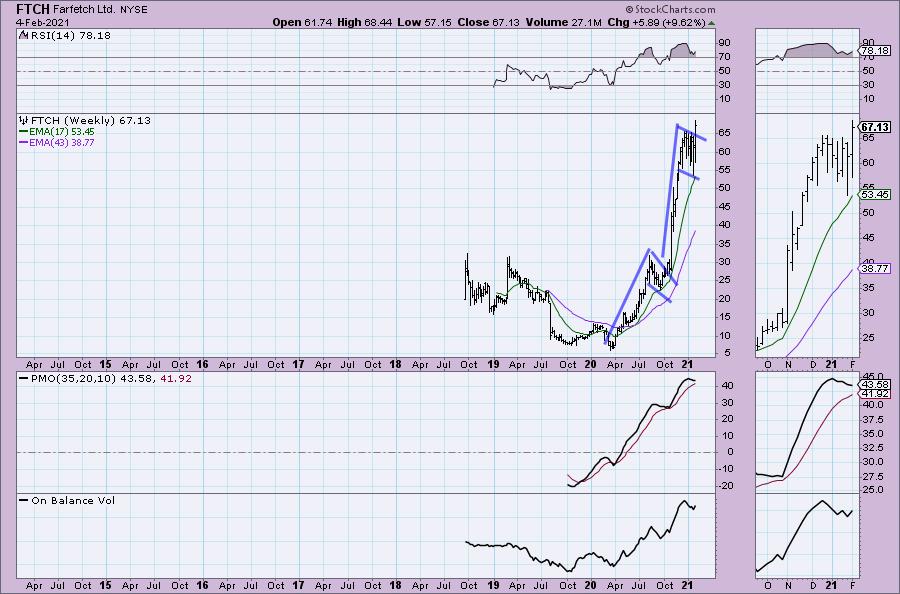 ---
Pinterest Inc. (PINS)
EARNINGS: 2/4/2021 (AMC)
Pinterest, Inc. engages in the operation of a pinboard-style photo-sharing website. It allows users to create and manage theme-based image collections such as events, interests, and hobbies. The company was founded by Benjamin Silbermann, Paul C. Sciarra, and Evan Sharp in October 2008 and is headquartered in San Francisco, CA.
PINS reported earnings today after the bell. It is currently up +9.52% in after hours trading. Generally good earnings mean follow-through on the rally. It's Tom Bowley's bread and butter at EarningsBeats.com as he manages a "good earnings" chart list. Winners can keep on winning and this reader request certainly should. The RSI is positive and the PMO has now had a positive crossover, triggering a BUY signal. The OBV has broken out with price and thus confirms the breakout and the rally. The SCTR is well above 75. The stop is tricky, but I lined it up near the October high.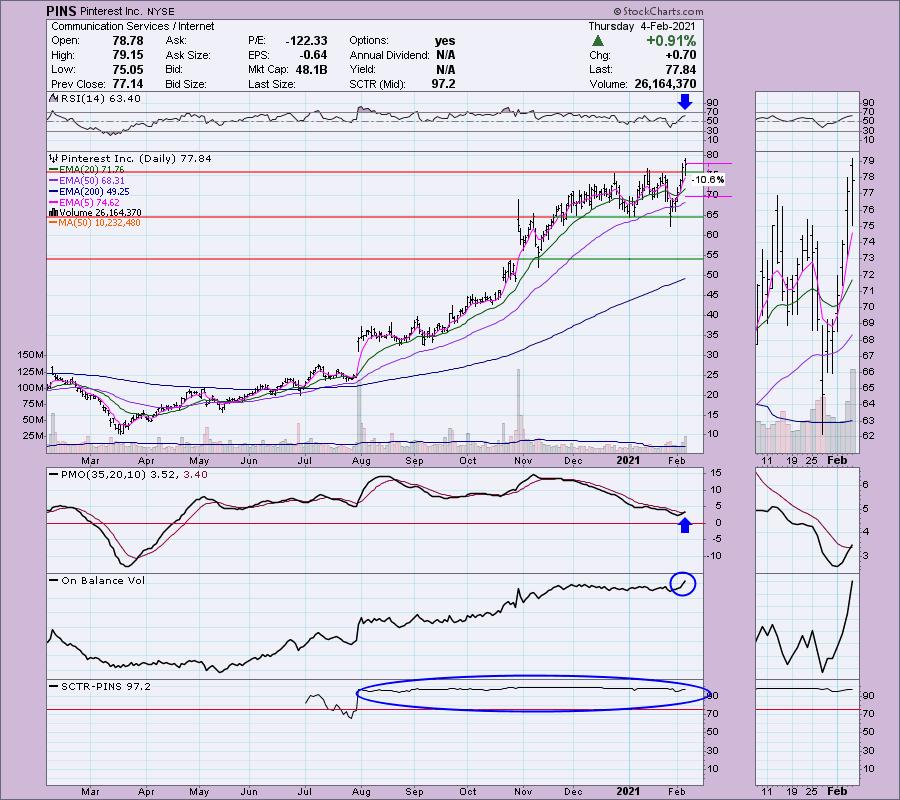 I do have a big problem with the weekly chart. The RSI is overbought again and the PMO is possibly going to trigger a crossover SELL signal. On top of that we have a bearish megaphone pattern. Make sure you have a stop.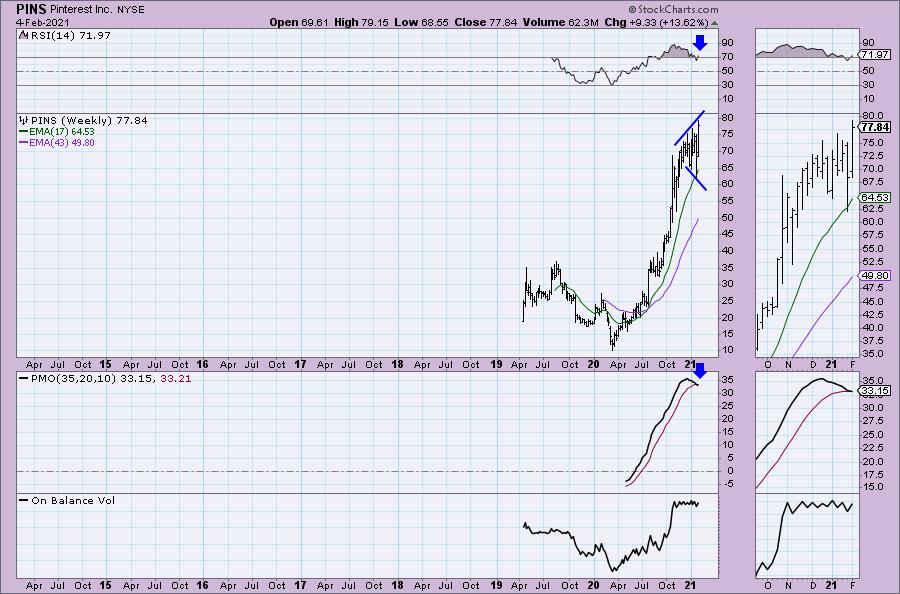 ---
Don't forget, on Thursdays I look at reader-requested symbols, so shoot me an email at erin@decisionpoint.com. I read every email I receive and try to answer them all!
---
Trimble Inc. (TRMB)
EARNINGS: 2/10/2021 (AMC)
Trimble, Inc. engages in the provision of positioning technology solutions. It operates through the following segments: Buildings and Infrastructure, Geospatial, Resources and Utilities, and Transportation. The Buildings and Infrastructure segment serves architects, engineers, contractors, owners, and operators. The Geospatial segment offers solutions for the customers working in surveying, engineering, and government. The Resources and Utilities segment caters customers working in agriculture, forestry, and utilities. The Transportation segment covers long-haul trucking, field service management, rail, and construction logistics industries. The company was founded in 1978 by Charles Robert Trimble and is headquartered in Sunnyvale, CA.
TRMB is up slightly +0.03% in after hours trading. Price had broken the declining tops trend line, but not in a very meaningful way. I do worry about a possible reverse island here as well. Other than that, I like it. There is a positive RSI and a PMO that is turning up. The OBV bottoms have a positive divergence with price and the SCTR is very good.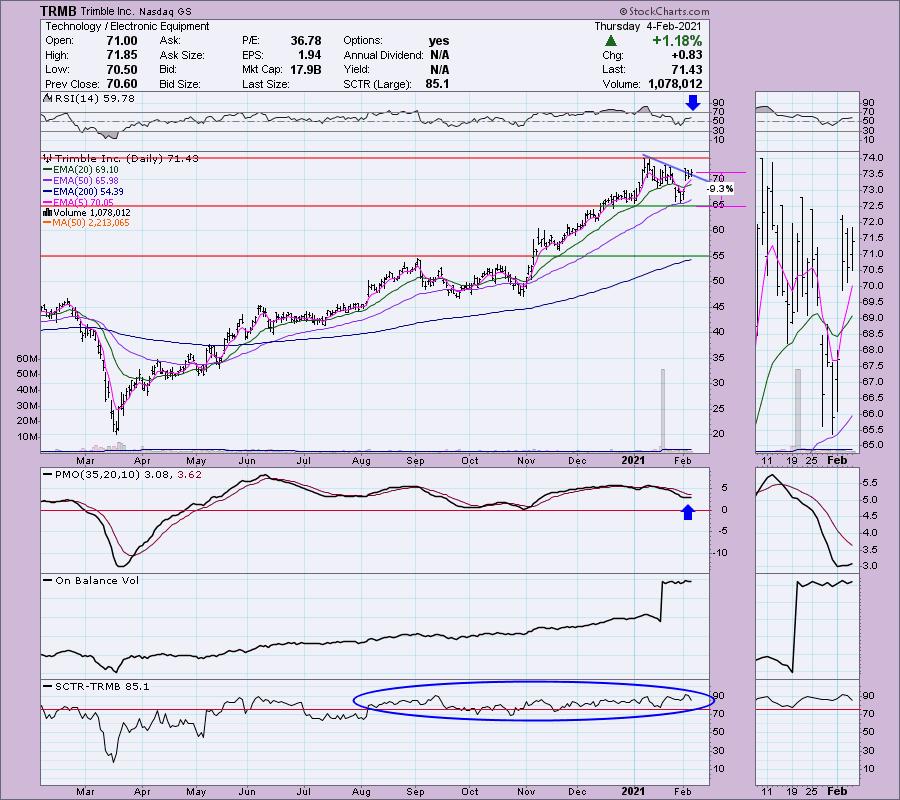 The weekly chart is intriguing with the PMO bottoming above the signal line. I don't like that it is so overbought. The RSI is positive, but getting overbought. We could be forming a bull flag right now.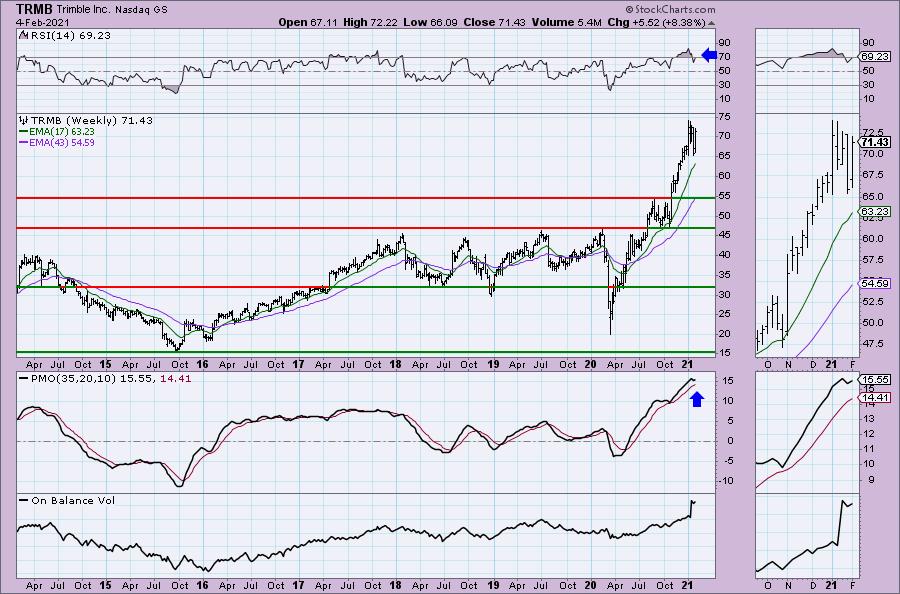 ---


Verra Mobility Corporation (VRRM)
EARNINGS: 3/1/2021 (AMC)
Verra Mobility Corp. engages in the provision of smart mobility technology solutions and services. It operates through the Government Solutions and Commercial Services segments. The Government Solutions segment delivers traffic law enforcement services and products to state and local governments. The Commercial Services segment offers tolling and violation management services to rental car companies, commercial fleet vehicle owners, and violation issuing authorities. The company was founded on August 15, 2016 and is headquartered in Mesa, AZ.
VRRM is currently down -0.76% in after hours trading. Not to worry, that still keeps price above prior overhead resistance. The RSI is positive and the PMO has just connected a crossover BUY signal. The OBV and SCTR are confirming the breakout. I set the stop at the June top as setting it at the bottom of the trading channel would make it a 13% stop which is too deep for me.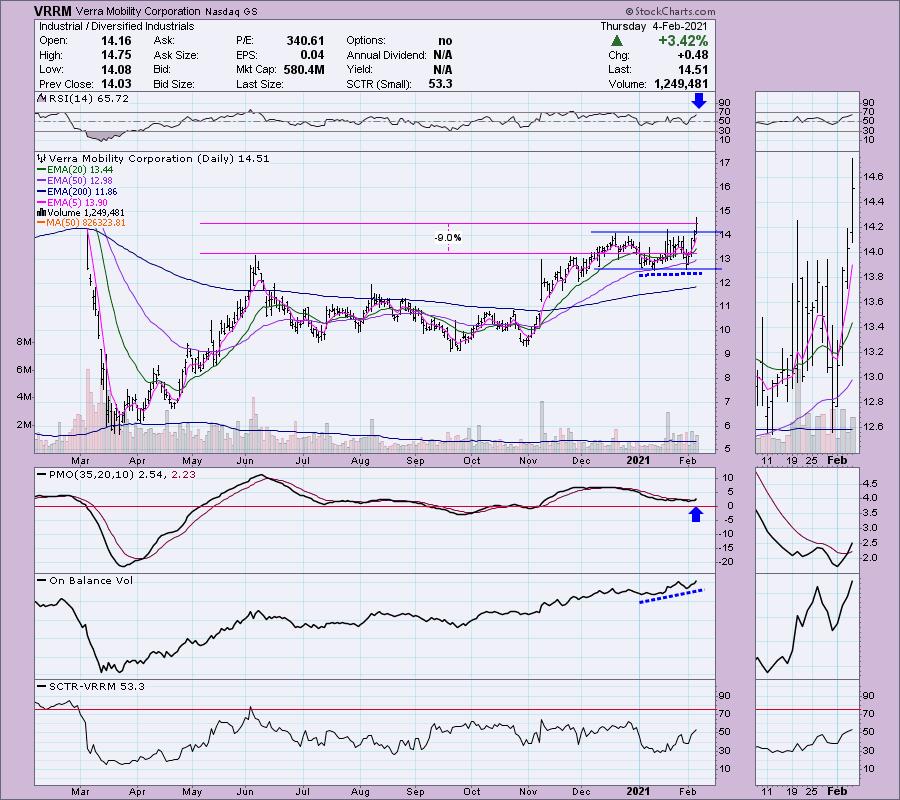 The weekly chart has a PMO bottom above the signal line. It appears overbought, but we don't have satisfactory data to really make that meaningful right now. The RSI is positive. Upside target is certainly doable at nearly 20%.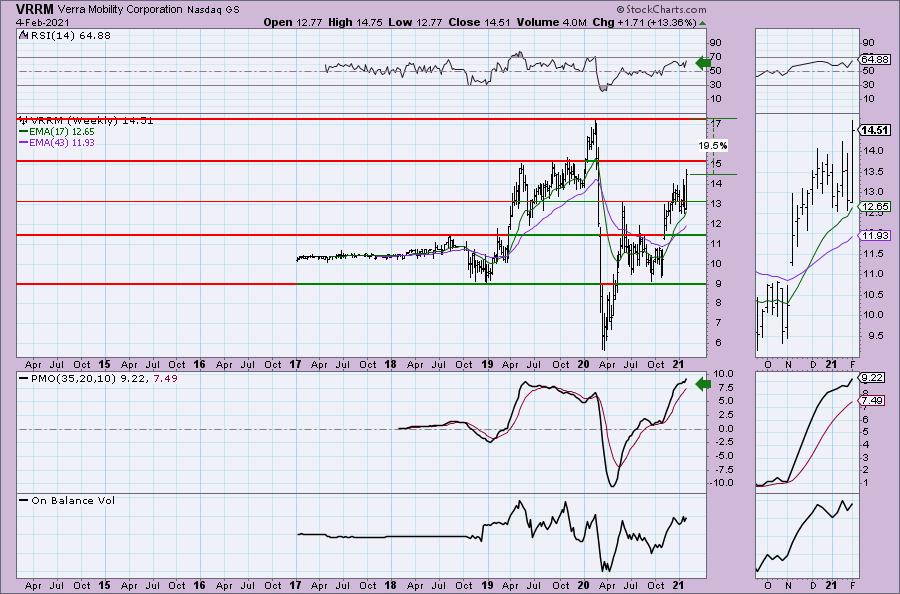 ---
Full Disclosure: I'm about 80% invested and 20% is in 'cash', meaning in money markets and readily available to trade with. I'll be considering entry in BOIL, BJK and GBIO.
---
Current Market Outlook:
Market Environment: It is important to consider the odds for success by assessing the market tides. The following chart uses different methodologies for objectively showing the depth and trend of participation for intermediate- and long-term time frames.
The Silver Cross Index (SCI) shows the percentage of SPX stocks on IT Trend Model BUY signals (20-EMA > 50-EMA)
The Golden Cross Index (GCI) shows the percentage of SPX stocks on LT Trend Model BUY signals (50-EMA > 200-EMA)
The Bullish Percent Index (BPI) shows the percentage of SPX stocks on Point & Figure BUY signals.
Don't forget that as a "Diamonds" member, you have access to our GCI/SCI curated ChartList on DecisionPoint.com. You'll find it under "Members Only" links on the left side on the Blogs and Links Page.
Here is the current chart: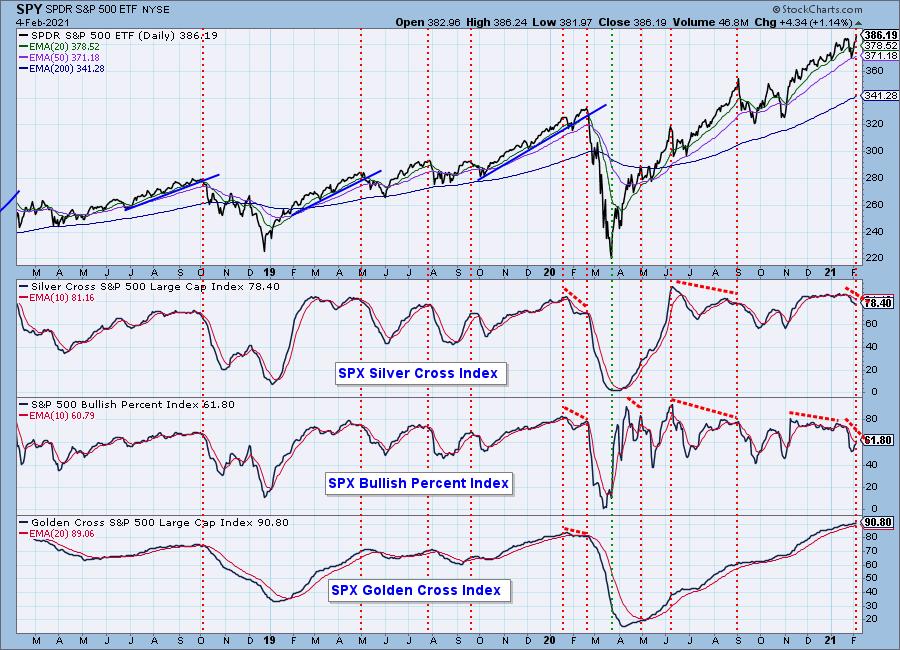 Diamond Index:
Diamond Scan Results: 72
Diamond Dog Scan Results: 7
Diamond Bull/Bear Ratio: 10.29
I'm in the process of trying to plot the Diamond Index, but with time at a premium, it is on the back burner.
Technical Analysis is a windsock, not a crystal ball.
Happy Charting!
- Erin
erin@decisionpoint.com
---
Watch the latest episode of DecisionPoint with Carl & Erin Swenlin on Mondays 7:00p EST or on the DecisionPoint playlist on the StockCharts TV YouTube channel here!
---
---
NOTE: The stocks reported herein are from mechanical trading model scans that are based upon moving average relationships, momentum and volume. DecisionPoint analysis is then applied to get five selections from the scans. The selections given should prompt readers to do a chart review using their own analysis process. This letter is not a call for a specific action to buy, sell or short any of the stocks provided. There are NO sure things or guaranteed returns on the daily selection of "diamonds in the rough."
---
Helpful DecisionPoint Links:
DecisionPoint Shared ChartList and DecisionPoint Chart Gallery
Price Momentum Oscillator (PMO)
Swenlin Trading Oscillators (STO-B and STO-V)
For more links, go to DecisionPoint.com!f