There were some great charts this week that followed through spectacularly. Best part is they look bullish going forward. I would look for Natural Gas and Energy to show follow-through on their big weeks. The call on Gambling stocks yesterday seems to have been timely. I still like that area of the market.
You'll notice on the spreadsheet that there is only one row where I have negative activity and a negative Sparkle Factor. I'll look at our big winner RARE and the only one I don't like, PSTX.
In today's Diamond Mine we looked at the sectors that seem to have the most promise going into next week. Below is a screenshot of my Sector CandleGlance. It's not crystal clear, but you get the gist. Looking strictly at the PMOs, the sectors that are showing new improvement in momentum would be XLY, XLB, XLK, XLE, XLP and XLF. Those six are showing new PMO bottoms.
As far as price action, I find XLP suspect. I hopped on the last PMO bottom and got zinged so I don't trust this sector.
XLF could find continued momentum with the stimulus discussions. Not sure how student loan forgiveness will affect this sector overall though. We'll cross that bridge later.
I like XLE quite a bit. While it hasn't broken out, it should based on PMO alone.
XLK is good, but as I have been saying I have some issues there given it tends to be the leader in market direction. Many of us know that a pullback or correction is overdue, so be careful out there.
I said this morning that I like XLY best. As the vaccine continues to roll out and the overall COVID picture starts to improve, this sector should explode.
However, it may surprise you, but after looking "under the hood" at the indicators, Materials (XLB) really look good going into next week. Read more in the conclusion.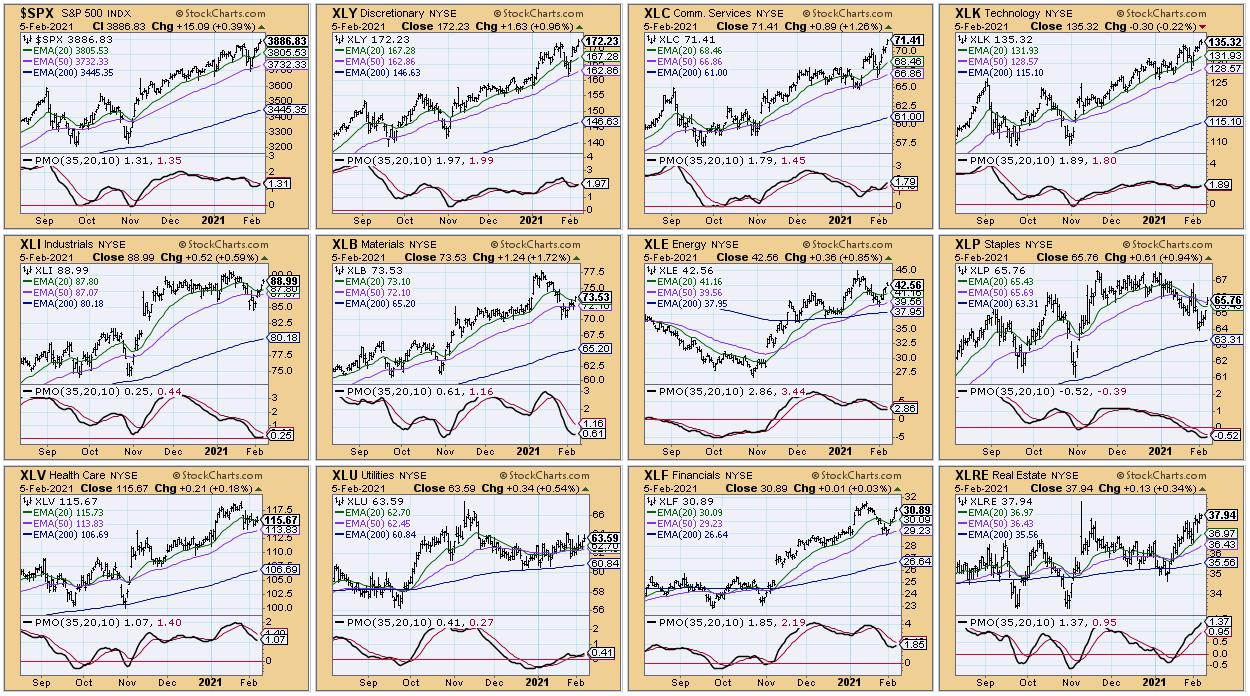 ---
---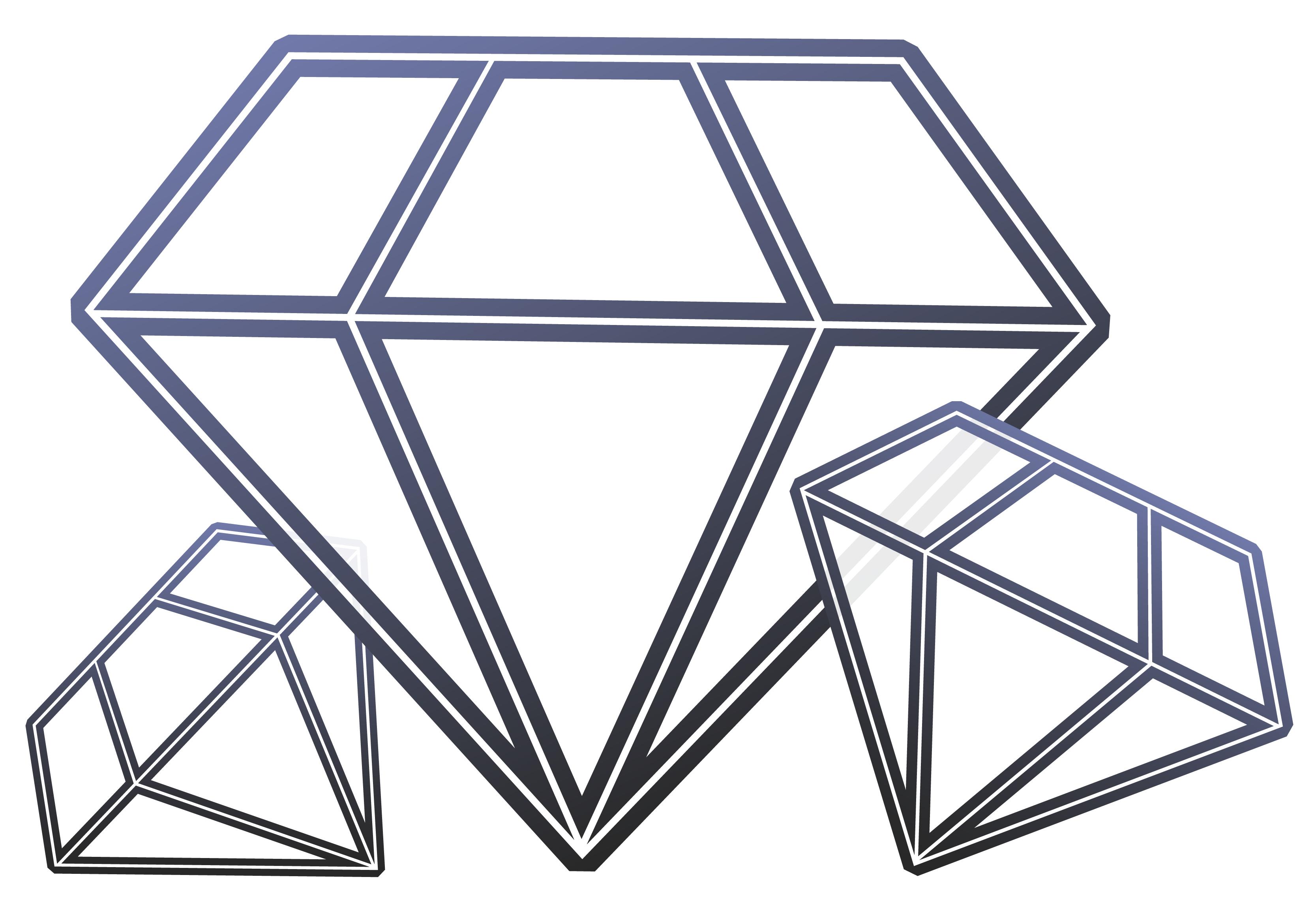 Diamond Mine Information:
RECORDING LINK:
Meeting Recording: https://zoom.us/rec/share/WN0G-DgAPyVXxfUcSqghEVaDe_T6ocJXUG9w7IXoNm6J5ozyXijElyx4eRYEAZEY.N0molEcrpV-QMi0M Access Passcode: 2vi+nYV*
REGISTRATION:
Register in advance for the next "DecisionPoint Diamond Mine" trading room:
When: Feb 12, 2021 09:00 AM Pacific Time (US and Canada) Topic: DecisionPoint Diamond Mine (02/12/2021) LIVE Trading Room Register in advance for this webinar: https://zoom.us/webinar/register/WN_45P3AHvzSyeaUcNy3nZKPQ Please do not share these links! They are for Diamonds subscribers ONLY!
Save the registration confirmation email with login instructions in case Zoom doesn't notify you in time.
---
---
A few items about the spreadsheet: I decided it only fair to denote "reader requests" as I shouldn't get to take credit if they turn out great! I've put on the spreadsheet whether the RSI is positive (green) or negative (red). The PMO column tells you if it is rising (green) or falling (red). Finally I've added my own "Sparkle Factor" that gives you my assessment going forward, bullish (green), bearish (red) or neutral (gray). The Sparkle Factor is basically my thoughts on whether I expect it to rise or fall. A neutral means it could really go either way so it could be added to a watch list. If you're in a stock I consider "neutral" going forward, the ball is in your court.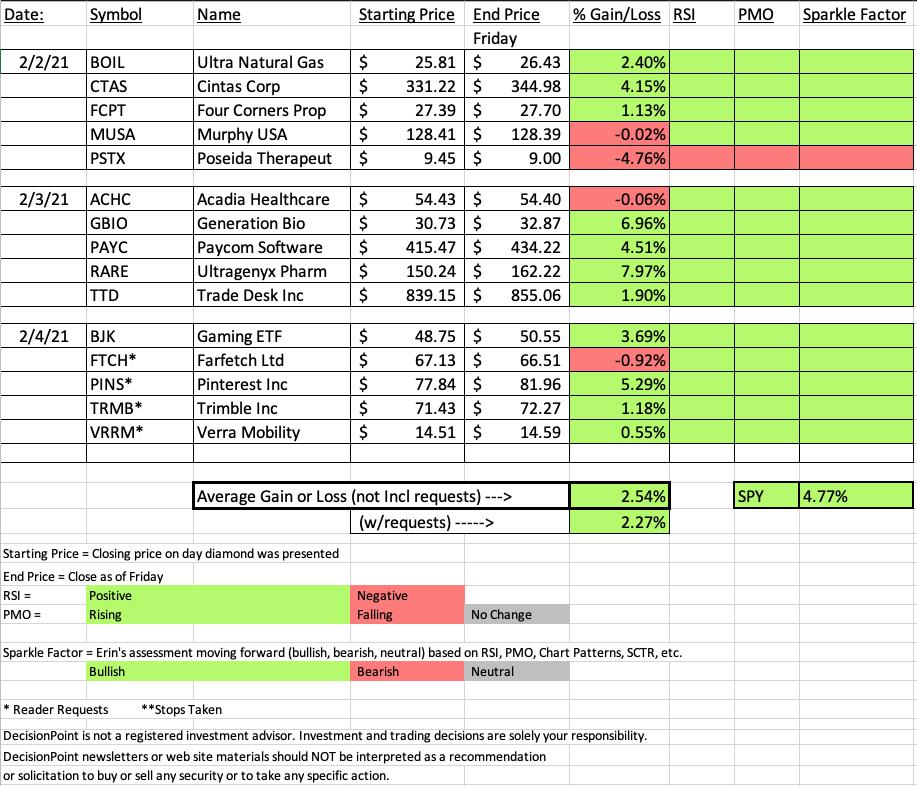 ---

It's Free!
***Click here to register for this recurring free DecisionPoint Trading Room on Mondays at Noon ET!***
Topic: DecisionPoint Trading Room Start Time : Feb 1, 2021 09:00 AM Meeting Recording: https://zoom.us/rec/share/__ZqpRJ32xxxX1d5XlsBeFBywYvg8u5FOiXLdfbMBq0re1KJ5DgIgEaGjoWSSqWg.C25xn5YC33vcRVU3 Access Passcode: Lb.9Q$9e
For best results, copy and paste the access code to avoid typos.
---
Darling:
Ultragenyx Pharmaceutical Inc. (RARE)
EARNINGS: 2/11/2021 (AMC)
Ultragenyx Pharmaceutical, Inc. is a biopharmaceutical company, which engages in the identification, acquisition, development and commercialization of novel products for the treatment of serious rare and ultra-rare genetic diseases. Its product includes Mepsevii and Crysvita. Mepsevii is an intravenous, which is used for the treatment of Mucopolysaccharidosis VII. Crysvita is an antibody administered via subcutaneous injection used for the treatment of XLH. The company was founded by Emil D. Kakkis on April 22, 2010 and is headquartered in Novato, CA.
Below is the commentary and chart from Wednesday 2/3:
"RARE is unchanged in after hours trading. Today saw an unsuccessful breakout from what looks like a rounded price bottom. It was unsuccessful in that it was unable to close above resistance. However, the PMO and RSI are signaling that this could turn into a successful breakout. In the thumbnail you can see a positive OBV divergence on the last two February lows."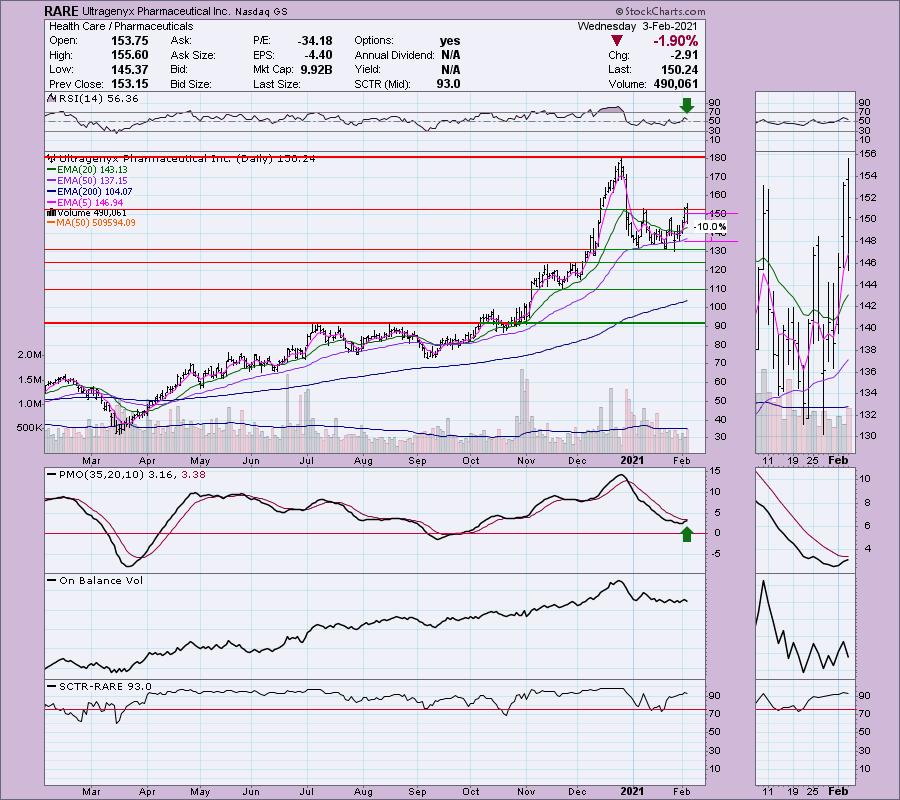 Here is today's chart:
Today price finally broke out in a meaningful way. The PMO has only just triggered a crossover BUY signal and the RSI is rising, positive and not overbought. I'm looking for a test of the December top at a minimum. One downside issue would be the OBV staying flat and not seeing much volume come in today on the big rally today.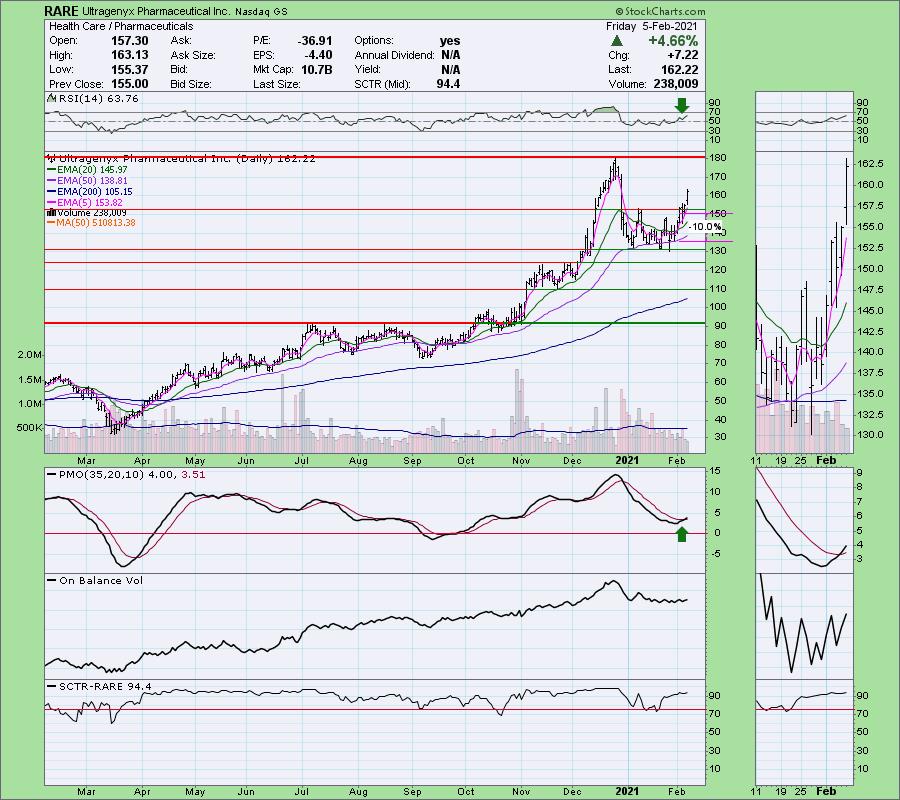 ---
---
Don't forget, on Thursdays I look at reader-requested symbols, so shoot me an email at erin@decisionpoint.com. I read every email I receive and try to answer them all!
---
---
Dud:
Poseida Therapeutics Inc. (PSTX)
EARNINGS: 3/25/2021 (AMC)
Poseida Therapeutics, Inc. is a clinical-stage biopharmaceutical company, which engages in the development of non-viral gene engineering technologies for the treatment of hematological malignancies and solid tumors. Its products pipeline include autologous and allogeneic chimeric antigen receptor T cell, or CAR-T. The company was founded by Eric M. Ostertag in 2014 and is headquartered in San Diego, CA.
Below is the chart and commentary from Tuesday 2/2:
"I had quite a few Biotechs hit my scan results today. This was my favorite set-up. The RSI has just turned positive. The PMO just triggered a crossover BUY signal. We have a double-bottom forming on important support. Looking in the thumbnail you can see a positive divergence with OBV rising bottoms and flat price bottoms. It's a deep stop, but it makes the most sense to set it just below the double-bottom."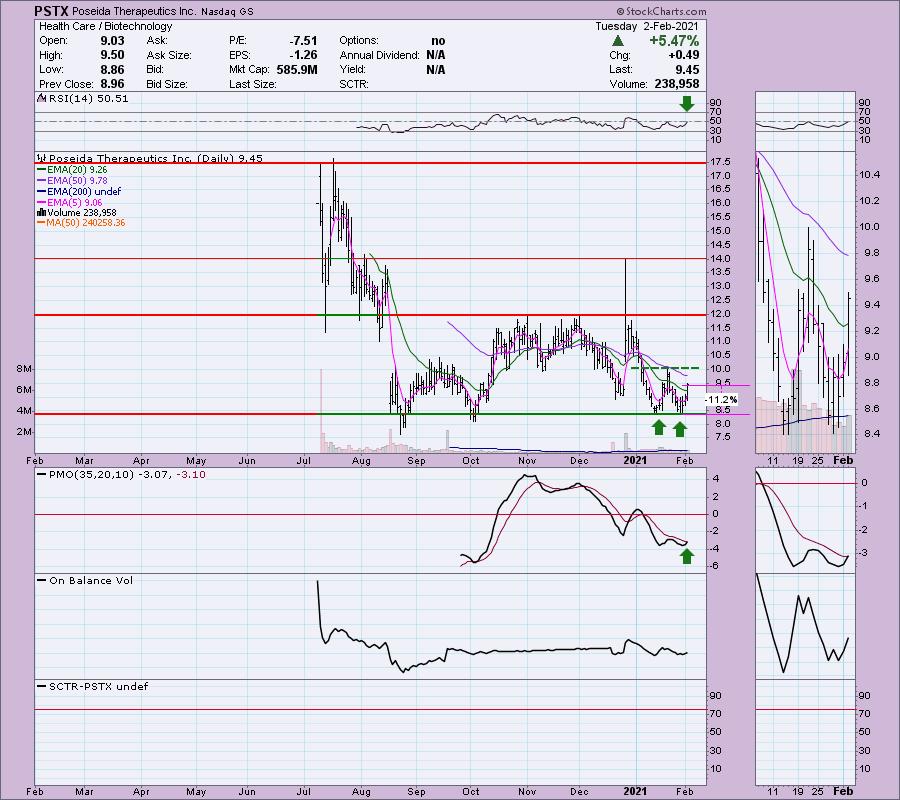 Below is today's chart:
Considering it was my "favorite" Biotech setup off the scans, this decline was quite surprising. The set up truly was great. I always love a great double-bottom pattern with rising OBV bottoms to match. It may not be completely over for PSTX as the PMO, though topping still could turn it around. I would watch for a possible triple bottom in the future.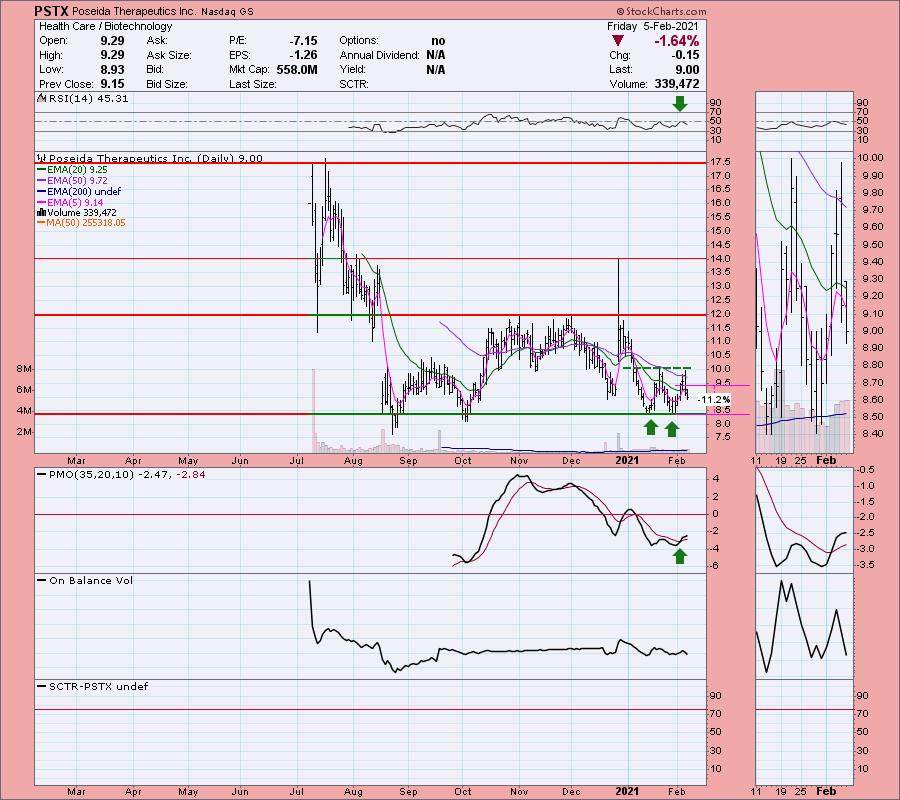 ---
THIS WEEK's Sector Performance: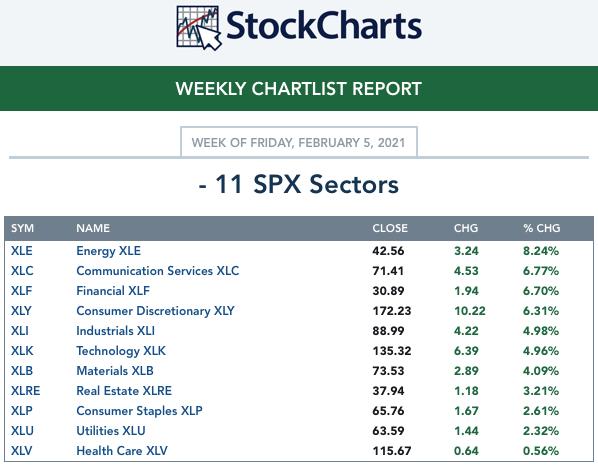 Click Here to view Carl's annotated Sector ChartList!
CONCLUSION:
The market is due for a decline, but it isn't acting that "toppy" right now. I'm just happy to "climb the wall of worry" right now with reasonable hard stops. If you don't watch your computer regularly during the day, you may want to take advantage and sell into this current strength or make sure you have hard (not mental) stops set. I'd hate to see any of my subscribers get caught up in the whirlwind should the market turn down quickly.
Sector to Watch: Materials (XLB)
This could be an early catch (although I remember what happened with trying to catch XLP's falling knife). The PMO turned up today. Price broke above the 20-EMA and notice the improvement under the surface on the indicators. Unlike XLY, they are not overbought.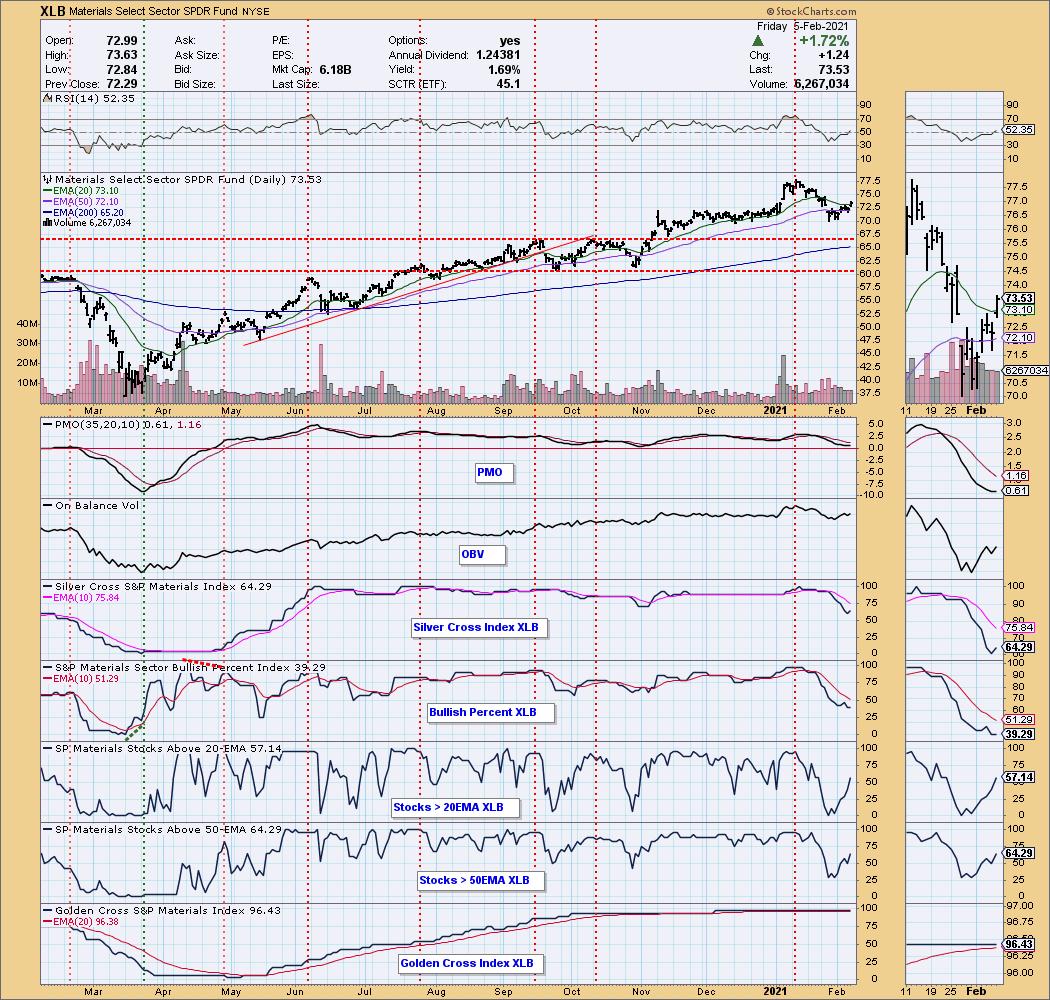 Industry Group to Watch: Steel ($DJUSST) and Aluminum ($DJUSAL)
I like most all of the industry groups in Materials except Gold and Gold Miners. They are oversold, but I like the building momentum in Steel and Aluminum.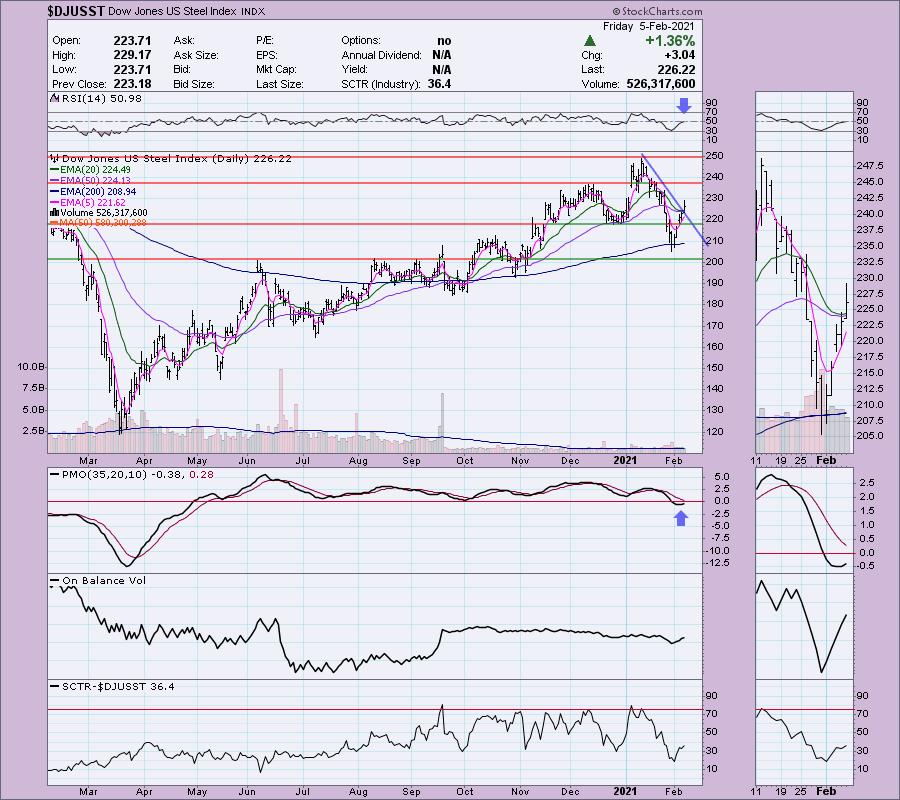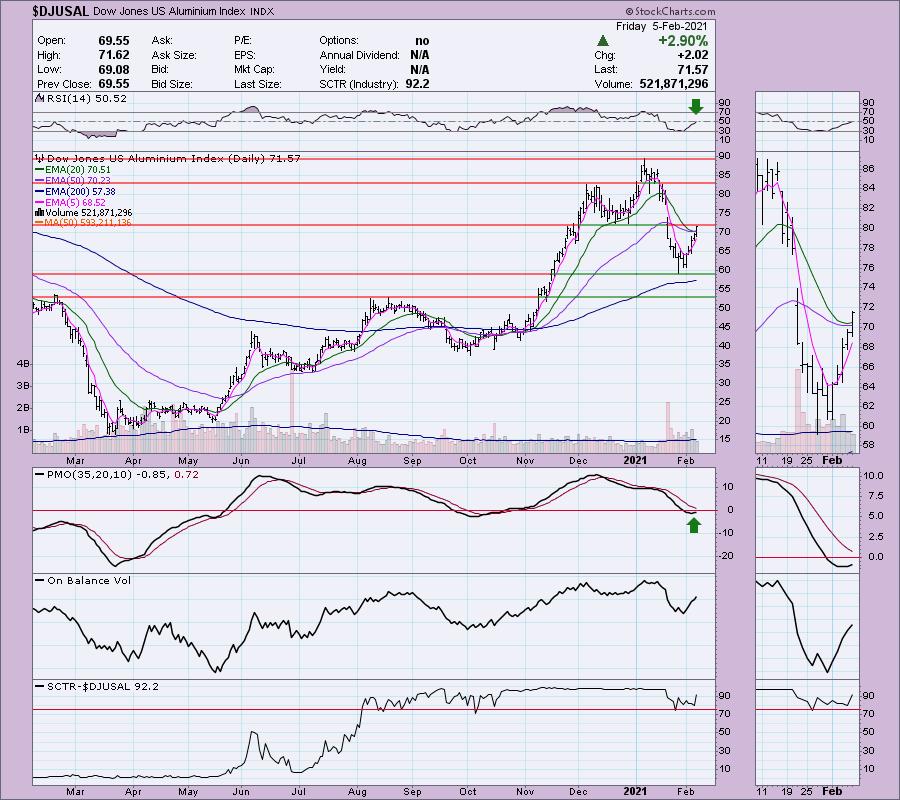 Go to our Sector ChartList on DecisionPoint.com to get an in depth view of all the sectors.
Technical Analysis is a windsock, not a crystal ball.
Have a great weekend!
Happy Charting!
- Erin
erin@decisionpoint.com
---
Full Disclosure: I'm about 80% invested right now and 20% is in 'cash', meaning in money markets and readily available to trade with. I will not be adding to my portfolio unless stocks within the defensive sectors are looking positive enough to swap out a more aggressive position for a more defensive position.
---
Watch the latest episode of DecisionPoint with Carl & Erin Swenlin on Mondays 7:00p EST or on the DecisionPoint playlist on the StockCharts TV YouTube channel here!
---
---
NOTE: The stocks reported herein are from mechanical trading model scans that are based upon moving average relationships, momentum and volume. DecisionPoint analysis is then applied to get five selections from the scans. The selections given should prompt readers to do a chart review using their own analysis process. This letter is not a call for a specific action to buy, sell or short any of the stocks provided. There are NO sure things or guaranteed returns on the daily selection of "diamonds in the rough."
---
Helpful DecisionPoint Links:
DecisionPoint Shared ChartList and DecisionPoint Chart Gallery
Price Momentum Oscillator (PMO)
Swenlin Trading Oscillators (STO-B and STO-V)