The "Diamonds in the Rough" today come from the Healthcare and Technology sectors. I did notice that Financial sector stocks are beginning to find their way into the scan results and do look interesting, but I liked the five charts I'm presenting to you better.
One issue I did find with today's picks is that most require a hefty stop in order to match up with critical support levels. The best way to avoid this is to make a careful entry that would enable you to make the stop a bit more manageable. Of course, if the stock takes off, you can always tighten the stop level.
One of the stocks is rather "new". Typically I don't invest in stocks where I don't have a hefty amount of back data, but the set-up was very intriguing and I like what they do.
Quick note on Sunpower (SPWR) (which I own)... it has pulled back to the 20-EMA. The PMO doesn't look great after this pullback, but it could be a good entry point if you haven't gotten in yet.
Today's "Diamonds in the Rough" are: ACHC, GBIO, PAYC, RARE, and TTD.
---
---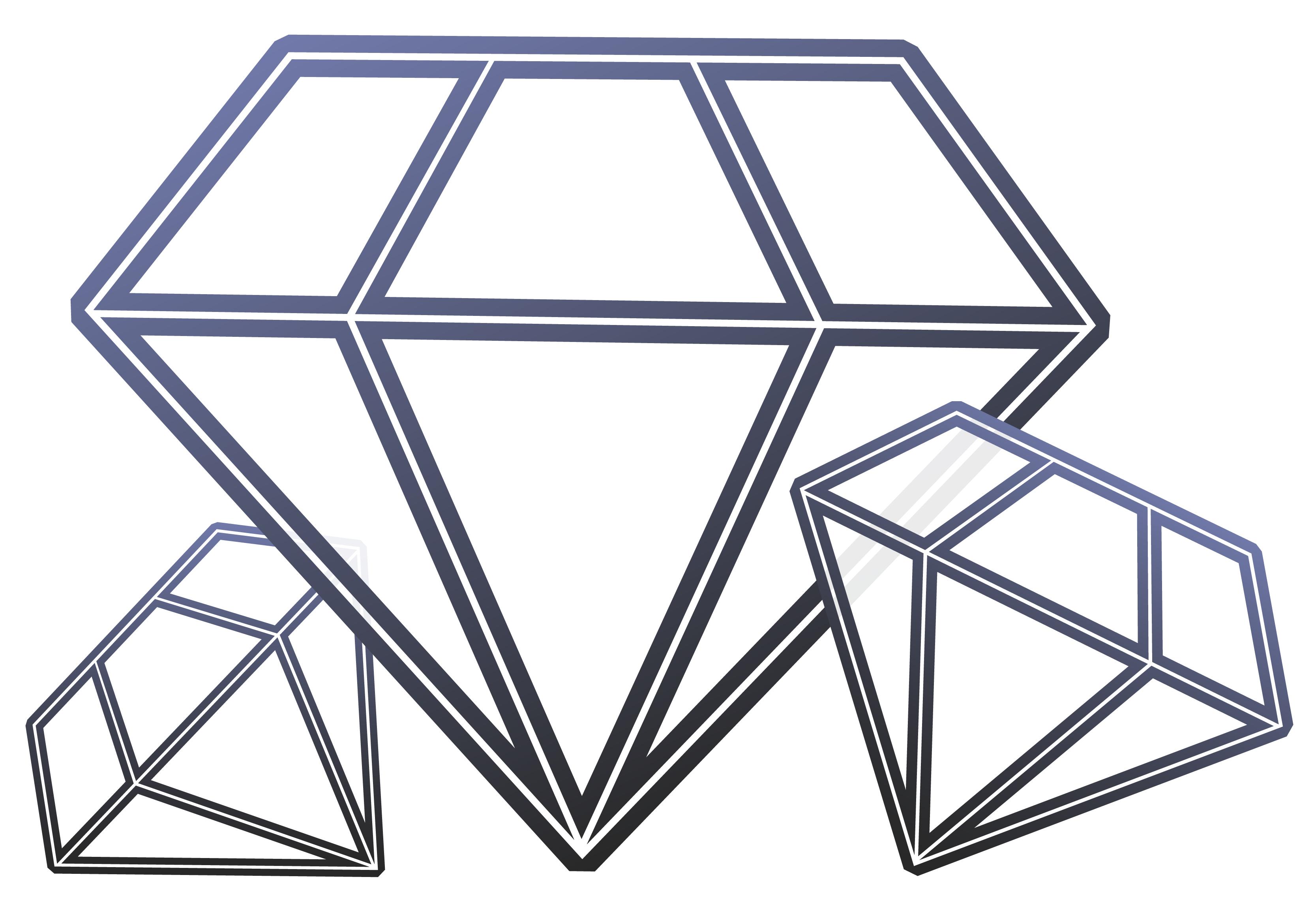 Diamond Mine Registration Information:
When: Feb 5, 2021 09:00 AM Pacific Time (US and Canada) Topic: DecisionPoint Diamond Mine (2/5/2021) LIVE Trading Room Register in advance for this webinar: https://zoom.us/webinar/register/WN_kIjSNGe5SPysBAEHFGs6YQ
After registering, you will receive a confirmation email containing information about joining the webinar. ===============================================================================
Here is the information for viewing the recording:
Date: Jan 29, 2021 08:58 AM Pacific Time (US and Canada) Meeting Recording: https://zoom.us/rec/share/WQMENRcBm-l5Ioawtb2sjGq6zVeE1Fwg6A82cCFwQCzHIuEkX6WO0iMgjtzEXBKK.ryahtNrhhc23Cgw5 Access Passcode: xqh%L59J
---
---

It's Free!
***Click here to register for this recurring free DecisionPoint Trading Room on Mondays at Noon ET!***
+++++++++++++++++++++++++++++++++++++++++++++++++++++++++++++++++++++++++++++++
Here is the information for Monday 2/1/2021 recording. Mark Young, CMT was my guest so you don't want to miss it!
Topic: DecisionPoint Trading Room Date: Feb 1, 2021 08:48 AM Pacific Time (US and Canada) Meeting Recording: https://zoom.us/rec/share/ltsyRoM608nM3zoHC-_kSHu8DeoIDEG-t4W-jta5hpqLvtqzyBnwYkKil22LA747.EBefqdi8r7kDru4o Access Passcode: Lb.9Q$9e
For best results, copy and paste the access code to avoid typos.
---
---
Welcome to DecisionPoint Daily Diamonds, wherein I highlight five "diamonds in the rough." These are selected from the results of my DecisionPoint scans, which search for stocks that could benefit from the trend and condition of the market. Remember, these are not recommendations to buy or sell, but are the most interesting of the stocks that surfaced in my scans. My objective is to save you the work of the initial, tedious culling process, but you need to apply your own analysis to see if these stocks pique your interest as well. There are no guaranteed winners here!
---
---
Acadia Healthcare Company, Inc. (ACHC)
EARNINGS: 2/25/2021 (AMC)
Acadia Healthcare Co., Inc. engages in the provision of behavioral healthcare services. It operates through the following business segments: United States (U.S.) Facilities and the United Kingdom (U.K.) Facilities. The U.S. Facilities segment classified in the following categories: acute inpatient psychiatric facilities; specialty treatment facilities; residential treatment centers; and outpatient community-based services. The U.K. Facilities segment provides inpatient services through facilities, including mental health hospitals, clinics, care homes, schools, colleges, and children's homes. The company was founded in January 2005 and is headquartered in Franklin, TN.
Currently ACHC is down -1.71% in after hours trading which is taking it right to support at the January top--I'm good with that. It needed to back down given the RSI is nearly in overbought territory above 70. The PMO is curling upward and hasn't had the crossover so this could be an early entry in the rally. There is a positive divergence between price bottoms and the OBV (best seen in the thumbnail). The stop is deep as support at the January low is strongest. However, with any of these with deep stops, you can always watch it and dump it if it loses the 20-EMA and most certainly if it loses the 50-EMA.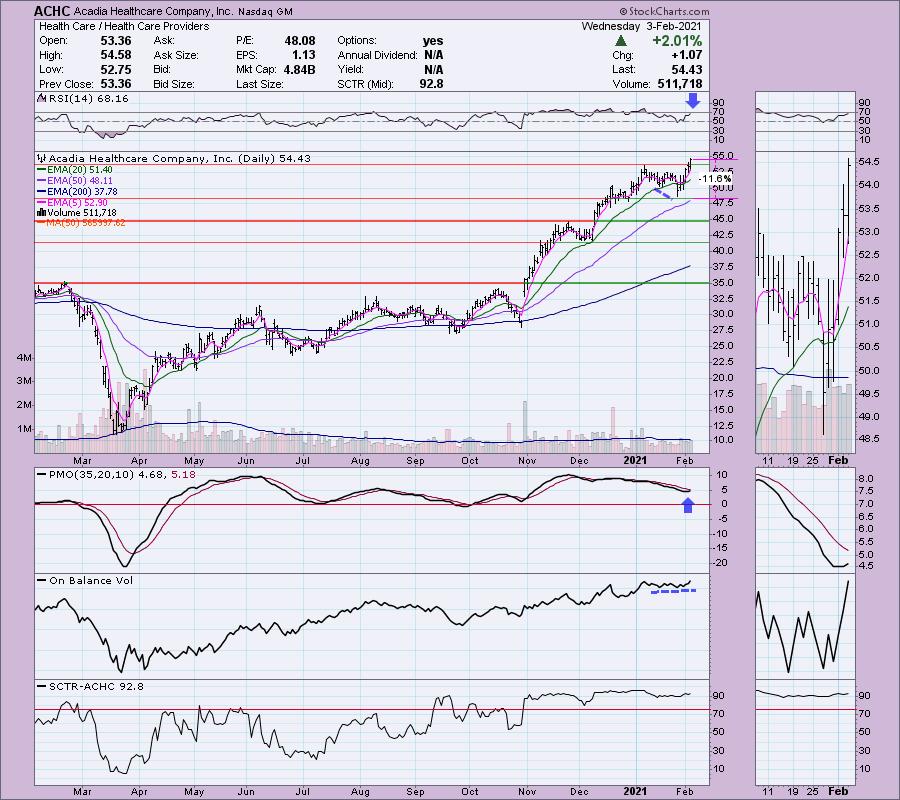 The PMO is very overbought, but it is turning back up again well-above the signal line. The RSI is a problem given it has been overbought for some time. If it can hold today's breakout and continue higher, that will put it above strong overhead resistance that lines up with the 2017 top.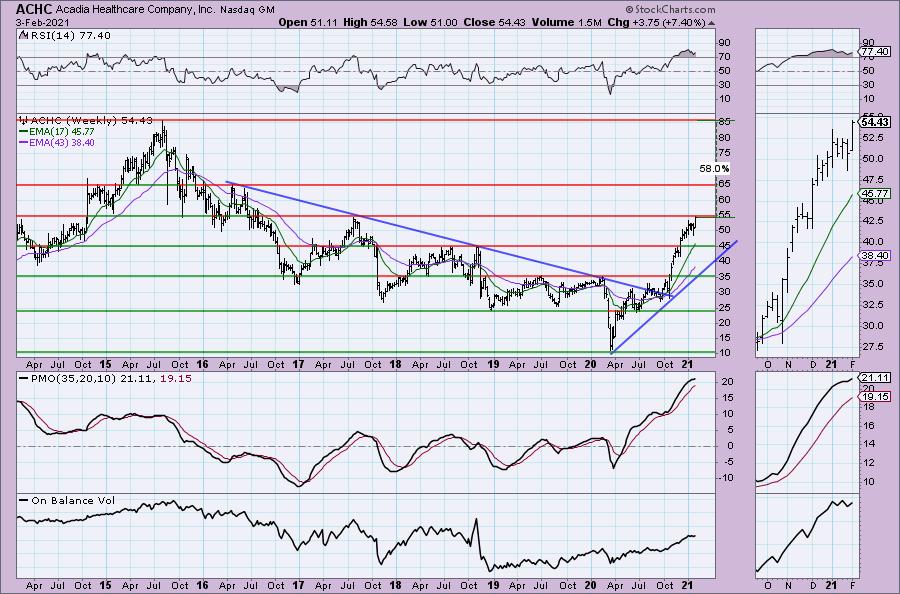 ---
Generation Bio Co (GBIO)
EARNINGS: 2/24/2021 (BMO)
Generation Bio Co. is a genetic medicines company focuses on creating a new class of gene therapy to provide durable and redosable treatment for patients suffering from both rare and prevalent diseases. Its non-viral platform incorporates a proprietary high-capacity DNA construct called closed-ended DNA, or ceDNA; a novel cell-targeted lipid nanoparticle delivery system, or ctLNP; and an established, scalable capsid-free manufacturing process. The company was founded by Mark D. Angelino, Jason P. Rhodes, and Robert M. Kotin in 2016 and is headquartered in Cambridge, MA.
GBIO is down -0.10% in after hours trading. This is one I usually wouldn't consider a position in simply because I don't have much data. I'm making an exception for a few reasons. First is price action which has formed a bullish double-bottom pattern. More reasons, the PMO has triggered a crossover BUY signal today and the RSI just turned positive. Price traded above the 50-EMA for two days and while it didn't close above the 50-EMA, it closed above the 20-EMA twice. In addition to the technical reasons above, I am also interested in investing in the DNA and genomic research industry. I know, I know, I talk about only investing based on technicals. Well, one message Mary Ellen McGonagle and I send during Chartwise Women is that it is good to invest in something you are passionate about or that you are very familiar with. It gives you a bit of an edge and certainly a better understanding of what you are putting your money in. (ETSY and SFIX are a few of my prior portfolio winners)
(**I'm going to digress completely right now with a personal story, so skip if you wish. My daughter is a cancer survivor. She was diagnosed when she was 7 years old in 2004 with a soft tissue tumor called Rhabdomyosarcoma. It's extraordinarily rare...only about 300 children a YEAR in the US get this diagnosis. Not quite the "lottery" you want to win. Thankfully after a year of harsh chemo and proton radiation, she is cancer free and living her best life studying Screenwriting at the NY Film Academy in Los Angeles. The doctor in charge of Oncology at her Children's Hospital was a pioneer in genomic research. We became close for obvious reasons and he told me that the cure for pediatric cancer was not a matter of knowledge, it was a matter of money. He said that with the proper financial resources, there could definitely be a cure and... genomics was one of the ways to a cure. And so, dear Diamond readers, I do know about this medical research as well as the amazing strides they are making and, it is something I'm passionate about. This isn't a sales pitch for the stock! Only a pitch for genomics. I own ARKG, a prior Diamond**)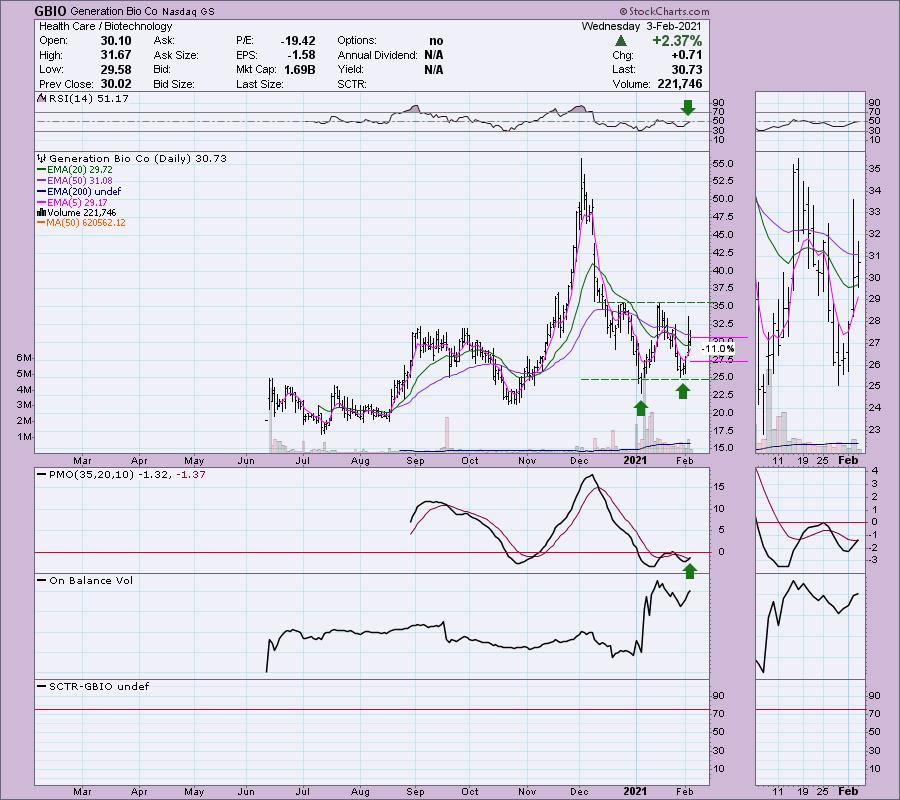 Not much to comment on as far as the weekly chart, but if it can reach its 2020 top, that would be an 84% gain.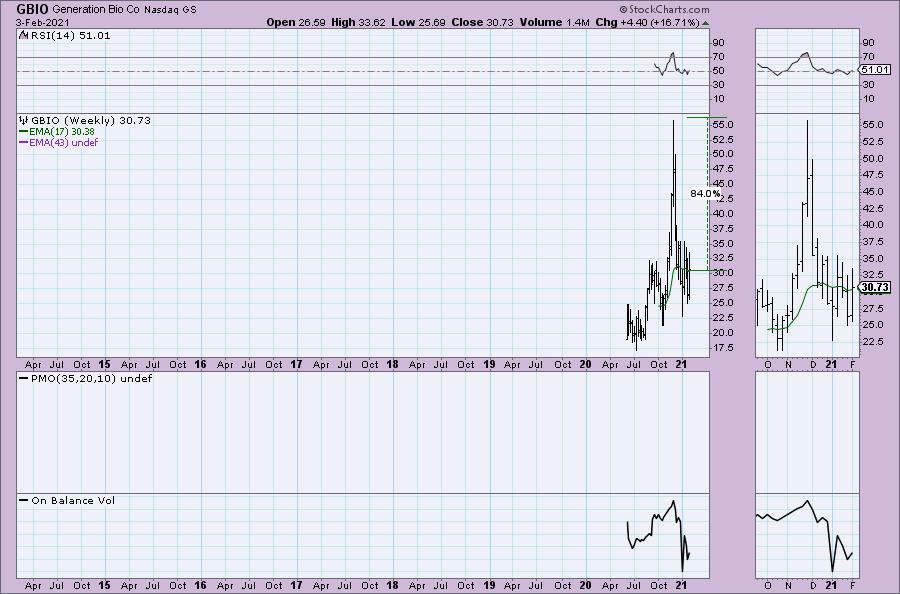 ---
Paycom Software, Inc. (PAYC)
EARNINGS: 2/10/2021 (AMC)
Paycom Software, Inc. provides comprehensive, cloud-based human capital management (HCM) software solutions delivered as Software-as-a-Service. It provides functionality and data analytics that businesses need to manage the complete employment life cycle from recruitment to retirement. Its solutions requires virtually no customization and is based on a core system of record maintained in a single database for all HCM functions, including talent acquisition, time and labor management, payroll, talent management and human resources management applications. The company was founded by Chad R. Richison in 1998 and is headquartered in Oklahoma City, OK.
PAYC is unchanged in after hours trading. I wasn't surprised to see that I've covered this popular stock before on May 19th 2020 Diamonds Report. The 10% stop was never hit. PAYC is up 48.5% since publication. PAYC has been in a declining trend all year, but yesterday it broke out and today saw a continuation with price trading and closing above the 50-EMA. The RSI has just moved into positive territory and the PMO has turned up toward a BUY signal. There is also a positive divergence between OBV bottoms and price bottoms. The stop is deep, but is set at important support.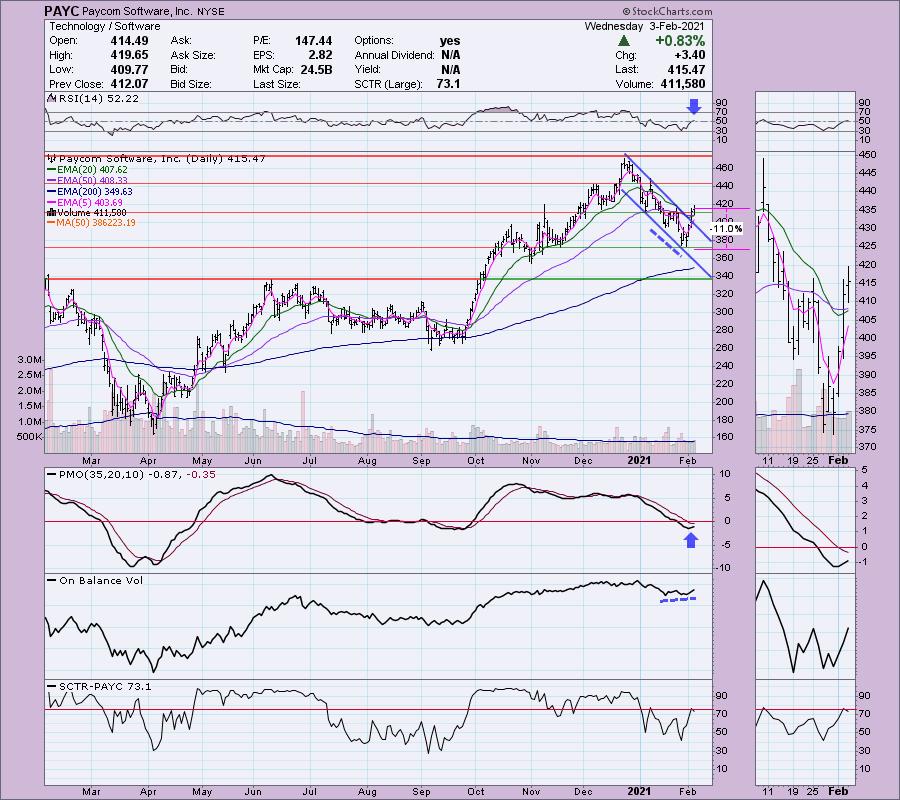 At this point upside potential is good. I do not like the weekly PMO, but it is decelerating somewhat on this week's big rally. The RSI stopped before hitting negative territory.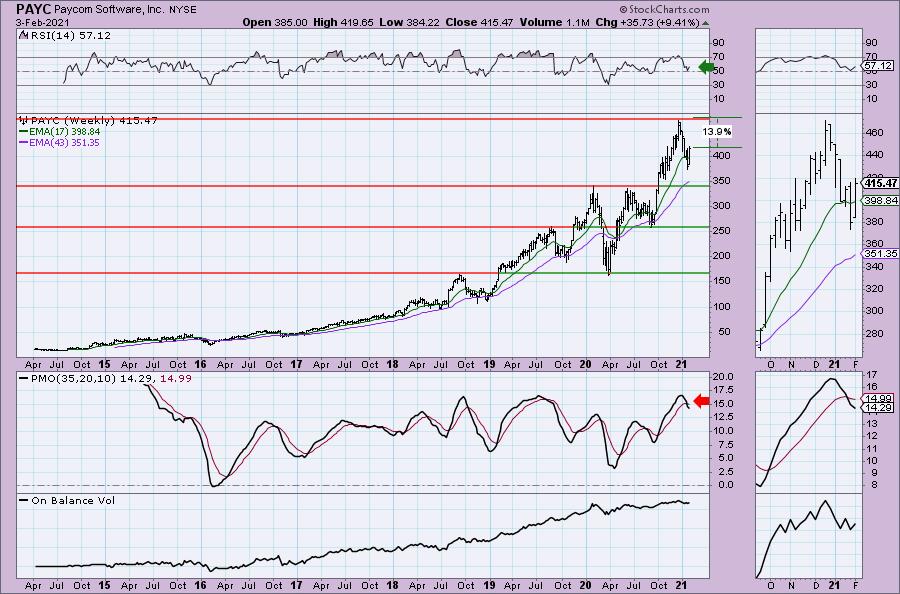 ---
Don't forget, on Thursdays I look at reader-requested symbols, so shoot me an email at erin@decisionpoint.com. I read every email I receive and try to answer them all!
---
Ultragenyx Pharmaceutical Inc. (RARE)
EARNINGS: 2/11/2021 (AMC)
Ultragenyx Pharmaceutical, Inc. is a biopharmaceutical company, which engages in the identification, acquisition, development and commercialization of novel products for the treatment of serious rare and ultra-rare genetic diseases. Its product includes Mepsevii and Crysvita. Mepsevii is an intravenous, which is used for the treatment of Mucopolysaccharidosis VII. Crysvita is an antibody administered via subcutaneous injection used for the treatment of XLH. The company was founded by Emil D. Kakkis on April 22, 2010 and is headquartered in Novato, CA.
RARE is unchanged in after hours trading. Today saw an unsuccessful breakout from what looks like a rounded price bottom. It was unsuccessful in that it was unable to close above resistance. However, the PMO and RSI are signaling that this could turn into a successful breakout. In the thumbnail you can see a positive OBV divergence on the last two February lows.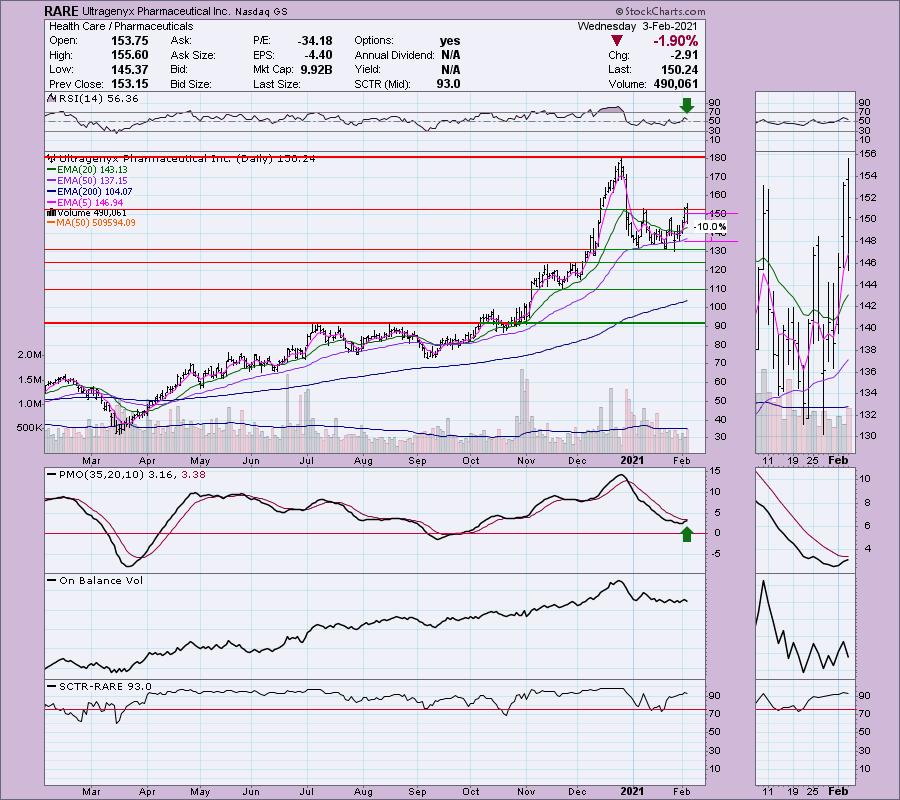 The weekly PMO has flattened and could be ready to turn back up. The RSI is positive. It isn't unreasonable to look for price to challenge the 2020 high.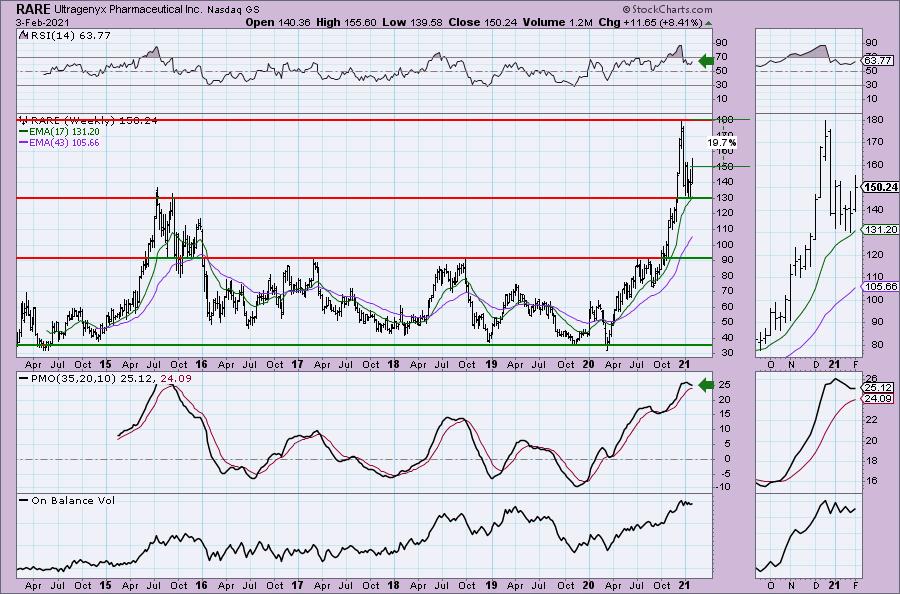 ---


Trade Desk Inc. (TTD)
EARNINGS: 2/25/2021 (AMC)
The Trade Desk, Inc. offers a technology platform for advertising buyers. It operates through United States and International geographical segments. The firm's products include audio advertising, mobile advertising, native advertising, data management platform, cross-device targeting, and inventory and marketplaces. The company was founded by Jeffrey Terry Green and David Pickles in November 2009 and is headquartered in Ventura, CA.
TTD is up +0.38% in after hours trading. The PMO is about to give us a crossover BUY signal and the RSI has just entered positive territory. Today's breakout executed a bullish double-bottom pattern. It closed just below the confirmation line, but the set-up suggests higher prices. We even saw a higher high on the OBV on this breakout. The SCTR is very healthy.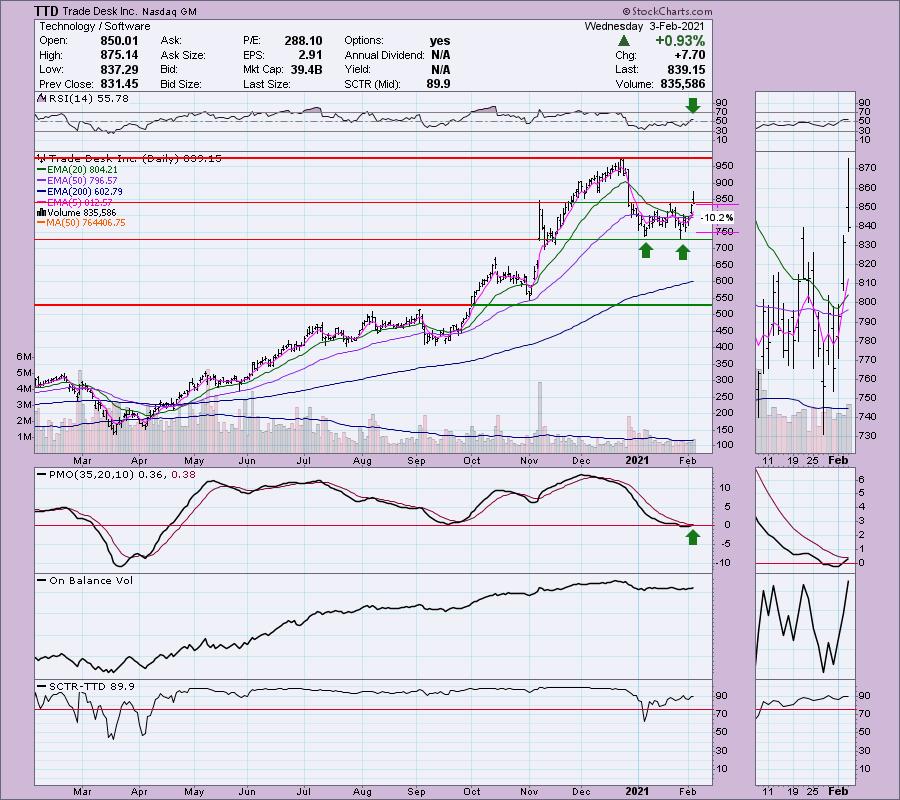 The weekly chart is a bit concerning so keep an eye on this one if you add it. It pulled back to the 17-week EMA and is bouncing. However, strong price support is lower than that so we have to be careful of a fake out breakout. The RSI is positive and if it could challenge the 2020 high, that would be a 16.4% gain.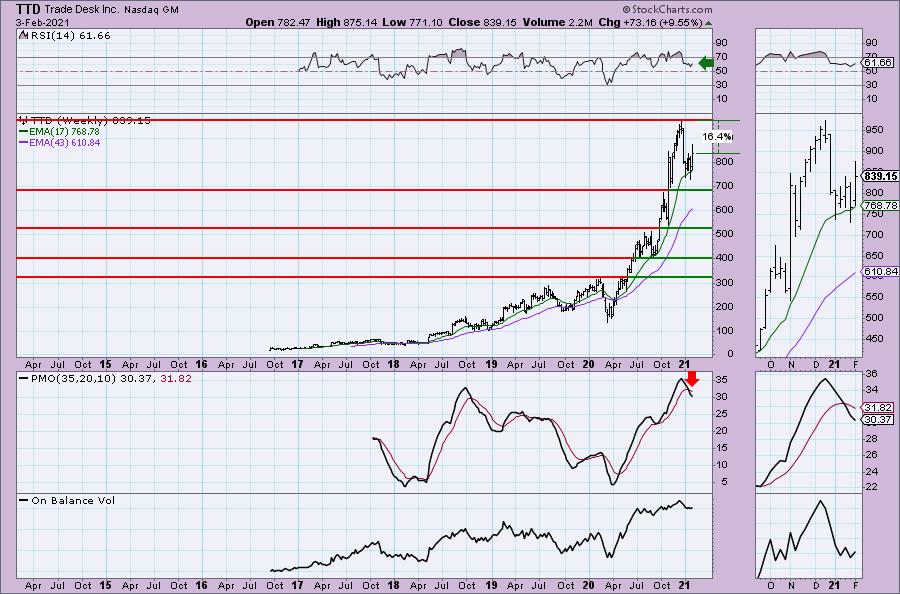 ---
Full Disclosure: I'm about 80% invested and 20% is in 'cash', meaning in money markets and readily available to trade with.
---
Current Market Outlook:
Market Environment: It is important to consider the odds for success by assessing the market tides. The following chart uses different methodologies for objectively showing the depth and trend of participation for intermediate- and long-term time frames.
The Silver Cross Index (SCI) shows the percentage of SPX stocks on IT Trend Model BUY signals (20-EMA > 50-EMA)
The Golden Cross Index (GCI) shows the percentage of SPX stocks on LT Trend Model BUY signals (50-EMA > 200-EMA)
The Bullish Percent Index (BPI) shows the percentage of SPX stocks on Point & Figure BUY signals.
Don't forget that as a "Diamonds" member, you have access to our GCI/SCI curated ChartList on DecisionPoint.com. You'll find it under "Members Only" links on the left side on the Blogs and Links Page.
Here is the current chart: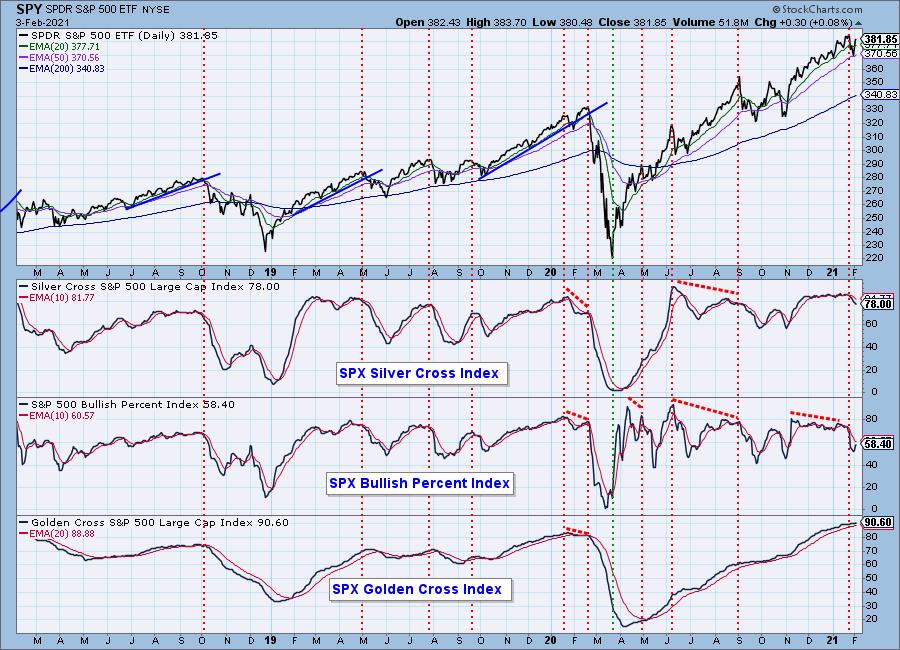 Diamond Index:
Diamond Scan Results: 19
Diamond Dog Scan Results: 4
Diamond Bull/Bear Ratio: 4.75
I'm in the process of trying to plot the Diamond Index, but with time at a premium, it is on the back burner.
Technical Analysis is a windsock, not a crystal ball.
Happy Charting!
- Erin
erin@decisionpoint.com
---
Watch the latest episode of DecisionPoint with Carl & Erin Swenlin on Mondays 7:00p EST or on the DecisionPoint playlist on the StockCharts TV YouTube channel here!
---
---
NOTE: The stocks reported herein are from mechanical trading model scans that are based upon moving average relationships, momentum and volume. DecisionPoint analysis is then applied to get five selections from the scans. The selections given should prompt readers to do a chart review using their own analysis process. This letter is not a call for a specific action to buy, sell or short any of the stocks provided. There are NO sure things or guaranteed returns on the daily selection of "diamonds in the rough."
---
Helpful DecisionPoint Links:
DecisionPoint Shared ChartList and DecisionPoint Chart Gallery
Price Momentum Oscillator (PMO)
Swenlin Trading Oscillators (STO-B and STO-V)
For more links, go to DecisionPoint.com!