It was interesting week, "Diamonds in the Rough" overall finished slightly higher at +0.13% while the SPY finished -0.33% for the week. I prefer a higher "win" percentage that +0.13%, but the winners this week were stellar with losers dragging down what would've been a nice gain this week.
The "Darling" this week was Nucor Corp (NUE), a steel company. Steel stocks had an excellent week. I mentioned Cleveland-Cliffs (CLF) as a possible back up to NUE and it performed well too.
Last week we determined that the sector and industry group to watch was Healthcare (XLV) and Medical Supplies ($DJUSMS). Healthcare finished the week up +0.51% (not bad on a week where the SPY finished lower) and Medical Supplies were up +4.67%. It was the clear out-performer within the group. The runner-up "Darling" was Hologic (HOLX) which was up +4.11% since I picked it on Wednesday. Nice jump for only two days of trading.
The "Dud" this week came from Cyclicals (XLY) in Recreational Products, RCI Hospitality (RICK). I hesitated to include it on Tuesday because the sector was losing steam, but the chart was very bullish. This is an excellent example of how the direction of a stock is weighted about 50% based on the performance of the sector and industry group. I picked this one and it had headwinds that I was already familiar with. Simply a bad selection.
This week's sector to watch was an easy pick, Materials (XLB). The industry group was fairly easy to pick as well, but there are plenty of groups in this sector doing well. Gold Miners are an example. With Gold breaking out, Gold Miners (GDX) broke out as well. We were already seeing some great movement on participation, but I didn't really trust the breakout until yesterday's gap up and a rising Silver Cross Index. I'll share my industry group to watch later in this report.
I've included a registration link for my free webinar with Festival of Traders on Tuesday, August 3rd at 3:40p ET. I would greatly appreciate you registering for this webinar. If you cannot attend, recordings will be sent to all registrants.
Don't forget to send in your reader requests before Thursday's report and here is the link to next Friday's Diamond Mine trading room.
---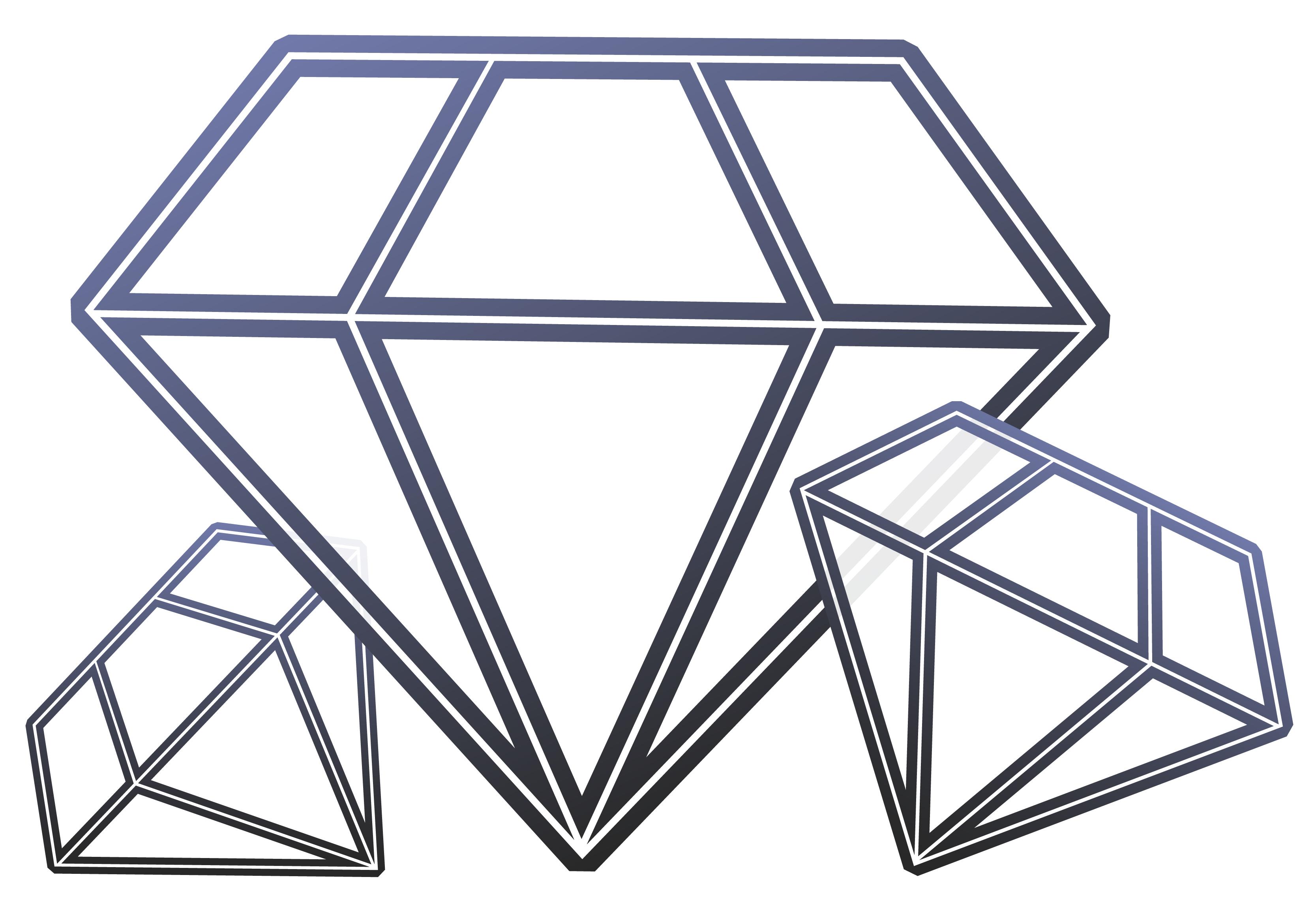 RECORDING LINK Friday (7/23):
Topic: DecisionPoint Diamond Mine (07/23/2021) LIVE Trading Room
Start Time : Jul 23, 2021 09:00 AM
Recording link for 7/23 Diamond Mine is HERE.
Access Passcode: July/23rd
RECORDING LINK Friday (7/30):
Topic: DecisionPoint Diamond Mine (7/30/2021) LIVE Trading Room
I am SO SORRY. I didn't hit the record button before I started. I got distracted welcoming our new attendees in the room. I feel like I owe you guys one. If you'd like me to do a make-up room this Sunday or Wednesday, let me know via email. If I get 15 interested, I'll hold one. Please email me a preferred day. erin@decisionpoint.com
REGISTRATION FOR FRIDAY 8/6 Diamond Mine:
When: Aug 6, 2021 09:00 AM Pacific Time (US and Canada)
Topic: DecisionPoint Diamond Mine (8/6/2021) LIVE Trading Room
Register in advance for this webinar HERE.
Save the registration confirmation email with login instructions in case Zoom doesn't notify you in time.
---
Free DP Trading Room from Monday, July 26th Recording Link:
Topic: DecisionPoint Trading Room
Start Time : Jul 26, 2021 08:59 AM
Meeting Recording Link HERE.
Access Passcode: July/26th
For best results, copy and paste the access code to avoid typos.
---
Tom Bowley joins Erin in the DP Trading Room August 2nd!
It's a reunion for Tom and Erin! Remember MarketWatchers LIVE!? Tom will join me for an extended "10 in 10" as he shares his trading wisdom that combines technical analysis with fundamentals and earnings in particular! You can find him at EarningsBeats.com where he is the Chief Technical Analyst. Register HERE if you haven't already!
---
---
"Simple Indicators to Improve Stock Selection & Maximize Profit!"
FREE webinar August 3rd, 3:40p ET for "Festival of Traders"
I will be doing a free webinar with "Festival of Traders" on Tuesday, August 3rd at 3:40p ET. If you register, you will get the recording if you can't be there as well as a host of other presentations including my friend, Mary Ellen McGonagle. Please register HERE. Thank you for your support!
---
A few items about the spreadsheet: I've put on the spreadsheet whether the RSI is positive (green) or negative (red). The PMO column tells you if it is rising (green) or falling (red). Finally I've added my own "Sparkle Factor" that gives you my assessment going forward, bullish (green), bearish (red) or neutral (gray). The Sparkle Factor is basically my thoughts on whether I expect it to rise or fall. A neutral means it could really go either way so it could be added to a watch list. If you're in a stock I consider "neutral" going forward, the ball is in your court.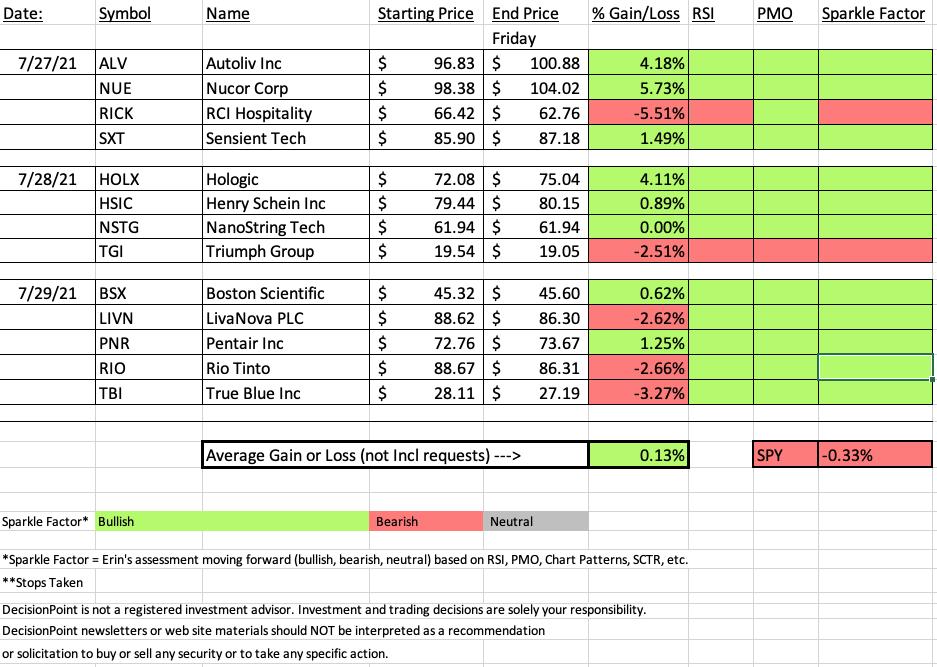 ---
Darling:
Nucor Corp. (NUE)
EARNINGS: 10/21/2021 (BMO)
Nucor Corp. engages in the manufacturing of steel and steel products. It operates through the following segments: Steel Mills, Steel Products, and Raw Materials. The Steel Mills segment comprises of carbon and alloy steel in sheet, bars; structural and plate; steel trading businesses; rebar distribution businesses; and Nucor's equity method investments. The Steel Products segment includes steel joists and joist girders, steel deck, fabricated concrete reinforcing steel, cold finished steel, steel fasteners, metal building systems, steel grating, tubular products businesses, piling products business, and wire and wire mesh. The Raw Materials segment consists of direct reduced iron, and ferrous and nonferrous metals. The company was founded by Ransom E. Olds in 1905 and is headquartered in Charlotte, NC.
Below is the commentary and chart from Tuesday:
"NUE is down -0.38% in after hours trading. I've covered it twice before, most recently as a Reader Request on June 3rd 2021 where the 7.3% stop was hit before the end of the month. Prior to that I covered it in the February 25th 2021 Diamonds Report as a bonus pick. That position is up +59.9% since.
My only hesitation in presenting this one is that it hasn't broken above overhead resistance at the prior tops. However, it did trade entirely above the 50-EMA for two days which does make it worth presenting. The RSI just turned positive and the PMO is about to give us an oversold BUY signal. There is a slight positive divergence between price lows and OBV lows. Despite the correction off the June top, the SCTR has remained in the "hot zone" above 75 which indicates it is in the top quartile among large-cap stocks based on the SCTR calculation which is weighted toward the intermediate and long terms. The stop is set at 8.2%, but you could tighten that up and get rid of it if it doesn't breakout as it should. Or bide your time and put it in a watch list."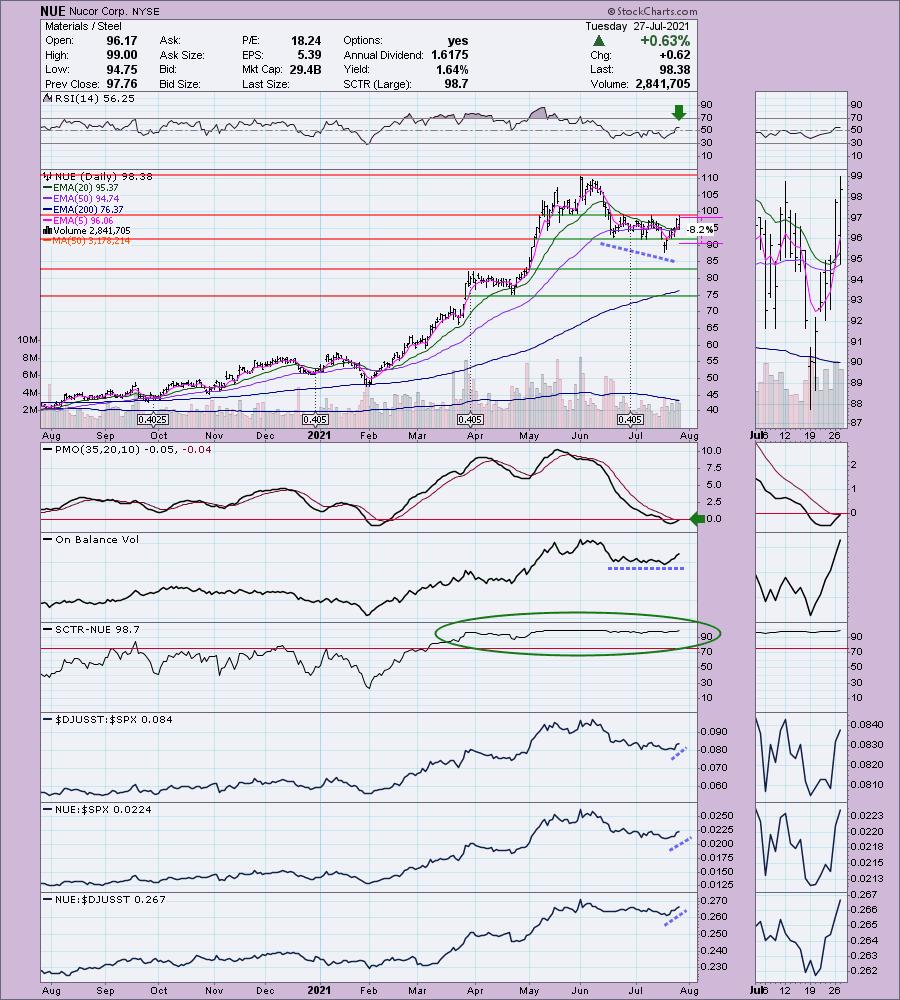 Here is today's chart:
After the breakout, NUE is looking better and better. The RSI is positive and hasn't quite reached overbought territory. Look at the volume flying in right now. I don't think it is too late to get into Steel. I'm looking for a breakout when it hits June highs.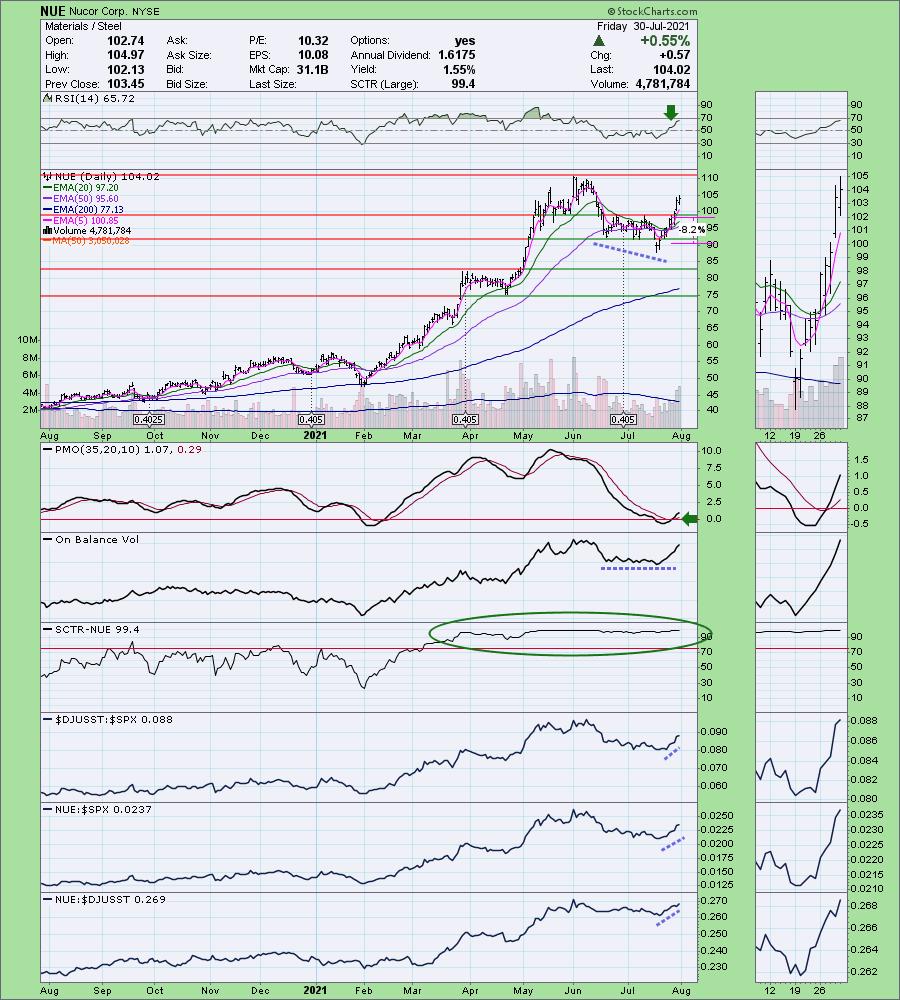 ---
---
Don't forget, on Thursdays I look at reader-requested symbols, so shoot me an email at erin@decisionpoint.com. I read every email I receive and try to answer them all!
---
---


Dud:
RCI Hospitality, Holdings (RICK)
EARNINGS: 8/9/2021 (AMC)
RCI Hospitality Holdings, Inc. operates as a holding company, which engages in hospitality activities and related businesses. Through its subsidiaries, it offers live adult entertainment and bar operations. It operates through the following segments; Nightclubs, Bombshells and Other. The Nightclubs segment operates adult entertainment clubs. Its major brands include Rick's Cabaret, Jaguar's Club, Tootsie's Cabaret, XTC Cabaret and Club Onyx. The Bombshells segment operates restaurants in Texas, Dallas, Austin and Houston. The Other segment includes media which is a business communications company. The company was founded by Robert L. Watters in 1983 and is headquartered in Houston, TX.
Below is the commentary and chart from Tuesday:
"RICK is unchanged in after hours trading. Quite a few reasons I like this chart. The RSI is now positive. A bullish falling wedge resolved upward yesterday and today price pulled back to the breakout point. It also stayed above the 50-EMA. There is a new ST Trend Model BUY signal as the 5-EMA crossed above the 20-EMA. The PMO is on a new crossover BUY signal. There is a strong positive divergence between price lows and the OBV lows. The SCTR has been in the "hot zone" nearly the entire year. Relative performance is very favorable. The stop is set at 8.2% which is just below the June low."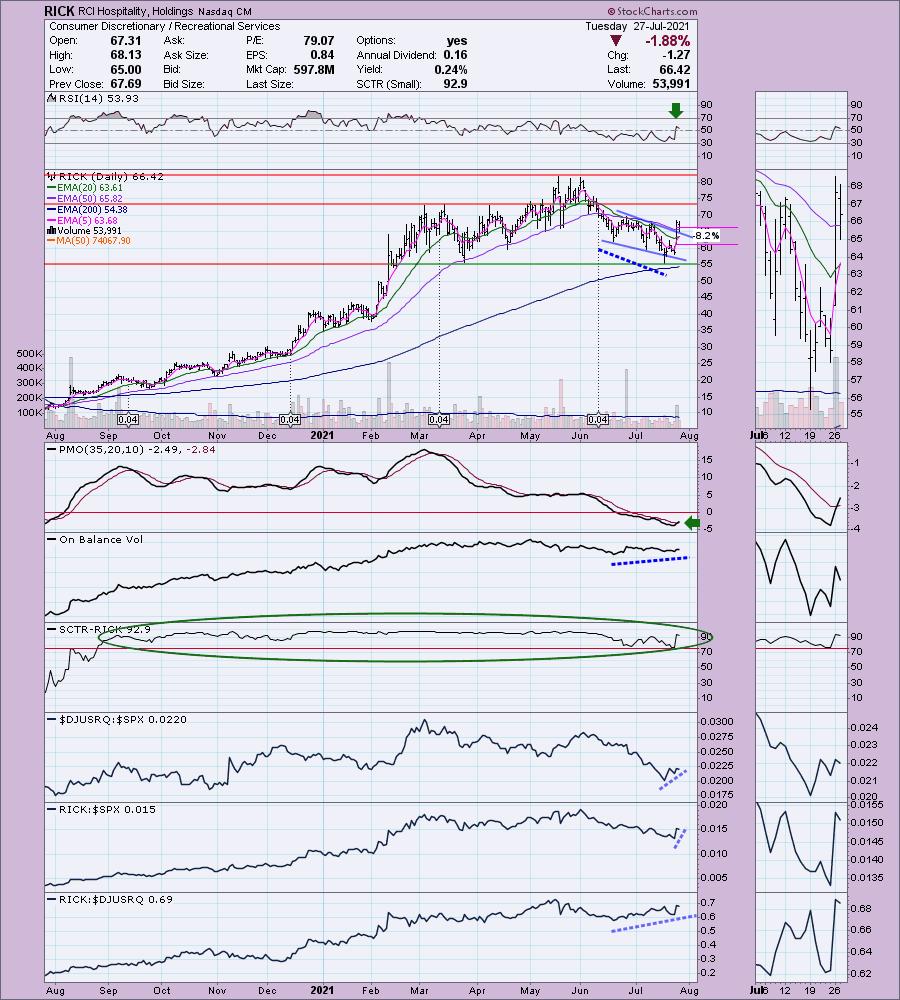 Below is today's chart:
You can see why I picked it based on relative performance and the positive OBV divergence. Unfortunately the trade went south quickly and today it really tanked. While the PMO is still rising, the rest of the chart is negative so it definitely received a "Bearish" Sparkle Factor. We may want to revisit this one later, but it won't be in my watchlist.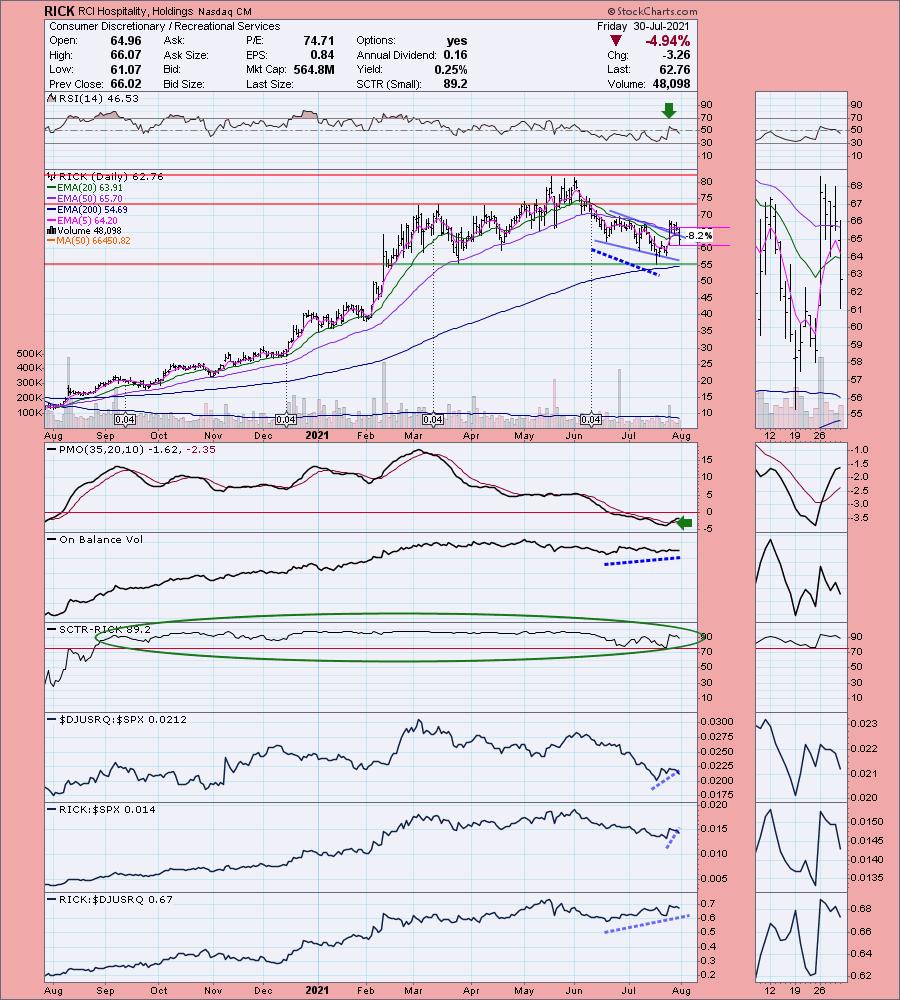 ---
THIS WEEK's Sector Performance: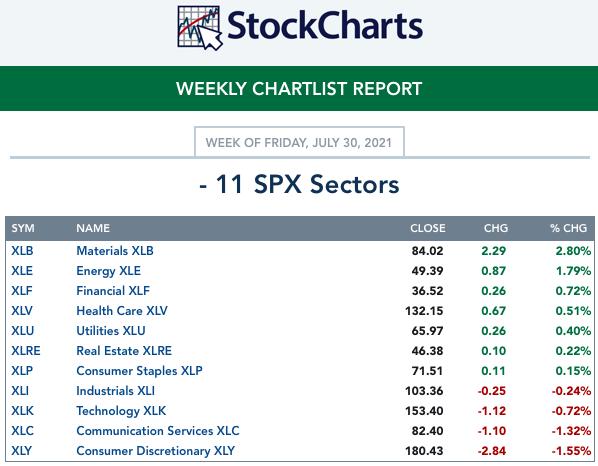 DecisionPoint Sector Scoreboard (Mechanical Trend Model Signals):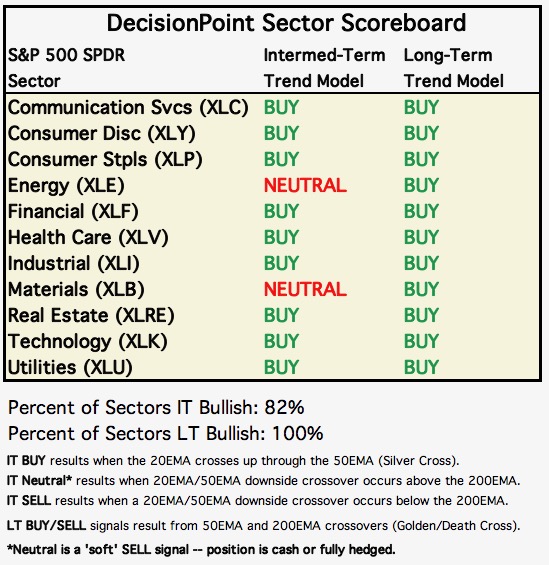 Click Here to view Carl's annotated Sector ChartList!
Short-term RRG: While XLP and XLU are in Leading, they are pointing in the negative southwest heading. Healthcare (XLV) which we picked last week is still rising strongly in the Leading category. I still like the sector but I look for "new" momentum when I pick the sector to watch. XLC is looking somewhat interesting, but the sector chart tells me that Materials is the one to watch. It is in Improving and is headed in the very bullish northeast direction.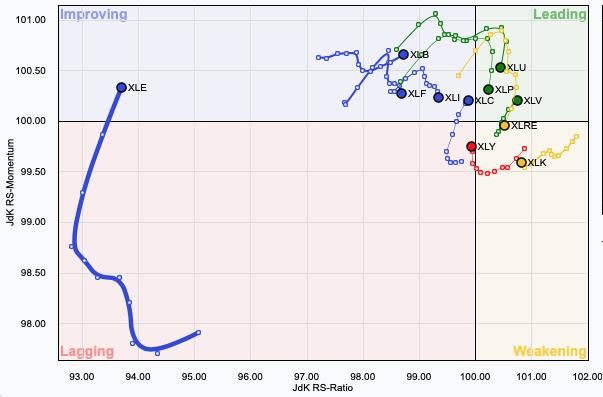 Sector to Watch: Materials (XLB)
If you look at a Sector Candleglance, XLB was an easy choice. Price already broke out from a bullish falling wedge and today it broke above short-term overhead resistance at the July tops. The RSI is positive and not overbought. The PMO is on an oversold crossover BUY signal that cam in early this week. The SCI is rising after a crossover (although today it was a little flat). The BPI looks very positive. The positive OBV divergence is excellent and suggests a sustained rally. Participation is key and the improvement here is excellent. These percentages are not overbought. Finally look at the relative performance against the SPX. This looks like a sector that is building strength and momentum going into next week.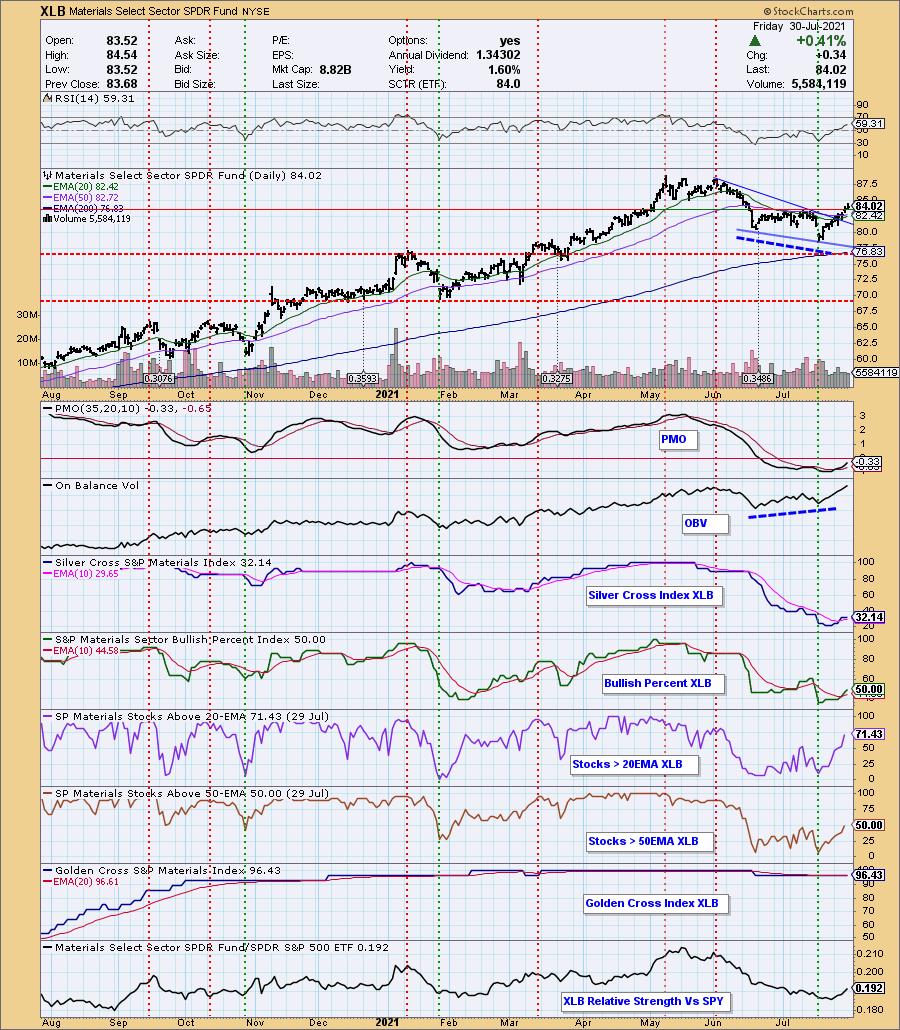 Industry Group to Watch: Nonferrous Metals ($DJUSNF)
This area is showing a lot of positive momentum. It broke above the 50-EMA yesterday and pulled back to the breakout point today--very constructive. The SCTR has raced to the "hot zone" above 75 and relative performance is very strong. The only problem ahead would be overhead resistance at the February and April tops. Given the configuration of the PMO, I would look for a breakout. One of the stocks I liked in this area was NexGen Ltd (NXE).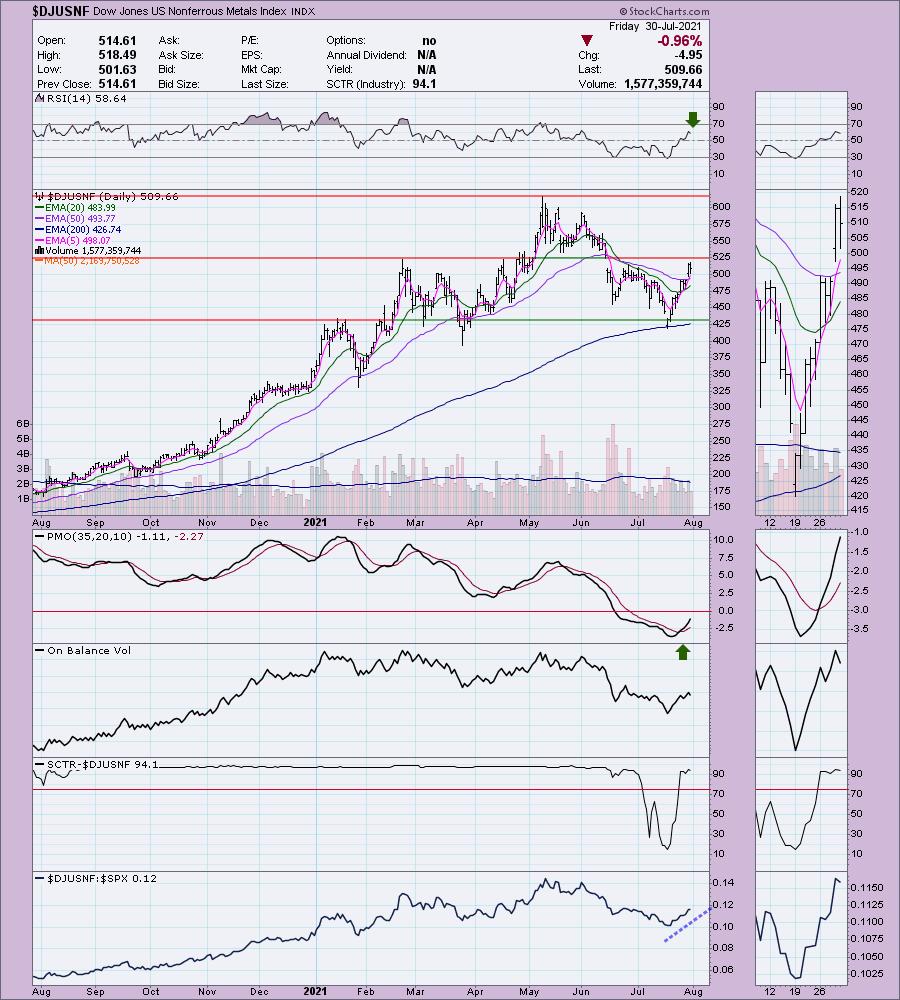 Go to our Sector ChartList on DecisionPoint.com to get an in depth view of all the sectors.
Technical Analysis is a windsock, not a crystal ball.
Have a great weekend & Happy Charting! Next Diamonds Report is Tuesday 8/3d.
- Erin
erin@decisionpoint.com
---
Full Disclosure: I'm about 40% invested right now and 60% is in 'cash', meaning in money markets and readily available to trade with.
---
Watch the latest episode of DecisionPoint with Carl & Erin Swenlin on Mondays 7:00p EST or on the DecisionPoint playlist on the StockCharts TV YouTube channel here!
---
---
NOTE: The stocks reported herein are from mechanical trading model scans that are based upon moving average relationships, momentum and volume. DecisionPoint analysis is then applied to get five selections from the scans. The selections given should prompt readers to do a chart review using their own analysis process. This letter is not a call for a specific action to buy, sell or short any of the stocks provided. There are NO sure things or guaranteed returns on the daily selection of "diamonds in the rough."
---
Helpful DecisionPoint Links:
DecisionPoint Shared ChartList and DecisionPoint Chart Gallery
Price Momentum Oscillator (PMO)
Swenlin Trading Oscillators (STO-B and STO-V)
(c) Copyright 2021 DecisionPoint.com