Interesting handful of Reader Requests today, including one that I found of particular interest, a "meme" stock. Meme stocks are back in the news. In fact, Mary Ellen McGonagle (MEM Investment Research) and I just recorded Chartwise Women today and it was all about "meme" stocks. How they came about, how to find stocks with high short interest and even some of the Twitter and Reddit boards and searches.
I will tell you right out of the gate that I am not at all recommending you buy or short a "meme" stock. I picked it today because it does have an interesting and favorable chart; so if you are so inclined to carry the burden of high volatility and parabolic collapses to get in on the very lucrative results of trading on speculation, that's definitely your own decision.
Tomorrow is the Diamond Mine trading room at Noon ET. Please send in your symbol requests via email tonight so I can add them to the top of the list to look at after I review this week's "Diamonds in the Rough". One to two requests at maximum please in deference to all attendees and viewers. Here is the registration LINK to attend live.
Today's reader requested "Diamonds in the Rough" are: AMC, CDXS, HACK, MGM and REZI.
"Stocks to Review" culled from today's requests: RRR, PANW, EPAM, FTNT, ACHC, MARA, ARCH, DEN, DSPG, EDRY, CIBR, BUG, CRWD, GCI, GNK, HIBB and IHRT.
---
** IMPORTANT new procedures for trading room SYMBOL REQUESTS **
I'm trying to formalize the process for symbol requests in my trading rooms. Since not everyone can attend live, I encourage you to email me your requests for Monday's free trading room and Friday morning's Diamond Mine. A subject line with "Symbol Request" will help me a great deal.
If you are attending live, you have the first 15 minutes to get your requests in the Q&A box. Please only request one or at most two and as always, let me know if your request is for a buy, hold or sell/short.
I've made a promise that all Diamond subscribers will get their symbols looked at on Fridays but that has been difficult to do within the time constraints I have. Emailing the night before will ensure your request is looked at and time permitting, I will cover all the live requests from the first 15 minutes.
As our community grows it will become harder and harder for me to live up to my promise, but for now I believe I can get them all in if we use this more formal process for making requests.
---
---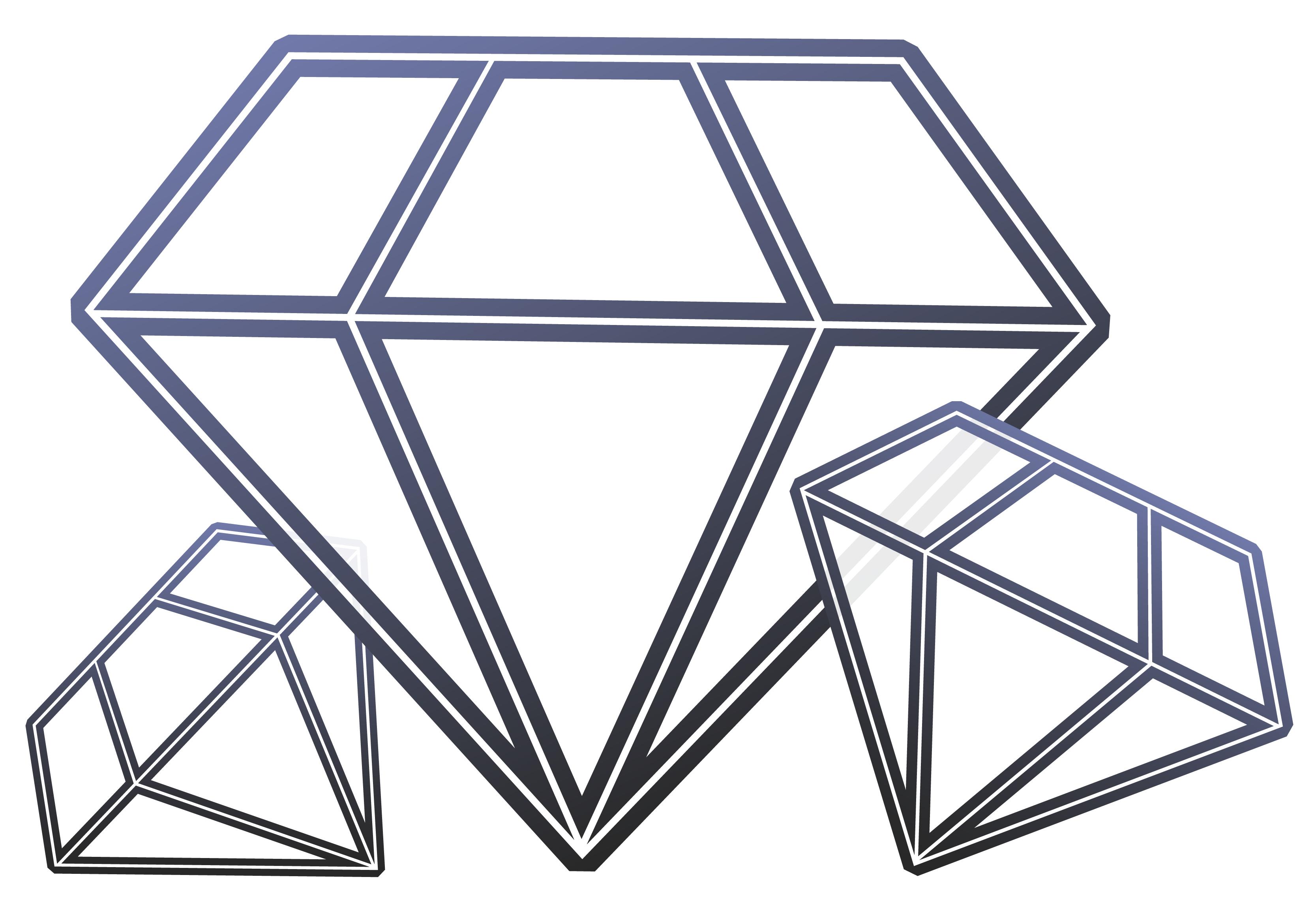 RECORDING LINK Friday (8/20):
Topic: DecisionPoint Diamond Mine (8/20/2021) LIVE Trading Room
Start Time : Aug 20, 2021 08:58 AM
Meeting Recording Link HERE.
Access Passcode: August/20th
REGISTRATION FOR FRIDAY 8/27 Diamond Mine:
When: Aug 27, 2021 09:00 AM Pacific Time (US and Canada)
Topic: DecisionPoint Diamond Mine (8/27/2021) LIVE Trading Room
Register in advance for this webinar HERE.
Save the registration confirmation email with login instructions in case Zoom doesn't notify you in time.
---

Free DP Trading Room (8/23) RECORDING LINK:
Topic: DecisionPoint Trading Room
Start Time : Aug 23, 2021 09:01 AM
Meeting Recording Link HERE.
Access Passcode: August#23
For best results, copy and paste the access code to avoid typos.
---
---
Welcome to DecisionPoint Daily Diamonds, wherein I highlight five "Diamonds in the Rough." These are selected from the results of my DecisionPoint scans, which search for stocks that could benefit from the trend and condition of the market. Remember, these are not recommendations to buy or sell, but are the most interesting of the stocks that surfaced in my scans. My objective is to save you the work of the initial, tedious culling process, but you need to apply your own analysis to see if these stocks pique your interest as well. There are no guaranteed winners here!
---
---
AMC Entertainment Holdings Inc. (AMC)
EARNINGS: 11/1/2021 (AMC)
AMC Entertainment Holdings, Inc. engages in the theatrical exhibition business through its subsidiaries. It operates through the United States Markets and International Markets segments. The United States segment involves in the activity in the U.S. specifically in New York, Los Angeles, Chicago, Atlanta, and Washington, D.C.. The International Markets segment focuses its operations in the United Kingdom, Germany, Spain, Italy, Ireland, Portugal, Sweden, Finland, Estonia, Latvia, Lithuania, Norway, and Denmark. The company was founded by Barney Dubinsky, Maurice Durwood and Edward Durwood in 1920 and is headquartered in Leawood, KS.
AMC is up +0.60% in after hours trading. Certainly AMC pulled way back after breaking out of the August trading range. It hit overhead resistance at the mid-July top and failed twice to close above it. However, there are positives. The RSI is positive and the PMO just had an oversold BUY signal. Last time the PMO crossover BUY came early enough to take advantage of the parabolic upswing. Not sure it will happen again, but it is notable. Today the we had an IT Trend Model "Silver Cross" BUY signal as the 20-EMA crossed above the 50-EMA. Notice that volume decreased on today's sell-off. It didn't damage the OBV, there are still rising bottoms unless it fails again tomorrow. Relative strength looks good. The stop is nearly impossible to set. With a decline larger than I like setting stops, I just decided to go with a stop below the 20/50-EMAs.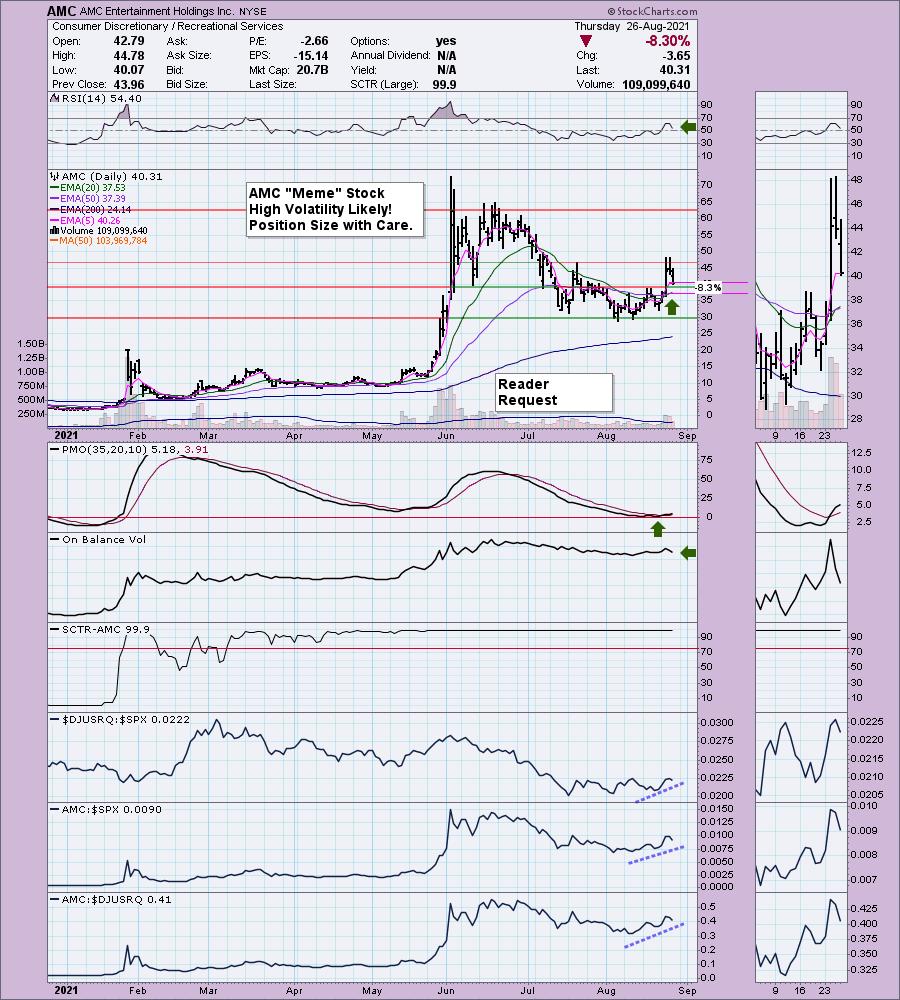 There is a new weekly PMO crossover SELL signal. While the weekly RSI is positive, I don't see this as a long haul investment. This is a trendy and volatile play that will require absolute vigilance.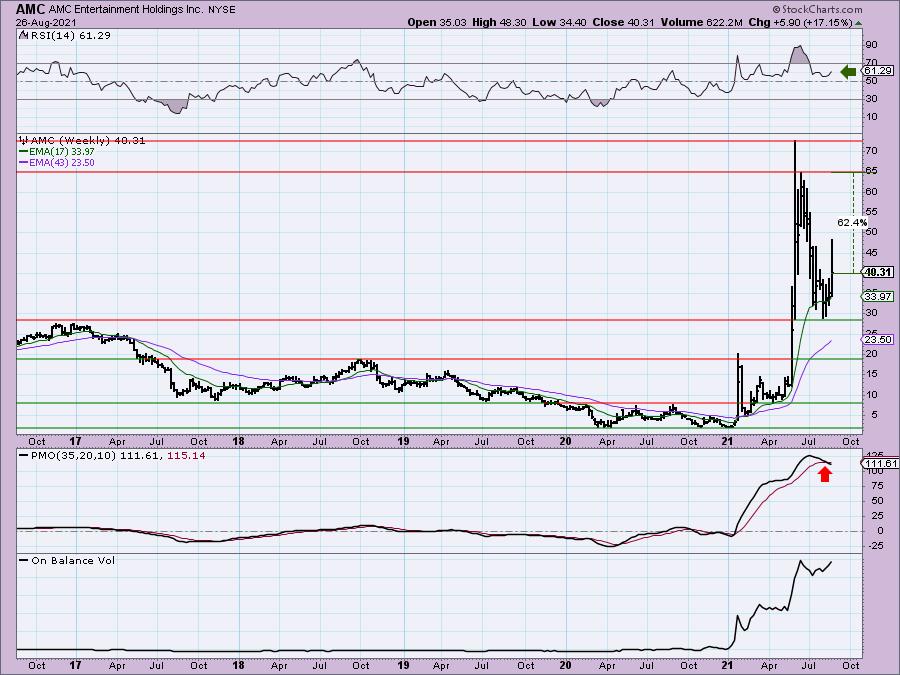 ---
Codexis Inc. (CDXS)
EARNINGS: 11/4/2021 (AMC)
Codexis, Inc. is an enzyme engineering company, which engages in the development and sale of therapeutics. It operates through the Performance Enzymes and Novel Biotherapeutics segments. The Performance Enzymes segment commercializes CodeEvolver protein engineering technology platform and products in the pharmaceuticals market. The Novel Biotherapeutics segment targets new opportunities to discover and improve biotherapeutic drug candidates. Its products include screening kits and Codex HiFi Hot Start DNA Polymerase. The company was founded in January 2002 and is headquartered in Redwood City, CA.
CDXS is unchanged in after hours trading. It hit a bump in the road today after unsuccessfully testing overhead resistance. It's a strong resistance line so it isn't surprising. The RSI remains positive. The PMO is rising after a whipsaw back into a BUY signal. This is similar to a bottom above the signal line so I find it especially bullish. The SCTR is in the "hot zone" above 75 (meaning it is in the upper quartile of all small-cap stocks). I would set a tight stop here. If it drops below the 20-EMA, I would get rid of it. Notice when it loses that moving average, it generally tests the 50/200-EMAs.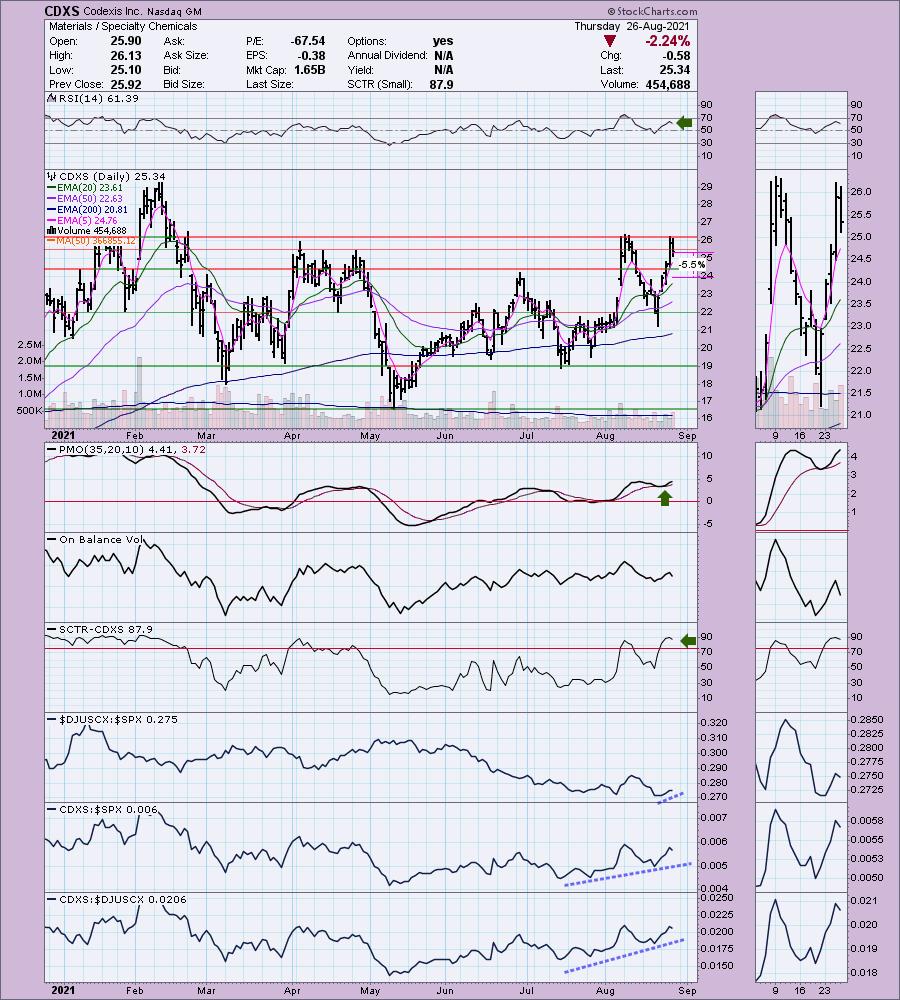 The weekly chart is favorable. The weekly RSI is positive and not overbought. The weekly PMO is rising and nearing a crossover BUY signal. At issue here, as on the daily chart, is the inability for CDXS to overcome resistance. Momentum tells us to expect a breakout. Upside potential should it reach its all-time high is 17.5%.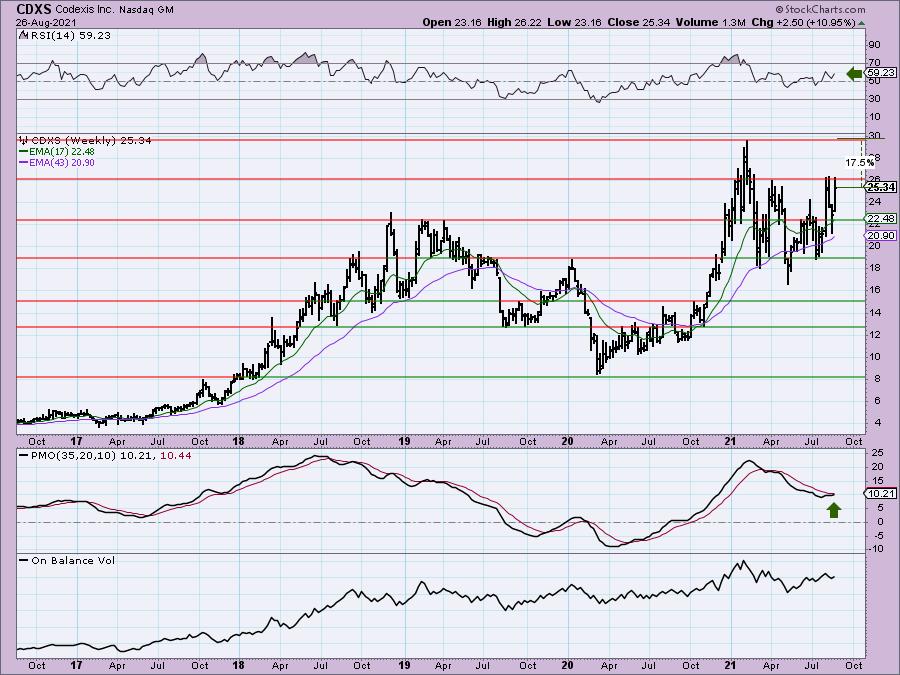 ---
PureFunds ISE Cyber Security ETF (HACK)
EARNINGS: N/A
HACK tracks a tiered, equal-weighted index that targets companies actively involved in providing cybersecurity technology and services.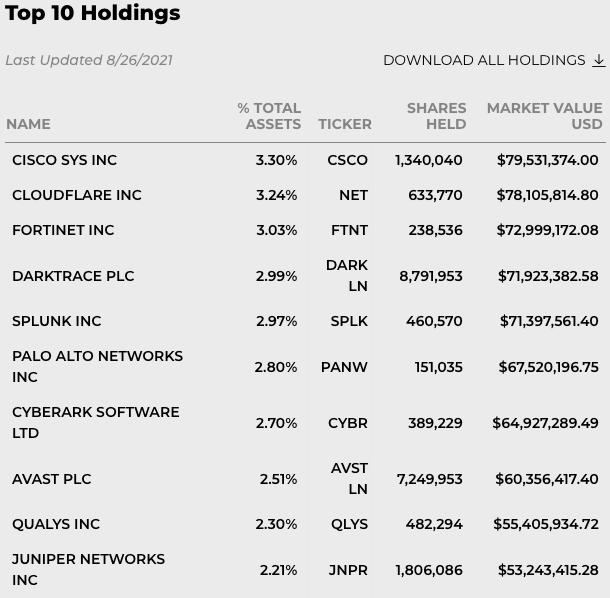 HACK is unchanged in after hours trading. One reader brought multiple cybersecurity related stocks to the reader request table this week including an ETF (CIBR). I decided to bring the cybersecurity ETF that DecisionPoint follows in our ETF Tracker (ChartList is available for download to StockCharts Extra members and above, send me an email). These stocks and ETFs have been killing this week. Kudos to this reader who sent his email in early this week! The RSI is positive and the PMO just gave us a crossover BUY signal. Price has broken out and volume is steadily increasing as price moves higher. The SCTR is very healthy and relative performance is improving. The stop is set below the July low.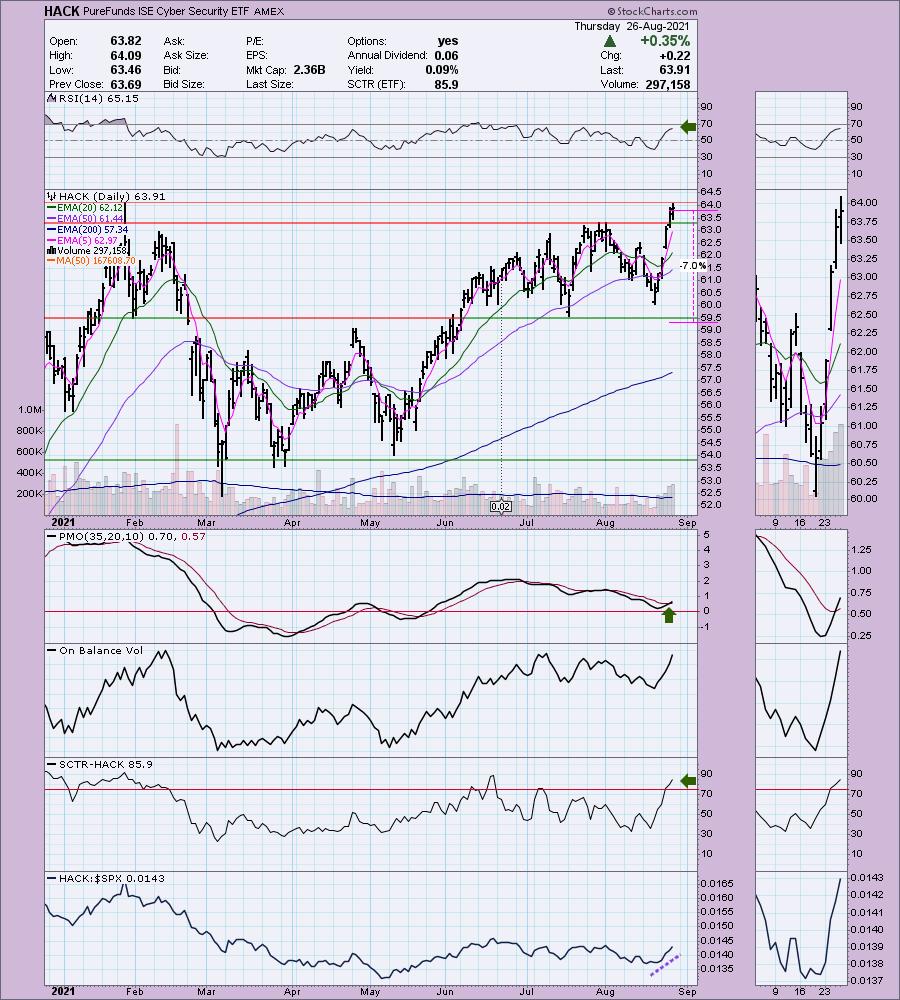 Price is getting ready to test new all-time highs. The weekly RSI is positive and not overbought. The weekly PMO has turned up and appears ready to give us a crossover BUY signal for the intermediate term.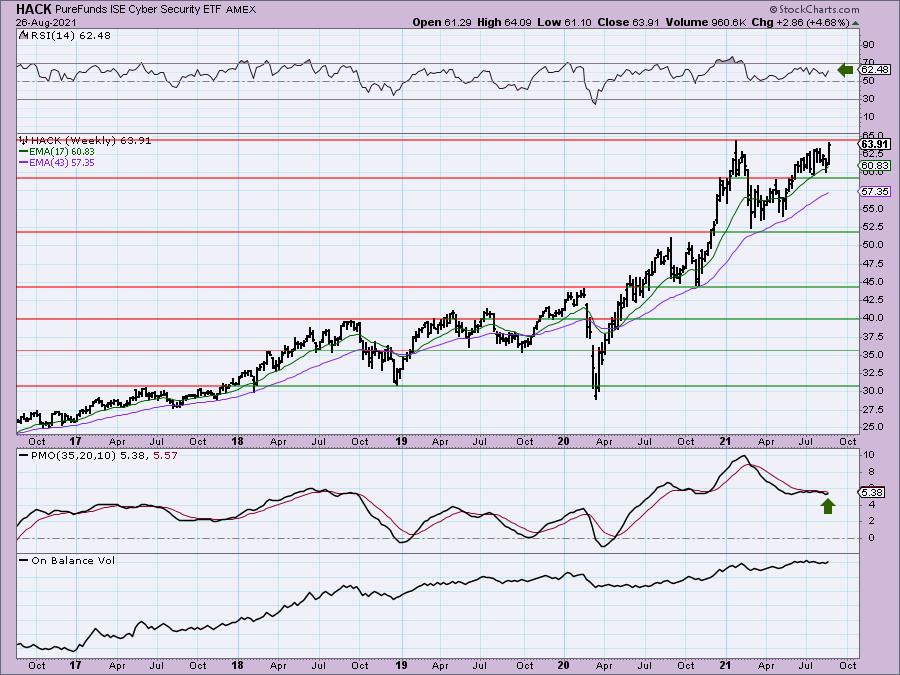 ---
MGM Resorts International (MGM)
EARNINGS: 10/28/2021 (AMC)
MGM Resorts International is a holding company, which engages in the ownership and operations of casino resorts. The firm's casino resorts offer gaming, hotel, convention, dining, entertainment, retail, and other resort amenities. It operates through the following business segments: Las Vegas Strip Resorts, Regional Operations and MGM China. The Las Vegas Strip Resorts segment consists of the following casino resorts: Bellagio, MGM Grand Las Vegas, Mandalay Bay, The Mirage, Luxor, New York-New, Excalibur, Park MGM, and Circus Las Vegas. The Regional Operations segment consists of the following casino resorts: MGM Grand Detroit in Detroit, Michigan; Beau Rivage in Biloxi, Mississippi; Gold Strike Tunica in Tunica, Mississippi; Borgata in Atlantic City, New Jersey; MGM National Harbor in Prince George's County, Maryland; and MGM Springfield in Springfield, Massachusetts. The MGM China segment consists of MGM Macau and MGM Cotai. The company was founded by Kerkor Kerkorian on January 29, 1986 and is headquartered in Las Vegas, NV.
MGM is up +0.06% in after hours trading. I covered MGM in the May 27th 2021 issue of DP Diamonds. Not a great pick, it hit its stop on the July breakdown. Gambling stocks broke out this week along with cybersecurity stocks. We can see a bullish triple-bottom that executed on this week's rally. The 20-EMA is nearing a "silver cross" of the 50-EMA which would give us an IT Trend Model BUY signal. I do have to say that I am not feeling THAT bullish about this stock or other Gambling stocks, but I will not deny the bullish characteristics which is why I'm presenting it. The PMO had a bullish bottom above the signal line and has now entered positive territory. The RSI is positive and not overbought. The SCTR is headed to the "hot zone" and relative strength is certainly impressive. Another reader request was Red Rock Resorts (RRR) which also looks bullish. I'd set my stop below the 20-EMA.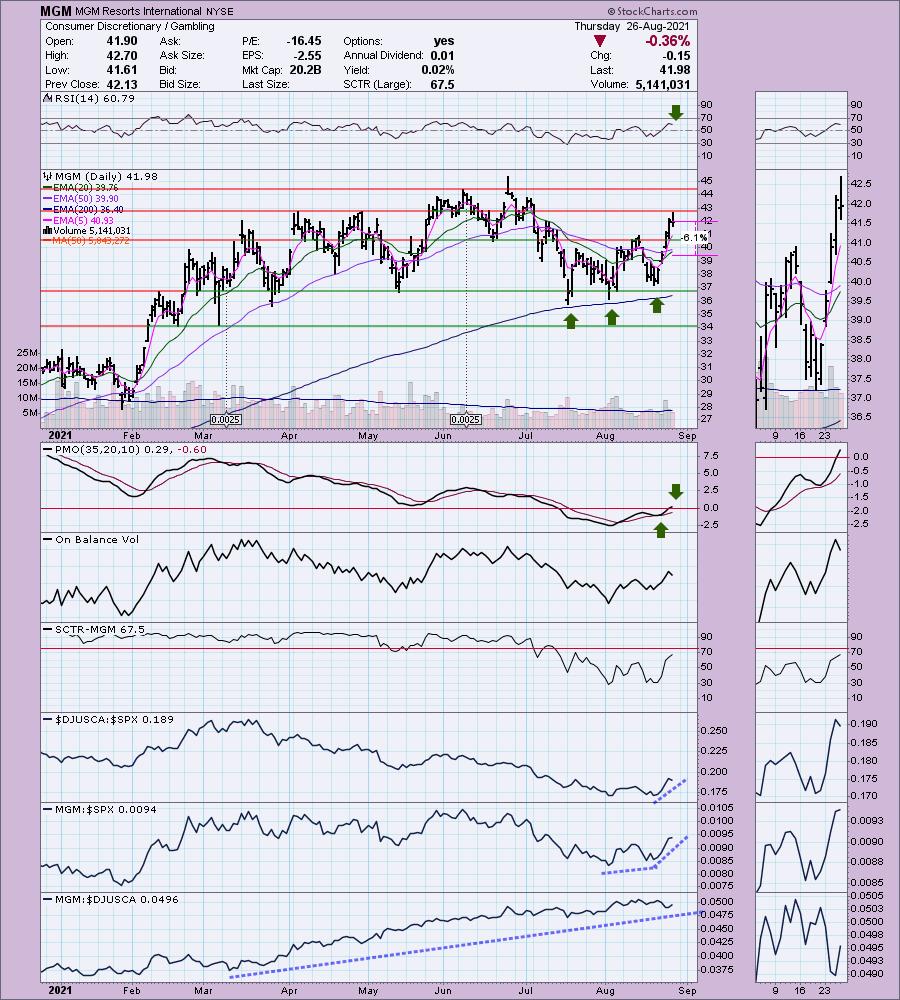 The weekly PMO is trying to turn up and the weekly RSI is positive. It's an 8.2% ride up to all-time highs, but if this group is for real, we should expect a breakout.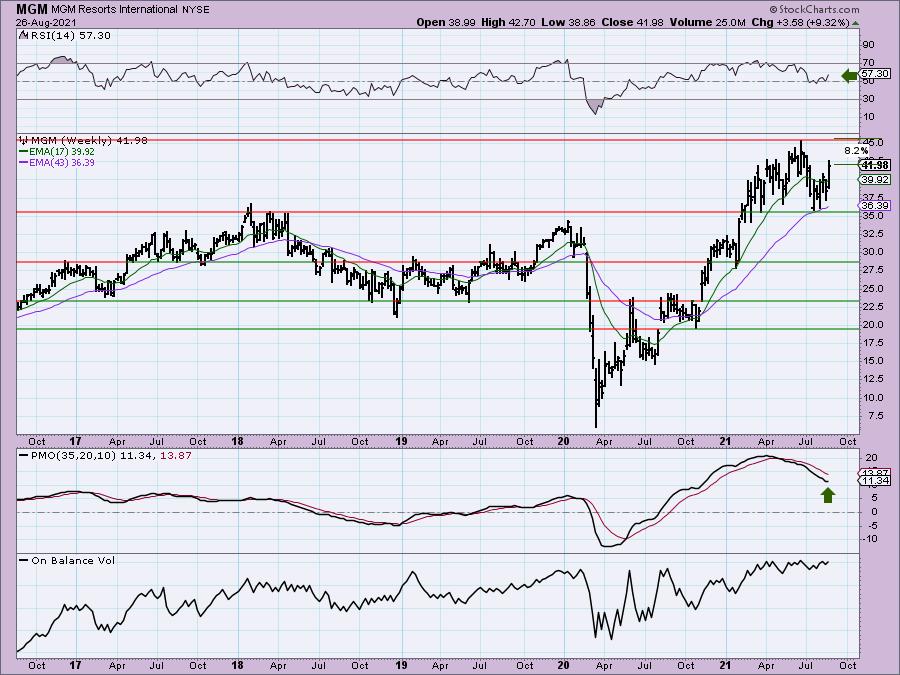 ---
Resideo Technologies, Inc. (REZI)
EARNINGS: 11/4/2021 (AMC)
Resideo Technologies, Inc. engages in the provision of critical comfort, residential thermal solutions and security solutions primarily in residential environments. It operates through the following segments: Products & Solutions and ADI Global Distribution. The Products & Solutions Segment offers solutions in Comfort, Residential Thermal Solutions, and Security categories and include temperature and humidity control, thermal, water, and air solutions as well as security panels, sensors, peripherals, wire and cable, communications devices, video cameras, awareness solutions, cloud infrastructure, installation and maintenance tools, and related software. The ADI Global Distribution segment distributes low-voltage electronic and security products such as intrusion and smart home, fire, video surveillance, access control, power, audio and video, networking, communications, wire and cable, enterprise connectivity, and structured wiring. The company was founded on April 24, 2018 and is headquartered in Austin, TX.
REZI is unchanged in after hours trading. I honestly was going to pass this one up, but I like the rising bottoms on the PMO that are matching rising bottoms in price. Part of the reason I almost didn't cover it is because it has spent most of the year in a wide trading range and price is nearing the top. However, I like the whipsaw PMO BUY signal and relative strength. The RSI is also positive and not overbought. Volume is increasing everyday on this rally. Relative performance is suggesting this time REZI will breakout. I would still set a tight stop, it could decide to test the bottom of the range one more time before breaking out.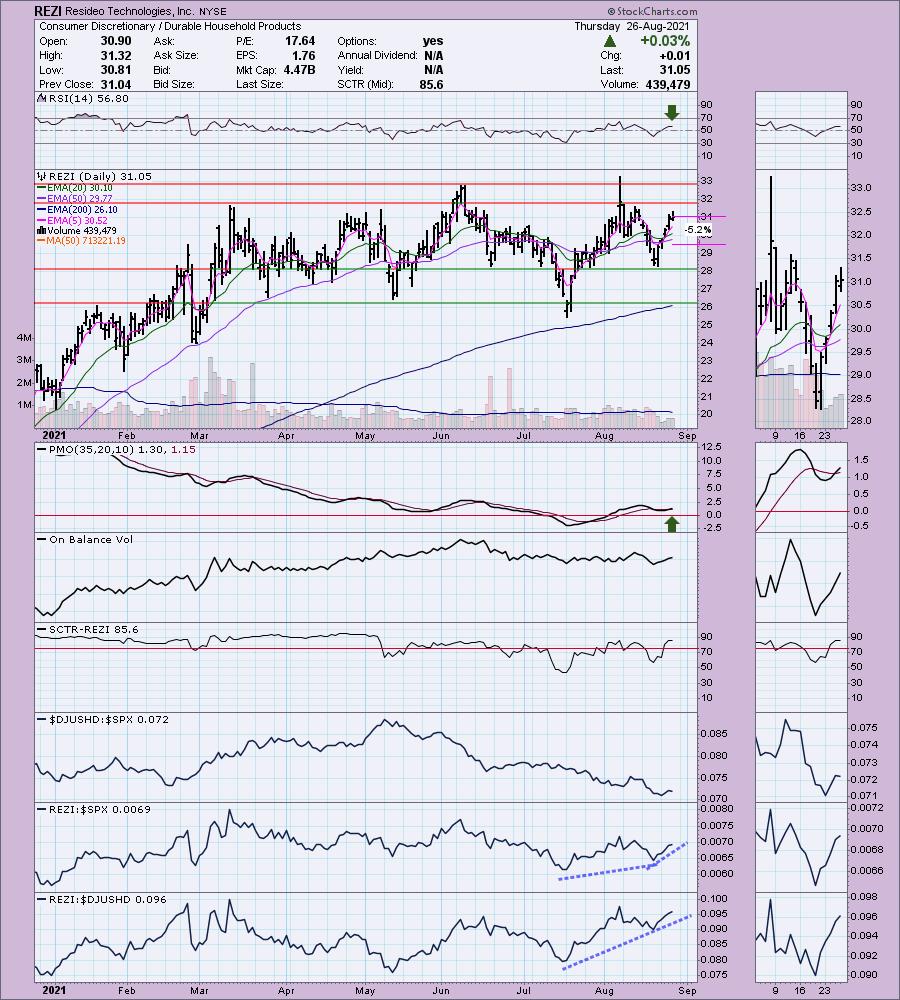 I spotted a positive OBV divergence on the weekly chart. The PMO is decelerating and the weekly RSI is positive. It appears this one could breakout.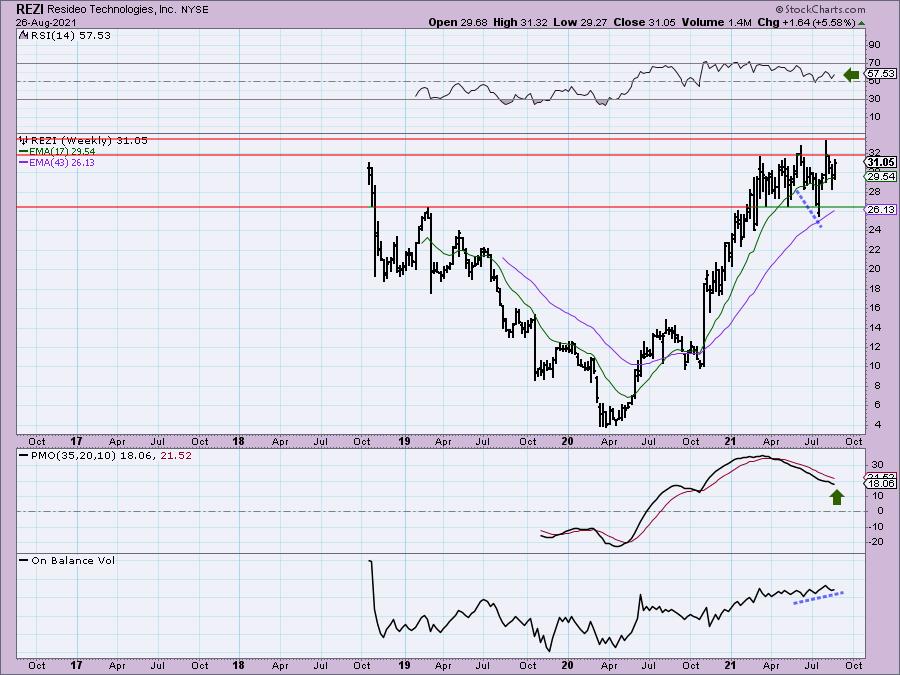 ---
Don't forget, on Thursdays I look at reader-requested symbols, so shoot me an email at erin@decisionpoint.com. I read every email I receive and try to answer them all!
---
Current Market Outlook:
Market Environment: It is important to consider the odds for success by assessing the market tides. The following chart uses different methodologies for objectively showing the depth and trend of participation for intermediate- and long-term time frames.
The Silver Cross Index (SCI) shows the percentage of SPX stocks on IT Trend Model BUY signals (20-EMA > 50-EMA)
The Golden Cross Index (GCI) shows the percentage of SPX stocks on LT Trend Model BUY signals (50-EMA > 200-EMA)
The Bullish Percent Index (BPI) shows the percentage of SPX stocks on Point & Figure BUY signals.
Don't forget that as a "Diamonds" member, you have access to our GCI/SCI curated ChartList on DecisionPoint.com. You'll find it under "Members Only" links on the left side on the Blogs and Links Page.
Here is the current chart: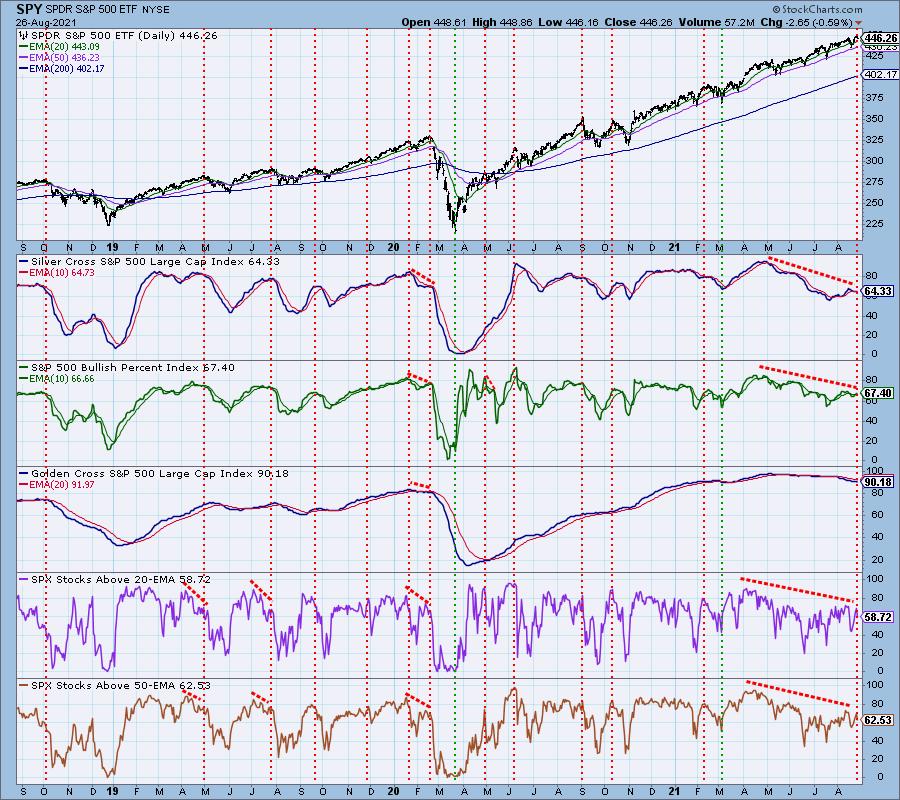 ---
Full Disclosure: I'm about 50% invested and 50% is in 'cash', meaning in money markets and readily available to trade with.
---
Technical Analysis is a windsock, not a crystal ball.
Happy Charting!
- Erin
erin@decisionpoint.com
Watch the latest episode of DecisionPoint with Carl & Erin Swenlin on Mondays 7:00p EST or on the DecisionPoint playlist on the StockCharts TV YouTube channel here!
---
NOTE: The stocks reported herein are from mechanical trading model scans that are based upon moving average relationships, momentum and volume. DecisionPoint analysis is then applied to get five selections from the scans. The selections given should prompt readers to do a chart review using their own analysis process. This letter is not a call for a specific action to buy, sell or short any of the stocks provided. There are NO sure things or guaranteed returns on the daily selection of "Diamonds in the Rough."
---
Helpful DecisionPoint Links:
DecisionPoint Shared ChartList and DecisionPoint Chart Gallery
Price Momentum Oscillator (PMO)
Swenlin Trading Oscillators (STO-B and STO-V)
For more links, go to DecisionPoint.com