Just another reminder that tomorrow (Thursday) will be the Diamond Mine trading room rather than Friday since it is a market holiday. There will be no Recap this week. I'll be taking reader symbol requests for Thursday as usual (send requests HERE!). Register for tomorrow's Diamond Mine HERE.
Scan results are picking up somewhat. Themes I noticed were metals & mining, agriculture and consumer discretionary. I'm less confident about discretionary stocks so I opted to concentrate on metals, mining and chemicals today.
This are cooling down as my mother-in-law is gaining back her health with better sleep and nourishment. Now it is time to concentrate on getting her moving about more. I'm pleased with her progress, but my attention is still somewhat divided. Thanks for prayers, encouragement and patience.
Today's "Diamonds in the Rough": EGO, TSE and ZEUS.
Stocks to Review: RTX, SPB and WOR.
---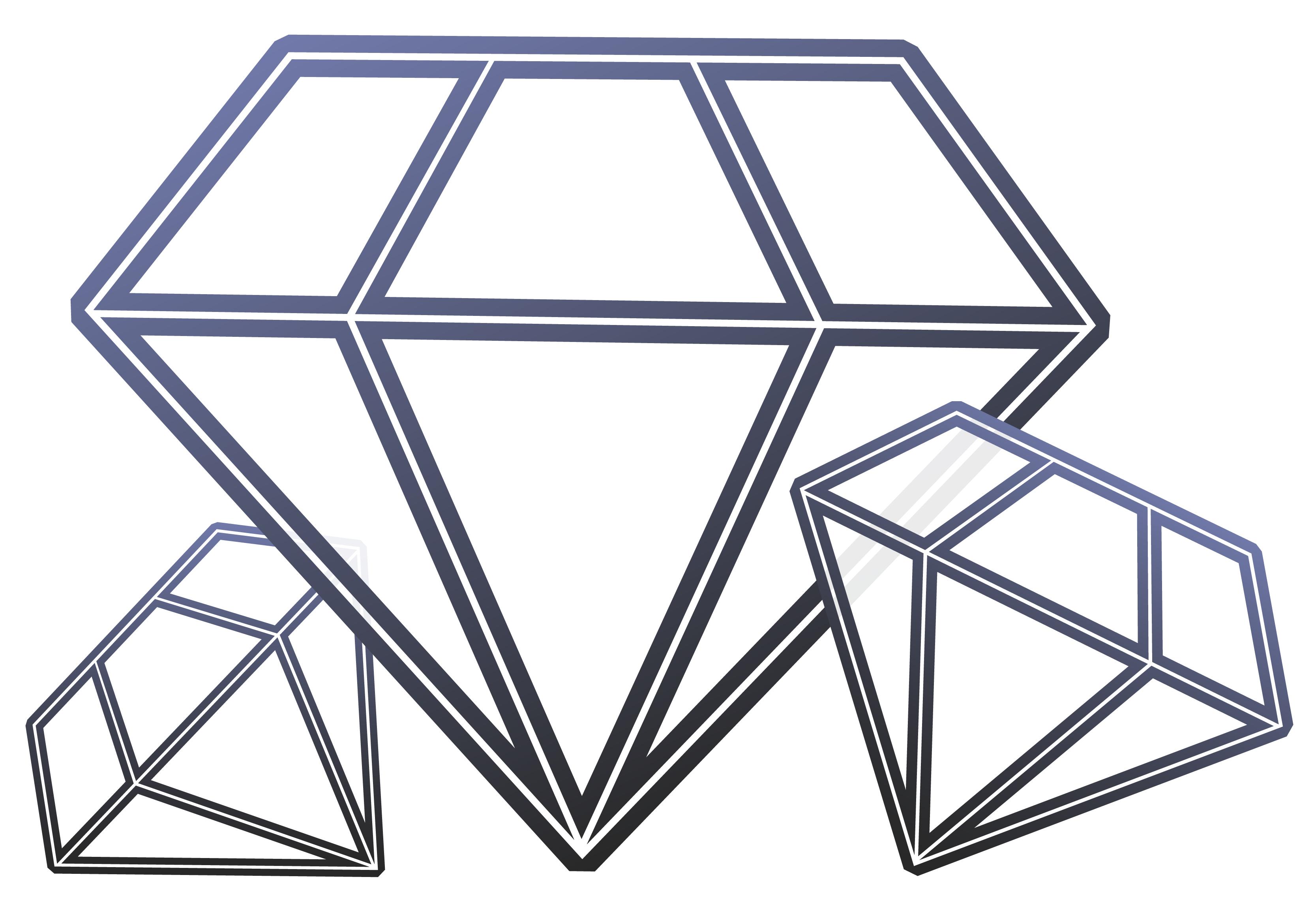 RECORDING LINK (4/8/2022):
Topic: DecisionPoint Diamond Mine (4/8/2022) LIVE Trading Room
Start Time: Apr 8, 2022 09:00 AM
Meeting Recording Link.
Access Passcode: April#8th
REGISTRATION FOR **THURSDAY** 4/14 Diamond Mine:
When: Apr 14, 2022 09:00 AM Pacific Time (US and Canada)
Topic: DecisionPoint Diamond Mine (4/14/2022) LIVE Trading Room
Register in advance for this webinar HERE.
Save the registration confirmation email with login instructions in case Zoom doesn't notify you in time.
---
Free DP Trading Room (4/11) RECORDING LINK:
Topic: DecisionPoint Trading Room
Start Time: Apr 11, 2022 09:00 AM
Meeting Recording Link.
Access Passcode: April@11
For best results, copy and paste the access code to avoid typos.
---
Welcome to DecisionPoint Daily Diamonds, wherein I highlight ten "Diamonds in the Rough" per week. These are selected from the results of my DecisionPoint Scans, which search for stocks that could benefit from the trend and condition of the market. Remember, these are not recommendations to buy or sell, but are the most interesting of the stocks that surfaced in my scans. My objective is to save you the work of the initial, tedious culling process, but you need to apply your own analysis to see if these stocks pique your interest as well. There are no guaranteed winners here!
"Predefined Scans Triggered" are taken from StockCharts.com using the "Symbol Summary" option instead of a "SharpChart" on the workbench.
---
Eldorado Gold Corp. (EGO)
EARNINGS: 4/28/2022 (AMC)
Eldorado Gold Corp. engages in the mining, development and exploration of gold. It has mining operations, ongoing development projects and exploration in Turkey, Canada, Greece, Brazil, Romania and Serbia. The company was founded by Richard J. Barclay, Marco Antonio Romero, and Gary D. Nordin on April 2, 1992 and is headquartered in Vancouver, Canada.
Predefined Scans Triggered: Moved Above Upper Bollinger Band, Moved Above Upper Price Channel, P&F Double Top Breakout and P&F Triple Top Breakout.
EGO is up +0.90% in after hours trading. I covered EGO on October 6th 2021. The position is still open and is currently up +47.2%. It technically broke out yesterday but closed below resistance. Today's breakout confirms the ascending triangle chart pattern (flat top, rising bottoms). The RSI is positive and not yet overbought. The PMO is going in for a crossover BUY signal and it isn't that overbought yet. Stochastics have risen above 80 suggesting internal strength. Volume is pouring in. The group has been showing relative strength for some time. EGO hasn't been the best performer against the group, but that is changing. It has been a strong performer against the SPY. The stop is set below the 20-day EMA.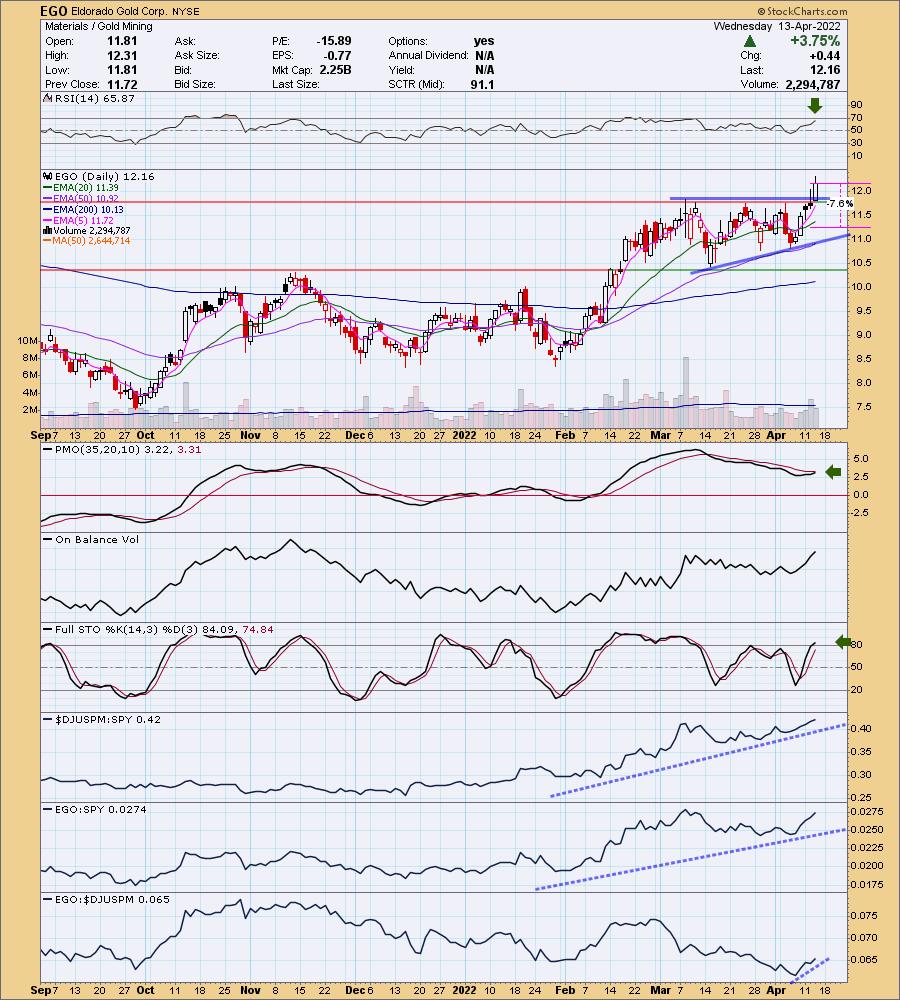 The weekly chart suggest we will see a test of the 2020 highs given the positive and rising weekly RSI. The weekly PMO is also rising and is not overbought. If it can reach those highs, that would be an over 19% gain.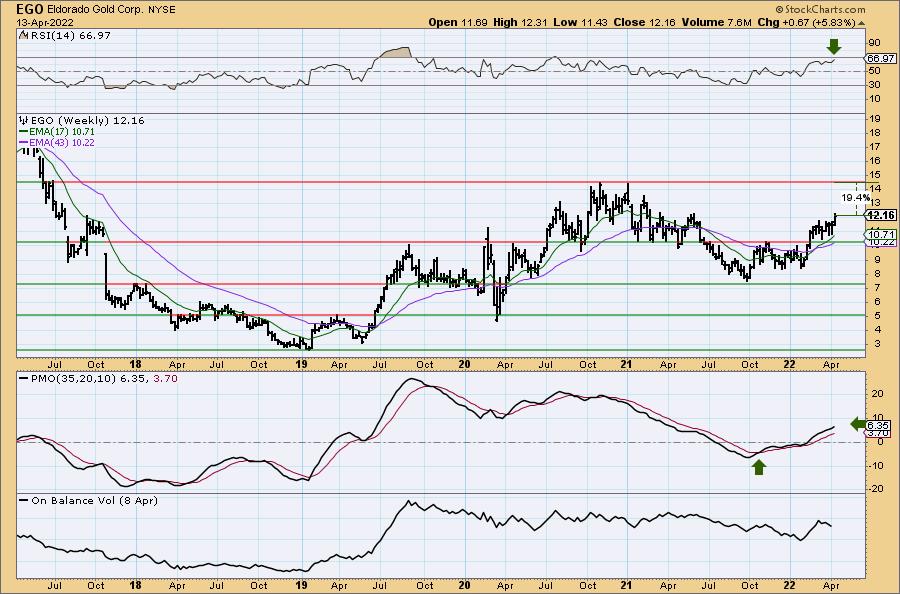 ---
Trinseo, SA (TSE)
EARNINGS: 5/5/2022 (AMC)
Trinseo Plc engages in the manufacture and sale of plastics and latex binders. It operates through the following segments: Engineered Materials, Latex Binders, Base Plastics, Polystyrene, Feedstocks, and Americas Styrenics. The Engineered Materials segment produces rigid thermoplastic compounds and blends products, soft thermoplastic products, and cast and sheet products. The Latex Binders segment creates styrene-butadiene latex. The Base Plastics segment manufactures a variety of compounds and blends, the majority of which are for automotive applications. The Polystyrene segment offers a variety of general-purpose polystyrenes and high impact polystyrenes. The Feedstocks segment deals with the production of styrene monomers in order to provide secure sourcing of this key raw material to the company's other segments. The Americas Styrenics segment is composed of the operations of the company's owned joint venture with Chevron Phillips Chemical Company. The company was founded on October 8, 2021 and is headquartered in Berwyn, PA.
Predefined Scans Triggered: Elder Bar Turned Green and Parabolic SAR Buy Signals.
TSE is unchanged in after hours trading. This one is a little more "beat down" that I'd like but the whipsaw PMO BUY signal along with a double-bottom bullish chart pattern and close above the 50-day EMA for the first time since its own bear market that began in February, make it especially attractive. The double-bottom will be confirmed once we see a breakout above the March high. The RSI and Stochastics are now in positive territory above net neutral (50) and both are rising. The stop is rather deep at 8.9%. You could watch the very short-term rising trend and if it is broken and indicators reverse, you could get out sooner rather than later.
It has been in a trading range since the end of 2021. It looks like a possible triple-bottom reversal pattern which would imply a test at $75. I'm going to be more conservative and set the upside target at the top of the trading range. That would still be an over 21% gain. Why so conservative? The weekly RSI is still negative and while the PMO has flattened, it has dropped below the zero line.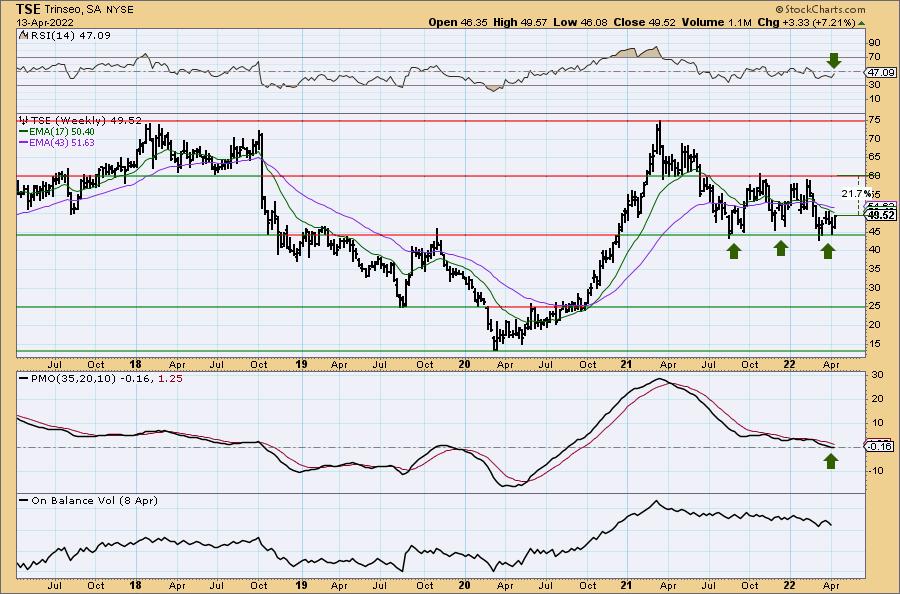 ---
Olympic Steel, Inc. (ZEUS)
EARNINGS: 5/5/2022 (AMC)
Olympic Steel, Inc. engages in the processing, sale, and distribution of metal products. It operates through the following segments: Carbon Flat Products, Specialty Metals Flat Products, and Tubular and Pipe Products. The Carbon Flat Products segment includes large volumes of processed carbon and coated flat-rolled sheet, coil and plate products, and fabricated parts. The Specialty Metals Flat Products segment consists of processed aluminum and stainless flat-rolled sheet and coil products, flat bar products, and fabricated parts. The Tubular and Pipe Products segment covers metal tubing, pipes, bars, valves, and fittings and fabricated pressure parts. The company was founded by Sol Siegal and Sam Sigel in 1954 and is headquartered in Highland Hills, OH.
Predefined Scans Triggered: New 52-week Highs, Moved Above Upper Bollinger Band and Moved Above Upper Price Channel.
ZEUS is up +0.03% in after hours trading. To be honest, Worthington (WOR) was the stock that was in my scan results. I opted to look at some of the other Steel industry group charts and I liked this one better as it is making new 52-week highs. I think it is worth it if you have time to check out the Industry Summary on StockCharts and consider some of the other steel stocks. The group has continued to do well and I believe it will keep on keeping on. The RSI is positive and not quite overbought. The PMO has reversed and is headed back up for a crossover BUY signal. Volume is coming in so the OBV is confirming the rising trend. Relative strength for ZEUS is strong against the SPY and the Steel group. I've set a stop about halfway down last month's trading range.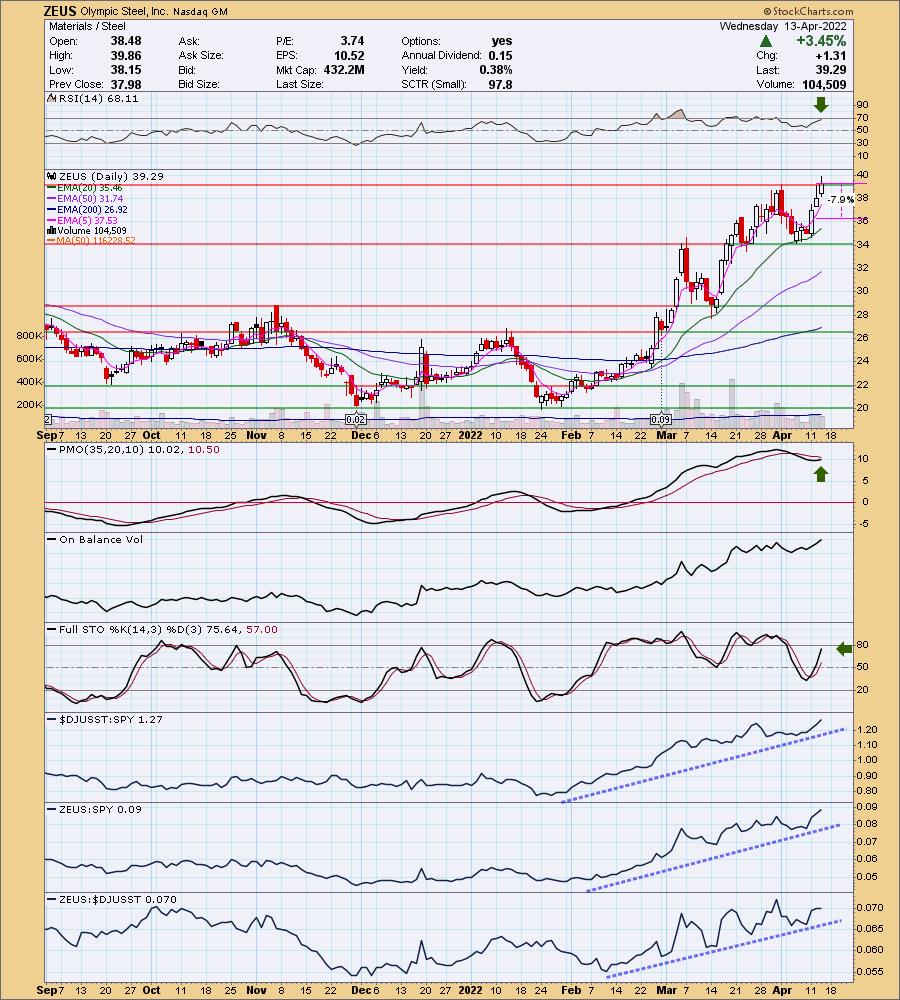 By the way I love how clever this stock symbol is! The weekly chart shows overhead resistance being hit at the 2021 intraweek high. It has already broken above the 2021 closing high. The weekly RSI is positive, rising and not overbought. The weekly PMO is rising strongly on a crossover BUY signal that triggered just above the zero line. The weekly PMO is not overbought. It may appear that it is at all-time highs on the weekly chart, but if you look at a monthly chart, you'll see that the next area of resistance is at all-time highs which don't arrive until $69.60.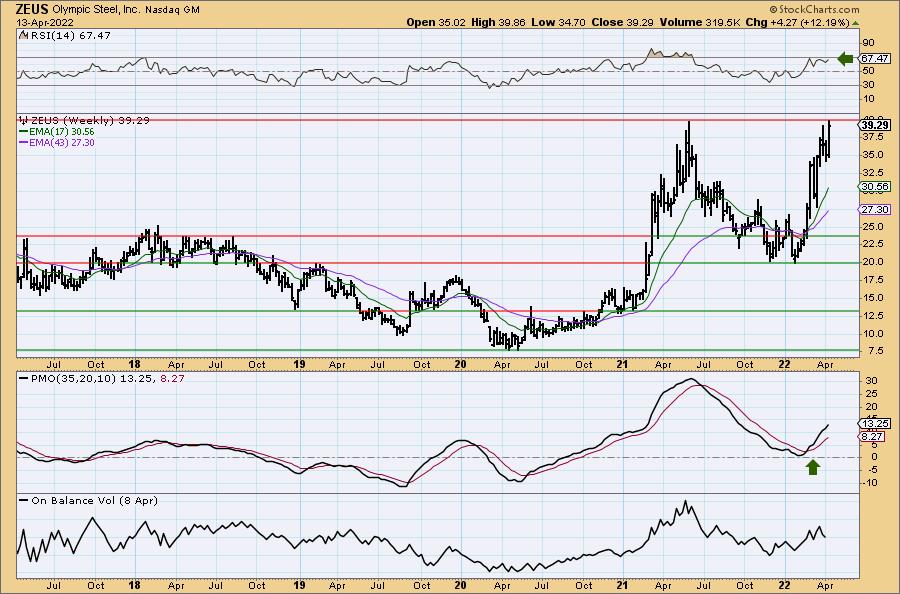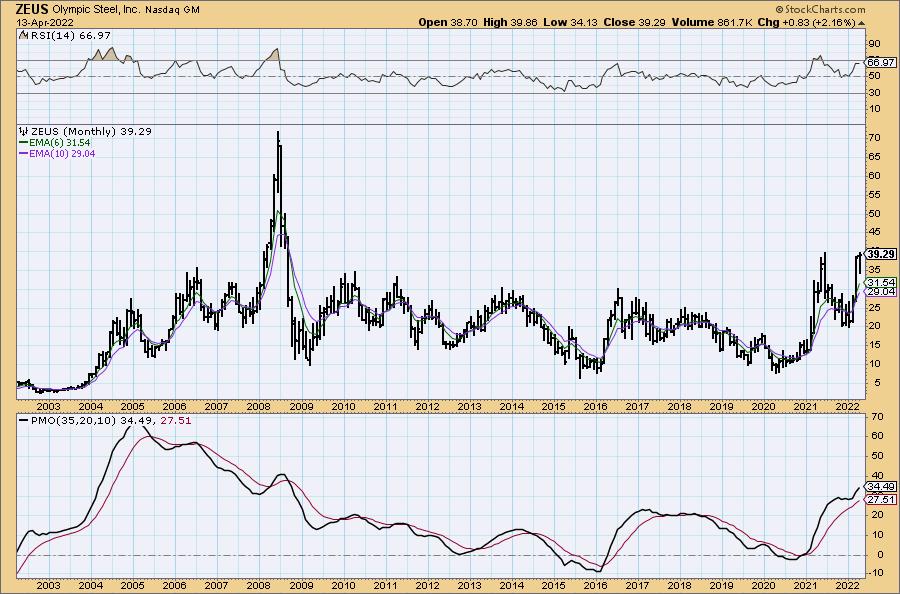 ---
Don't forget, on Thursdays I look at reader-requested symbols, click HERE to shoot me an email. I read every email I receive and try to answer them all!
---
Current Market Outlook:
Market Environment: It is important to consider the odds for success by assessing the market tides. The following chart uses different methodologies for objectively showing the depth and trend of participation for intermediate- and long-term time frames.
The Silver Cross Index (SCI) shows the percentage of SPX stocks on IT Trend Model BUY signals (20-EMA > 50-EMA)
The Golden Cross Index (GCI) shows the percentage of SPX stocks on LT Trend Model BUY signals (50-EMA > 200-EMA)
Don't forget that as a "Diamonds" member, you have access to our GCI/SCI curated ChartList on DecisionPoint.com. You'll find it under "Members Only" links on the left side on the Blogs and Links Page.
Here is the current chart: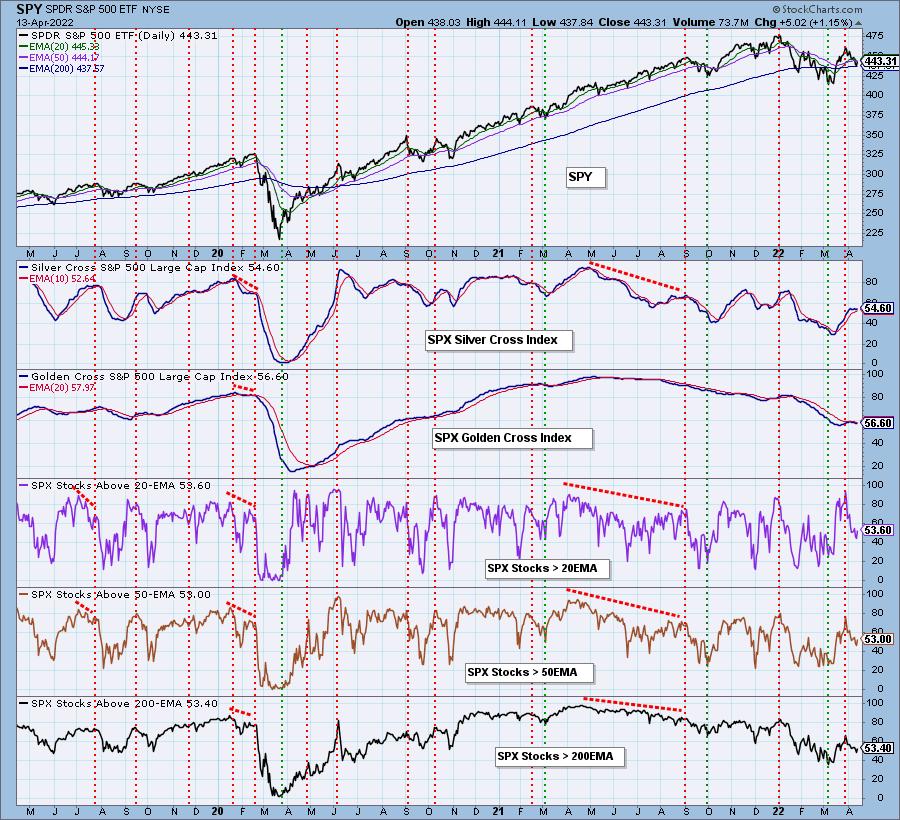 ---
Full Disclosure: I'm 15% invested and 85% is in 'cash', meaning in money markets and readily available to trade with.
I'm required to disclose if I currently own a stock and/or may buy it within the next 72 hours.
---
Good Luck and Good Trading!
- Erin
"Technical Analysis is a windsock, not a crystal ball." - Carl Swenlin
---
(c) Copyright 2022 DecisionPoint.com
---
Watch the latest episode of DecisionPoint with Carl & Erin Swenlin on Mondays 7:00p EST or on the DecisionPoint playlist on the StockCharts TV YouTube channel here!
---
NOTE: The stocks reported herein are from mechanical trading model scans that are based upon moving average relationships, momentum and volume. DecisionPoint analysis is then applied to get five selections from the scans. The selections given should prompt readers to do a chart review using their own analysis process. This letter is not a call for a specific action to buy, sell or short any of the stocks provided. There are NO sure things or guaranteed returns on the daily selection of "Diamonds in the Rough."
---
Helpful DecisionPoint Links:
DecisionPoint Shared ChartList and DecisionPoint Chart Gallery
Price Momentum Oscillator (PMO)
Swenlin Trading Oscillators (STO-B and STO-V)
For more links, go to DecisionPoint.com