It isn't fun to trade these days. It is more stressful and difficult to say the least. Reader Requests were rather slim today. I would like to say that you should send in any symbol of interest. It doesn't have to be a "Diamond in the Rough". I am using Thursdays as a more focused teaching experience, much like the trading rooms when I review symbols.
Using a teaching model, I was able to come up with four requested symbols that each have something to educate.
I'm very bearish right now and have shaken up my portfolio somewhat with a few drops and hedging adds. PFIX is the position that is definitely outshining the rest. It is due for a pullback, but with the Fed funds rate rising, the rest will continue to follow.
Don't forget to register for tomorrow's Diamond Mine trading room! The registration link for tomorrow is below. Also, if you lose your registration email, simply register again and you'll get another entry link.
Good Luck & Good Trading!
Erin
Today's "Diamonds in the Rough": AGQ, ITUB, RXRX and SNOW (short)
Other requests: ENPH (short), NG, FCX, LMT and SARK.
---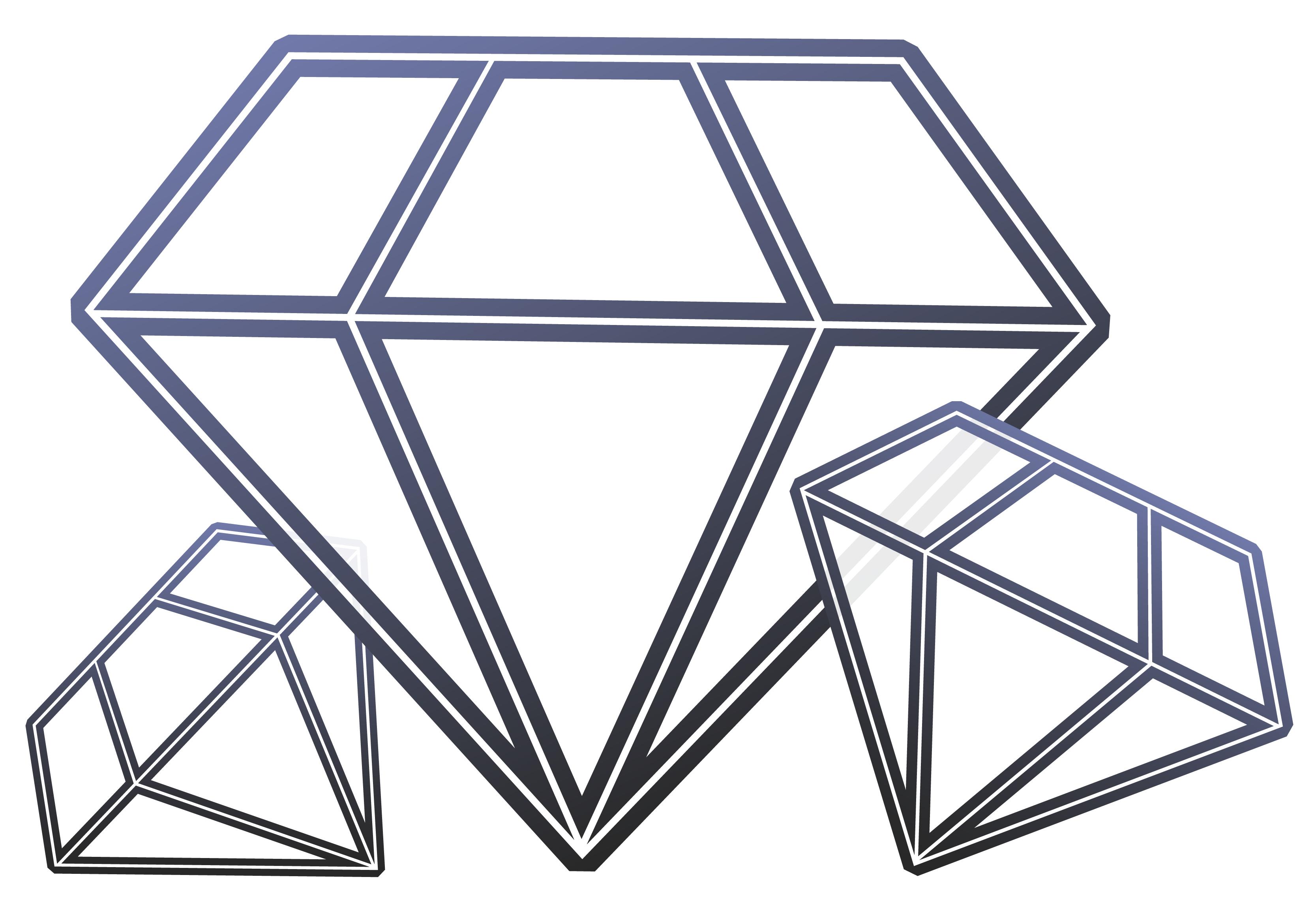 RECORDING LINK (9/16/2022):
Topic: DecisionPoint Diamond Mine (9/16/2022) LIVE Trading Room
Start Time: Sept 16, 2022 09:00 AM
Recording LINK.
Passcode: Sept*16th
REGISTRATION For Friday 9/23 Diamond Mine:
When: Sep 23, 2022 09:00 AM Pacific Time (US and Canada)
Topic: DecisionPoint Diamond Mine (9/23/2022) LIVE Trading Room
Register in advance for this webinar HERE.
Save the registration confirmation email with login instructions in case Zoom doesn't notify you in time.
*** NO DIAMOND MINE ON 10/7 ***
I will be at ChartCon 2022 on Friday and unable to hold the trading room. I'm planning on doing the Recap, but that is tentative. You will receive your ten picks for the week including ETF Day and Reader Request Day.
I'll be running trading rooms with Dave Landry so you might want to sign up to attend ChartCon 2022! I'll also be debating my friend, Tom Bowley point/counterpoint style bear v. bull! The event will not be like it was in the past. It is more of a television production with entertaining segments that will make education fun! Here is the link.
---

Here is the Monday 9/12 recording:
---
Welcome to DecisionPoint Diamonds, wherein I highlight ten "Diamonds in the Rough" per week. These are selected from the results of my DecisionPoint Scans, which search for stocks that could benefit from the trend and condition of the market. Remember, these are not recommendations to buy or sell, but are the most interesting of the stocks that surfaced in my scans. My objective is to save you the work of the initial, tedious culling process, but you need to apply your own analysis to see if these stocks pique your interest as well. There are no guaranteed winners here!
"Predefined Scans Triggered" are taken from StockCharts.com using the "Symbol Summary" option instead of a "SharpChart" on the workbench.
---
ProShares Ultra Silver (AGQ)
EARNINGS: N/A
AGQ provides 2x the daily performance of an index of silver future contracts. For more information click HERE.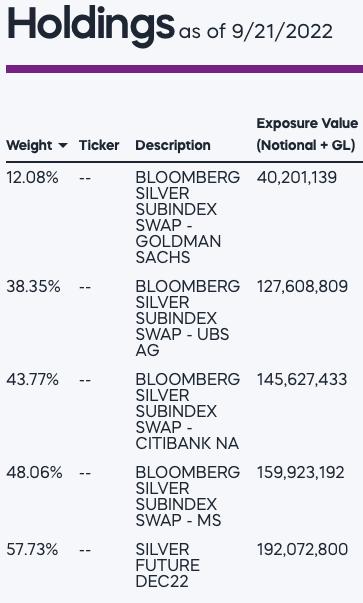 Predefined Scans Triggered: Elder Bar Turned Blue, Filled Black Candles and P&F Low Pole.
AGQ is down -0.09% in after hours trading. This is a "juiced" 2x ETF for Silver. I'm bullish on Silver, but I always hesitate to use juiced ETFs. If you are, consider halving the position you would normally take on a regular ETF for Silver. I see a bull flag with a breakout appearing imminent. The RSI is positive and the PMO is on a crossover BUY signal. It already had a 5/20-day EMA crossover earlier in the month but hasn't done that much with it. The OBV is confirming the rising trend and Stochastics are just about to move above 80. It is outperforming the SPY slightly. We need a breakout soon and with an inverse like this, I would definitely want a confirming breakout. The stop is set below last week's lows around 8% or $20.52.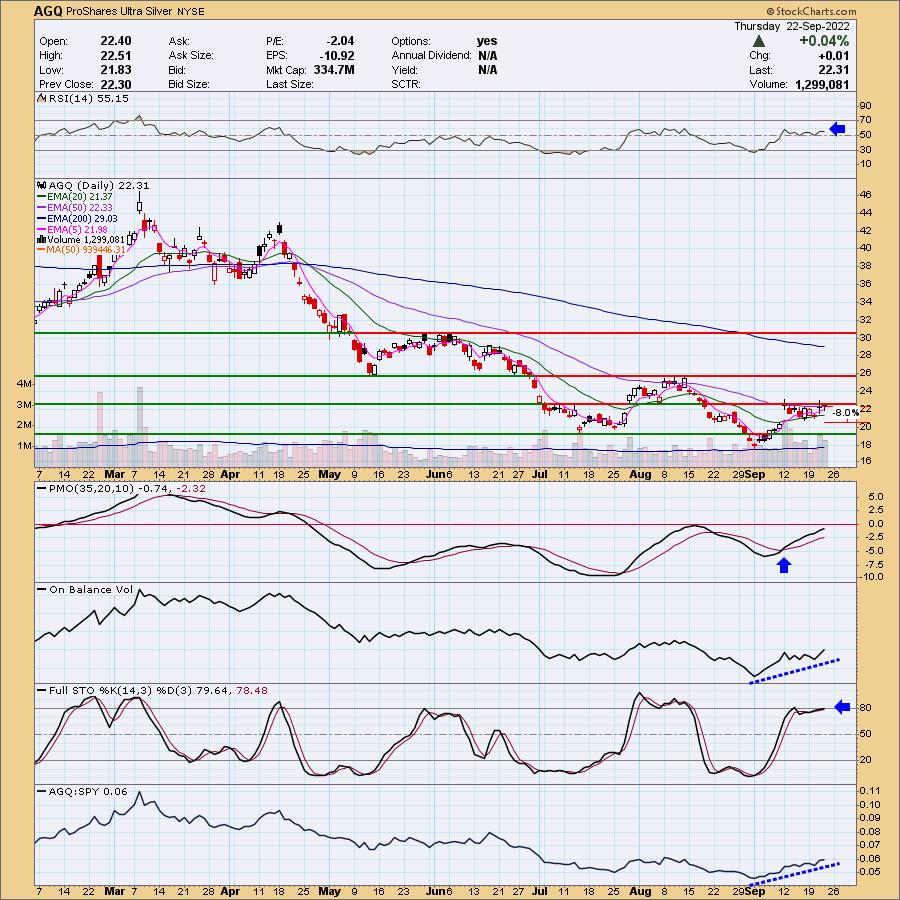 There's a nice double-bottom on the weekly chart. The minimum upside target would put it just past the level I've annotated for upside potential. The weekly PMO is rising and volume is beginning to pick up based on the OBV.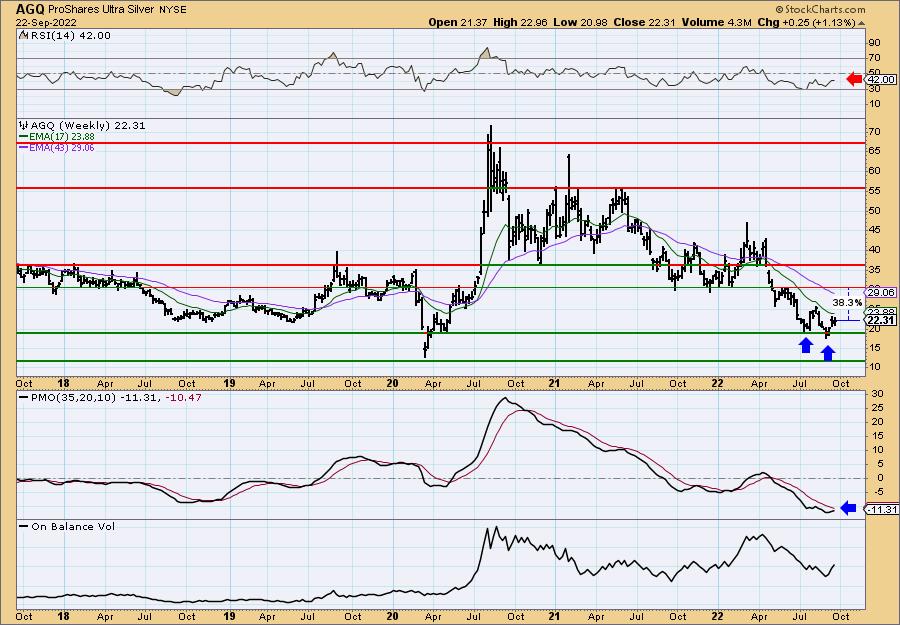 ---
Itau Unibanco Banco Multiplo SA (ITUB)
EARNINGS: 11/10/2022
Itaú Unibanco Holding SA provides financial products and services to individual and corporate clients in Brazil and abroad. It operates through the following segments: Retail Banking, Wholesale Banking, and Activities with the Market and Corporation. The Retail Banking segment includes credit cards, asset management, insurance, pension plan and capitalization products, and a variety of credit products and services for individuals and small companies. The Wholesale Bank segment offers corporate and investment banking activities, including its middle-market banking business. The Activities with the Market and Corporation segment deals with the result arising from capital surplus, subordinated debt surplus and the net balance of tax credits and debts. The company was founded in 1924 and is headquartered in São Paulo, Brazil.
Predefined Scans Triggered: Moved Above Upper Keltner Channel, Moved Above Upper Bollinger Band and Moved Above Upper Price Channel.
ITUB is up +2.68% in after hours trading. I talked about Banks on Tuesday and this one is really starting to outperform that group. We have a breakout above May highs and it should break above the April top based on the new PMO BUY signal. The RSI is confirming as it rises in positive territory. The OBV doesn't look as healthy as I would like, but given strong Stochastics and positive indicators overall, I like it. The stop is set below Aug/Sept tops around 7.3% or $5.19. This is a low-priced stock so position size wisely.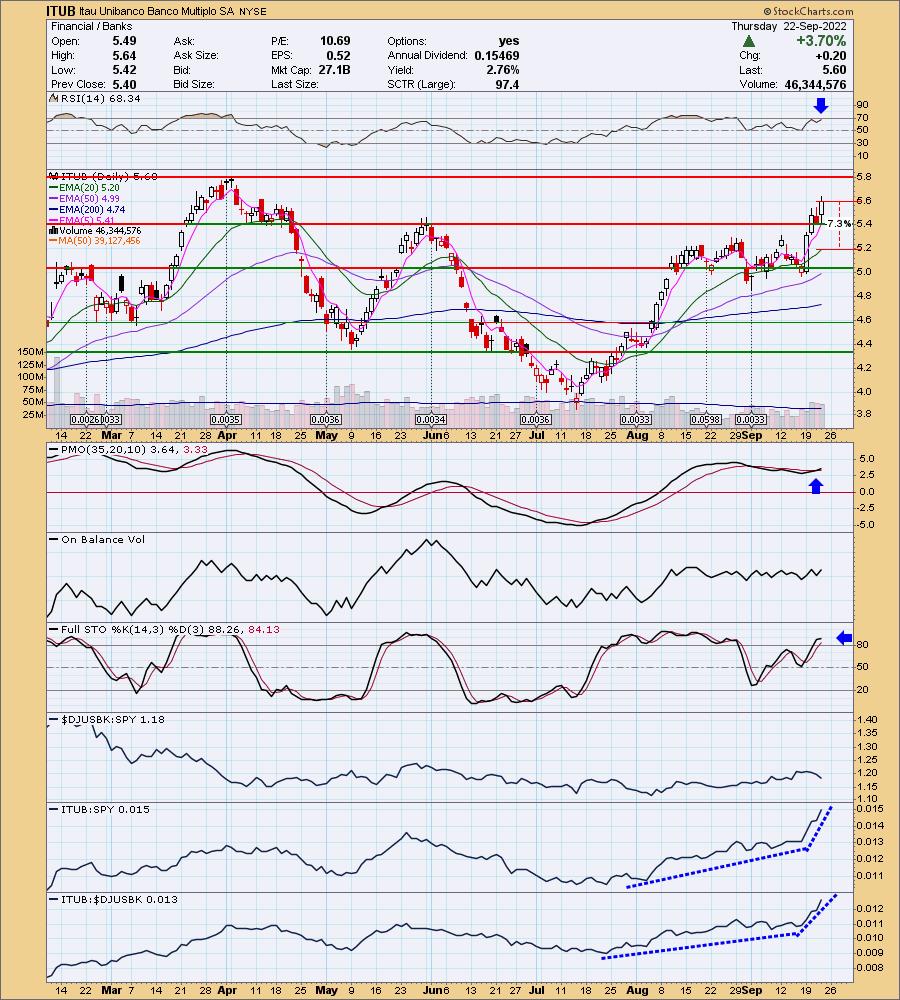 They pay monthly dividends which is why you see so many events on the weekly chart. The weekly RSI is positive and the weekly PMO is on a BUY signal. Again we would like to see higher readings on the OBV. The SCTR is a high 97.4% suggesting it is in the top 6% of all large-cap stocks as far as performance.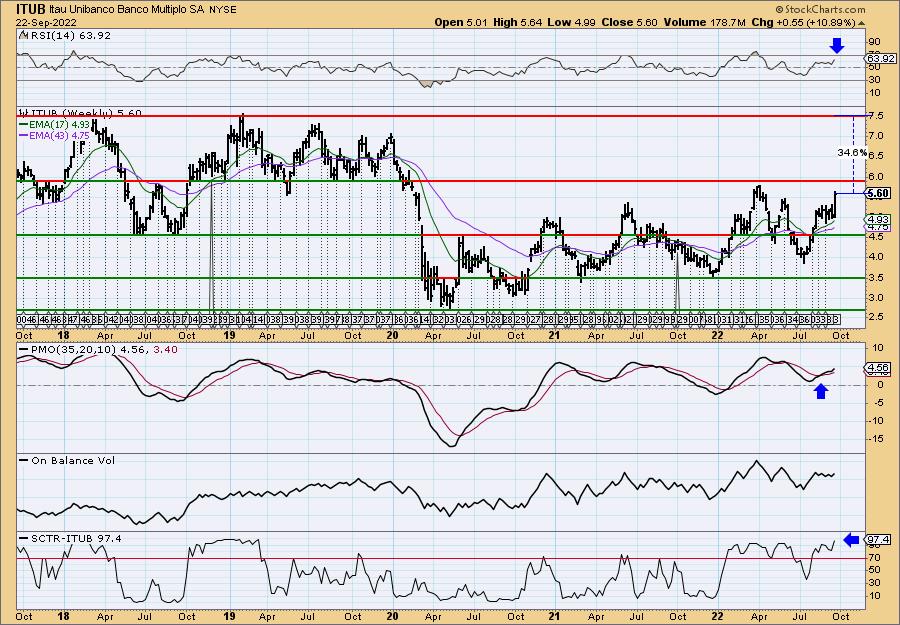 ---


Recursion Pharmaceuticals Inc. (RXRX)
EARNINGS: 11/9/2022 (AMC)
Recursion Pharmaceuticals, Inc. is a clinical-stage biotechnology company that combines automation, artificial intelligence, machine learning, and in vivo validation capabilities to discover novel medicines. Its Recursion operating system enables advanced machine learning approaches to reveal drug candidates, mechanisms of action, novel chemistry, and potential toxicity, with the eventual goal of decoding biology and advancing new therapeutics that radically improve people's lives. The company was founded by Blake Borgeson, Christopher C. Gibson, and Dean Y. Li on November 5, 2013 and is headquartered in Salt Lake City, UT.
Predefined Scans Triggered: None.
RXRX is up a whopping +4.95% in after hours trading. We'll see if that carries over to tomorrow. I covered RXRX on August 4th 2022. The position narrowly missed hitting its 8.5% stop so it is still open and currently up 11.56%. The reader asked what it would take for me to like this chart. My first reaction when I looked at it was a rising PMO. I can forgive a lot, but that is something I stand by. The chart isn't that bad, but there are a few problems. First the RSI is negative and falling. We also see a huge amount of volume on the decline Friday. Lastly, we have a broadening pattern (bugle shaped). However, I can still see a simple rising trend channel with only two outside readings from August and this week. Relative performance is pretty good now that we are seeing a slight recovery. So, I would need to see a rising PMO and confirmation that this isn't going to be a reverse flag formation--that would come with a move back into the blue rising trend channel. The stop is set at 8.5% or $9.80, it implies a break of the longer-term rising trend.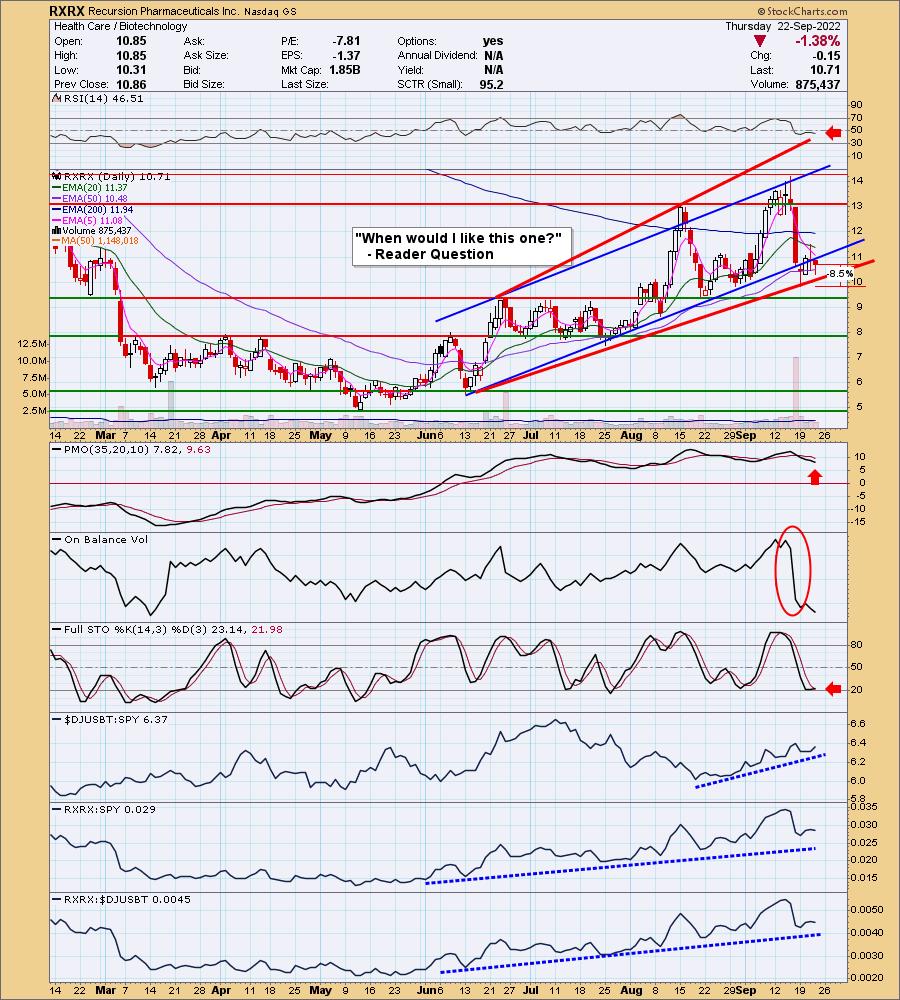 If it can hold the longer-term rising trend, this one has some excellent upside potential. We don't have a ton of data to make sweeping conclusions about the PMO, but it is rising and in positive territory. The SCTR is an excellent 95.2%.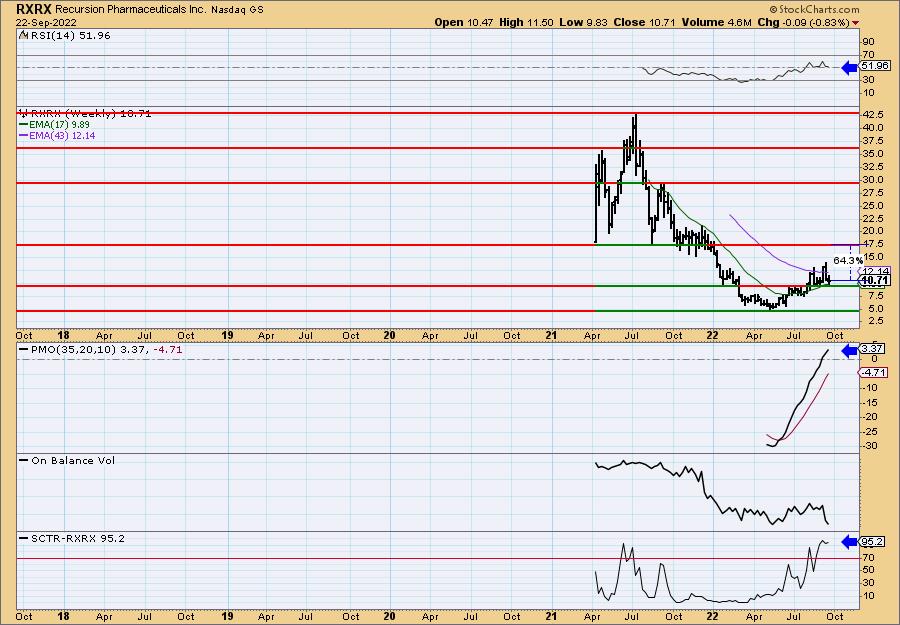 ---
Snowflake Inc. (SNOW) * Short *
EARNINGS: 11/30/2022 (AMC)
Snowflake, Inc. provides cloud data warehousing software. This includes the Data Cloud, an ecosystem where Snowflake customers, partners, data providers, and data consumers can break down data silos and derive value from rapidly growing data sets in secure, governed, and compliant ways. Its platform supports a range of use cases, including data warehousing, data lakes, data engineering, data science, data application development, and data sharing. The cloud-native architecture consists of three independently scalable layers across storage, compute, and cloud services. The storage layer ingests massive amounts and varieties of structured and semi-structured data to create a unified data record. The compute layer provides dedicated resources to enable users to simultaneously access common data sets for many use cases without latency. The cloud services layer optimizes each use case's performance requirements with no administration. Snowflake was founded by Marcin Zukowski, Thierry Cruanes and Benoit Dageville on July 23, 2012 and is headquartered in Bozeman, MT.
Predefined Scans Triggered: Parabolic SAR Sell Signals and P&F Double Bottom Breakout.
SNOW is up +0.36% in after hours trading. This is a short position. I definitely could see it as such. The RSI is negative and falling, the PMO is on an overbought SELL signal. We have a negative divergence with the OBV and relative performance is terrible. The one problem? It's sitting on very strong support right now at the 50-day EMA, short-term rising trend and March low/July highs and early September low. It could rebound. However, this does look like a textbook double-top. Since this is a short, the stop is upward at 7.7% or $185.01.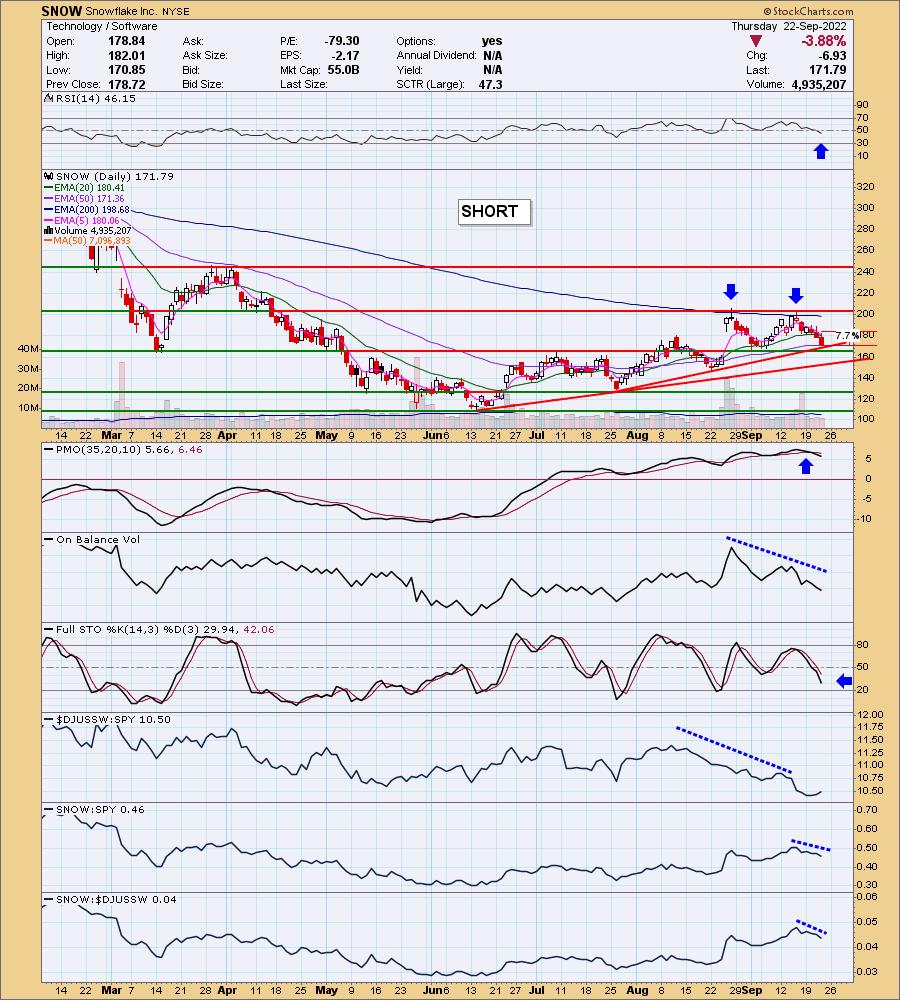 The weekly chart is breaking down, but you can see how that rising trend is critical for success as a short. The weekly PMO has decelerated, but it is still technically rising. The weekly RSI is negative and we see that the SCTR is falling. Currently SNOW is in the lower 47.3% of large-cap stocks as far as relative performance and internal strength.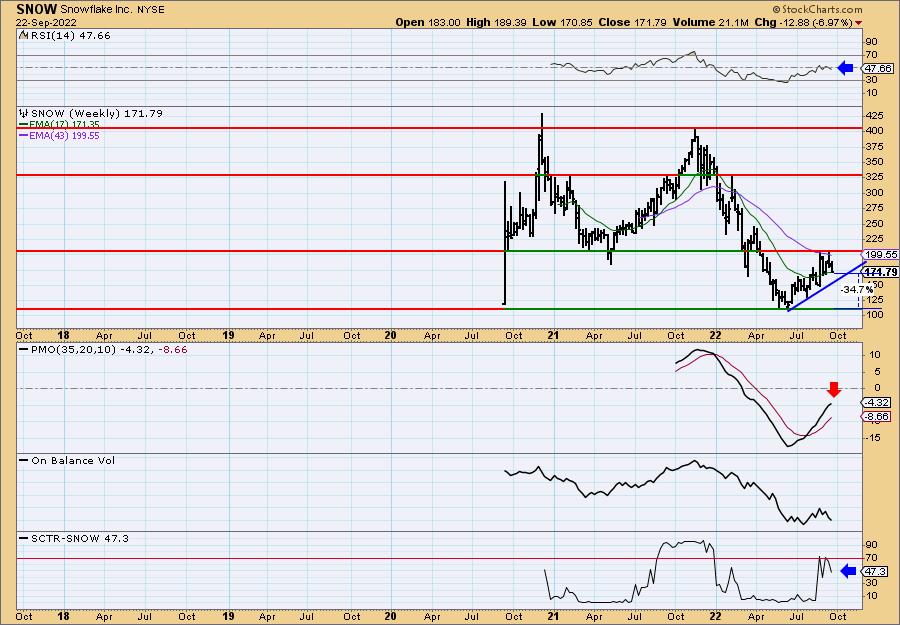 ---
---
Don't forget, on Thursdays I look at reader-requested symbols, click HERE to send me an email. I read every email I receive and try to answer them all!
---
---
Current Market Outlook:
Market Environment: It is important to consider the odds for success by assessing the market tides. The following chart uses different methodologies for objectively showing the depth and trend of participation for intermediate- and long-term time frames.
The Silver Cross Index (SCI) shows the percentage of SPX stocks on IT Trend Model BUY signals (20-EMA > 50-EMA)
The Golden Cross Index (GCI) shows the percentage of SPX stocks on LT Trend Model BUY signals (50-EMA > 200-EMA)
Don't forget that as a "Diamonds" member, you have access to our GCI/SCI curated ChartList on DecisionPoint.com. You'll find it under "Members Only" links on the left side on the Blogs and Links Page.
Here is the current chart: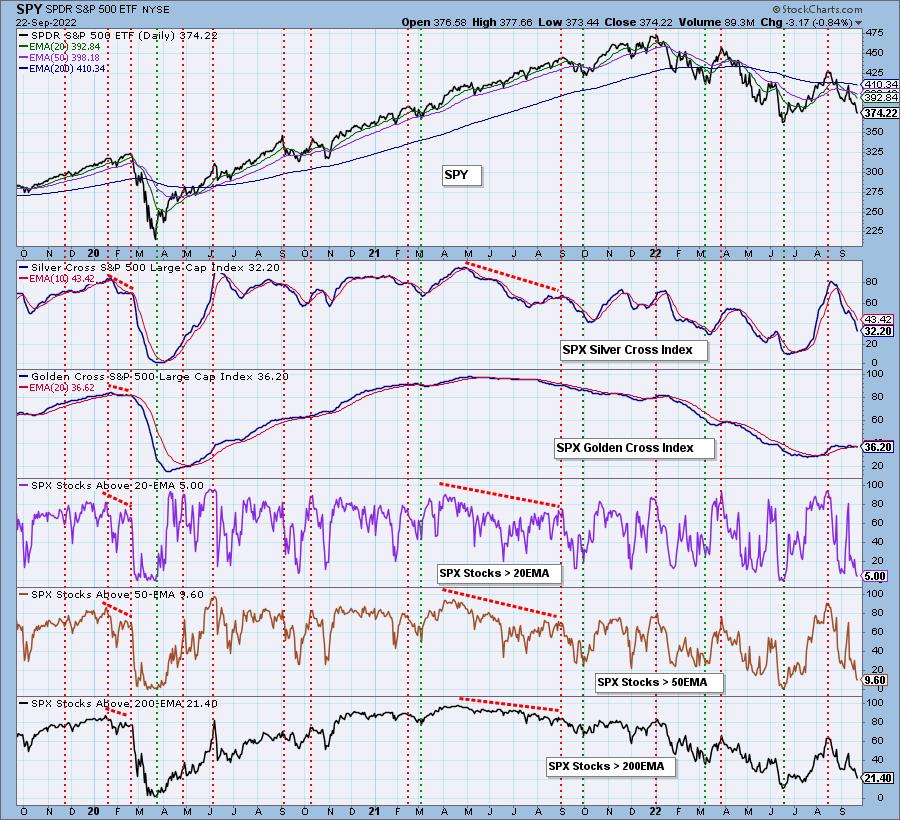 ---
Full Disclosure: I am 15% exposed with 5% hedges.
I'm required to disclose if I currently own a stock I mention and/or may buy/short it within the next 72 hours.
---
"Technical Analysis is a windsock, not a crystal ball." - Carl Swenlin
---
(c) Copyright 2022 DecisionPoint.com
---
Watch the latest episode of DecisionPoint with Carl & Erin Swenlin on Mondays 7:00p EST or on the DecisionPoint playlist on the StockCharts TV YouTube channel here!
---
NOTE: The stocks reported herein are from mechanical trading model scans that are based upon moving average relationships, momentum and volume. DecisionPoint analysis is then applied to get five selections from the scans. The selections given should prompt readers to do a chart review using their own analysis process. This letter is not a call for a specific action to buy, sell or short any of the stocks provided. There are NO sure things or guaranteed returns on the daily selection of "Diamonds in the Rough."
Regarding BUY/SELL Signals: The signal status reported herein is based upon mechanical trading model signals and crossovers. They define the implied bias of the price index/stock based upon moving average relationships and momentum, but they do not necessarily call for a specific action. They are information flags that should prompt chart review. Further, they do not call for continuous buying or selling during the life of the signal. For example, a BUY signal will probably (but not necessarily) return the best results if action is taken soon after the signal is generated. Additional opportunities for buying may be found as price zigzags higher, but the trader must look for optimum entry points. Conversely, exit points to preserve gains (or minimize losses) may be evident before the model mechanically closes the signal.
---
Helpful DecisionPoint Links:
DecisionPoint Shared ChartList and DecisionPoint Chart Gallery
Price Momentum Oscillator (PMO)
Swenlin Trading Oscillators (STO-B and STO-V)
For more links, go to DecisionPoint.com