The market began to top this week and that inevitably put pressure on this week's "diamonds in the rough". This does tell me that high exposure to the market is not wise right now. There are pockets of strength that I'll talk about further down.
Looking at the spreadsheet, it was a difficult week. Real Estate had begun to rally, but the diamond in the rough I chose from this sector underperformed and took the prize for worst performer of the week. The top performer was a reader request yesterday for Silvergate Capital (SI). The chart looks fantastic and with Financials showing strength, it looks like a good choice. My biggest winner was Chegg (CHGG) which was only up +0.09%.
Remember that I will be taking next week off for vacation from Diamonds, but the DP Alert will continue to be published as usual next week with Carl writing the Wednesday DP Alert. If I am driven to do so, I may publish a few diamonds in the rough. When I return, I'll determine how much time I will add to the end of your subscriptions.
The Diamond Mine Trading Room will still happen on 3/26. Register right now, right here!
---
---

Diamond Mine Information:
RECORDING LINK:
Topic: DecisionPoint Diamond Mine (3/19/2021) LIVE Trading Room
Start Time : Mar 19, 2021 09:00 AM
Diamond Mine Recording Link.
Access Passcode: H7b&!Z$+
REGISTRATION:
When: Mar 26, 2021 09:00 AM Pacific Time (US and Canada)
Topic: DecisionPoint Diamond Mine (03/26/2021) LIVE Trading Room
Register in advance for this webinar HERE.
Save the registration confirmation email with login instructions in case Zoom doesn't notify you in time.
---
---
---
A few items about the spreadsheet: I decided it only fair to denote "reader requests" as I shouldn't get to take credit if they turn out great! I've put on the spreadsheet whether the RSI is positive (green) or negative (red). The PMO column tells you if it is rising (green) or falling (red). Finally I've added my own "Sparkle Factor" that gives you my assessment going forward, bullish (green), bearish (red) or neutral (gray). The Sparkle Factor is basically my thoughts on whether I expect it to rise or fall. A neutral means it could really go either way so it could be added to a watch list. If you're in a stock I consider "neutral" going forward, the ball is in your court.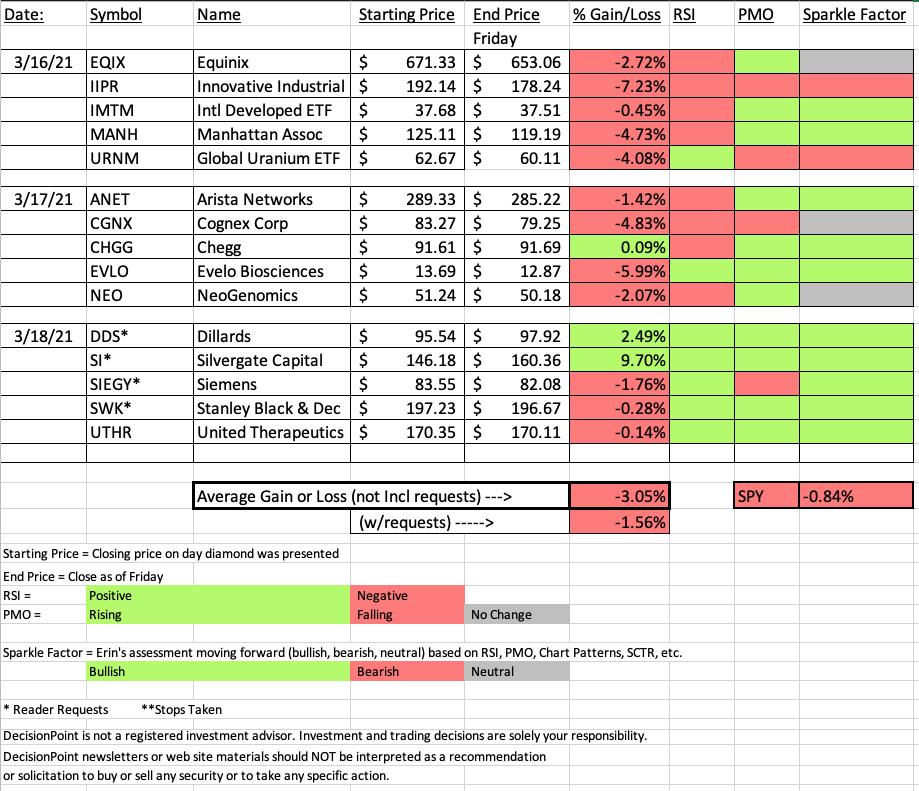 ---
Free DecisionPoint Trading Room on Mondays, Noon ET
*Click here to register for this recurring free DecisionPoint Trading Room on Mondays at Noon ET!*
=======================================
BELOW is a link to Monday's recording:
Topic: DecisionPoint Trading Room
Start Time : Mar 15, 2021 08:58 AM
Free DP Trading Room Recording LINK
Access Passcode: 0f$2Pf5z
For best results, copy and paste the access code to avoid typos.
---
Darling:
Chegg, Inc. (CHGG)
EARNINGS: 5/3/2021 (AMC)
Chegg, Inc. engages in the operations of learning platform for students. It intends to empower students to take control of their education and help the students study, college admissions exams, accomplish their goals, get grades and test scores. The firm offers required and non-required scholastic materials including textbooks in any format, access to online homework help and textbook solutions, course organization and scheduling, college and university matching tools and scholarship connections. Its services include Chegg study, writing, tutors and math solver. The company was founded by Osman Rashid and Aayush Phumbhra on July 29, 2005 and is headquartered in Santa Clara, CA.
Here is the chart and commentary from Wednesday:
"CHGG is up +1.11% in after hours trading. I've covered CHGG three times before. The first time was April 27th 2020. The stop has never been hit so it is up +124.5%. Second time was September 23rd 2020. The stop was never hit after this pick too so it is up 34.3% since then. The last time was on December 8th 2020. The stop was not hit after this pick either so it is up 18.5% since then. It appears ripe for another entry as the PMO has turned up and the RSI just hit positive territory. The SCTR is headed back up and it is outperforming within a group that is beginning to outperform. I'd like to set the stop at the 200-EMA support level, but that is about a 13.5% stop level and that is too much for me. I decided to set it at the January low."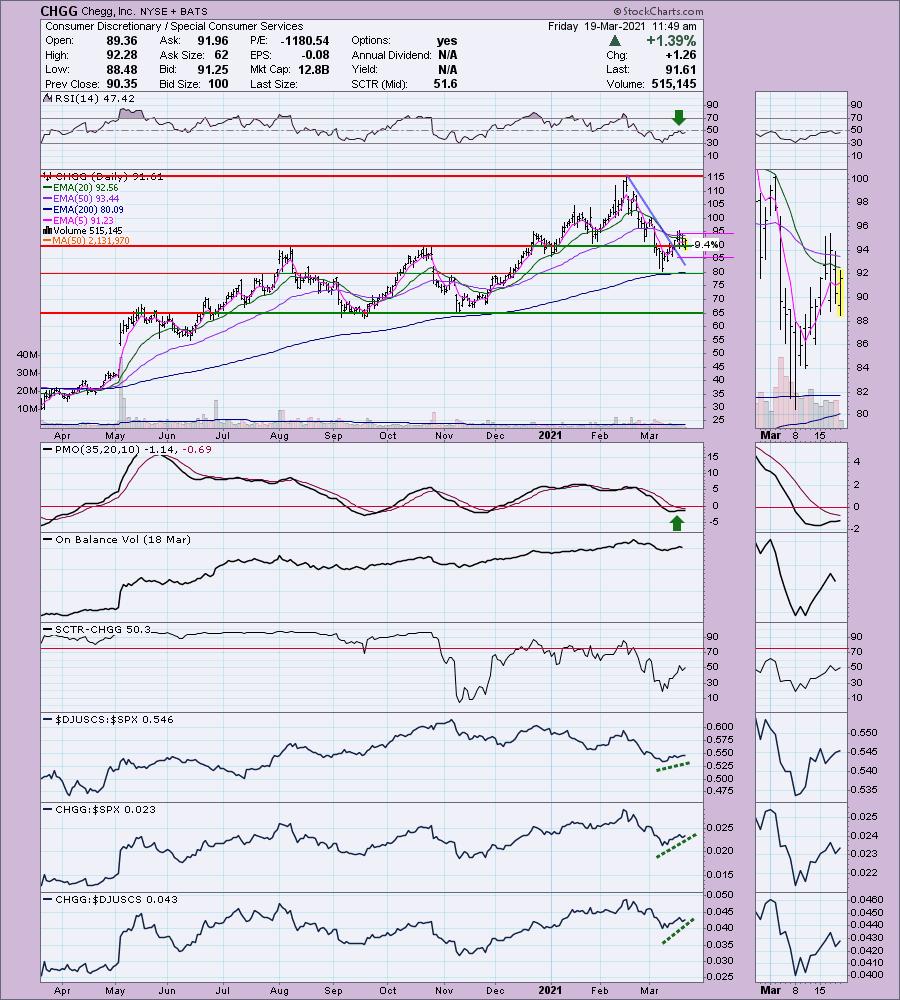 Here is today's chart:
The chart is taking more time to mature. It still looks bullish even though the RSI is negative right now. Support is still holding at the 2020 tops. It is still performing well against the SPX and its group. I'm not happy with price being turned away after it closed above the 50-EMA. I'm still expecting this one to rally, but with the market so toppy, it will probably move as if through molasses.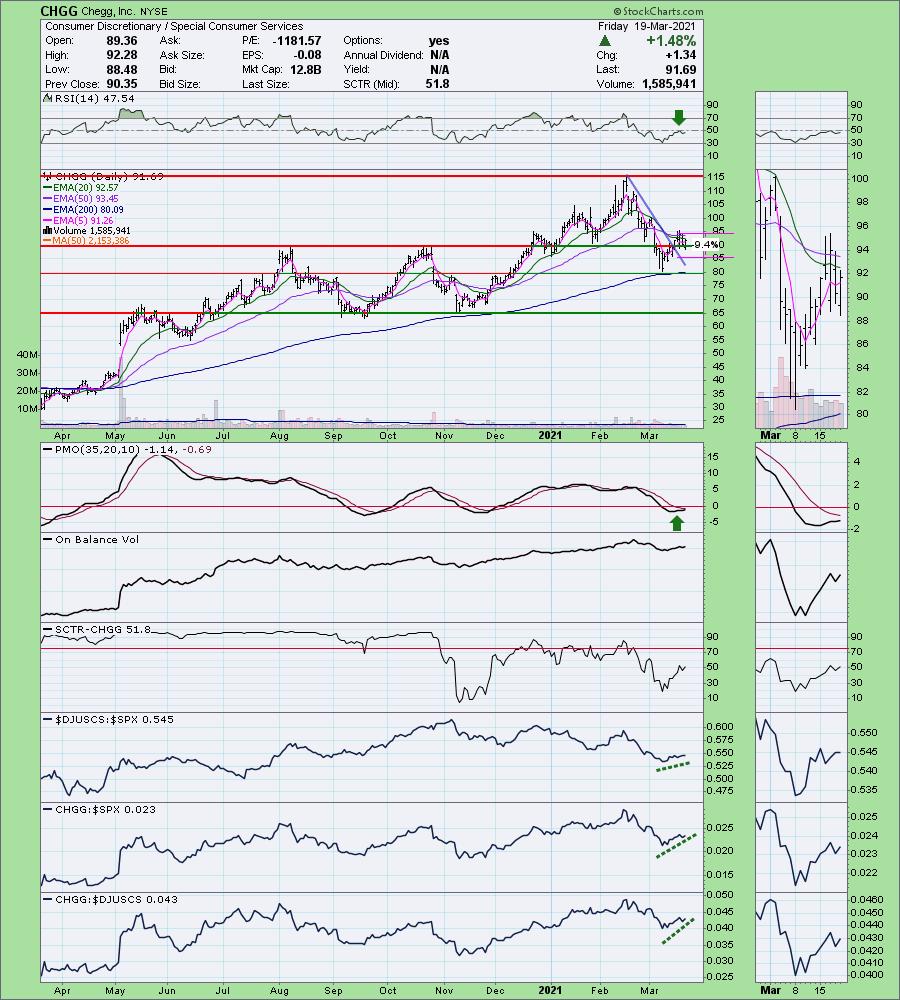 ---
---
Don't forget, on Thursdays I look at reader-requested symbols, so shoot me an email at erin@decisionpoint.com. I read every email I receive and try to answer them all!
---
---
Dud:
Innovative Industrial Properties, Inc. (IIPR)
EARNINGS: 5/5/2021 (AMC)
Innovative Industrial Properties, Inc. is a real estate investment trust, which engages in the acquisition, ownership, and management of industrial properties. It operates through the following geographical segments: Arizona, California, Colorado, Florida, Illinois, Maryland, Massachusetts, Michigan, Minnesota, Nevada, New York, North Dakota, Ohio, and Pennsylvania. The firm's property portfolio include PharmaCann; Ascend Wellness Holdings, LLC; Vireo Health, Inc.; and Green Peak Industries, LLC. The company was founded by Alan D. Gold and Paul E. Smithers on June 15, 2016 and is headquartered in Park City, UT.
Below is the chart and commentary from last Tuesday:
"IIPR is up +1.13% in after hours trading so we may be onto something here. It has just reached overhead resistance at the December high, but given it is up in after hours, I suspect that resistance level will be vaulted easily. The RSI has just hit positive territory and the PMO has turned up in oversold territory. This is another "V" bottom that suggests a breakout to new all-time highs. It is performing very well. Price is staying above the 20/50-EMAs which avoided a negative crossover last week. The stop was a bit tricky. Going all the way down to support was too deep for me so I tried to line it up with the January low."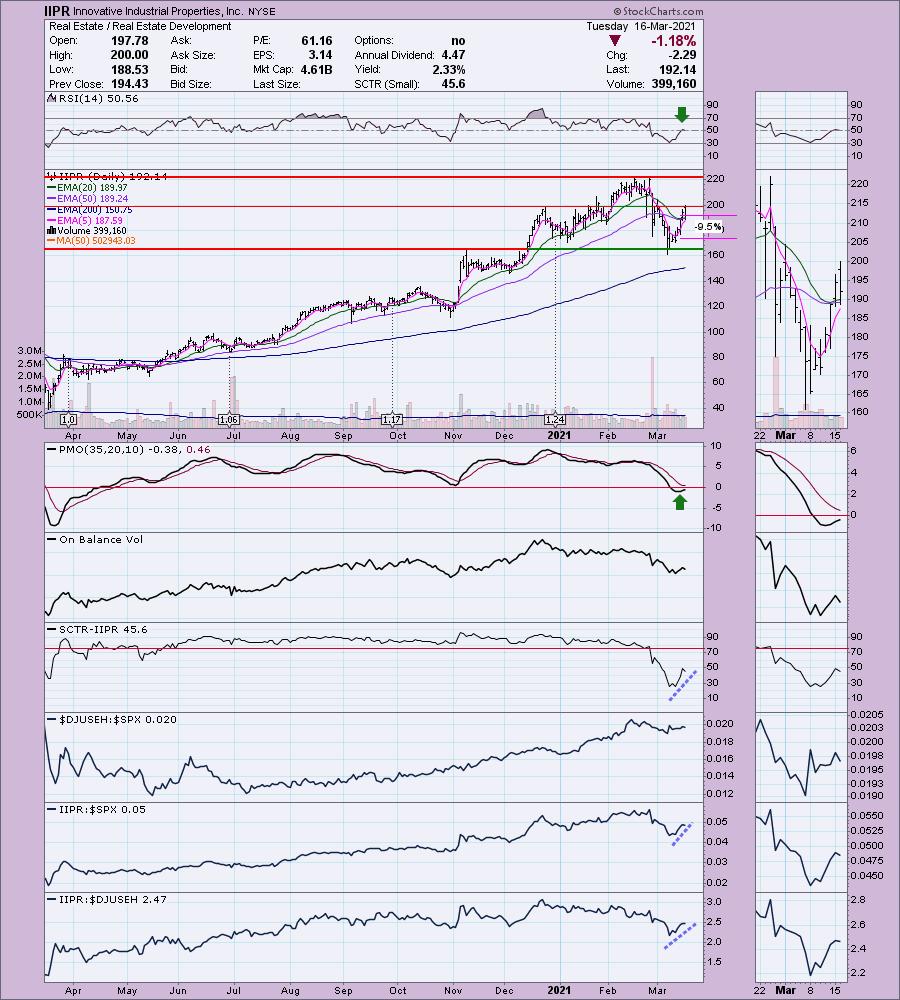 Below is today's chart:
The stop was nearly triggered, but price managed to close above it. This chart went completely south. This is why I prefer to wait for breakouts above resistance before picking them. The technicals were good, but despite that it pulled back hard. It now has a new IT Trend Model Neutral signal based on the negative 20/50-EMA crossover that occurred today. The PMO top below the signal line tells me to avoid this one even on the pullback. I'd consider it a shorting opportunity if support had been broken.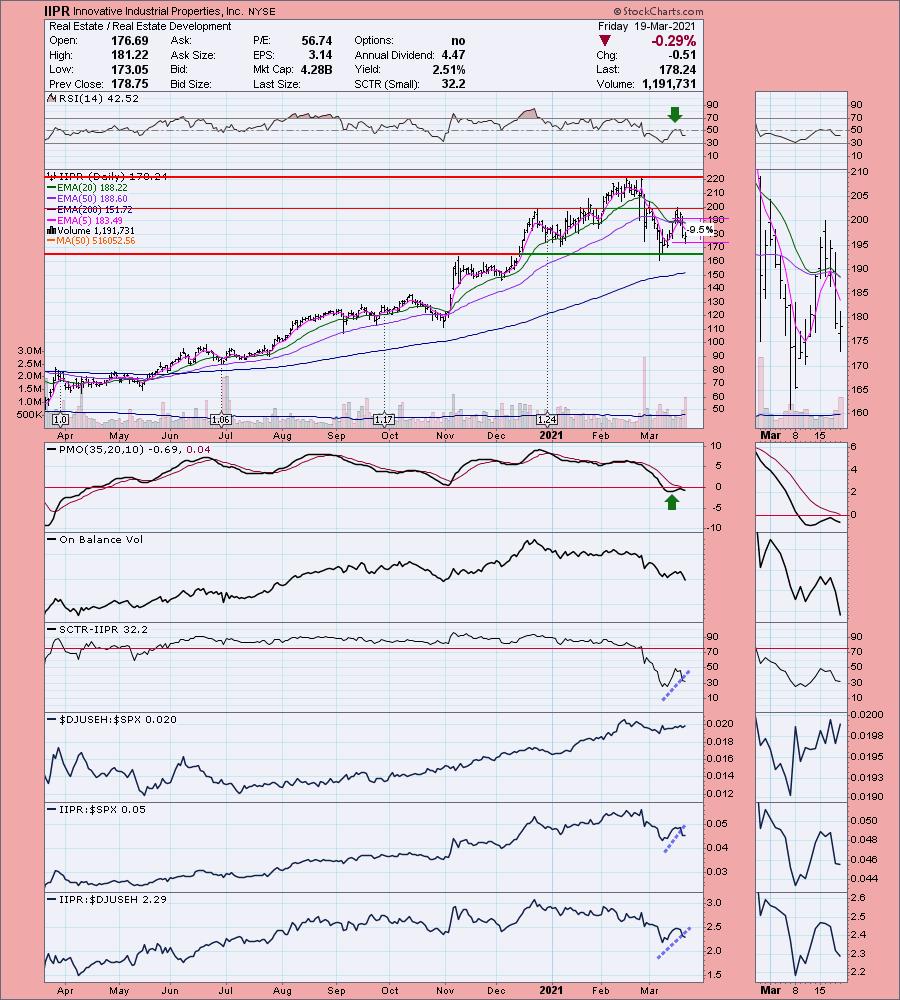 ---
THIS WEEK's Sector Performance: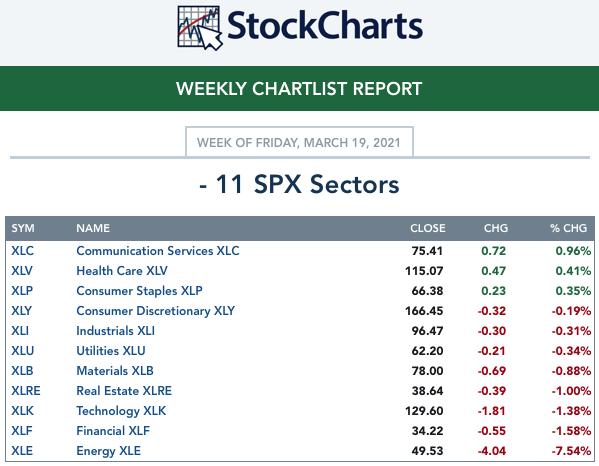 Click Here to view Carl's annotated Sector ChartList!
CONCLUSION:
Below is the sector Relative Rotation Graph for the short term or "daily" version. The Real Estate Sector (XLRE) looks very strong, but if you look at our sector chart for XLRE, you'd see a huge drop in participation among members. I still like XLI and XLF, mainly based on our sector charts and the technicals underneath the hood.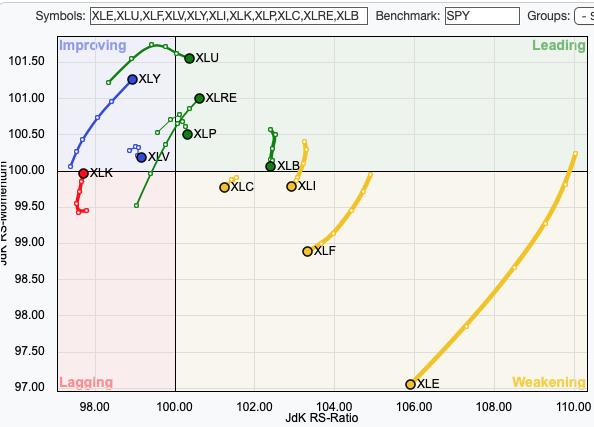 Sector to Watch: Industrials (XLI)
This sector continues to outperform all of the others. It pulled back a bit this week but is holding well above the 20-EMA. It is one of the few sectors that still has a rising PMO. There was a slight pullback in participation but overall the chart looks the healthiest among our sector chartlists.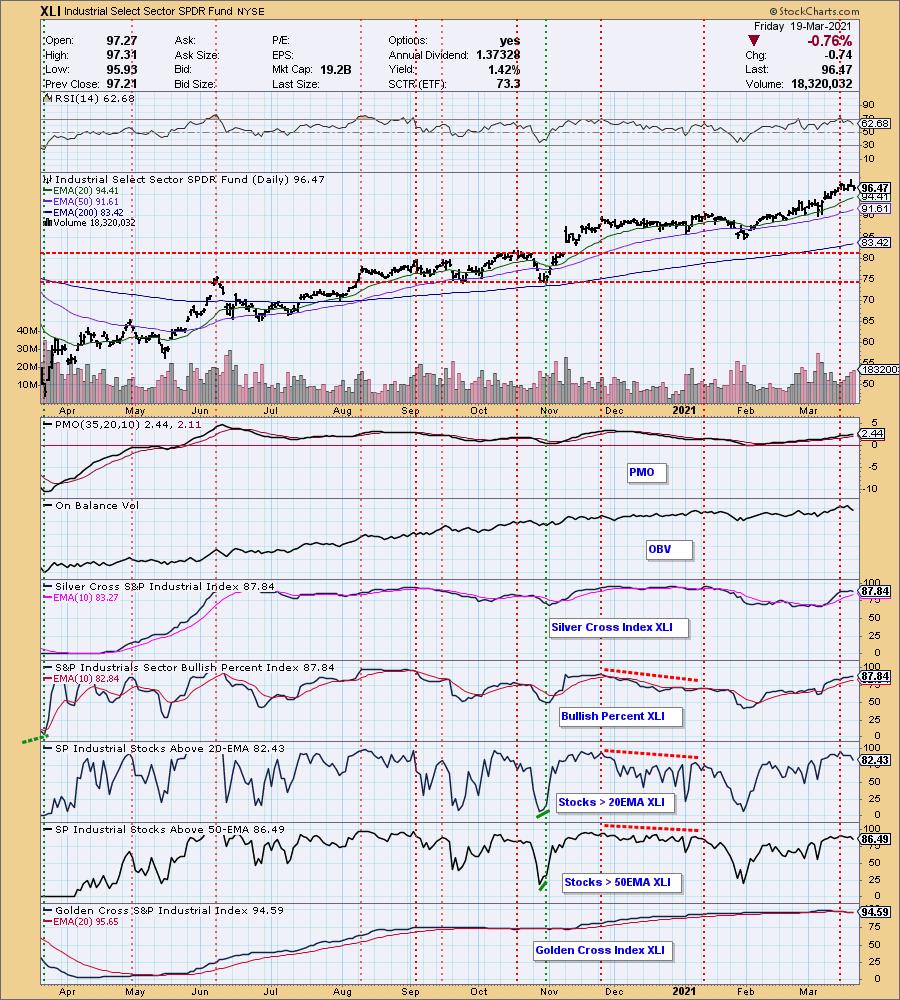 Industry Group to Watch: Gold Mining ($DJUSPM)
I've been watching the rally on Gold Miners each day in the DP Alert. This rally looks like it will continue up next week. This week it rallied and today and yesterday it pulled back. The 20-EMA is about to cross above the 50-EMA for a "Silver Cross" IT Trend Model BUY signal. Today saw very heavy volume to the downside which tells me there could be a bit more pullback in this group. Some of the stocks I liked: NEM, AMRK, EGO and SBSW on today's pullback.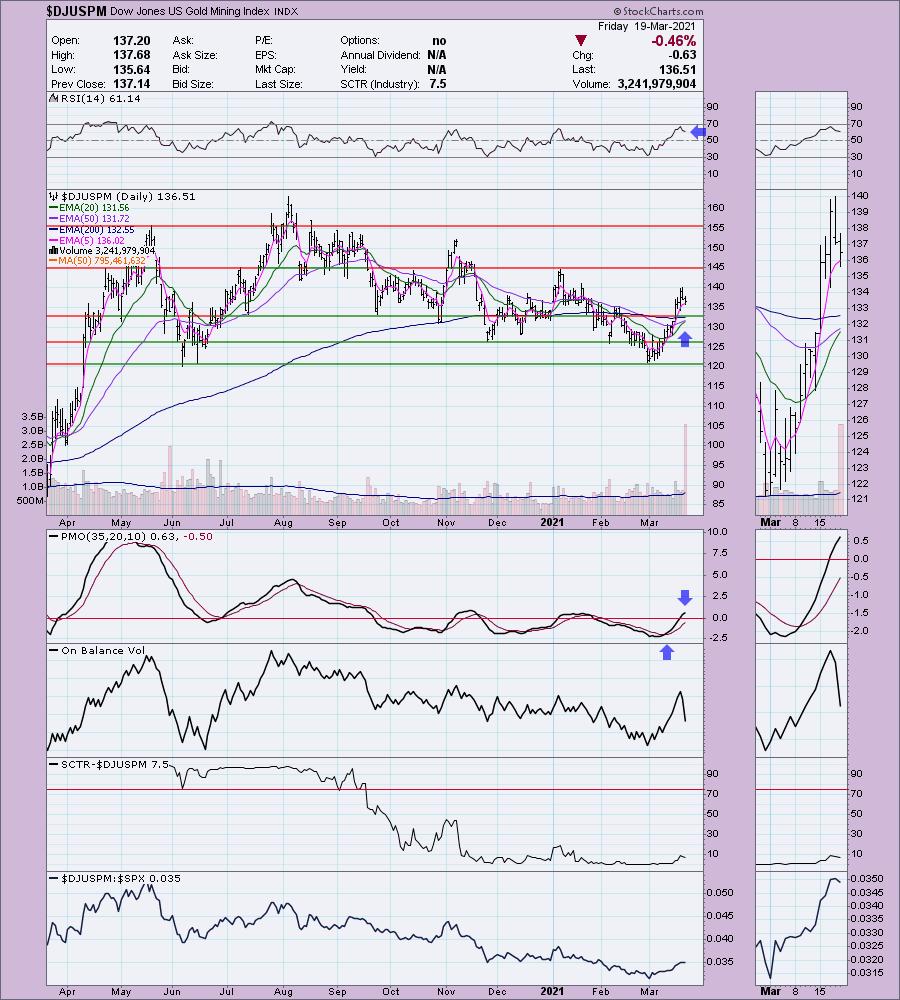 Go to our Sector ChartList on DecisionPoint.com to get an in depth view of all the sectors.
Technical Analysis is a windsock, not a crystal ball.
Have a great weekend & Happy Charting!
- Erin
erin@decisionpoint.com
---
Full Disclosure: I'm about 75% invested right now and 25% is in 'cash', meaning in money markets and readily available to trade with. This week I added Diamonds: EXC, RAD, BLBD and SPWR. I sold BOIL, but have a $9.60 stop on UNG. I felt overexposed to Nat Gas and pared back the position by selling BOIL.
---
Watch the latest episode of DecisionPoint with Carl & Erin Swenlin on Mondays 7:00p EST or on the DecisionPoint playlist on the StockCharts TV YouTube channel here!
---
---
NOTE: The stocks reported herein are from mechanical trading model scans that are based upon moving average relationships, momentum and volume. DecisionPoint analysis is then applied to get five selections from the scans. The selections given should prompt readers to do a chart review using their own analysis process. This letter is not a call for a specific action to buy, sell or short any of the stocks provided. There are NO sure things or guaranteed returns on the daily selection of "diamonds in the rough."
---
Helpful DecisionPoint Links:
DecisionPoint Shared ChartList and DecisionPoint Chart Gallery
Price Momentum Oscillator (PMO)
Swenlin Trading Oscillators (STO-B and STO-V)