It's Thursday so it is Reader Request Day! I had a lot of very interesting requests to review, but I was drawn to the ones in the Healthcare sector (XLV). The sector is still doing well and definitely fits in the "defensive" posture I'm taking now. You'll note that with the Delta variant staying in the news many of the pharma stocks are seeing rallies after pulling back. Additionally, I've noticed the Healthcare Providers are looking healthy (pun intended). Medical Supplies are back in favor and there are a select group of Biotechs that are reversing.
Be careful out there, the downside initiation climax is still in effect so buying right now could be dangerous.
Other inclusions today are one of the Staples suggested Tuesday in "Stocks to Review" and a Software stock.
Today's "Diamonds in the Rough" are: CYBR, ICUI, REGN, SJM and UNH.
"Stocks to Review" culled from today's requests: TRV, XEL, QLYS, NVDA, IQV, ISRG, LOW and ABBV.
---
** IMPORTANT new procedures for SYMBOL REQUESTS **
I'm trying to formalize the process for symbol requests in my trading rooms. Since not everyone can attend live, I encourage you to email me your requests for inclusion in the Reader Requests Diamond Report and/or requests for Friday morning's Diamond Mine. A subject line with "Symbol Request" will help me a great deal. If I don't cover it in the Reader Request report, I'll log it for Friday's trading room.
If you are attending live, you have the first 15 minutes to get your requests in the Q&A box. Please only request one or at most two and as always, let me know if your request is for a buy, hold or sell/short.
I've made a promise that all Diamond subscribers will get their symbols looked at on Fridays but that has been difficult to do within the time constraints I have. Emailing the night before will ensure your request is looked at and time permitting, I will cover all the live requests from the first 15 minutes.
As our community grows it will become harder and harder for me to live up to my promise, but for now I believe I can get them all in if we use this more formal process for making requests.
---
---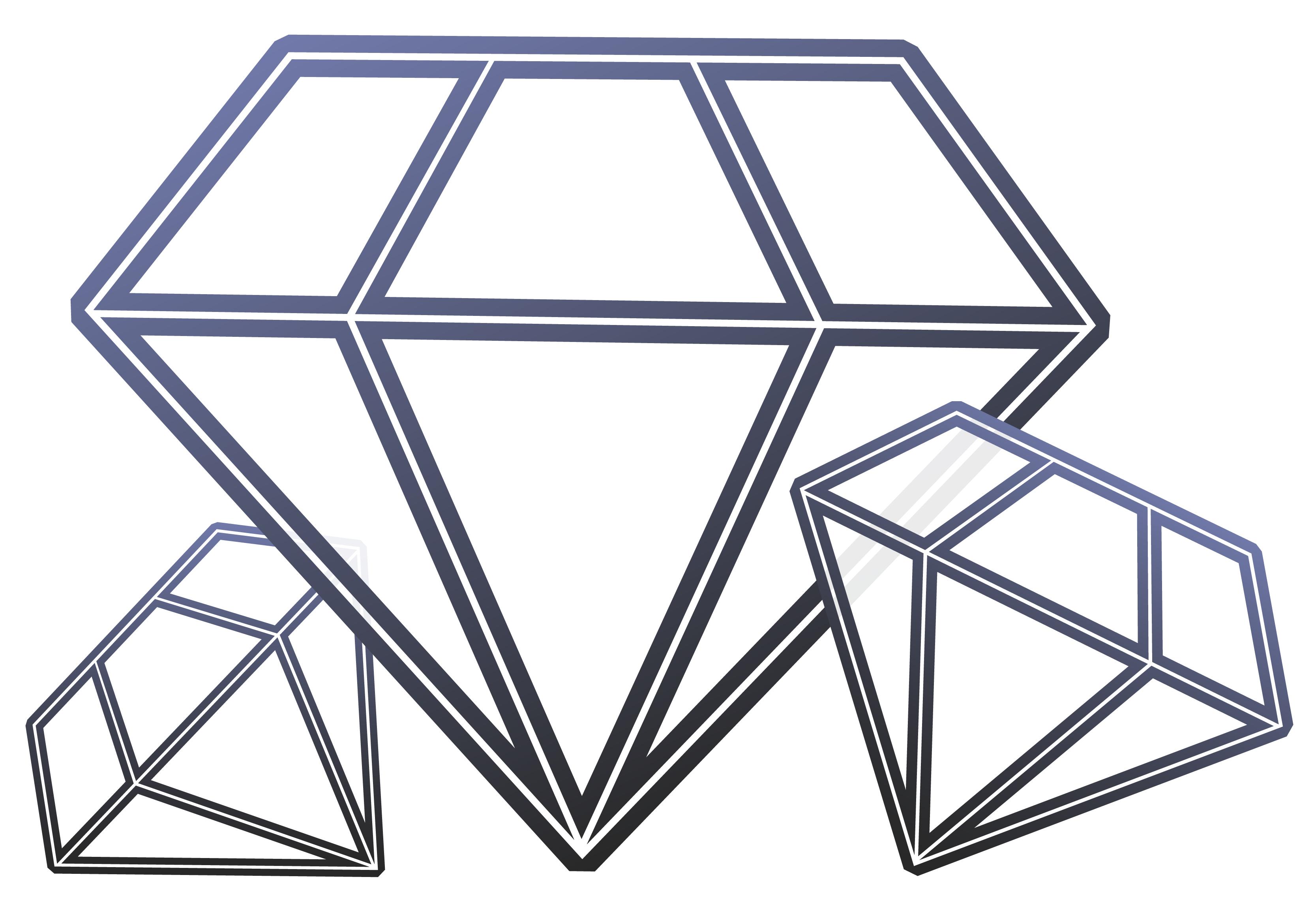 RECORDING LINK Friday (8/13):
Topic: DecisionPoint Diamond Mine (8/13/2021) LIVE Trading Room
Start Time : Aug 13, 2021 09:01 AM
Meeting Recording Link HERE.
Access Passcode: August/13
REGISTRATION FOR FRIDAY 8/20 Diamond Mine:
When: Aug 20, 2021 09:00 AM Pacific Time (US and Canada)
Topic: DecisionPoint Diamond Mine (8/20/2021) LIVE Trading Room
Register in advance for this webinar HERE.
Save the registration confirmation email with login instructions in case Zoom doesn't notify you in time.
---

Free DP Trading Room (8/16) RECORDING LINK:
Topic: DecisionPoint Trading Room
Start Time : Aug 16, 2021 09:01 AM
Meeting Recording Link HERE.
Access Passcode: August-16
For best results, copy and paste the access code to avoid typos.
---
---
Welcome to DecisionPoint Daily Diamonds, wherein I highlight five "Diamonds in the Rough." These are selected from the results of my DecisionPoint scans, which search for stocks that could benefit from the trend and condition of the market. Remember, these are not recommendations to buy or sell, but are the most interesting of the stocks that surfaced in my scans. My objective is to save you the work of the initial, tedious culling process, but you need to apply your own analysis to see if these stocks pique your interest as well. There are no guaranteed winners here!
---
---
Cyber-Ark Software Ltd. (CYBR)
EARNINGS: 11/9/2021 (BMO)
CyberArk Software Ltd. engages in the development, market, and sale of access security software solutions. It offers its products and services to banking, insurance, healthcare, and federal industries. The company was founded by Udi Mokady and Alon Cohen in 1999 and is headquartered in Petah Tikva, Israel.
CYBR is unchanged in after hours trading. I suspect that Tech stocks will be hit when the market turns, but the Software stocks have been practically teflon to the market. CYBR hasn't been a big player as you can see by its relative strength, but I think it will be turning around based on this chart. If it doesn't you can bail quickly and not even wait for the stop to be hit as I've set it somewhat deep. The RSI is positive and not overbought. There is a bullish pennant pattern that has yet to execute with the expected upside breakout. The PMO is on a BUY signal and still rising. The SCTR just hit positive territory.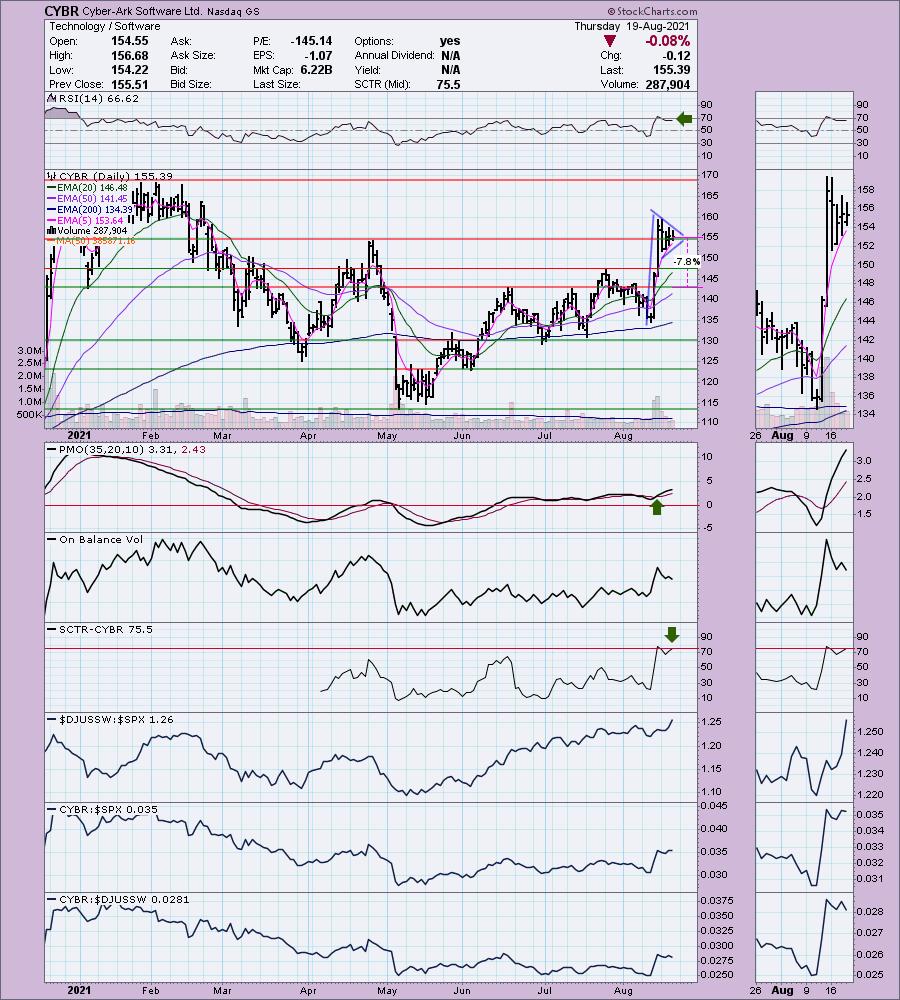 The weekly chart looks really good right now given the new weekly PMO crossover BUY signal and a weekly RSI that is positive and not overbought. The big breakout last week is likely being digested as it forms that pennant. I would set the upside target to about $175 at a minimum.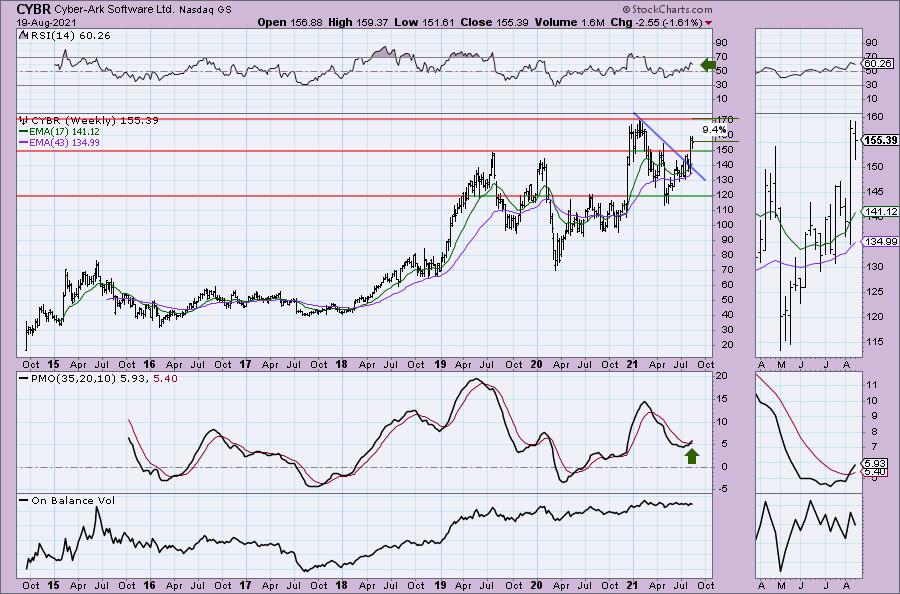 ---
ICU Medical, Inc. (ICUI)
EARNINGS: 11/4/2021 (AMC)
ICU Medical, Inc. engages in the development, manufacture, and sale of innovative medical devices used in vascular therapy and critical care applications. Its product portfolio includes intravenous smart pumps, sets, connectors, closed transfer devices for hazardous drugs, cardiac monitoring systems, IV solutions, IV smart pumps with pain management and safety software technology, dedicated and non-dedicated IV sets and needle-free connectors. The company was founded by George A. Lopez in 1984 and is headquartered in San Clemente, CA.
ICUI is unchanged in after hours trading. I covered it in the June 1st 2020 Diamond Report. The 8.4% stop was hit almost immediately after. It is set up nicely right now with a double-bottom pattern. Today's close technically executed this bullish pattern. The expectation is a move to test resistance at the June/July tops. The OBV is confirming this new rally and the SCTR is improving. The RSI just moved into positive territory and the PMO had a crossover BUY signal today. Relative strength is strong. I like that you can set a reasonable stop below the double-bottom, however if it drops below the May low, reevaluate it and determine if it is breaking down or simply pulling back.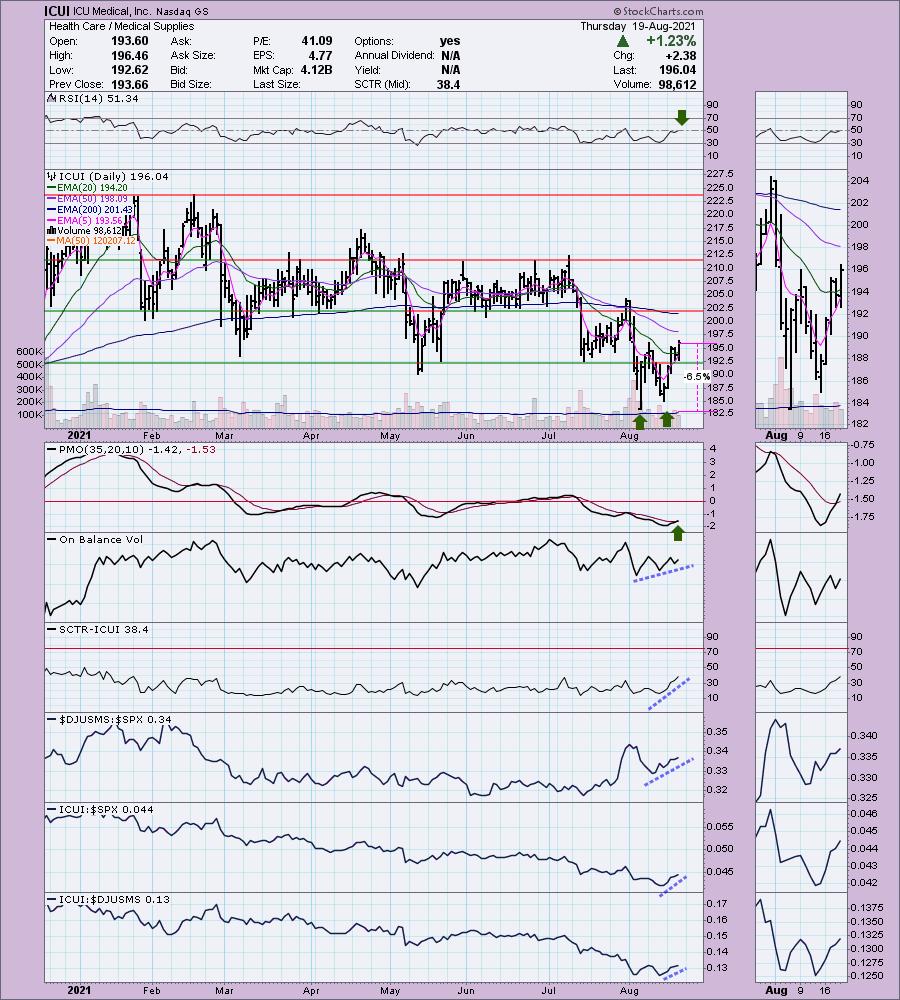 I don't like the weekly chart on this. The RSI is negative and the PMO is about to cross below the zero line. You can see that ICUI's weekly PMO has been decelerating and faking us out all the way down, so even though it is currently decelerating, I think this one is a short-term trade not a longer-term investment.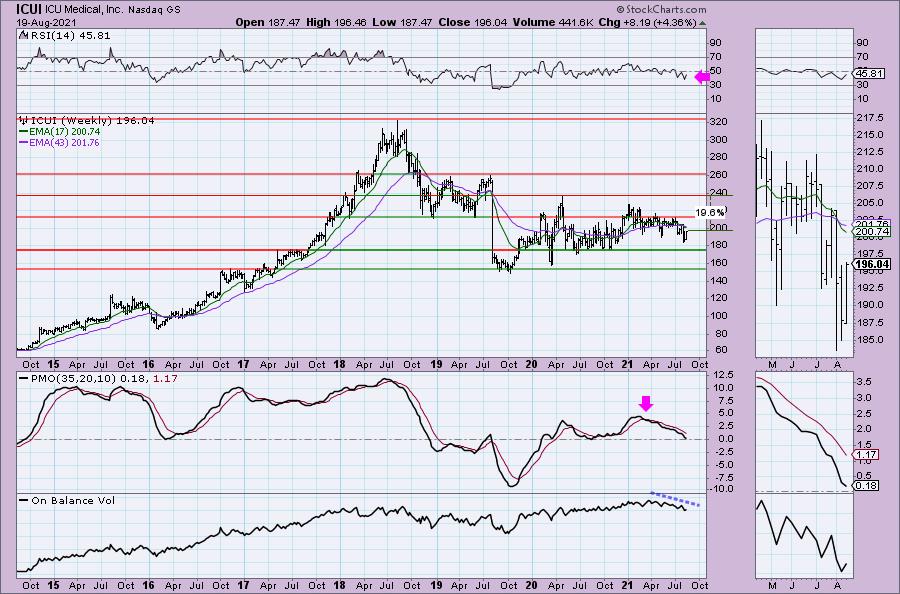 ---
Regeneron Pharmaceuticals, Inc. (REGN)
EARNINGS: 11/4/2021 (BMO)
Regeneron Pharmaceuticals, Inc. is a biotechnology company, which engages in the discovery, invention, development, manufacture, and commercialization of medicines. It product portfolio includes the following brands: EYLEA, Dupixent, Praluent, Kevzara, Libtayo, ARCALYST, and ZALTRAP. The firm accelerates the traditional drug development process through its proprietary VelociSuite technologies such as VelocImmune, which uses unique genetically-humanized mice to produce optimized fully-human antibodies and bispecific antibodies. The company was founded by Alferd G. Gilman, Leonard S. Schleifer, and Eric M. Shooter on January 8, 1988 and is headquartered in Tarrytown, NY.
REGN is up +0.16% in after hours trading. I've covered REGN multiple times. March 3rd 2020 (The stop has never been hit so the position is up +42.0%), April 1st 2020 (I set a very deep stop which hasn't been hit so the position is up +32.0%) and June 1st 2020 (It gained about 10% before turning over and triggering the 7.6% stop).
This has been sturdy Biotech. This was requested and the one problem I have is the overbought RSI and PMO. Other than that I think the chart looks pretty good. Overall the Pharma group is keeping up and trending somewhat higher than the SPX. The OBV is continuing to breakout as price breaks out and it has a SCTR that is in the "hot zone" above 75. I set a deep stop on this one, it does tend to pull back to the 20-EMA and given the RSI is overbought, we should be prepared for that.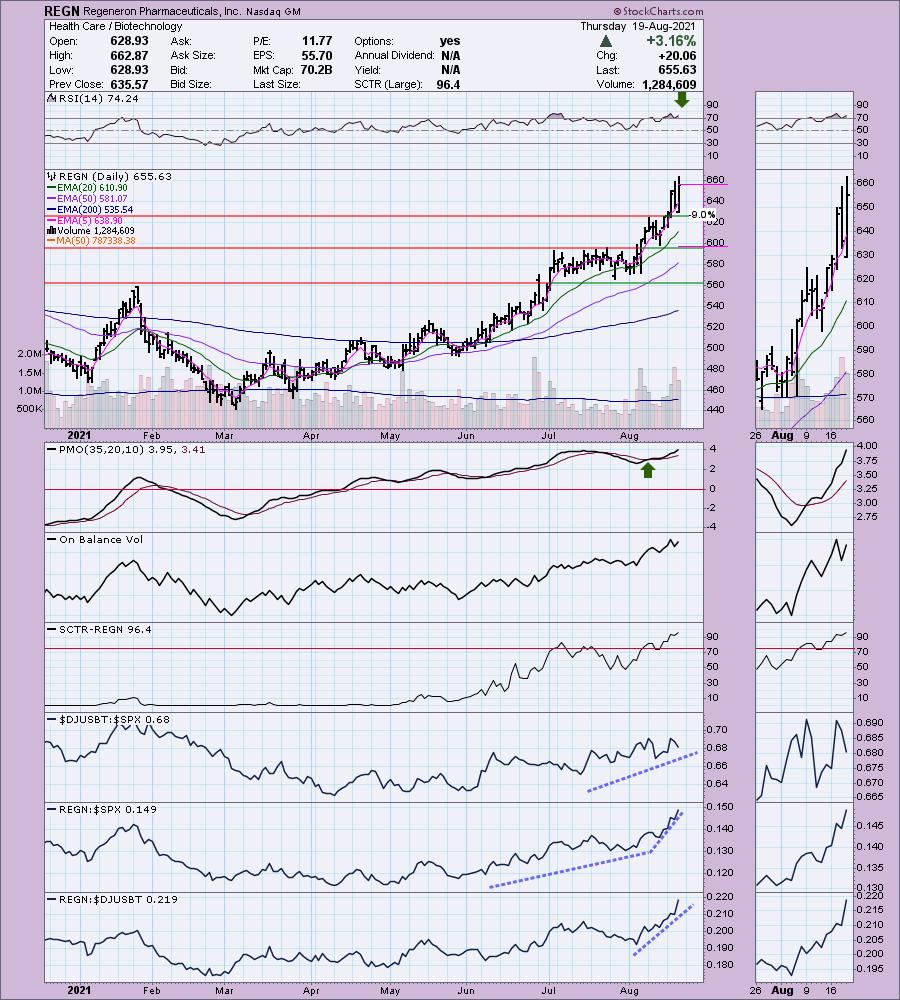 The weekly chart shows an overbought RSI as well, but the weekly PMO looks quite nice as it rises strongly out of oversold territory and the OBV is moving right in line with price. I am expecting a breakout here. The upside target can be set around $786.75 which would be a 20% gain.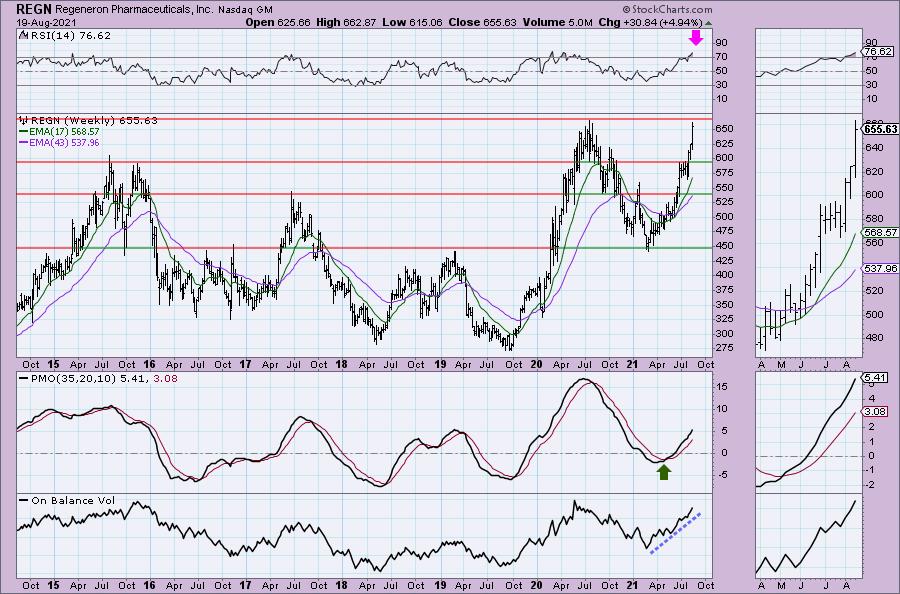 ---
The J. M. Smucker Co. (SJM)
EARNINGS: 8/26/2021 (BMO) ** Reports Earnings Next Week **
The J. M. Smucker Co. engages in the manufacture and marketing of food and beverage products. It operates through the following segments: U.S. Retail Coffee, U.S. Retail Consumer Foods, U.S. Retail Pet Foods, and International and Away From Home. The U. S. Retail Coffee segment includes domestic sales of Folgers, Dunkin' Donuts, and Café Bustelo branded coffee. The U.S. Retail Consumer Foods segment sells Smucker's, Jif, and Crisco branded products. The U.S. Retail Pet Foods comprises Rachael Ray Nutrish, Meow Mix, Milk-Bone, Natural Balance, Kibbles 'n Bits, 9Lives, Nature's Recipe, and Pup-Peroni branded products. The International and Foodservice segment covers products distributed domestically and in foreign countries through retail channels and foodservice distributors and operators. The company was founded by Jerome Monroe Smucker in 1897 and is headquartered in Orrville, OH.
SJM is unchanged in after hours trading. This one was requested back on Tuesday and I listed it as a stock to watch. It has pulled back since then but right to the 20/50-EMAs. I am expecting to see continued strength out of the Staples sector and this one outperforms its group. This group was the "one to watch" on Friday. Certainly it lost some steam, but overall given market weakness, I expect it to begin moving back up. The RSI turned up above net neutral (50) and the PMO, while damaged somewhat on the pullback, is still rising out of oversold territory. We have a double-bottom configuration but that is deteriorating on this pullback. What's nice is that you can set a tight stop.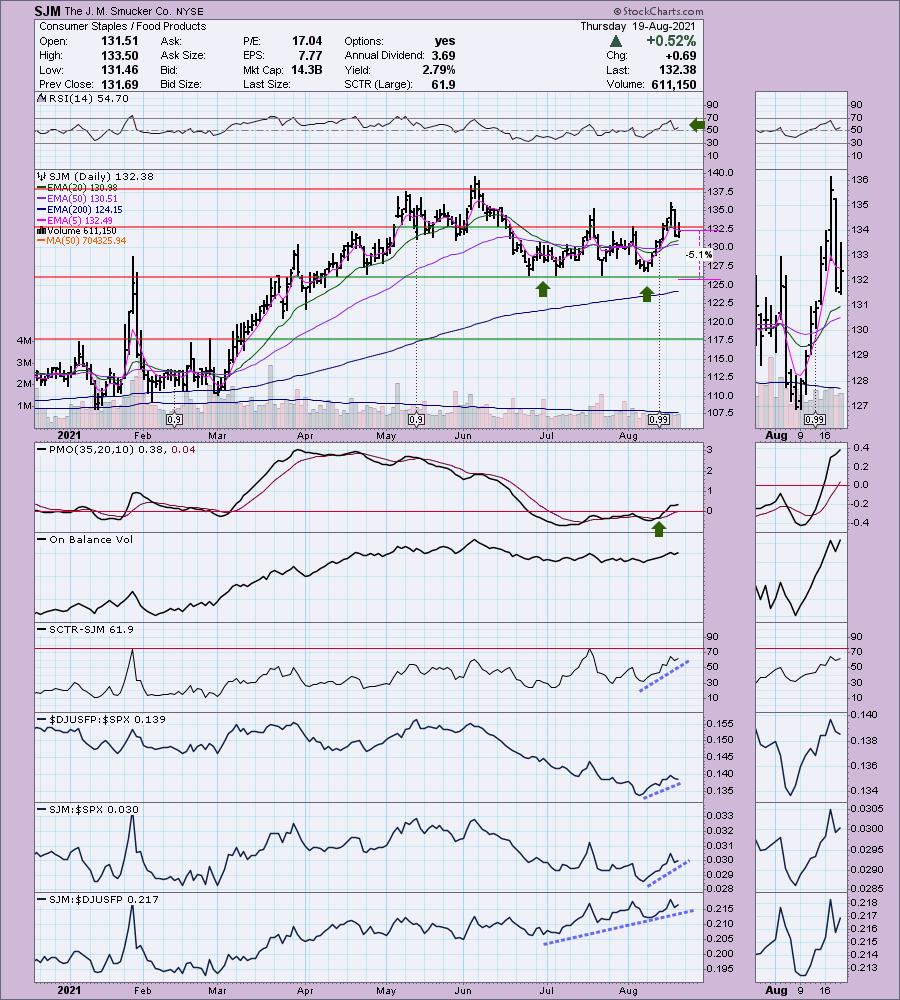 Another issue, is price not being able to get back above the 2016 high. The weekly RSI looks good but the weekly PMO is suspect. This could be a short-term hedge if the market does begin declining simply because it is in the Staples sector. However, if there is a huge breakdown in the market that tsunami will likely take everyone down with it.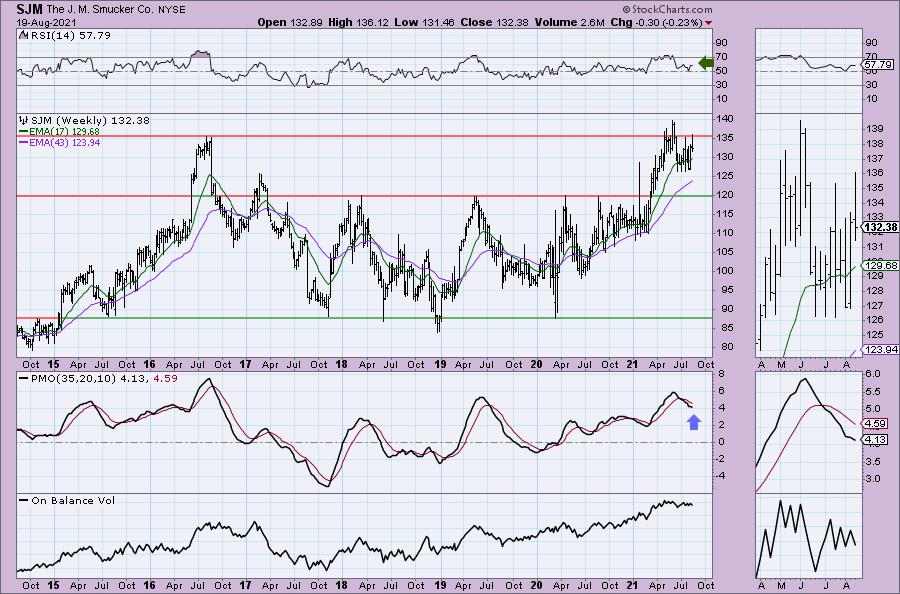 ---
Unitedhealth Group, Inc. (UNH)
EARNINGS: 10/13/2021 (BMO)
UnitedHealth Group, Inc. engages in the provision of health care coverage, software, and data consultancy services. It operates through the following segments: UnitedHealthcare, OptumHealth, OptumInsight, and OptumRx. The UnitedHealthcare segment utilizes Optum's capabilities to help coordinate patient care, improve affordability of medical care, analyze cost trends, manage pharmacy benefits, work with care providers more effectively, and create a simpler consumer experience. The OptumHealth segment provides health services business serving the broad health care marketplace, including payers, care providers, employers, government, life sciences companies, and consumers. The OptumInsight segment focuses on data and analytics, technology, and information to help major participants in the health care industry. The OptumRx segment provides pharmacy care services. The company was founded by Richard T. Burke in January 1977 and is headquartered in Minnetonka, MN.
UNH is up slightly +0.06% in after hours trading. I really like this chart. The RSI is positive and not overbought. Today saw a beautiful breakout above resistance and a new PMO crossover BUY signal. The SCTR is in the "hot zone" above 75 and the group is beginning to outperform. UNH is outperforming both the group and the market. This is another that you can set a fairly tight stop on.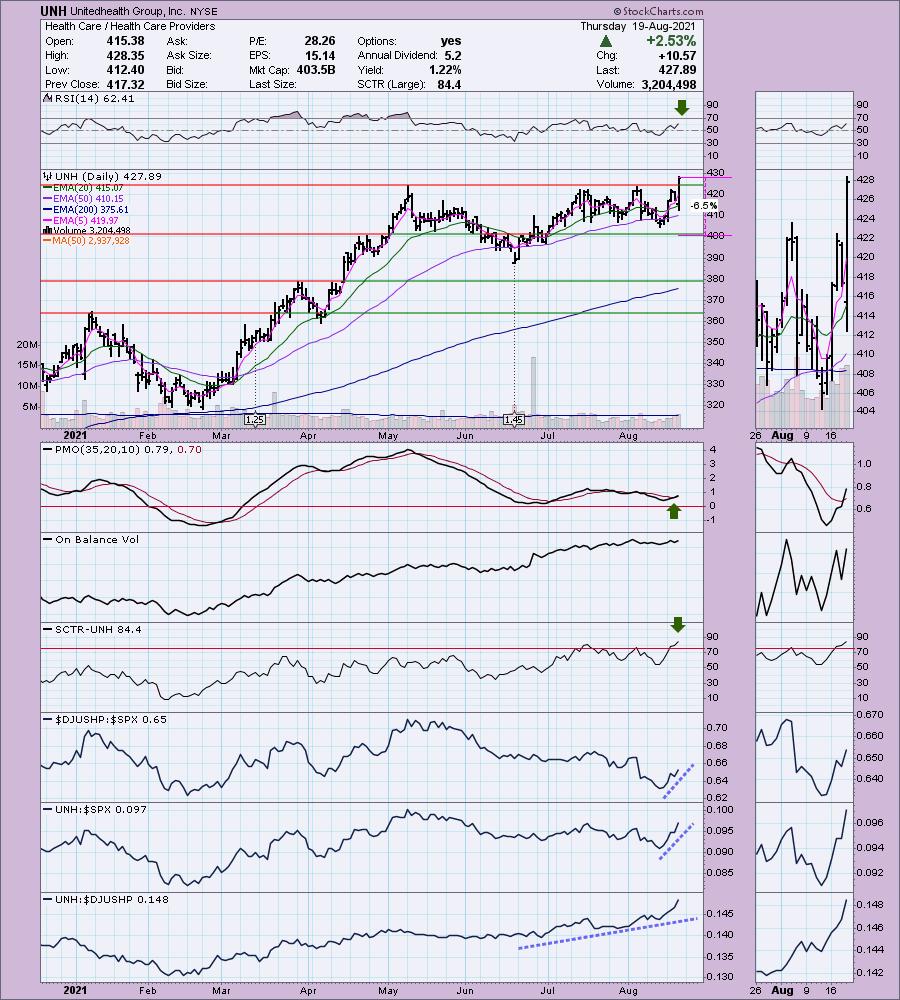 The weekly chart is okay. The RSI is positive and not overbought and the PMO, although on a SELL signal, has turned back up.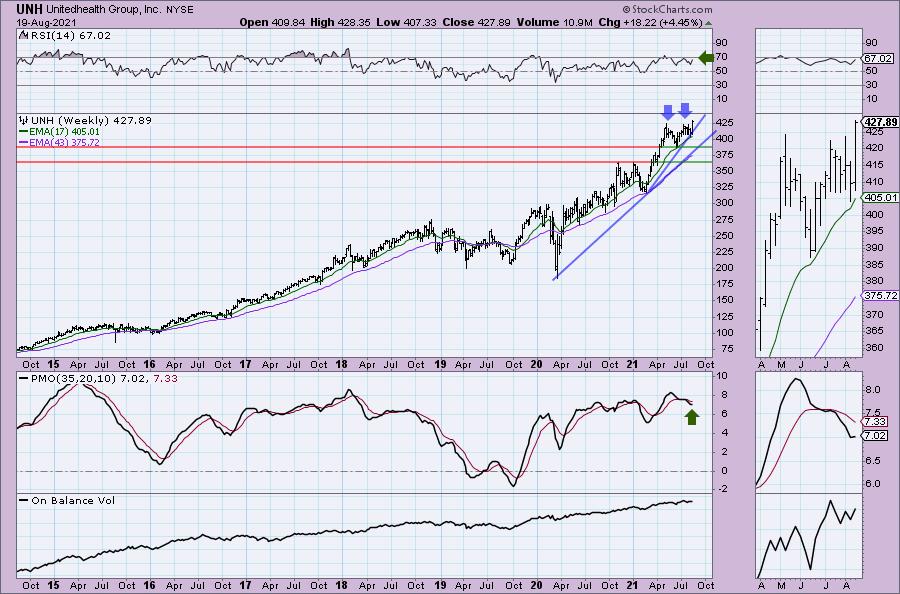 ---
Don't forget, on Thursdays I look at reader-requested symbols, so shoot me an email at erin@decisionpoint.com. I read every email I receive and try to answer them all!
---
Current Market Outlook:
Market Environment: It is important to consider the odds for success by assessing the market tides. The following chart uses different methodologies for objectively showing the depth and trend of participation for intermediate- and long-term time frames.
The Silver Cross Index (SCI) shows the percentage of SPX stocks on IT Trend Model BUY signals (20-EMA > 50-EMA)
The Golden Cross Index (GCI) shows the percentage of SPX stocks on LT Trend Model BUY signals (50-EMA > 200-EMA)
The Bullish Percent Index (BPI) shows the percentage of SPX stocks on Point & Figure BUY signals.
Don't forget that as a "Diamonds" member, you have access to our GCI/SCI curated ChartList on DecisionPoint.com. You'll find it under "Members Only" links on the left side on the Blogs and Links Page.
Here is the current chart: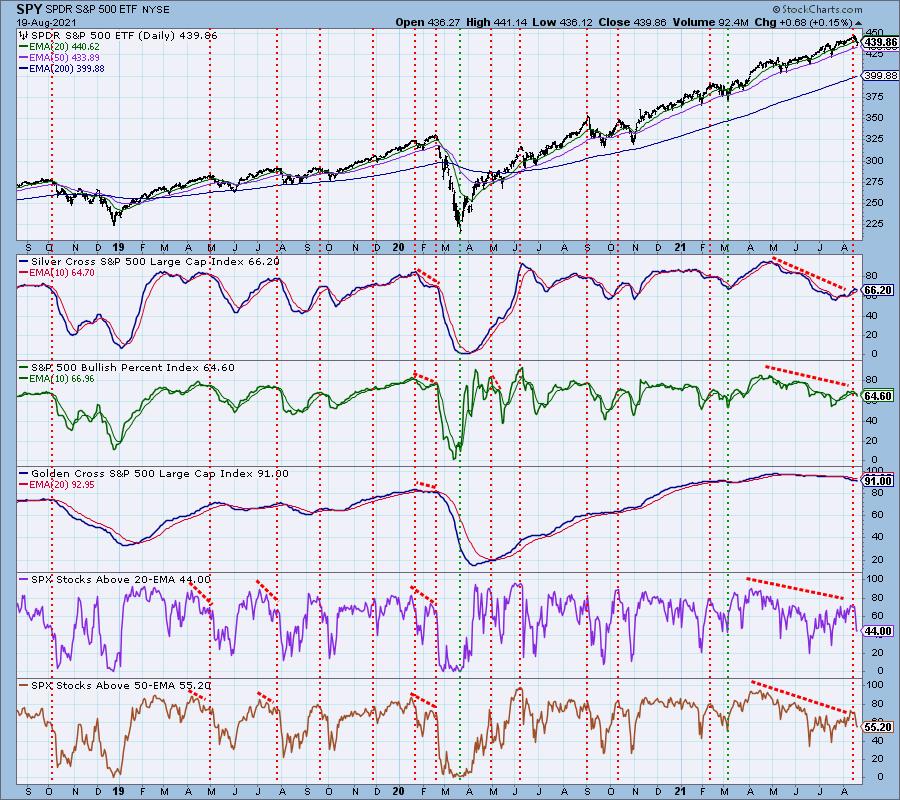 ---
Full Disclosure: I'm about 35% invested and 65% is in 'cash', meaning in money markets and readily available to trade with.
---
Technical Analysis is a windsock, not a crystal ball.
Happy Charting!
- Erin
erin@decisionpoint.com
Watch the latest episode of DecisionPoint with Carl & Erin Swenlin on Mondays 7:00p EST or on the DecisionPoint playlist on the StockCharts TV YouTube channel here!
---
NOTE: The stocks reported herein are from mechanical trading model scans that are based upon moving average relationships, momentum and volume. DecisionPoint analysis is then applied to get five selections from the scans. The selections given should prompt readers to do a chart review using their own analysis process. This letter is not a call for a specific action to buy, sell or short any of the stocks provided. There are NO sure things or guaranteed returns on the daily selection of "Diamonds in the Rough."
---
Helpful DecisionPoint Links:
DecisionPoint Shared ChartList and DecisionPoint Chart Gallery
Price Momentum Oscillator (PMO)
Swenlin Trading Oscillators (STO-B and STO-V)
For more links, go to DecisionPoint.com