The scans were totally unhelpful today. Of the three stocks I selected, only one was from one of my Diamond scans. I was surprised based on today's strong rally that the scans were essentially empty. When in doubt, I turned to the "Industry Group to Watch" from Friday, Conventional Electricity and for good measure I added another utility that is from the Water industry group. That stock isn't my typical pick, but I like it on the pullback.
I did expand my exposure somewhat this week to take advantage of the few areas of the market that are very strong. I'm now 20% exposed to the market but only in Materials, Energy and Utilities with a Staple stock in there too.
I hosted "The Pitch" today on StockChartsTV. In celebration of International Women's Day, we had an all female panel. They each brought five stocks to "pitch" to us. I liked most of them. I'll list the 15 symbols that Mish Schneider, Danielle Shay and Mary Ellen McGonagle brought to the table. I particularly like the Silver ETF (SLV). I'll likely write about this one tomorrow and cover it in the DP Alert depending on how it looks.
One last thing! I'll be presenting a thorough walk through of the DecisionPoint Trading Process on Thursday for the "4th Annual Women Teach Trading and Investing" conference. It is free! Presentations for the conference have already begun, but if you register, you'll have access to the recording. Please use this link to get the recording and/or attend live! I'll be presenting at 4p ET on Thursday.
Today's "Diamonds in the Rough": AWK, CLMT and CWEN.
"The Pitch" by presenter:
Danielle Shay: QQQ (short), WMT, XLP, MDLZ and COST.
Mish Schneider: BYND, MP, SLV, TAN and FLR.
Mary Ellen McGonagle: BSM, LLY, DBA, KHC and OII.
---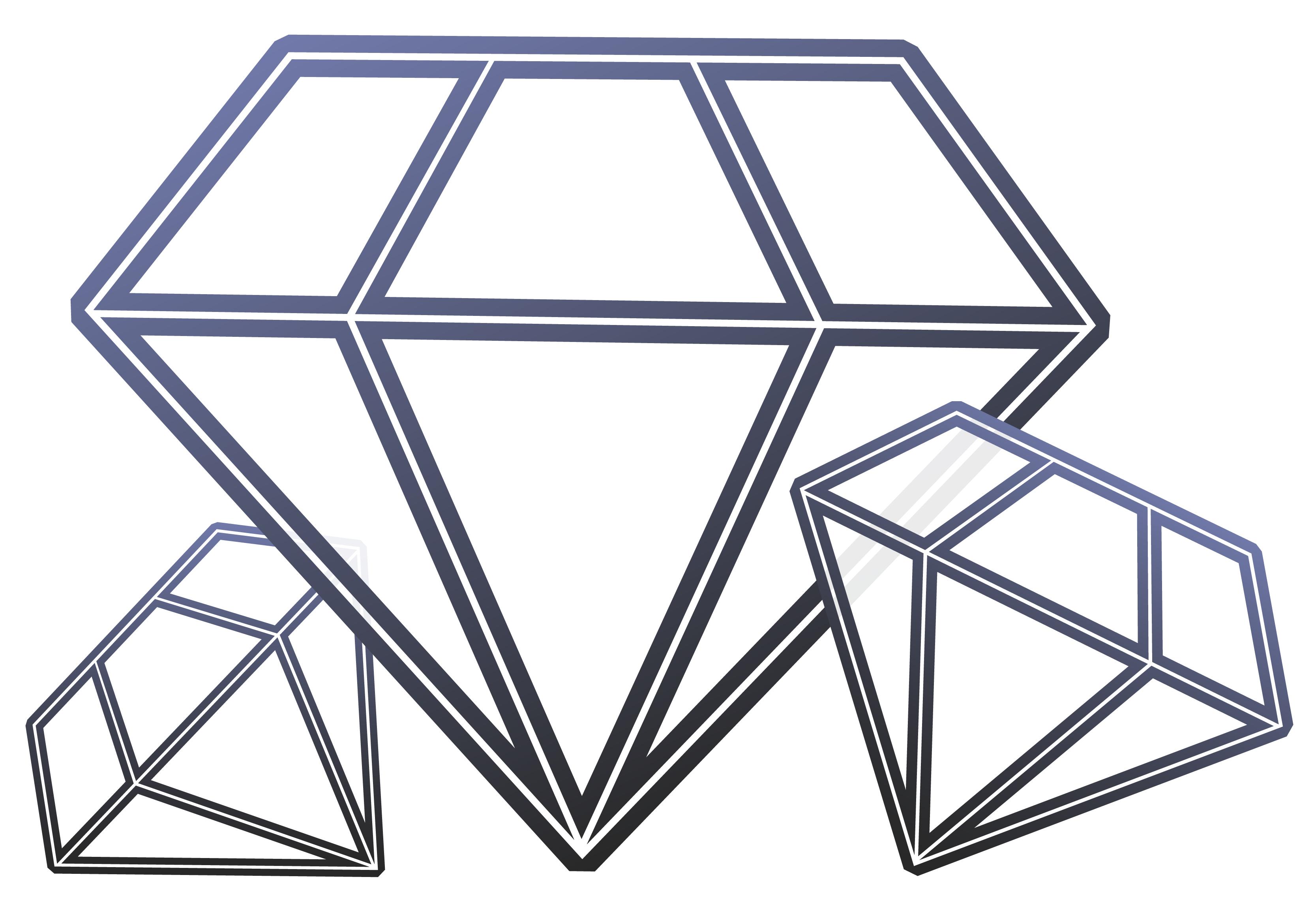 RECORDING LINK (3/4/2022):
Topic: DecisionPoint Diamond Mine (3/4/2022) LIVE Trading Room
Start Time: Mar 4, 2022 09:00 AM
Meeting Recording Link.
Access Passcode: March#4th
REGISTRATION FOR Friday 3/11 Diamond Mine:
When: Mar 11, 2022 09:00 AM Pacific Time (US and Canada)
Topic: DecisionPoint Diamond Mine (3/11/2022) LIVE Trading Room
Register in advance for this webinar HERE.
Save the registration confirmation email with login instructions in case Zoom doesn't notify you in time.
---
Free DecisionPoint Trading Room Recording:
Topic: DecisionPoint Trading Room
Start Time: Mar 7, 2022 09:00 AM PT
Meeting Recording Link.
Access Passcode: March@7th
For best results, copy and paste the access code to avoid typos.
---
Welcome to DecisionPoint Daily Diamonds, wherein I highlight ten "Diamonds in the Rough" per week. These are selected from the results of my DecisionPoint Scans, which search for stocks that could benefit from the trend and condition of the market. Remember, these are not recommendations to buy or sell, but are the most interesting of the stocks that surfaced in my scans. My objective is to save you the work of the initial, tedious culling process, but you need to apply your own analysis to see if these stocks pique your interest as well. There are no guaranteed winners here!
"Predefined Scans Triggered" are taken from StockCharts.com using the "Symbol Summary" option instead of a "SharpChart" on the workbench.
---
American Water Works Co. Inc. (AWK)
EARNINGS: 5/2/2022 (AMC)
American Water Works Co., Inc. engages in the provision of complementary water and wastewater services. It operates through the following segments: Regulated Businesses, Market-Based Businesses, and Other. The Regulated Businesses segment provides water and wastewater services to customers. The Market-Based Businesses segment is responsible for Military Services Group, Contract Operations Group, Homeowner Services Group, and Keystone Operations. The Other segment includes corporate costs that are not allocated to the Company's operating segments, eliminations of inter-segment transactions, fair value adjustments and associated income and deductions related to the acquisitions that have not been allocated to the operating segments for evaluation of performance and allocation of resource purposes. The company was founded in 1886 and is headquartered in Camden, NJ.
Predefined Scans Triggered: Elder Bar Turned Blue.
AWK is up +3.16% in after hours trading, so I maybe I'm not the only one who spotted this possible opportunity. This is generally not my kind of chart based on the negative RSI and topping Stochastics, but that PMO is undamaged and Utilities are going to continue to outperform in my opinion. Notice price tested the 20-day EMA today and if after hours trading is any indication, it will be bouncing off that level. I've covered AWK a number of times. Of the four times I covered it, only one of the positions remain open, May 26th 2020 and it is up +27.8%. The other three times, October 1st 2020, January 7th 2021 and November 10th 2021, the positions were stopped out.
Besides a textbook pullback, AWK has formed a cup and handle pattern. Now AWK is technically in a bear market, so we do need to temper our expectations regarding the execution of a bullish chart pattern. Relative strength is on par with the industry group which is doing very well. Most importantly, AWK is outperforming the SPY. I've set the stop below the bottom of the cup, but honestly if it pulls back much past $150, I would probably say 'no' to it.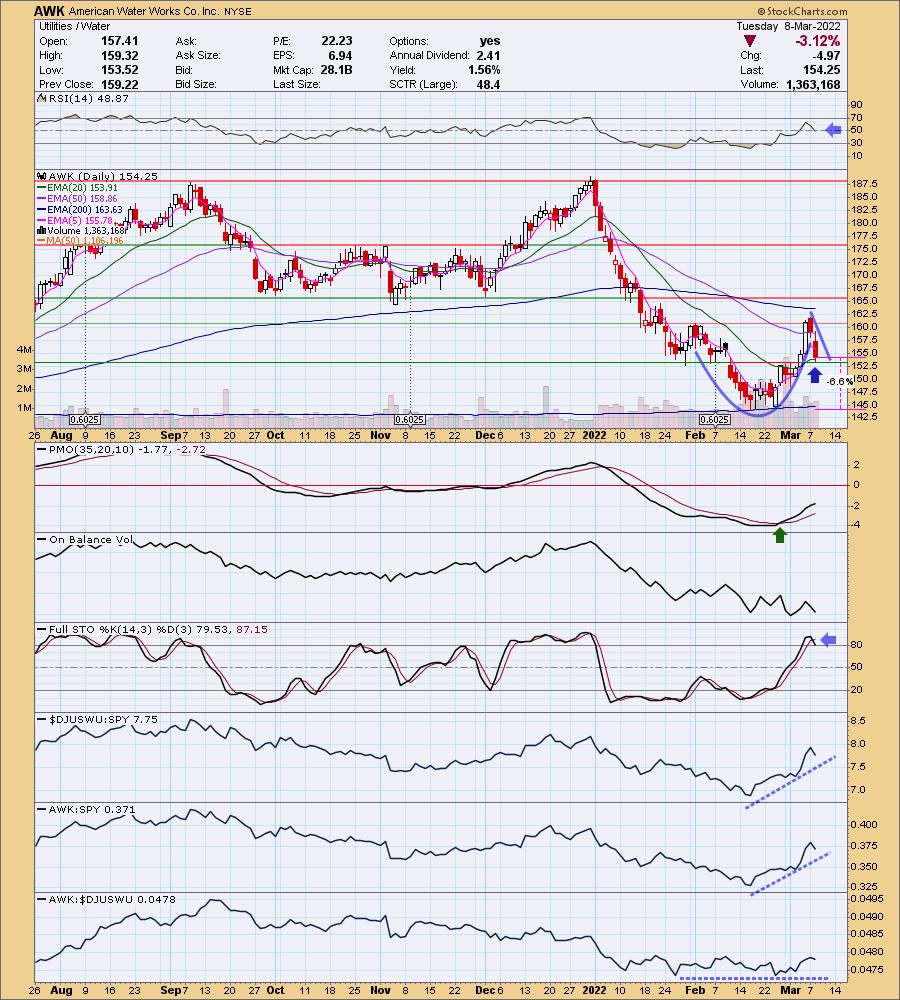 The weekly chart isn't great. The weekly RSI is negative and the weekly PMO has topped below its signal line in negative territory. Price was hung up at strong overhead resistance that includes the 17-week and 43-week EMAs. If it can recapture all-time highs that would put it back into a bull market and would be an over 20% gain.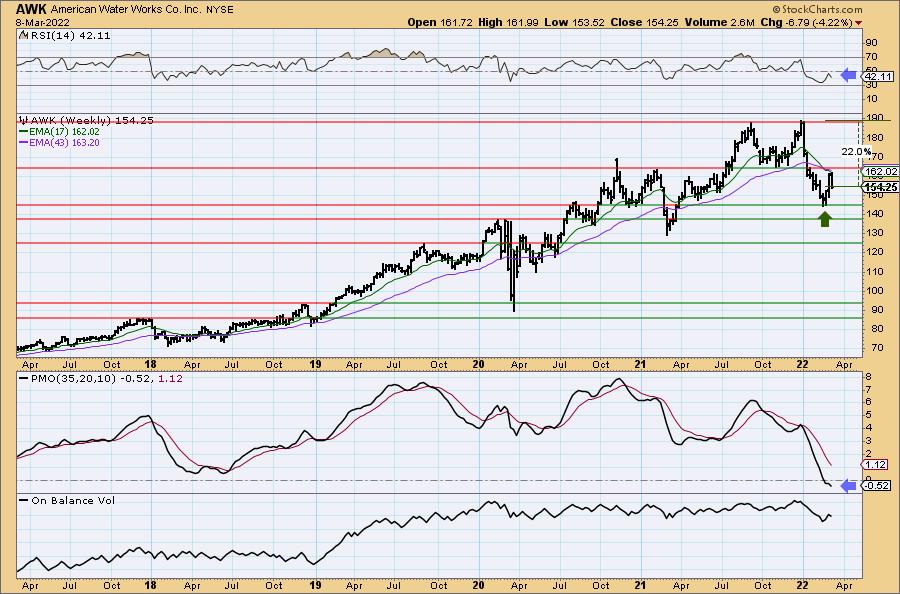 ---
Calumet Specialty Products Partners L.P. (CLMT)
EARNINGS: 5/6/2022 (BMO)
Calumet Specialty Products Partners LP engages in the production of specialty hydrocarbon products. It operates through the following segments: Specialty Products, Fuel Products and Corporate. The Specialty Products segment produces lubricating oils, solvents, waxes, synthetic lubricants and other products. The Fuel Products segment is involved in the processing of crude oil into fuel and fuel-related products, including unleaded gasoline, diesel, and jet fuel, asphalt and other products. The Corporate segment consists of general and administrative expenses not allocated to the specialty products or fuel products segments. The company was founded on September 27, 2005 and is headquartered in Indianapolis, IN.
Predefined Scans Triggered: None.
CLMT is up +3.87% in after hours trading. Looks like tomorrow is going to be a good day for these stocks. If you read the description of what this company does, it is actually a play on Crude Oil to some degree. Unlike AWK, CLMT is in a bull market. There is a beautiful bullish ascending triangle on the chart, marked by a flat top and rising bottoms. The RSI is positive and the PMO is nearing a positive crossover. The OBV has been confirming this rising trend since the January low. The group as a whole isn't performing well, but we know there are plenty of companies in this space that are benefiting from the war, particularly chemicals needed for fertilizer and oil. This one is a strong performer against the group and most importantly, the SPY. The stop is set below the 50-day EMA.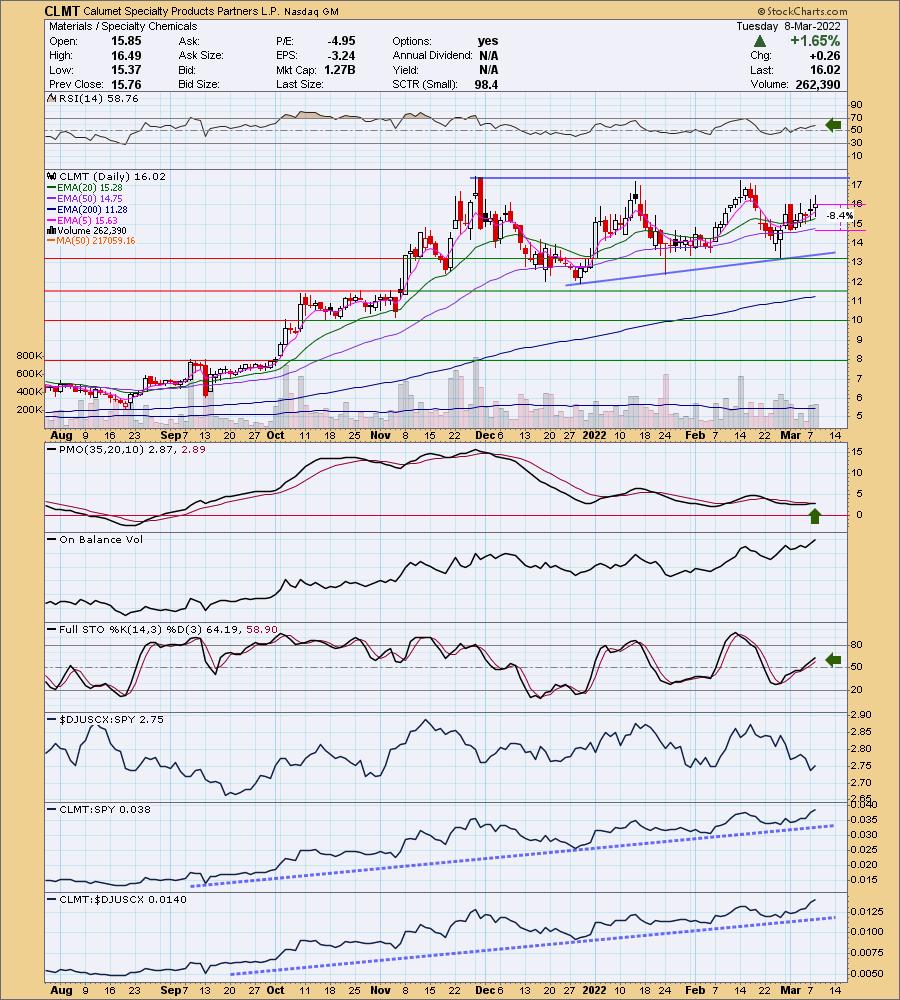 The weekly chart shows the compressed version of the bullish ascending triangle. This formation is sitting on a flag pole which is very bullish. The weekly RSI is positive and not overbought and the PMO is turning back up. It is near all-time highs, so consider a 17% upside target (2x the stop percentage) at around $18.54.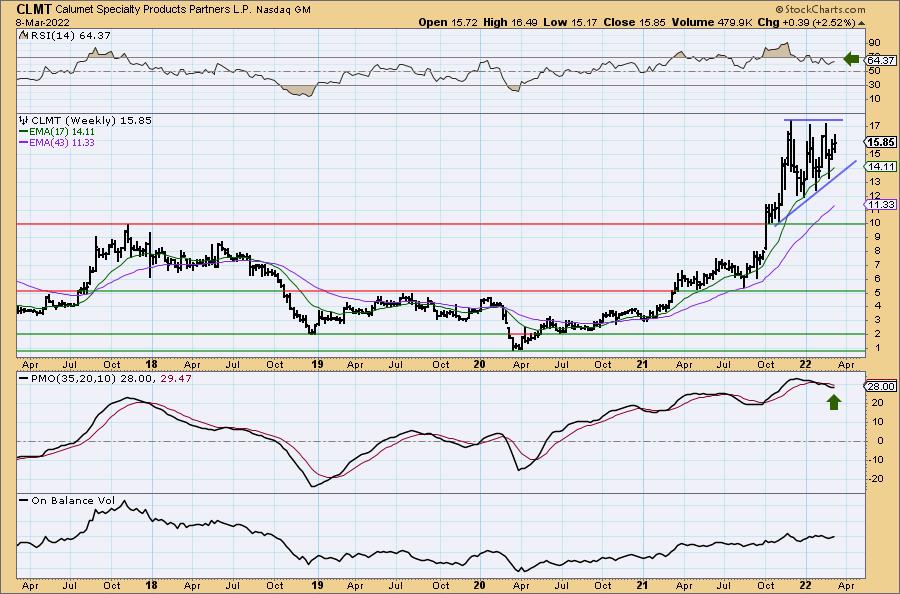 ---
Clearway Energy, Inc. (CWEN)
EARNINGS: 5/5/2022 (BMO)
Clearway Energy, Inc. engages in the ownership of contracted renewable and conventional generation facilities and thermal infrastructure assets. It operates through the following segments: Conventional Generation, Thermal, Renewable, and Corporate. The Renewable segment include solar and wind business. The Corporate segment consists company's corporate costs and include eliminating entries. The company was founded on December 20, 2012 and is headquartered in Princeton, NJ.
Predefined Scans Triggered: Moved Above Upper Price Channel, Moved Above Upper Bollinger Band and Moved Above Ichimoku Cloud.
CWEN is up +3.28% in after hours trading. We have what Mary Ellen McGonagle calls a "basing pattern" that led into today's breakout. It is basically a consolidation zone on this chart. The RSI is positive and not overbought. The PMO is on a BUY signal and just hit positive territory. It does have some overhead resistance to deal with, but based on after hours trading, I don't think it will have a problem with it. Stochastics are above 80 and relative performance is strong against the SPY. I've set a stop below the 20/50-EMAs which, speaking of, are about to have a positive crossover or "Silver Cross".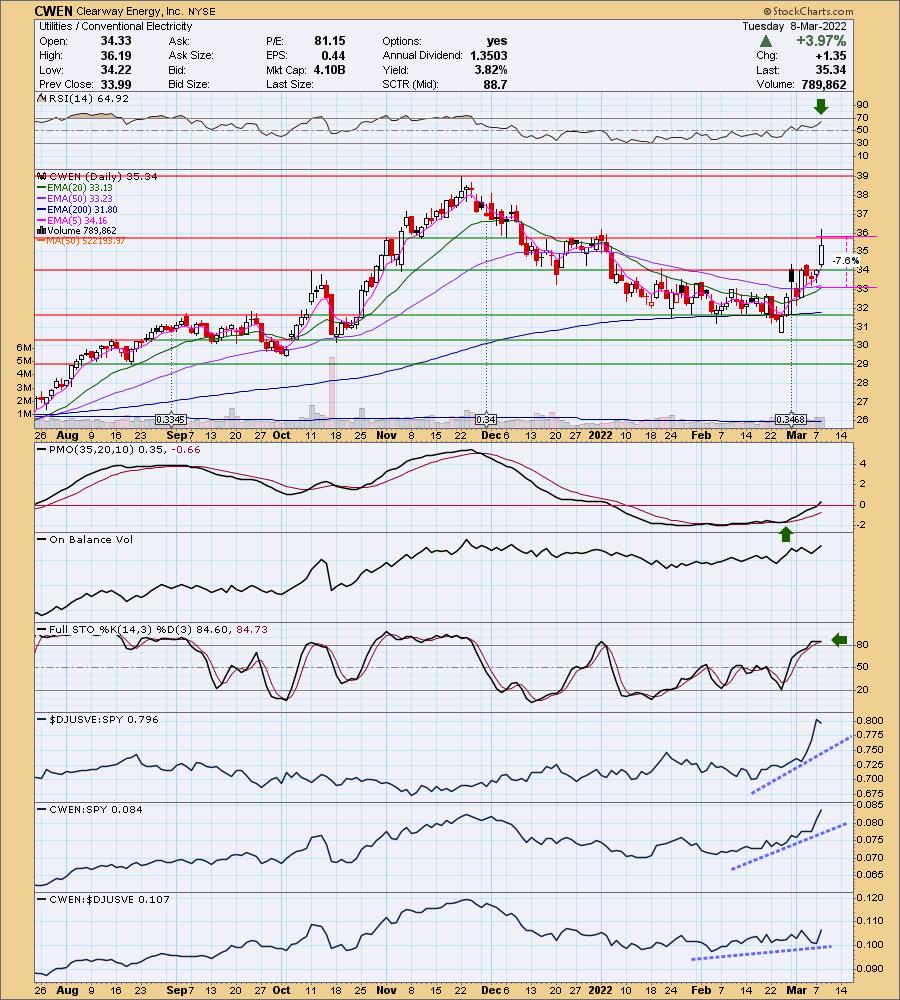 The weekly chart is every bit as bullish as the daily chart. The weekly RSI is positive, rising and not overbought. The weekly PMO just bottomed. With all-time highs so close, consider a 15% upside target around $40.64.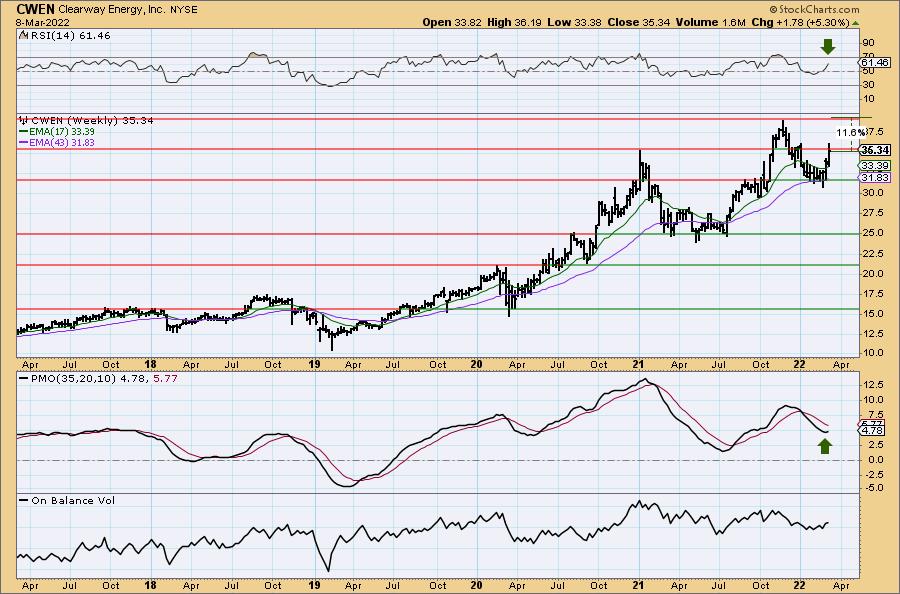 ---
Don't forget, on Thursdays I look at reader-requested symbols, click HERE to shoot me an email. I read every email I receive and try to answer them all!
---
Current Market Outlook:
Market Environment: It is important to consider the odds for success by assessing the market tides. The following chart uses different methodologies for objectively showing the depth and trend of participation for intermediate- and long-term time frames.
The Silver Cross Index (SCI) shows the percentage of SPX stocks on IT Trend Model BUY signals (20-EMA > 50-EMA)
The Golden Cross Index (GCI) shows the percentage of SPX stocks on LT Trend Model BUY signals (50-EMA > 200-EMA)
Don't forget that as a "Diamonds" member, you have access to our GCI/SCI curated ChartList on DecisionPoint.com. You'll find it under "Members Only" links on the left side on the Blogs and Links Page.
Here is the current chart: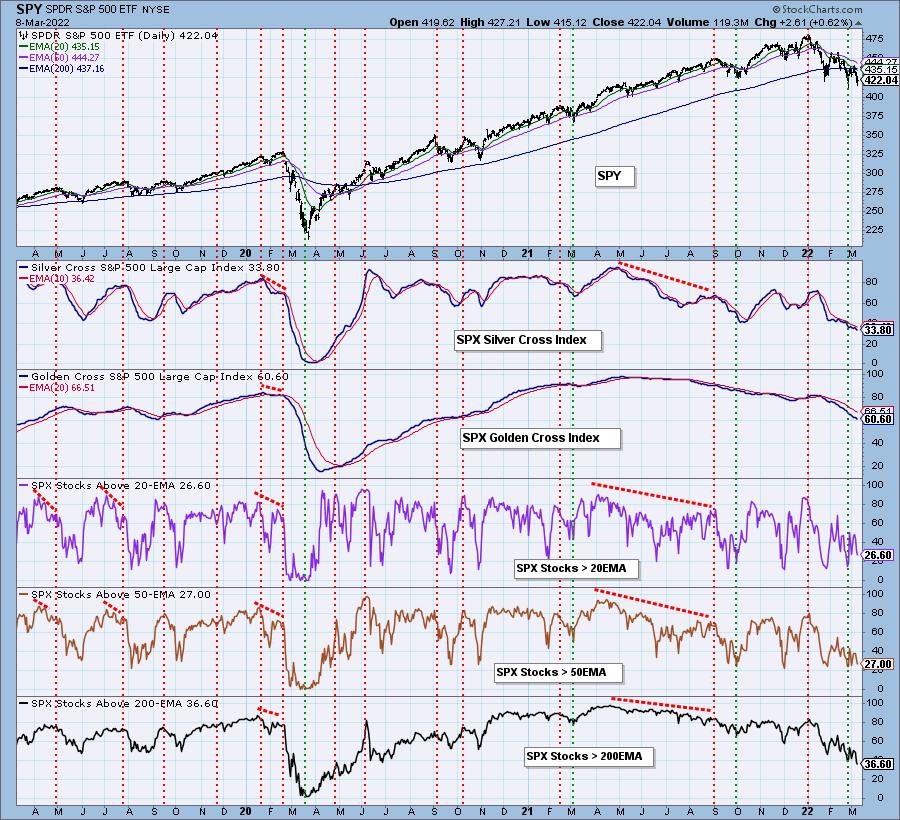 ---
Full Disclosure: I'm 20% invested and 80% is in 'cash', meaning in money markets and readily available to trade with. I will be purchasing CLMT and CWEN tomorrow which will open my exposure to roughly 25%.
I'm required to disclose if I currently own a stock and/or may buy it within the next 72 hours.
---
Good Luck and Good Trading!
- Erin
"Technical Analysis is a windsock, not a crystal ball." - Carl Swenlin
---
(c) Copyright 2022 DecisionPoint.com
---
Watch the latest episode of DecisionPoint with Carl & Erin Swenlin on Mondays 7:00p EST or on the DecisionPoint playlist on the StockCharts TV YouTube channel here!
---
NOTE: The stocks reported herein are from mechanical trading model scans that are based upon moving average relationships, momentum and volume. DecisionPoint analysis is then applied to get five selections from the scans. The selections given should prompt readers to do a chart review using their own analysis process. This letter is not a call for a specific action to buy, sell or short any of the stocks provided. There are NO sure things or guaranteed returns on the daily selection of "Diamonds in the Rough."
---
Helpful DecisionPoint Links:
DecisionPoint Shared ChartList and DecisionPoint Chart Gallery
Price Momentum Oscillator (PMO)
Swenlin Trading Oscillators (STO-B and STO-V)
For more links, go to DecisionPoint.com