It appears Diamonds readers are on vacation already as there weren't that many requests. Consequently, I took some of last week's requests that I wasn't able to cover and put them in here. My pick today came up in my Diamond PMO Scan. It is in the software industry which has been outperforming.
Don't forget to register for tomorrow's Diamond Mine trading room! AND, keep the email response from Zoom as it has the link for you to enter. So far this week we have some great picks. I did end up having to take the stop for IQ at about 10%. I had set it for 7.4%, but it gapped down and since you couldn't technically sell it at that level, I opted to take a 10% hit. IQ and GNRC are the only stocks underperforming.
Today's "Diamonds in the Rough" are: AUY, AVLR, CARR, FAST and ZM.
** HOLIDAY SCHEDULE 12/21/2020 - 1/4/2021 **
Diamonds:
Monday & Tuesday --Eleven Diamonds in the Rough (no reader requests).
Wednesday: Diamonds Recap & LIVE Diamond Mine Trading Room at 9:00a PT
DecisionPoint Alert:
Publishing Monday - Wednesday
** There will be no reports sent on 12/24 and 12/25. Additionally no reports will be sent 12/31 and 1/1 **
---
---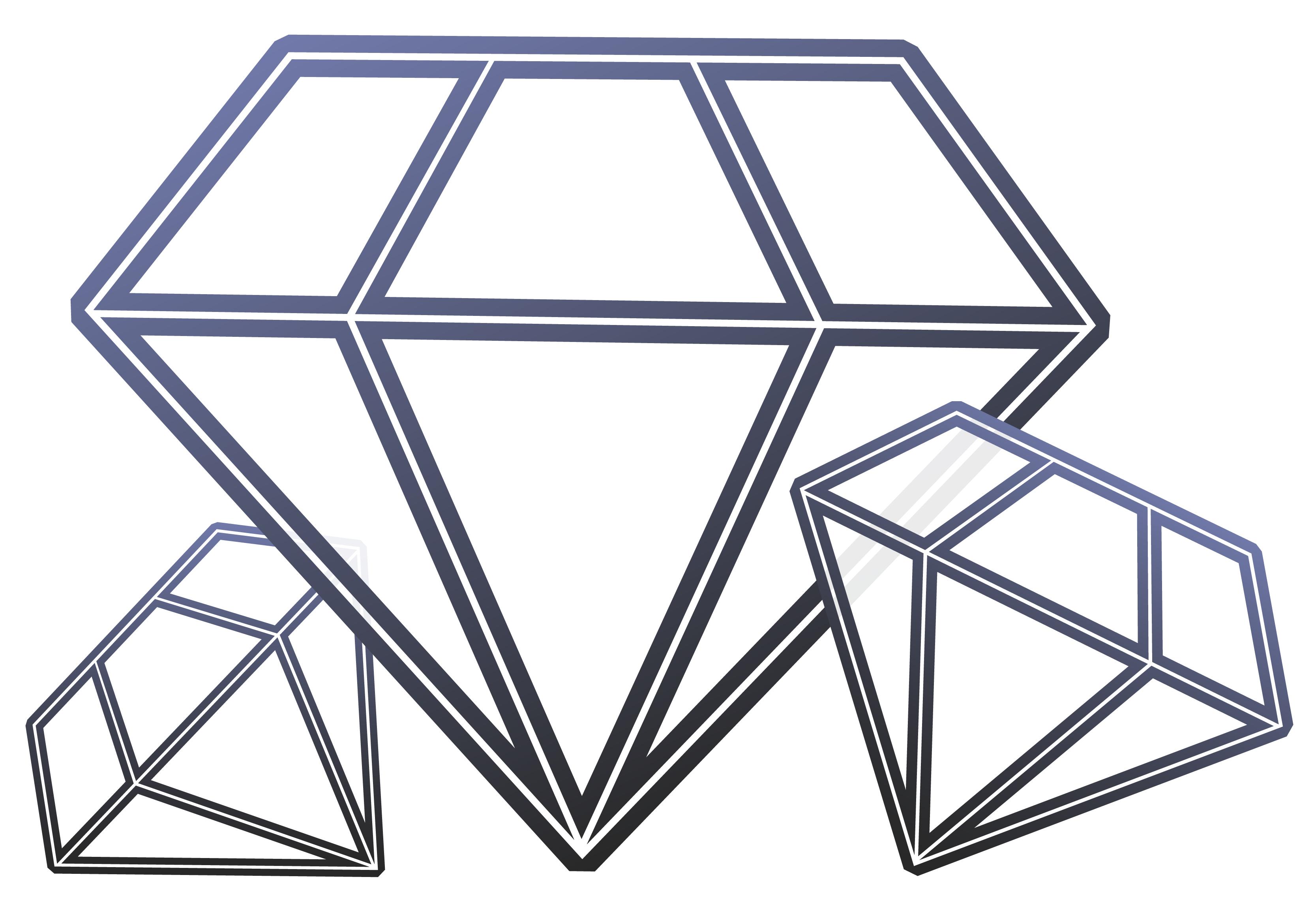 Diamond Mine Information:
Here is Friday's (12/11) recording link. Use Access Passcode: ?3mEYKLj
Register in advance for the next "DecisionPoint Diamond Mine" trading room on Friday (12/18/2020) 12:00p ET:
Here is the registration link for Friday, 12/18/2020. Password: evergreen
Please do not share these links! They are for Diamonds subscribers ONLY!
---
---

It's Free!
***Click here to register for this recurring free DecisionPoint Trading Room on Mondays at Noon ET!***
Did you miss the 12/14 free trading room? Here is a link to the recording. Access Code: 7dJNVe6+
For best results, copy and paste the access code to avoid typos.
---
---
Welcome to DecisionPoint Daily Diamonds, wherein I highlight five "diamonds in the rough." These are selected from the results of my DecisionPoint scans, which search for stocks that could benefit from the trend and condition of the market. Remember, these are not recommendations to buy or sell, but are the most interesting of the stocks that surfaced in my scans. My objective is to save you the work of the initial, tedious culling process, but you need to apply your own analysis to see if these stocks pique your interest as well. There are no guaranteed winners here!
---
---
Yamana Gold Inc. (AUY)
EARNINGS: 2/11/2021 (AMC)
Yamana Gold, Inc. engages in the production of gold, silver and copper. It operates through the following segments: El Peñón, Canadian Malartic, Jacobina, Minera Florida, Cerro Moro, Other Mines, and Corporate and Other. The company was founded by Peter Marrone on July 30, 2003 and is headquartered in Toronto, Canada.
Ralph, I was surprised to see that I haven't covered this one in the Diamonds Reports before as I know we email back and forth about it often. This is a great time to review it as I am very bullish on Gold Miners right now. AUY has an excellent set-up after the breakout from the bullish falling wedge. The RSI is back into positive territory. Not only do we have a PMO that has hit positive territory, it is occurring after the PMO bottomed above its signal line which is especially bullish. This was a pretty big move today and it is down -0.51% in after hours trading, so a pullback toward the breakout point makes sense. The stop is somewhat deep, but I don't think we will see that hit given the very bullish chart.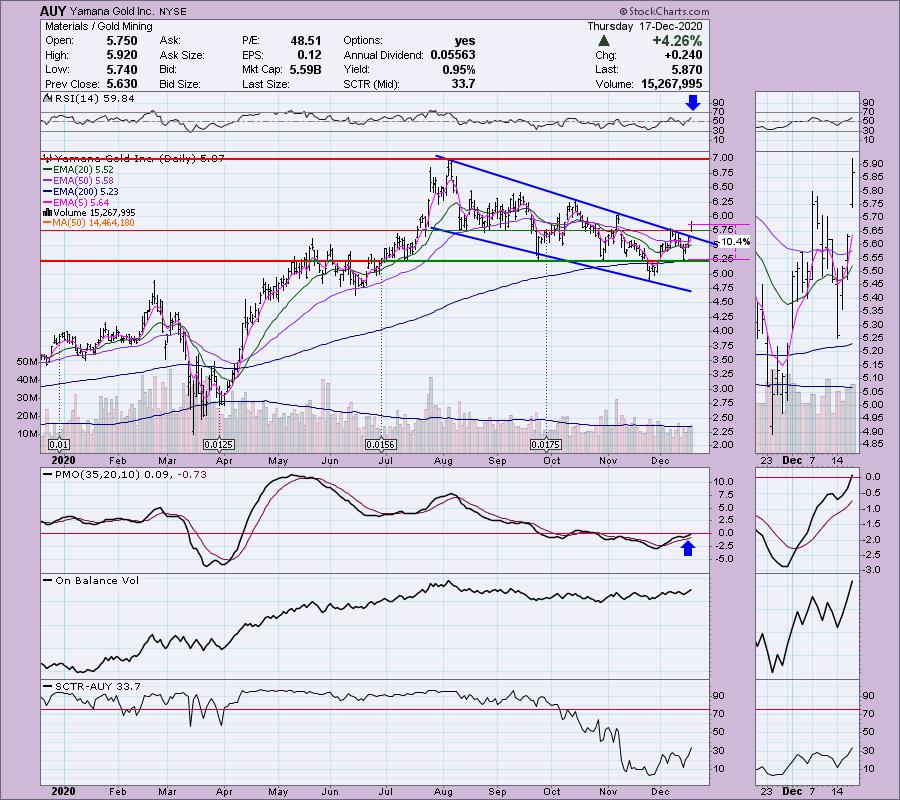 The weekly chart isn't quite as bullish, but we do have an RSI that has reached positive territory and the PMO is flattening on this week's incredible 7.31% gain. I suspect we will see a retest of overhead resistance at $7.00. Should the chart remain positive, I would expect to see it move up toward the late 2014 top.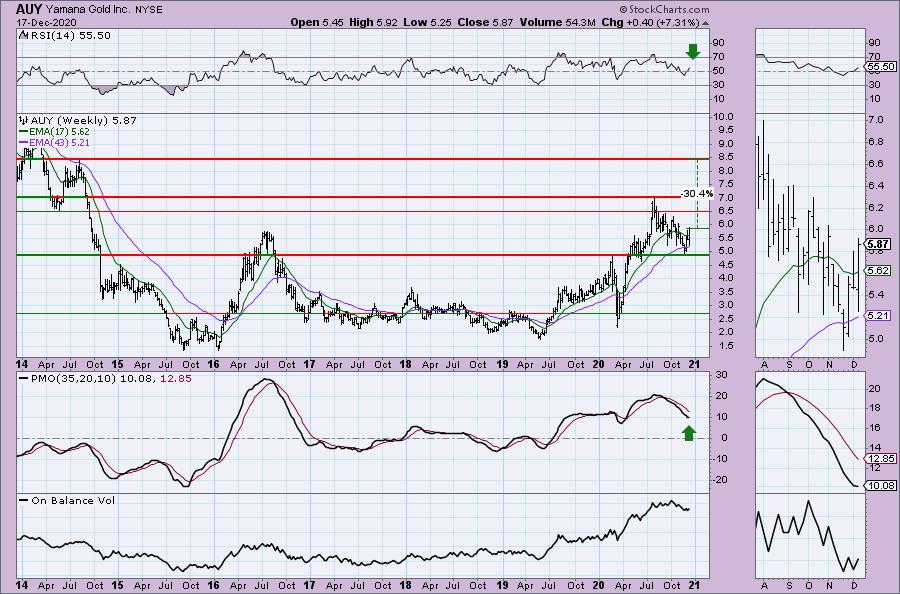 ---
Avalara Inc. (AVLR)
EARNINGS: 2/10/2021 (AMC)
Avalara, Inc. engages in the provision of cloud-based solutions. It focuses on taxability, identifying applicable tax rates, determining and collecting taxes; preparing and filing returns; remitting taxes, maintaining tax records, and managing compliance documents. Its products include AvaTax excise, AvaTax communications, returns excise, trustfile, CertCapture, and avalara licensing. The company was founded by Rory Rawlings, Scott McFarlane and Jared R. Vogt in 2004 and is headquartered in Seattle, WA.
As noted in the intro, this is my pick today. I covered this one in the May 4th Diamonds Report (up +100.5% since). It is set up to continue higher with a positive RSI and a PMO that is about to trigger a crossover BUY signal. The ascending triangle on the daily chart has resolved as expected to the upside. There is a nice positive divergence on the OBV that set up this current rally. The stop is a bit deep at 10.2%. It is set up just below the October top.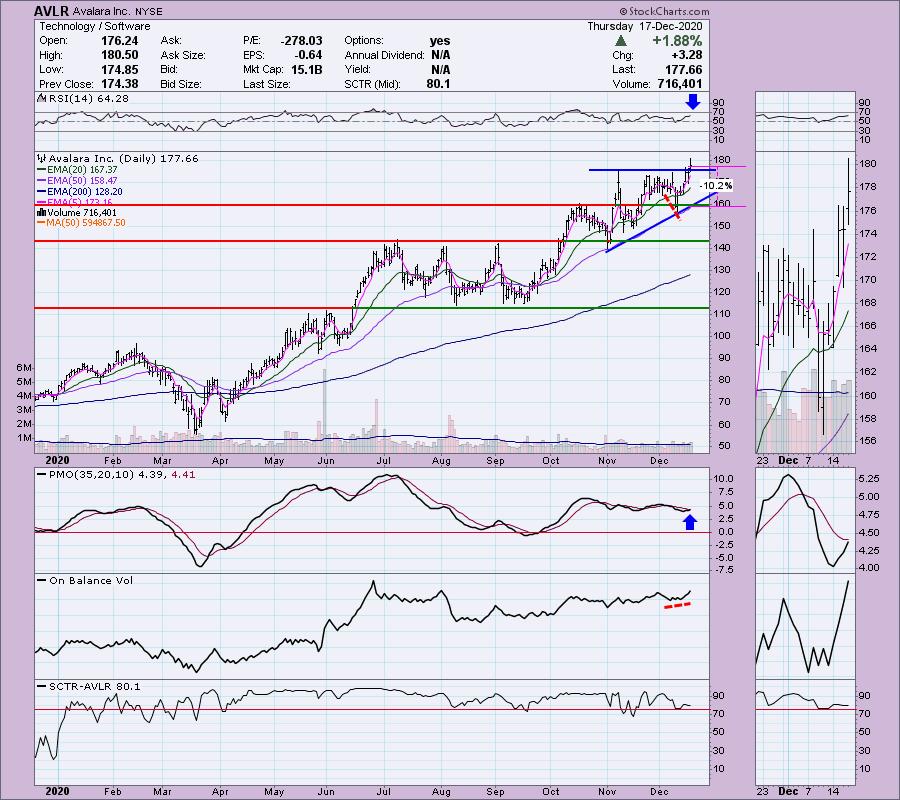 Nice weekly chart with rising PMO and positive RSI.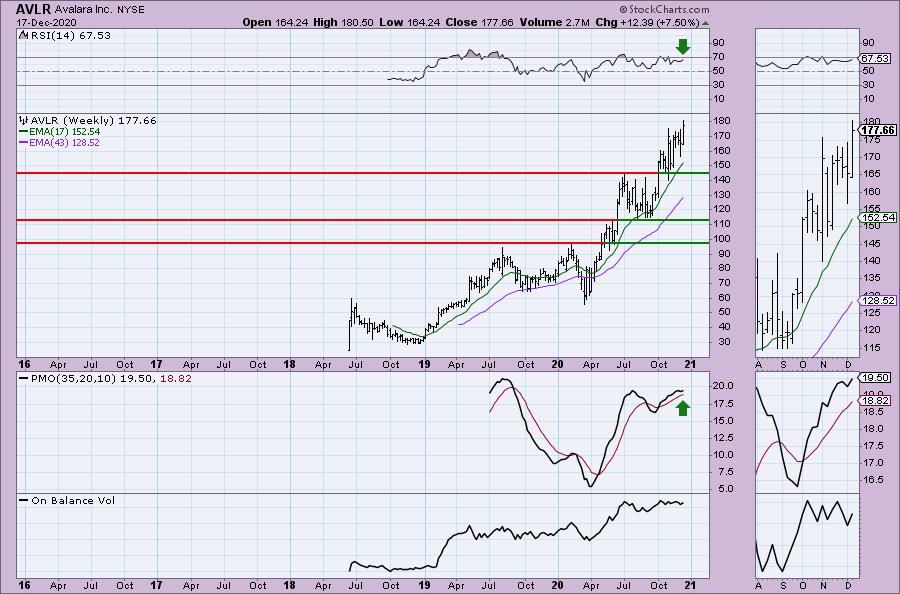 ---
Don't forget, on Thursdays I look at reader-requested symbols, so shoot me an email at erin@decisionpoint.com. I read every email I receive and try to answer them all!
---
Carrier Global Corp. (CARR)
EARNINGS: 2/18/2021 (BMO)
Carrier Global Corp. is a provider of HVAC, security and building automation technologies. The company is headquartered in Palm Beach Gardens, FL.
We don't have that much data on CARR, but I did cover it back on June 4th. It was a reader request that expressed concern about. It appears that commentary was quite timely as it fell over 14% only a day or two later. At the time all I had to go on was price action. The PMO had not really begun to calculate and 5/20/50-EMAs had just begun to calculate. Read my review that day and I think you'll see what I mean.
Right now I think it looks very promising. It has just executed a double-bottom pattern with this gap up breakout above the confirmation line. The RSI is positive and the PMO is curling up for a BUY signal. You can set a very reasonable stop on this one. I also picked out an OBV positive divergence in the thumbnail that is setting up this breakout. I also notice that the ST Trend Model just triggered a BUY signal as the 5-EMA crossed above the 20-EMA.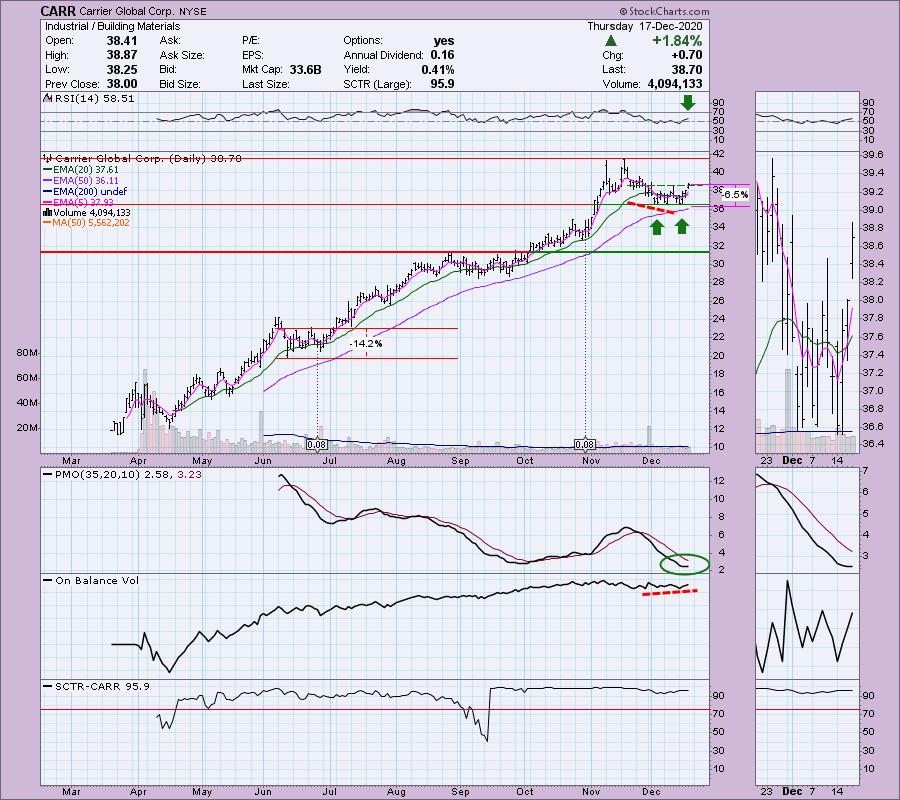 There is a flag on the weekly chart. It looks like there is a bullish falling wedge attached to a nice long flagpole. These are continuation patterns so I'd expect more upside. The RSI is very overbought, but we do need more data on this chart to draw any major conclusions.
---
Fastenal Co. (FAST)
EARNINGS: 1/20/2021 (BMO)
Fastenal Co. engages in the provision of fasteners, tools, and supplies which can help in the manufacture of products, build structures, protect personnel, and maintain facilities and equipment. It products include cutting tools & metalworking, fasteners, material handling, storage & packaging power, transmission & motors, tools & equipment, electricals, abrasives, hydraulics & pneumatics, plumbing, lifting & rigging, raw materials, fleet & automotive, welding, office products & furniture, janitorial and lighting. The company was founded by Robert A. Kierlin, Michael M. Gostomski, Henry K. McCannon, John D. Remick, and Stephen M. Slaggie in November 1967 and is headquartered in Winona, MN.
I covered FAST in the July 6th Diamonds Report. It is up a modest 14.7% since. It is a slow and steady stock that has been on a nice rising trend since November. I checked and this is not a bearish rising wedge, it is a solid rising trend channel. Price is now trading above support at the August top. The PMO has flattened, but that is due to the steady acceleration. The PMO will tend toward zero if there is no acceleration of a rising trend or there is a declining trend. The OBV continues to confirm this move higher. The RSI is positive. The SCTR could be a bit better, but I wouldn't junk this one strictly on the SCTR, the rest looks very good.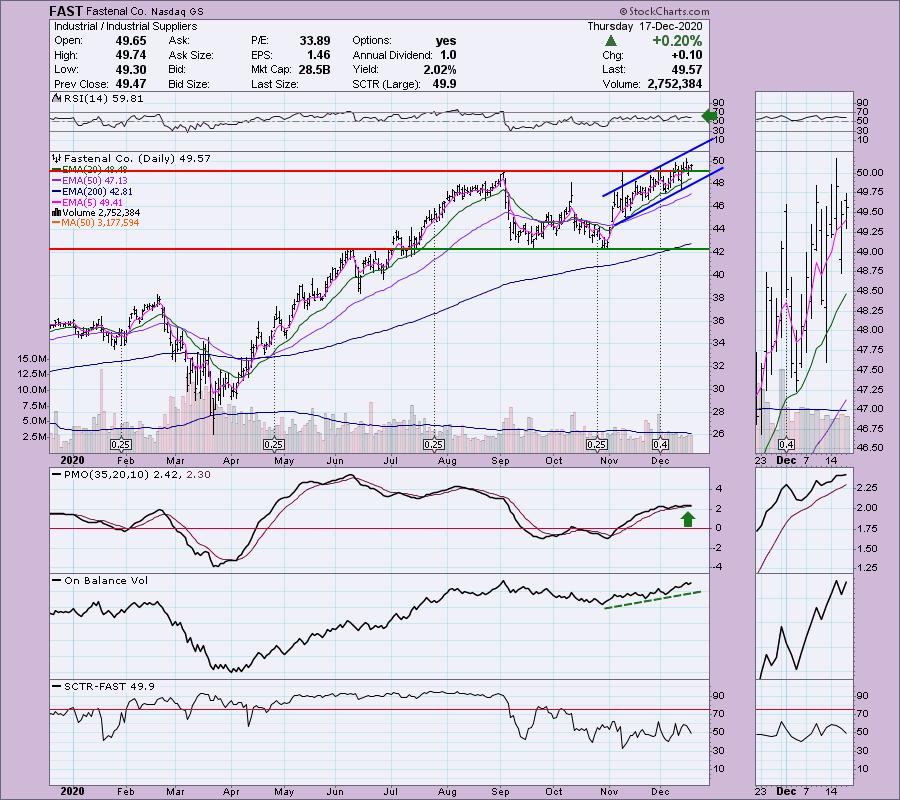 The weekly chart also looks very bullish with a positive RSI and a PMO that is headed for a crossover BUY signal. It should continue to make new all-time highs.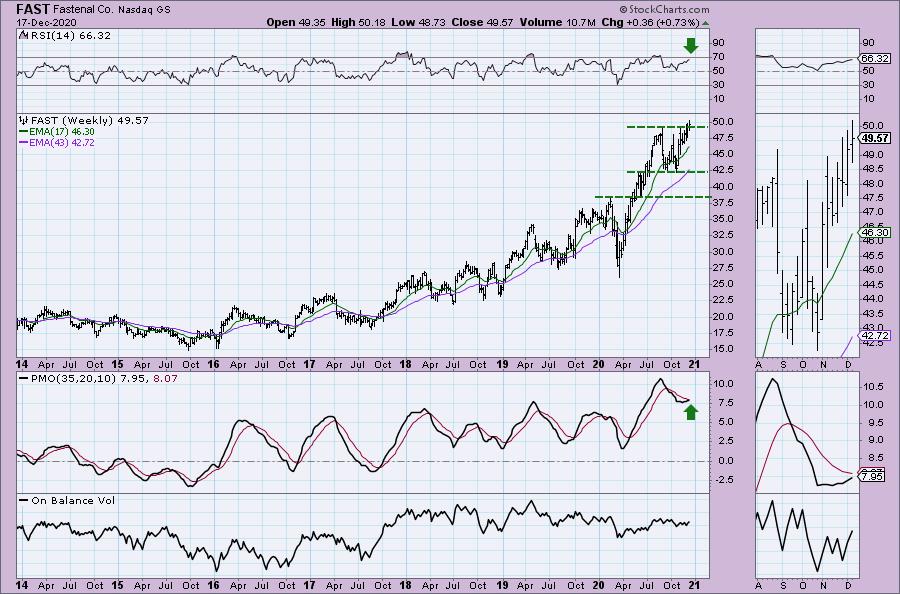 ---
Zoom Video Communications, Inc. (ZM)
EARNINGS: 3/3/2021 (AMC)
Zoom Video Communications, Inc. engages in the provision of video-first communications platform. It connects people through frictionless video, voice, chat and content sharing, and enable face-to-face video experiences for thousands of people in a single meeting across disparate devices and locations. It focuses on customer and employee happiness, a video-first cloud architecture, recognized market leadership, viral demand, an efficient go-to-market strategy, and robust customer support. The company was founded by Eric S. Yuan in 2011 and is headquartered in San Jose, CA.
I have covered Zoom multiple times this year. Here are links to each of the reports:
March 26th (up +184.5%), April 2nd as a Reader Request (up +229.4%), May 14th also a Reader Request (up +139.2%) and August 19th (up +46.8%). It is a Reader Request again! ZM had a very serious correction after the October top. It made an attempt to break back up, but failed. It is now forming a possible double-bottom. It's pretty early to call it a double-bottom, but I believe it will rally to form one. Right now the 20/50-EMAs could be a problem. The PMO is turning it back around but isn't rising just yet. The RSI is negative for now. The OBV is confirming or even looking like a positive divergence. In the short term, you can see in the thumbnail that we have a short-term positive divergence with rising OBV bottoms from late November to the higher low set last week. ZM looks about ready to zoom. I'd set an 8%+ stop in case the 20/50-EMAs hold as overhead resistance.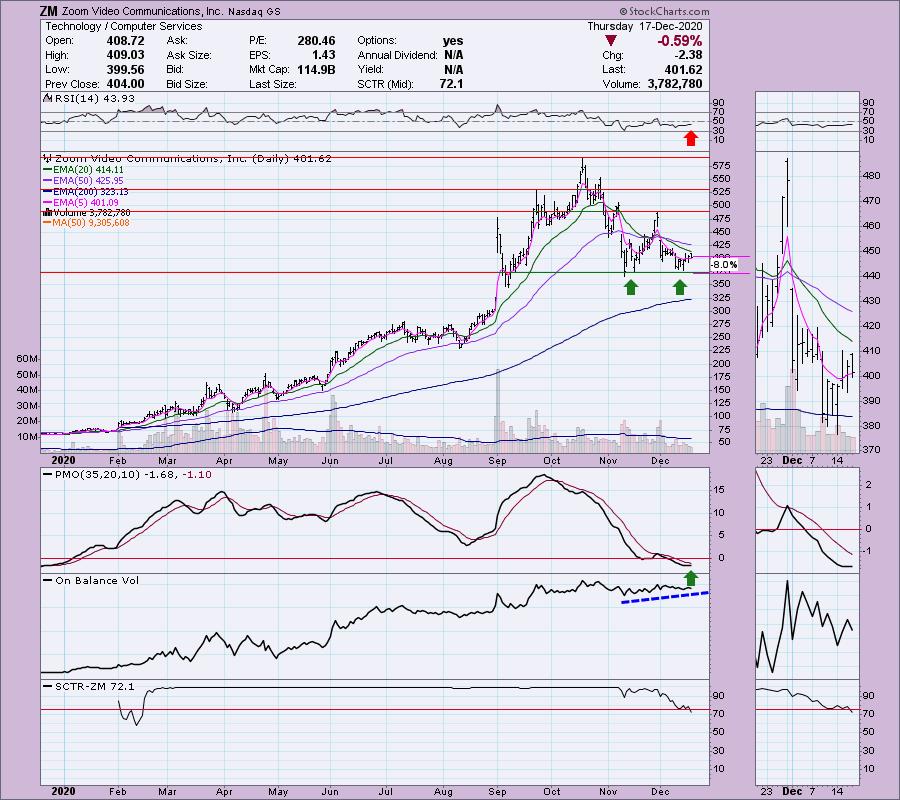 There isn't much data on the weekly chart, but we do have a positive RSI. Not a surprise to see the weekly PMO dropping given price action since the October top.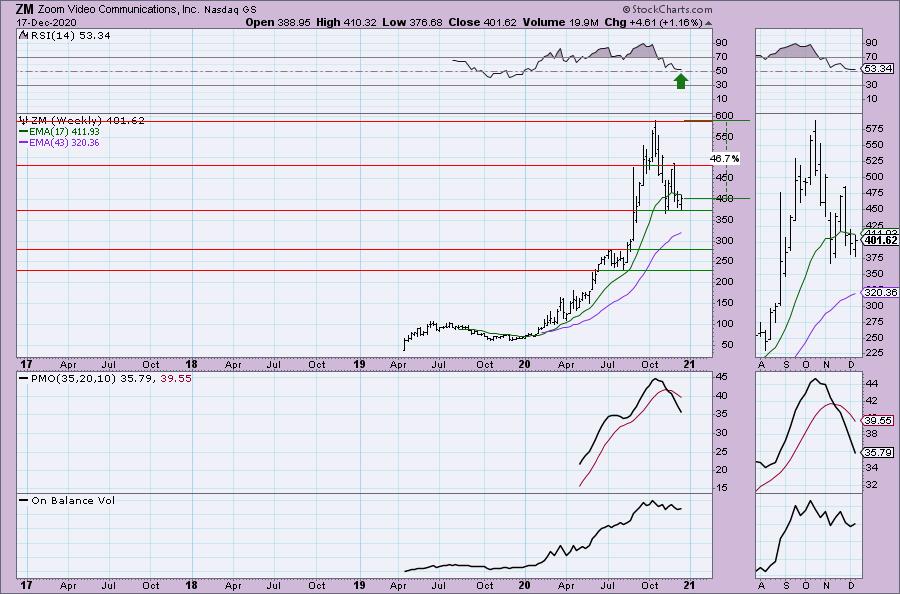 ---
Full Disclosure: I'm about 50% invested and 50% is in 'cash', meaning in money markets and readily available to trade with.
---
Current Market Outlook:
Market Environment: It is important to consider the odds for success by assessing the market tides. The following chart uses different methodologies for objectively showing the depth and trend of participation for intermediate- and long-term time frames.
The Silver Cross Index (SCI) shows the percentage of SPX stocks on IT Trend Model BUY signals (20-EMA > 50-EMA)
The Golden Cross Index (GCI) shows the percentage of SPX stocks on LT Trend Model BUY signals (50-EMA > 200-EMA)
The Bullish Percent Index (BPI) shows the percentage of SPX stocks on Point & Figure BUY signals.
Don't forget that as a "Diamonds" member, you have access to our GCI/SCI curated ChartList on DecisionPoint.com. You'll find it under "Members Only" links on the left side on the Blogs and Links Page.
Here is the current chart: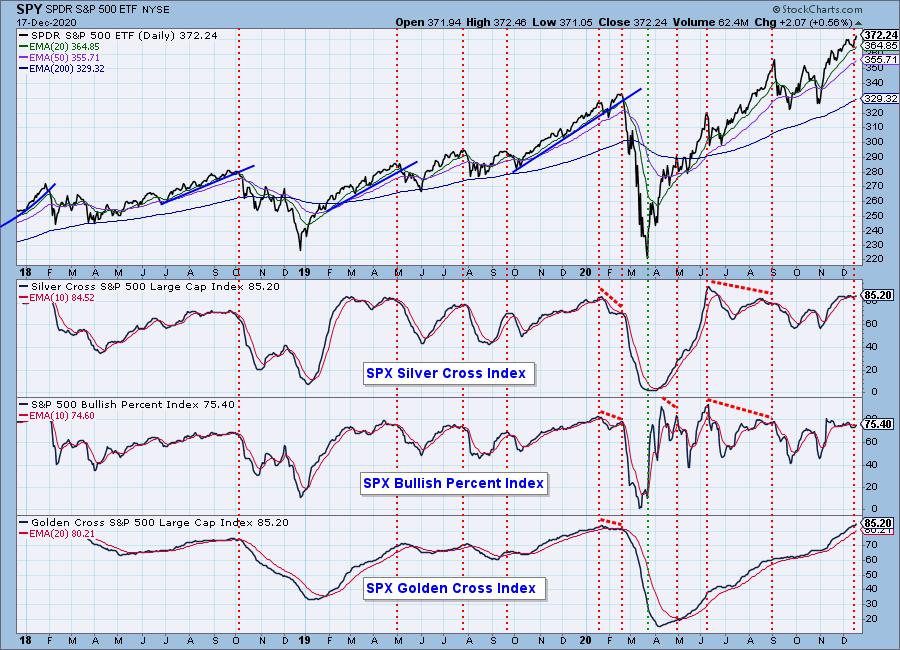 Diamond Index:
Diamond Scan Results: 12
Diamond Dog Scan Results: 4
Diamond Bull/Bear Ratio: 3.00
I'm in the process of trying to plot the Diamond Index, but with time at a premium, it is on the back burner.
Technical Analysis is a windsock, not a crystal ball.
Happy Charting!
- Erin
erin@decisionpoint.com
---
Watch the latest episode of DecisionPoint with Carl & Erin Swenlin on Mondays 7:00p EST or on the DecisionPoint playlist on the StockCharts TV YouTube channel here!
---
---
NOTE: The stocks reported herein are from mechanical trading model scans that are based upon moving average relationships, momentum and volume. DecisionPoint analysis is then applied to get five selections from the scans. The selections given should prompt readers to do a chart review using their own analysis process. This letter is not a call for a specific action to buy, sell or short any of the stocks provided. There are NO sure things or guaranteed returns on the daily selection of "diamonds in the rough."
---
Helpful DecisionPoint Links:
DecisionPoint Shared ChartList and DecisionPoint Chart Gallery
Price Momentum Oscillator (PMO)
Swenlin Trading Oscillators (STO-B and STO-V)
For more links, go to DecisionPoint.com!d